Coin Values Moving with Precious Metals: Up-Dated 11/27/2023: Gold $2010 | Silver $24.66
1953 Dime Value
An overriding significance of Roosevelt dimes of the 1950's is their silver content. 1953 dime value is in the $1.65 range as of 11/27/2023 . Each is 90% silver.
Find collector premium using a step-by-step approach, compare your coin to images to identify mint variety and condition.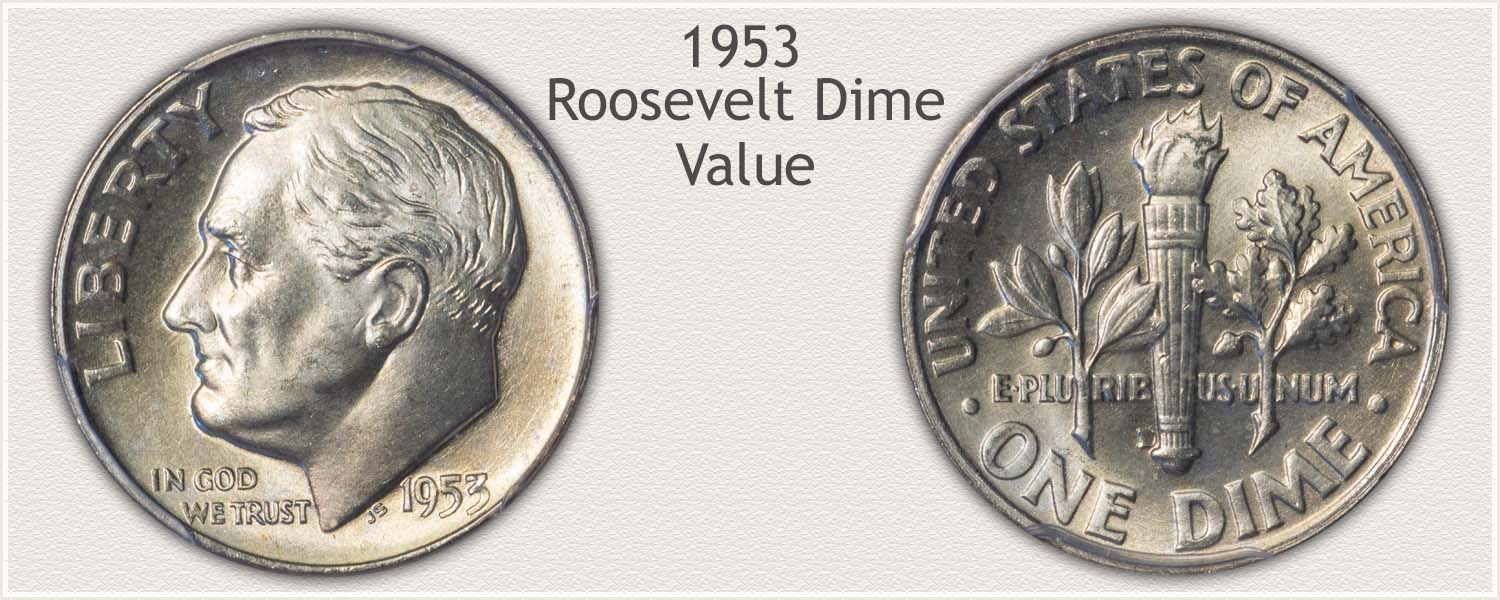 Steps Leading to Value:
Step 1: Date and Mintmark Variety - A collector first confirms date then mint variety. Each is collected and valued by scarcity.
Step 2: Grading Condition - Eye appeal and lack of wear are next inspected. Condition is judged comparing to images representing standards of the different grades. Subtle points are highlighted to help identify high collector quality.
Step 3: Special Qualities - Added value of these old silver dimes is often found when recognizing a particular eye appealing coin. Original surfaces enhance appeal.
1953 Dime Value
Condition of Coin
Date
Good
Fine
Extremely
Fine
Mint
State
Roosevelt Dime Values Updated
11/27/2023
1953
$1.65
$1.65
$1.65
$2.28
1953 D
$1.65
$1.65
$1.65
$2.14
1953 S
$1.65
$1.65
$1.65
$2.14
1953 dimes are an affordable date in the Roosevelt series and necessary to a collection of the silver era. Follow the steps below to determine its exact mint variety and importantly its condition. Appealing coins are in demand by collectors.
Step 1: | Identify Date and Mintmark Combination
Three Varieties of 1953 Dimes Collectors Identify
The Roosevelt design series is firmly established and now familiar. These silver era dimes by the end of 1953 totaled over 1.5 Billion pieces in circulation. 1953 accounting for 229 million of these silver dimes.
Three mints continued to strike dimes, Philadelphia, Denver, and San Francisco. All are identifiable with the unique mintmarks for the two branch mints. All varieties are collected as part of sets. It is important to recognize the mint of issue when referencing the value chart.
1953-S Roosevelt Dime
"S" Mintmark on Reverse: San Francisco Mint Struck the Coin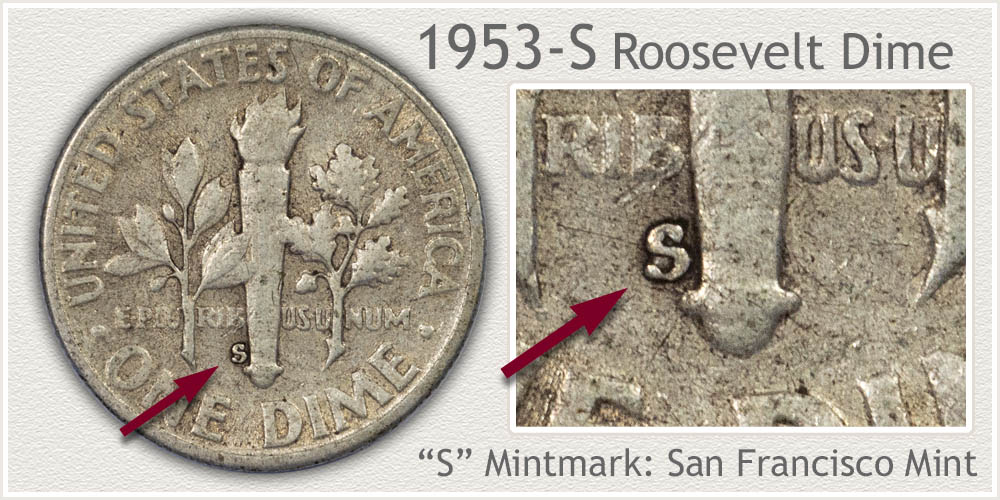 Dimes minted at San Francisco in the early 1950's are abundant today. 1953 production alone topping 39 million and allows collectors a wide choice in selecting an example to place in their collection. The preference is the mint state grade of preservation, no wear to the surface.
Mintmarks were used by the branch mints; San Francisco's mark is a small "S" placed on the coin. Inspect the reverse, on the left side of the torch. Towards the base, the "S" indicates San Francisco struck the dime.
1953-D Roosevelt Dime
"D" Mintmark on Reverse: Denver Mint Struck the Coin
Denver increased production of dimes again in 1953, producing 136,433,000 silver dimes. The 1953-D variety is the likely coin found today. Available, affordable, and sough as part of a complete set. It is condition that sets the premium value coins apart, step 2-Grading is needed to find its accurate place on the chart.
Denver is identified by the "D" mintmark. On the reverse at the base of the torch, look to the left side, a small "D" is Denver production.
1953 Roosevelt Dime
No Mintmark on Reverse: Philadelphia Mint Struck the Coin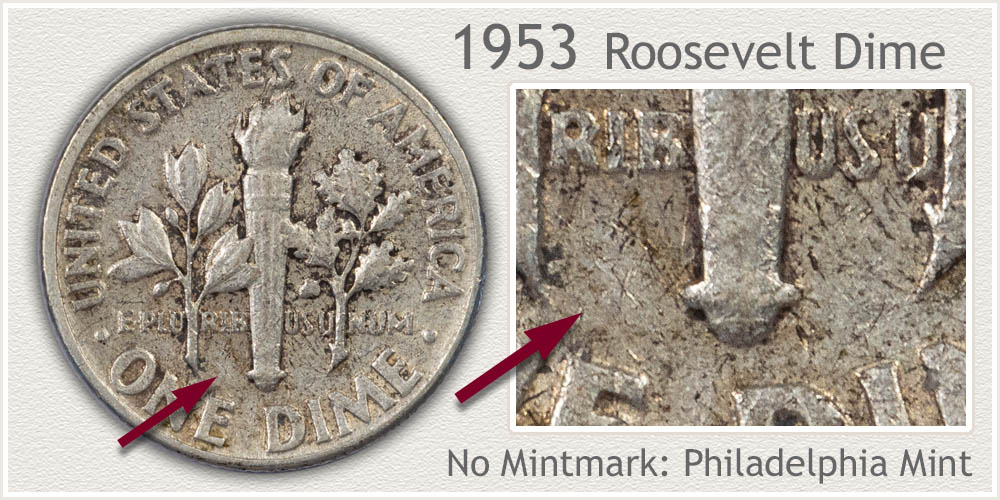 All 1950's era dimes are worth well above face value because of silver content. These also have further potential as a collectible with higher premiums. Condition is the key to determining accurate value.
Philadelphia 1953 dimes are abundant in worn, circulated condition. The stand-out quality are those with no wear to the surface. Over 53 million were struck, it is the few that did not circulate in demand by today's collector.
Philadelphia issues are identified by the absence of a mintmark on the reverse. At the base of the torch, looking at the left side, if the area is empty, Philadelphia struck the dime.
Step 2: | Judge Condition to Identify Grade and Collectible Quality
1953 Dime Value is Conditional
Grades are used by collectors to define each level of preservation of a coin's surface. Standard grades are listed on value charts and used to narrow how much each date, mintmark, and grade combination is worth.
Judging the surface of your coin is done by comparing to the example images of the different grades. A visual match and plus the subtle points in the description help confirm each level of preservation. Collectible condition, Roosevelt silver dimes in Extremely Fine and better condition is closely examined because of premium values.
Start with an example in Mint State condition showing all original details.
Mint State Grade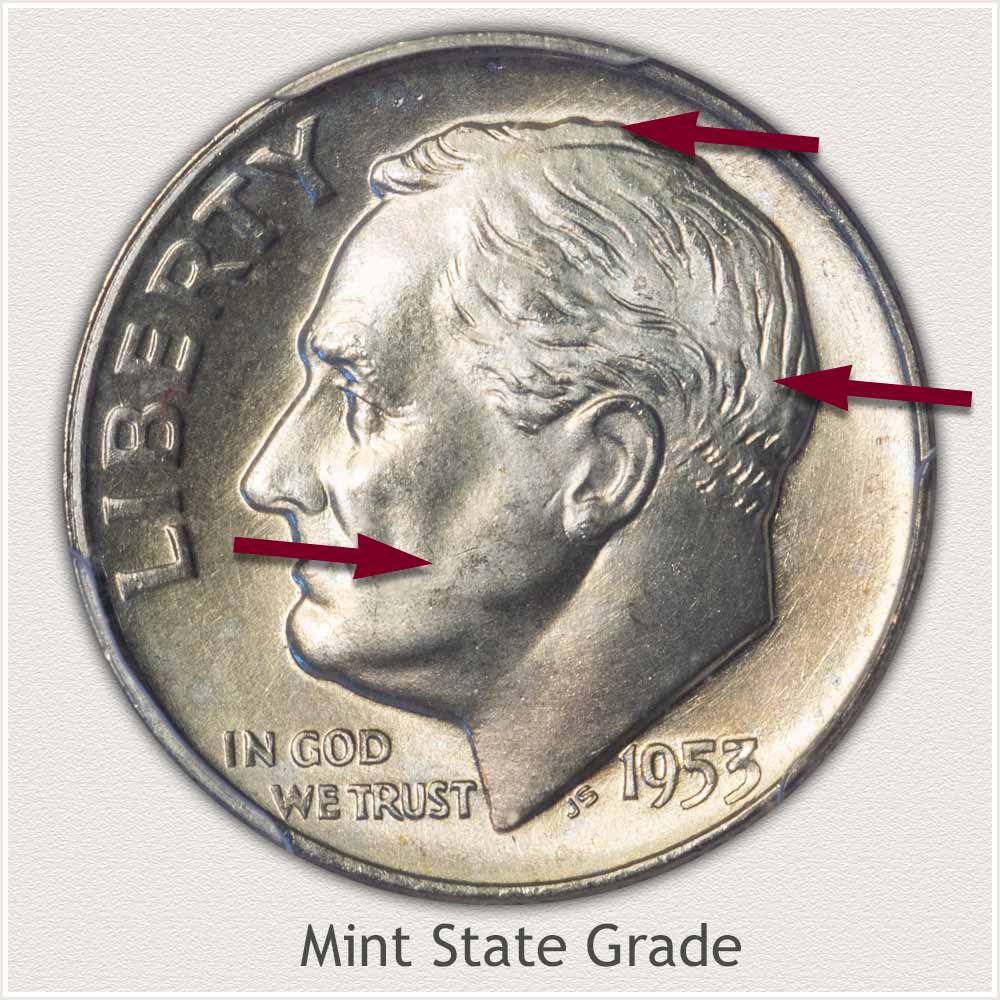 Mint State: Coins when minted are imparted with a fine surface texture, happening during the striking process. This texture is what gives "new" coins their shine. If the original surface with luster remains without wear the coin is graded Mint State.
Wear causes silver to become smooth and dull. Luster on high points is inspected to confirm mint state condition.
At the top of Roosevelt's head, the part line of the hair remains fully lustrous, no dulling, the silver remains bright and covered with luster. Looking overall, the shine of the hair is similar from the top to behind the ear. No dulling of the surface is seen on the high points of cheek and jaw; two additionally areas to help judge the condition.
Extremely Fine Grade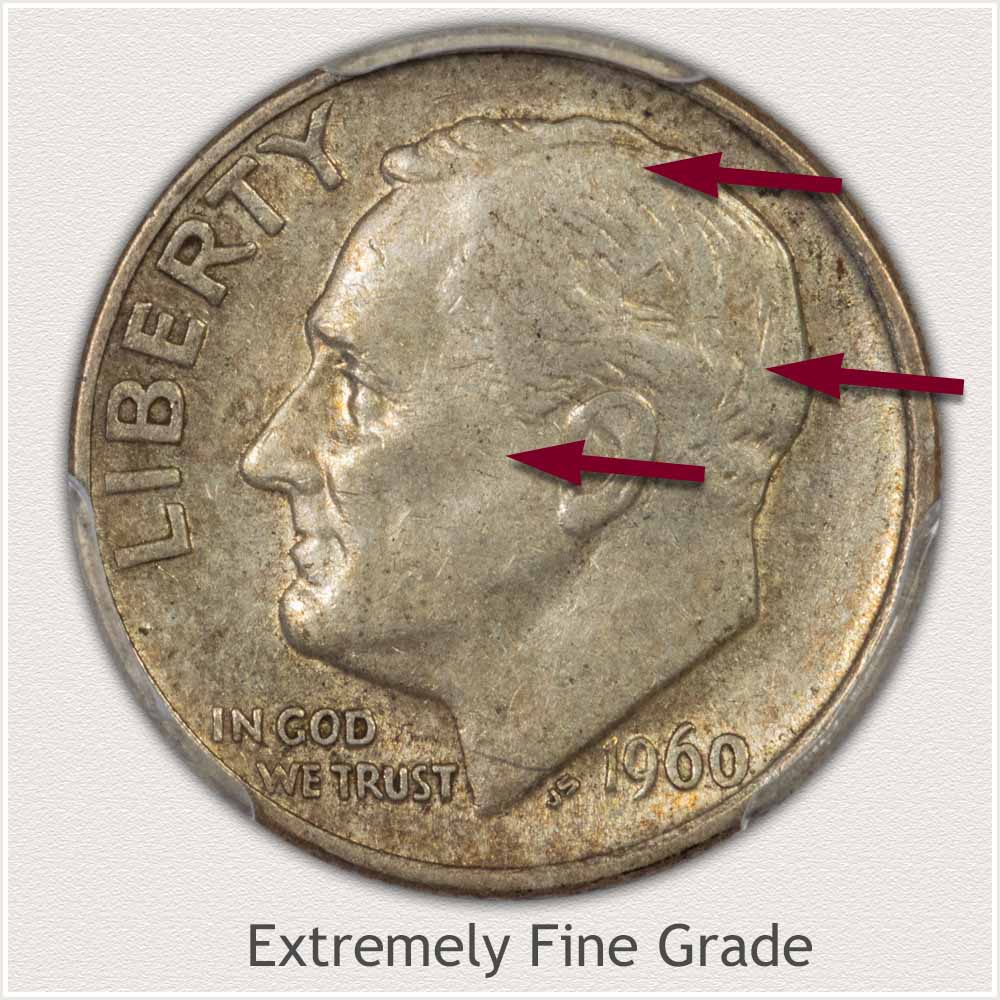 Extremely Fine: Light wear is beginning to remove a small amount of metal from the very highest contours. Luster is also missing from the majority of the surface.
When inspection the hair at the top of Roosevelt's head on either side of the part line, notice the remaining detail on the example in the image. Although slight wear is visible and smooth texture is seen, most lines defining the hair remain. Ample detail within the hair is placing this coin in the extremely fine grade.
Light wear is noticed on the slightly flattened cheek and jaw. These areas remain high in profile with a deep contour between. A nice sharp look is the overall impression.
Low Circulated Condition Examples
Low Circulated Condition: Lowering the condition is moderate to heavy wear on all areas of a silver Roosevelt dime. Typical of these coins are the flat spots at the top of the head. Large worn areas of the cheek and jaw is also indicating a low condition dime.
Missing hair detail is a key to low grades. Many fine lines within the hair at the part line are merged and very faint. Hair towards the forehead and ear is a large flat area.
Lack of detail is lowering both the condition and appeal.
How to Video: Grading Roosevelt Dimes
Confirm condition by grading these silver dimes in greater detail and identify subtle points to different grades.
Video, Images and Descriptions | Grading Roosevelt Dimes
Step 3: | Special Qualities Enhancing Value
Luster - Toning and Values of Silver Dimes
Silver Roosevelt dimes when first struck are a natural brilliant white-silver. A fine texture is part of the surface of a coin with no wear creating the "luster" of a mint state coin. Left undisturbed these mint state coins retain the original luster and color.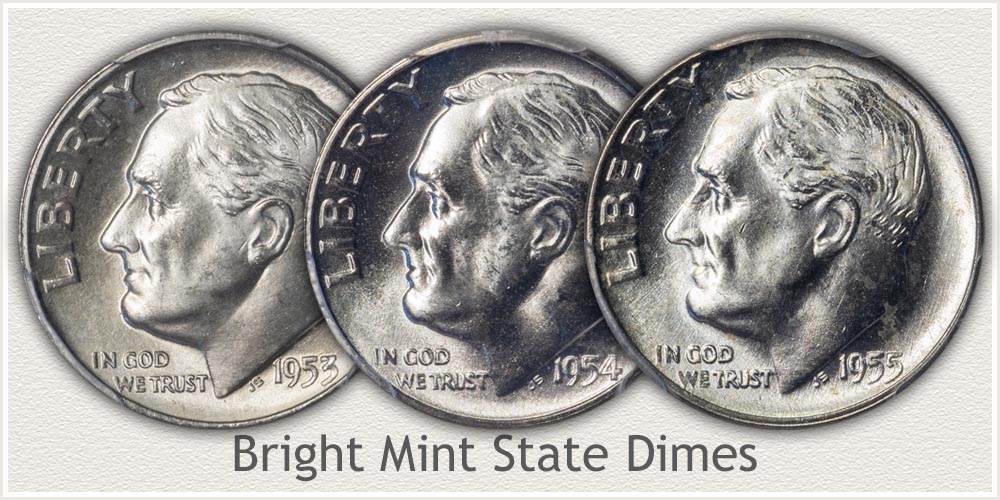 The above examples are still bright as when minted. Quality of color to the surface remains a white-silver to blue-silver. These fully bright, mint state coins are very popular with collectors.
Toning is the next phase to silver if the coin is exposed to air.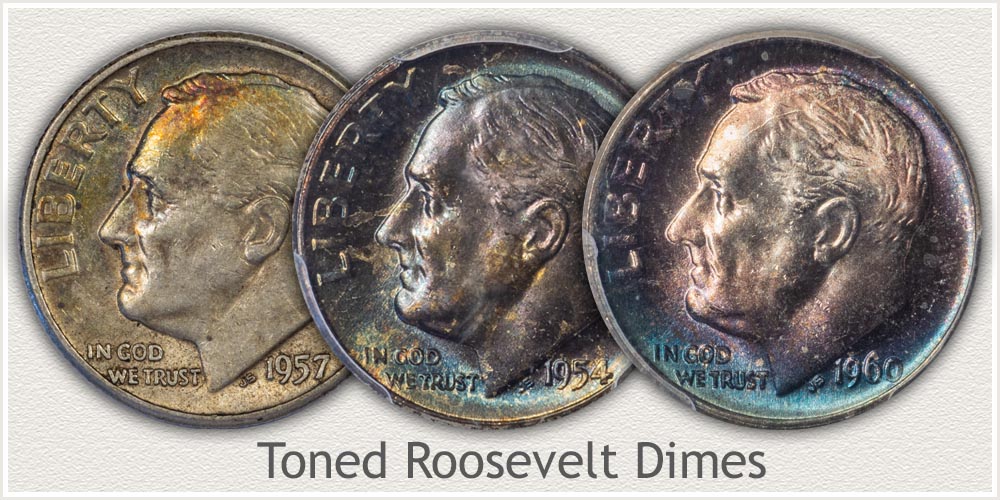 Depending on how coins are stored or housed as collections, toning of the silver develops over time. Colors begin to show on the coin ranging from golden tans to blues and violets.
Many collectors consider toning a pleasing quality and appreciate the range of colors. Indeed, there are collectors that focus on assembling sets of dimes with colorful toned examples.
Colors of toning, if evenly distributed over the surface, enhance the design. Coin albums of earlier times often imparted toning to the coins along the rims in contact with the album. These "album toned" examples are sometimes very colorful.
Often 1953 dime value is improved by the aesthetic appeal of pleasing toning.
You can judge if toning enhances or distracts from the overall look of any dime in mint state or lightly circulated condition.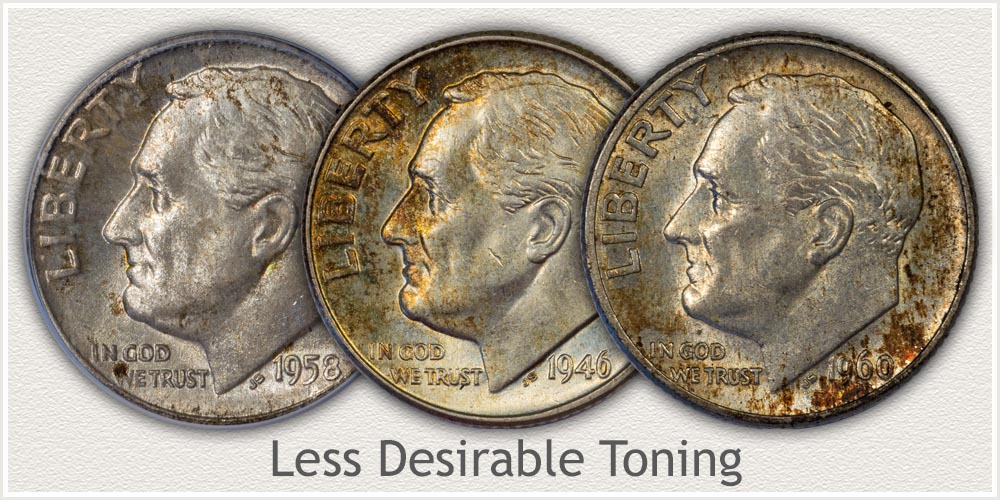 An example of toning tending towards a subdued luster is seen in the example image. A low shine does not glow from the surface. Some coins portraying uneven toning, heavy on one half of the design and lacking on the other is less than ideal. Mottled toning is also less desirable.
Eye appeal is an individual decision. Toning covers many ranges of brightness, colors and symmetry all adding to or diminishing appeal. One note: Toning does not require any type of cleaning of the coin. Toning is a natural occurrence, and if disturbed lowers value. The appeal of a toned coin, if not universal, at least indicates undisturbed, natural surfaces. Originality is a universal quality highly regarded.
References
U.S. Mint. 1954 U.S. Mint Annual Report https://nnp.wustl.edu/library/book/343
Coin Values | CoinStudy Articles
Date by Date
In Depth Roosevelt Dime Values
1946 to 1964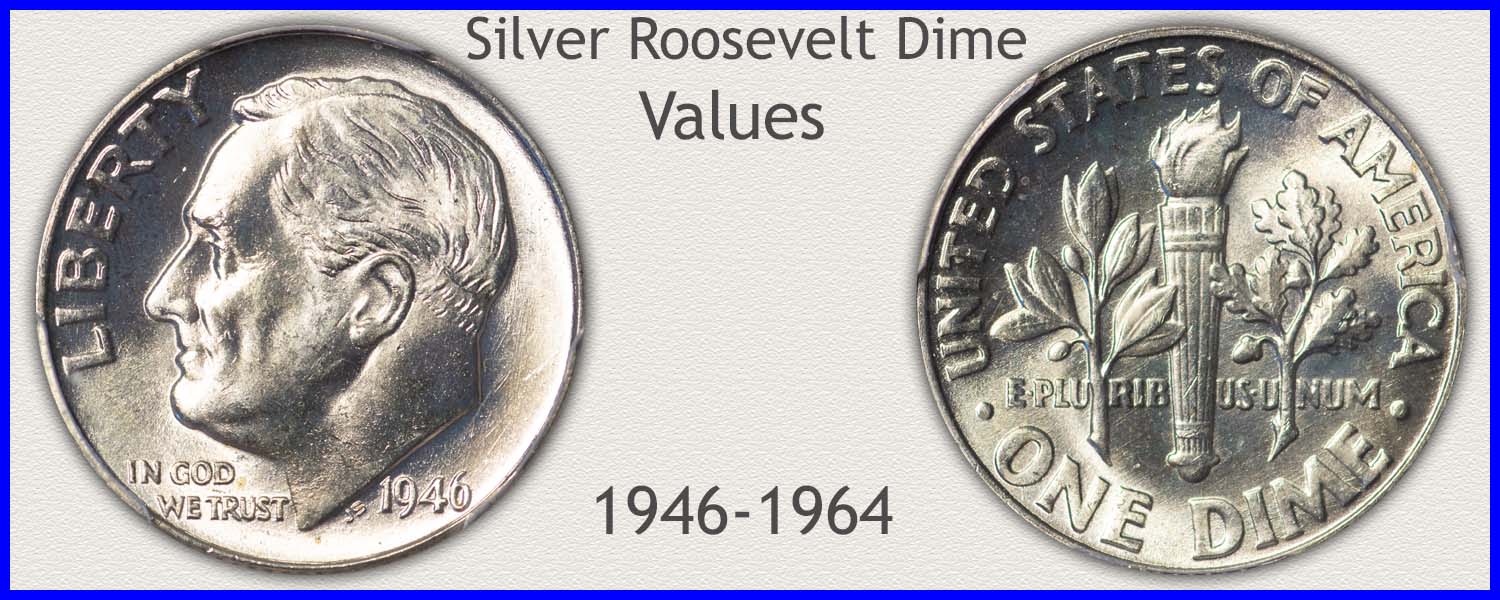 Silver issues of 1946 to 1964 are slowly maturing and beginning to gain in value. Most Roosevelt silver dime dates and mint varieties of these years are tied to the value of silver, each worth $1.65 . However, there are a few exceptions. Affordable to collect, the value is in Mint State condition - coins without wear. Value chart lists complete variety and dates spanning the silver years.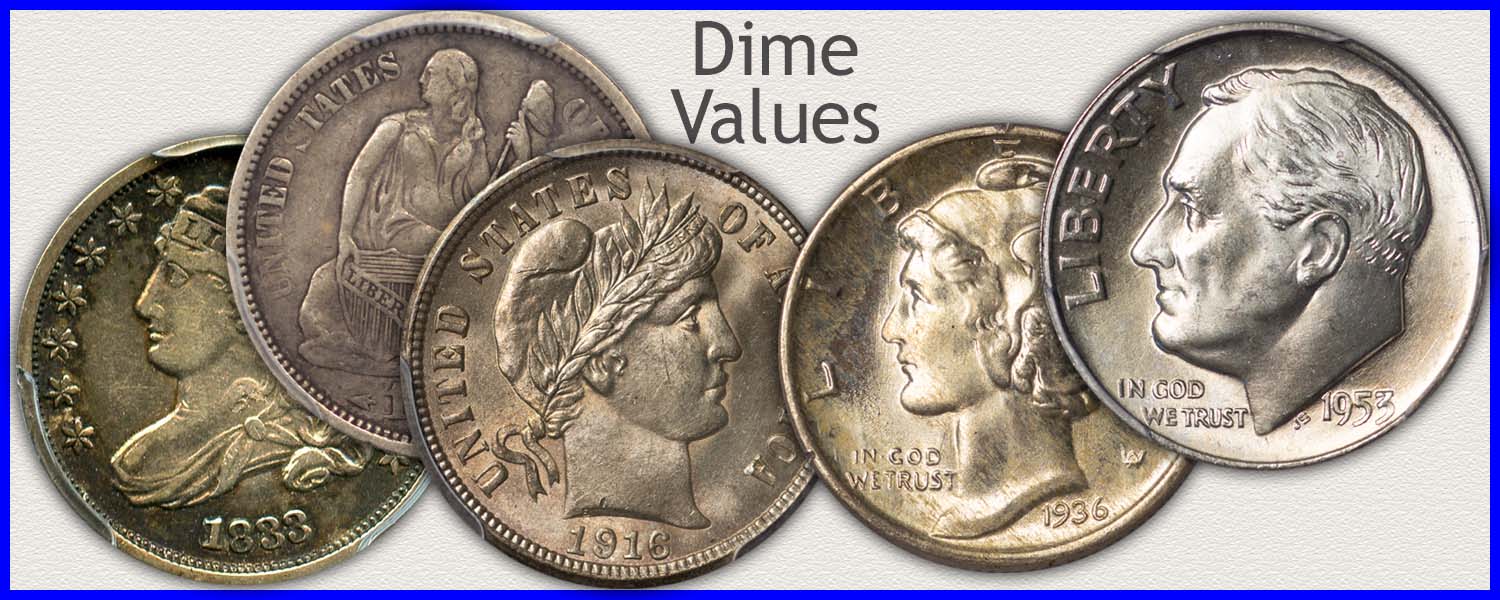 Dime Values | Covering the Many Series of U.S. Dimes
Determine a narrow range on the value charts. Following a step-by-step approach, first to identify the series of dimes. Early Bust dimes are exceptionally collectible. Recognize the importance of Mint Variety, and using images compare your coin to judge condition. Collectible high value coins are found in all series of U.S. dimes.
Coin Value Guide | How to Value a Coin Collection
Identify the different series of coins, recognize the higher condition coins, and narrow the range of value on the charts. A step-by-step process insures a complete assessment of your coin collection.
Safe Coin Storage | Recommendations
Thoughtful coin storage to improve safe handling, preserve value, and organize your box of old coins. A few basic supplies are highlighted that provide long term protection. Safe storage of silver coins maintains their state of preservation into the future.
Silver Coin Values | Dimes to Dollars
Calculate current silver value of U.S. coinage. Silver dimes, quarters, halves, and dollars all move with the changing price of silver. These coins are heavy with silver and worth well above face value, changing daily.
★Coin Values Discovery finds 1953 Dime Value and...
All old U.S. coin values. Image and description index leading to value charts. Step by step method to date and variety identification. And grading condition by comparing to images, video and descriptions. Special qualities are also judged. Discover how much your box of old coins is worth.