Coin Values Moving with Precious Metals: Up-Dated 9/25/2023: Gold $1921 | Silver $23.44
1958 Dime Value
Vintage Roosevelt dimes of the 1950's follow the movements of silver. These are a 90% sliver alloy and 1958 dime value begins at $1.57 each. Further examination is needed to determine if there is premium collector demand with an increase in worth.
A step-by-step process first identifies mint varieties and next an inspection to recognize condition. A collectible coin is in demand and worth above bullion metal prices.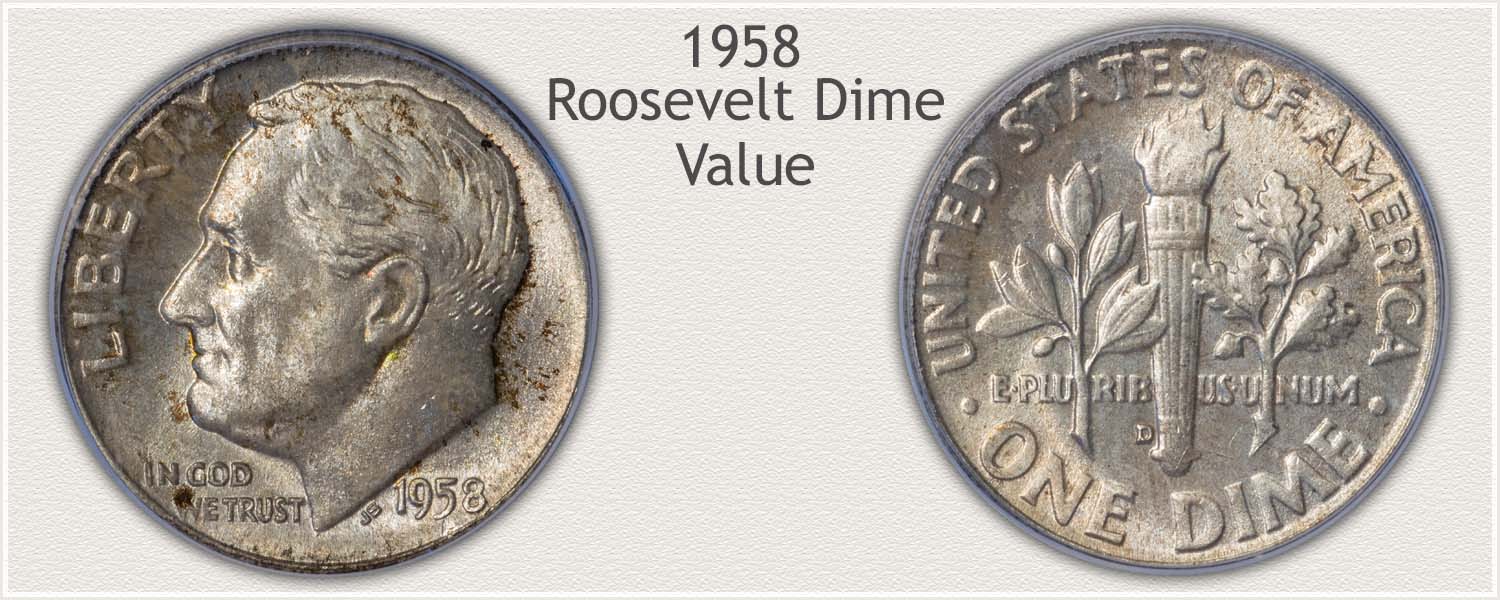 Steps Leading to Value:
Step 1: Date and Mintmark Variety - Vintage silver dimes are collected by date and mint variety, each listed separately on the chart. Confirming each is needed to accurately value these dimes.
Step 2: Grading Condition - Condition is the key to how much a silver dime is worth. Premiums are awarded to top grades. Images are used to compare and judge condition and narrow the range of values.
Step 3: Special Qualities - Collectible coins stand out with eye appeal and state of preservation. Silver Roosevelt dimes are collected by both advanced and beginning collectors looking for these traits as the deciding factor.
1958 Dime Value
Condition of Coin
Date
Good
Fine
Extremely
Fine
Mint
State
Roosevelt Dime Values Updated
5/25/2023
1958
$1.57
$1.57
$1.57
$1.93
1958 D
$1.57
$1.57
$1.57
$2.16
Proceed through the steps and compare your coin closely to the images and descriptions. Many elements are easily recognizable but important, others are subtle and require a slower, in-depth examination.
Step 1: | Date and Mintmark Variety Identified
Date and Mint Varieties of 1958 Dimes
Two mints struck 1958 dimes, each with vastly different totals. These silver Roosevelt dimes are collected by date and mint variety, and those from the Philadelphia mint are the low production issue of the year.
Collectors favor high grade, condition examples, when pursuing both varieties of the year. Abundant supplies remain attracting affordable values and interest of young collectors.
1958-D Roosevelt Dime
"D" Mintmark on Reverse: Denver Mint Struck the Coin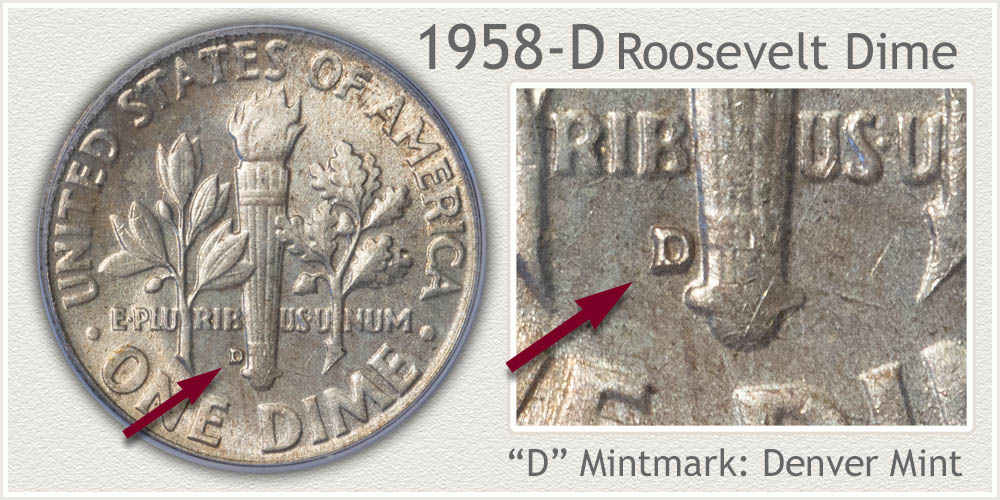 The likely coin found today is the 1958-D variety dime. Denver, the branch mint in the central U.S. struck over 136 million and are widely traded and valued based on their silver content. Step 2-Grading becomes important when recognizing your coin is in very nice condition.
Denver placed a "D" mintmark on its coins to identify the mint production. On the reverse, at the base of the torch a "D" mintmark on the left side confirms the Denver mint variety.
1958 Roosevelt Dime
No Mintmark on Reverse: Philadelphia Mint Struck the Coin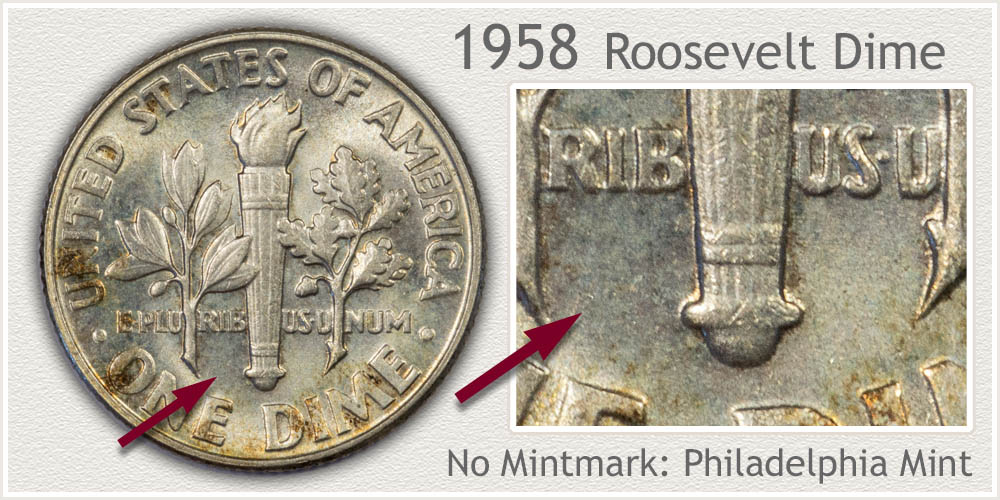 Philadelphia issue coins of the 1950's did not have a mintmark as part of the design. Striking a low number 31.9 million dimes became the third lowest yearly total of the silver era spanning 1946 to 1964. Although a modest amount of 1958 dimes were produced these are available today in quantities to meet demand. Most trade based on silver content because of wear to the surface.
Philadelphia dime are identified by looking at the reverse design. At the base of the torch, if the left side is open, with no mintmark, it is the Philadelphia mint variety.
Step 2: | Grade Identifies Condition and Narrows Value
Grade and 1958 Dime Value
Grading condition finds the 1958 dimes valued above silver content. Collectible quality is the very well-preserved coins in any series awarded a premium. Grades are used to define a specific condition and grades run on a scale from Mint State to heavily worn.
Condition of coins are matched against examples for the different grades. Descriptions with the images point to the subtle areas to examine helping confirm a grade. Use magnification when needed and view coins under a single light source to improve contrast on the coin's surface.
Mint State Grade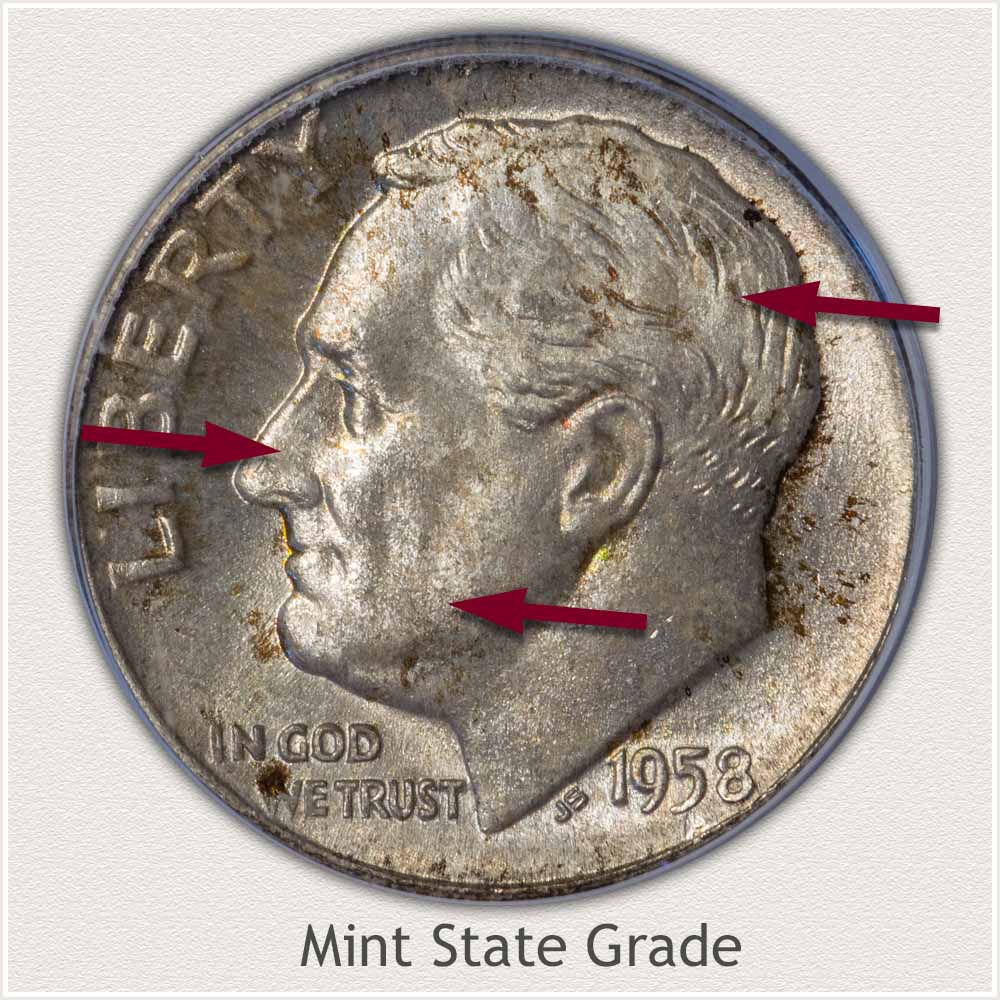 Mint State: No wear to the surface of a coin defines the Mint State grade. Inspecting high points of the design is done to confirm all of the original surface is complete and none is lost due to wear.
Luster is the main feature removed easily when a coin is used in circulation. This delicate surface is a fine texture and its shine indicates no wear. High areas are inspected closely. Roosevelt's cheek below the eye is a high relief area, the example in the image shows no smoothness or dulling to the metal. High points are the same color tone as lower areas between the cheek and jaw.
Over the entire coin all open areas are similar in appearance as well as the hair; all is matching closely in shine and texture. No dull wear spots are visible.
Extremely Fine Grade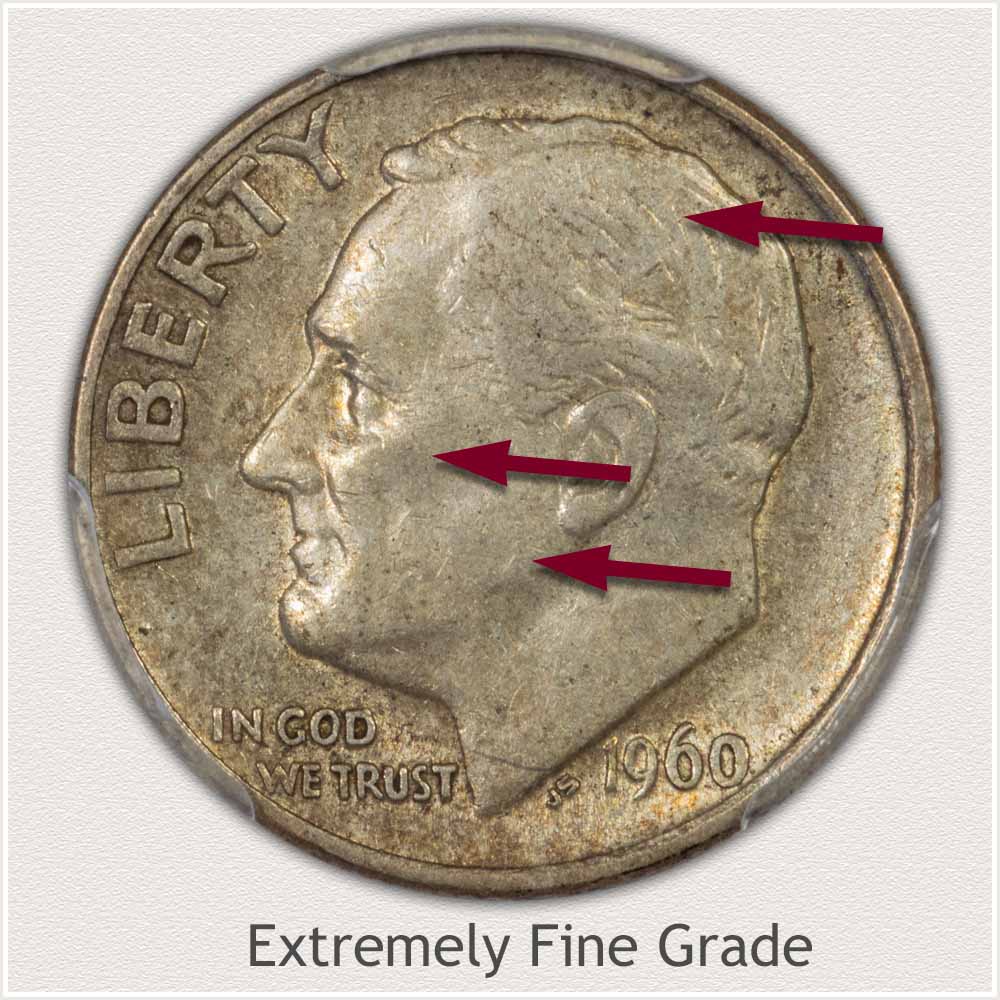 Extremely Fine: Notice the slight flattened areas in the hair of Roosevelt. Small areas of different color tones are found on the high points of the design. Light wear only on the highest contours defines the Extremely Fine grade.
Roosevelt's cheek below the eye is beginning to show a slight amount of wear. The area is just flattened and a smoothness of the metal is seen. Slight color changes are detected of the metal with slight wear. The jaw is similar in appearance as the cheek.
Majority of lines in the hair remain visible helping confirm the extremely fine grade.
Low Circulated Condition Examples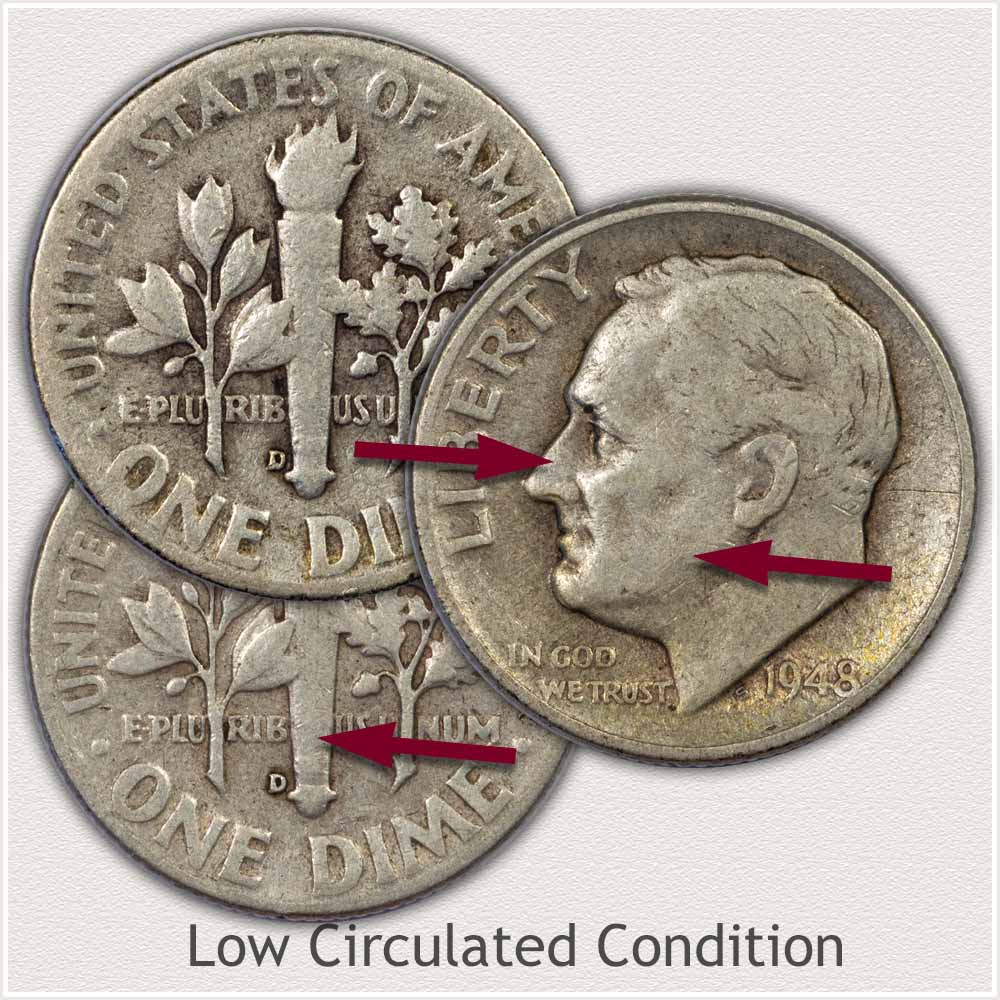 Low Circulated Condition: Time in circulation is clearly showing on the dimes in the example image. Moderate wear and heavy wear have reduced many design elements and removed most fine details. Silver Roosevelt dimes below the extremely fine grade are considered low condition. Most are below collectible quality.
A large flat area now represents the cheek below Roosevelt's eye. The flatness of the cheek is now beginning to connect to his hair. High contours of the jaw are reduced to the same level as the cheek. With large flat areas within the hair, condition of the coin is becoming less appealing to collectors seeking high detail examples.
How to Video: Grading Roosevelt Dimes
Examining all surfaces of a silver Roosevelt dime is often needed to decide a grade. Using the video, judge both obverse and reverse to narrow a grade range.
Video, Images and Descriptions | Grading Roosevelt Dimes
Step 3: | Special Qualities Enhancing Value
Recognizing Subtle Qualities
To attract the attention of a collector and a premium value the 1958 dime must exhibit above average quality. With these early silver issues, high quality are those found in the mint state grade. Coins without wear are the premier examples added to collections. A close inspection of the coin is made to determine those that qualify.
Of the three coins imaged, all at first look appear similar in condition. Each appears a candidate for the Mint State, premium grade. After a very close examination, the coin in the center is judged to have just a slight amount of wear to the surface and does not make the mint state grade.
A few signs of wear are confirmed on the center coin by recognizing the subtle differences to the surface when a small amount of wear is present.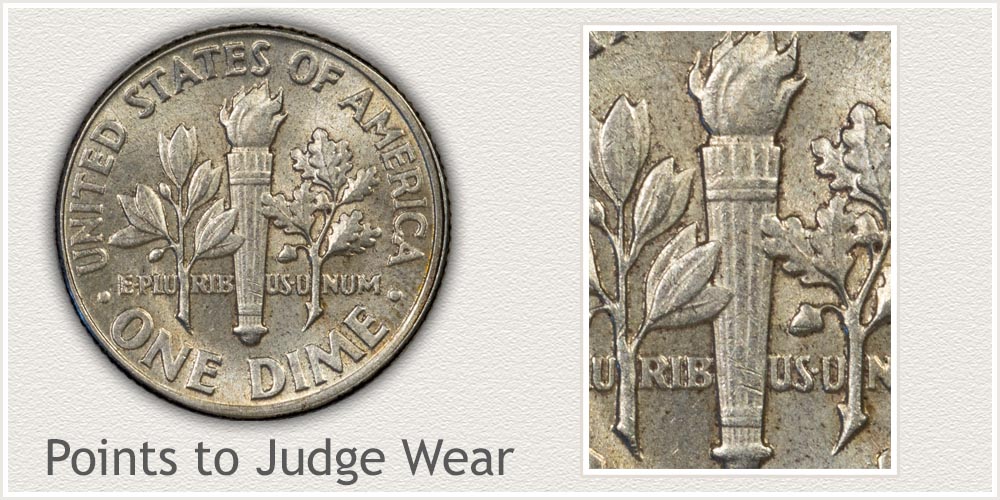 This 1963 dime came very close to the mint state grade; a condition of no wear to the surface. Using a single light source and rotating the coin to best reflect the differences in surface quality, wear became visible. Signs of lost luster and smoothing of metal on high points indicates wear.
A focus on the torch handle and the vertical lines shows the raised areas between the lines are a dull shade. Compare to the lower relief areas of line that continues to display luster. This dull and smooth surface on high areas is also present within the flames of the torch. Notice luster is in the lower recessed areas and a dull shine on the high contours.
To the left of the torch, olive leaves are high in relief and also prone to wear. Center veins and outer edges of the upper leaves are displaying a smooth dull texture in contrast to lower design areas. Missing luster and smoothed metal are confirming wear is disturbing the surface.
The presence of luster is a first indication of a high-grade coin. To reach the mint state grade, luster covers the entire surface from high relief to recessed areas and also the fields of the coin. Recognizing the absence of wear finds a collectible silver dime.
References
U.S. Mint. 1959 U.S. Mint Annual Report https://hdl.handle.net/2027/osu.32435057210981
Coin Values | CoinStudy Articles
Date by Date
In Depth Roosevelt Dime Values
1946 to 1964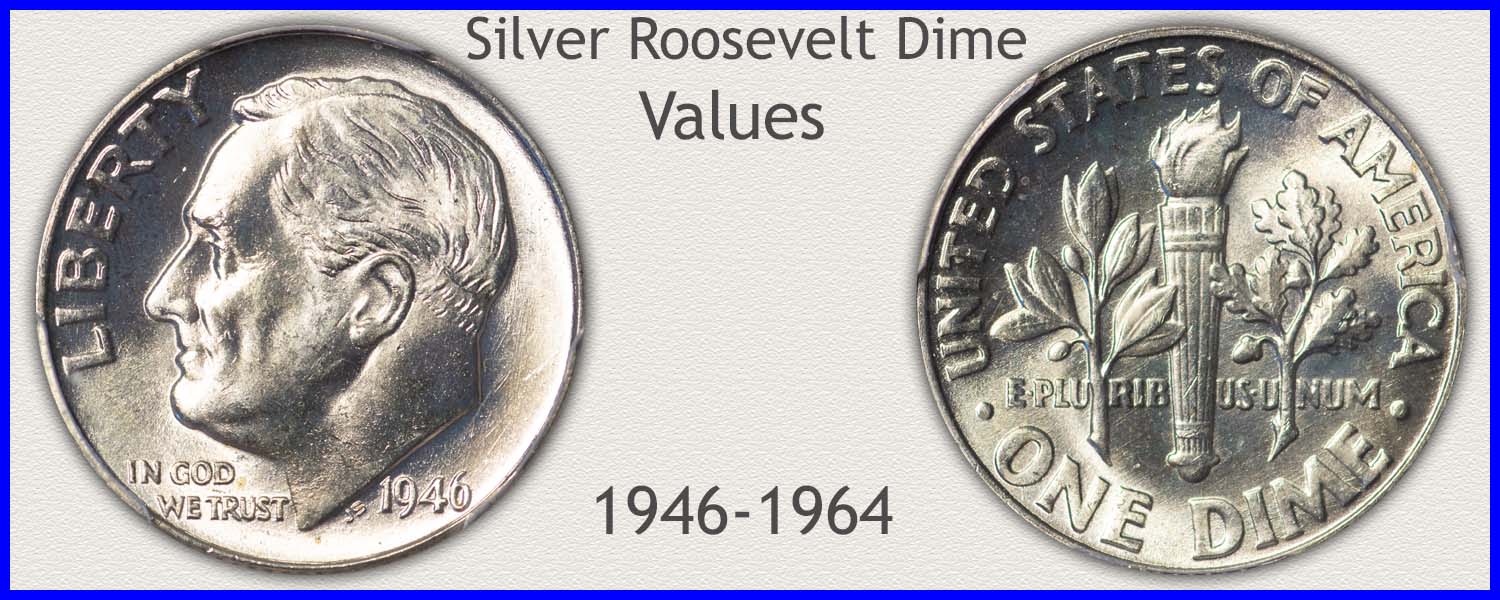 Roosevelt Dime Values | Early Silver Era
Roosevelt dime values of the early silver years, 1946 to 1964 are a premium coin because of silver content. These early dimes are 90% silver and move with the price of precious metals. Currently worth $1.57 each. Dates and mint varieties are listed on value charts with a step-by-step process to determine condition and how much they are worth.
Print the Coin Values Worksheet
List your Roosevelt dimes and record their values. Should you decide to sell... use the worksheet as an invoice and packing slip when sending coins through the mail to dealers. It indicates you have done your coin values homework.
Date and mint variety are important to collectors. Some dimes are recognized as rare, many older dimes are scarce in availability, and all minted until 1964 are important because of silver content. Identify the rare dimes.
An easy reference guide to U.S. coin values. Charts with minimum values quickly finds starting values. Images identify the different series and dates. Links to extended charts listing varieties, grading ranges and images helping determine condition - grade of coins. On the go, bookmark to phone.
Silver Coin Values | Dimes to Dollars
Calculate current silver value of U.S. coinage. Silver dimes, quarters, halves, and dollars all move with the changing price of silver. These coins are heavy with silver and worth well above face value, changing daily.
★Coin Values Discovery finds 1958 Dime Value and...
All old U.S. coin values. Image and description index leading to value charts. Step by step method to date and variety identification. And grading condition by comparing to images, video and descriptions. Special qualities are also judged. Discover how much your box of old coins is worth.