Coin Values Moving with Precious Metals: Up-Dated 11/27/2023: Gold $2010 | Silver $24.66
1964 Dime Value
1964 dime value is divided between bullion silver value and premiums as a collectible. Currently each of these silver Roosevelt dimes are worth $1.65 . Additional premiums are found in the condition of the coin. High preservation combined with high eye appeal are in demand by collectors. Steps outlined below follow a process to identify the traits needed to catch the eye of a collector.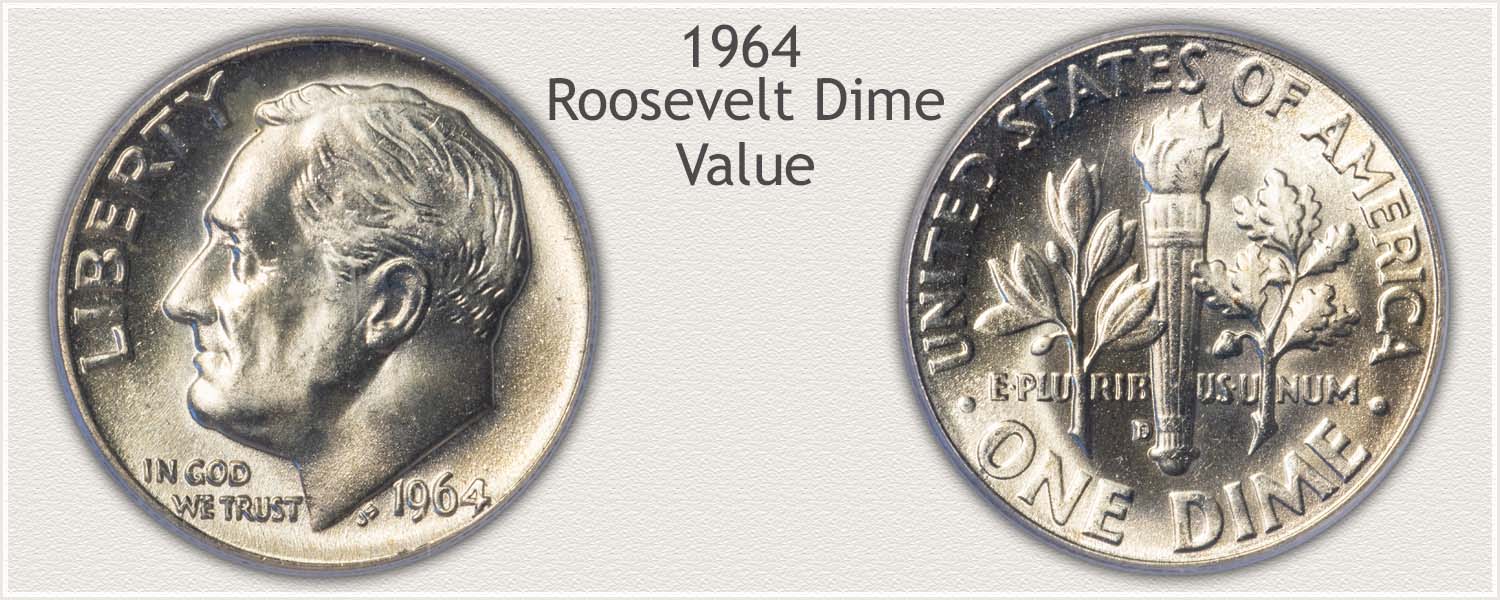 Steps Leading to Value:
Step 1: Date and Mintmark Variety - Vintage silver dimes are identified and valued by date and mint variety. Confirm your dimes variety.
Step 2: Grading Condition - Comparing your coin to images of different grades, recognize the quality in demand and awarded premium value.
Step 3: Special Qualities - Collectors support the value to old coins. Silver dimes are collected in many ways creating different levels of demand and ultimately, how much they are worth.
1964 Dime Value
Condition of Coin
Date
Good
Fine
Extremely
Fine
Mint
State
Roosevelt Dime Values Updated
11/27/2023
1964
$1.65
$1.65
$1.65
$2.03
1964 D
$1.65
$1.65
$1.65
$2.03
The value chart is showing a preference for coins in the mint state level of condition. First confirm date/mint combination then move to judging the condition of the coin.
Step 1: | Date and Mintmark Variety Identified
Varieties of 1964 Dimes to Recognize
1964 dimes were minted in extraordinary numbers. Two mints combined, struck over 2.2 Billion pieces in total. 1964 is the leading year for total mintage of the silver era Roosevelt dimes. Two mints were involved in production and each rank in the top three for date and mint variety numbers.
Identify if your coin was minted at Philadelphia or the Denver mint.
1964-D Roosevelt Dime
"D" Mintmark on Reverse: Denver Mint Struck the Coin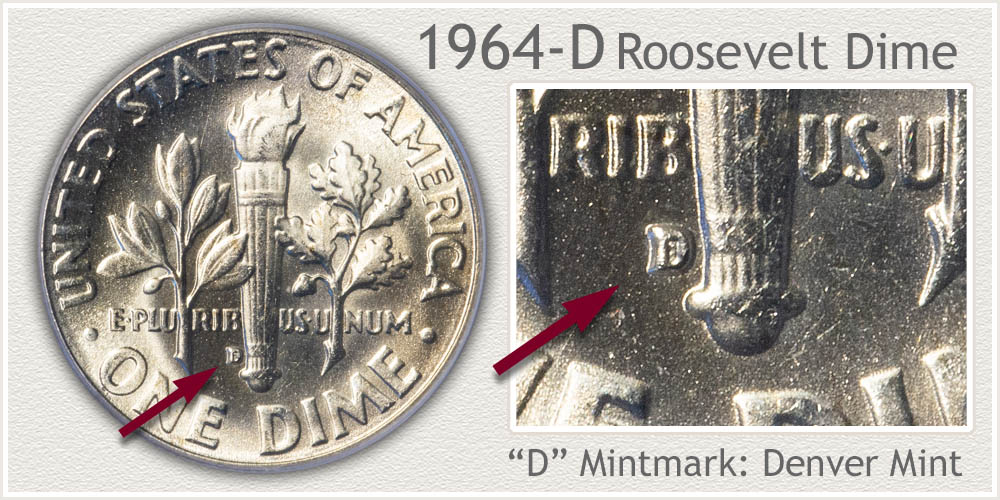 Denver mint Roosevelt dimes dated 1964 are the abundant year of the entire silver era. From this one mint 1.3 Billion 1964 dimes were struck. As to value; circulated worn examples are traded at silver base worth. Many were also saved in mint state condition - no wear. Of these top condition examples collectors have many to choose from and pick eye pleasing examples to place a premium value on.
Denver coinage is recognized by the small "D" mintmark. On the reverse, towards the base of the torch, a "D" was placed to identify Denver production.
1964 Roosevelt Dime
No Mintmark on Reverse: Philadelphia Mint Struck the Coin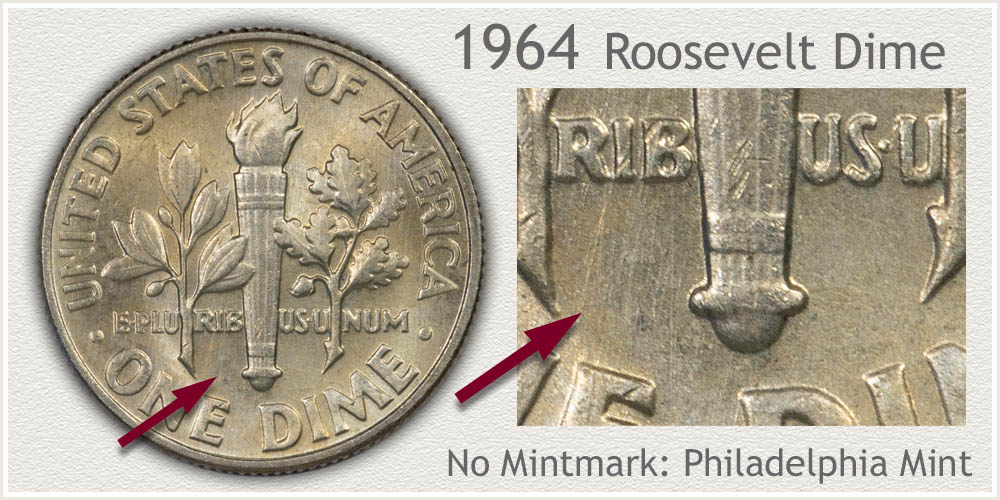 Over 924 million dimes dated 1964 were produced by the Philadelphia mint. This large mintage number results in large quantities available. Silver in the alloy of the 1964 dime is the base premium value. Higher collector value is recognized by grading condition and determining the coin is in Mint State condition. Step 2: Grading covers judging condition.
Philadelphia mint dimes are those without a mintmark on the reverse. To spot the variety, look at the base of the torch, if the left side is without a mintmark, Philadelphia struck the dime.
Step 2: | Judge Condition to Identify Grade
1964 Dime Value is Conditional
With the large quantities available it takes a very well preserved 1964 dime to rise above base silver value. Grades are terms used to identify the range of conditions found on coins. Most coins are worn to varying degrees. Fewer are in mint state grade - defined as no wear to the surface.
The process of grading determines condition by comparing to images representing different grades. Start with the mint state example, here is a coin with all original detail remaining.
A focus on specific areas is described, key points separating condition of the coin into the grade categories.
Mint State Grade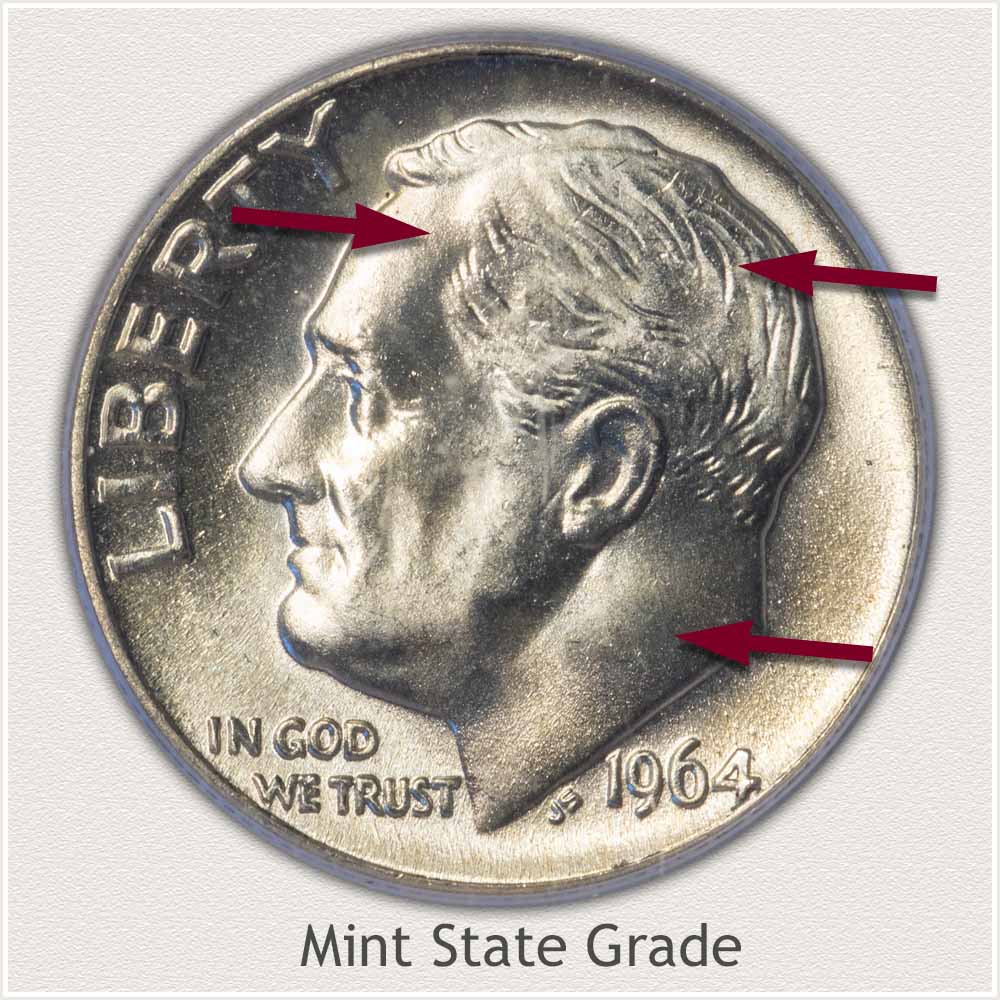 Mint State: No wear to the surface is the definition of a dime in Mint State grade. Fine texture of luster remains over the entire surface, high points, recessed areas in the design, and the fields of the coin. The high points are inspected first to determine a mint state example.
High in relief and quick to show wear is Roosevelt's hair. Many fine lines are part of hair detail, waves with rounded contours, and low relief areas near the forehead are all closely inspected. Bright luster remains on the example image covering all hair details both high and low. Wear dulls the surface smoothing the fine texture that gives a mint state coin its luster.
Color of the metal is consistent throughout the hair, no dull areas or smooth areas. Tilting and moving a mint state coin under light shows a band of unbroken luster moving over the surface.
Extremely Fine Grade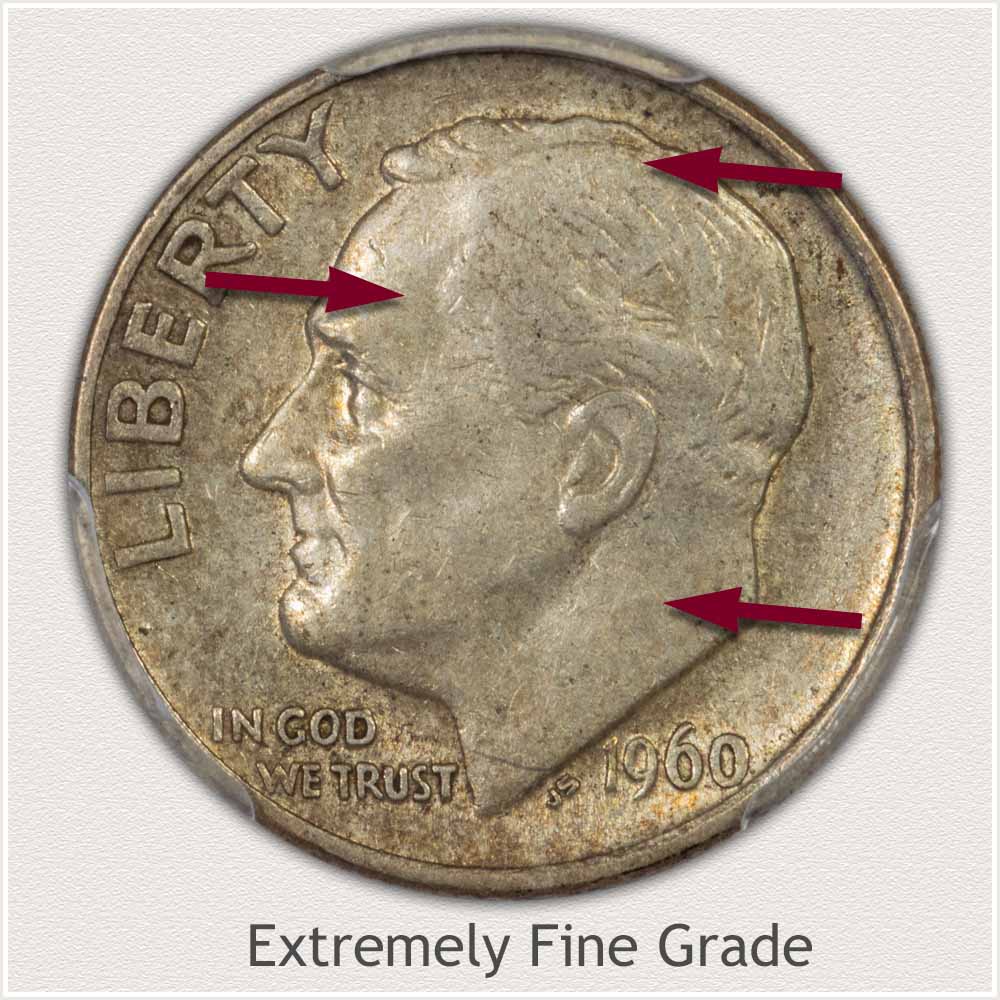 Extremely Fine: Light wear on a silver dime is noted as having a dull grey tone to the surface. Light wear and a dulling confined to just high points of the design is an Extremely Fine grade example.
The amount of wear to a coin is gaged by the remaining detail of design elements. Roosevelt's hair with its fine lines show wear quickly and loss of fine details. At the hair line to the temple, note on the example a small flat area now missing fine lines. Additionally, a minor amount of wear is seen near the part in the hair. Overall, many details; raised waves of hair, fine lines, and a raised contour above the ear are clear.
A crisp and sharp design is the first impression of a dime in extremely fine grade.
Low Grade Examples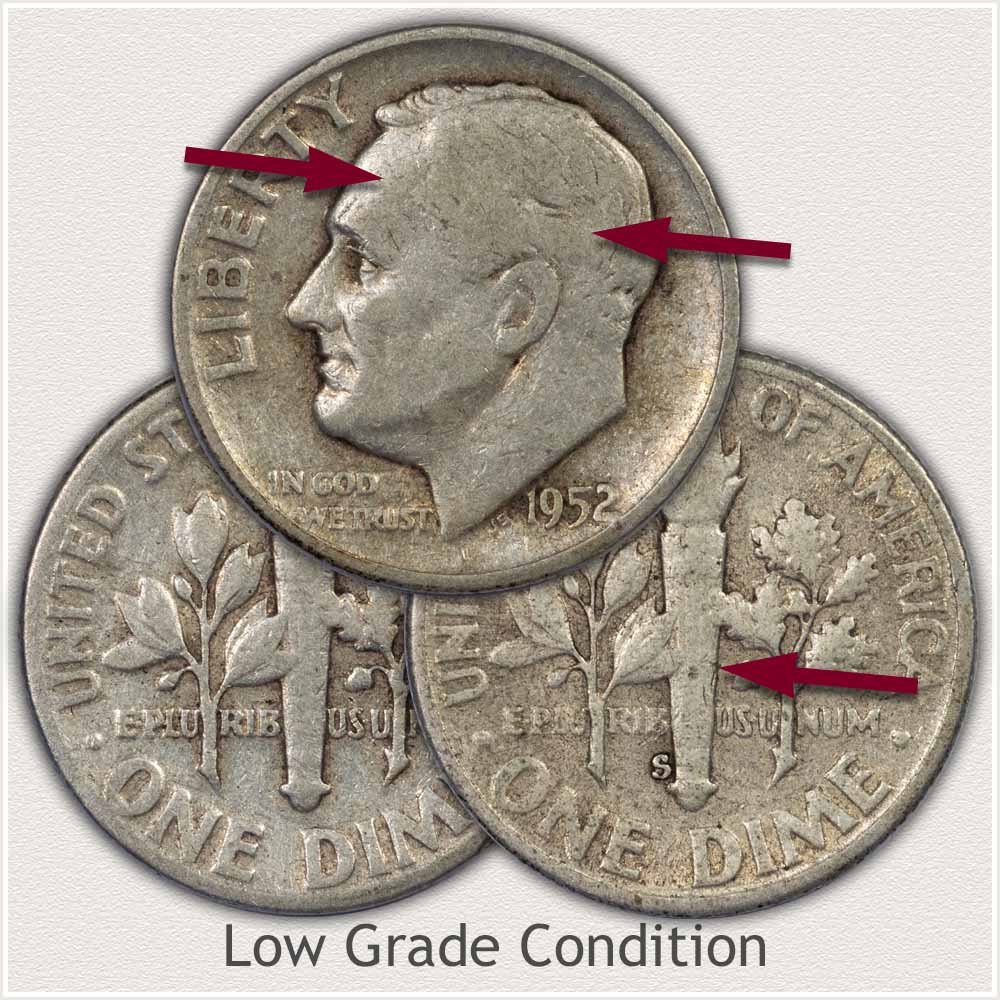 Low Grade Condition: Silver dimes with moderate to heavy wear are graded lower than extremely fine condition. Missing fine details and noticeable flat areas to the surface, these dimes are considered low-grade and less than collectible quality. Well-worn 1964 dimes are valued based on silver content.
Moderate wear is noted on the example image as hair detail is missing causing large smooth areas. Near the forehead, the hair is now missing all details. The area over the ear, once a raised contour is now a large, flat, smooth spot.
Heavy wear is also flattening the cheek below the eye and jaw line from the chin to ear. Raised contours no longer define facial features of Roosevelt's face. All combined, lack of hair detail and flattened contours places a dime in low-grade condition.
How to Video: Grading Roosevelt Dimes
An accurate judgement of condition is made during the grading process. Using visual cues, separate the bullion from collector quality silver dime.
Video, Images and Descriptions | Grading Roosevelt Dimes
Step 3: | Special Qualities Enhancing Value
Historic 1964 Dime Production
Roosevelt silver dimes dated 1964 saw a historic production span lasting three years. In response to a critical coin shortage, legislation was enacted retaining the "1964" date on coins manufactured after January 1, 1965. This provided the mint the authority to mint coins dated "1964" until adequate supplies of coins were achieved.
Contributing to the shortage of coins was a speculation in the value of silver these coins represent. During the years leading up to 1964 average yearly price of silver had climbed from 91 cents an ounce in 1960 to $1.29 a set price in 1964. Silver coinage was leaving circulation quickly.
Mint production of dimes was also climbing in an effort to maintain a supply of circulating coinage.

1964 was the critical year. Total numbers of silver dimes minted in 1964 was over 810 million. In 1965 an additional 1.3 billion. And finally, in 1966 another 167.9 million silver dimes dated 1964 were produced. In total, over a three-year span, close to 2.3 Billion "1964" dated dimes minted.
Retaining a date on U.S. coinage minted outside the calendar year, plus 1964 represents the "last year of the silver era" is a very special quality of 1964 Roosevelt dimes. Because of the huge numbers struck and most were retained by the public at the time, these have become the "bullion year" silver dime. Most dimes dated 1960 to 1964 because of quantities available are the coins trading based on bullion silver value.
Your 1964 dime is primarily valued based on current silver prices. Collector quality premiums begin with mint state condition coins. See Grading Step 2: above and inspect closely to see the subtle points determining a mint state coin.
References
U.S. Mint. 1964 U.S. Mint Annual Report. https://nnp.wustl.edu/library/book/514149
U.S. Mint. 1965 U.S. Mint Annual Report https://nnp.wustl.edu/library/book/514150
U.S. Mint. 1966 U.S. Mint Annual Report https://nnp.wustl.edu/library/book/348/
U.S. Mint. 1967 U.S. Mint Annual Report https://nnp.wustl.edu/library/book/514151
Coin Values | CoinStudy Articles
Date by Date
In Depth Roosevelt Dime Values
1946 to 1964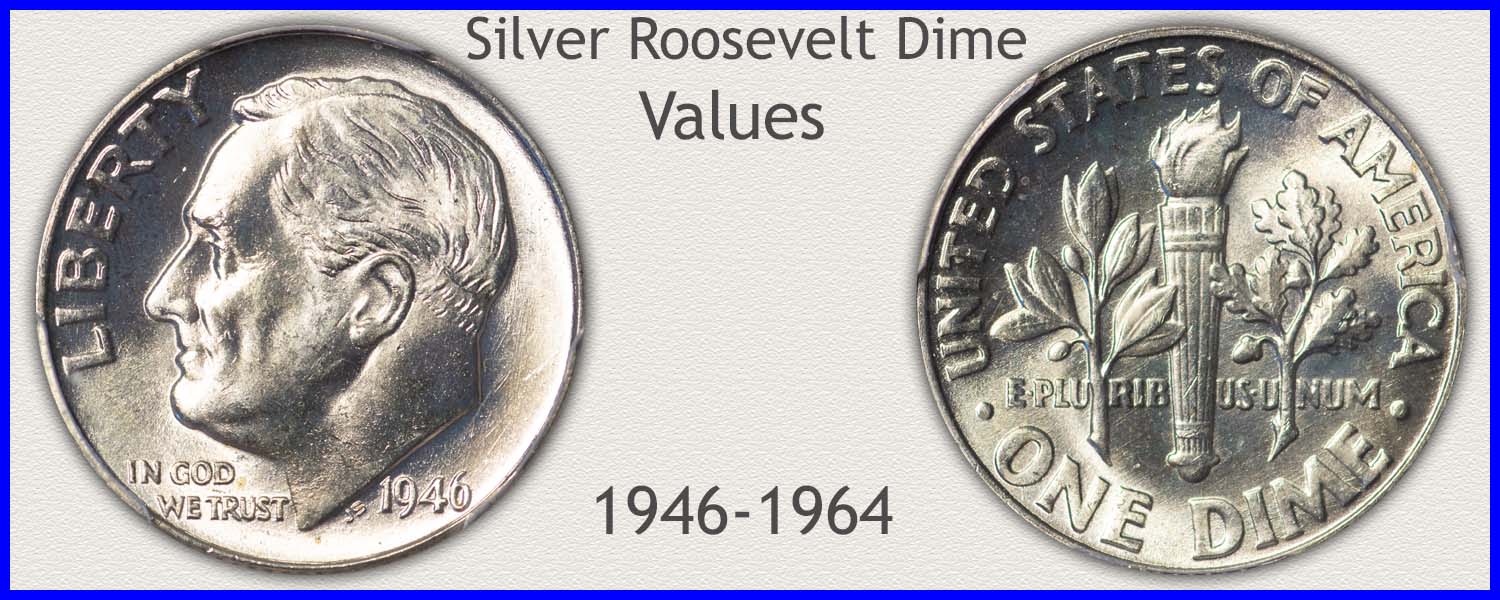 Silver issues of 1946 to 1964 are slowly maturing and beginning to gain in value. Most Roosevelt silver dime dates and mint varieties of these years are tied to the value of silver, each worth $1.65 . However, there are a few exceptions. Affordable to collect, the value is in Mint State condition - coins without wear. Value chart lists complete variety and dates spanning the silver years.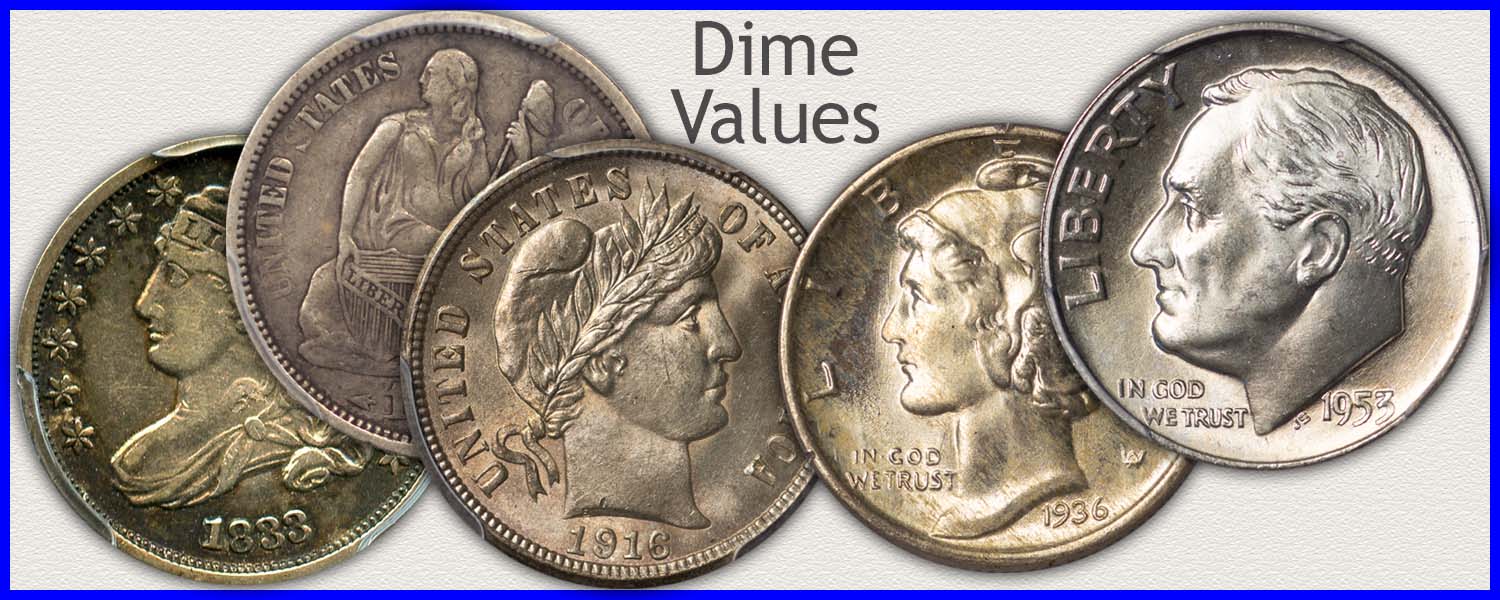 First minted in 1796 there are many rare and collectible dime varieties to discover.
From the early Bust coinage to the Seated Liberty series of 1837 to 1891. Next the Barber dime spanning 1892 through 1916 followed by the widely collected Mercury Head dime. The silver Roosevelt series bring it to 1964. Match your coins to variety images, grading images, identify its place on value charts.
Print the Coin Values Worksheet
List your Roosevelt dimes and record their values. Should you decide to sell... use the worksheet as an invoice and packing slip when sending coins through the mail to dealers. It indicates you have done your coin values homework.
Popular Coin Series | Roosevelt Dimes
How much your old dime is worth is determined by its base silver value and collectible demand. The number of collectors pursuing the Roosevelt series becomes another solid base to premiums. Collecting interests of the different coin series are ranked and charted. Roosevelt dimes are among the popular series today.
An easy, quick reference to U.S. Coin Values. Follow images to identify each coin series. Minimum values are listed and link to expanded value charts and grading descriptions to narrow place on charts. Bookmark the Mobile Guide to your phone.
★Coin Values Discovery finds 1964 Dime Value and...
All old US coin values. The home page is an excellent index, quickly leading to the major coin series. From Cents to Gold. Easily sort and value your coins, an important step in preparing for selling and finding coin buyers.