Coin Values Moving with Precious Metals: Up-Dated 11/27/2023: Gold $2010 | Silver $24.66
1947 Dime Value
Silver content is the strong base to 1947 dime value. Currently worth $1.65 each. Collectors seeking these Roosevelt dimes from the silver era are looking for pleasing examples.
A focus on mint variety and condition is needed to find premium coins in demand as collector quality. Following the steps below helps recognize a dime worth above base silver value.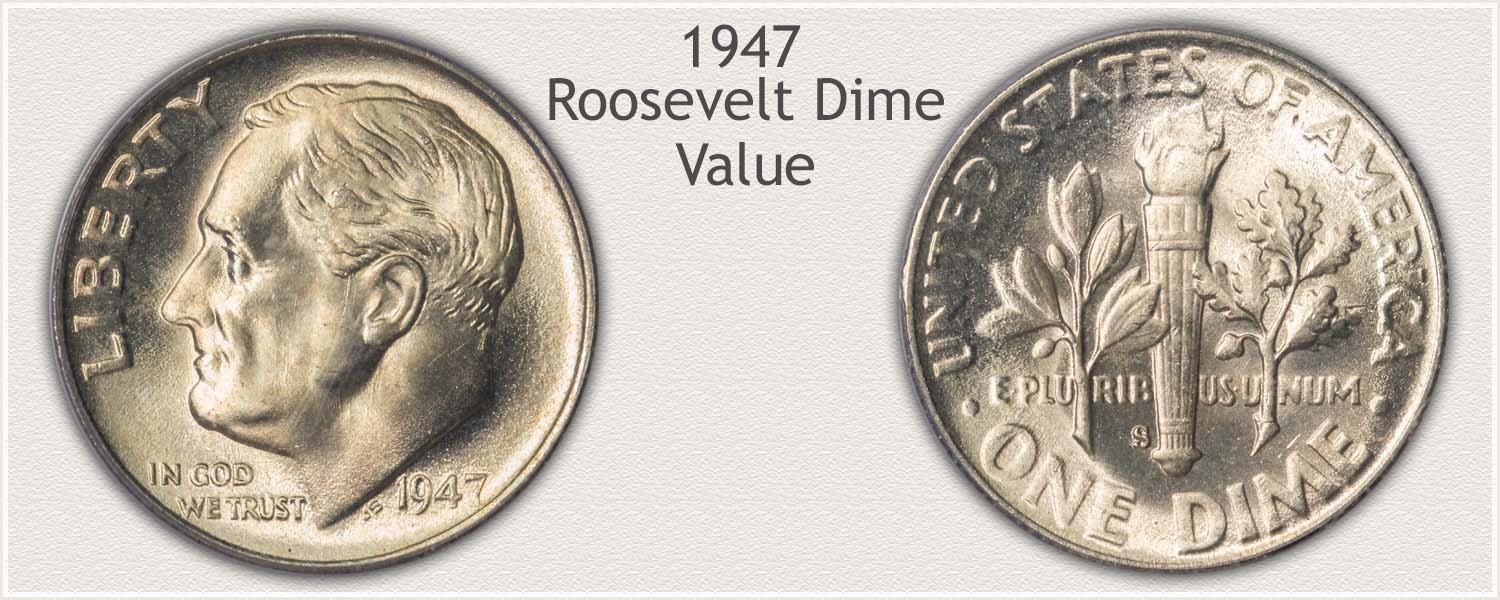 Steps Leading to Value:
Step 1: Date and Mintmark Variety - Roosevelt dimes are collected as sets of all dates and mints. Each is important to identify and find on the value chart.
Step 2: Grading Condition - The higher end values are awarded to well preserved examples. Images and descriptions help visualize the quality in demand.
Step 3: Special Qualities - Collectors are keen to finding special coins to add to their collections. Eye appeal is a universal trait and is considered.
1947 Dime Value
Condition of Coin
Date
Good
Fine
Extremely
Fine
Mint
State
Roosevelt Dime Values Updated
11/27/2023
1947
$1.65
$1.65
$1.65
$5.17
1947 D
$1.65
$1.65
$1.65
$5.17
1947 S
$1.65
$1.65
$1.65
$5.17
A clear break is seen on the value chart in the condition of a 1947 dime. Mint variety is important to a date and variety collection, and condition is important to all coins.
Step 1: | Date and Mintmark Variety Confirmed
Three Varieties of 1947 Dimes to Recognize
Just over 203 million 1947 silver Roosevelt dimes were placed into circulation. Three mints, in varying amounts, contributed to this total. Because collections of dimes are assembled by date and mint variety it becomes important to identify variety. Value charts further show the differences in availability and demand for the different varieties.
1947-S Roosevelt Dime
"S" Mintmark on Reverse: San Francisco Mint Struck the Coin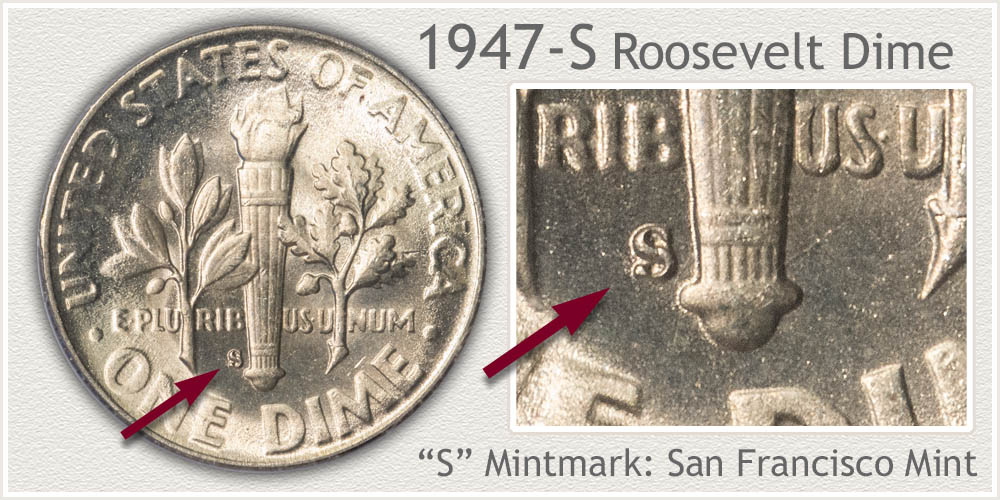 The San Francisco mint, over time, has routinely produced the fewest numbers of coinage of the mints. 1947 continued the trend of lowest yearly numbers of dimes with 34,835,000 struck. These are well received by collectors when found in lightly circulated or better condition.
Mintmarks are placed on coinage by branch mints to identify production. San Francisco used an "S" mark and is found on the reverse. Look at the base of the torch on the left side, the "S" mintmark is small but recognizable. This confirms San Francisco struck the coin.
1947-D Roosevelt Dime
"D" Mintmark on Reverse: Denver Mint Struck the Coin
Denver mint 1947 dimes, although now very old are abundant. Close to 47 million were struck, however, most entered circulation and became worn, many very worn. The second year of the Roosevelt series did not attract the "fist of series" attention. An eye appealing example
Denver mint dime is a collectible in high grade.
Denver is a branch mint and identified by a "D" mintmark. On the reverse to the left of the torch the "D" is visible confirming the Denver variety dime.
1947 Roosevelt Dime
No Mintmark on Reverse: Philadelphia Mint Struck the Coin
Philadelphia, the main mint, produced over half of the 1947 dimes struck that year. With over 121 million entering circulation these are an available date and mint variety. Lightly circulated pieces are needed by young and beginning collectors, an affordable early Roosevelt dime. High grade examples fit into advanced collections.
The value chart lists the Philadelphia issue without a mintmark notation. Philadelphia did not place mintmarks on coinage in the 1940's. On the reverse, to the left of the torch, the space is empty on Philadelphia mint dimes.
Step 2: | Condition is Judged and Grade Determined
Grading Finds Accurate 1947 Dime Value
1947 Roosevelt dimes are an available issue. These are an excellent coin for young and beginning collectors to enjoy a silver coin from the early years of the Roosevelt series. Grading condition finds its place on the value chart.
Condition is examined closely looking at key points on the coin while comparing to images representing the different condition ranges. A grade is determined and used as a definition of condition. Interest by collectors is based on grade with a preference towards the nicer coins in high grade.
Mint State Grade
Mint State: The highest grade is a coin without wear to the surface. Mint state is the term defining a coin in the condition it left the mint without wear.
Roosevelt's portrait is raised well above the field-background of the design. High points and low relief points are examined looking for traces of smoothing and dulling indicating wear. Just below his ear, the large open neck area is one of the highest points and subject to show wear first.
Notice on the example, the neck below the ear remains covered with the fine texture of luster. Color is consistent with surrounding metal lower down the neck and no smoothness is seen. Tilting the coin under a light, luster moves across the neck area complete and unbroken.
A shine of luster covers the coin overall, cheek, forehead, and hair. A nice mint state coin.
Extremely Fine Grade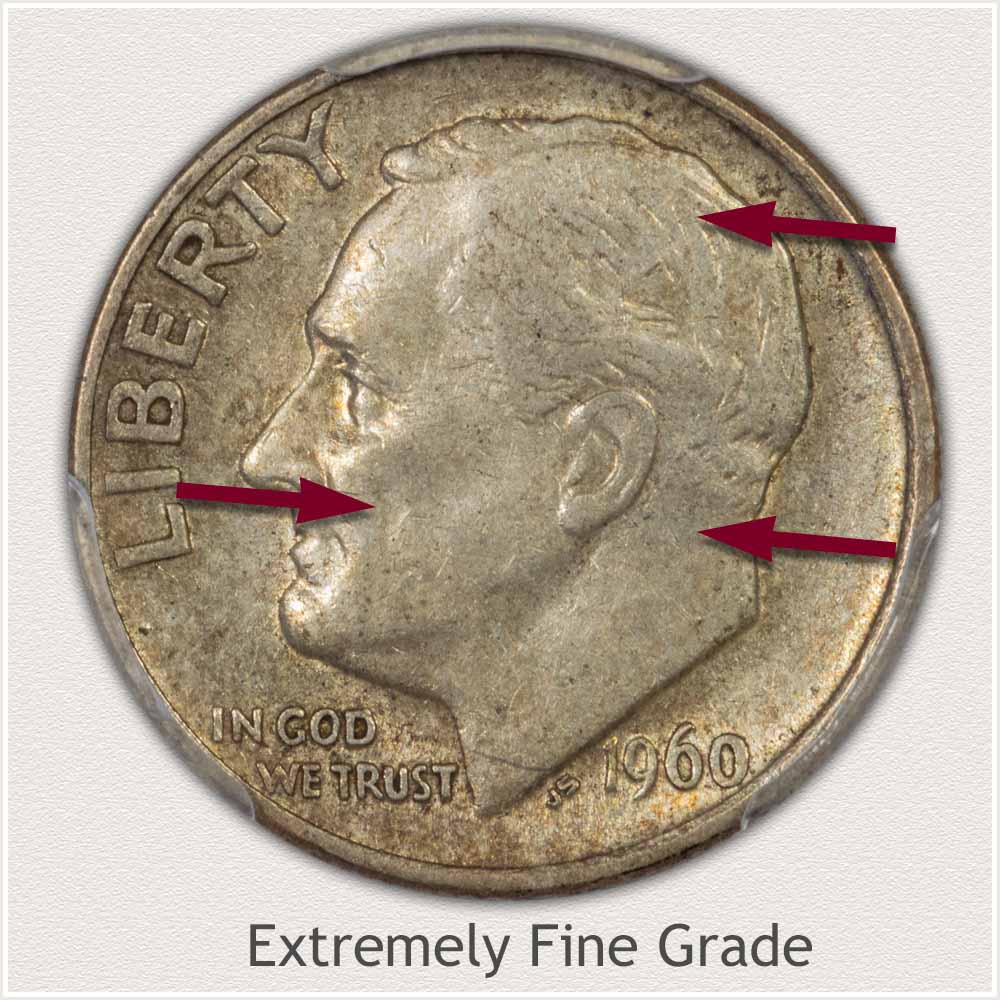 Extremely Fine: Wear has removed the majority of luster and begun to flatten the highest points on the design. Light wear on high relief areas only, defines the Extremely Fine grade.
A focus on the open area of the neck just below the ear detects slight smoothness and a small flatness. This area just below the ear does remain as a raised contour compared with the rest of the neck toward the throat. Over the rest of the design, contours representing the cheek and jaw are full and separated, and importantly, fine lines within the hair are visible.
Lightly circulated silver Roosevelt dimes are an affordable collection to pursue. Very old coins are available to entry level collectors dating back to the mid 1940's. A pleasing, Extremely Fine grade 1947 dime is welcome by many collectors.
Low Grade Examples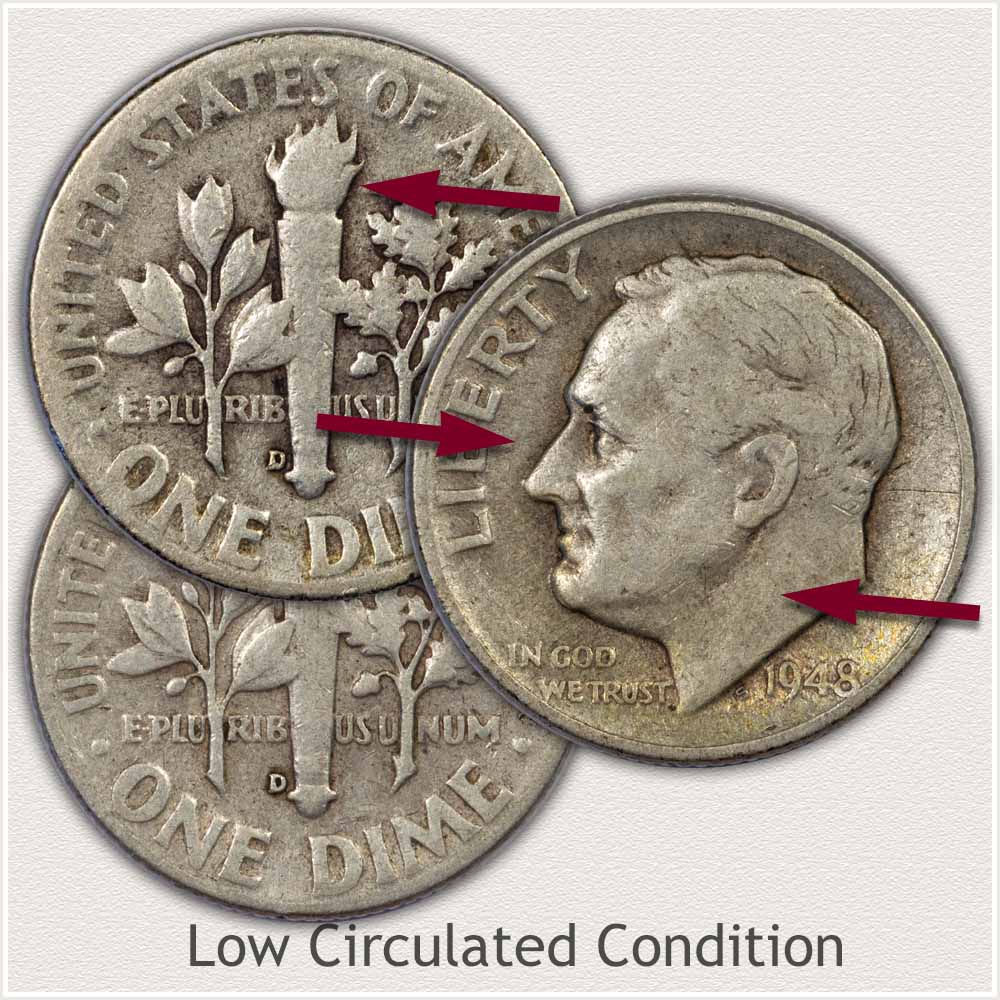 Low Grade Condition: Low grade dimes are worn to the point large areas of flatness is visible. Fine lines are missing and high relief contours are reduced to the point of merging. These heavy wear indicators reduce the grade below Extremely Fine.
Roosevelt's portrait is smooth overall. Examining the area of the neck below the ear shows a continuous flatness extending to the base and throat. No contour of a raised area below the ear remains, wear has reduced the neck contours to one level. Moderate wear is visible overall.
Viewing the condition overall, hair detail is very faint, also very flattened are the cheek and jaw contours. 1947 Roosevelt dimes of the silver era are valued based on silver content when judged as low grade.
How to Video: Grading Roosevelt Dimes
When grading 1947 dimes the objective is to confirm the higher value - collector quality coins.
Video, Images and Descriptions | Grading Roosevelt Dimes
Step 3: | Special Qualities Enhancing Value
Identify the Collectible | Circulated Silver Dimes
Today, collectors and their demands are the main force to values of Roosevelt dimes. Vintage silver years spanning 1946 to 1964 are of particular appeal. These coins present a variety of ways to collect the series; complete date and mints sets, high grade sets with all coins mint state, and circulated sets with nice eye appeal, are just a few examples.
Many sets of dimes are first started by the young collector, on a budget. The silver Roosevelt era is a good choice, old - historical, precious metal, and complete sets are obtainable. 48 is the total number of dimes in a date and mintmark set.
Lightly circulated dimes with eye appeal are often the grades sought by new and beginning collectors; an affordable choice. It is their efforts searching for circulated, eye appealing coins supporting the premium in these grades. To further help cost, and reduce the number of coins needed, many sets start with a sub-theme within the series.
A popular collecting theme of the silver Roosevelt series is the San Francisco issues. These coins are often the lowest mintage variety for each year, a historical significance. Secondly, collector quality is not exclusive to mint state examples. Many dates are collector quality and premium value in lightly circulated condition. The San Francisco issues are a complete set within itself plus an excellent beginning to a full set of silver Roosevelt dimes.
To identify a premium collectible dime, a quick scan for the "S" mintmark spots potential. Next, the presence of fine details within the design helps confirm a well-preserved coin. A lightly circulated San Francisco dime is a coin sought by many. These special qualities points to a coin worth a premium above base silver value.
References
U.S. Mint. 1948 U.S. Mint Annual Report. https://nnp.wustl.edu/library/book/339
Coin Values | CoinStudy Articles
Date by Date
In Depth Roosevelt Dime Values
1946 to 1964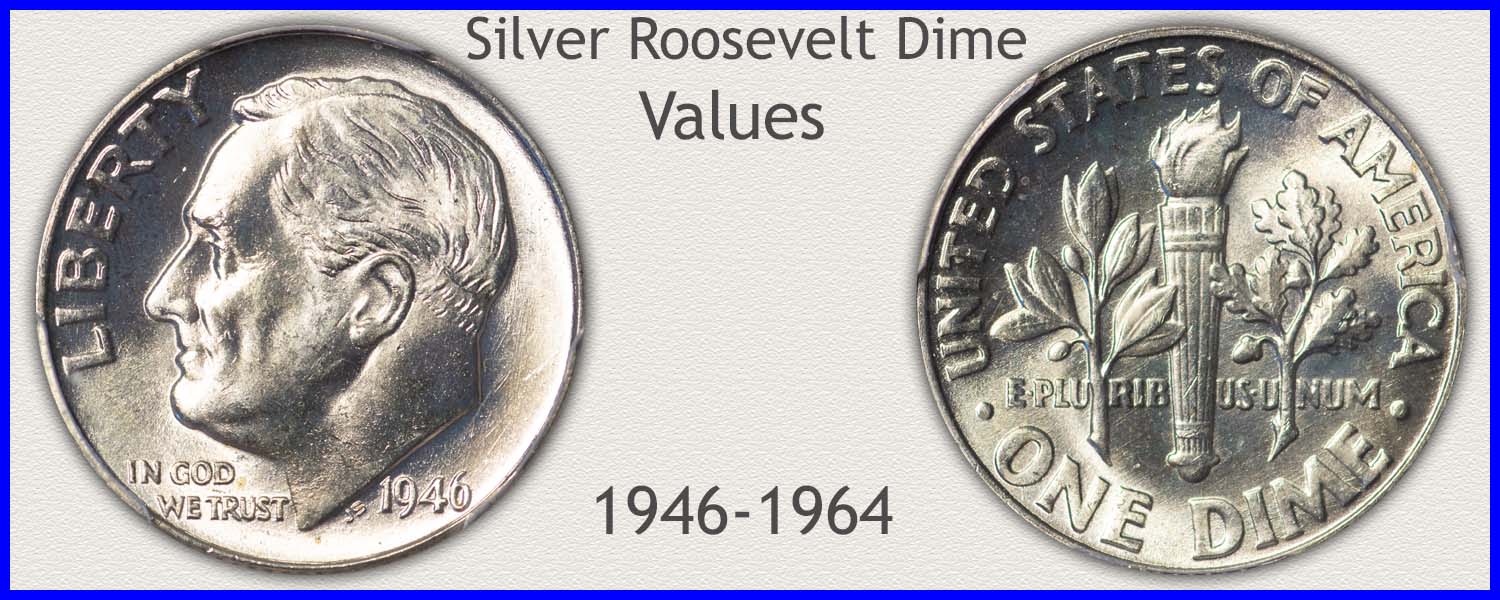 Silver issues of 1946 to 1964 are slowly maturing and beginning to gain in value. Most Roosevelt silver dime dates and mint varieties of these years are tied to the value of silver, each worth $1.65 . However, there are a few exceptions. Affordable to collect, the value is in Mint State condition - coins without wear. Value chart lists complete variety and dates spanning the silver years.
Date and mint variety are important to collectors. Some dimes are recognized as rare, many older dimes are scarce in availability, and all minted until 1964 are important because of silver content. Identify the rare dimes.
An insight into what is collected today, what is popular, and numbers of collectors involved helps show Roosevelt dimes are a series in demand. Coin series spanning all denominations are charted and ranked by numbers of collectors assembling sets of U.S. coins.
Coin Value Guide | How to Value a Coin Collection
Identify the different series of coins, recognize the higher condition coins, and narrow the range of value on the charts. A step-by-step process insures a complete assessment of your coin collection.
★Coin Values Discovery finds 1947 Dime Value and...
U.S. coin values determined using a step-by-step process. Begin with identifying the major coin series covering cents to gold coins. Images are used throughout to compare dates, mint varieties, special varieties, and grading condition of your coins. Follow a few steps to narrow range on value charts.