Coin Values Moving with Precious Metals: Up-Dated 11/27/2023: Gold $2010 | Silver $24.66
1951 Dime Value
Silver is the base to 1951 dime value. A Roosevelt dime minted in the 1950's is a silver alloy currently worth $1.65 each. Rising and falling with the price of silver. Adding to potential worth is identifying the "S" mint variety. Collectors have begun to place special attention to the variety in lightly worn to better condition. Follow the steps below to find on the chart how much these vintage dimes are worth.
Steps Leading to Value:
Step 1: Date and Mintmark Variety - Inspection of the dime is needed to confirm mint variety. Roosevelt dimes of 1951 are valued separately according to date and mint combination.
Step 2: Grading Condition - Judging condition is important to separate the base silver value examples from premium collector coins. A set of grading images are used to compare to standards for the different grades.
Step 3: Special Qualities - Collectors pay close attention to eye appeal when choosing coins to pay above base silver value. A close look at subtle details is done to find the quality collectors seek.
1951 Dime Value
Condition of Coin
Date
Good
Fine
Extremely
Fine
Mint
State
Roosevelt Dime Values Updated
11/27/2023
1951
$1.65
$1.65
$1.65
$2.72
1951 D
$1.65
$1.65
$1.65
$2.72
1951 S
$1.65
$1.65
$2.79
$10
Begin the few steps needed to place a value on your coin. Silver moves up and down over time, current values are used for accuracy. Collector values on premium coins have a tendency to follow a steady, less volatile pace.
Step 1: | Date and Mintmark Combination is Identified
Varieties of 1951 Dimes Collectors Identify
One mint variety stands out; San Francisco 1951 dimes are worth over base silver value in lightly worn condition. Three mints struck dimes in 1951, Philadelphia, Denver, and San Francisco. Most of these coins now trade in the range based on silver content. Collector demand on the issue has highlighted the infrequent availability of the San Francisco variety.
1951-S Roosevelt Dime
"S" Mintmark on Reverse: San Francisco Mint Struck the Coin
Mintage numbers of 1951 San Francisco dimes are not exceptionally low, over 31 million produced. Lack of saving examples early before heavy wear took place is likely why today these are a premium collectible. Judging condition after mint variety is important to recognize full value.
San Francisco used an "S" mintmark on its coinage. On the reverse at the base of the torch finding the "S" mark to indicates San Francisco struck the coin.
1951-D Roosevelt Dime
"D" Mintmark on Reverse: Denver Mint Struck the Coin
Denver in 1951 produced 56.5 million Roosevelt dimes. All are a silver alloy and have a nice base value. Silver area dimes from Denver are collected in high condition and date/mintmark combinations.
Denver placed a "D" mintmark on all dimes from their facility. On the reverse look to the left side of the torch, at the base a small "D" is the Denver mint variety.
1951 Roosevelt Dime
No Mintmark on Reverse: Philadelphia Mint Struck the Coin
Philadelphia increased production dramatically from prior years in 1951. The need for small denominations was met with just under 103 million dimes, double the amount from 1950. A high condition example is sought by collectors, coins without wear are awarded premium values. Most worn examples are worth base silver content.
Philadelphia is the main U.S. mint. During the 1950's it did not place mintmarks on coinage. The lack of a mintmark is how these are recognized. On the reverse at the base of the torch, if no mark is present on the left side the dime is the Philadelphia variety.
Step 2: | Judge Condition to Identify Collectible Quality
Collectible Quality Raises 1951 Dime Value
Recognizing a high condition 1951 dime adds to its appeal and demand by collectors. Grading is the process of judging condition against a set of standards. Each level of wear is given a "Grade" to narrow its place on value charts.
Looking closely at the surface of coins and comparing to examples of the different grades is an efficient process used by collectors. With descriptions pointing to key elements, begin at the mint state grade to visualize a coin with all design elements remaining.
Mint State Grade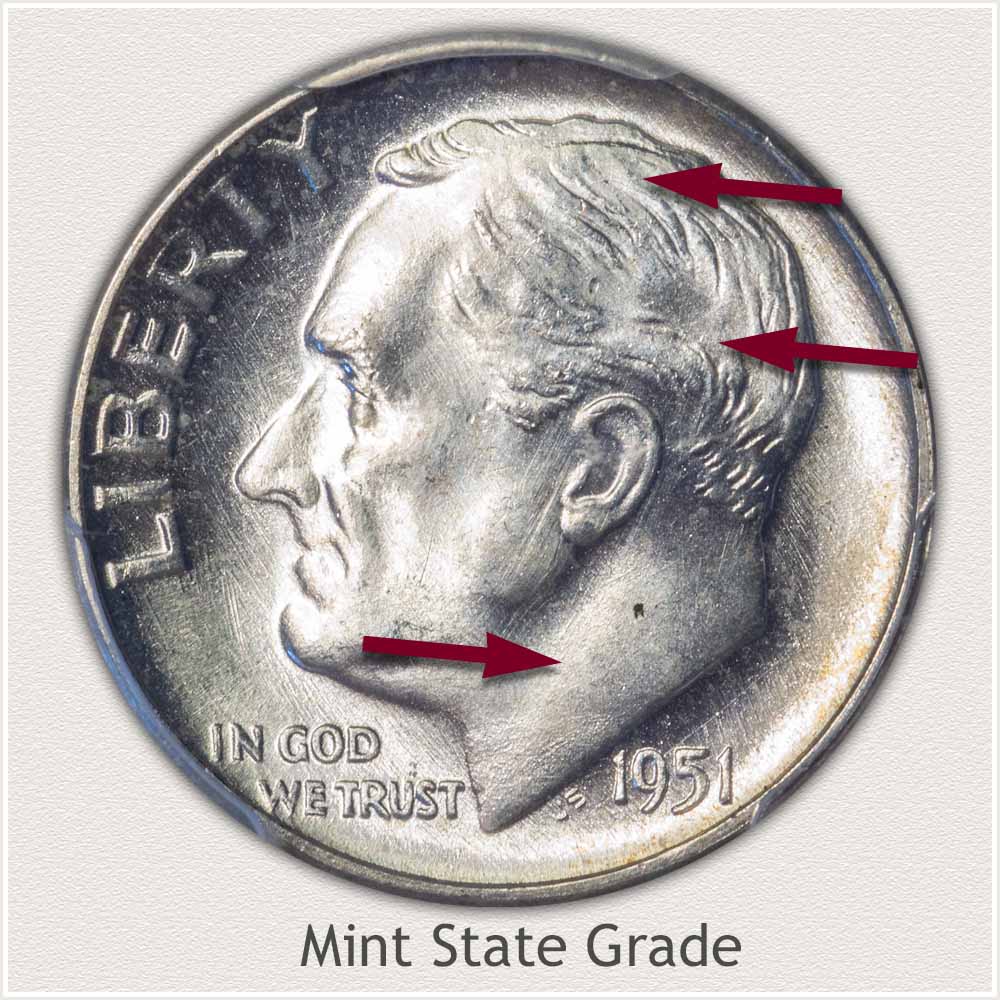 Mint State: A coin with surfaces intact without wear defines the Mint State grade. Detecting the absence of wear requires a close look at key points of the design. Presence or absence of luster, the shine of the coin, alerts to any wear on the surface. High contour areas are the main focus, these are inspected first.
Centrally located and high in profile is the hair just above Roosevelt's ear. The mint state example is showing the hair is bright with the fine texture of luster. No smoothing is visible and the color of the metal matches the surrounding areas. If wear was present the fine grains of luster are missing and the metal takes on a dull silver-grey tone.
Inspecting all parts of the hair finds no dulling, no smoothing of the metal and a similar shine overall.
Extremely Fine Grade
Extremely Fine: Scattered light wear only on high relief points helps define the Extremely Fine grade. This "light wear only" is important to the San Francisco variety 1951 dime.
Degrees of wear is measurable when looking at key areas on the coin. The hair above Roosevelt's ear is a prime location to show progressions of wear. A close look at the example sees only a small amount of smoothing, with many fine lines visible within the hair. Further above the ear, waves of hair are fully contoured and small lines within the hair remain.
An extremely fine grade dime is crisp in appearance; fine details are just slightly worn with no connecting of design elements.
Low Grade Examples
Low Grade Condition: A noticeable amount of wear is visible on coins in a condition below the Extremely Fine grade. Moderate to heavy wear has removed most fine details and reduced high contours into flat areas.
Looking at the hair just above Roosevelt's ear shows a smooth flattened area. Small lines of hair detail are missing and the profile of the metal is reduced to merging with the forehead. Large flat areas are now the majority of Roosevelt's face. High contour cheek and jaw are lowered and connected.
Overall eye appeal is lowered on moderate to heavy circulated dimes, an important consideration to collectors.
How to Video: Grading Roosevelt Dimes
Collector 1951 dime value extends into the lightly circulated condition with a premium over silver value. Confirm high quality by grading the surface of the coin.
Video, Images and Descriptions | Grading Roosevelt Dimes
Step 3: | Special Qualities Enhancing Value
Judging the San Francisco Dime of 1951
A San Francisco issue 1951 dime stands out because of its demand as a collectible in circulated condition. An unusual situation when compared to many date and mint varieties of the Roosevelt series. Once circulated and worn the majority of silver Roosevelt dimes are not avidly collected. These overly worn examples are valued based on silver content.
A clue to the value of a lightly circulated 1951 San Francisco dime is found in the significant premium of Mint State coins. With a high cost to obtain a mint state coin, demand is beginning to show in the Extremely Fine grade pieces to add to a collection. This increased demand plus the difficulty of finding pleasing examples now requires a premium to obtain an eye pleasing dime.
Eye appeal is of primary concern to identify the circulated coins favored by collectors. Light wear pieces must present well overall. No large marks, dark toning, or large flat areas due to wear is accepted as a collectible coin.
A close look at the coins in the above image, shows a progression of wear. Judging a few key elements of the design spots the quality in demand.
Inspecting the Torch: To qualify as Extremely Fine grade, the vertical lines of the torch handle are easily visible and complete along the length of the torch. Horizontal bands bound the handle at the top and bottom, these remain raised and no merging with the torch.
Identifying the Acorns in the Oak Branch: To the right of the torch is an oak branch. Leaves, when showing central veins indicates a coin with just light wear. Only a slight amount of wear is flattening the edges of the leaves. If you look closely two acorns are visible with distinct caps.
Judging the Fullness of the Olive Leaves: Completing the central devices is an Olive branch on the left. Featured are large leaves showing only minor wear towards the edges. These leaves present a raised profile and sharp separation of the leaves below. Minor wear is just smoothing the branch detail.
A nice, eye pleasing, just lightly worn 1951 San Francisco dime is a quality coin and sought by collectors.
References
U.S. Mint. 1952 U.S. Mint Annual Report https://nnp.wustl.edu/library/book/514146
Coin Values | CoinStudy Articles
Date by Date
In Depth Roosevelt Dime Values
1946 to 1964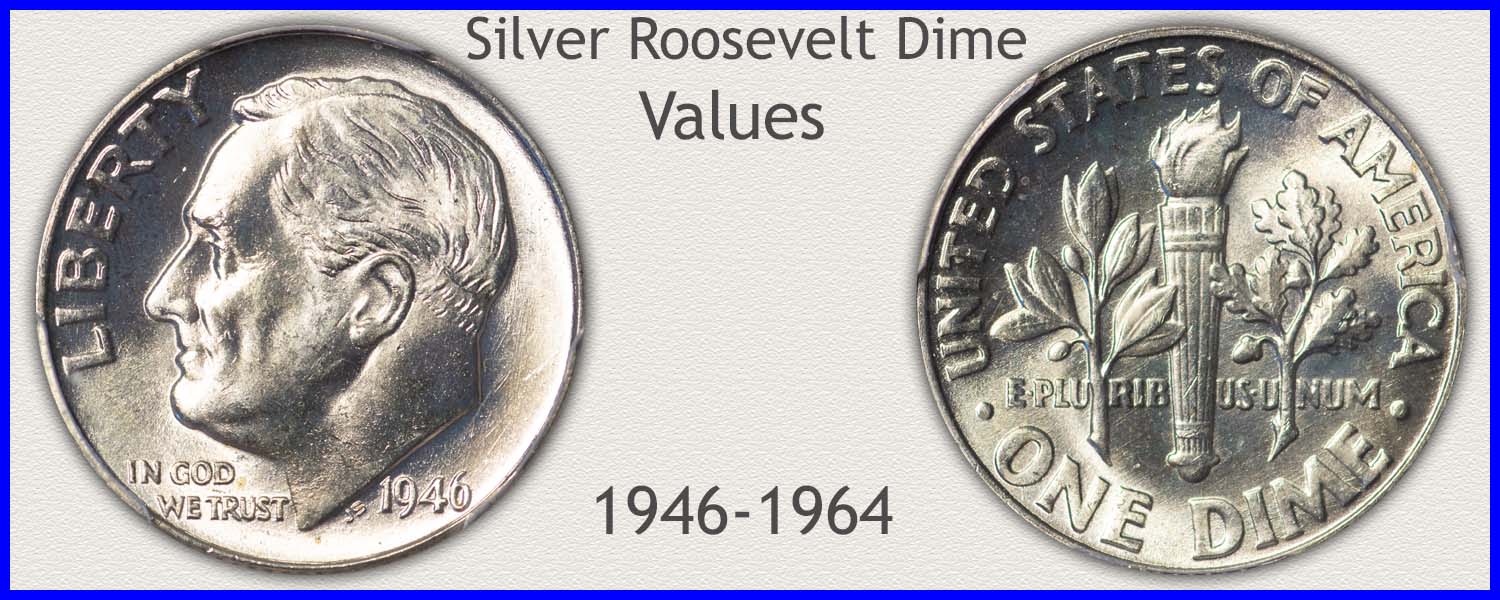 Roosevelt Dime Values | 1946 to 1964
Collectible status separates the many date and mint varieties of early Roosevelt dime values. Silver is a strong base to the 1946 to 1964 era dimes. Condition identifies the coins collectors place a collector premium on. Chart listing silver Roosevelt dime values highlights the issues worth above silver content and in demand by collectors.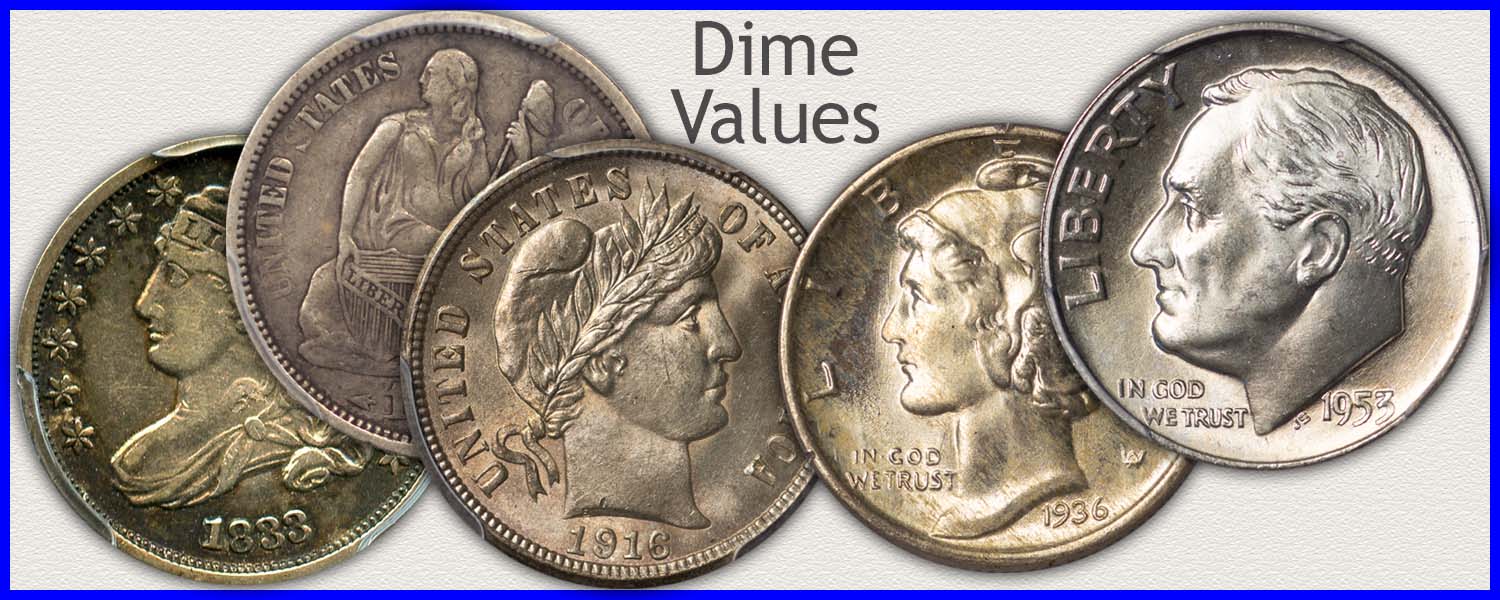 First minted in 1796 there are many rare and collectible dime varieties to discover.
From the early Bust coinage to the Seated Liberty series of 1837 to 1891. Next the Barber dime spanning 1892 through 1916 followed by the widely collected Mercury Head dime. The silver Roosevelt series bring it to 1964. Match your coins to variety images, grading images, identify its place on value charts.
The Rare dimes article covers the high value U.S. dime rarities and many other possible finds in your box of old coins. Listed are highly sought and collectible coins, value of these old dimes is often surprising.
Coin Value Guide | How to Value a Coin Collection
Place a value on your entire group of coins. Coin collections are valued using a step-by-step process helping identify, organize, and record specific information needed. Comparing to images and value charts discover the value of your box of old coins.
Safe Coin Storage | Recommendations
Recommendations on basic supplies that greatly improve coin storage. Providing for safe handling, preserving of value and organizing your box of old coins. Stored and housed properly, coins maintain their condition and value.
★Coin Values Discovery finds 1951 Dime Value and...
All old US coin values. The home page is an excellent index, quickly leading to the major coin series. From Cents to Gold. Easily sort and value your coins, an important step in preparing for selling and finding coin buyers.