Coin Values Moving with Precious Metals: Up-Dated 11/27/2023: Gold $2010 | Silver $24.66
1954 Dime Value
1954 dime value is first based on its silver content. Silver is currently $24.66 per ounce as of 11/27/2023 . Roosevelt dimes of the 1950's with their silver content are worth $1.65 each as a start.
Next, mint varieties plus condition of the coin is then considered to identify any premium collector demand. A complete assessment is done following a few steps.
Steps Leading to Value:
Step 1: Date and Mintmark Variety - Vintage silver dimes are identified and valued by date and mint variety. It's important to confirm each date and mint variety.
Step 2: Grading Condition - Condition of a coin separates the many levels of value found on the chart. Compare your coin to grading images to narrow condition range.
Step 3: Special Qualities - Collectors support the premium values above silver content of old coins. Roosevelt dimes of the silver era are collected in many ways creating demand and ultimately, how much they are worth.
1954 Dime Value
Condition of Coin
Date
Good
Fine
Extremely
Fine
Mint
State
Roosevelt Dime Values Updated
11/27/2023
1954
$1.65
$1.65
$1.65
$2.14
1954 D
$1.65
$1.65
$1.65
$2.14
1954 S
$1.65
$1.65
$1.65
$2.03
Surface quality of the coin and overall eye appeal are main factors to identify. Well preserved examples are sought by collectors. Recognizing a collector quality piece separates it from bullion quality coins trading based on silver content.
A step-by-step method is used determining where on the value chart to place your coin.
Step 1: | Confirm Date and Mintmark Variety
Mint Varieties of 1954 Dimes
Mintmarks are used to identify the three mints that produced 1954 dimes. Value charts list each separately and are valued by level of demand, availability, with condition of the coin as a key element.
Production of dimes in 1954 was abundant, an available date to collectors today. Mint variety is important because each is collected as part of a set.
1954-S Roosevelt Dime
"S" Mintmark on Reverse: San Francisco Mint Struck the Coin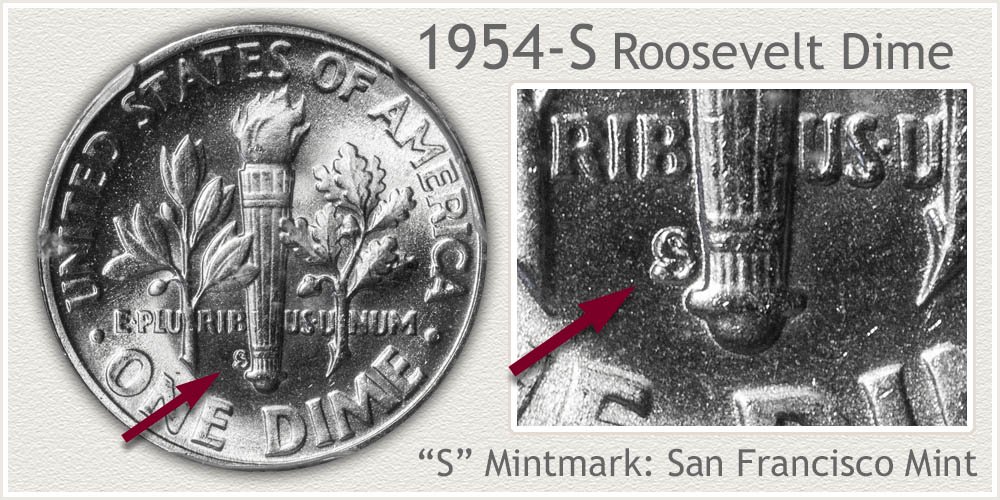 San Francisco 1954 dimes have drawn the attention of collectors with is very low number minted. At 22,860,000 struck it became the sixth lowest of the silver era Roosevelt dimes. Add the popularity of San Francisco mint coinage and these are sought by collectors. After confirming mint variety, inspect closely the condition of the coin.
San Francisco placed a small "S" mintmark on all of it production. On the reverse, at the base of the torch is a "S" mintmark on the left side. Finding the "S" mark is finding a popular mint variety.
1954-D Roosevelt Dime
"D" Mintmark on Reverse: Denver Mint Struck the Coin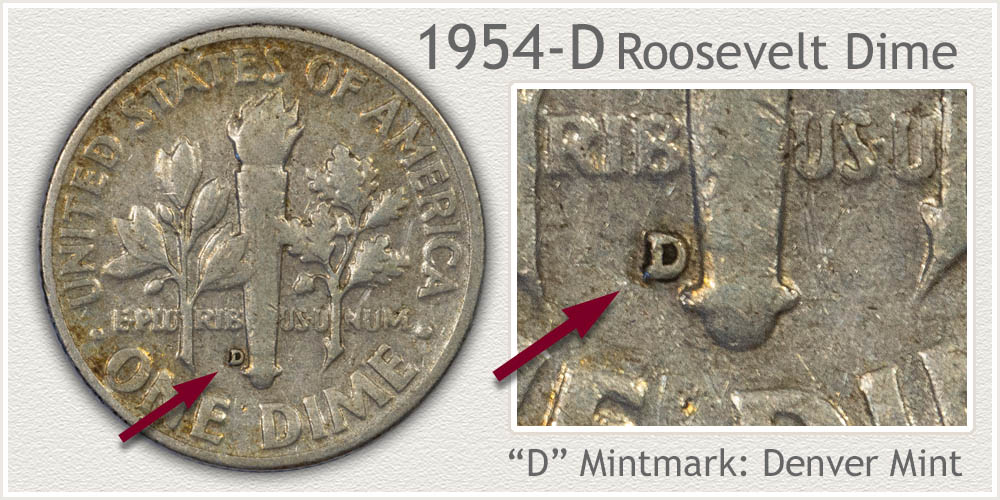 Denver mint 1954 dimes are abundant today because of a large initial production number, over 106 million pieces. Its silver alloy is the reason for a nice premium over face value in any condition. Collectors seek and place a higher value on examples with no wear to the coin.
Denver is a branch U.S. mint and uses a "D" mintmark to identify its production. Looking at the reverse, on the left side of the torch, the "D" is towards the base of the torch.
1954 Roosevelt Dime
No Mintmark on Reverse: Philadelphia Mint Struck the Coin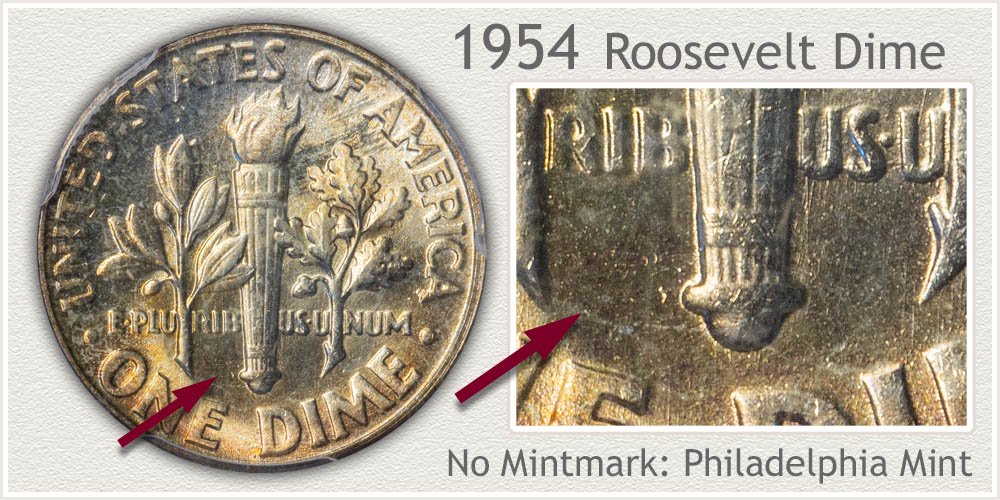 Philadelphia production of dimes doubled over the previous year. With over 114 million 1954 dimes struck these are abundant today. The majority trade and are valued by their silver content. It is however important to recognize the variety. Collectors place each 1954 variety in complete sets of coins.
Philadelphia in the 1950's did not use a mintmark. On the reverse, the space at the base of the torch, on the left side is without a mintmark. No mintmark is the Philadelphia variety.
Step 2: | Judge Condition to Identify Collectible Quality
Grading Confirms 1954 Dime Value
Collectors and their demand ultimately determine how much these old silver dimes are worth. A major consideration a collector makes is quality of the coin. Grading is the process of judging the condition and a grade is assigned to define this condition.
Value charts list these grades next to date and mintmark combinations. Demand for Roosevelt dimes show in the premiums placed on higher grade coins.
Currently, examples of 1954 dimes in mint state grade are in demand. Premiums are above base silver value. Begin grading your coin by examining the example in mint state grade, a coin with all original detail as minted.
Mint State Grade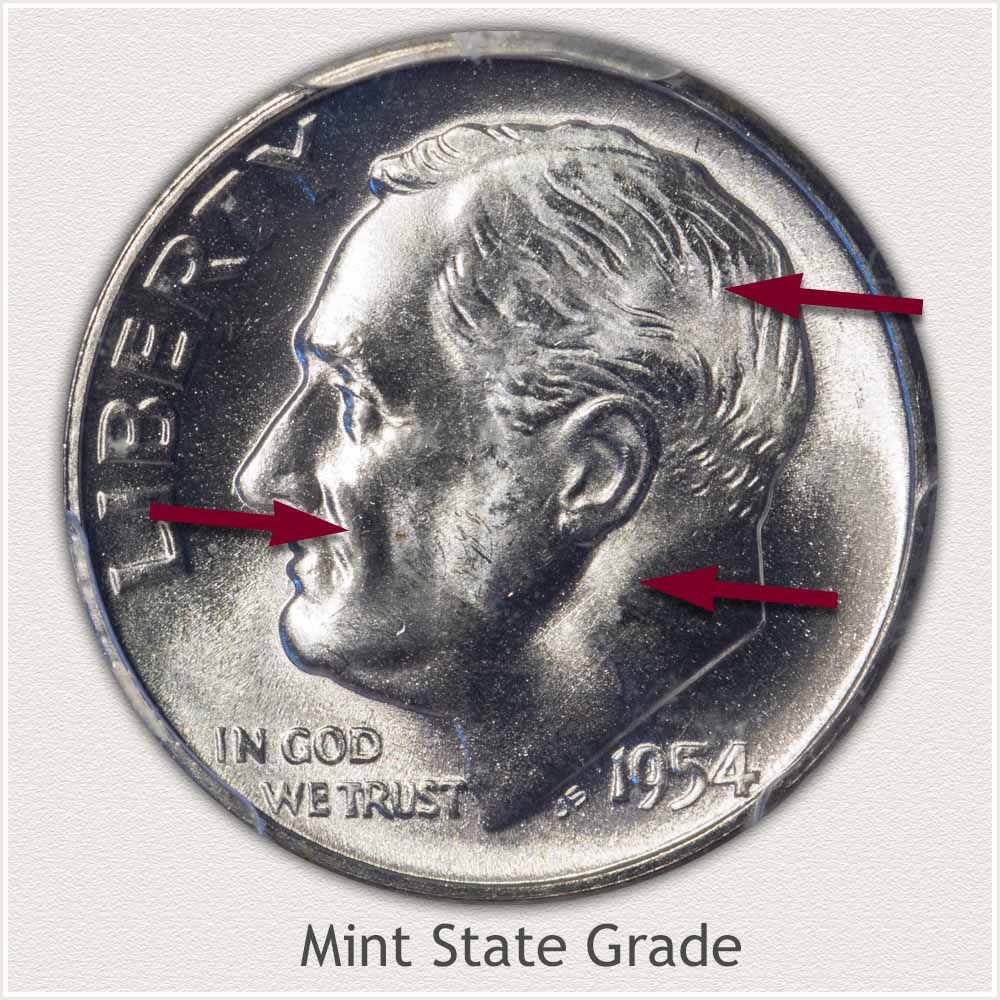 Mint State: High quality is the condition sought by collectors. A 1954 dime without any wear to the surface is graded as mint state. These are in demand. A delicate luster covers the surface of a mint state dime, and is easily disturbed and removed by wear. Key areas on the coin are closely inspected to recognize the grade.
Roosevelt's neck is an open area and high in relief. A subtle contour rises to a high point near the ear. On the example image the area of the neck under the ear remains with full luster present. Wear causes the surface texture to smooth and dull. A bright continuous shine covers all parts of the neck indicating a mint state coin.
Bright luster also remains on the high contours of the cheek and jaw. Tilting the coin under a light and as the coin is moved, luster is undisturbed as it moves across the surface.
Extremely Fine Grade
Extremely Fine: Once a coin begins to show wear attention is turned to the extent. Light amounts of wear just beginning to smooth the high points of the design is graded as Extremely Fine.
Judging the area of Roosevelt's neck below the ear finds wear is visible on just the highest areas. Some smoothing of the metal is creating a different tone to the color of the metal. No large flat areas are seen.
Fine details remain within the hair and his cheek is well rounded and high in profile. A sharply detailed ear is visible, all lending a crisp look to the coin imaged. Compare your coin and confirm a close match.
Low Grade Examples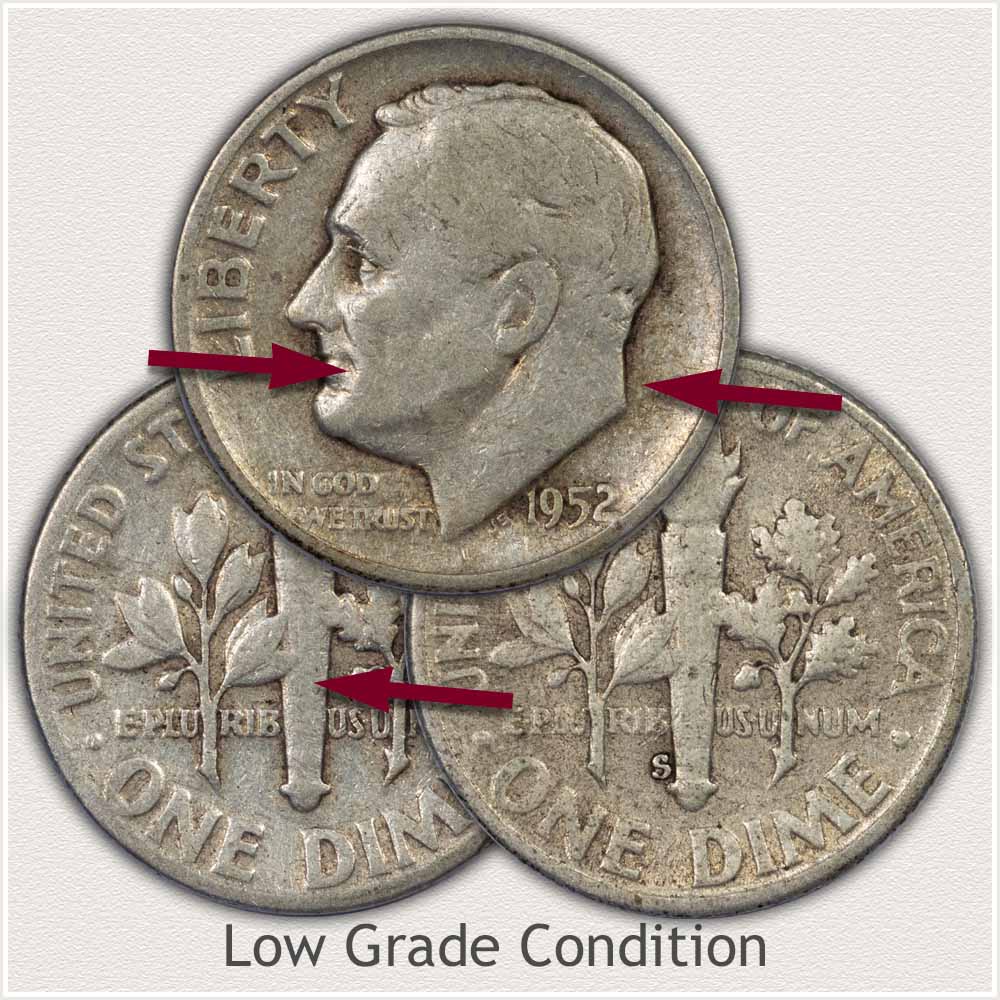 Low Grade Condition: Wear that is visible and reducing major design elements is indicating a low grade silver Roosevelt dime.
The large open area of the neck is now flattened. Wear has reduced the height of the original neck area to a flat plane. His jaw is clearly reduced and beginning to connect to the cheek.
Flattened areas represent the majority of the hair and remaining strands of hair are beginning to merge. The overall look of the example coins is moderate to heavy wear. Low grade coins are in less demand by collectors.
How to Video: Grading Roosevelt Dimes
Detecting the absence of wear identifies the high quality 1954 dime. On many dimes wear is easy to see. Recognizing subtle points to higher condition is part of grading.
Video, Images and Descriptions | Grading Roosevelt Dimes
Step 3: | Special Qualities Enhancing Value
Should I Clean a Coin Before Selling It?
To clean a coin or not is an often-asked question. And if asked before attempting to clean the coin, a good question. A sad realization after the fact.
The lure of cleaning is to improve the "looks" of the coin and improve its value. It's true, many coins with high values attached are "shiny" in appearance. However, the shine is natural luster of a coin in mint state grade with no wear to the surface. These mint state coins are often scarce and premium collectibles.
Natural and original are the keys to the reason not to "improve" the appearance of any coin.
No matter what they appear to you, original surfaces on a coin is an important consideration made by a collector when adding a coin to a collection. Preferences of collectors is the driving reason to recommend never clean coins.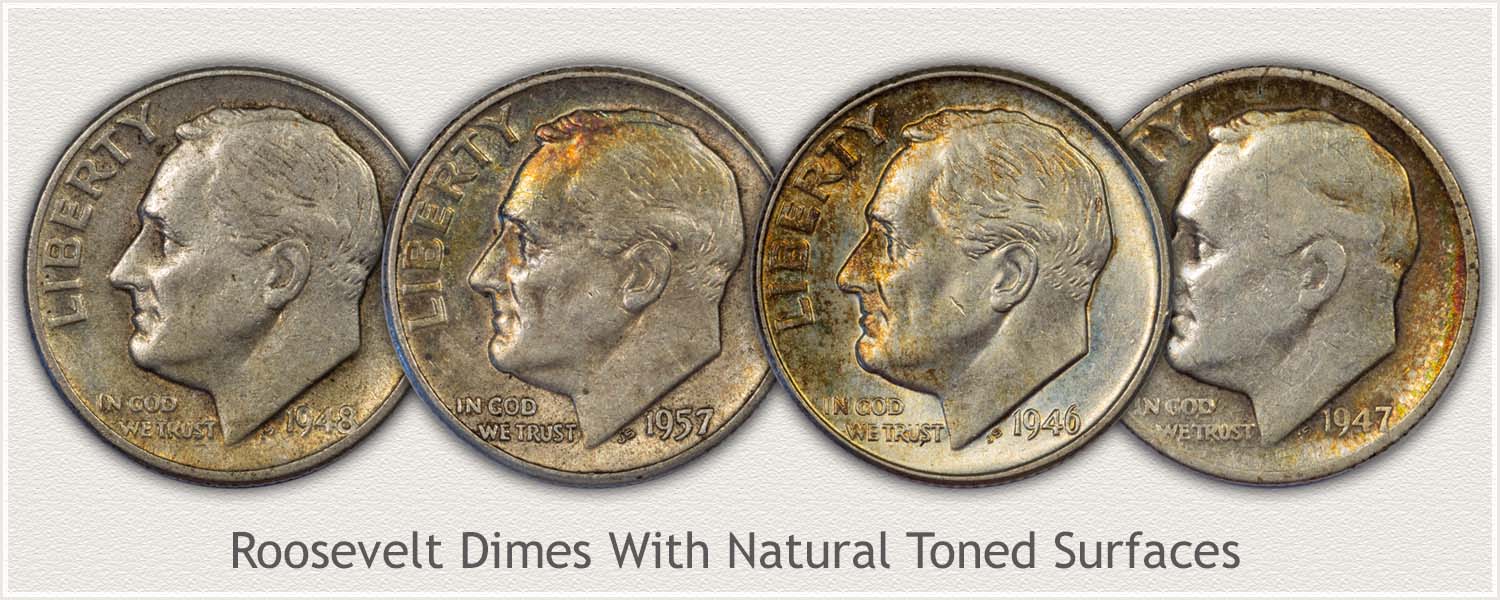 Undisturbed - non cleaned - coins have developed toning and surfaces only decades of time can produce. Disturbing these surfaces in any way lowers the appeal to collectors. A cleaned coin is never the first choice, thus lower value.
The coins in the image display toning acquired over time. To a collector these coins are natural in appearance and to many, appealing.
Collectors - are - the market for old coins, if they prefer non-cleaned coins and award higher value to original surfaces, cleaning becomes unnecessary. Wiping, rubbing, washing, all lower value and marketability.
To avoid disappointment, maintain the coins exactly as they are when presenting them to a dealer or collector.
References
U.S. Mint. 1955 U.S. Mint Annual Report https://nnp.wustl.edu/library/book/344
Coin Values | CoinStudy Articles
Date by Date
In Depth Roosevelt Dime Values
1946 to 1964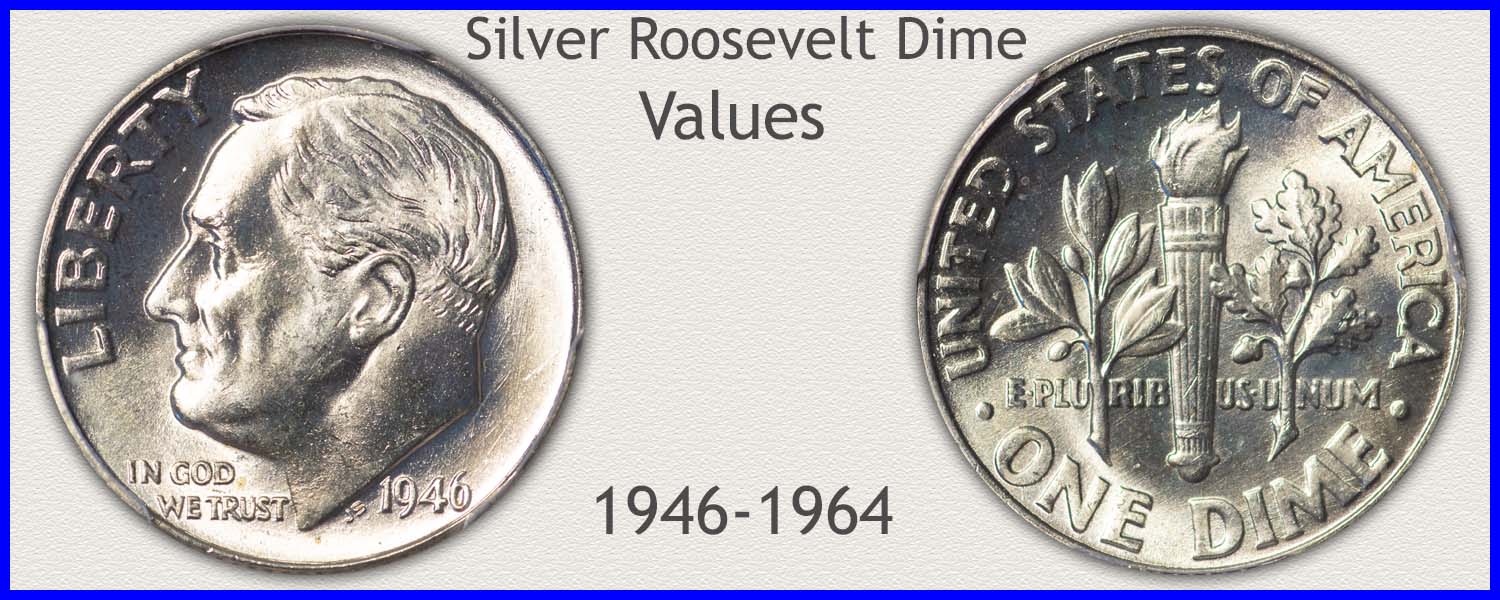 Roosevelt Dime Values | Early Silver Era
Roosevelt dime values of the early silver years, 1946 to 1964 are a premium coin because of silver content. These early dimes are 90% silver and move with the price of precious metals. Currently worth $1.65 each. Dates and mint varieties are listed on value charts with a step-by-step process to determine condition and how much they are worth.
Popular Coin Series | Silver Dimes
A study of Registry Set collection totals begins to identifies popular coin series. Collectors post their collections to share their interest in a coin series. Ranking the total collectors involved in a particular series gives insight into popularity. U.S. coins are diverse in design and series. Collectors enjoy many themes of interest. Popular denominations and series are listed in order.
Images to identify U.S. coins with charts of minimum values. Bookmark to phone to recognize starting value of coin series. Links to expanded charts, variety, and grading images the keys to value.
Follow the movements in silver price and calculate minimum values of silver U.S. coinage. Roosevelt dimes of the silver era 1946 to 1964 are a 90% silver alloy mix and worth far above face value. Calculator lists Pre 1965 silver coins and current silver values.
★Coin Values Discovery finds 1954 Dime Value and...
All old U.S. coin values. Image and description index leading to value charts. Step by step method to date and variety identification. And grading condition by comparing to images, video and descriptions. Special qualities are also judged. Discover how much your box of old coins is worth.