Coin Values Moving with Precious Metals: Up-Dated 11/27/2023: Gold $2010 | Silver $24.66
1908 Half Dollar Value
A coin's condition is a large factor in determining 1908 half dollar value in this vintage series.
A thorough understanding of your coin's condition is one of the main steps taken in the Grading section discussed below. Different levels of wear determine the different "Grades" as listed on the chart.
It is collectors seeking examples in better-than-average condition as part of assembling sets creating a significant demand. Review the value chart and then begin the process of determining the worth of your vintage Barber half.
Steps Leading to Value:
Step 1: Date and Mintmark Variety - Collections of Barber half dollars include the different mints for each year to assemble a complete set. This is a special year to the series, four mints producing halves. Values are listed for each issue; examine to verify the mint striking your coin.
Step 2: Grading Condition - A close match of your Barber half dollar to grading images helps narrow the value range on the chart.
Step 3: Special Qualities - A significant amount of pure silver is part of the metal alloy contained in these vintage half dollars.
1908 Half Dollar Value
Condition of Coin
Date
Good
Fine
Extremely
Fine
Mint
State
Barber Half Dollar Values Updated
11/27/2023
1908
$13.97
$42
$175
$377
1908 D
$13.97
$42
$172
$356
1908 O
$13.97
$42
$169
$381
1908 S
$14.69
$61
$298
$887
In the chart, wholesale values are listed. These are used as a starting point. A dealer's needs and the specific condition of a half dollar are key factors.
Step 1: | Date and Mintmark Combination is Identified
Significant to Collectors and Dealers are Date and Mintmarks of 1908
Four mints contributed to the production of 1908 half dollars, with the vast majority distributed throughout the economy. Today's collectors look for a Barber half dollar from each mint as part of a complete set. It is a requirement for individual branch mints to include a distinctive mintmark on United States coinage they produce.
When looking closely at the chart, coinage of the San Francisco issue is slightly ahead in value of the other mints. This indicates a tighter supply to meet collector's needs. Additionally significant is the fact 1908 marked one of only a few times all four current U.S. mints produced Barber half dollars. Determine the precise mint variety.
1908-S Barber Half Dollar
"S" Mintmark on Reverse: San Francisco Mint Struck the Coin
1908 half dollars struck at the San Francisco mint are becoming a highly sought coin. Demand by collectors has placed a premium on examples in above average level of preservation. Of the four mints coining halves these are the top value leader. Confirming both date and mint variety is needed to find its place on the value chart.
All San Francisco half dollars of the Barber series are identified by the "S" mintmark on the reverse. At the bottom of the coin, in the area between the tail feathers of the eagle and lettering Half Dollar. An "S" mintmark is the San Francisco variety.
1908-O Barber Half Dollar
"O" Mintmark on Reverse: New Orleans Mint Struck the Coin
Steady demand for the popular New Orleans variety is showing as nice premiums awarded to 1908-O Barber half dollars. Interestingly, this is the highest yearly mintage of the mint for the series, with 5,360,000 struck, well above the average of 1.1 million. However, a strong market exists, providing strong value to an available issue within the Barbe series.
With silver content as a base worth, collectible quality condition is an important factor to judge next. See Step: 2 just below.
Firstly, confirm the New Orleans mint variety. All branch mints placed mintmarks on their coinage to identify their production. An "O" mintmark located towards the lower part of the reverse is just under the eagle. These are a nice, affordable coin from a now retired mint. Each coin is heavy, with a 90% silver content.
1908-D Barber Half Dollar
"D" Mintmark on Reverse: Denver Mint Struck the Coin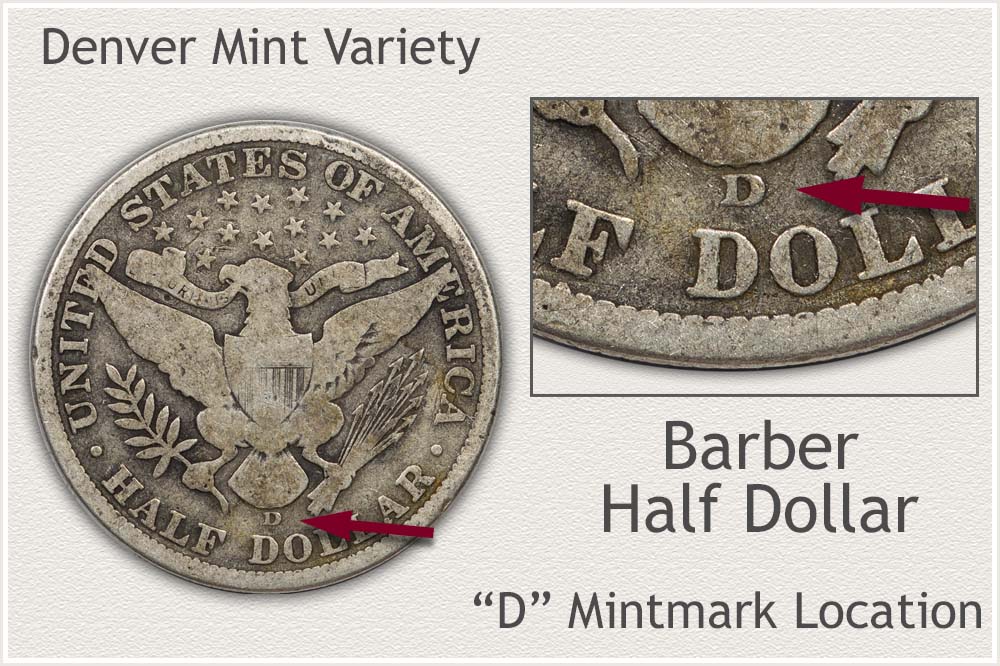 Denver was one of four mints to strike Barber half dollars in 1908, and its coinage is distinguished by a prominent "D" mintmark on the reverse. By accurately noting the year and mint issue, is the method these vintage halves are given a value. On the chart, each of these issues is listed and given a separate value.
Look at the area just above the "DO" letters of "DOLLAR" on the coin's reverse. The Denver issue is designated with a "D." It is worth noting that the Denver half circulated extensively for many years after 1908. Only a few are available today in above average condition. A coin's worth increases when it is found with fine details of the design visible.
1908 Barber Half Dollar
No Mintmark on Reverse: Philadelphia Mint Struck the Coin
One of the popular and easily collected examples of the Barber Half Dollar series is the 1908 Philadelphia variety. A series average of just over 1.3 million were produced, which is less than some of the earlier years' production levels of 4 to 5 million. Those with visible fine line details are in demand and regarded as valuable collectibles.
The absence of a mintmark on the reverse distinguishes Philadelphia coinage. Looking closely, verify the area beneath the eagle's tail feathers is empty. The Philadelphia mint did not place a mintmark on coinage during the Barber series.
Step 2: | Grading with Images Narrows Condition Range
Judge Collector Quality and Premium 1908 Half Dollar Value
The next step in the process involves grading the condition of these coins. A "grade" refers to the current state of preservation and condition as defined by the collecting community. Each stage of condition is distinguished by the degree of wear on important design elements, ranging from severely worn to no wear.
Referencing the chart finds a more precise value once a limited range of condition is determined. Under a single source of light, tilt the coin slowly while holding it by the edge, looking for small details matching the grading examples shown below.
Mint State Grade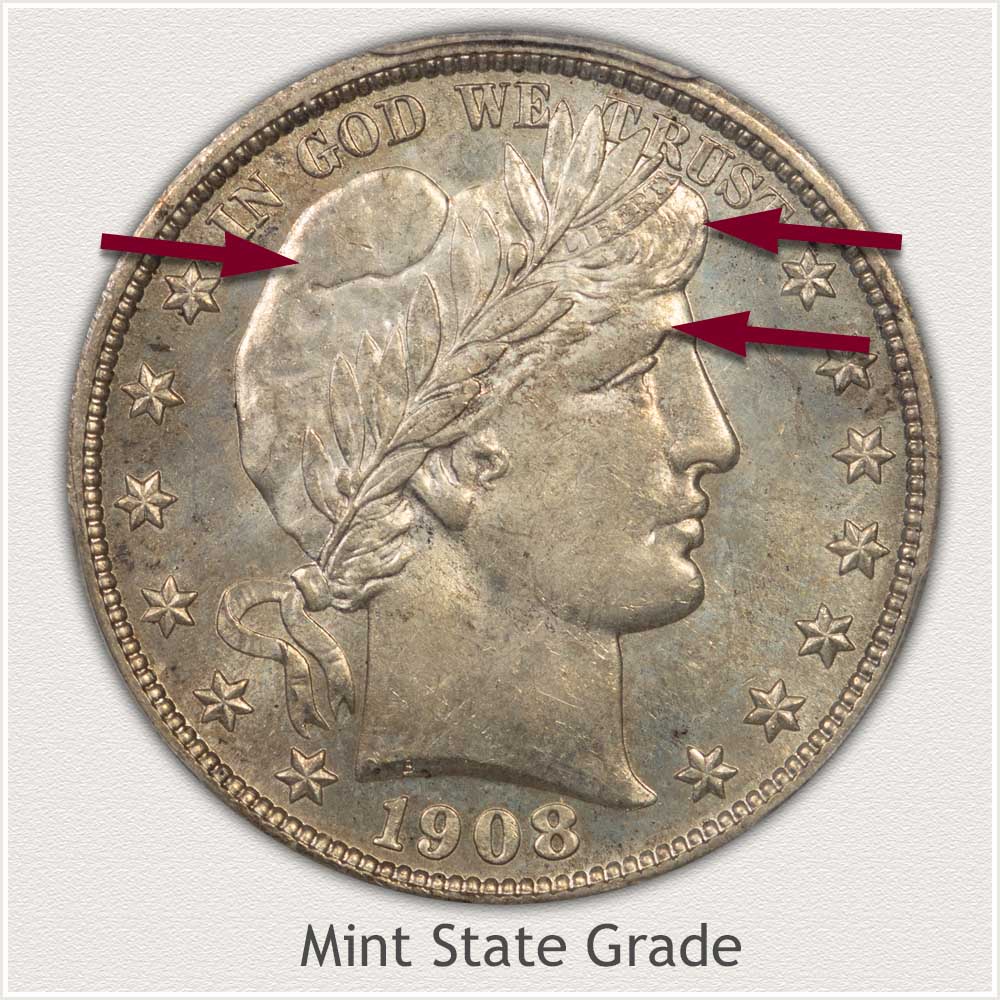 Mint State: A mint state half dollar is one in the same condition as it was when struck. There is no wear on the surface of these Barber halves, which never circulated. The essential standard of mint condition is that it is free of wear. To establish the grade, there are a few design areas to examine.
Among the features of the design that stand out is Liberty's eyebrow, which has a high relief. When comparing the example coin's brow to the cheek beneath her eye, a similar sheen is visible on both. The presence of luster in high areas indicates that the surface is wear-free. Worn silver is a dull silver-gray color, displaying a smooth texture.
Next, examine Liberty's hair over her brow. There is no dulling of the metal seen in any of the strands of hair or in the large wave of hair. If the coin is worn, tilting it under a light allows you to see small shade variances helping indicate wear. A mint state coin has a lustrous sheen and sharp features.
Extremely Fine Grade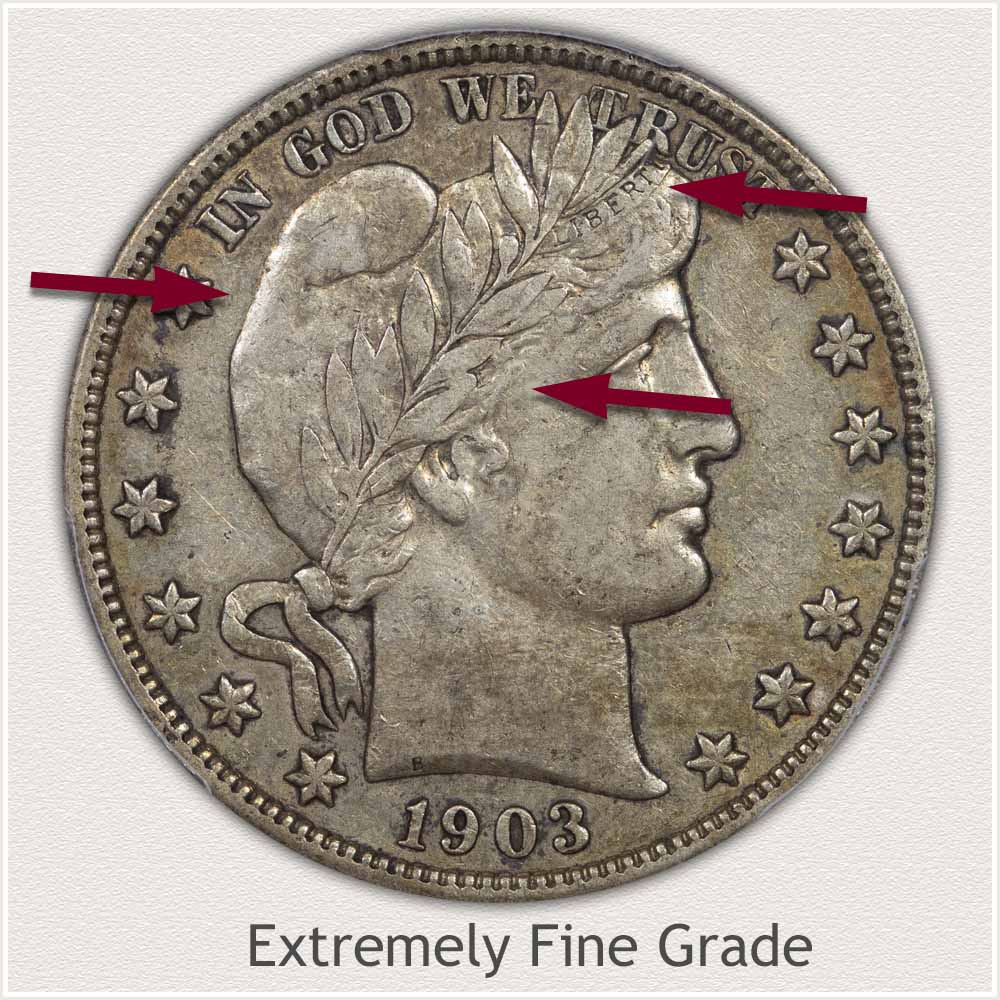 Extremely Fine: Extremely Fine grade coins from the Barber series are now a desirable, premium collectible grade. Light surface wear is the only disruption to the surface of these coins. There is no evidence of extensive wear, flattening, or connecting of large areas. Presence of complete details on the ribbon over Liberty's forehead is a defining factor, important to recognize.
A distinct hair line is seen directly above her eye. There are small strands within the hair only showing minor flattening and just slight merging due to wear. Complete and bold letters of "Liberty" within the headband is also significant. The lettering is displayed on a ribbon with raised upper and lower edges creating a finely detailed feature. Importantly, upper and lower lines of the ribbon still have sharp, visible edges.
Liberty's cap is also a consideration when grading condition. Visible are many folds on the cap, creating a bold appearance in both high and low relief. Most high and low areas of the folds are well detailed despite some wear to the outer line of the cap. Within the cap of an Extremely Fine grade half dollar, there are no large areas with loss of detail or smoothness.
Fine Grade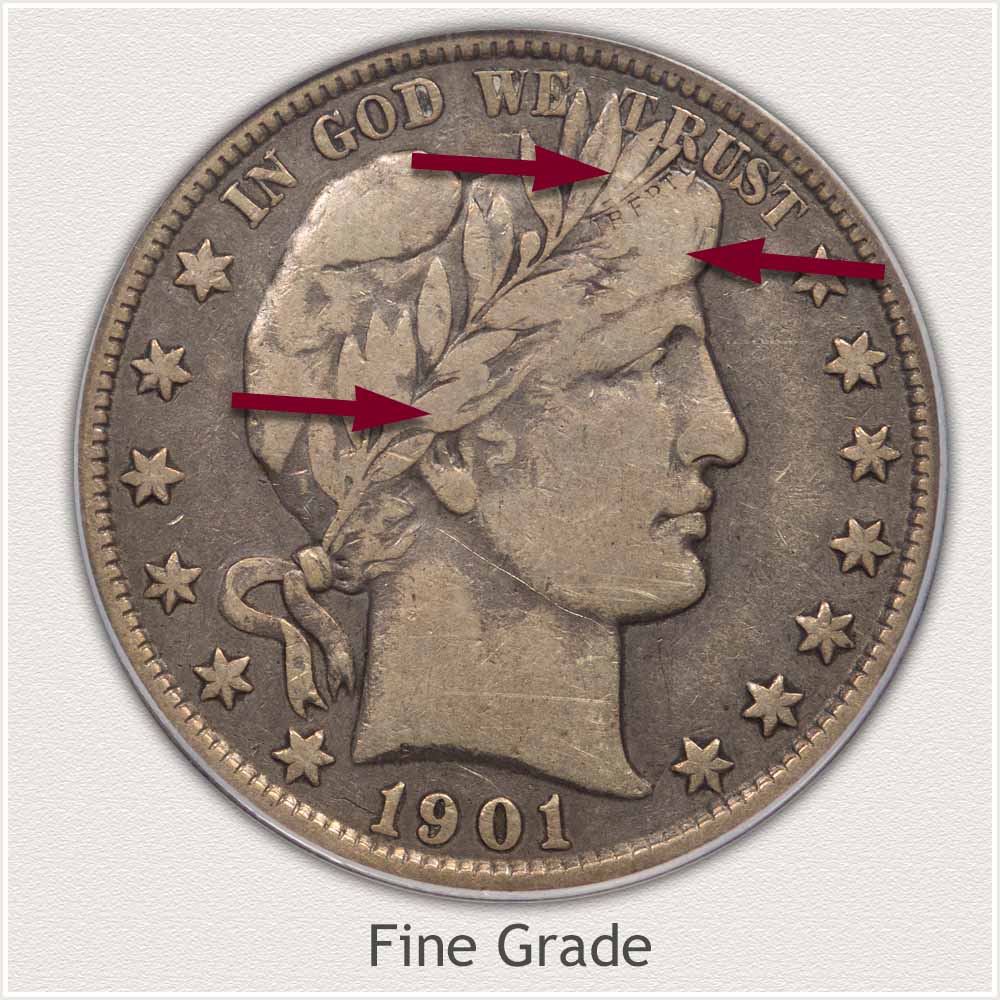 Fine Grade: Once the merging of key design elements is apparent, these half dollars are now classified as Fine grade condition. Defining the grade is a coin showing signs of only mild wear and some merging of important design features.
There is now a completely flattened, smooth spot just over Liberty's eye. Her hair is no longer defined and separated from her brow. A smooth spot goes all the way to her ear. Additionally, the lower edge of the lettered headband is missing. Importantly, readable lettering "LIBERTY" within the headband is a distinguishing feature placing the coin in Fine Grade. Typically, there is a slight fading along the bottom of the central letters.
As you tilt the coin under a light, notice how the nose, cheek under the eye, and forehead are all flattened to the same height. There is now a noticeable smoothing and leveling of these previously rounded areas. Remaining boldness of the rim, date, and stars contributes to the eye appeal of a pleasing, moderately worn half dollar.
Good Grade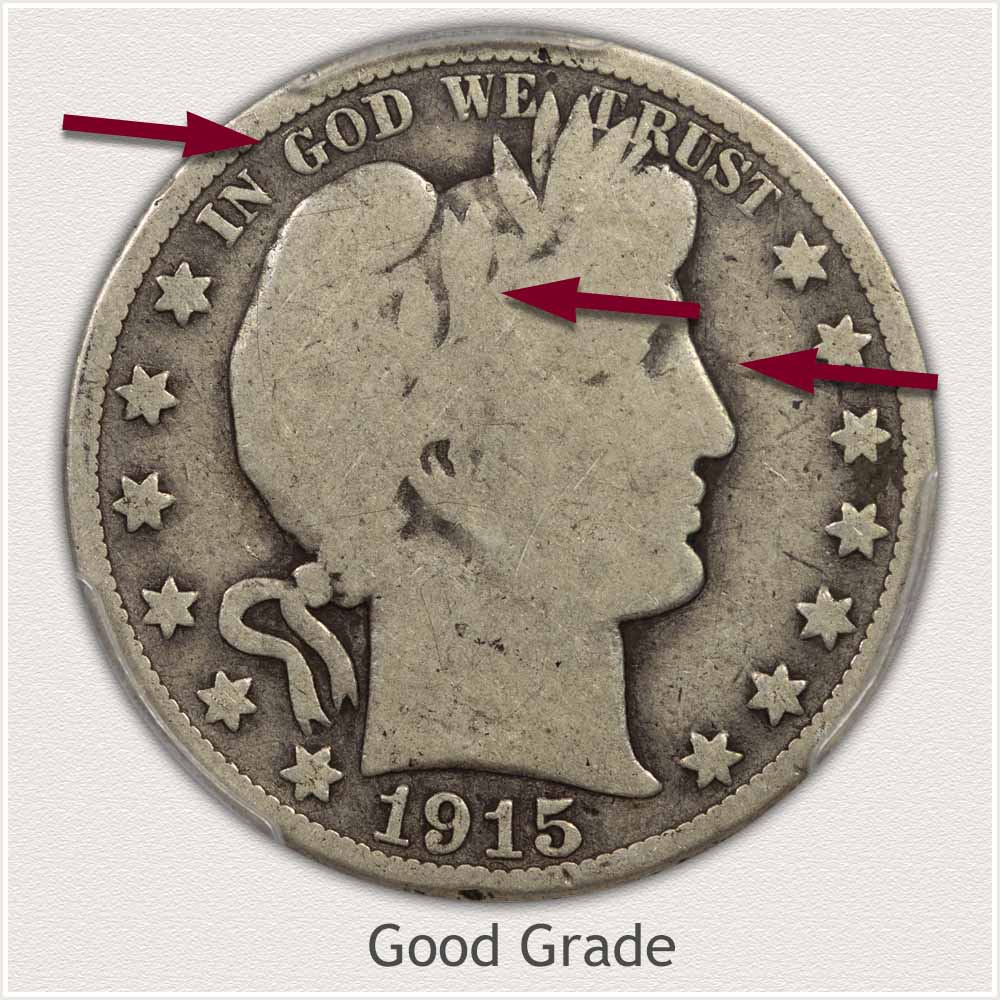 Good Grade: Features to the design of Liberty on the example half dollar have faded to a smooth surface due to usage and widespread circulation. Because her portrait is missing many inner details, it receives a "Good" grade.
Importantly, Liberty is fully raised from the field and displays a complete outline. Although it was once a portrait with a high and low reliefs, it is now smooth, with only a few traces of leaves visible. The motto "In God We Trust" remains clear along the rim of the coin, which is another important element preserved. Coins with the inner edge of the rim completely distinct from the lettering and the stars are highly desirable to collectors.
A bonus is the coin's appealing gray-silver toning. In addition, the absence of large marks creates an aesthetically pleasing appearance.
How to Video: Grading Barber Half Dollars
Accurate value depends on judging condition of these Barber half dollars. Using the video, a focus on important areas to judge are examined. An expanded grading process narrows condition range.
Video, Images and Descriptions | Grading Barber Half Dollars
Step 3: | Special Qualities with Strong Silver Value
How Much Silver in a Barber Half Dollar?
Barber half dollars are a large silver alloy coin. All issues of the series 1892 to 1915 are 90% silver and 10% copper. High silver content gives these vintage coins a strong base value.
Total amount of pure silver in each half dollar is .3616 ounce.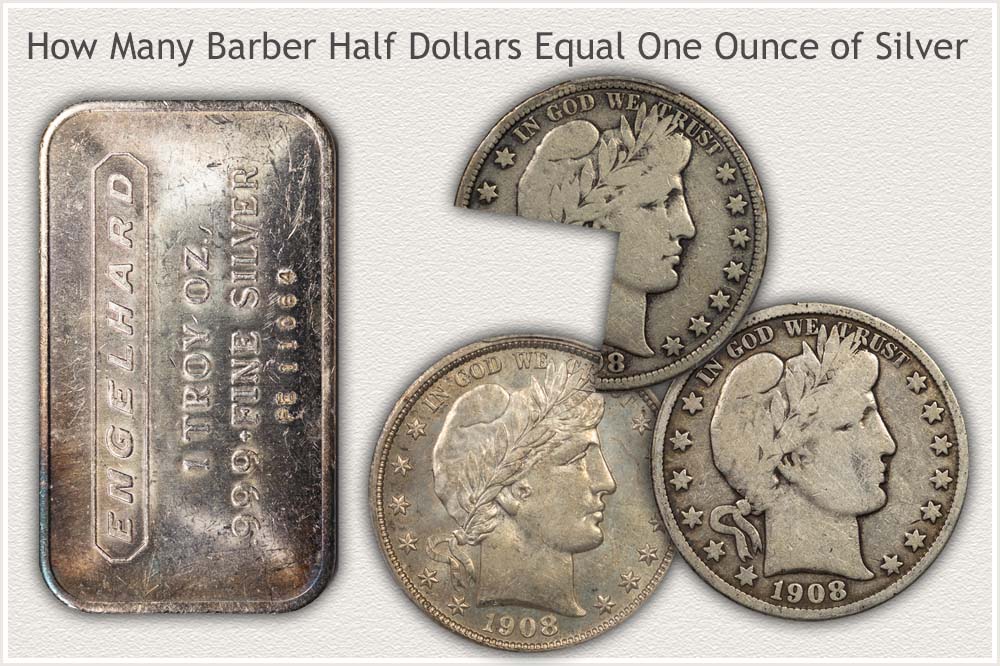 Each half is just over one third ounce of silver and requires 2.75 half dollars to reach a total of one ounce of silver.
Silver in 1908 and Silver Today
1908: The New Your exchange reported silver prices over the year 1908 at an average of 53 cents an ounce. Yearly high was early in February at 56 cents an ounce, and the low of the year was December, reaching 49 cents an ounce.
Currently, 11/27/2023 silver is priced in the $24.66 per ounce range.
Special qualities of these large coins add to an already strong silver base value. Barber halves are an old vintage series known for heavy usage at the time, now very popular with collectors, and difficult to find in high quality.
A 1908-O (New Orleans) half is part of a few mint varieties minted in higher than average volume. Heavily worn examples of these high mintage issues trade moving up and down with the price of silver. Add in the special qualities of a Barber half, and each is valued in a close range of $13.97 as a strong minimum.
References
U.S. Mint. 1908 U.S. Mint Annual Report https://nnp.wustl.edu/library/book/514124
U.S. Mint. 1909 U.S. Mint Annual Report https://nnp.wustl.edu/library/book/322
U.S. Mint. 1916 U.S. Mint Annual Report https://nnp.wustl.edu/library/book/514129
Coin Values | CoinStudy Articles
Date by Date
In Depth Barber Half Dollar Values
1892 to 1915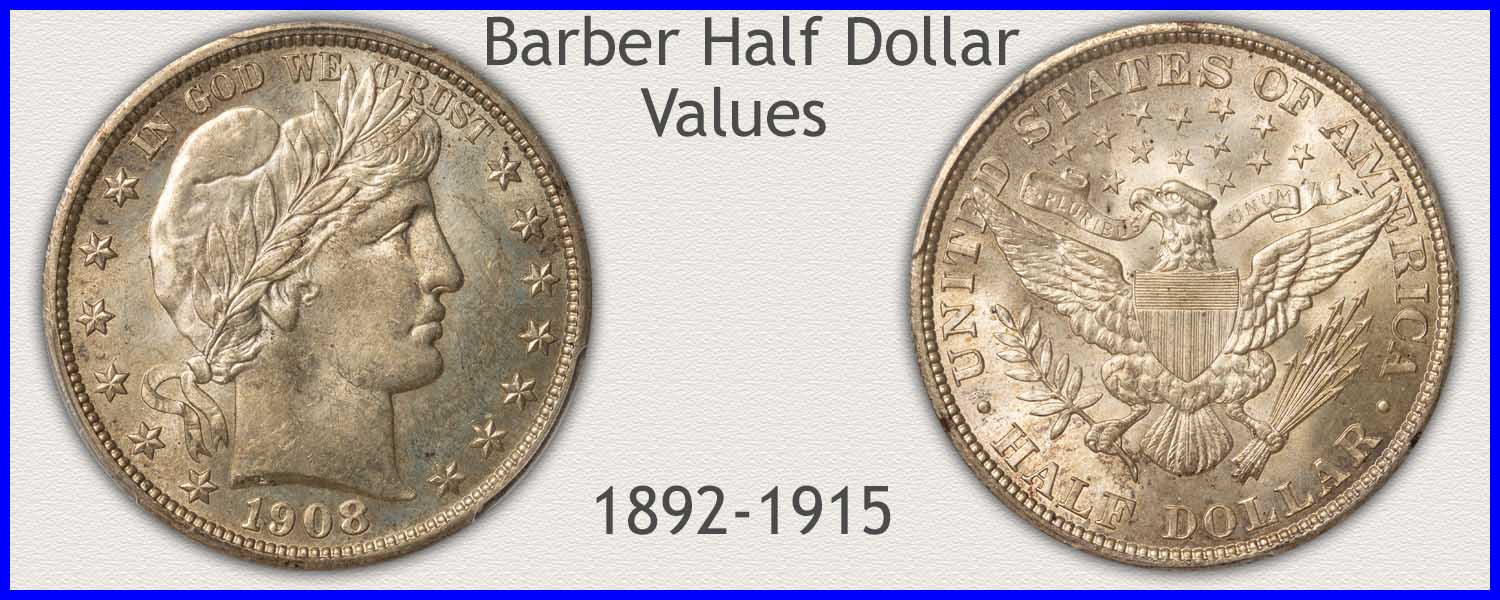 Barber Half Dollar Value | Importance of Condition
Early years of Barber half dollars, those minted 1892 to 1899 all have premium values in better than average condition. A full value chart points to these scarce coins with expanded condition examples to spot the premium coins.
Coin Value Guide | How to Value a Coin Collection
Placing a value on a coin collection is a process of following a few steps. Identifying and judging your Barber half dollars continues with the rest of your collection. One step at a time quickly evaluates the entire group of coins. Images identify the different coin series; steps determine the key factors to an accurate place on the value charts.
Print the Coin Values Worksheet
A quick listing of your coins including an accurate recording of the key elements to value provides an organized reference. How much your holdings are worth is quickly determined. Print the value sheet to start with your Barber half dollars.
Popular Coin Series | Barber Half Dollars
Coin collections are assembled of the many different coin design series. Totals of Registry Set collections gives an insight into popularity and potential demand. Collecting Barber half dollars is one theme many collectors enjoy.
★Coin Values Discovery finds 1908 Barber Half Dollar Value and...
All U.S. coin values. A starting point to correctly identify your old coin. Recognize the important features to value with a step-by-step process. Continue with a full evaluation of specific dates, mints, and condition.