Coin Values Moving with Precious Metals: Up-Dated 11/27/2023: Gold $2010 | Silver $24.66
1913 Half Dollar Value
1913 half dollar value is currently at a minimum of $15.41 each.
In total, only 1.3 million were made during the year. Far below the series average. In addition, this quantity was distributed among three mints, which resulted in scarce mint varieties.
Identification of the different mint's coinage is important to an accurate place on the chart. With the Philadelphia issue being a seldom encounter coin, determining how much a 1913 half is worth is outlined in the steps below.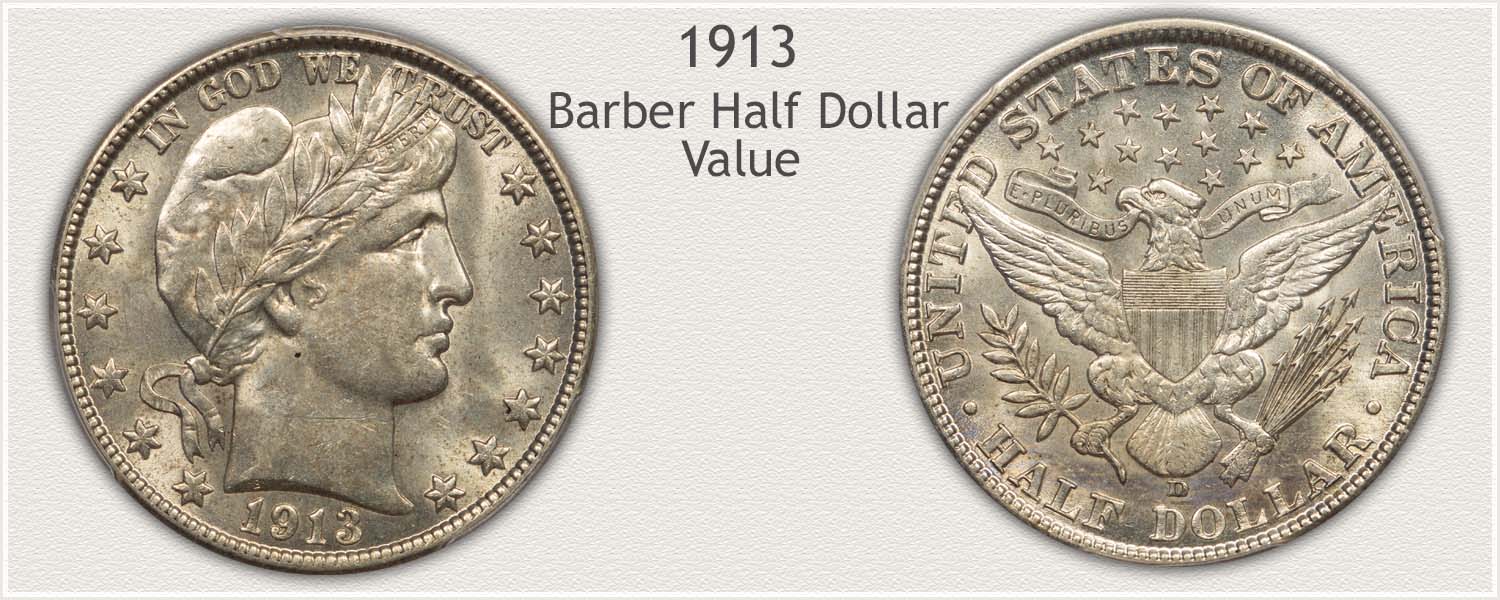 Steps Leading to Value:
Step 1: Date and Mintmark Variety - Listed on the chart are the mint varieties struck during the year. Narrow the value range by identifying the correct variety.
Step 2: Grading Condition - Judge the condition of your Barber half using the descriptions provided in Step 2. Eye-pleasing coins are valuable to collectors.
Step 3: Special Qualities - Few collector quality examples of this year's production remain. Due to low mintages and continued use in commerce. Recognize the standout coins.
1913 Half Dollar Value
Condition of Coin
Date
Good
Fine
Extremely
Fine
Mint
State
Barber Half Dollar Values Updated
11/27/2023
1913
$58
$181
$717
$1,118
1913 D
$15.41
$52
$169
$422
1913 S
$16.27
$105
$293
$644
Values listed are the Wholesale worth of Barber half dollars. Use as a guide and starting point. Add the steps below to narrow their range.
Step 1: | How to Identify Date and Mint Varieties
Mint Variety is Key to 1913 Half Dollar Value
Half dollar production tapered off in 1913. Combined numbers of the different mint's coinage became the second lowest on record for the series. Those produced by the Philadelphia mint are the premium value leaders. Philadelphia's issue is one of three varieties struck during the year. Coinage of half dollars was produced at notably larger amounts at two additional Branch mints.
Given the wide range in premiums for both mint variety and condition shown on the chart, a close examination is required. Images aid in verifying the crucial mintmarks identifying the different mints. Philadelphia issue 1913 halves are especially important to recognize.
1913-S Barber Half Dollar
"S" Mintmark on Reverse: San Francisco Mint Struck the Coin
All 1913 half dollars produced by the San Francisco mint are showing a premium for their silver content. Coinage from the western branch mint is a popular variety among collectors. Finding a nice, detailed example is becoming difficult. Only slightly more than 600,000 were made, making them a scarce variety in high-end condition. Add the "under one million" alure and quality examples are quickly placed into collections. There is a strong demand for any in collectible quality.
Half dollars struck at the San Francisco mint are distinguished by a "S" mintmark on the coin's reverse. The mintmark for this variety is a clear "S," located in the lower portion of the coin, beneath the Eagle's tail feathers.
1913-D Barber Half Dollar
"D" Mintmark on Reverse: Denver Mint Struck the Coin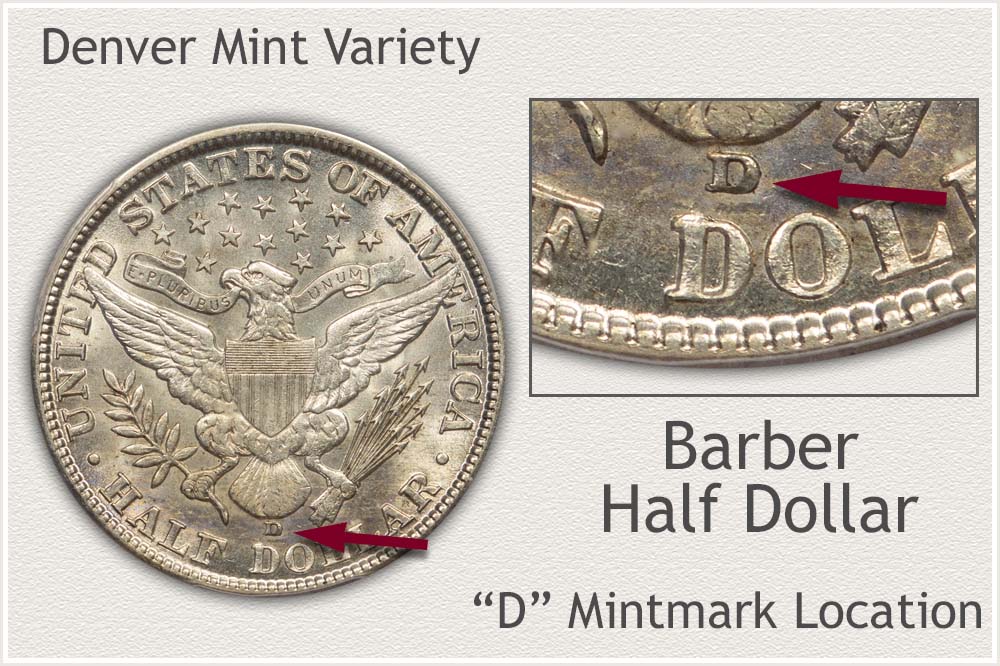 The 1913 Denver half dollar is one of those unusual situations in the Barber series. Despite having the lowest Denver issue mintage of the series, just 534.000 produced, it remains affordable today. Any twentieth century coin under one million in mintage is a notable exception to normal production numbers. These are a scarce variety 1913 half in comparison to the rest of the series.
All Denver coinage is mint marked with a "D" to indicate the mint. Looking at the reverse, below the tail feathers of the eagle, is the "D" mintmark. This represents an old half dollar difficult to find in nice condition.
1913 Barber Half Dollar
No Mintmark on Reverse: Philadelphia Mint Struck the Coin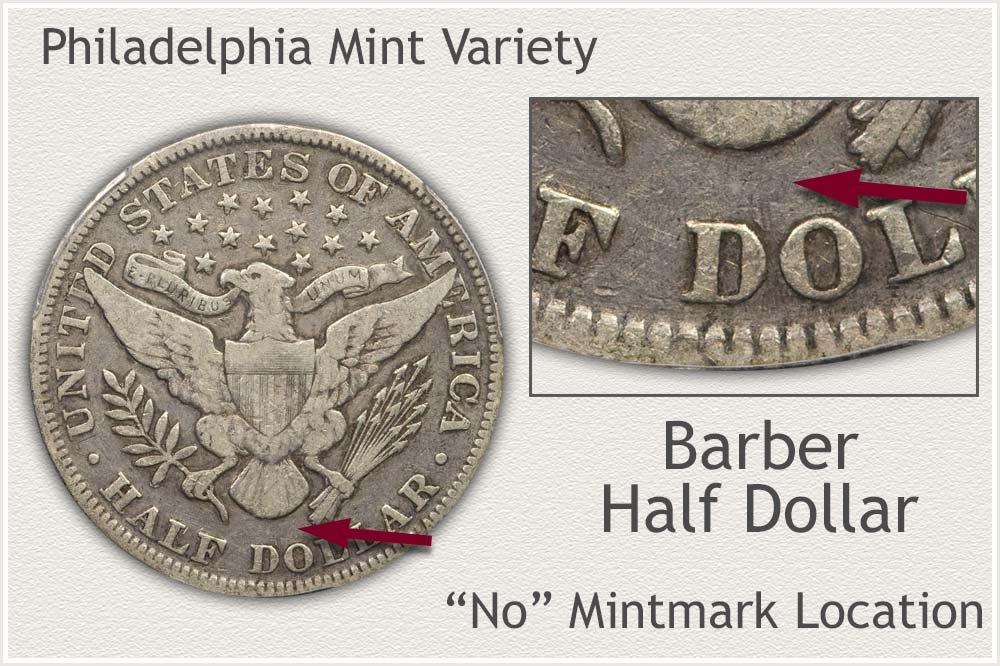 1913 is a scarce and important issue of the entire Barber series. A notably low mintage production of the Philadelphia mint. When the variety is correctly identified, a highly prized collectible is found.
Just over 188,000 half dollars were struck in Philadelphia in 1913, the second fewest number in the entire series. Collectors are very aware of this sparce mintage and recognize the scarcity of these coins, especially in higher grades of condition. These coins are special, with solid value, because the added attention.
Examining the reverse closely is needed to recognize the valuable issue. In the lower portion of the coin, there is an empty space above the "D" of "Dollar." The half dollar was struck in Philadelphia, confirmed by the absence of a mintmark.
Step 2: | Grading Identifies and Separates the Different Degrees of Wear
Condition is Key to Correctly Describing a Coin
Condition of these coins is "graded" as the next necessary step. Among collectors, grades refer to the current condition and state of preservation. The extent of wear on key features of the design is used to identify each stage in a progression from heavily worn to no wear at all.
When a narrow range of condition is graded, the chart provides a more precise value. Holding the coin by the edge, under a light, tilt it slowly and note any subtle details described in the grading examples below.
Mint State Grade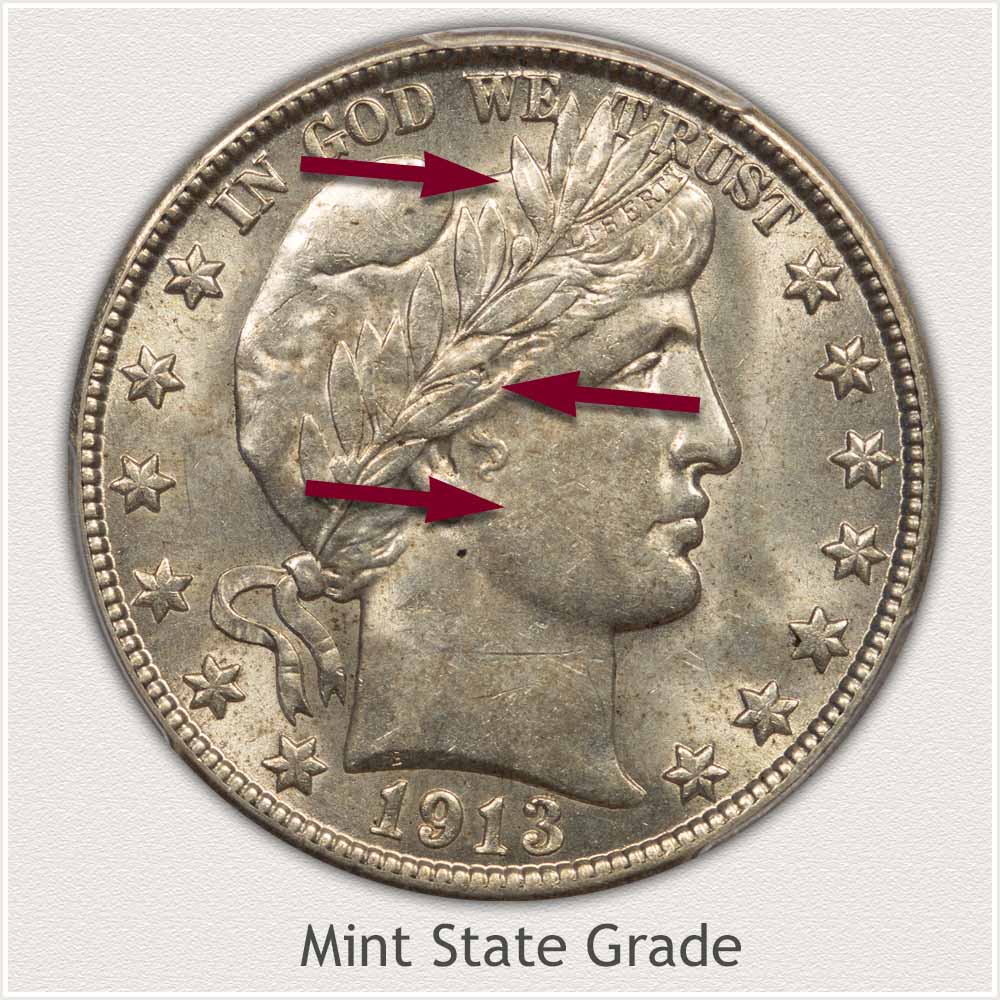 Mint State: This premium quality coin falls into a unique category due to its rarity in Mint State condition and aesthetic appeal. A coin graded Mint State has no wear on its surface, this defines the grade. As soon as a coin enters circulation, the highest and most delicate areas of the design begin to show a smoothing of the metal due to wear. Confirm this high-quality condition by inspecting key areas.
Close examination of the wreath's individual leaves notes their fine line detailing is not smoothed by wear. When comparing the upper row of leaves, to the lower row, both display a consistent color and shine. Silver loses its "white" shine and luster and turns a soft-gray color when worn. Its texture also becomes smoother.
Judging Liberty's check, an open area, indicates a surface that is undisturbed, no smoothing or dulling of the luster. The contours' high and low points are both lustrous and match in color and texture.
High-quality Barber halves are in high demand among collectors.
Extremely Fine Grade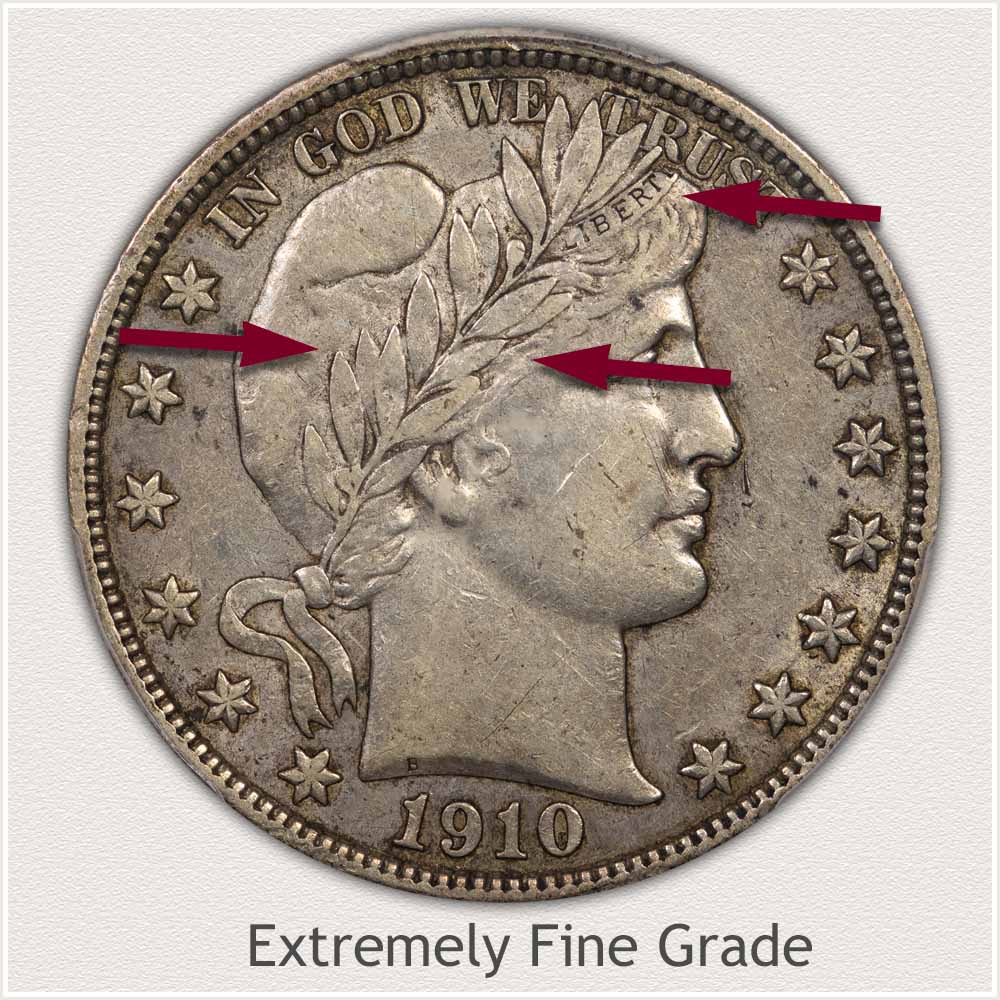 Extremely Fine: There is only a small amount of light wear visible on this half dollar helping define it as Extremely Fine grade. Wear has flattened only small areas of its design. Most of the surface is now a smooth texture, changing the silver's hue from bright silver to a soft gray.
The design's key elements are still present helping maintain the quality needed for the grade. Liberty's headband has the word "Liberty" written in bold letters above her forehead. All features of the lettering are both clear and bold. Also, visible above and below the lettering are complete edges of the ribbon. An extremely fine grade coin is identified by its detailed ribbon, also contributing to a coin's crisp appearance.
Additionally, well-defined leaves within the Laurel wreath help confirm a high-quality piece. Leaf contours are also visible within the leaves, and the edges of the leaves do not blend. A prime area to inspect the leaves is the area surrounding her ear. Sharp details is the overall "look" of these collectible grade half dollars.
Fine Grade
Fine Grade: These vintage half dollars are extremely popular with collectors, including those in Fine grade of condition. The defining characteristic of these collectible coins is the amount of detail remaining combined with the evidence of wear. On Liberty's cheek and neck, as well as the fields of the coin, visible wear is present.
Flattened spots appear across Liberty's cheek as the roundness is reduced. A flat area under Liberty's eye is seen in the example, which extends down to her jaw line and almost to her ear. There are also flattened areas on Liberty's cap. As a positive, the ear remains detailed, with discernible leaves above, and there is some hair detail that extending to her forehead.
Many the wreath's smaller design elements remain visible. Except for where the leaves overlap, the upper row of leaves all have complete edges. In addition, the entire word "LIBERTY" is legible within the headband, a requirement for the Fine grade category. Lettering within the headband, leaves, and remaining contours to the major features, along with other subtler design elements, point to a collectible half dollar of high quality.
Good Grade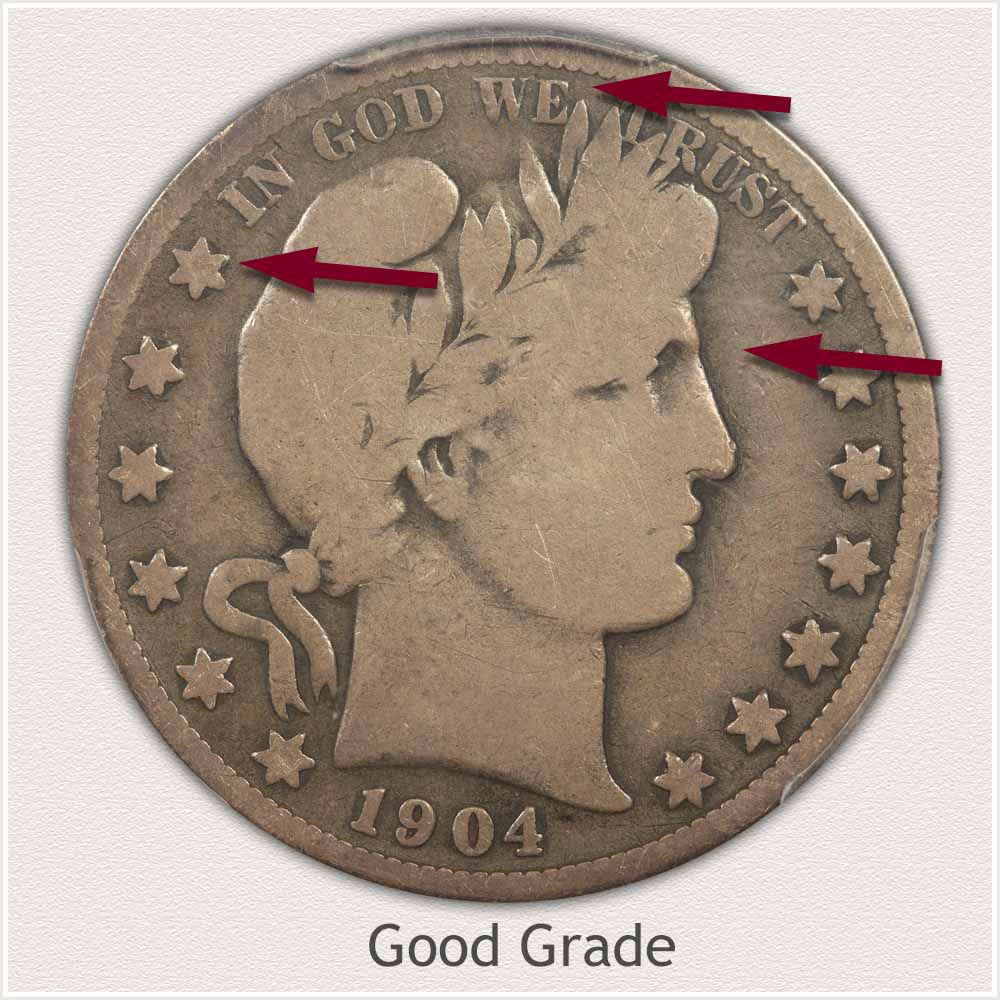 Good Grade: A Barber half dollar in "Good" grade is characterized by noticeably heavy wear on the surface. The grade is defined as coins with heavy wear, missing all fine detail and largely smoothed major details. This coin's appearance of worn but not faded into the field, is one characteristic adding to its collectability.
In this case, the flat outlined portrait of Liberty places the coin in the Good grade category. There are very few details visible in the face and hair. One plus is a well raised portrait from the field.
Complete and strong lettering of the motto and a clear date are important to achieving the grade. The broad rim, clearly defined and not blended with the stars, contributes to the overall appeal. Imaged is a nice example for the grade, with even wear and remaining details strong.
How to Video: Grading Barber Half Dollars
Accurate value depends on judging condition of these Barber half dollars. Using the video, a focus on important areas to judge are examined. An expanded grading process narrows condition range.
Video, Images and Descriptions | Grading Barber Half Dollars
Step 3: | Special Qualities Adding Appeal to Collectors
Recognizing Historical Quality of 1913 Halves
One factor to coin values is interest of collectors, creating demand on existing supplies of a particular coin series and individual coins within the series. Overall, Barber half dollars are a very collectible series of coins. Big, heavy with silver, a precious metal, and suitable for different levels of collecting budgets. Collectors learn early the basics of any coin series of interest. Spanning years of the series, scarce to rare key dates, and range of values. One historical interest is mintage number rankings. 1913 is a record holding year in terms of low production of all mint varieties. A lasting impression is made on collectors about 1913 Barber half dollars.
Philadelphia mint variety is the third lowest of its production of the entire series, with just 188,627 pieces. Denver struck only 534,000 the record low for Denver issues. San Francisco, with only 604,000 produced, became its second lowest yearly total. In total, only 1,326,627 Barber halves dated 1913 were ever made. All these numbers are extremely low compared to yearly averages, important to collectors. Any 1913 half dollar with its special historical qualities is an exciting coin for all collectors to add to a collection. Initial scarcity combined with interest and demand forms a solid base to current values.
References
U.S. Mint. 1914 U.S. Mint Annual Report https://nnp.wustl.edu/library/book/514127
U.S. Mint. Catalogue of Coins of the United States. https://nnp.wustl.edu/library/book/554591
Coin Values | CoinStudy Articles
Date by Date
In Depth Barber Half Dollar Values
1892 to 1915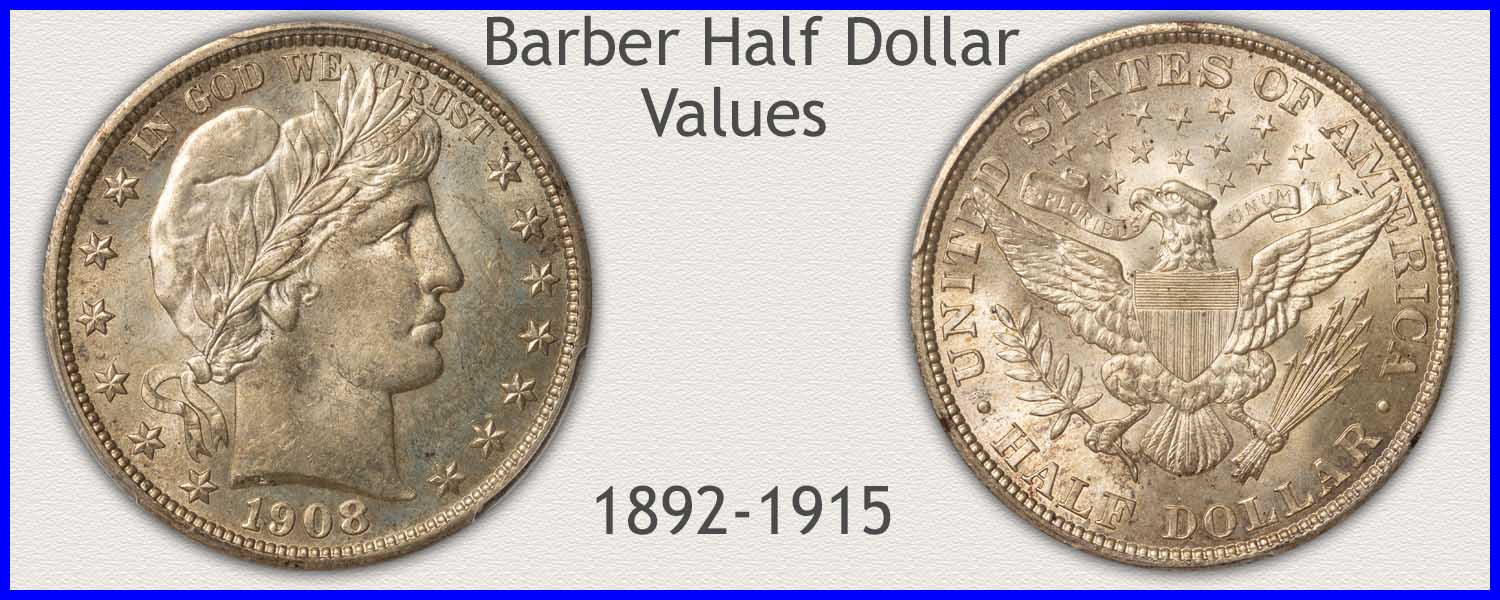 Barber Half Dollar Value | Scarce Date and Mint Varieties
A 1913 Barber half dollar is part of a long running design series. The many date and mint varieties are covered in detail and listed on the value chart. Confirm date and mint combination, judge condition to narrow how much these old half dollars are worth.
Old Coin Values | Follow the Steps
The same method used by dealers and collectors is presented and followed to place a value on your old coins. The different series of coins are imaged and linked to the key elements needed to complete the value process.
Safe Coin Storage | Recommendations
Many old coins need and benefit when placed in holders to protect them from further damage. Coin supplies are specific to the coin hobby and provide safe storge, allowing safe handling, and avoiding contact with other coins. A review of a few storage options for both single coins and groups of coins.
Selling Coins | A Defined Process
Preparation and following an order of steps helps in selling coins. First is an understanding of potential value. Each series of coins is assessed and organized by values. Finding dealers specializing in similar coins finds a good match. Images are used to recognize the different coins and listing of dealers point to potential buyers.
Coin Grading Services | Authenticate and Grade of Coins
Grading services review your coin and place a grade on its condition. A professional assessment of authenticity and condition. Market acceptance of the top two services, NGC and PCGS, help provide a narrow range when placing values on coins.
★Coin Values Discovery finds 1913 Barber Half Dollar Value and...
Coin values index. Dates, mints and condition are covered by following images to the different series, all valued individually. Follow the step-by-step method, comparing your coin to descriptions and images helping identify the important qualities to a narrow value range.