Coin Values Moving with Precious Metals: Up-Dated 11/27/2023: Gold $2010 | Silver $24.66
1912 Half Dollar Value
The number of remaining pieces is quite low, and 1912 half dollar value is a strong $13.97 at a minimum.
Due to circulation, most half dollars minted in 1912 became heavily worn over time. Comparing a coin's condition to images of various degrees of wear is used to verify a high-quality, premium coin.
In a standard evaluation process, specific steps are used to verify the date and mint issue of the half as well as its condition and special attributes.
Steps Leading to Value:
Step 1: Date and Mintmark Variety - The value chart shows the three date and mint varieties of 1912 half dollars. To limit the value range, identify the variety of your coin.
Step 2: Grading Condition - Determine how well preserved your Barber half dollar is using descriptions and images. Nice coins, with eye appeal are worth more to collectors.
Step 3: Special Qualities - Half dollar collectors are attracted to examples with eye appeal. To identify and separate high demand coins, the quality of the coin is examined. Extremely Fine grade and nicer examples are premium quality.
1912 Half Dollar Value
Condition of Coin
Date
Good
Fine
Extremely
Fine
Mint
State
Barber Half Dollar Values Updated
11/27/2023
1912
$13.97
$42
$166
$433
1912 D
$13.97
$42
$154
$393
1912 S
$13.97
$52
$180
$501
The above Coin Value Chart is a listing of Wholesale values. Computed by applying a mark-up factor specific to Barber half dollars to an average of retail prices and auction results.
Step 1: | Record Date and Mint Combination
Philadelphia and Two Branch Mints of Barber Half Dollars
Identifying the mint that struck these Barber half dollars, in addition to the date, is part of the valuation process. To recognize the mint from which a half was produced, mintmarks were placed on coinage.
The date and mint combination for each variety are listed, and valued individually. Images and descriptions are used helping identify the mintmark and its location.
1912-S Barber Half Dollar
"S" Mintmark on Reverse: San Francisco Mint Struck the Coin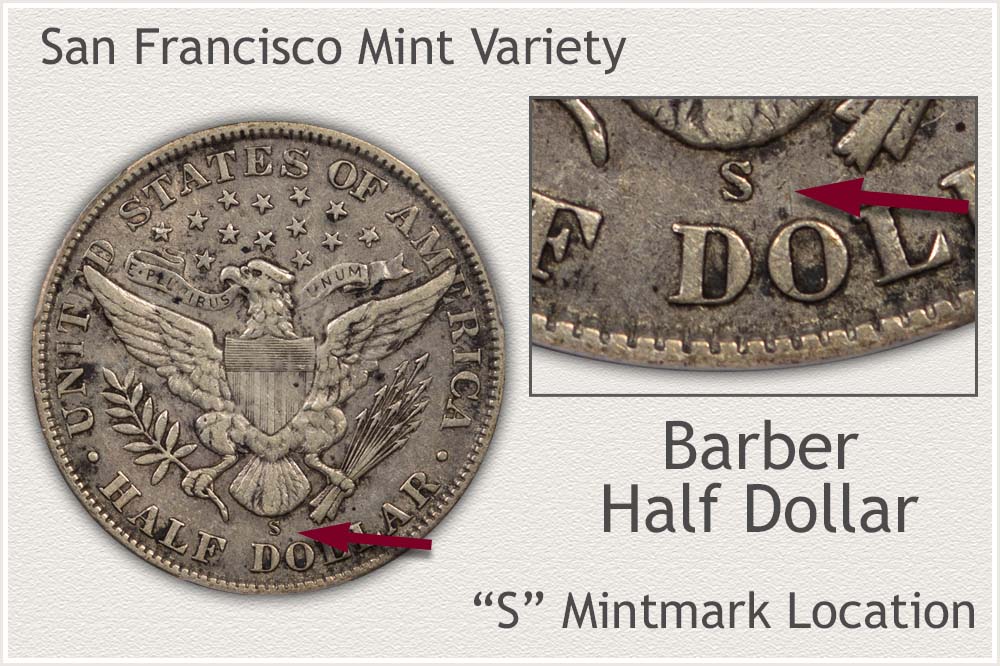 Although a majority of these old coins are in worn-out condition, San Francisco half dollars from 1912 are known as an available date today. These remained in use for a considerable amount of time after their initial release. There were 1,370,000 produced, and is an excellent, affordable choice for collectors looking for both a branch mint and a Barber series half dollar. Nice examples are worth a significant premium if found in excellent condition displaying collector-grade details.
Examine the coin's reverse to identify a San Francisco half-dollar. Specifically, above the "DO" in "DOLLAR." There is an "S" mintmark, confirming the coin was struck in San Francisco.
1912-D Barber Half Dollar
"D" Mintmark on Reverse: Denver Mint Struck the Coin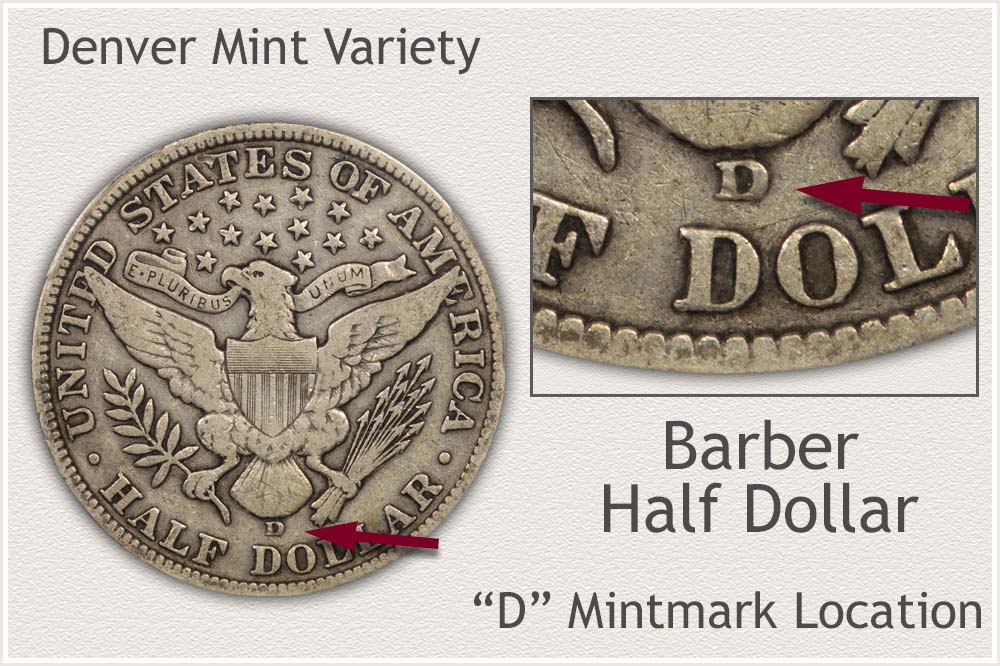 1912 Denver mint half dollars have become an excellent coin to represent an example of the Barber series halves from Denver. During the year (1912) a total of 2.3 million halves were produced by Denver. These are obtainable in affordable premiums attractive to all levels of collectors. Circulated examples are sought by new collectors and high-end grade pieces by the advanced collector.
Important to record the exact date and mint variety of your coin, Denver used a "D" mintmark to identify their coinage. Inspect the reverse, and looking above the "D" of DOLLAR, the "D" mintmark is visible. Grading condition now becomes necessary to an accurate value range.
1912 Barber Half Dollar
No Mintmark on Reverse: Philadelphia Mint Struck the Coin
1912 saw a mintage of just over 1.5 million half dollars struck in Philadelphia towards the ending of the Barber series of half dollars. This turned out as the last year of commonly available Barber halves from the Philadelphia mint. Looking back over the years of the series, this annual output was in the average range. Today, there are quantities of very worn examples, values based on and following movement in silver price. An example with finer details in Liberty's hair and headband is considered in collector quality condition and becoming a premium collectible coin.
For coins issued during the Barber series, the absence of a mintmark on the reverse indicates they were struck in Philadelphia. An empty space above the "D" in DOLLAR is the Philadelphia mint's half dollars.
Step 2: | Grading Defines Condition into a Narrow Range
Recognize High Quality and 1912 Half Dollar Value
Match the images of the different Grades to the amount of wear, if any, on the surface of your coin. When describing each coin, collectors use these "Grades" to define the level of preservation.
These vintage half dollars are fully identified by their dates, mints, and conditions. A grade is used in value charts to narrow the premium range for collectible coins.
Mint State Grade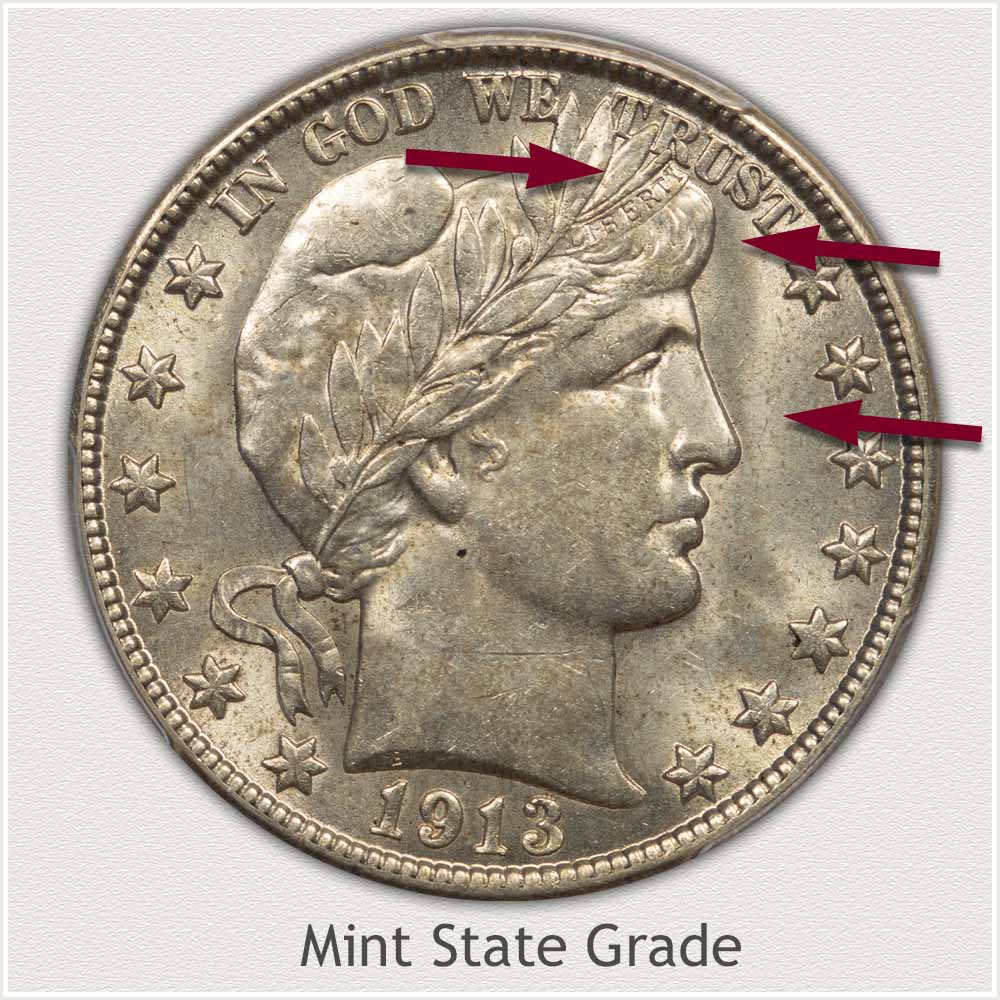 Mint State: Mint State examples are a prized addition to any collection of Barber half dollars. These coins are in a state of preservation in which the delicate surface luster has not been worn and smoothed. Absence of any signs of wear is a crucial factor in determining whether a coin is in Mint State condition.
When a coin is minted, the upper and lower dies exert tremendous pressure when striking a coin, leaving behind a lustrous surface. A coin's luster is a fine, delicate texture, vulnerable to damage, dulling, and smoothing. Quickly worn are the design's highest points, such as Liberty's hair and the ribbon above her forehead.
Examine, using a single source of light, the fine strands of hair located above Liberty's forehead. In Mint State condition, this area retains its luster without dulling or smoothing. Viewing the headband with the lettering of "LIBERTY" provides additional confirmation. Absence of surface wear in both areas is confirming the coin's high quality.
Notice how the coin's surface shine and luster moves across the coin as it is tilted under a light. Any signs of wear change the color of the metal becoming a dull gray and lacking brilliance.
Extremely Fine Grade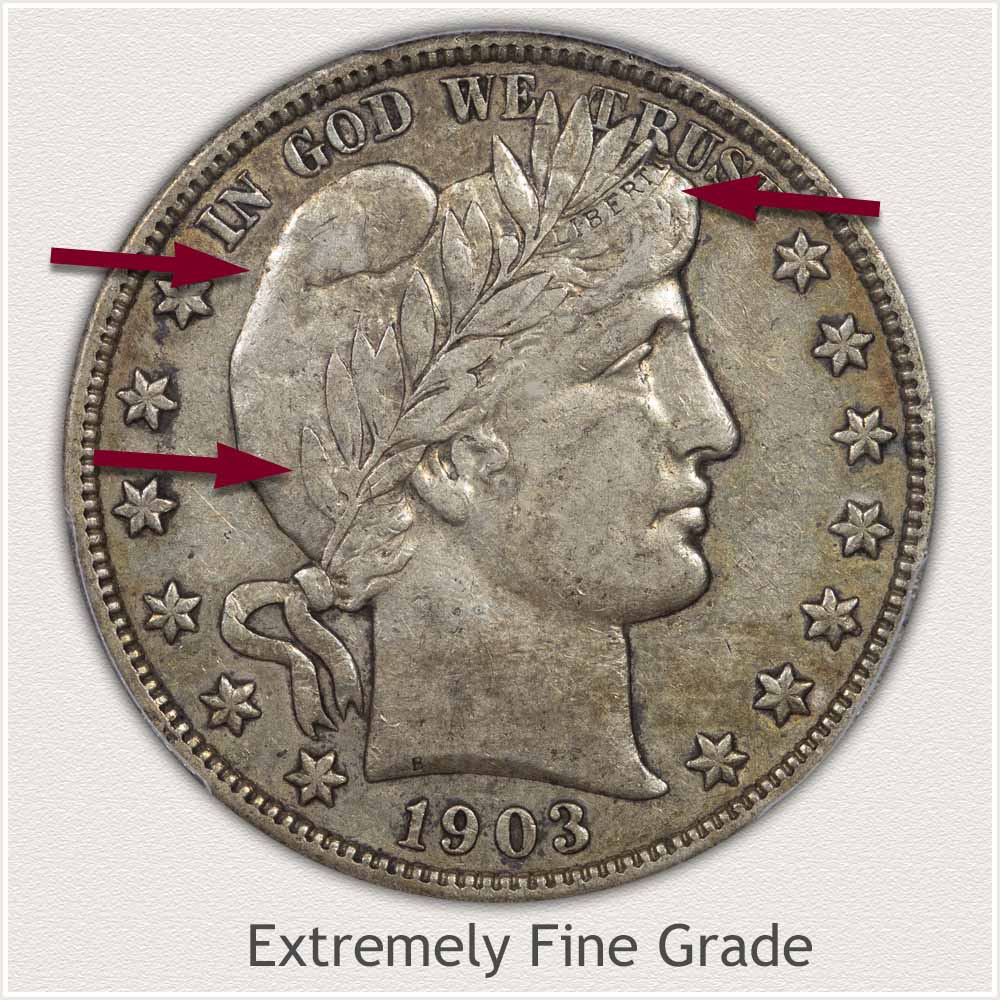 Extremely Fine: In Extremely fine condition, a Barber half dollar displays many finer details adding to a high-quality look. A slight amount of wear, only visible on the very highest points of details helps to define the grade.
In the process of grading these coins, the headband above Liberty's forehead is a feature important to inspect. "LIBERTY" is displayed across a ribbon that has a clearly defined top and bottom edge. There is some minor wear along the bottom edge, but the text is still legible and bold. A close examination of the example coin reveals that the headband remains separated from the leaves above as well.
Liberty's cap on the back of her head is another area to check. There are many contours remaining within the design. Wear is only found along the outer edges of the cap and minor amounts of flatness on high relief folds. Small smooth and flattened spots indicate wear; it is important to note that the leaf edges have not merged with the cap. Leaves with fine detail and the remaining high and low areas within the cap are signs of a coin with little wear.
Replacing the shine of luster, the surface of the silver is now covered with soft gray tones. Extremely Fine grade is confirmed by the presence of highly defined details.
Fine Grade
Fine Grade: Barber halves in the Fine grade are frequently an appealing choice for beginning collectors of the series. The condition is defined by a moderately worn coin with many fine details visible. It is still possible to see many smaller details on coins in this condition. The wreath features ample detail and the headband's lettering is visible.
Inspect the edges of the upper row of leaves, the majority are outlined. Among the upward pointing leaves, the two near the ear and just above have slight blending where they overlap. A lack of detail in the lower leaves, however, holds the example within the grade. Most of the lower leaves' defining edges are gone and have blended with Liberty's hair.
Judging the headband, clearly visible letters "LIBERTY" is significant to achieve the grade. All letters are relatively bold with only minimal fading of details. This is the design's highest point of relief, and the letters are deeply impressed. Lack of detail on these letters indicates that a significant amount of metal has been removed by wear.
A half dollar in Fine condition displays many sharp details, some flattening only in the open areas of Liberty's cheek and neck, however retaining a bold date and rim.
Good Grade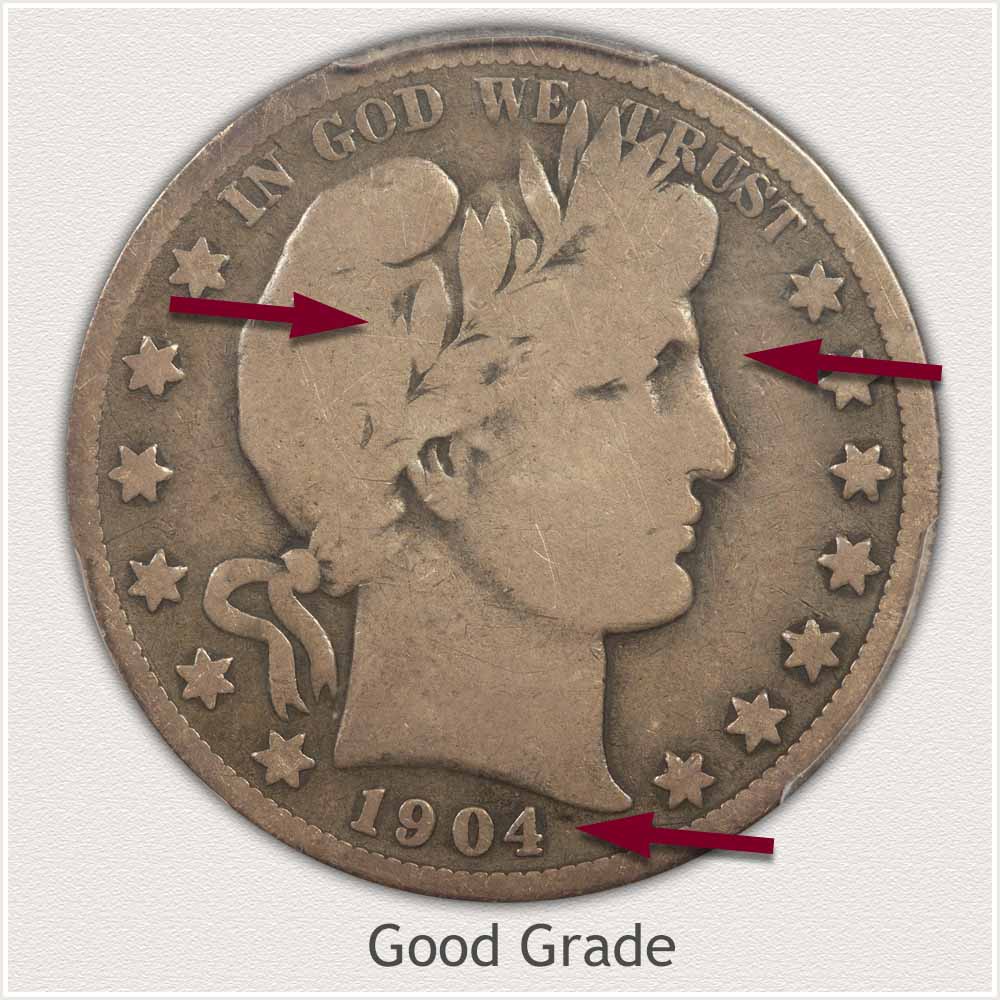 Good Grade: Barber half dollars in heavily circulated condition and displaying few design details are defined as "Good" grade. These are noticeably missing most fine elements with only the design's major outlines remaining.
The Barber design's elevated portrait of Liberty is one of its most appealing aspects. A complete outline of Liberty remains, even though the finer high relief features have been worn smooth. A few central details are often seen, leaves to the wreath indicate a strong grade. Also, the fact that the portrait very bold of the field adds to the grade.
Additionally, a prominent date and complete lettering along the rim adds to the overall eye-appeal. An absence of letters blending with the rim confirms the grade. A good grade half dollar is well worn, however no features have faded and blended onto the field of the coin. First overall impression is worn but not "worn out."
How to Video: Grading Barber Half Dollars
Accurate value depends on judging condition of these Barber half dollars. Using the video, a focus on important areas to judge are examined. An expanded grading process narrows condition range.
Video, Images and Descriptions | Grading Barber Half Dollars
Step 3: | Special Qualities | Three Close-Up Details
Identifying Extremely Fine Grade and Premium Value Barber Half Dollars
1912 Barber half dollars are a good representation of coins with wide value margins as condition improves. At the low end, heavy wear examples are valued based on their silver content. A 1912 with evidence of some detail within the headband and eagle feathers on the reverse enjoys a premium over silver.
Those 1912 halves with light wear and better condition surfaces are well received by collectors, and values begin to rise quickly. These lightly circulated pieces become candidates for the Extremely Fine grade. An overall view of the coin is taken, and examples with many fine details visible are further inspected to narrow a condition range.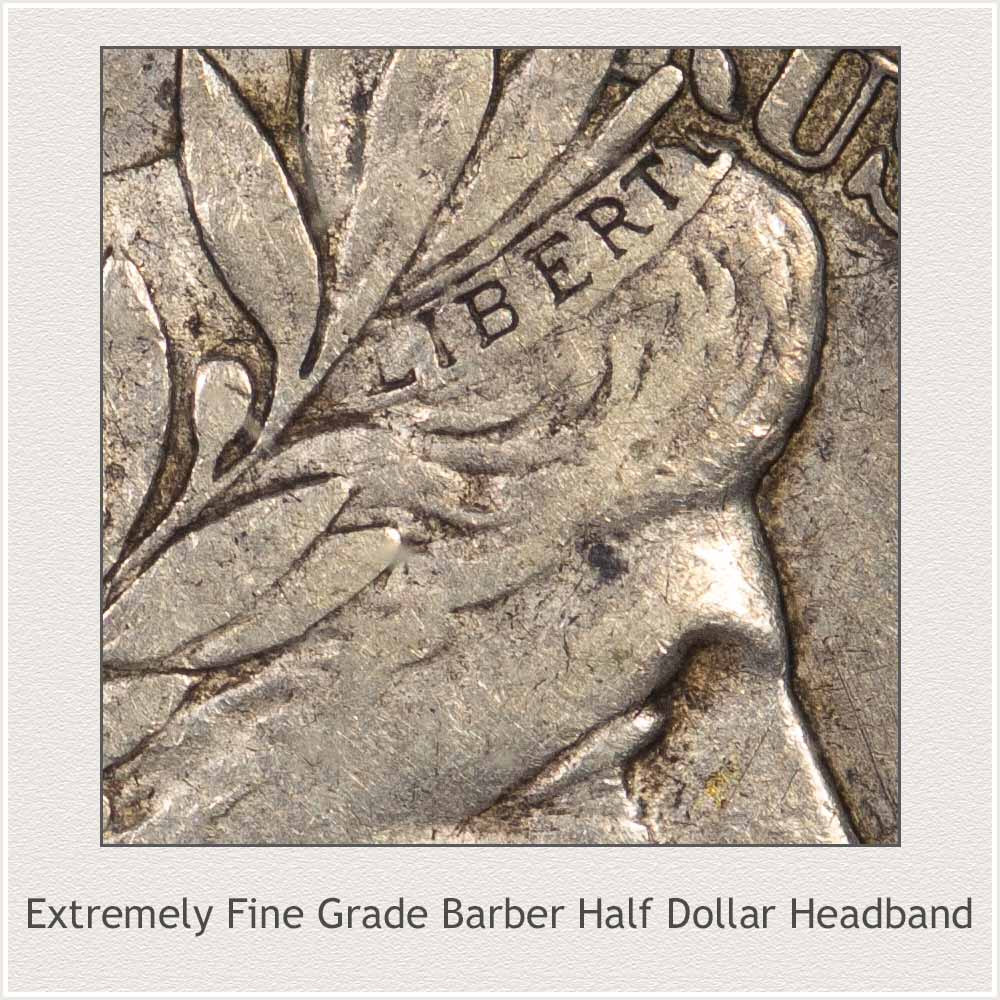 A starting point for an inspection of light wear is a close look at the headband of Liberty. At minimum, all letters of "Liberty" are clearly visible. When the lower edge of the Ribbon is visible, the coin is considered lightly circulated and possibly in Extremely Fine condition. Look closely at the area just under "ER" of the letters.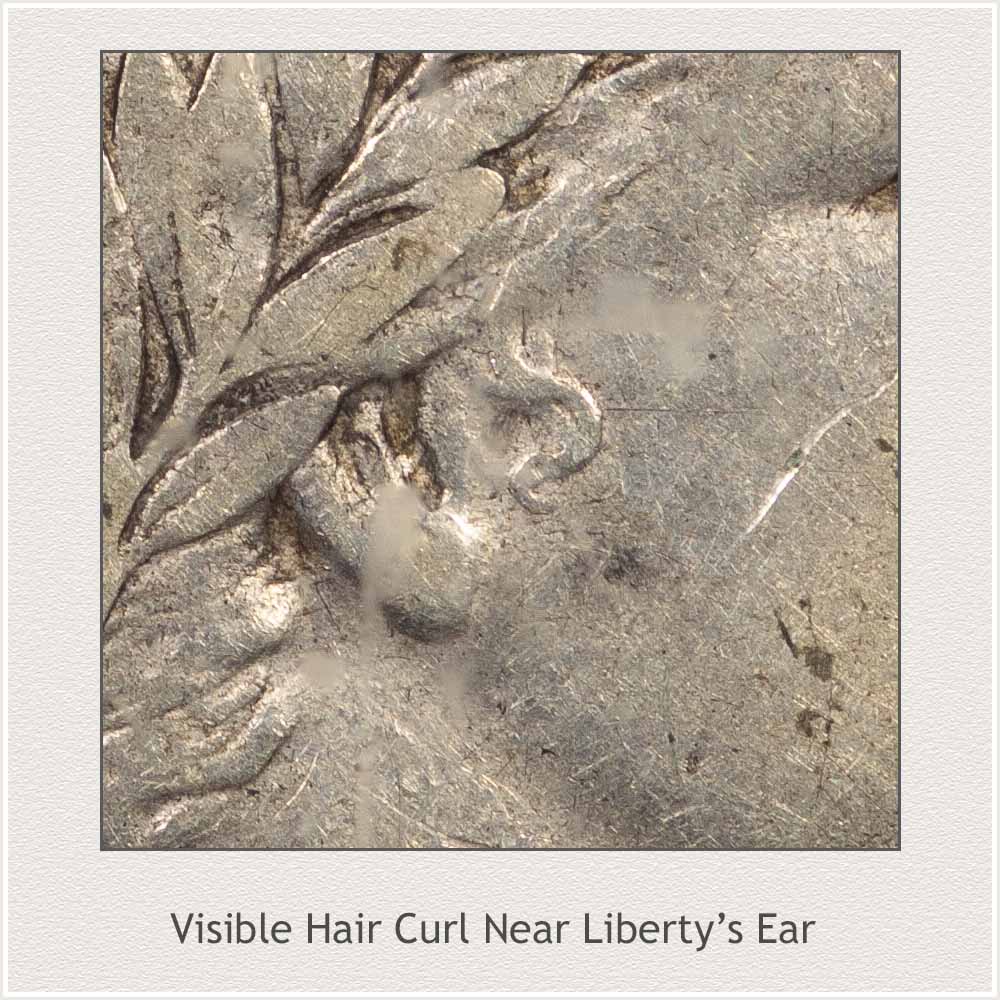 A second area helping determine light wear is the front hair curl on Liberty's forehead. Wear is visible in the area; however, if separate strands of hair remain, wear is just light in amount. Visible hair strands strengthen the Extremely Fine grade possibility.
On the reverse of these lightly circulated halves, ample detail throughout the shield and Eagle's feathers is presenting a crisp "look" to the coin. Inspecting the head of the Eagle, note the feather line extending from the back of the Eagle's head almost to the eye. Heavier wear removes this line and lowers the grade. With the line intact, this additional detail is pointing to an Extremely Fine condition half dollar.
In combination, these three factors, a full lower line to the headband, detail in hair strands over her forehead, and feather line detail within the Eagle's head are indicating a special quality Barber half dollar.
References
U.S. Mint. Catalogue of Coins of the United States https://nnp.wustl.edu/library/book/554591
U.S. Mint. 1891 U.S. Mint Annual Report https://nnp.wustl.edu/library/book/512060
U.S. Mint. 1913 U.S. Mint Annual Report https://nnp.wustl.edu/library/book/514126
Coin Values | CoinStudy Articles
Date by Date
In Depth Barber Half Dollar Values
1892 to 1915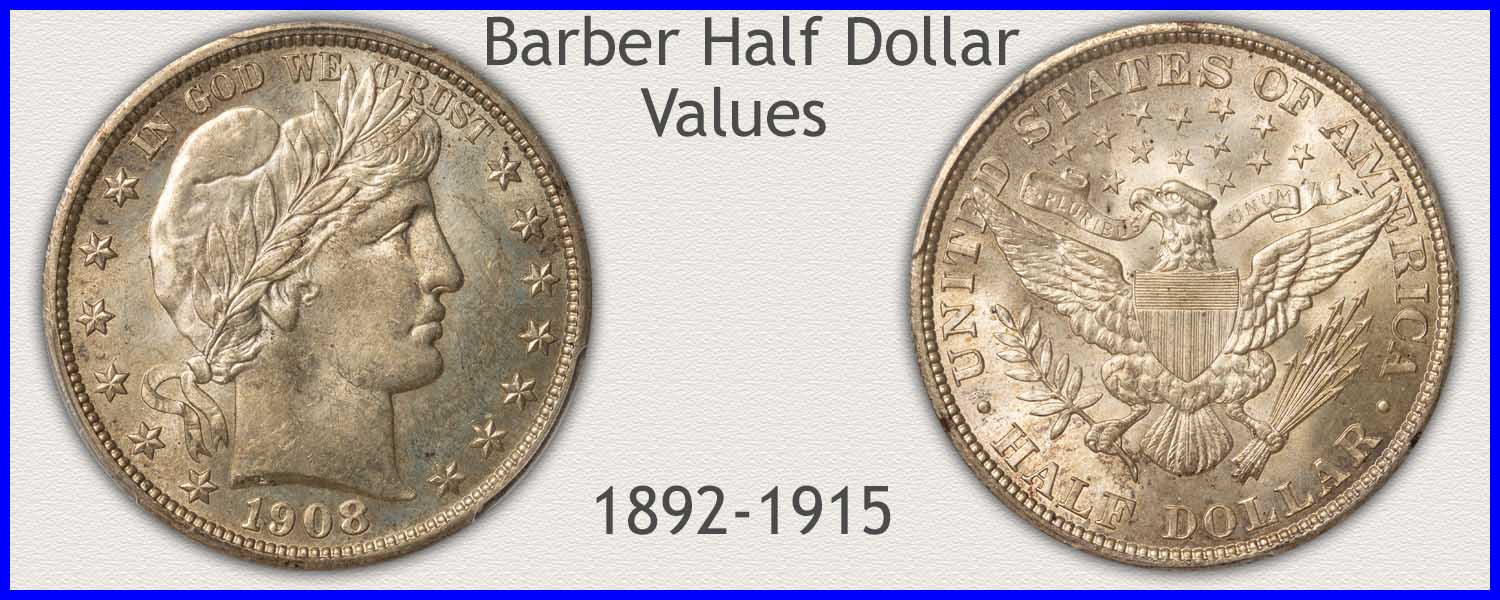 Barber Half Dollar Value | Scarce Low Mintages
Many dates of the Barber half dollar series are scarce because of low mintages, these coins standout on the full value chart with high premiums. Identify the important factors to narrow how much an old half dollar is worth.
Coin Value Guide | How to Value a Coin Collection
Date runs of coins assembled as collections are valued by following a few steps. Identify series, dates, and mint varieties, and then an overall assessment of condition. Higher premium coins are quickly recognized. Understand the potential in an old coin collection.
Print the Coin Values Worksheet
Organized into one list, print and record values of your Barber half dollars. Print extra sheets to continue with the rest of your holdings.
Safe Coin Storage | Recommendations
Once removed from circulation and then providing protective housing, old coins maintain value. Specific to coins and coin collecting are storage options to hold single or multiple coins. Premium coins are protected and safe from damage. Review the storage solutions.
Sell Silver Coins | Premium Vintage Silver Issues
Silver U.S. coins are part of a very active market. Dimes, quarters, half and silver dollars are imaged and described to recognize both the silver issues and the higher value collectible coins. Calculate the current worth and reference listings of dealers to help in selling silver coins.
★Coin Values Discovery finds 1912 Barber Half Dollar Value and...
All U.S. coin values. A starting point to correctly identify your old coin. Recognize the important features to value with a step-by-step process. Continue with a full evaluation of specific dates, mints and condition.