Coin Values Moving with Precious Metals: Up-Dated 9/25/2023: Gold $1921 | Silver $23.44
1905 Half Dollar Value
Silver content of these heavy coins is 90% by weight, forming a base to 1905 half dollar value. Barber coinage is an older vintage series, and this minimum value contains a slight premium due to its advanced age.
The worth of each half begins at $13.28 . On 5/25/2023 , the price of an ounce of silver is in the range of $23.44 .
The next step is to determine the coin's collectible qualities. Many collectors are looking for specific date and mint combinations. This demand places additional premiums on the harder to find mint issues.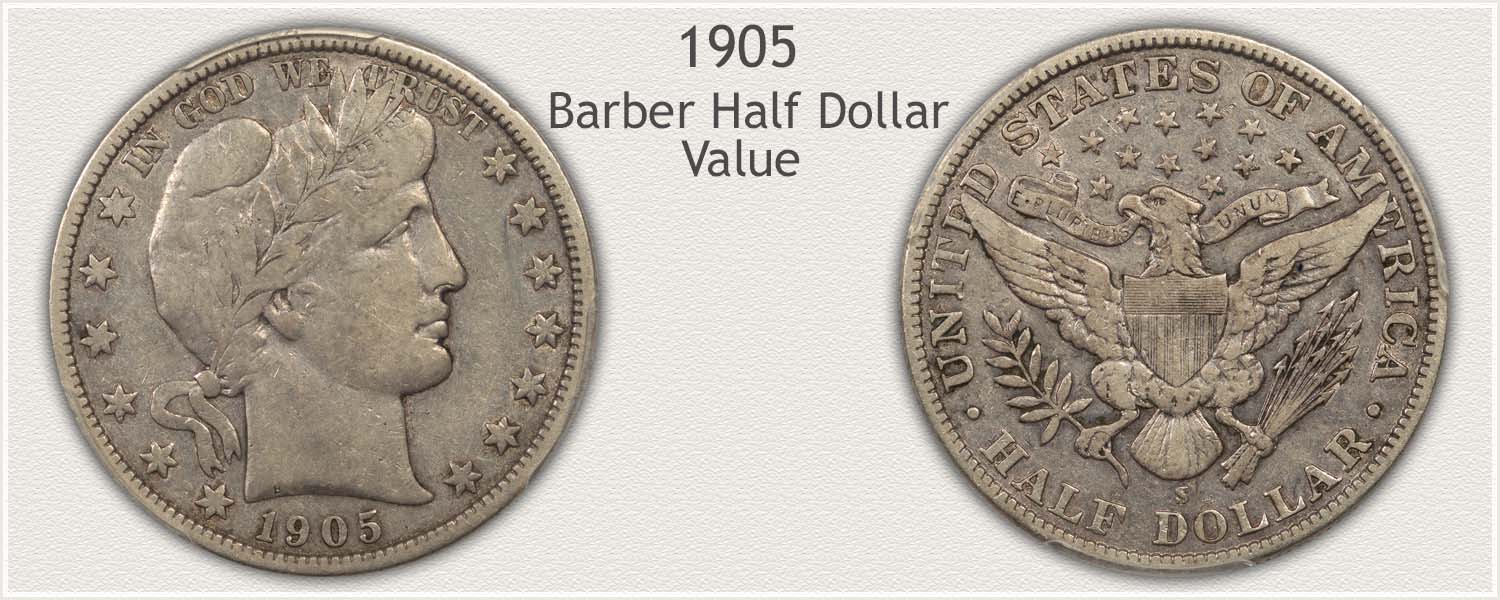 Steps Leading to Value:
Step 1: Date and Mintmark Variety - Collections of these Barber halves are focused on the exact mint from which they were struck and exact date. An examination is required to ensure an accurate mint variety.
Step 2: Grading Condition - These are fundamentally a scarce coin when eye appealing. Quality examples are highly sought by both dealers and collectors. A coin in above average condition shows a strong premium.
Step 3: Special Qualities - Historical qualities of the New Orleans Mint issues are popular with collectors. Recognize features of a premium coin.
1905 Half Dollar Value
Condition of Coin
Date
Good
Fine
Extremely
Fine
Mint
State
Barber Half Dollar Values Updated
5/25/2023
1905
$18.75
$95
$202
Rare
1905 O
$24
$198
$456
$1,099
1905 S
$13.96
$62
$181
$740
Values listed are the Wholesale worth of Barber half dollars. Use as a guide and starting point. Add the steps below to narrow their range.
Step 1: | Date and Mintmarks Identify a Scarce Mint Issue
Listed on the Chart is Premium Branch Mint 1905 Half Dollar Value
Philadelphia variety half dollars of 1905 are widely available due to their high mintage. New Orleans half dollars, a branch mint issue, are elusive today.
The value chart displays two important indicators. Strong premiums for branch mint issues. Second, even low-grade examples of these coins trade for an amount significantly higher than their base silver worth. All of this suggests the branch mint varieties, are currently in limited supply, were not saved in quantities at the time. To recognize a prized collectible, it is increasingly important to recognize a small mintmark.
Each of the branch mints that issued coins in the year was identified by a mintmark. These different mintmarks are located and recognized using the images below.
1905-S Barber Half Dollar
"S" Mintmark on Reverse: San Francisco Mint Struck the Coin
Date and mint variety are essential facts needed to complete a coin's description. Although a moderate amount of 1905 half dollars were produced in San Francisco, just under 2.5 million. No Barber half dollar in nice condition is easy to obtain. These coins enjoy premiums above their base silver worth due to the vintage series, age, and basic dwindling supply. Most saved from circulation long ago are typically in poor condition, and it is difficult to locate well-preserved, detailed examples. Any found with delicate and minor details visible is considered a desirable collectible. Today, a valuable coin to discover.
The "S" mintmark on the reverse of the coin identifies it was produced in San Francisco. Below the eagle and above "HALF DOLLAR" is the letter "S" mintmark. There is solid value support for this collectible year and mint variety.
1905-O Barber Half Dollar
"O" Mintmark on Reverse: New Orleans Mint Struck the Coin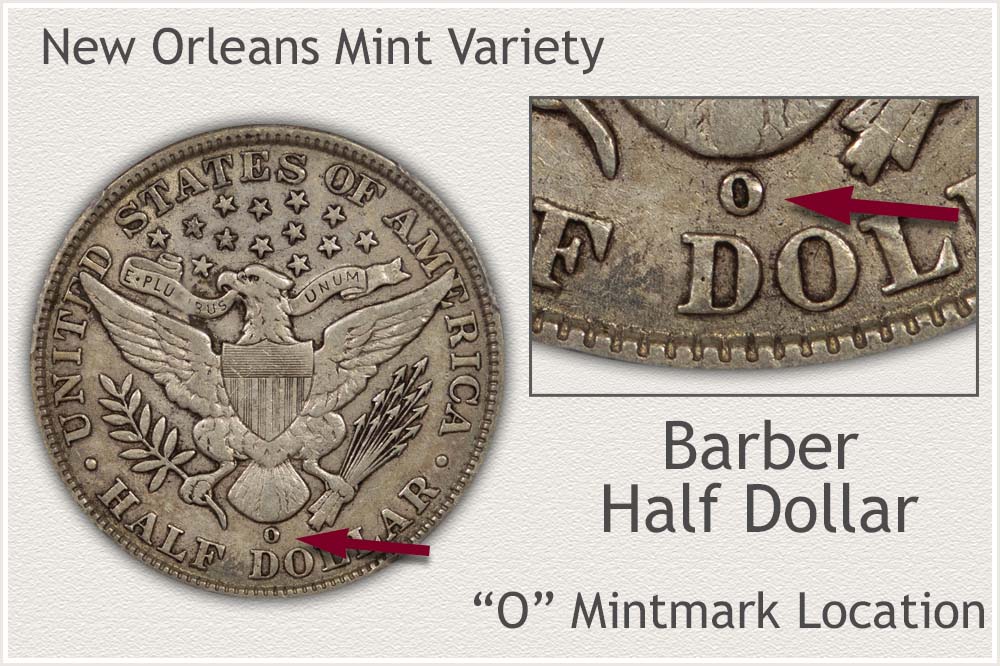 The middle of the decade saw very low production of half dollars from the New Orleans mint. 1905 half dollars are recorded as the second lowest mintage year of the series. Just 505,000 half dollars produced ensures notice by collectors. These elusive coins have become a key to the series and are highly valued in all stages of preservation. Important is grading condition in Step 2.
Accurately identify the New Orleans half dollar by the large "O" mintmark found on the reverse. Below the eagle and just above HALF DOLLAR, a large "O" mark confirms New Orleans struck the coin.
1905 Barber Half Dollar
No Mintmark on Reverse: Philadelphia Mint Struck the Coin
1905 Philadelphia half dollars present an interesting coin to collectors. Although its beginning value is tied closely to its base silver worth, initial supplies minted were just over 662,000. Here is a large silver half dollar with a low, under one million minted, and remaining affordable. At the end of the series, a 1905 Philadelphia issue became the fifth lowest mintage from the mint.
Silver content value plus collector interest combine to create a strong demand. When details of the design are visible in Liberty's hair and headband, for example, the condition is starting to move up toward "premium collector quality."
On coins minted during the Barber series, the absence of a mintmark on the reverse indicates they were struck in Philadelphia. Confirming the Philadelphia mint's halves is an empty space above the letter "D" in DOLLAR.
Step 2: | Grade Identifies and Defines the Condition of Coins
Next Important Part of 1905 Half Dollar Value is Condition of the Coin
High quality coins and low-quality examples are separated by defining condition into a "Grade". Used to identify the preservation quality of each piece. Grades are also how these coins are categorized within value charts.
A collector better understands the condition of coins by referring to the "grade" as part of their description. Using the images, compare your coin to find a close match, helping establish a narrow grade range. Examine each coin under a single light source, allowing contrast to reveal the fine details while tilting the coin.
Mint State Grade
Mint State: A Barber half dollar is significantly more valuable and rare when determined in Mint State condition. The term Mint State refers to a coin with no surface wear. This is determined by looking closely at a few specific features, namely Liberty's face, the wreath's leaves, and her cap.
When first struck, silver has a fine, reflective texture that radiates as light passes over its surface. It is very delicate and wears quickly due to its fine grain. On a Barber half, luster remains on the exposed areas of Liberty's cheek. Look at the similarity between her cheek and her neck, another area that is prone to wear. With mint state coins, the cheek and neck share a similar shine and texture with the lower relief areas; a good comparison is the area just under the chin.
Silver metal loses its brilliant appearance and turns a soft gray color with wear. Additionally, examine the laurel wreath's leaves, a delicate design feature prone to showing wear. A full luster remains throughout the leaves, with high areas and raised edges. Continue by checking Liberty's cap, confirming it still has all its open areas with the same luster, texture, and brilliance as her cheek and neck. Slowly tilt the coin under a light to observe the mint luster's continuous flow.
Extremely Fine Grade
Extremely Fine: There is a sizable market for vintage Barber half dollars with only light wear. Limited, small flattened area of wear helps define the Extremely Fine grade.
Fine details of Liberty's hair and wreath of Laurel leaves are crisp and fully defined when viewed overall. Hair strands have just begun to merge along her hair line above her forehead, indicating slight wear and the grade. Light wear has flattened the once-rounded contours by smoothing the very tops of the hair strands. This sign of wear within the hair is visible from Liberty's ear to the top of her forehead.
Next, the wreath's main feature is its laurel leaves. As part of the original design, all leaves have both high and low contours, as well as raised edges. Both the contours and leaf edges exhibit only a slight amount of flattening. All outlines are still visible, particularly in the upper row. Each leaf displays its distinct shape, separation, and bold relief.
With a pleasing tan and gray toning on the surface, and sharp details, this example qualifies as Extremely Fine.
Fine Grade
Fine Grade: In general, the surface of the example half dollar in Fine grade shows visible widespread wear. However, there are some areas that retain detail, giving the coin a moderately detailed appearance. It is now necessary to inspect the headband, the leaves, and her cap on the back of Liberty's head.
Note, the remaining detail includes all letters of "LIBERTY" are visible within the headband. There is a small amount of fading to "ER", this is acceptable in Fine grade of condition. The headband's upper and lower edges have merged with her hair, bringing the coin's condition closer to Fine grade than to a higher grade.
Previously bold leaves of the wreath are now smooth, only the outlines are visible near Liberty's ear. A Fine grade coin displays leaves blended and missing from the lower row, however mostly full outlines on the upper row. Examining another feature, the surface to her hat is flat and worn, with only the outlines of the folds still visible. This example is considered in Fine grade condition due to the separation of the cap and leaves as well as the cap's subtle high and low areas. A collectible coin many collectors find appealing.
Good Grade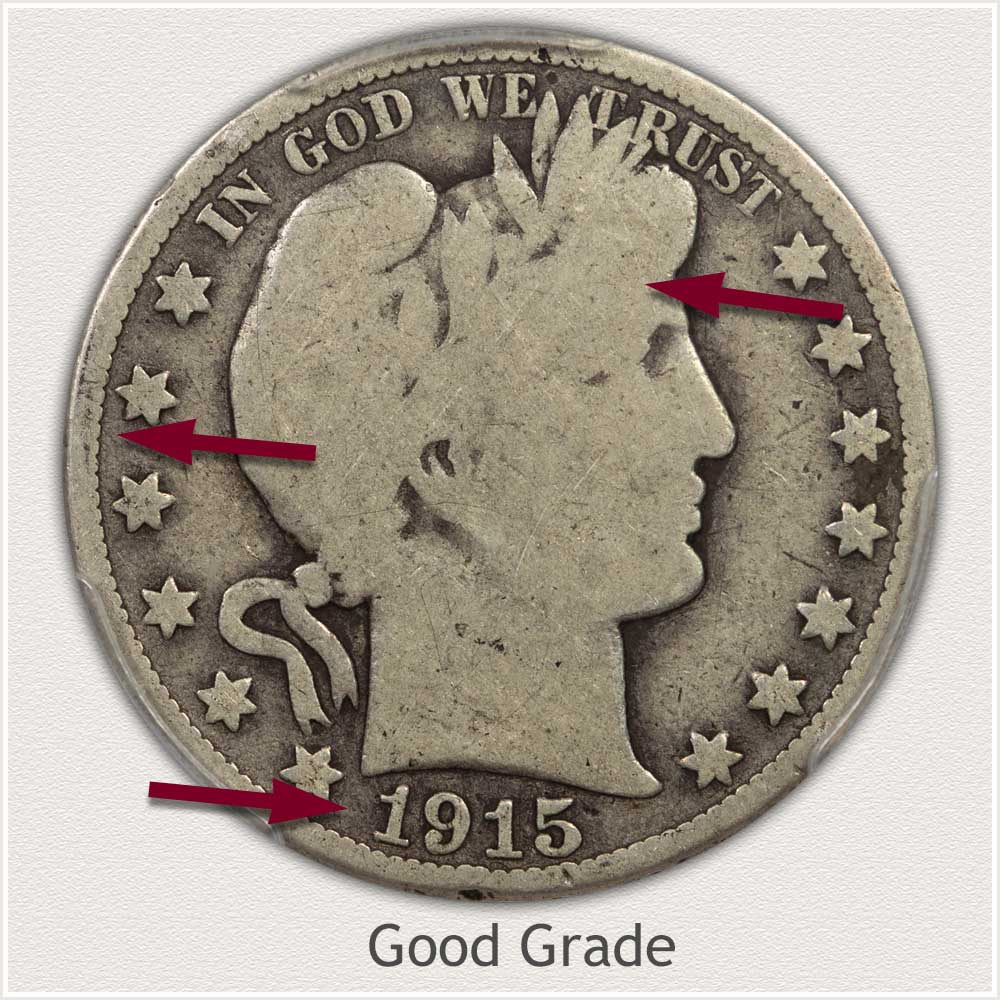 Good Grade: On a "Good" grade condition half, the silver has been worn down nearly to the level of the design's field, and the high relief areas are smooth and lack detail. Small design details missing are what determine the grade.
Just above Liberty's eye, there is no evidence of a hairline along her forehead. As a result, this coin is classified as Good grade due to heavy wear.
As a positive, there is a complete rim on the coin, which is well separated from the stars and lettering at the top. It is also essential to have a solid, clear date. The overall impression is the remaining details look very crisp.
How to Video: Grading Barber Half Dollars
Increase accuracy when judging condition and recognizing higher quality. Subtle points are examined in detail.
Video, Images and Descriptions | Grading Barber Half Dollars
Step 3: | Special Qualities | Allure of New Orleans Coinage
Special with Collectors | New Orleans Mint Coinage
Premium value is found in half dollars with a steady demand and added attention given to them by collectors. New Orleans halves within the Barber series befits by qualifying in both categories. They are special coins to collectors.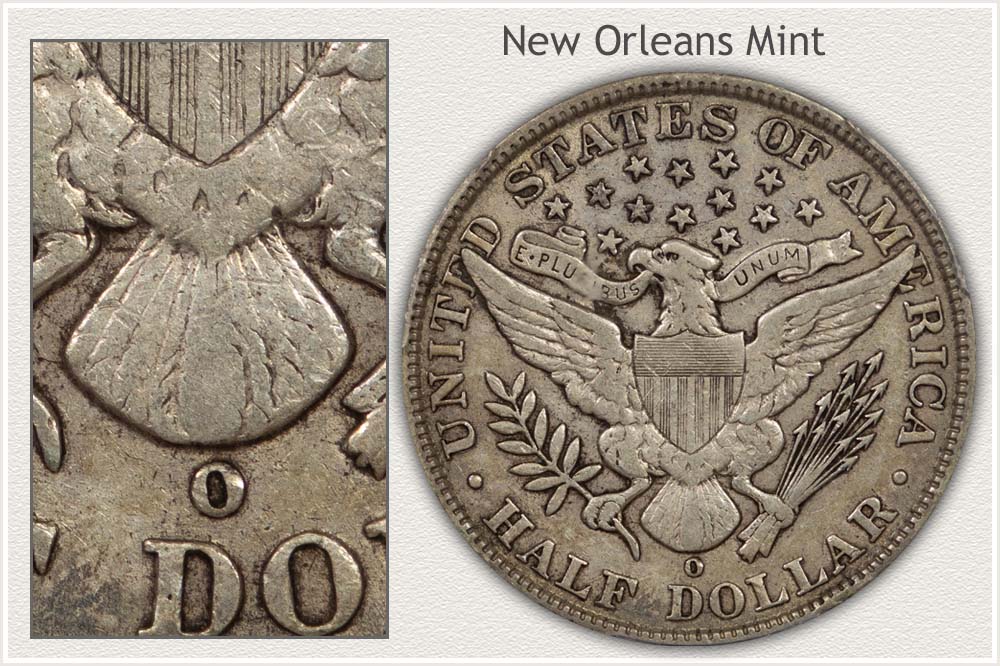 Nice Example of a New Orleans Mint Barber Half Dollar
Significant to the history of the New Orleans mint is its closing after minting operations in 1909. Mint records of 1902 detailed the increased capacity of Philadelphia, San Francisco, and the soon to open new mint in Denver, Colorado.
The New Orleans mint, in operation since 1838 and located on the Gulf Coast, was replaced by the Denver mint, centrally located in the interior. An obsolete mint variety was created, and the ending of an era.
1905 saw a very low production of half dollar in New Orleans, all are scarce. Premiums start with the Good grade coins. An example of a 1905 New Orleans half with finer details visible is a highly sought half dollar.
Adding to the demand of New Orleans coinage in general is its popularity when collected as a specialized theme collection. A set of New Orleans only half dollars is a significant achievement. Further demand comes from collectors of sets featuring all date and mint varieties of the Barber half dollar series. A very suitable set for a new collector is a set of half dollars, one from each mint involved in the series. A set of Philadelphia, Denver, San Francisco, and the New Orleans half is an excellent entry to the series.
Allure of an obsolete mint issue, many forms of collecting the variety, and the difficulty of finding pleasing examples is a solid base to value. Each of these silver half dollars represents a long-ago time in U.S. coinage history.
References
U.S. Mint. 1902 U.S. Mint Annual Report. https://nnp.wustl.edu/library/book/321
U.S. Mint. 1906 U.S. Mint Annual Report https://nnp.wustl.edu/library/book/514122
Coin Values | CoinStudy Articles
Date by Date
In Depth Barber Half Dollar Values
1892 to 1915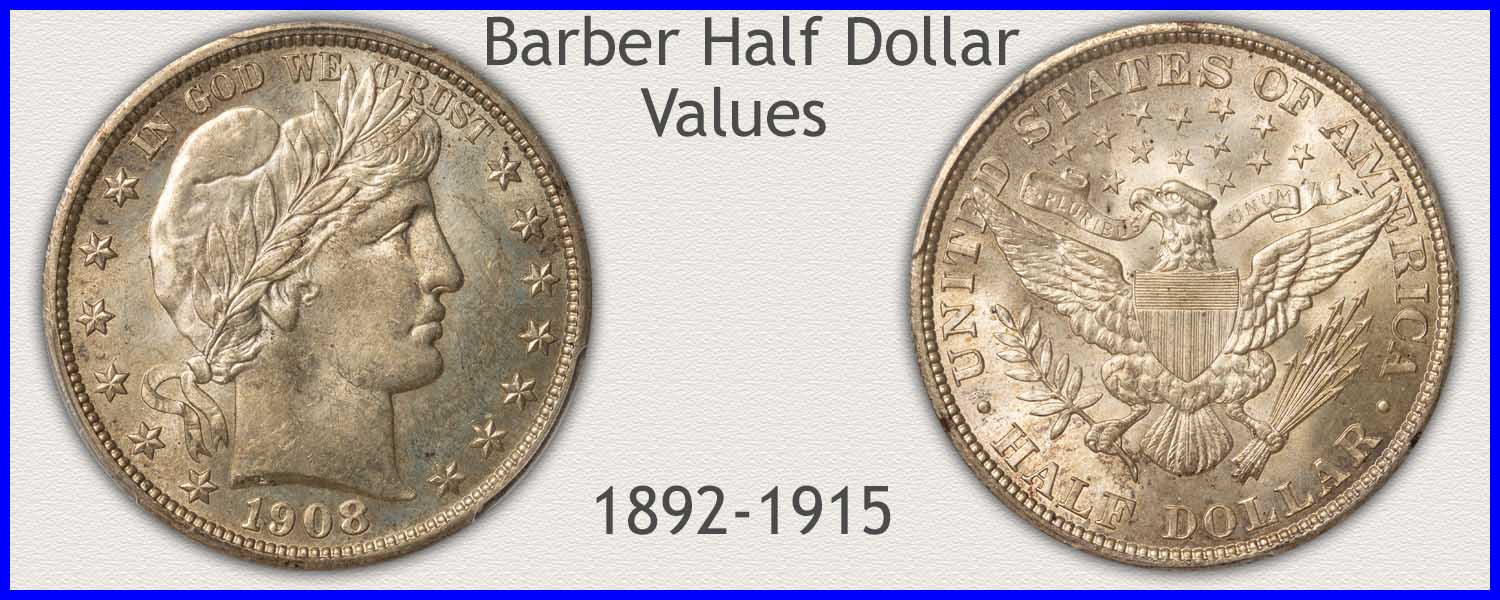 Barber Half Dollar Value | Importance of Condition
Early years of Barber half dollars, those minted 1892 to 1899, all have premium values in better than average condition. A full value chart points to these scarce coins, with expanded condition examples to spot the premium coins.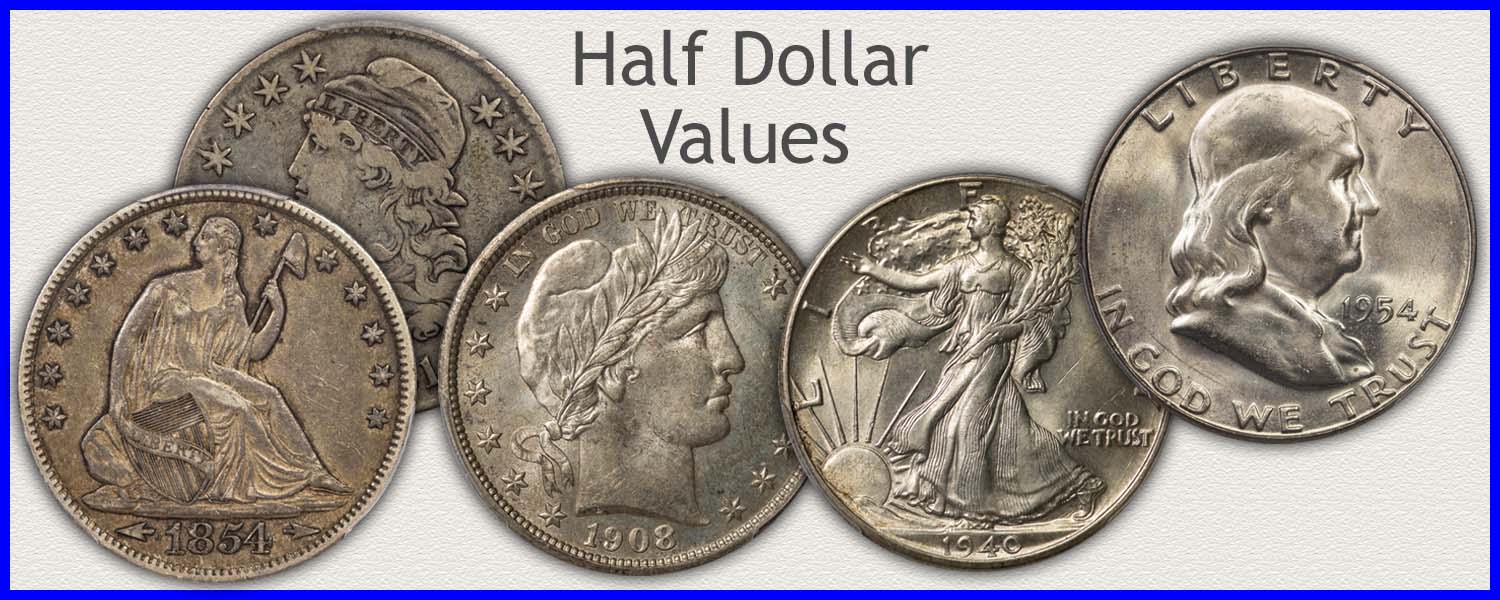 Half Dollar Value | Large Range in Values
Value charts of the different half dollar series. Values have a large range depending on specific date, mint variety, and condition. Each series of half dollars is recognized by images linking to value charts and a process to narrow the range on the chart.
Old Coin Value | Recognize the Series
A excellent place to begin the value process is to accurately recognize the coin design and series. An index of the many series of U.S. coins is imaged to compare and follow links to coverage of how to place a value on the coin.
Silver Coin Values | Minimum Values of U.S. Silver Coins
Older U.S. coinage was produced in a 90% silver alloy. As of 5/25/2023 with silver at $23.44 these coins are worth well over their face value. A strong minimum, it changes with movements in silver price. Images and descriptions identify the silver coin series, and using the calculator, find current values.
Popular Coin Series | Barber Half Dollars
U.S. coinage spans a large range in both years and different design series. Some coins are very popular, as example, silver dollars and cents. Barber half dollars are favorites of a small but dedicated group of collectors. Ranking of the denominations and series by collectors forming registry set collections is charted.
Selling Coins | A Defined Process
First organize your coins to accurately identify each. Placing a narrow value range on the coins prepares for the selling step. Follow the process used by collectors to find dealers suitable to contact from the dealer listings.
★Coin Values Discovery finds 1905 Barber Half Dollar Value and...
Coin values index. Dates, mints, and condition are covered by following images to the different series, all valued individually. Follow the step-by-step method, comparing your coin to descriptions and images helping identify the important qualities to a narrow value range.