Coin Values Moving with Precious Metals: Up-Dated 11/27/2023: Gold $2010 | Silver $24.66
1895 Half Dollar Value
Correctly identifying 1895 half dollar value is helped by using a process followed by collectors and dealers.
Recognizing a few important elements determines the overall value of a coin. First, the Barber half series is collected, described, and priced according to the date and mintmark combinations. This step alone alerts to the premium branch mint varieties of the year, a significant find. The second step of the process involves determining each coin's condition as well as its overall aesthetic appeal. Following the steps below to finds your coin's correct listing on the chart.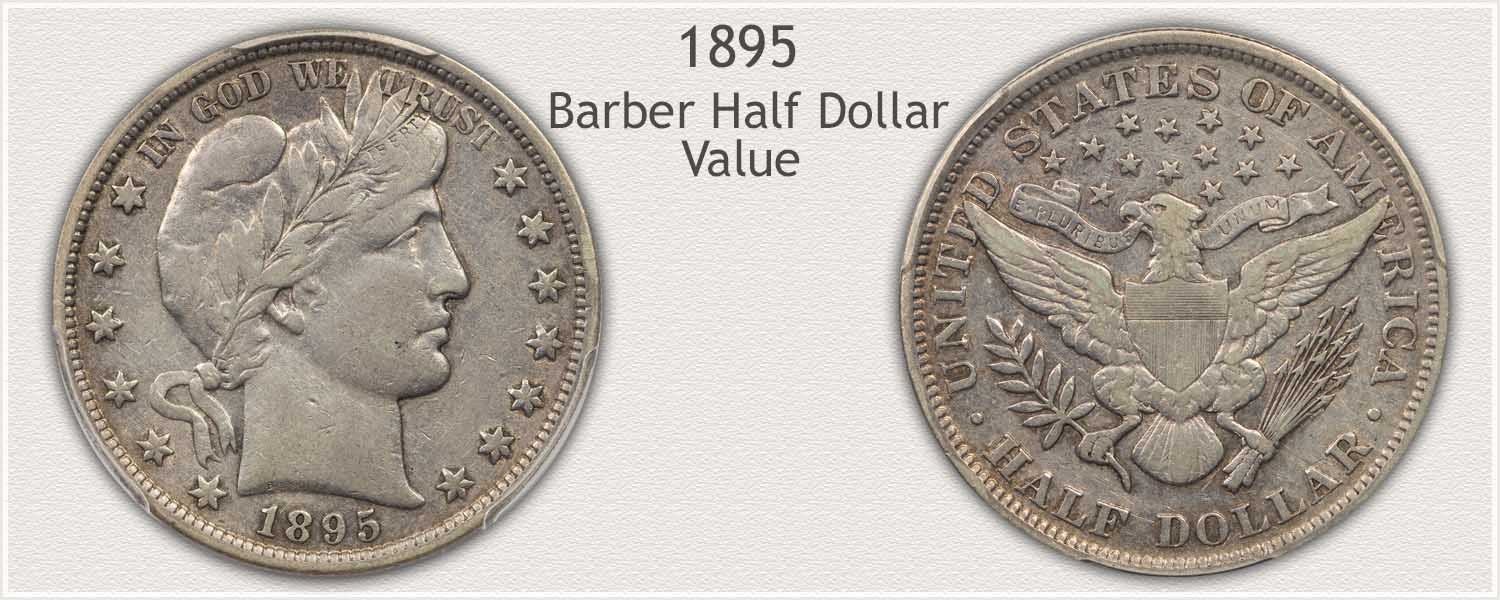 Steps Leading to Value:
Step 1: Date and Mintmark Variety - There were three mints that produced 1895 half dollar, as shown in the chart. The value range is narrowed by identifying the exact mint issue.
Step 2: Grading Condition - A Barber half dollar from 1895 is a highly sought-after collectible. Dealers and collectors alike are interested in these elusive coins. Grading condition separates the high-quality premium examples.
Step 3: Special Qualities - Next, an inspection of the coin is made from an overall perspective. Collectors seek coins that are free of distracting blemishes or nicks.
1895 Half Dollar Value
Condition of Coin
Date
Good
Fine
Extremely
Fine
Mint
State
Barber Half Dollar Values Updated
11/27/2023
1895
$16.27
$79
$183
$447
1895 O
$35
$112
$305
$910
1895 S
$35
$170
$372
$868
Listed on the chart is a range of Wholesale values of Barber half dollars. Identifying mintmarks is an important factor to confirm. See Step 1: just below.
Step 1: | Identify Elusive Date and Mintmark Issues
Premium 1895 Half Dollar Value of Branch Mint Varieties
A Philadelphia variety half dollar is considered plentiful and most are valued close to silver worth due to the high number of coins minted. Those issued by the branch mints in New Orleans and San Francisco are found less frequently.
In the value chart, two factors are notable, first, the high premiums for branch mints issues. Second, even low-grade examples of these coins are worth a significant premium over their intrinsic silver value. This suggests a low saving rate of the branch mint varieties while in circulation, which are currently in short supply. Identifying a small mintmark is becoming increasingly important when identifying a valuable collectible.
Coins issued by the branch mints all bear a distinctive mintmark. Below are images helping identify the different mintmarks and pointing to their location on the coin.
1895-S Barber Half Dollar
"S" Mintmark on Reverse: San Francisco Mint Struck the Coin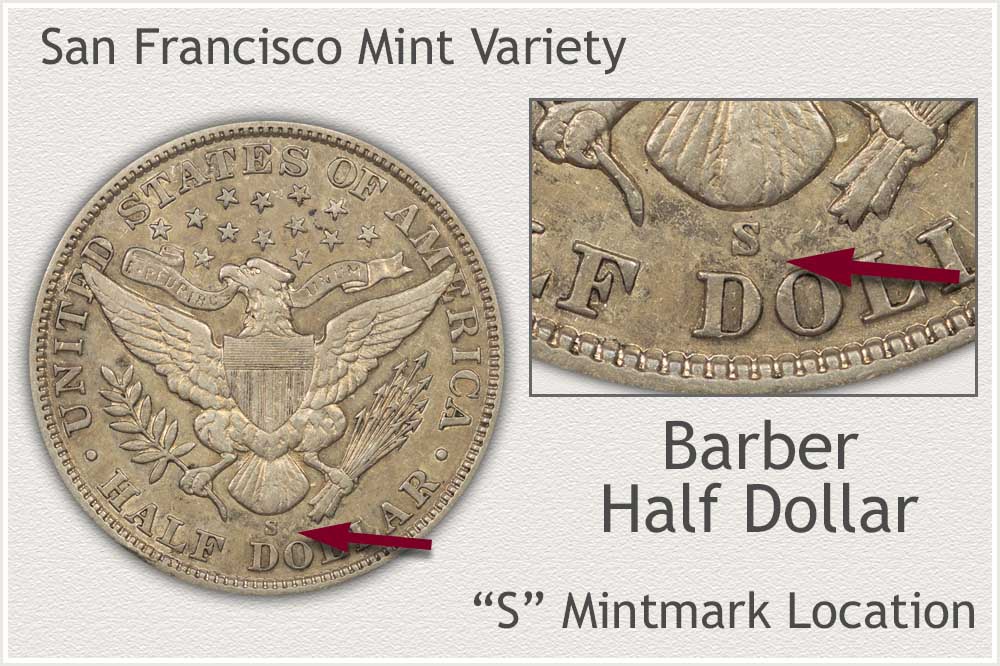 San Francisco mint half dollars struck in 1895 are now becoming a coin with scarce availability. Collectors are willing to pay premiums for this variety because of the difficulty finding nice quality examples to add to their collections. Of the three mints that produced half dollars during the year, these are showing a strong premium. Locating its position on the value chart requires verifying both the date and mint variety.
The "S" mintmark found on the reverse identifies all San Francisco half dollars in the Barber series. Inspect the area under the eagle's tail feathers and above the inscription Half Dollar in the lower portion of the coin.
1895-O Barber Half Dollar
"O" Mintmark on Reverse: New Orleans Mint Struck the Coin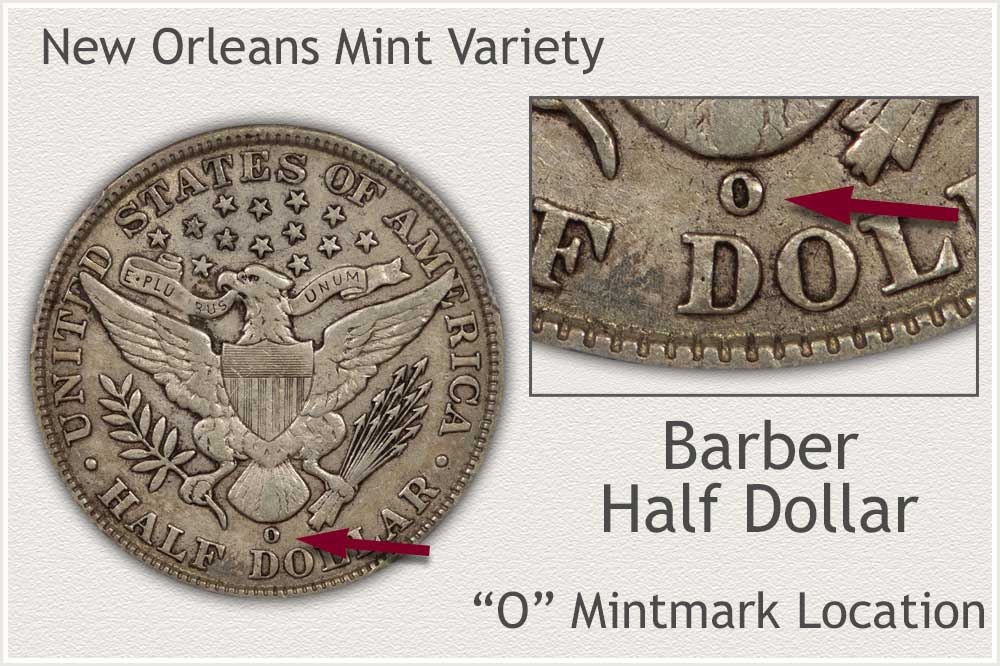 In 1895, the New Orleans mint issued the second fewest number of half dollars among the three mints producing halves during the year. Striking 1,766,000 halves in what eventually became a typical production year of the series. Saving of these coins at the time was few, leading to a basic scarcity today. Add in the popularity of the now obsolete New Orleans mint status and strong demand is constant.
It is possible to find these in low condition, but true premium examples are those in which Liberty's hair, wreath, and headband still retain their details. In today's market, they make excellent entry-level coins for new hobbyists, a nice representation of a scarce coin and popular mint variety.
An "O" mintmark appears on all coinage from New Orleans, which served as a branch mint for the southern region of the U.S. To confirm the mint variety, look for the large "O" mark on the reverse of the coin, just above the letter "D" in DOLLAR.
1895 Barber Half Dollar
No Mintmark on Reverse: Philadelphia Mint Struck the Coin
In the Barber series, the Philadelphia variety 1895 half dollar remains today as an obtainable year with available supplies, although most are in the very worn category. This gives new collectors the opportunity to add a nineteenth century coin to a collection at an affordable cost.
The amount produced was just over 1.8 million, a series average, but fewer than some of the high mintage years that topped 4 million. In high demand and regarded as premium collectibles are pleasing examples with visible fine line details.
The lack of a mintmark on the reverse of Philadelphia coins is a distinctive feature. A close inspection of the reverse reveals the area below the eagle's tail feathers is empty. Historically, Philadelphia is the main U.S. mint and did not use a mintmark at the time.
Step 2: | Grading Preservation of the Surface is Key to a Range on Value Charts
Identify the Collectible | Premium Condition of Coins
Noted on the chart, Barber half dollars are valued by collectors based on the condition of the surface. Grading the coin is a process to evaluate its condition and establish a grade. Standards of different wear levels are compared helping determine a grade range.
These halves show distinctive designs that generally wear in recognizable patterns as metal is removed. The following images highlight important areas to focus on.
Mint State Grade
Mint State: Identifying the elusive Mint State condition often requires magnification. Fine texture lines of luster, which are crucial to the grade, become visible using a 3x to 5x power glass. It is the intense striking pressure of a coin during the minting process resulting in luster on the surface. Luster, is typical of a newly minted coin and is a rare condition on these old Barber half dollars.
A half dollar graded as "Mint State" retains its original luster and shows no signs of wear. Wear occurs first in high areas soon after a coin enters circulation. Once worn, the metal becomes smooth and begins to appear a dull gray color. Look closely at Liberty's cheek area and jaw line. This contoured surface has high points and low recessed areas. The example coin's matching metal texture, covered in luster on her cheek and lower contour of jaw, contributes to its high-quality condition.
The next step is to examine the field of the coin in front of Liberty's portrait. The openness of the field receives initial wear here as well, becoming dull and smooth in texture. There is no smoothness to the surface, and the field and cheeks are equally textured, indicating mint condition. All surfaces radiate shine when the coin is slowly tilted under a single source of light.
Extremely Fine Grade
Extremely Fine: In the Barber series, Extremely Fine grade coins are a premium and significant grade. Only minor wear has caused any surface disruption. There is no evidence of extensive wear flattening and connecting large areas. Completeness of details, lettering, and edges on the ribbon that covers Liberty's head is a defining feature.
When inspecting Liberty's portrait closely, her hairline is well defined just above her eye. Fine strands of hair are just lightly flattened and blended by wear. A visible, full, and bold lettering of "Liberty" within the headband is significant to the grade. Additionally, there remains a raised edge along the upper and lower edges of the ribbon.
A feature important to grading an accurate condition is Liberty's cap. There are numerous folds in the cap, both in high relief and in low relief. The outer line of the cap shows signs of wear, but most of the high and low areas of the folds are still clearly defined. A half dollar within the Extremely Fine grade quality remains without any significant loss of detail or smoothness within the cap.
Fine Grade
Fine Grade: The worn example half-dollar illustrated shows extensive circulation wear. This coin is in Fine condition due to the flattening of the once-rounded features of Liberty's face. Lack of small details and merging of larger features defines the Fine grade.
Visible letters "LIBERTY" in her headband are a crucial detail needed to achieve a collector quality condition. The upper edge of the band has faded significantly, while the lower edge has worn to the point it blends with her hair. Necessary to achieve the grade is all letters are still visible, though "ER" is slightly weaker near the bottom. Collectors prefer strong, visible letters to indicate a solid quality, Fine grade coin.
A Laurel wreath covers Liberty's hair and holds her cap. Many of the leaves in the lower row are worn flat and missing features. Upward pointing leaves are stronger in detail however with most clearly outlined. Because of the clearly defined leaves, the coin retains a nice detailed appearance despite moderate flatness. A strong rim, bold date, and stars, as well as the absence of distracting marks, indicate a collectible Barber half dollar of Fine grade.
Good Grade
Good Grade: The entire portrait of Liberty on the example half dollar is reduced to a smooth surface due to a lengthy period of circulation. A lack of most inner details in her portrait defines the "Good" grade condition.
Liberty does have a complete outline fully raised above the field of the coin. It was once a high relief portrait but has since become smooth with only faint traces of leaves remaining. Along the rim is the crisp lettering of the motto "In God We Trust," which is an important remaining element. Coin collectors look for coins with a fully separated rim from both the lettering and the stars.
The coin's nice gray-silver toning enhances its overall appearance. Furthermore, the absence of noticeable large marks gives the appearance a quality piece.
How to Video: Grading Barber Half Dollars
Highlighting additional areas to judge plus specific elements needed for each grade improves accuracy. Often small details are of large importance when examining these vintage Barber half dollars.
Video, Images and Descriptions | Grading Barber Half Dollars
Step 3: | Special Qualities | Absence of Surface Marks
Free of Damage Adds 1895 Half Dollar Appeal
A special quality of Barber half dollars is the pleasing amount of design remaining on the reverse despite wear. A second notable trait is premium values of branch mint issues: New Orleans and San Francisco coins minted from 1892 to 1898. Finding a branch mint half dollar from the first years of the series is a premium coin in all states of preservation.
Circulating through commence caused many types of damage to these coins. One particular fault of many is large nicks and scratches. Any noticeable mark is cause to lower both eye appeal and value.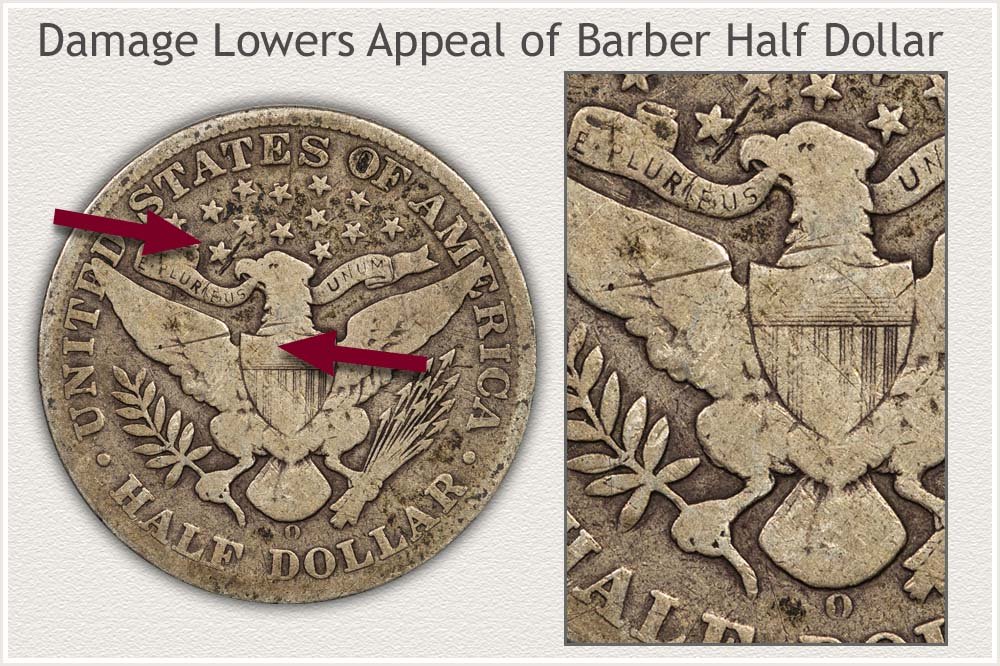 Barber Half Dollar with Visible Marks on Reverse
Viewing the coin, it is a pleasing example of the popular New Orleans mint variety. Original antique toning is displayed. Wear is evident, and condition is worn to the lower grades. The market for these is collections of affordable coins representing Barber half dollars and the series. To gain market acceptance, a needed quality is eye appeal.
When examined closely, a couple of faults are noticed. A large scratch crosses the eagle's wing, and in front of the beak is a deep mark. These distractions happen at a key focal point and quickly lower quality and collectability. Once a high-value coin to collectors, it is now worth base silver price.
A key factor in quality is the lack of damage to these large silver coins. Impressive in size and design and enhanced by a well-preserved surface. Eye appeal is a special and scarce quality.
References
U.S. Mint. 1896 U.S. Mint Annual Report https://nnp.wustl.edu/library/book/514118
U.S. Mint. Catalogue of Coins of the United States. https://nnp.wustl.edu/library/book/554591
Coin Values | CoinStudy Articles
Date by Date
In Depth Barber Half Dollar Values
1892 to 1915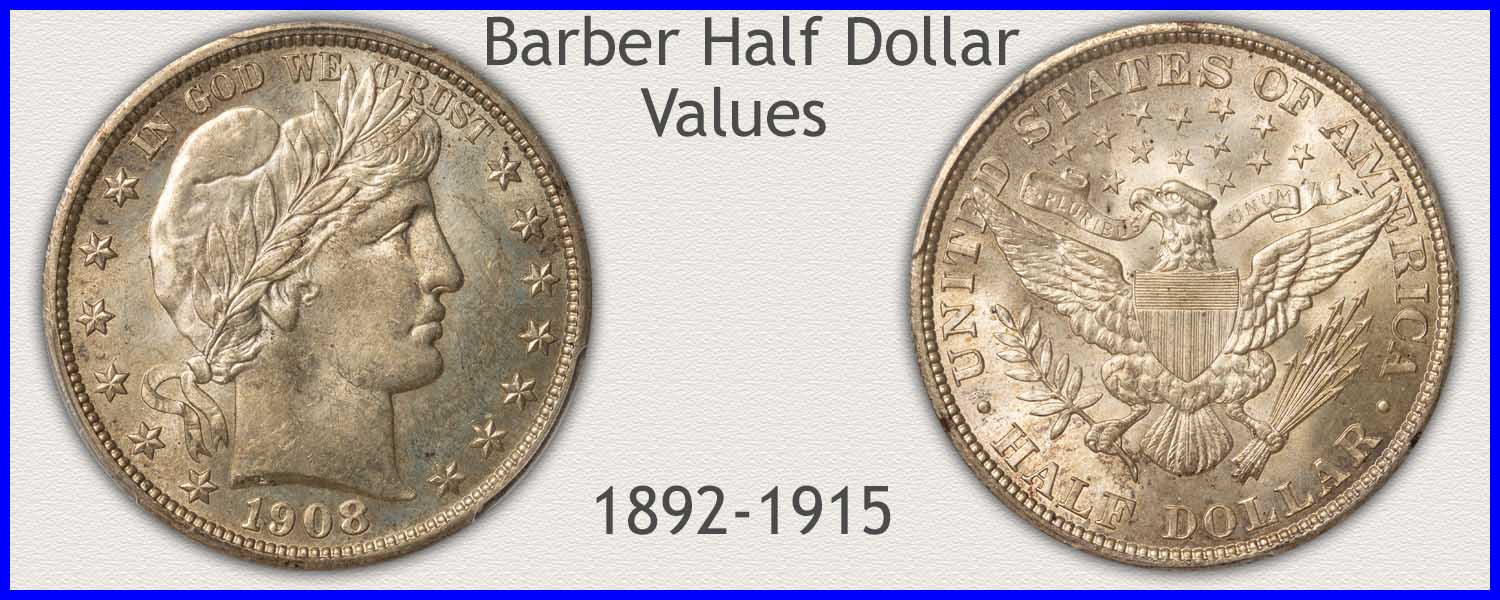 Barber Half Dollar Value | Scarce Low Mintages
Many dates of the Barber half dollar series are scarce because of low mintages, these coins standout on the full value chart with high premiums. Identify the important factors to narrow how much an old half dollar is worth.
Minimum values of older U.S. coins are often well above face value. Compare to images of all series of coins and value charts listing starting values. Linking to expanded descriptions of dates and mint varieties, with images and descriptions of grading condition.
Print the Coin Values Worksheet
Organized into one list, print and record values of your Barber half dollars. Print extra sheets to continue with the rest of your holdings.
Safe Coin Storage | Recommendations
Once removed from circulation and then providing protective housing, old coins maintain value. Specific to coins and coin collecting are storage options to hold single or multiple coins. Premium coins are protected and safe from damage. Review the storage solutions.
Selling Coins | A Defined Process
Preparation and following an order of steps helps in selling coins. First is an understanding of potential value. Each series of coins is assessed and organized by values. Finding dealers specializing in similar coins finds a good match. Images are used to recognize the different coins and listing of dealers point to potential buyers.
Coin Grading Services | Authenticate and Grade of Coins
Coins with potential values above one hundred dollars are a good candidate to have reviewed by a grading service. Collectors send coins to these services to authenticate and grade premium examples helping confirm grade. Two services, NGC and PCGS are leaders in the coin collecting field to authenticate, grade, and encapsulate coins.
★Coin Values Discovery finds 1895 Barber Half Dollar Value and...
U.S. coin value charts plus a step-by-step method, finds a narrow range to how much old coins are worth. Begin here with in-depth coverage of the important features to identify on each coin. Dates plus mint varieties are identified, judging condition with images and video; also identifying special qualities finds the potential in a box of old coins.