Coin Values Moving with Precious Metals: Up-Dated 11/27/2023: Gold $2010 | Silver $24.66
1910 Half Dollar Value
Using a procedure and images as a guide, recognize 1910 half dollar value.
Accurate date and mint identification, as well as a judgment of condition, are important variables in determining value. This, taken together, helps to narrow how much they are worth.
All Barber half dollars are a 90% silver alloy, and also highly sought as a collectable. For both new and experienced collectors alike, assembling sets of these halves is an awarding challenge. By recognizing and distinguishing between base silver quality halves and higher-quality collectible pieces, its position on the chart is narrowed.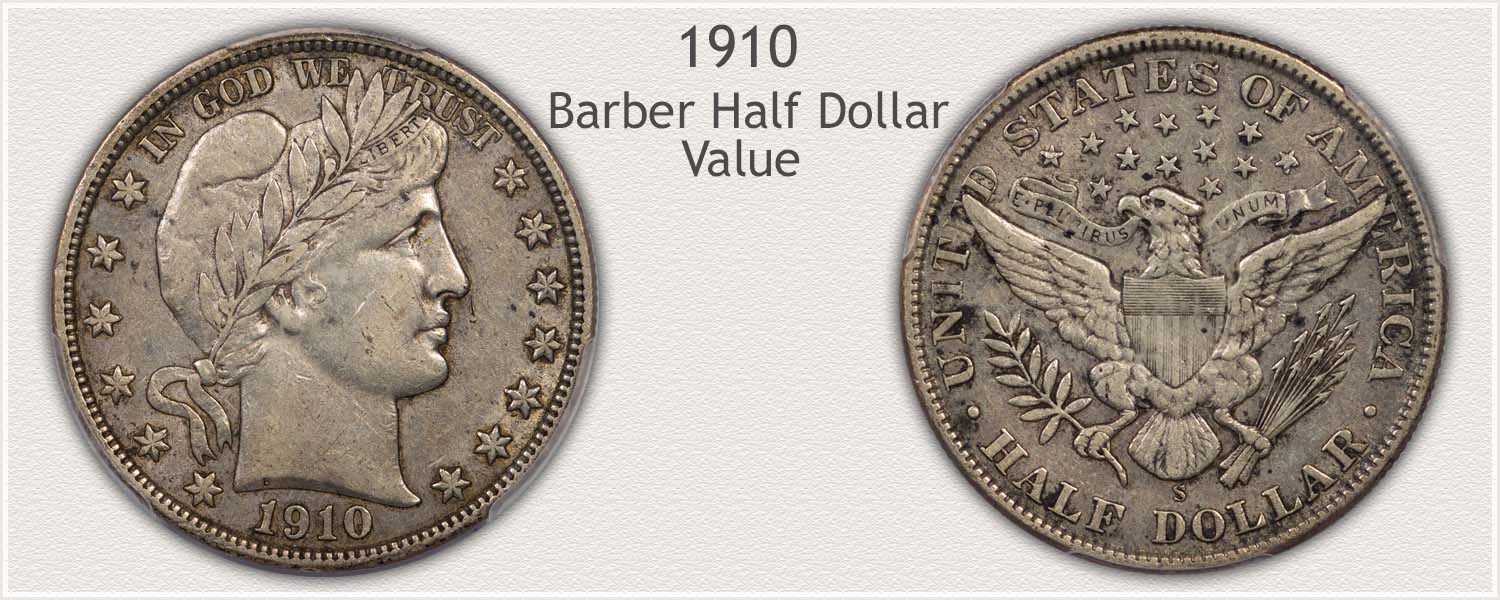 Steps Leading to Value:
Step 1: Date and Mintmark Variety - In viewing the value chart, note only two mints produced 1910 half dollars. Determine the correct variety to narrow the value range.
Step 2: Grading Condition - Barber halves differ significantly in condition. Grading defines condition using images to determine its position on the value chart.
Step 3: Special Qualities - Discover a highly sought Barber half by recognizing an exceptional example. Value of well-preserved coins, without signs of a past cleaning, is based on their visual appeal.
1910 Half Dollar Value
Condition of Coin
Date
Good
Fine
Extremely
Fine
Mint
State
Barber Half Dollar Values Updated
11/27/2023
1910
$16.27
$61
$206
$486
1910 S
$14.69
$49
$167
$1,082
Chart lists wholesale value range to Barber half dollars. Dealer demands and condition are important factors. Using the steps below narrows the range.
Step 1: | Identify and Record Date and Mint Combination
Mintmarks: Part of a Complete Description
A process of determining the value of these Barber half dollars includes determining the date and the mint that struck the coin. In order to identify the mint that issued a half dollar, a mintmark was placed on the coinage by branch mints.
Date and mint combinations are listed on the chart, each valued separately. Mintmarks and their locations are identified by images.
1910-S Barber Half Dollar
"S" Mintmark on Reverse: San Francisco Mint Struck the Coin
A highly sought-after coin is the 1910 half dollar, struck at the San Francisco mint. Only two mints, Philadelphia and San Francisco struck halves in 1910, with a limited yearly total. San Francisco contributed 1,948,000 halves, a majority of the coins. However, a small number of coins to represent 1910 in the Barber series.
Collectors are now placing a premium on examples in better-than-average condition. To determine its position on the value chart, it is necessary to confirm the date and mint variety.
On the reverse of all Barber series San Francisco half dollars, there is a "S" mintmark. In the lower portion of the coin, in the area located below the eagle's tail feathers and above the lettering for "Half Dollar." It is the San Francisco variety that has an "S" mintmark.
1910 Barber Half Dollar
No Mintmark on Reverse: Philadelphia Mint Struck the Coin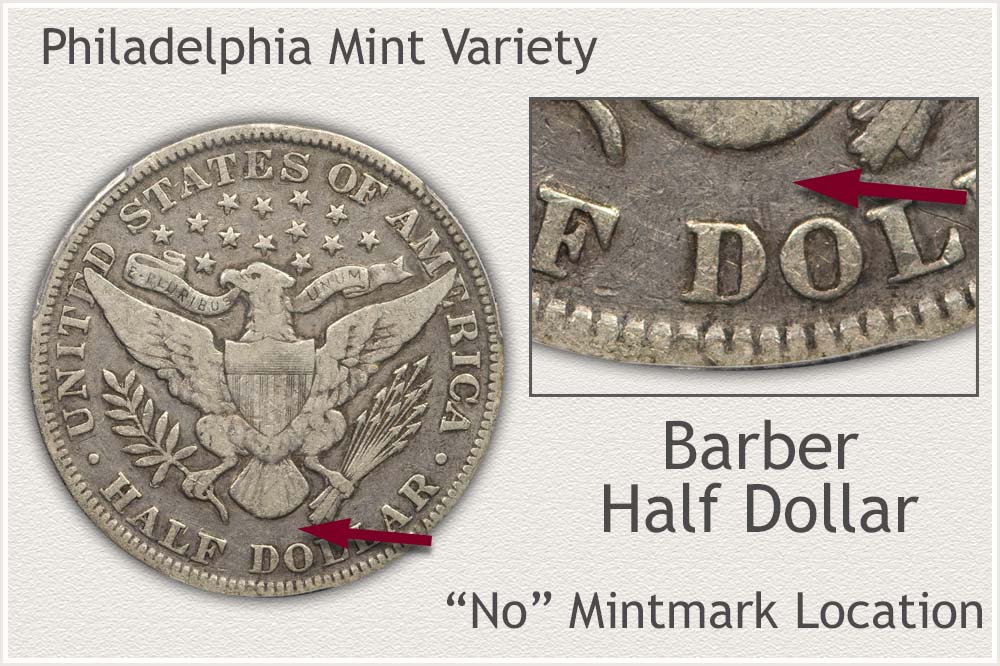 In any stage of preservation, Philadelphia issue 1910 half dollars are important to identify accurately. With just over 418,000 coins released into circulation by the mint and the fourth lowest production of the series, all are regarded as collectible and are worth more than the base silver price.
These are an affordable variety in the Good grade of condition, making them a popular entry coin to new collectors. An exciting coin because of their status of less than half a million produced.
To identify a Philadelphia variety Barber half dollar, there is no mintmark on the reverse. If the space below the eagle and above HALF DOLLAR is empty on the reverse, this identifies the Philadelphia half dollar.
Step 2: | Grading Defines Quality and Wear to the Surface
1910 Half Dollar Value is Recognized by Comparing to Images of Grades
Half dollars are inspected to determine their overall condition. Defining a coin's state of preservation as a "grade" is a standard practice in the coin collecting field. As a result of this judgement, value of the coin goes up or down based on these grades.
In the market place, and for collectors, this judgment of quality determines a coin's appeal. Different grades are identified by noting a close match to the images.
Mint State Grade
Mint State: Coins of Mint State quality are at the top of the grading scale. Without any surface wear, these remain in the condition as minted. All surfaces are covered in luster, adding to the definition. A crucial component of the grade is a coin's luster. During the minting process, a fine texture is created on the surface of the metal. Movement and flow of the metal due to the impact of the dies on the blank metal creates this fine texture, allowing the coin to shine in the light.
To confirm a similar look, a thorough examination of both low areas and high relief areas is conducted. A high relief area of her portrait is Liberty's hair, located just below the ribbon with the word "Liberty" inscribed. There is no evidence of the silver becoming smoothed or dulled, and small details of the strands of hair have retained their luster. Secondly, judge Liberty's cap for signs of wear. This feature has high relief contours towards the edges, and smoothing occurs here first. On the half dollar illustrated, the cap has a uniform appearance throughout, with no smooth spots and displays a luster on its surface.
Brightness of a single light source, brings out a brilliant shine that moves across the surface as the coin is tilted.
Extremely Fine Grade
Extremely Fine: For those coins in high-quality condition, with only minor wear, the vintage Barber half dollar enjoys a strong collector base. The grade of "Extremely Fine" is defined by the presence of areas of wear only visible as small flattened spots.
A close examination of Liberty's hair and wreath of Laurel leaves reveals crisp, well-defined details. In this quality grade, the coin shows a slight merging of hair strands just above the forehead. Once rounded contours have become flattened as a result of light wear, which has smoothed the very tops of the hair strands. A trace of wear within the hair is seen from Liberty's ear to the top of her head.
Next, the wreath's most prominent feature is the display of two rows of laurel leaves. Raised edges and varying heights of the contours are essential features to the leaves. Only very slight smoothing is noticeable on the contours and the leaf edges causing flatness. Particularly in the upper row, many contours are still present. Each leaf is well defined, well separated, and has a bold relief.
A nice half dollar, graded as Extremely Fine due to its pleasingly toned soft gray color and sharp details.
Fine Grade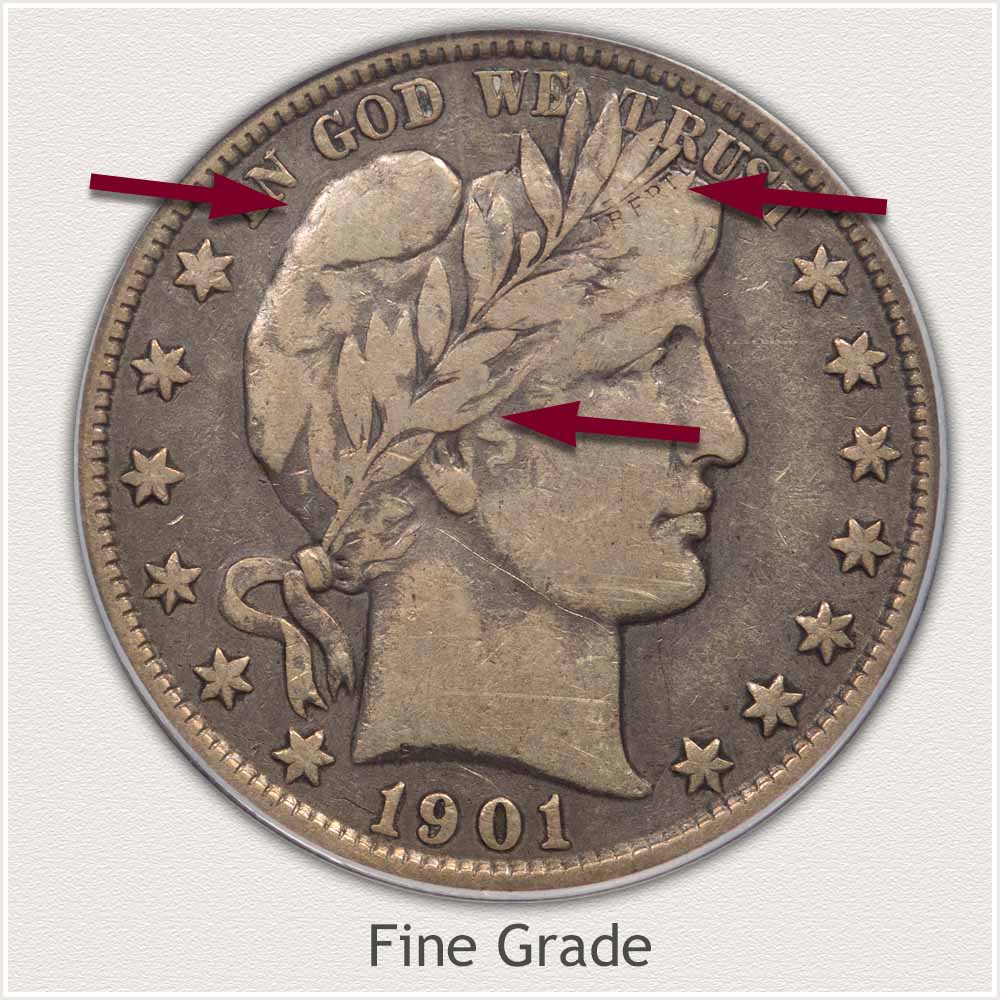 Fine Grade: When viewed in its entirety, the example half dollar in Fine grade exhibits a surface with obvious widespread wear. Giving the coin a moderately detailed appearance, a few specific areas display remaining detail. Liberty's cap at the back of her head, the headband, and the leaves are all examined.
Note a key detail shows the entire word "LIBERTY" within the headband is visible. Acceptable is a small amount of fading to "ER." Due to the ribbon's upper and lower edges blending with her hair, the coin's condition is closer to Fine grade missing a higher category.
Once very bold, the wreath's leaves are now smooth, with only their outlines visible near Liberty's ear. A distinctive characteristic of a Fine grade coin is the absence of leaf edges on the lower row and full outlines on the upper row. Judging her cap, note the metal is now flattened and worn throughout, except for small remaining contours indicating folds. As a result of the separation of the cap and leaves as well as the subtle high and low areas on the cap, this example meets the Fine grade standards. Many collectors find this coin appealing as a collectible.
Good Grade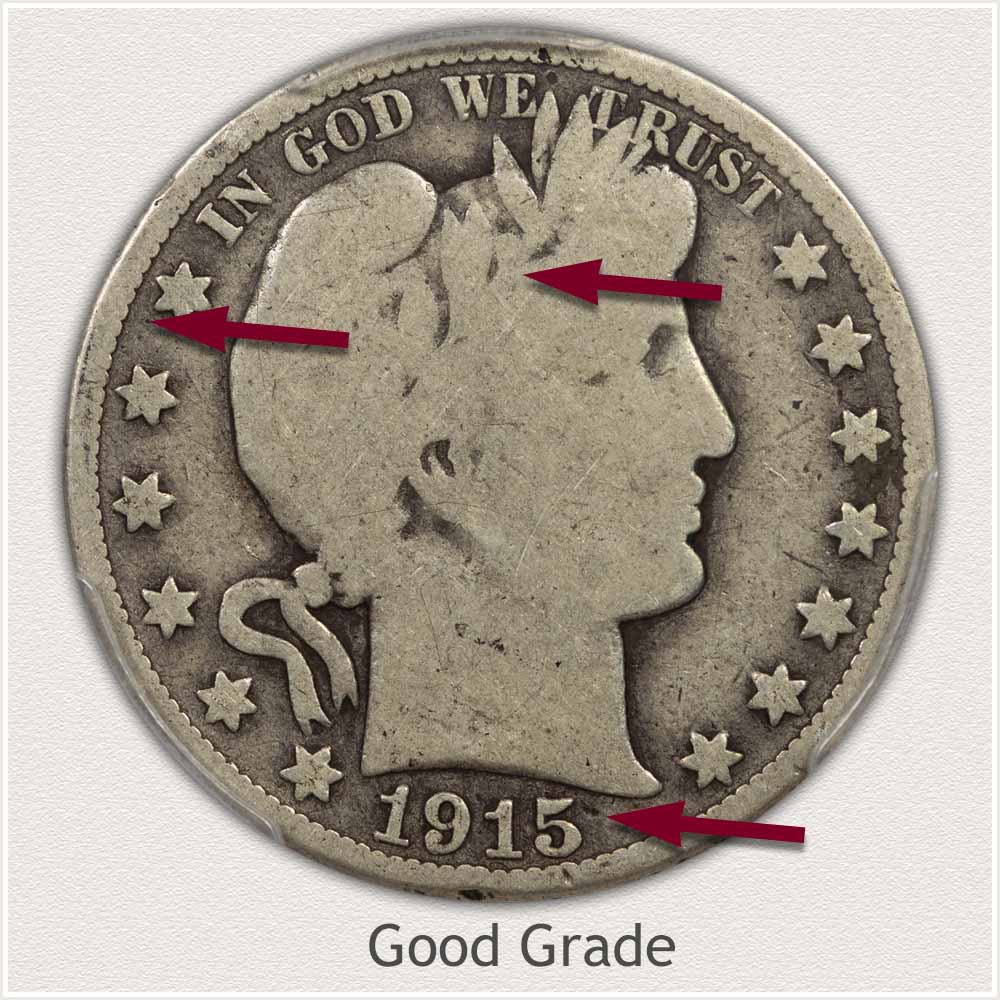 Good Grade: One of the appealing aspects of the Barber half dollar series is the original design, high in relief and bold in its relationship to the coin's fields. Even when severely worn, Liberty's portrait is entirely outlined. Completeness of the portrait, rim, and date is what defines the Good grade.
Notice the date is complete and that the numbers do not merge with the edge of the rim. Along the entire inner edge of the rim of the coin, there is no break or blending into any of the stars. Each star is fully formed and distinct from the rim.
Small details once part of Liberty's portrait is now lost due to the amount of metal removed during circulation. However, parts of the wreath remain visible within the portrait, with recognizable leaves. Notably is the complete outline of the very top leaves above Liberty. The remainder of the flattened design is bold and gives the coin a pleasing appearance. This collectible half dollar is affordable and appealing to many new collectors.
How to Video: Grading Barber Half Dollars
Increase accuracy judging condition and recognizing higher quality. Subtle points are examined in detail.
Video, Images and Descriptions | Grading Barber Half Dollars
Step 3: | Special Qualities | Originality
Non-Cleaned Barber Half Dollars are High Quality
Correctly identifying surface condition and state of preservation is an important step in placing an accurate value on these old Barber half dollars.
Recognizing a coin without any attempts to improve its appearance is one inspection collectors preform. As a coin is graded to determine its state of preservation, it is combined with judging if the surface has been altered. Circulation wear is expected; attempts to modify the surface is not.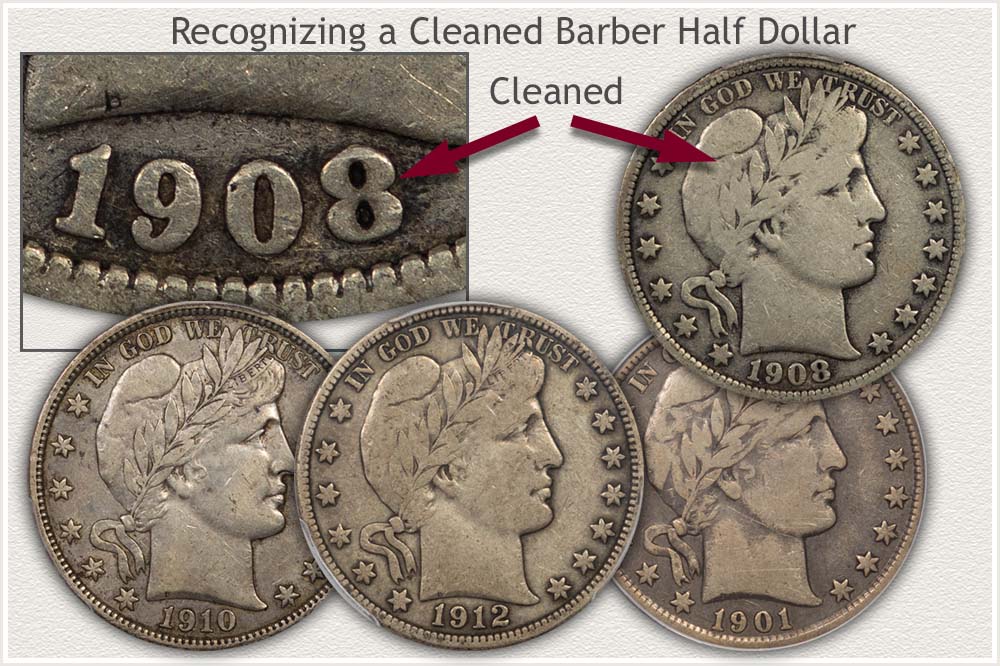 The half dollar imaged is noted as cleaned. One feature alerting to a past cleaning is the unnatural coloration and toning patterns. When along-side the coins with undisturbed aging color and toning it begins to standout in appearance.
Looking closely at the area around the date, a distinct difference is found on the field of the coin above the date when compared to below. This unnatural occurrence is the result of removal of deep toning on the now brighter metal above the date. An even shading around the date is a normal toning pattern. This sharp contrast of light and dark toning is also evident around other devices, stars, and lettering.
On the reverse of the cleaned coin, a dark band of toning within the lettering is noticeable with a brighter band of color above and below. Natural toning extends to the rim above the lettering. Both sides of the coin indicate a cleaned surface, attempting to brighten a once very dark toned coin.
Marketability is greatly reduced on a coin with cleaning evident. Inspect coins with an eye towards even blending of shades of color. Sharp distinctions from one shade or color to the next need a closer look. A smooth blending of shades is closer to the natural appearance of old toning.
References
U.S. Mint. 1911 U.S. Mint Annual Report https://nnp.wustl.edu/library/book/323
U.S. Mint. Catalogue of Coins of the United States. https://nnp.wustl.edu/library/book/554591
Coin Values | CoinStudy Articles
Date by Date
In Depth Barber Half Dollar Values
1892 to 1915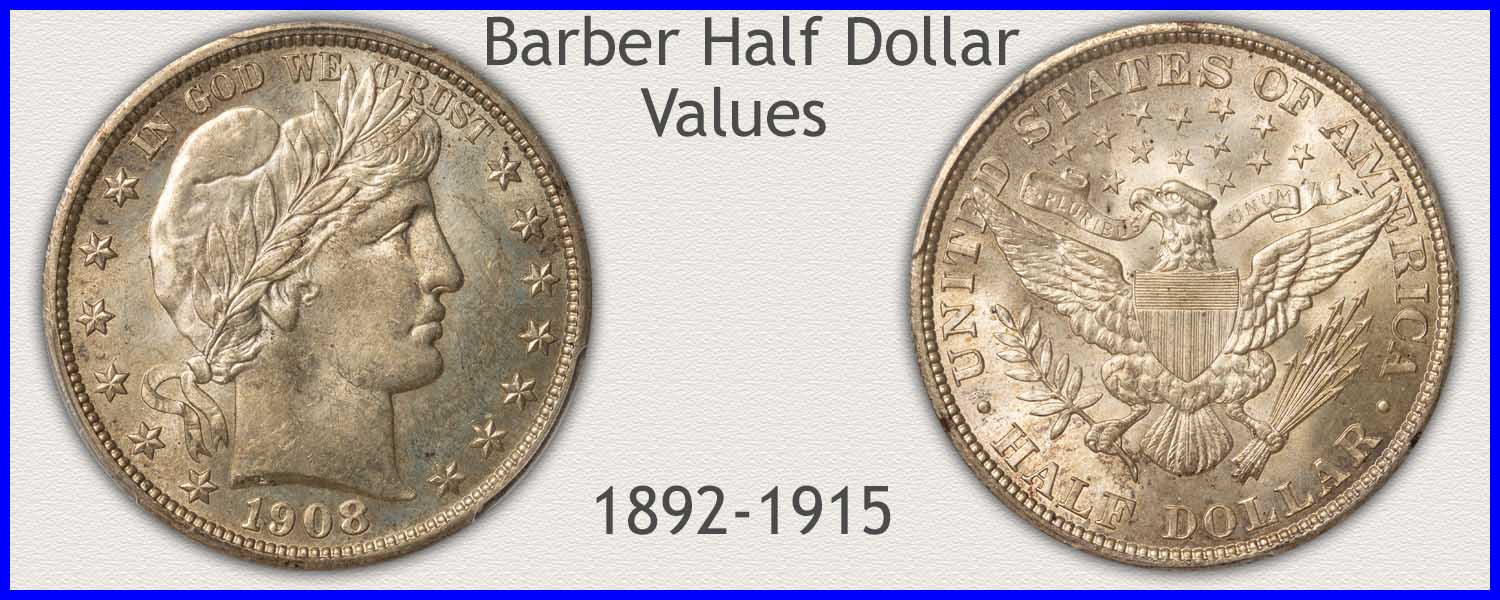 Barber Half Dollar Value | Importance of Condition
Early years of Barber half dollars those minted 1892 to 1899 all have premium values in better than average condition. A full value chart points to these scarce coins with expanded condition examples to spot the premium coins.
Old Coin Value | Images Identify the Different Series
Vintage - silver - half dollars, those minted before 1965 are premium value because of silver content. Half dollar designs are imaged to recognize the different series over the years. Value charts include date and mint varieties. Follow the step-by-step method to judge condition and find a narrow value range.
Print the Coin Values Worksheet
Organized into one list, print and record values of your Barber half dollars. Print extra sheets to continue with the rest of your holdings.
Silver Coin Values | Minimum Values of U.S. Silver Coins
Older U.S. coinage was produced in a 90% silver alloy. As of 11/27/2023 with silver at $24.66 these coins are worth well over their face value. A strong minimum, it changes with movements in silver price. Images and descriptions identify the silver coin series and using the calculator finds current values.
Sell Silver Coins | The Vintage Silver Issues
Recognize the silver issues of U.S. coinage, many series are 90% silver. With silver moving up or down daily; using the calculator determines the current worth. Separate higher quality, collectible examples by comparing to images.
★Coin Values Discovery finds 1910 Barber Half Dollar Value and...
All U.S. coin values. A starting point to correctly identify your old coin. Recognize the important features to value with a step-by-step process. Continue with a full evaluation of specific dates, mints, and condition.