Coin Values Moving with Precious Metals: Up-Dated 11/27/2023: Gold $2010 | Silver $24.66
1901 Half Dollar Value
1901 half dollar value is determined by a variety of mint issues this year.
A new century begins, with three different mints striking Barber halves. These various issues carry a range of values, from coins worth silver content to those of interest to collectors.
As part of the evaluation process, images are used to verify mintmarks and to identify specific mint issues. With this information, the chart's large range of values is narrowed.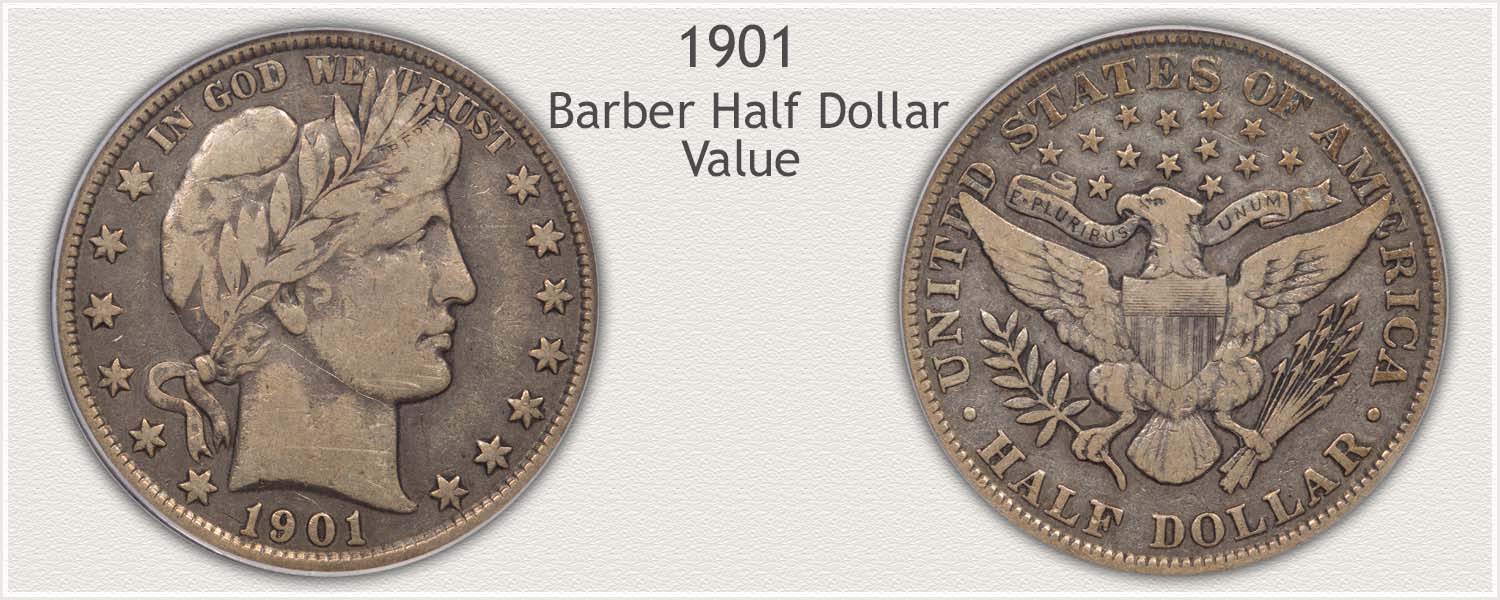 Steps Leading to Value:
Step 1: Date and Mintmark Variety - There is a large swing in value depending on the mint producing 1901 half dollars. Both the mint issue and date are collected, judged, and valued individually.
Step 2: Grading Condition - Collectors decide on acquiring a coin based on how well preserved it is and the amount of detail remaining.
Step 3: Special Qualities - Eye appeal of a Barber half attracts the attention of collectors. Qualities on the coin are examined to identify and separate the high demand examples.
1901 Half Dollar Value
Condition of Coin
Date
Good
Fine
Extremely
Fine
Mint
State
Barber Half Dollar Values Updated
11/27/2023
1901
$14.69
$42
$157
$399
1901 O
$14.69
$141
$982
Rare
1901 S
$50
$262
$973
Rare
Values listed are a range Barber Halves trade wholesale. The steps below are used to narrow the value range.
Step 1: | Important Date and Mint Issues to Recognize
San Francisco Leads 1901 Half Dollar Value
1901 is a year where the popularity of a scarce mint variety leads to an increase in value. Over the span of the Barber half dollar series, San Francisco mint issues typically recorded the fewest half dollars toward the yearly total.
All mint varieties are valued individually and identified by mintmarks on coins struck by the different branch mints. Examine and record the accurate date and mint combination.
1901-S Barber Half Dollar
"S" Mintmark on Reverse: San Francisco Mint Struck the Coin
In 1901, the San Francisco mint produced fewer half dollars, striking, and releasing just 847,044 into circulation. This amount became the fourth lowest of the series from the mint. A coin that has recently risen to the top of collectors' wish lists since it was struck in a quantity of less than one million. It is rare to find these in nice condition, and they are worth a strong premium above their base silver value. For Barber half dollar sets, collectors seek a well detailed example.
A "S" mintmark identifies half dollars produced in San Francisco. Check the reverse, below the tail feathers of the eagle; if there is a "S" mark, it is of the San Francisco variety.
1901-O Barber Half Dollar
"O" Mintmark on Reverse: New Orleans Mint Struck the Coin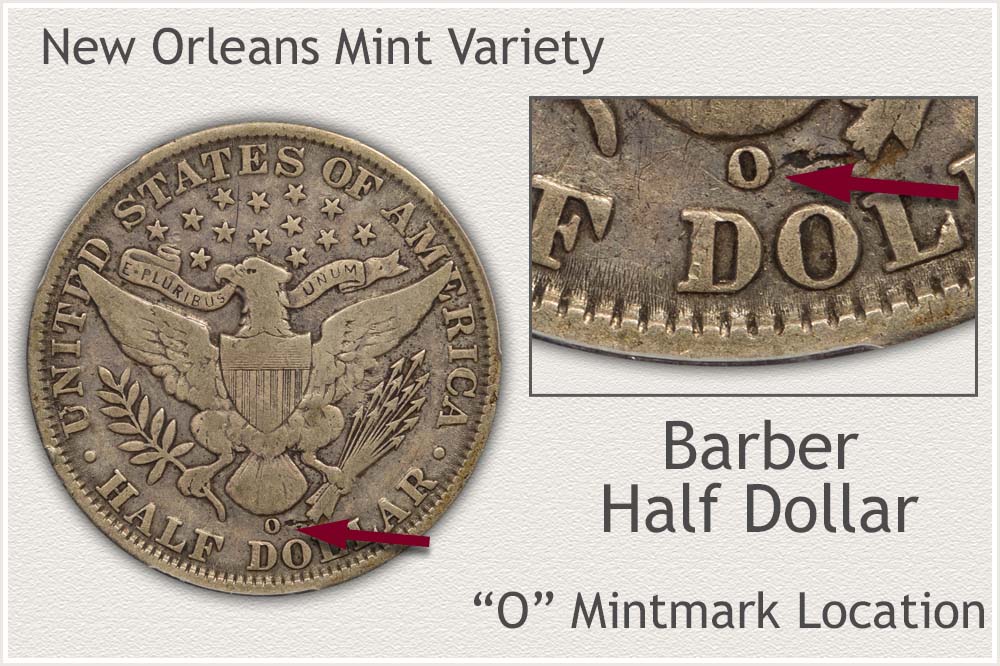 1901 New Orleans mint half dollars are an important coin to collectors. Although a series average of 1,124,000 coins were minted, finding a nice example is elusive. A highly prized coin.
All New Orleans mint coinage is popular with collectors and often collected as a specialized set. Along with mint variety, condition is an important factor to value.
New Orleans mint variety is confirmed by the "O" mintmark found on the reverse. As a branch mint, these marks were used to identify their coinage. At the bottom center, above HALF DOLLAR, the "O" mark is identifying the New Orleans mint.
1901 Barber Half Dollar
No Mintmark on Reverse: Philadelphia Mint Struck the Coin
Over four million half dollars were produced annually at the Philadelphia mint in the beginning of the new century. Minting of coins reached an above average 4.6 million pieces in 1901. These halves are available in sufficient numbers to satisfy collectors' current needs. A typical example, heavily worn is valued close to their underlying silver value. To identify the higher quality, collector quality coin, Step 2 grades their condition, a key step to perform.
There were no mintmarks used by Philadelphia during the Barber half dollar series. If there is a blank space below the eagle and above the "D" in DOLLAR, Philadelphia struck the coin.
Step 2: | Grades Define the Different Conditions of Coins
Grading Determines Value and Appeal to Collectors
Grades are used to define the condition, amount of wear, and overall appearance of coins. These definitions are also used in the value process. Noted on the value chart is a large increase in 1901 half dollar value when determined the coin meets or exceeds the Extremely Fine grade.
Inspecting the coin and comparing to standards of the different grades helps judge condition. The key elements needed to reach higher quality are highlighted in the images and descriptions.
Mint State Grade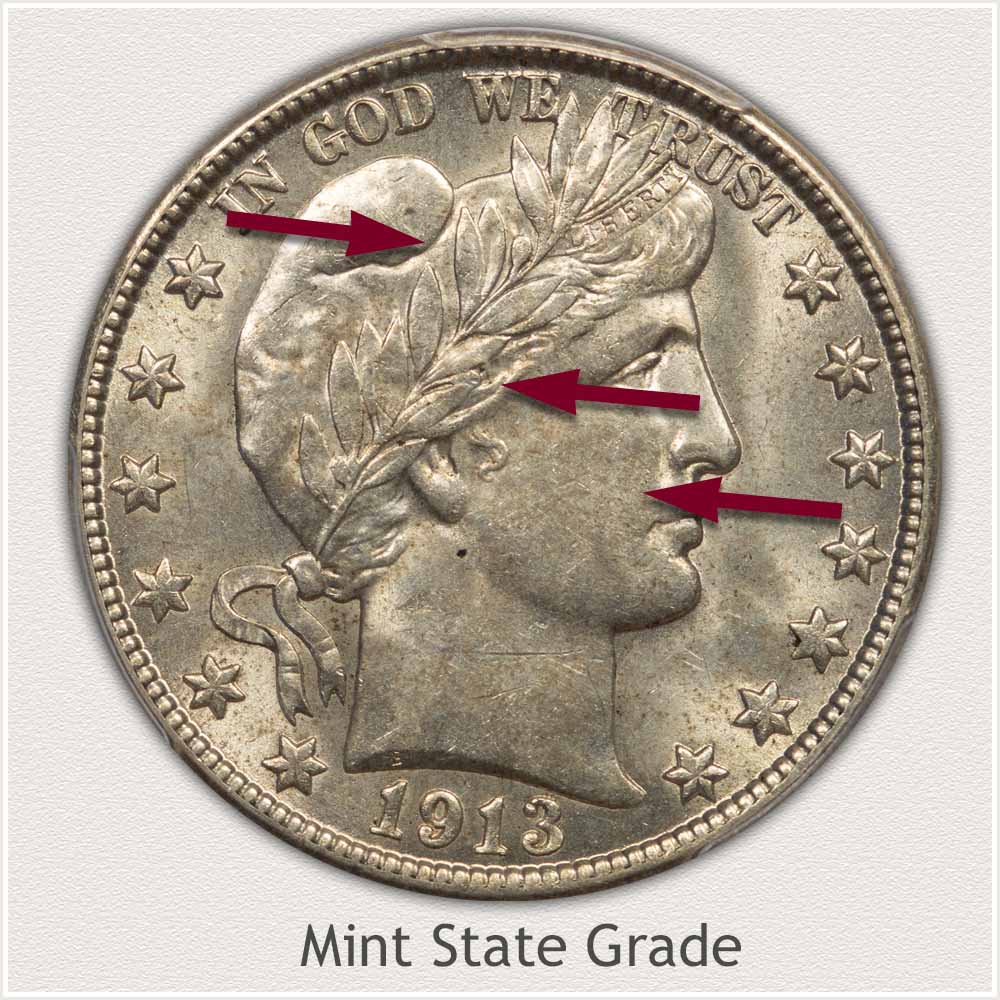 Mint State: Rarity of Mint State condition plus its eye appeal, place this top-quality coin in a special category. Mint State grade is defined as a coin without wear to any part of its surface. As a coin enters circulation, highest and delicate areas of the design begin to quickly show a smoothing of the metal when worn. Inspecting key areas confirms the condition.
Looking closely at the edges of the leaves within the wreath indicates no wear has smoothed or reduced the design element. Viewing the lower row of leaves shows a consistent color and shine matching the upper row of leaves. If any wear is present, the metal becomes a soft-gray color, texture becomes smooth, and it loses the "white" shine of luster.
A quick view of Liberty's check, an open area, indicates an undisturbed surface. Both the high and low points of the contours are lustrous, matching in color and texture.
Barber halves of high quality are in strong demand by collectors.
Extremely Fine Grade
Extremely Fine: Very light observable wear helps define a half dollar in Extremely Fine grade. These coins are in a condition with small areas flattened by wear. Also, a majority of the surface is smoothed and now a soft gray color of the silver.
Key elements remain of the design to distinguish the grade. Above Liberty's forehead, her headband contains the lettering of "Liberty." All letters are bold and complete. An additional feature is the complete edges of the ribbon are visible above and below the lettering. A detailed ribbon adds a crisp look and helps confirm an extremely fine grade coin.
Next, helping recognize a high-quality piece are the leaves to the Laurel wreath are all well-defined. High and low contours are visible within the leaves and no blending of leaf edges where they overlap.
Fine Grade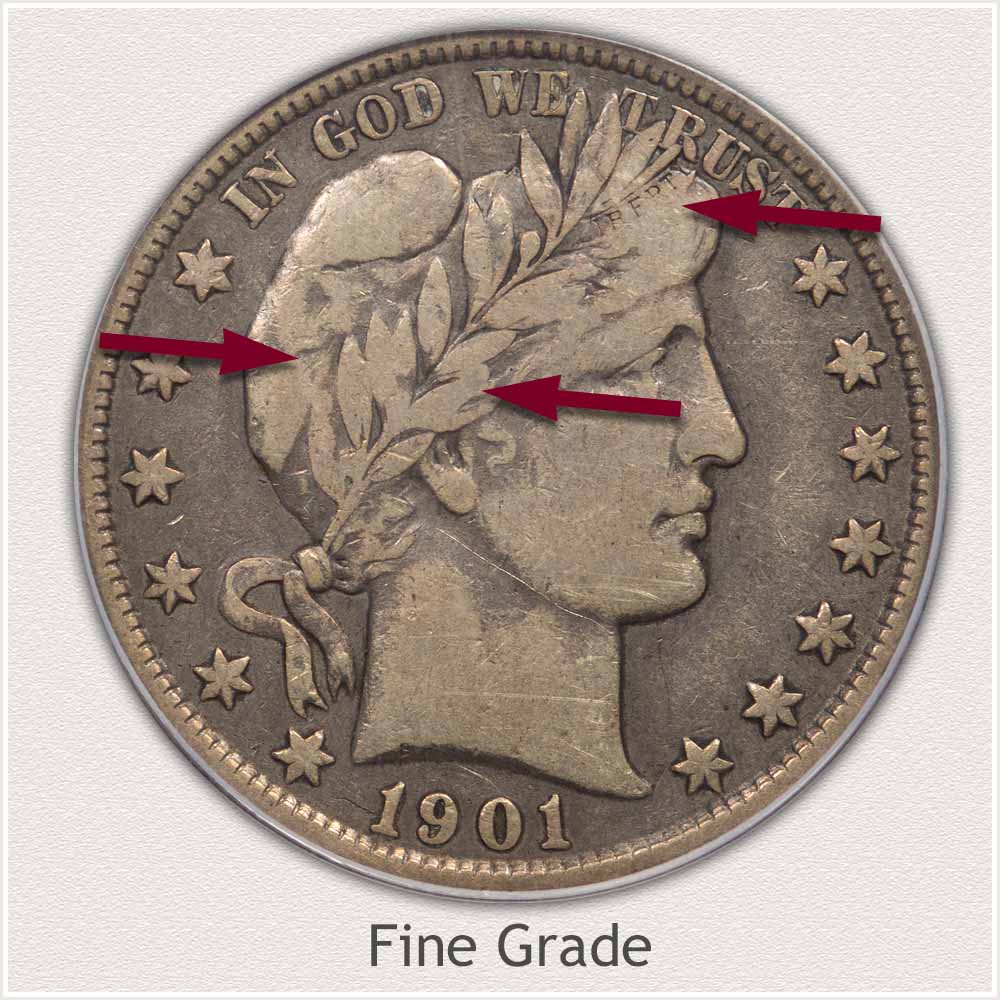 Fine Grade: Often a consideration to new collectors of the series are Barber halves in Fine grade. A moderately worn coin with many fine details visible helps define the condition. A large amount of detail is still represented on coins in this condition. Lettering within the head band and ample detail of the wreath is displayed.
To qualify for the Fine grade, it is important all of the upper leaves withing the wreath are mostly outlined. Only the two upward pointing leaves near her ear have blended where they overlap. However, placing the example half well within the grade is the lack of detail to the lower leaves. Most defining edges of the lower leave are missing and merged with Liberty's hair.
Of great importance is the visible letters of "LIBERTY" within her headband are easily recognizable. All letters are strong with only the slightest amount of fading. This is the highest point of relief on the design and the letters are deeply impressed. Missing detail to these letters indicates a large amount of metal removed by wear.
Many details visible, slight flattening only to open areas, such as her cheek and neck, and a bold date and rim is a pleasing half dollar in Fine grade.
Good Grade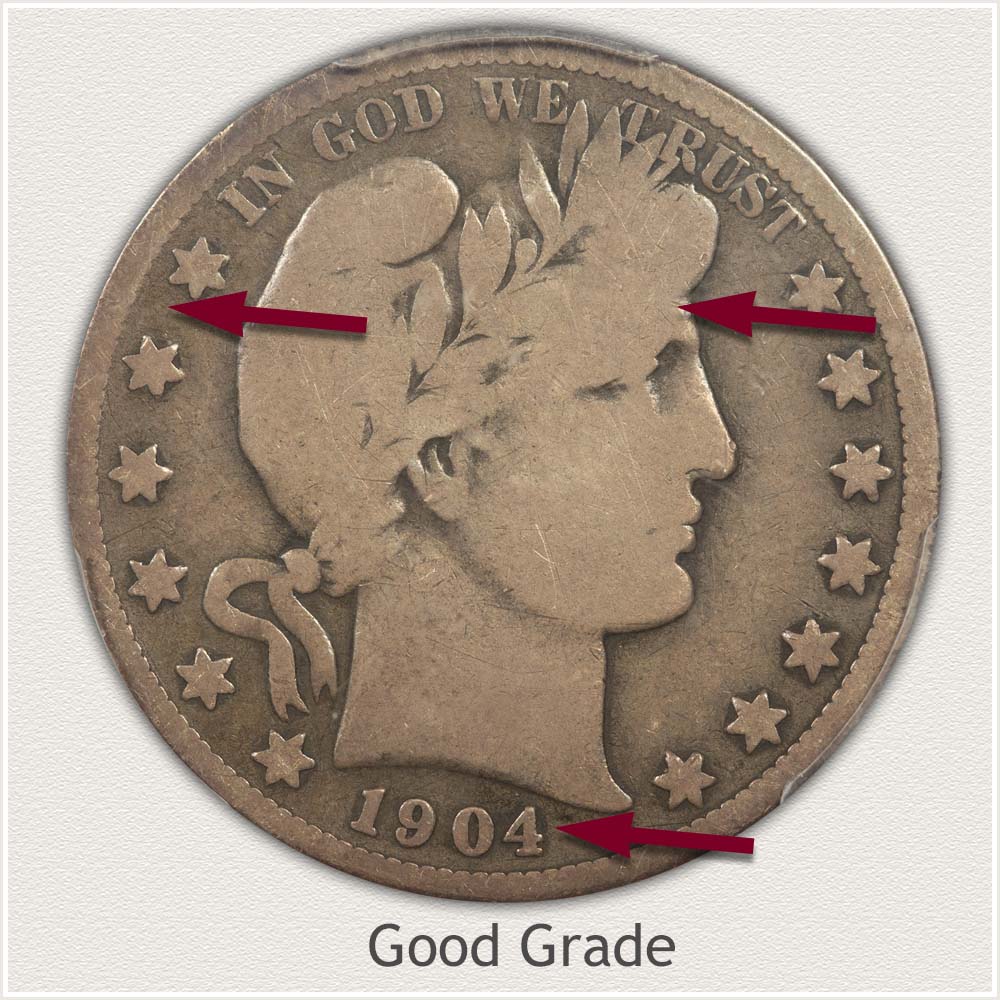 Good Grade: Most high relief areas of a "Good" grade half are now smooth, missing detail, and the silver is worn close to the level of the design's field. Lack of small design features defines the grade.
Looking just above Liberty's eye, no trace of a hair line along the forehead is visible. This is indicating heavy wear and placing the example coin in the Good grade category.
A positive feature is a complete rim, well separated from the stars and lettering at the top of the coin. A strong, well-defined date is also necessary. Overall, a crisp appearance of remaining details is the impression.
How to Video: Grading Barber Half Dollars
Within each stage of condition a few important areas are key to confirming a grade. Additional descriptions highlighted with images help recognize the true state of preservation.
Video, Images and Descriptions | Grading Barber Half Dollars
Step 3: | Special Qualities Found by Grading Barber Half Dollars
Grading Basics Identify Collector Quality Barber Half Dollars
Recognizing small details in the design of Barber half dollars is part of grading condition. The quality of these coins depends on the amount of design remaining. With values based on the grade.
Inspecting coins to judge the grade is best done by comparing your coin to examples representing the different grades. This approach avoids comparing a group of Barber half dollars with each other. Identifying a nice quality coin from a group is missing the true "grade" of the coin.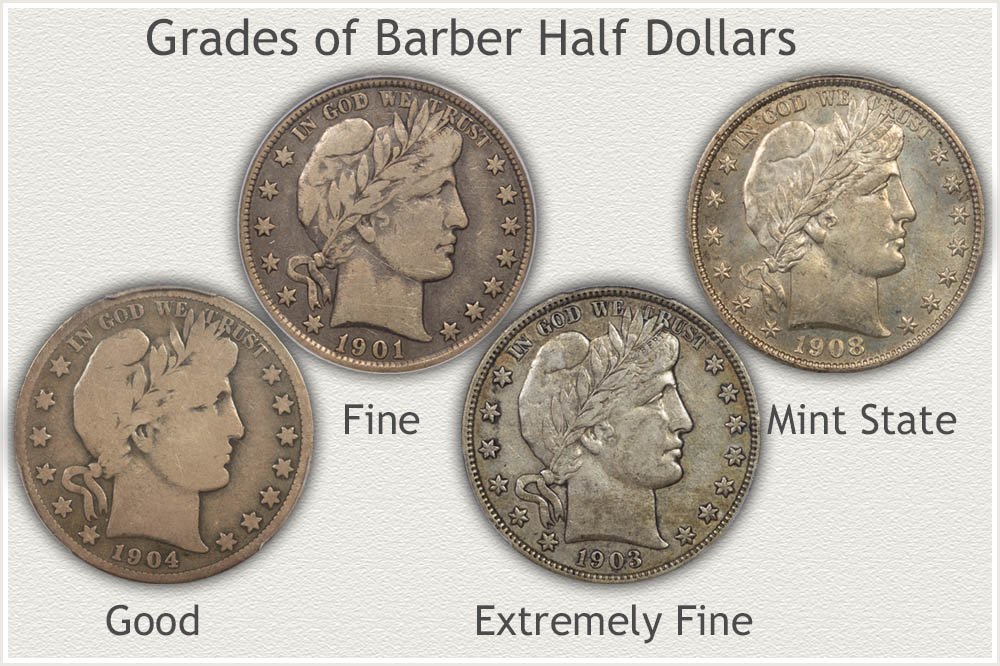 An accurate approach to recognizing higher condition halves is comparing to grade examples. Moving along the line of halves, finer and larger amounts of design are seen. Comparing your coin to the images finds a close match, helping confirm a grade.
Setting up a work area with a single light source is required to see fine details. Casting slight shadows onto the design brings out the faint remaining features. Add a magnifying glass, and accuracy of view improves. Using the technique of tilting the coin to change light angles is also useful.
Always handle single coins with clean hands, holding the coin by the edges. At this stage of a condition overview, there is no need to remove a coin from its housing as long as it provides a view of the surface. Leave coin albums and holders intact with coins in place.
Barber half dollars with details within the ribbon over Liberty's brow are premium collectibles. Using a distinct approach to grading these coins helps spot coins in demand by collectors.
References
U.S. Mint. 1902 U.S. Mint Annual Report. https://nnp.wustl.edu/library/book/321
U.S. Mint. Catalogue of Coins of the United States. https://nnp.wustl.edu/library/book/554591
Coin Values | CoinStudy Articles
Date by Date
In Depth Barber Half Dollar Values
1892 to 1915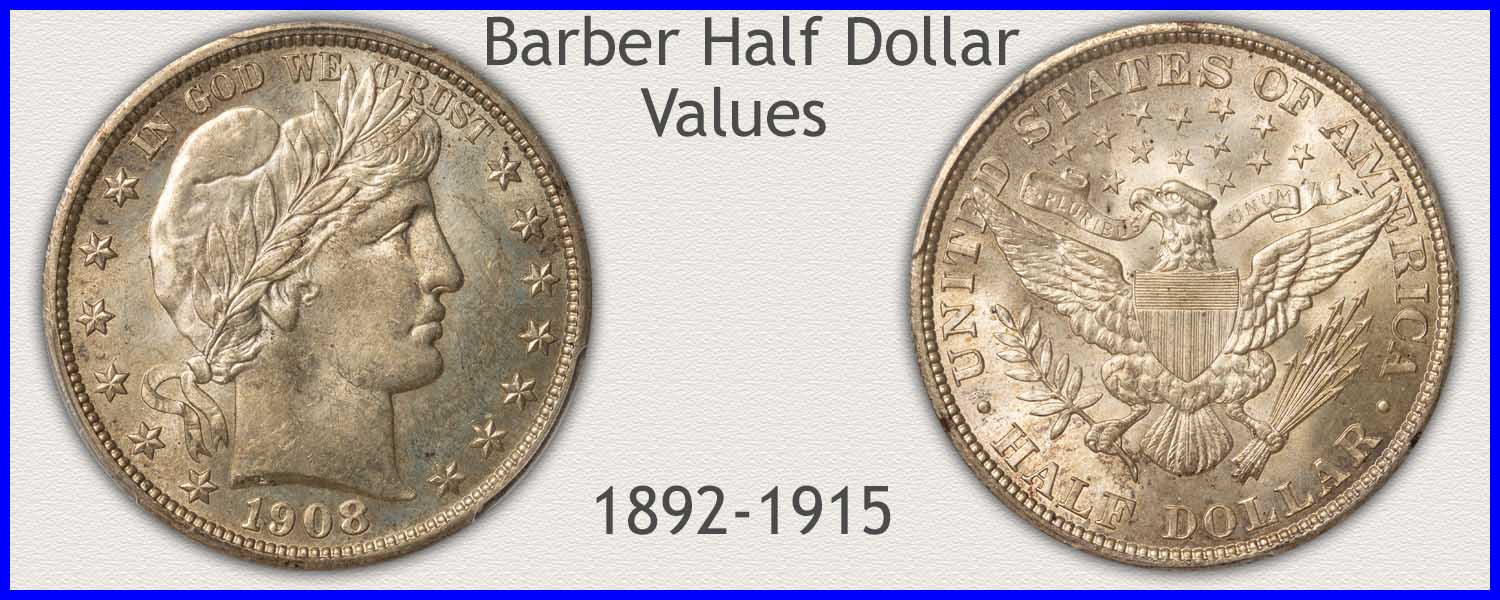 Barber Half Dollar Value | Importance of Condition
Early years of Barber half dollars, those minted 1892 to 1899 all have premium values in better than average condition. A full value chart points to these scarce coins with expanded condition examples to spot the premium coins.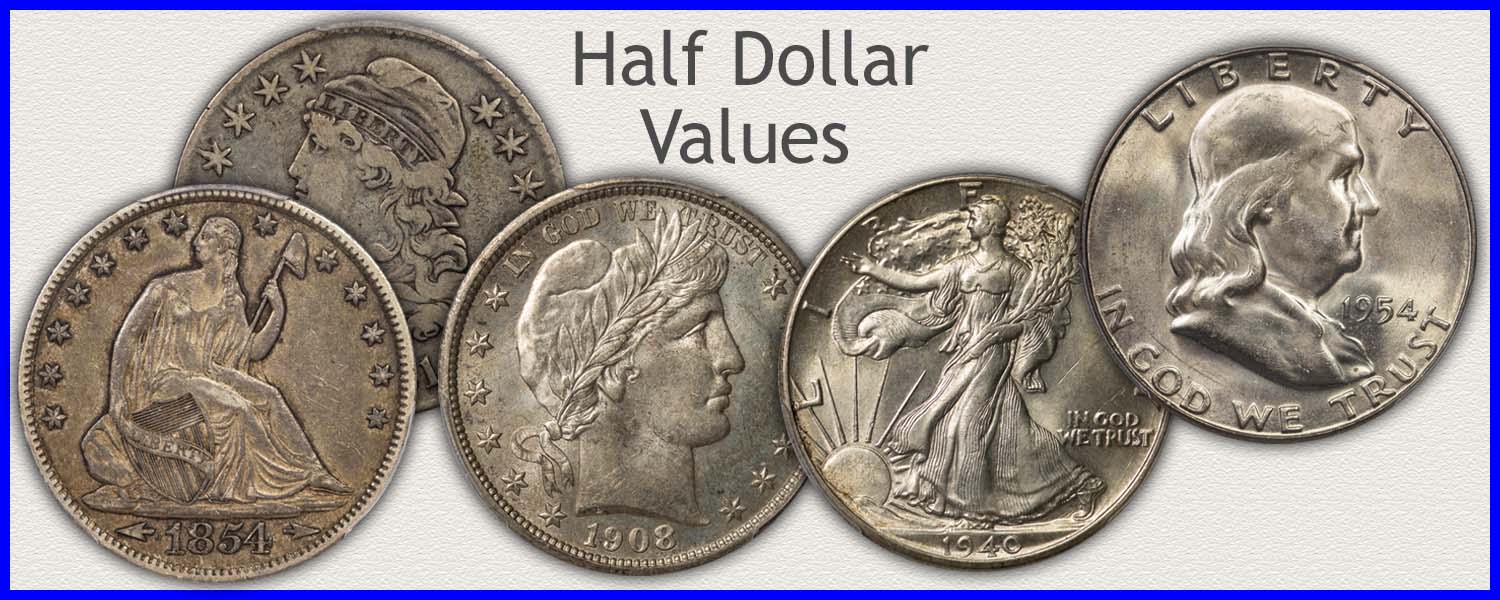 Half Dollar Value | Identify the Different Series
Barber half dollars are part of the long running 50 cent denomination. Half dollars first minted in 1794 cover many designs, scarce to rare dates, and valuable mint varieties. Images of the designs help recognize the different series with links to value charts and the steps needed to accurately judge the coin.
In one place are minimum values of the major coin series. Comparing your coin to images recognizes the exact coin and a minimum value range for different stages of condition. An excellent start to a complete evaluation of the many U.S. coin series.
Safe Coin Storage | Half Dollar Recommendations
Barber half dollars need safe storage to protect their value. Large coins when kept together tend to nick, abrade, and continue to lower condition of both themselves and other coins. Review the holders and storage products available to the coin collecting hobby specific to safely housing these old coins.
Selling Coins | A Defined Process
Old coins are valuable. Vintage silver dimes, quarters, halves and silver dollars. Barber half dollars is one series worth a premium when following a process at selling time. Resources to identify the many dates and mints of coins, and listings of dealers helps receive market value.
★Coin Values Discovery finds 1901 Barber Half Dollar Value and...
U.S. coin value charts plus a step-by-step method, finds a narrow range to how much old coins are worth. Begin here with in-depth coverage of the important features to identify on each coin. Dates plus mint varieties are identified, judging condition with images and video; also identifying special qualities finds the potential in a box of old coins.