Coin Values Moving with Precious Metals: Up-Dated 11/27/2023: Gold $2010 | Silver $24.66
1893 Half Dollar Value
Steps are followed to accurately determine 1893 half dollar value. A range of how much these Barber halves are worth is narrowed by identifying a few important factors.
All dates and the various mint varieties are included in complete sets. Each listed individually on the chart. Defined steps are taken to identify these mint issues so a complete judgment is made.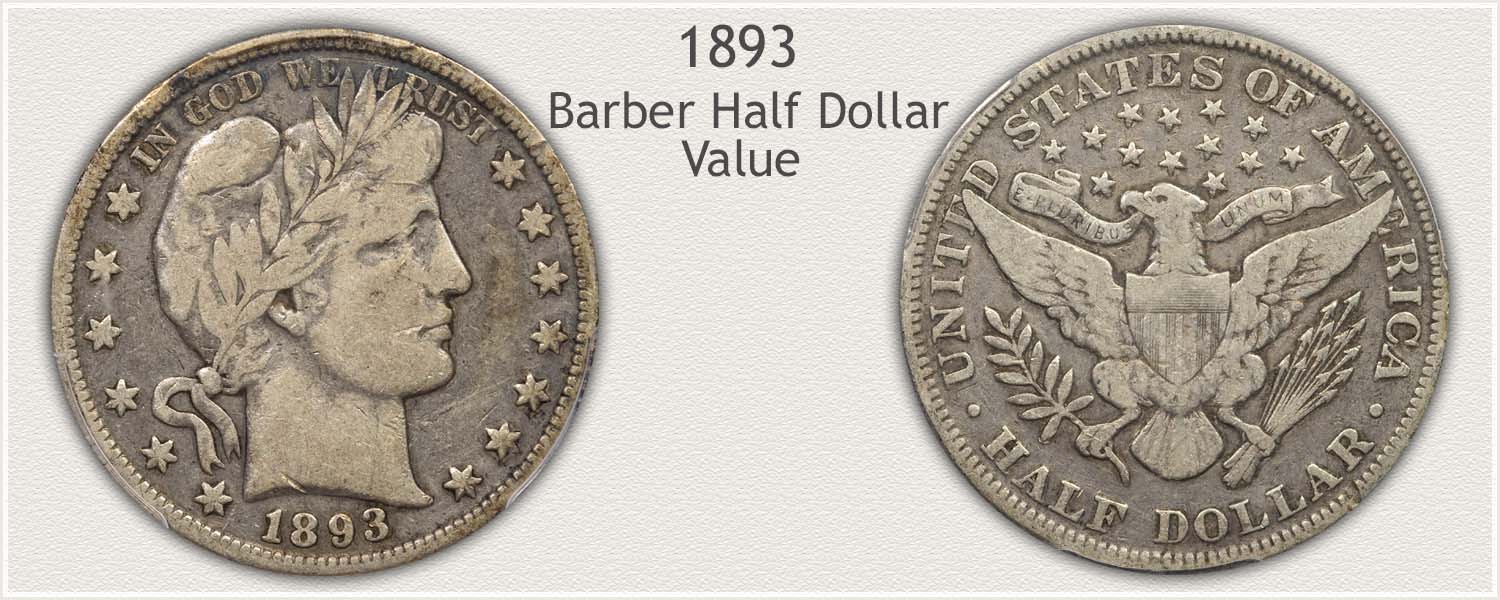 Steps Leading to Value:
Step 1: Date and Mintmark Variety - With different mints striking these coins and each valued separately, identify the exact mint issue combination.
Step 2: Grading Condition - 1893 is a key date Barber half dollar. It is sought by both dealers and collectors. In high grade, verified by comparing to images, find its listing on the value chart.
Step 3: Special Qualities - Values often rise because of subtle points. When needed, high value issues are assessed by independent grading services. Additional factors are considered to complete the value process.
1893 Half Dollar Value
Condition of Coin
Date
Good
Fine
Extremely
Fine
Mint
State
Barber Half Dollar Values Updated
11/27/2023
1893
$17.71
$60
$186
$450
1893 O
$37
$144
$259
$683
1893 S
$82
$388
$868
$1,680
Listed on the chart is a range of Wholesale values of Barber half dollars. Identifying mintmarks is an important factor to confirm. See Step 1: just below.
Step 1: | Recognize Important Mint Issues
Premium 1893 Half Dollar Value is Found with Branch Mint Issues
Values of these vintage half dollars are narrowed by identifying the exact mint striking the coin. Of the three mints in production, the value chart shows the branch mints at a premium.
Branch mints placed a mintmark on their coinage. An inspection of the reverse is needed to locate and identify these different marks.
1893-S Barber Half Dollar
"S" Mintmark on Reverse: San Francisco Mint Struck the Coin
The San Francisco mint decreased its production of half dollars in 1893 recording just 740,000 coins struck and released into circulation. A coin now high on collector's want lists because of the under one million struck and becoming the third lowest mintage year of the series. These are worth well over their base silver value and not often found in nice condition. Collectors seek a well detailed example to include in sets of Barber half dollars.
San Francisco used an "S" mintmark to identify its production of half dollars. Inspect the reverse, below the eagle and above "Half Dollar," if an "S" is present, it is the San Francisco variety.
1893-O Barber Half Dollar
"O" Mintmark on Reverse: New Orleans Mint Struck the Coin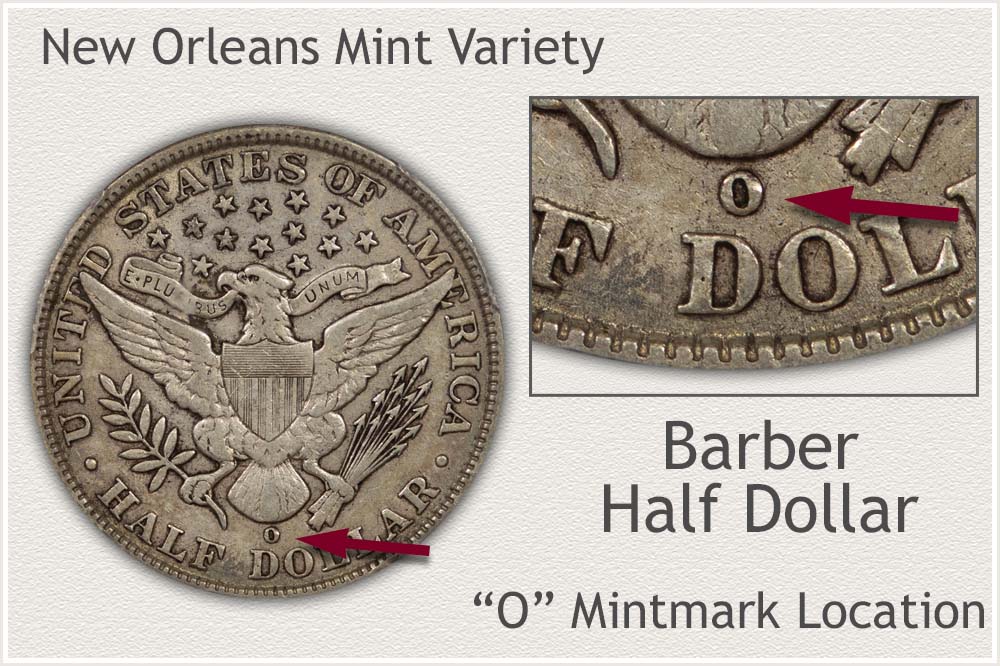 1893; the second year of the Barber series, saw a moderate production of half dollars overall. The New Orleans mint variety is an infrequent coin encountered, partly due to its low 1,385,000 mintage total. Noting the value chart, few were saved. Collectors place a strong premium on these in all levels of preservation. Today, early era Barber coinage needs a close examination to accurately value.
Mintmarks are used by the branch mints to identify their coins. New Orleans mint issues are identified by an "O" mintmark on the reverse. Look at the bottom center, under the tail feathers of the eagle, the "O" confirms the New Orleans variety.
1893 Barber Half Dollar
No Mintmark on Reverse: Philadelphia Mint Struck the Coin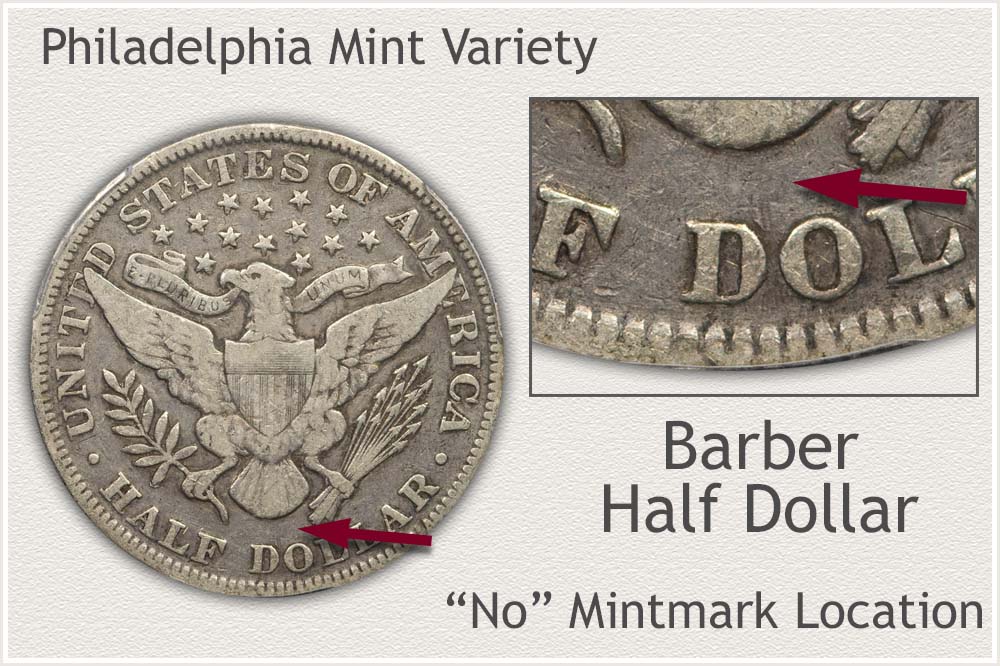 By 1893, the Philadelphia mint began producing over one million half dollars per year. A series average of 1.8 million were minted in 1893. Ample quantities of these supply the demand of collectors today. Typical, worn examples are valued close to their underlying silver worth. Grading condition in Step 2 becomes important to spot the higher quality coin.
Philadelphia did not use mintmarks during the Barber series. Looking on the reverse, in the area between the tail feathers of the eagle and "DO" of DOLLAR. If the space is blank, Philadelphia struck the half dollar.
Step 2: | Identify Grades Comparing to Images
Grading Condition Closes the Range on Value Chart
Collectors further narrow values of Barber half dollars based on their condition. Amount of wear to the surface is evaluated and a grade established to define condition. Standards of different levels of wear, representing grades are compared helping identify a range.
Bold and small areas of the design on old coins typically wear in recognizable patterns. The following images highlight specific areas to judge the wear patterns.
Mint State Grade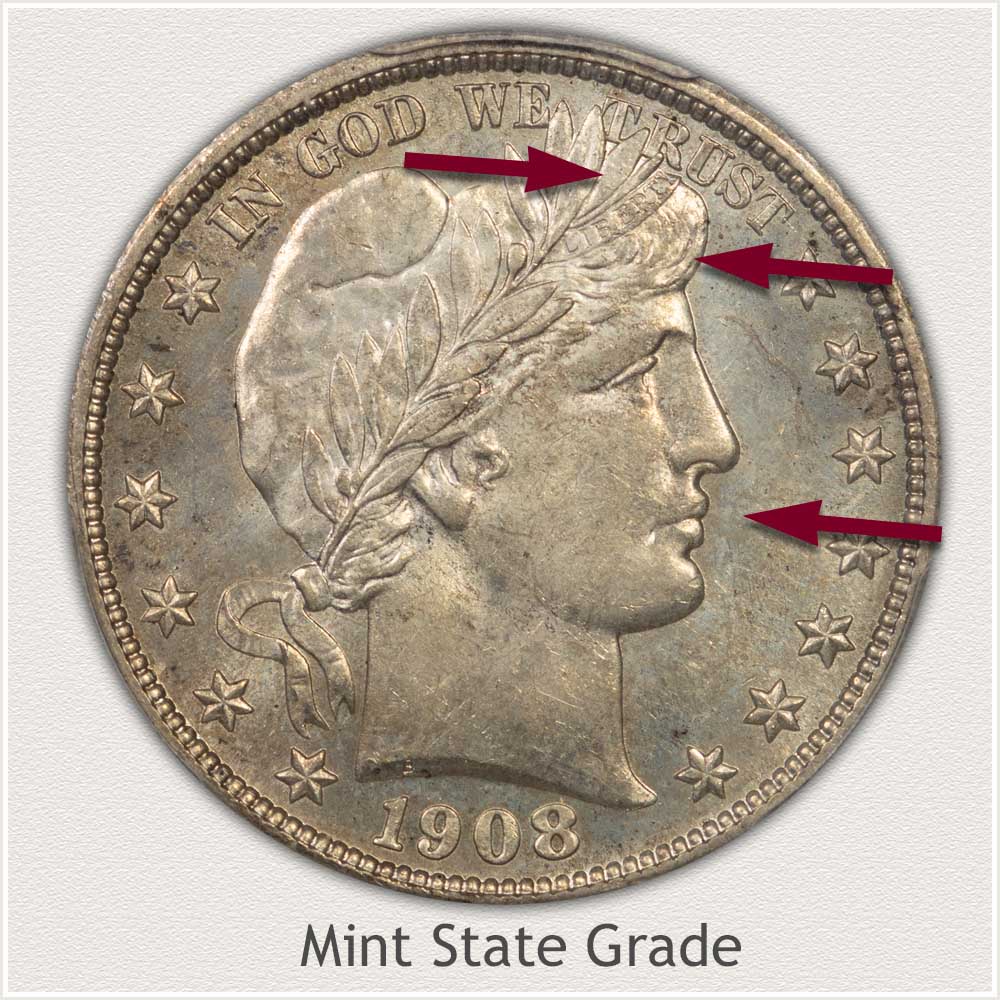 Mint State: A highlight in any Barber half dollar collection are examples in Mint State condition. These coins are in a state of preservation without wear to the delicate surface luster. No wear is an important factor in determining the Mint State grade.
A coin struck by intense pressure from the upper and lower dies emerges with a surface covered in luster. This luster is a fine texture of the metal, easy to disrupt, dull, and become smooth. Highest areas of the design, including Liberty's hair and ribbon above her forehead, show evidence of wear and usage quickly.
Under a single light, inspect the fine strands of hair above Liberty's forehead. Without dulling or smoothing, this area remains covered with luster in Mint State condition. An additional confirmation is made viewing the headband with lettering of "LIBERTY." These areas both show no wear to the surface, helping identify the high quality of the coin.
Notice as the coin is tilted under a light, luster and shine moves across the surface. Any traces of wear display a duller color without a bright reflection of light.
Extremely Fine Grade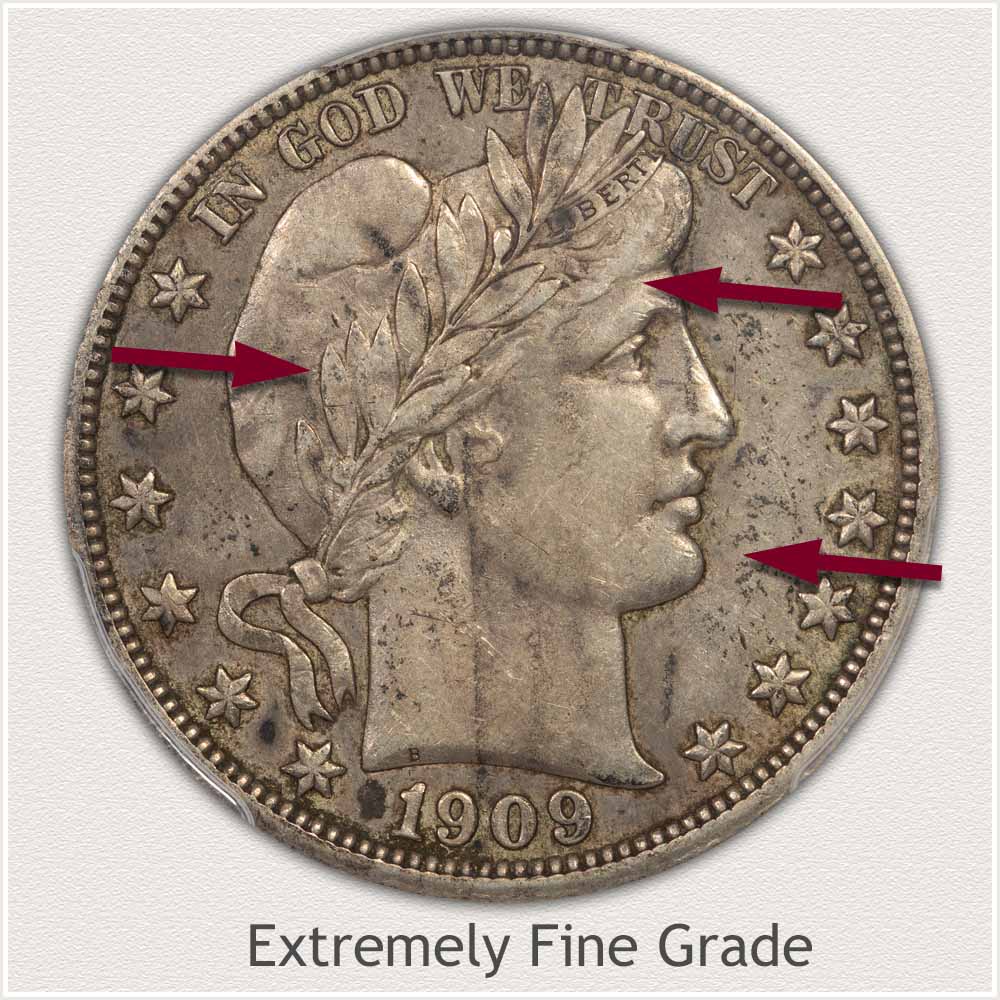 Extremely Fine: These vintage Barber half dollars enjoy a strong collector base for coins in a condition showing just minor wear. Areas of wear only visible as small flattened spots helps define the grade of Extremely Fine.
At first look, the fine details of Liberty's hair and wreath of Laurel leaves are crisp and fully defined. Placing the coin in the grade is evidence of slight merging of hair strands along the hair line just above her forehead. Light wear has smoothed the very tops of the hair strands, flattening the once rounded contours. This trace of wear is seen from the ear to the top of Liberty's forehead.
Laurel leaves are the major feature of the wreath. High and low contours are part of the leaves, as are the raised edges. Both the contours and leaf edges show only a slight smoothing with flat areas. Many contours remain, especially within the upper row. All leaves remain fully defined, well separated, and with a bold relief.
Pleasingly toned a soft gray color, combined with sharp details, places this example in the Extremely Fine grade.
Fine Grade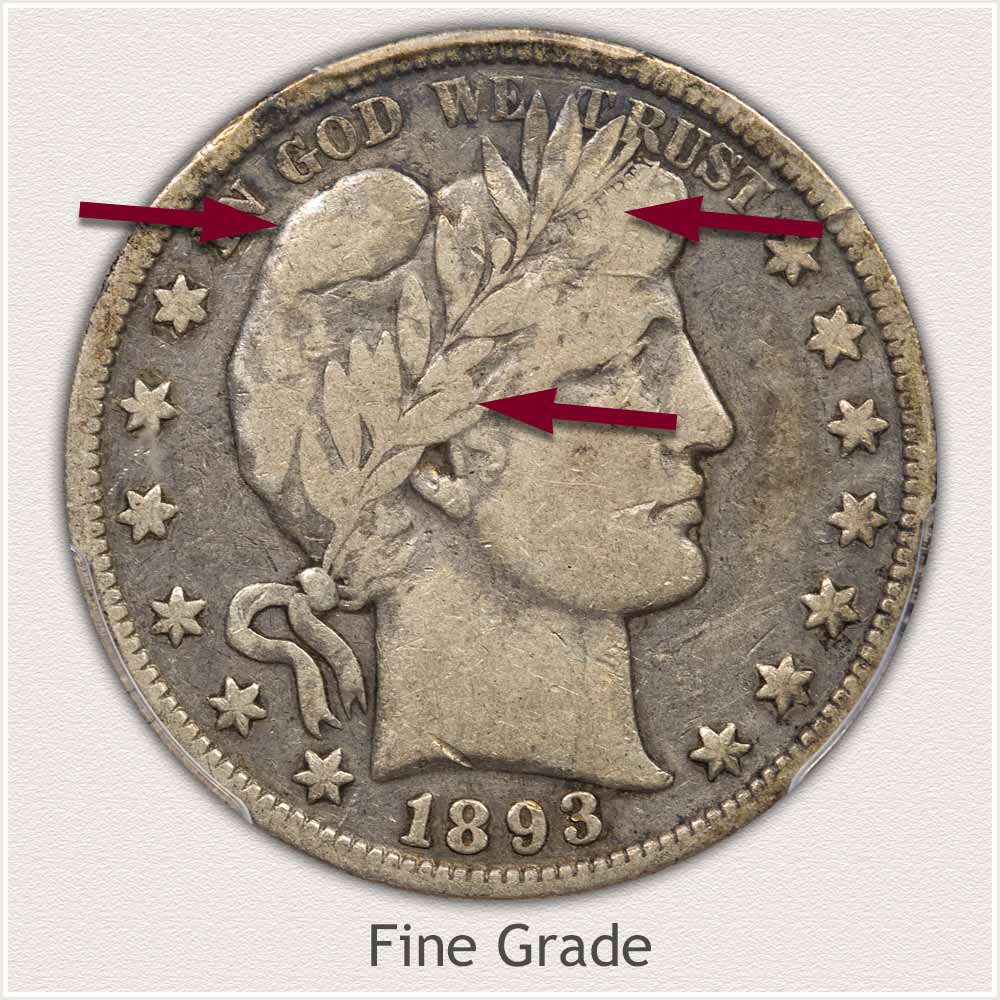 Fine Grade: Taking an overall view of the example half dollar in Fine grade, presents a surface with visible widespread wear. There are however, specific areas with remaining detail, giving the coin a moderately detailed appearance. Areas to inspect are the headband, leaves, and Liberty's cap at the back of her head.
With the remaining detail visible, note all letters to "LIBERTY" within the headband are visible. A small amount of fading to "ER" is seen. Because the upper and lower edges of the ribbon have blended with her hair, the coin is closer to Fine condition than a higher grade.
Leaves of the wreath, once very bold, are now smooth, with only outlines visible, specifically near Liberty's ear. Full outlines to the upper row and missing leaves on the lower row is a distinct feature of a Fine grade coin. Now turning to her cap, flattened, and worn metal is seen overall except for remaining contours indicating folds. It is the separation of the cap and leaves plus subtle high and low areas to the cap placing this example half well within the Fine grade condition. An appealing collectible coin to many.
Good Grade
Good Grade: An old Barber half dollar that has lost most of its details is in the "Good" grade range. A Good grade half is recognized by visible, heavy wear smoothing all high relief details.
Liberty's portrait is now mostly an outline. This outline appearance confirms heavy wear has removed the once finely detailed design leaving only the deepest recesses. However, the remaining portrait is well raised and bold from the field of the coin.
Importantly, key elements are clearly defined and readable. Date and lettering of the motto "In God We Trust" are readable and separate of the rim. Also, a raised rim with no blending with the points of the stars gives a certain crisp appeal to the remaining design. Good grade halves present fully defined lettering, date, and stars, all well raised and bold from the field.
How to Video: Grading Barber Half Dollars
Expand the grading process to help confirm a narrow grade. Condition is often a large factor when placing a value on these Barber half dollars.
Video, Images and Descriptions | Grading Barber Half Dollars
Step 3: | Special Qualities | Professional Quality Assessment
Grading Services and Premium 1893 Half Dollars
1893 half dollars, an early year of the series, have many value levels to consider. Dates and mints are recognizable and quickly point to scarce varieties. 1893 is also a year that condition of the coin has an added importance. Note, in Fine grade, values are all premium, and in better condition, Extremely Fine grade, values are showing these are all scarce in this condition.
Identifying the date and mint accurately is accomplished with a certain degree of confidence. However, judging condition does require a level of expertise, especially in the higher ranges of grades. Recognizing subtle details is often the key to uncovering these scarce coins. Overall, Barber half dollars are scarce in high states of preservation, few remain today.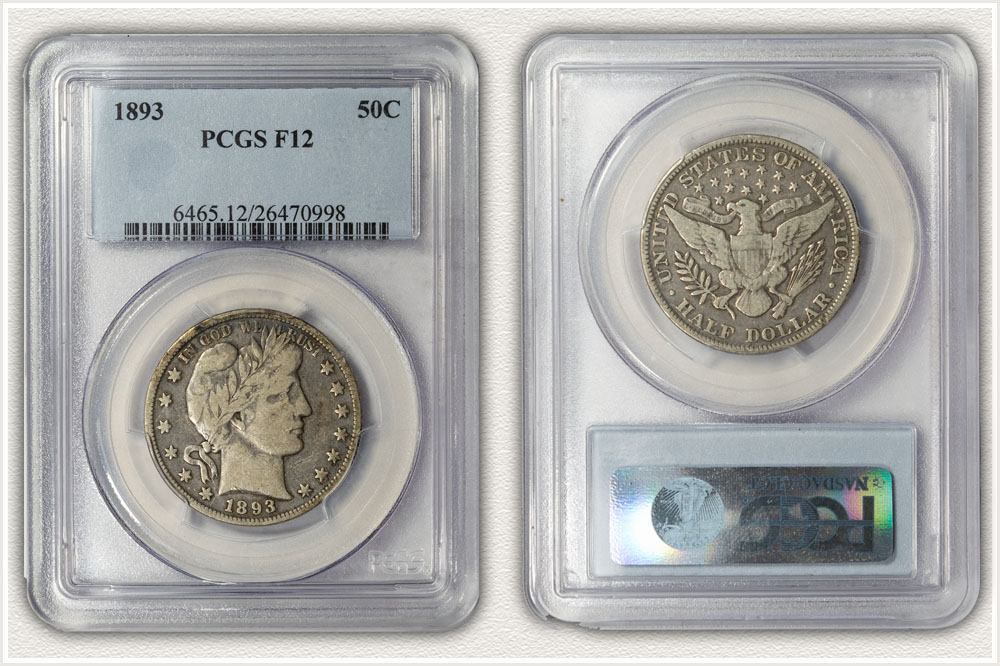 Within the coin collecting hobby, coin grading services provide expert grading of coins. Coins of $100 and higher value benefit when submitted to a service and encapsulated in a holder specifying the grade. Market acceptance of the grade, and authenticity of the coins provide confidence with a true and accurate assessment of each coin.
1893 halves are an excellent example of varieties suitable to have professionally graded. The scarce to rare San Francisco issue needs confirmation of authenticity in all grades. Philadelphia mint 1893's are worth large premiums when confirmed Extremely Fine and above. New Orleans mint coins are highly valued in nice condition, those graded Fine or better are premium coins to collectors.
PCGS (Professional Coin Grading Services) is a leading service providing market acceptance of a coin's grade. All 1893-S Barber halves benefit when graded by PCGS.
There are costs involved with grading a coin, in the order of $22 as a minimum. However, with the potential value of Barber half dollars in above average condition, any coin estimated at $100 or more is an economical choice. Confirmation and confidence in a narrow value range is worth a small fee.
Listing of PCGS services is on theirPCGS Submission Introduction Page.
An additional resource is having the assistance of Authorized PCGS Dealers to contact. A conversation with a dealer answers many questions and provides advice for a proper selection of coins that warrant grading by PCGS.
Professional services are an excellent resource to help recognize and confirm the special quality Barber half dollars.
References
U.S. Mint. 1894 U.S. Mint Annual Report https://nnp.wustl.edu/library/publisherdetail/51
U.S. Mint. Catalogue of Coins of the United States. https://nnp.wustl.edu/library/book/554591
Coin Values | CoinStudy Articles
Date by Date
In Depth Barber Half Dollar Values
1892 to 1915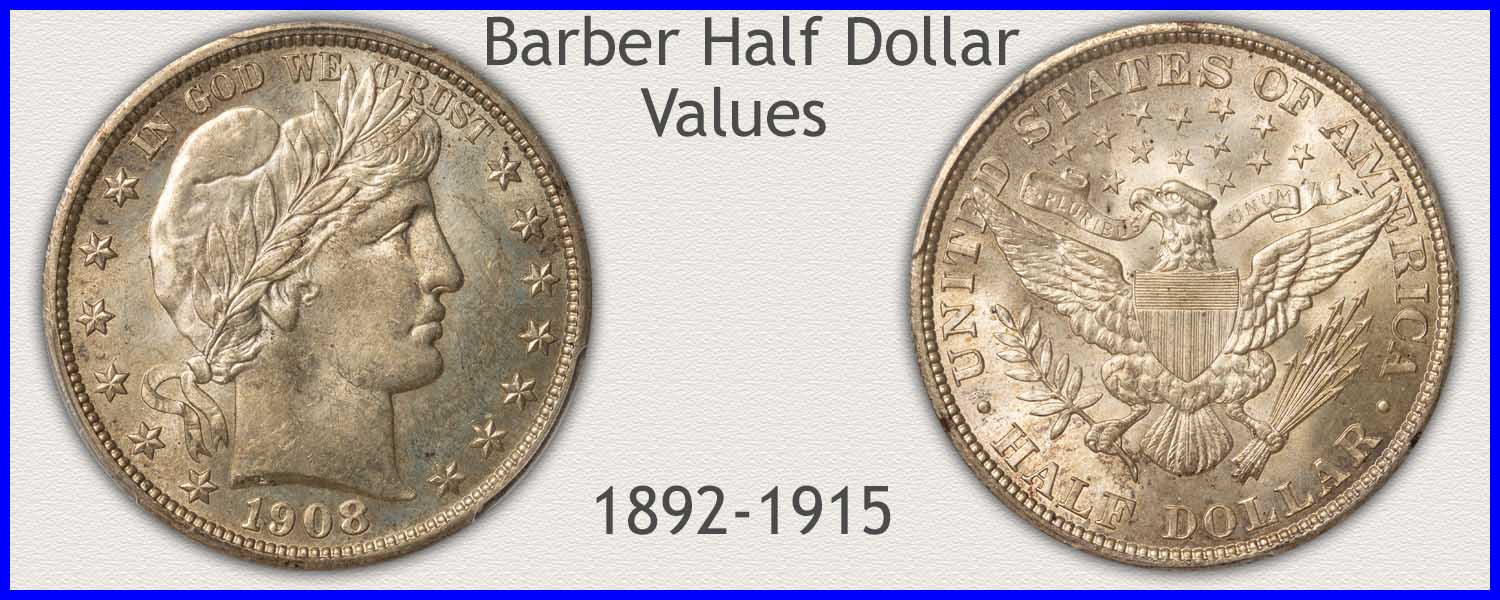 Barber Half Dollar Value | Scarce Low Mintages
Many dates of the Barber half dollar series are scarce because of low mintages. These coins standout on the full value chart with high premiums. Identify the important factors to narrow how much an old half dollar is worth.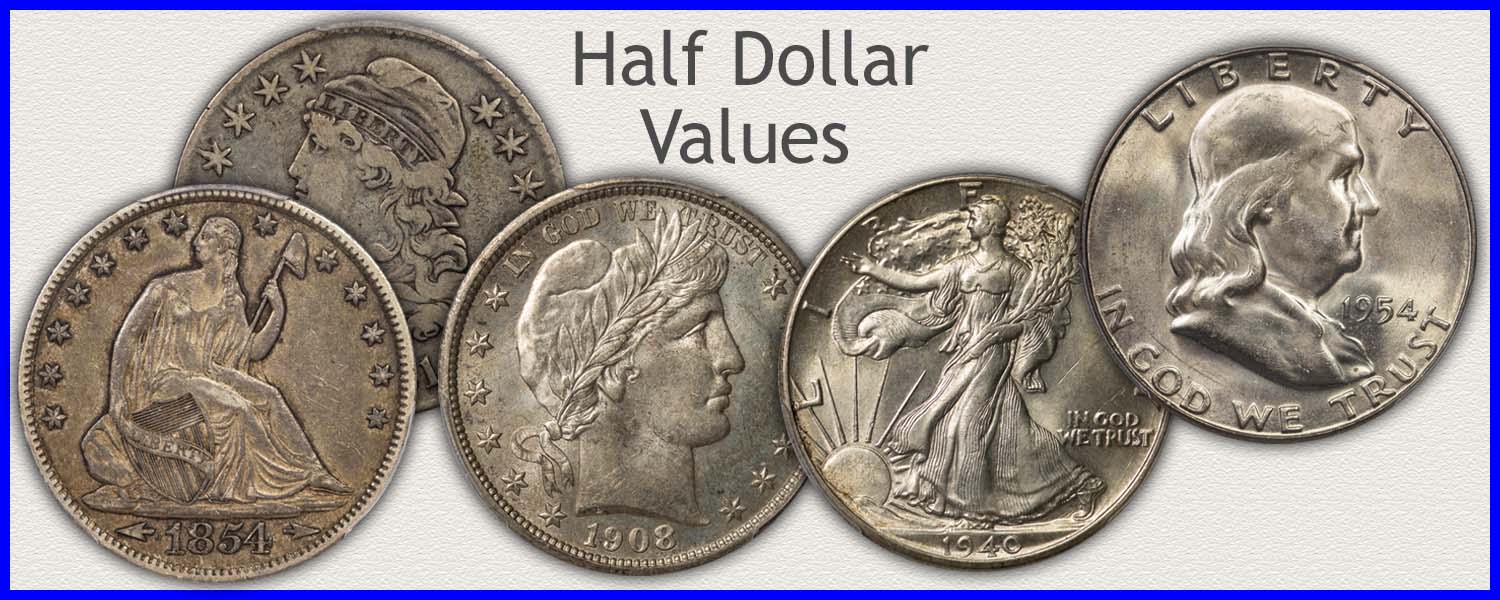 Half Dollar Value | Recognize Scarce Issues
Half dollars cover a large range in dates, mint variety, and special qualities, all needed to place a narrow range on value. Images identify the different design series linking to the key factors to how much an old half dollar is worth. Visit here to accurately identify your coin.
Coin Value Guide | How to Value a Coin Collection
Date runs of coins assembled as collections are valued by following a few steps. Identify series, dates and mint varieties, and then an overall assessment of condition. Higher premium coins are quickly recognized. Understand the potential in an old coin collection.
Print the Coin Values Worksheet
Organized into one list, record and print values of your Barber half dollars. Print extra sheets to continue with the rest of your holdings.
Selling Coins | A Defined Process
Old coins are valuable. Vintage silver dimes, quarters, halves, and silver dollars. Barber half dollars is one series worth a premium when following a process at selling time. Resources to identify the many dates and mints of coins, and listings of dealers helps receive market value.
Coin Grading Services | Authenticate and Grade of Coins
Grading services review your coin and place a grade on its condition. A professional assessment of authenticity and condition. Market acceptance of the top two services, NGC and PCGS, help provide a narrow range when placing values on coins.
★Coin Values Discovery finds 1893 Barber Half Dollar Value and...
All U.S. coin values. A starting point to correctly identify your old coin. Recognize the important features to value with a step-by-step process. Continue with a full evaluation of specific dates, mints, and condition.