Coin Values Moving with Precious Metals: Up-Dated 11/27/2023: Gold $2010 | Silver $24.66
1903 Half Dollar Value
Barber coinage is becoming a very old series; accurate 1903 half dollar value requires identifying specific mint issues and judging condition.
$13.97 is the base worth because of the 90% silver content of the coin. With strong potential to rise higher. Condition of the coin has become an important element for dates minted during the latter years of the series.
Among those that remain today, most are heavily worn. Examples with premium value have only very minimal wear or are in better condition overall, displaying a majority of their original detail. There are several key steps used to evaluate a half dollar's value. Judging condition is done in Step: 2 continued below.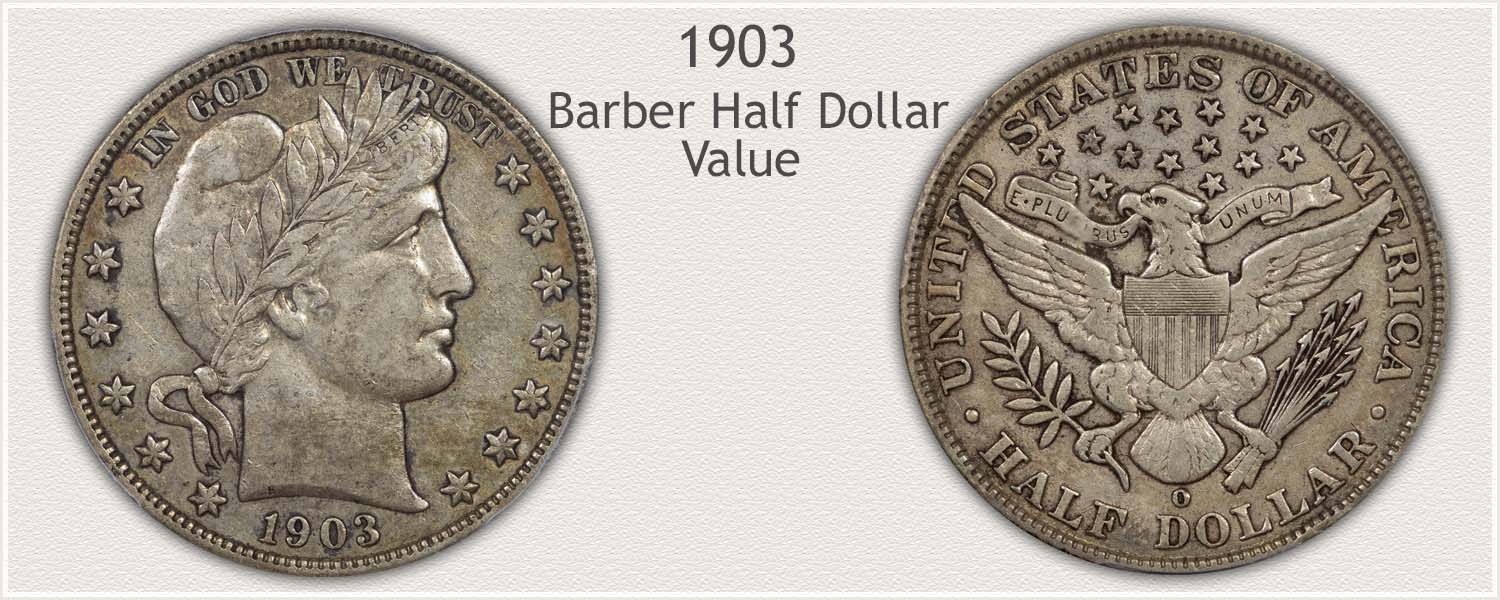 Steps Leading to Value:
Step 1: Date and Mintmark Variety - Dates of old half dollars are collected and complete sets include the different mints for each year. Values are listed for each issue, inspect to confirm the mint striking your coin.
Step 2: Grading Condition - Condition and grade of a coin varies, depending on the amount of wear and overall appearance. Grading helps verify premium worth.
Step 3: Special Qualities - When recognizing a coin that stands out as higher quality, you recognize a coin in demand. Coin collectors appreciate coins that are not heavily worn displaying nice eye appeal.
1903 Half Dollar Value
Condition of Coin
Date
Good
Fine
Extremely
Fine
Mint
State
Barber Half Dollar Values Updated
11/27/2023
1903
$13.97
$54
$165
$423
1903 O
$14.69
$58
$206
Rare
1903 S
$14.69
$67
$212
$739
Values listed are a range Barber Halves trade wholesale. The steps below are used to narrow the value range.
Step 1: | Date and Mintmark Variety Identified
Three Mints were Involved in Half Dollar Production in 1903
Along with the date of these Barber half dollars, identifying the mint that struck the coin is also part of the value process. With three different mints producing half dollars, mintmarks were placed on coinage to indicate the mint of issue.
Each listing on the chart shows the date and mint combination, each valued individually. Images are used to help in recognizing the mintmark and its location.
1903-S Barber Half Dollar
"S" Mintmark on Reverse: San Francisco Mint Struck the Coin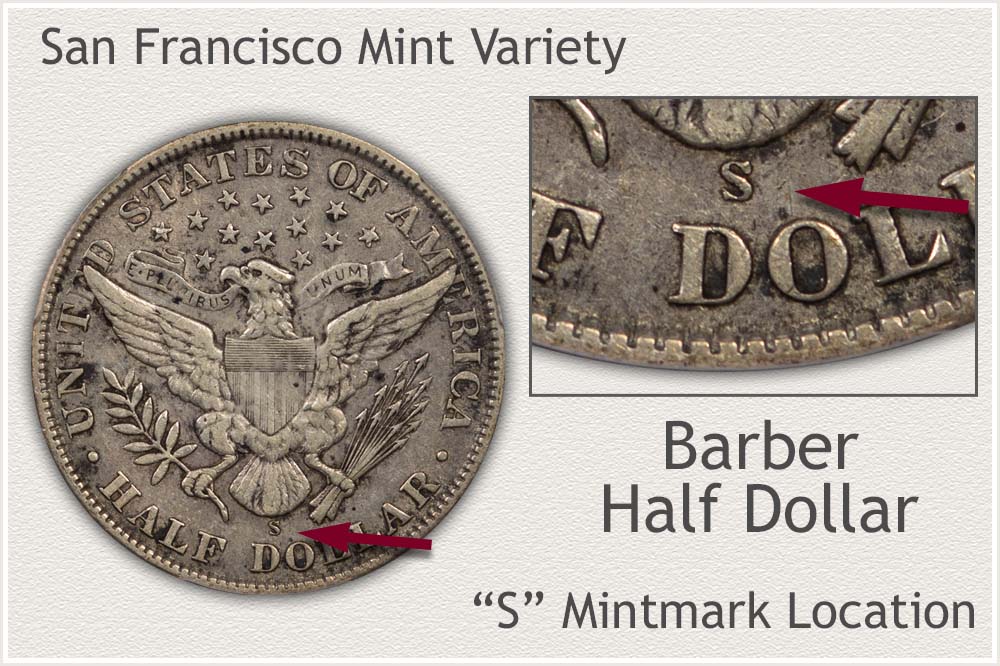 Sufficient quantities of the San Francisco variety half dollar was produced in 1903 to meet demands of commerce. Mintage total is over 1.9 million coins. Heavily worn examples are abundant today and are influenced in value by the up and down movements in silver price. Scarce are examples with just minor evidence of circulation. A close examination as to their state of preservation is needed, as seen on the chart.
Confirming mint variety and then condition narrows how much these old coins are worth. San Francisco placed an "S" mintmark on all Barber half dollars to identify its coinage. On the reverse, just above the "DO" letters of DOLLAR, the "S" mark is the San Francisco variety.
1903-O Barber Half Dollar
"O" Mintmark on Reverse: New Orleans Mint Struck the Coin
By the early twentieth century, production of half dollars at the New Orleans mint was increasing. In 1903, the mint struck a series average of 2.100,000 halves, becoming a well-used coin in circulation. Most were never saved, the majority continued circulating until heavily worn. Today, a well detailed example is a special coin to collectors. Interest and premiums are high within the hobby, both because of their connection with the popular New Orleans mint and also a scarcity of collectible quality.
Turn to the reverse of the coin to inspect for the "O" mintmark, confirming the New Orleans issue. In the area between the tail feathers of the eagle and lettering of HALF DOLLAR, note the large "O" mark of New Orleans. A special coin to identify for a complete assessment.
1903 Barber Half Dollar
No Mintmark on Reverse: Philadelphia Mint Struck the Coin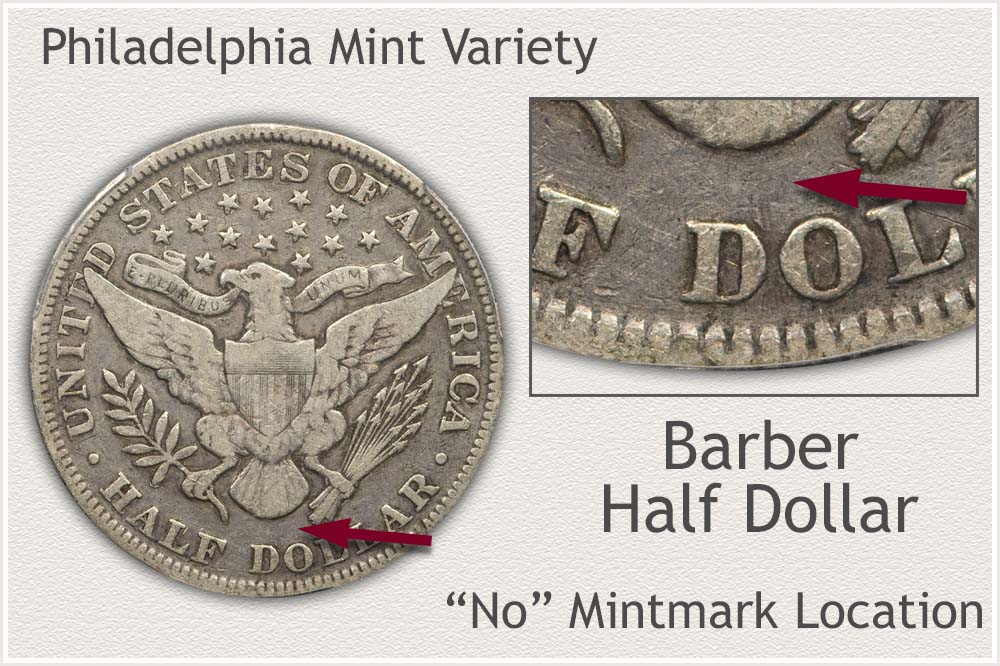 At the start of the new century, Philadelphia's production of half dollars in 1903 saw a mintage of just over 2.3 million pieces. By the time the series ended, this total fell within the average range of their annual output. Today, these halves, in very worn condition, are available in quantities trading in a price range connected to their silver content. An example with details remaining within Liberty's hair and headband is the condition beginning to rise into premium collector quality.
During the Barber series of coinage, Philadelphia issues are recognized by not having a mintmark. An empty space above the "D" in DOLLAR is the indicator of the Philadelphia mint's halves.
Step 2: | Grade is a Standardized Category of a Coin's Condition
Identify Stages of Condition to Find 1903 Half Dollar Value
Old half dollars are inspected to determine their overall condition. An important part of the hobby is defining a coin's state of preservation as a "grade." An increase or decrease in value is related to these grades.
This judgment of quality determines the appeal of any coin to the market place and to collectors. A close match to the images helps judge these different grades.
Mint State Grade
Mint State: Eye appeal is hard to surpass of a Barber half dollar in Mint State condition. These coins are as they left the mint, with no wear to the surface. Specifically, no wear, is the defining feature of the grade. Confirming the grade is a process of recognizing all original luster remains. Secondly, examining for flattened areas on high points due to wear.
Luster is imparted to coins as a result of striking the metal with coining dies. A fine texture is left on the surface, allowing the brilliant reflection of light. Inspecting high contours and small raised details determines if luster is worn.
Liberty's cheek on Mint State grade halves is covered with the texture of luster matching low relief areas along the recess of the jaw line. Tilting the coin slowly from side to side under a single light shows a brilliance moving across both low and high areas of her jaw and cheek.
A second inspection of fine, small design elements helps confirm a high quality coin. Edges to leaves within the wreath are raised and, if worn, become smooth, showing small spots of flattening. All leaves are intact on the example half indicating no wear and a high grade.
Extremely Fine Grade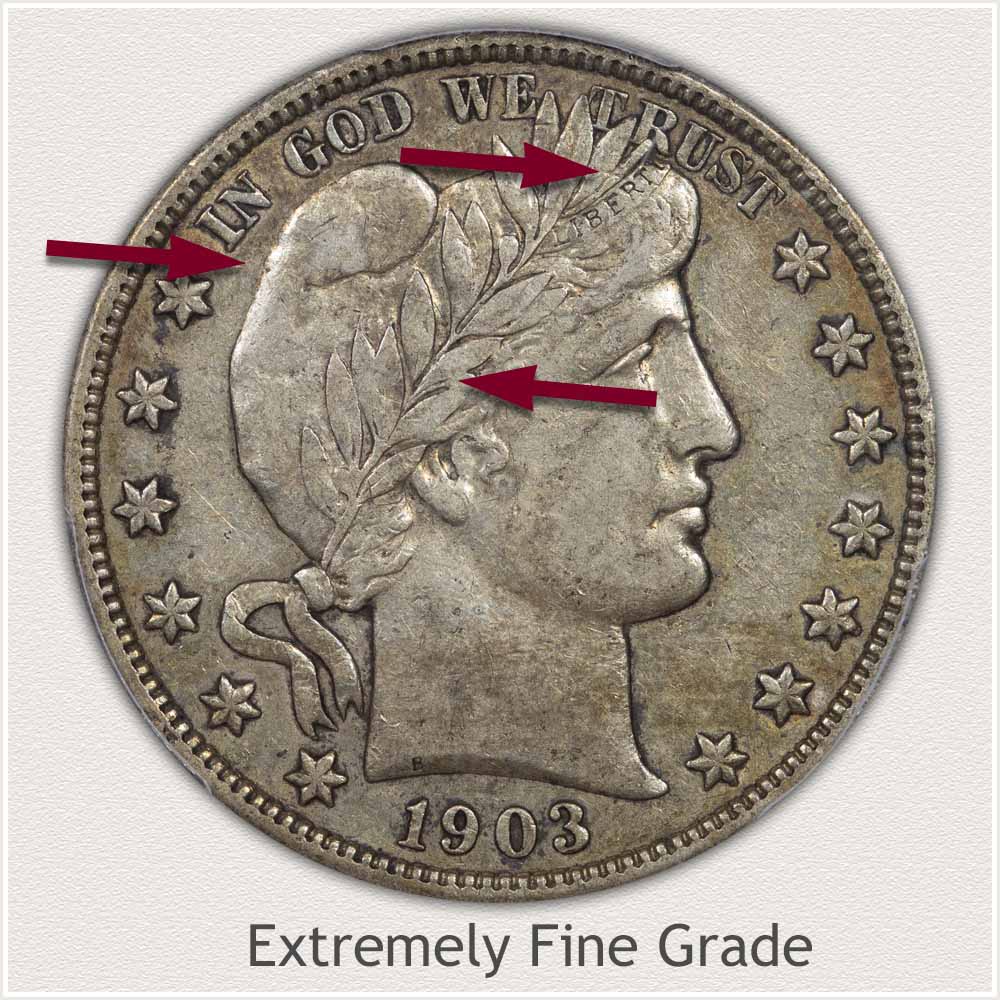 Extremely Fine: A Barber half dollar in Extremely fine condition displays ample detail, giving the coin a crisp, sharp appearance. Helping define the grade is light wear confined to the very tops of high-point detail.
When judging these coins in the grading process, a key area is the headband above Liberty's forehead. A well-defined band with both top and bottom edges is displayed with lettering of "LIBERTY" across the ribbon. Slight wear is noted along the lower edge; however, all letters are complete and bold. A close look at the example coin shows a separation of the headband from the leaves above as well.
A second region to inspect is the cap at the back of her head. Notice the many contours remaining within the design. Evidence of wear is confined to outer edges and only on high relief folds. Wear presents as small smooth and flattened spots, significant is no merging of leaf edges with the cap has occurred. Well detailed leaves and remaining high and low areas within the cap indicate a coin with minimal wear.
Soft gray tones of color now cover the surface, replacing the shine of luster. Highly defined details remain, all helping to confirm the Extremely Fine grade.
Fine Grade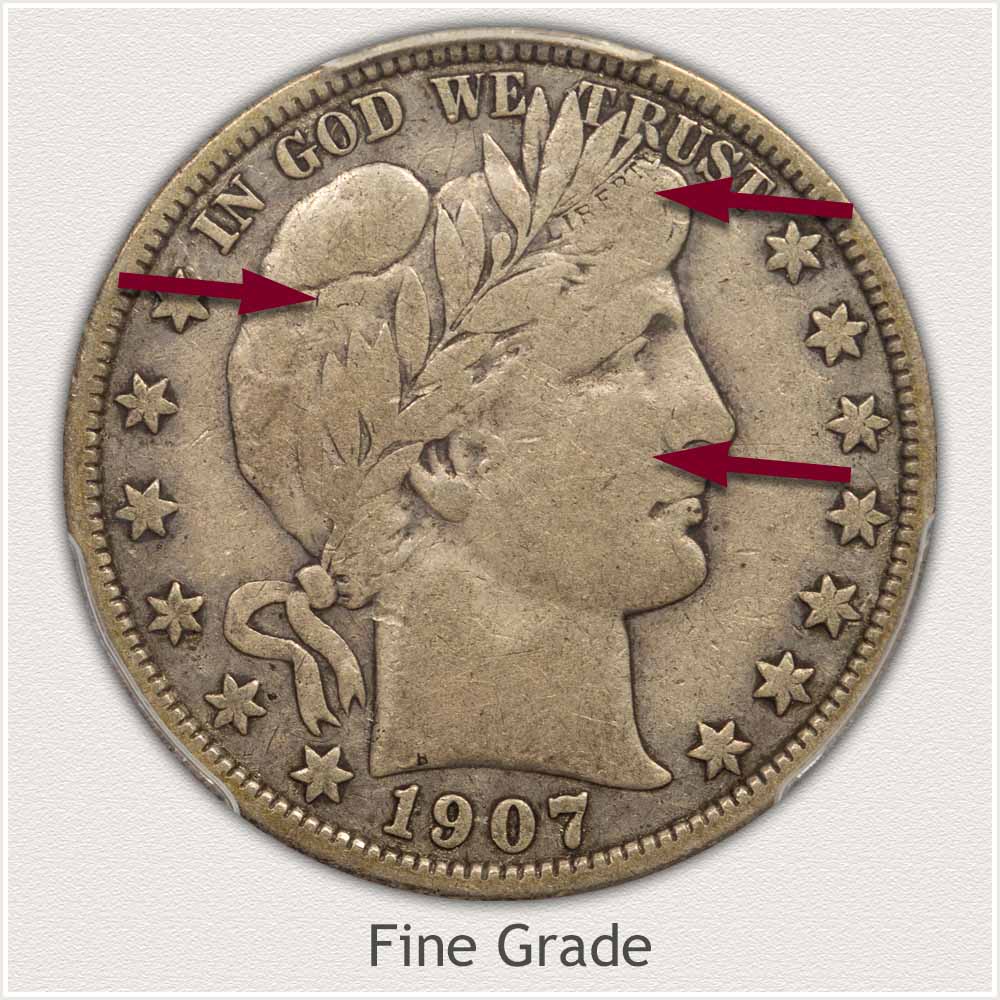 Fine Grade: Popularity of collecting these old half dollars extends into the Fine grade of condition. Defining these collectible coins requires ample detail mixed with evidence of wear. Wear is seen on high points and open areas, including Liberty's cheek and neck.
As the level of metal is reduced, flattened spots develop across Liberty's cheek. Seen on the example is a flat area under her eye that extends down to the jaw line and almost to her ear. Liberty's cap is also showing flattened areas. Details of her ear are bold, leaves above are detectable, and some hair detail remains extending towards her forehead.
Ample fine design features of the wreath also remain. Upper row of leaves all have their edges complete except where the leaves overlap. Additionally, and important to qualify at the Fine grade, all letters of "LIBERTY" are readable within the headband. These finer parts of the design; lettering, leaves, and remaining contours to major features indicate a quality collectible half dollar.
Good Grade
Good Grade: Circulation wear has reduced the height of Liberty's portrait to a flat surface. What defines the "Good" grade is most fine details are missing. A few leaf edges within her portrait often show; however, no evidence of a headband is visible.
A defined; entire rim is needed to place these old halves well within the condition acceptable as Good grade. Letters of the motto are complete. Star points do not touch the rim. And finally, a bold date is adding to its pleasing appearance.
Soft-gray toning highlighted by deeper color along the rim helps add aesthetic qualities. A lack of distracting marks or scratches is a plus.
How to Video: Grading Barber Half Dollars
Accurate value depends on judging condition of these Barber half dollars. Using the video, a focus on important areas to judge are examined. An expanded grading process narrows condition range.
Video, Images and Descriptions | Grading Barber Half Dollars
Step 3: | Special Qualities | Key Mint Issues of 1903
Close Inspection of Branch Mint 1903 Halves is Required
In the Barber half dollar series, a few dates are notable as Keys to the series. Keys - a term used by collectors indicating rare, difficult to obtain, and valuable date and mint combinations.
1903 halves are an exceptional and special year. The San Francisco and New Orleans issues are "common" in a low state of preservation, with values based heavily on their silver content. Finding examples in lightly worn condition presents a challenge, a little patience required, and surprisingly, remain moderately priced. However, in Mint State condition - no wear to the surface - they are seldom encountered, and these two varieties are considered Keys to the series.
All Barber halves in Extremely Fine and nicer condition are scarce. Few of these large denomination coins were set aside at the time. In Mint State grades the 1903-S San Francisco variety trades often enough to help gauge values.
The New Orleans halves by contrast, trade infrequently, auction records of Mint State examples trading are sparse. Years go by between offerings at auction, usually bid into the thousands of dollars. Once an example is added to a collection, it stays.
Limited availability added to a steady demand is a quality considered special to these old half dollars. New collectors have an opportunity to place a well-worn example in their collections. Advanced collectors recognize time and effort is needed to obtain high grade 1903 branch mint Barber half dollars. All require a second inspection to confirm their accurate place on the value chart.
References
U.S. Mint. 1904 U.S. Mint Annual Report https://nnp.wustl.edu/library/book/512059
U.S. Mint. Catalogue of Coins of the United States. https://nnp.wustl.edu/library/book/554591
Coin Values | CoinStudy Articles
Date by Date
In Depth Barber Half Dollar Values
1892 to 1915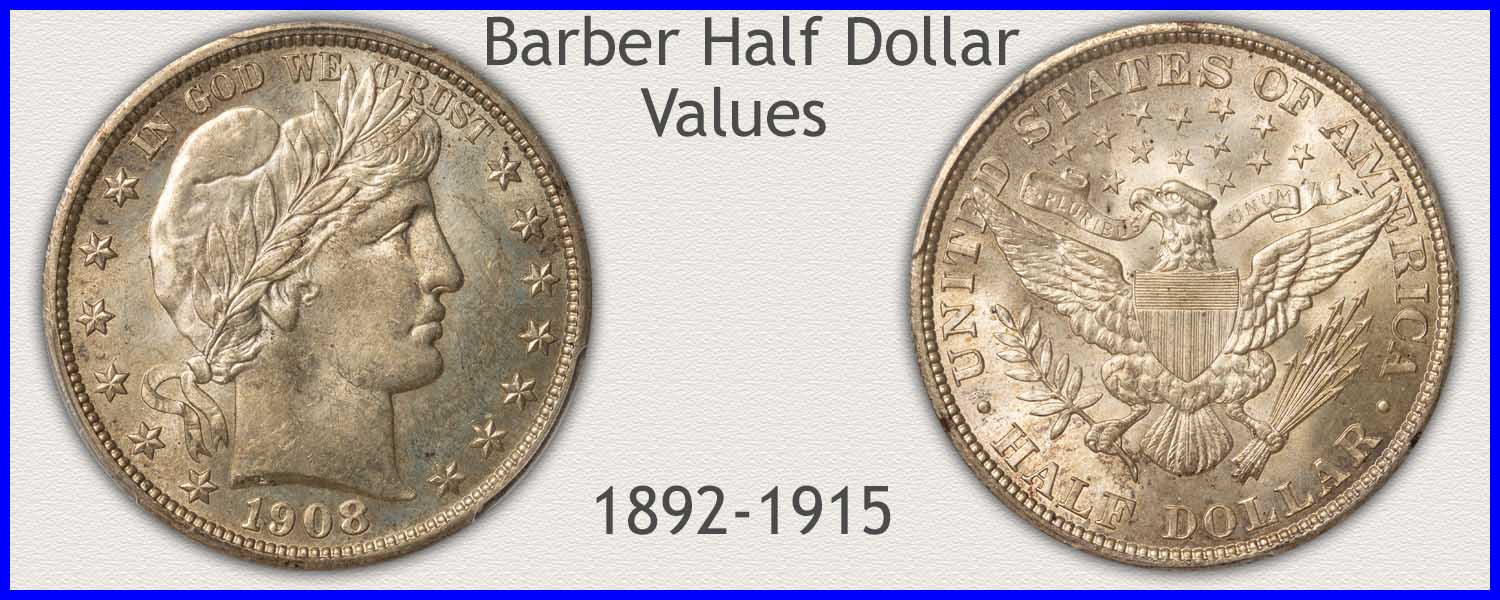 Barber Half Dollar Value | Importance of Condition
Early years of Barber half dollars those minted 1892 to 1899 all have premium values in better than average condition. A full value chart points to these scarce coins with expanded condition examples to spot the premium coins.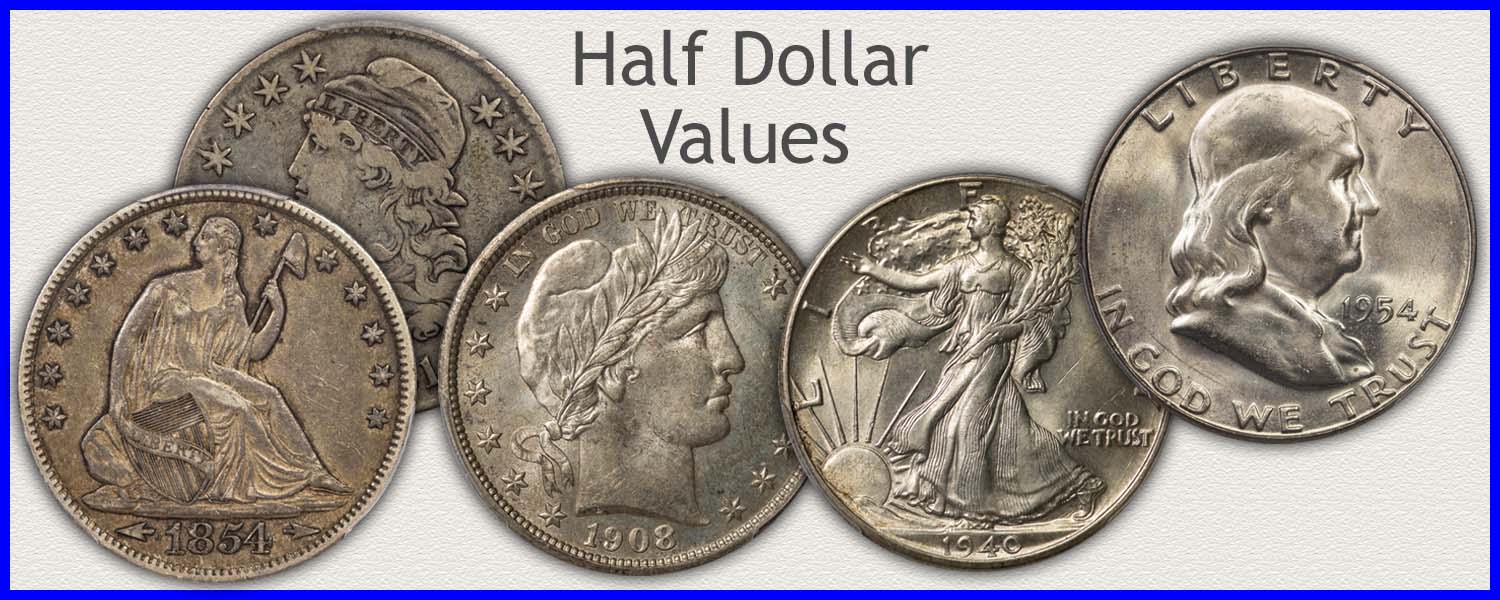 Half Dollar Value | Recognize Scarce Issues
Half dollars cover a large range in dates, mint variety, and special qualities, all needed to place a narrow range on value. Images identify the different design series linking to the key factors to how much an old half dollar is worth. Visit here to accurately identify your coin.
Old Coin Values | Follow the Steps
The same method used by dealers and collectors is presented and followed to place a value on your old coins. The different series of coins are imaged and linked to the key elements needed to complete the value process.
Silver Coin Values | Minimum Values of U.S. Silver Coins
Barber half dollars were minted during the "silver" age of U.S. coinage. Each Barber half is 90% silver. All have a strong base in the current worth of silver. Review the images and descriptions of other silver era coinage. Using the calculator find today's current value of silver coins.
Popular Coin Series | Barber Half Dollars
Demand by collectors is the base to collectible value of Barber half dollars. Silver value is quickly surpassed when the supply of coins is scarce. Popularity of the many U.S. coin series is charted showing the strength of each.
Selling Coins | A Defined Process
Preparation and following an order of steps helps in selling coins. First is an understanding of potential value. Each series of coins is assessed and organized by values. Finding dealers specializing in similar coins finds a good match. Images are used to recognize the different coins and listing of dealers point to potential buyers.
★Coin Values Discovery finds 1903 Barber Half Dollar Value and...
All U.S. coin values. A starting point to correctly identify your old coin. Recognize the important features to value with a step-by-step process. Continue with a full evaluation of specific dates, mints, and condition.