Coin Values Moving with Precious Metals: Up-Dated 11/27/2023: Gold $2010 | Silver $24.66
1897 Half Dollar Value
To determine mintmarks and narrow the collectible 1897 half dollar value, a step-by-step approach is used. Very high premiums are awarded to scarce branch mint varieties.
Each of three mints produced half dollars in vastly different quantities in 1897. As illustrated by images, the first step is to recognize the different mintmarks. Follow by comparing your coin to images depicting stages of wear.
These halves show collectible premiums depending of their condition. An accurate judgment to how much they are worth is made by identifying and gathering key information.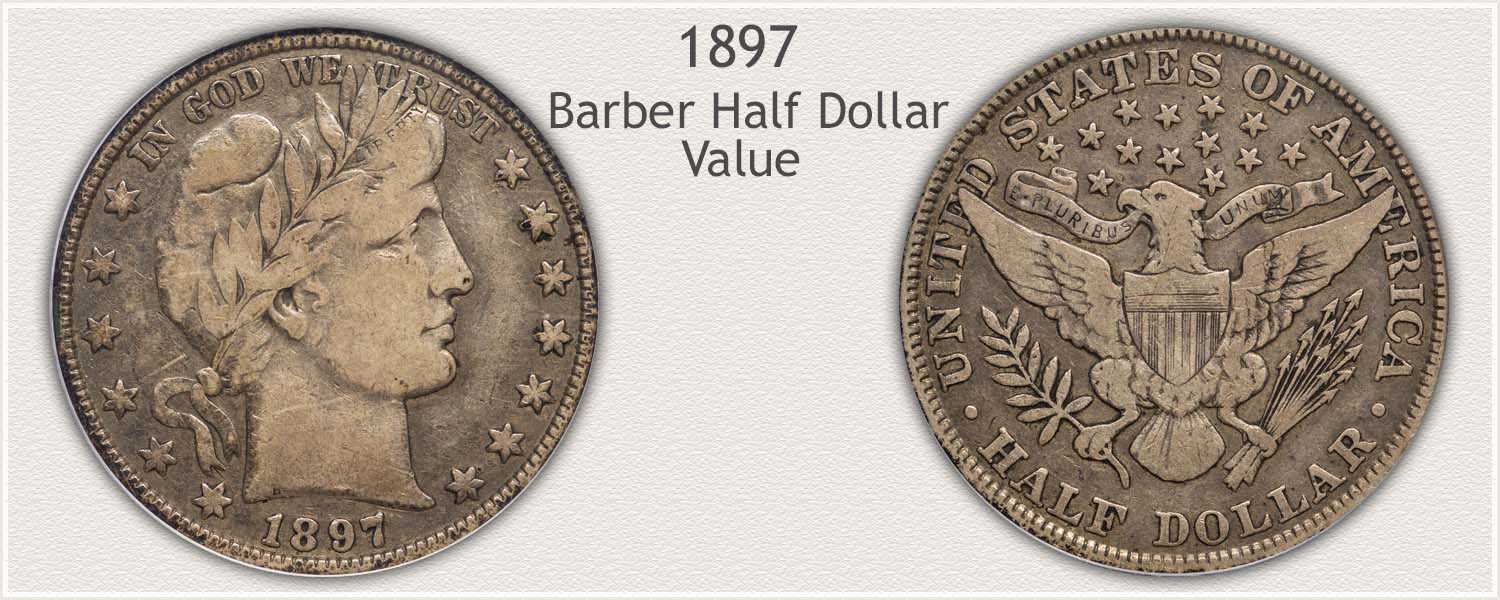 Steps Leading to Value:
Step 1: Date and Mintmark Variety - Date and mint combination of these old half dollars are included in a full description. Scarce mint issues are identified.
Step 2: Grading Condition - 1897 is an elusive Barber half dollar date. These are a high-value coin when determined in excellent quality.
Step 3: Special Qualities - Today, only a limited number of nice quality branch mint halves remain. Recognize the in-demand features of these old Barber coins giving them appeal.
1897 Half Dollar Value
Condition of Coin
Date
Good
Fine
Extremely
Fine
Mint
State
Barber Half Dollar Values Updated
11/27/2023
1897
$15.41
$50
$173
$465
1897 O
$103
$306
$945
Rare
1897 S
$105
$239
$984
$1,344
Listed on the chart is a range of Wholesale values of Barber half dollars. Identifying mintmarks is an important factor to confirm. See Step 1: just below.
Step 1: | Date and Mintmark Issue is Confirmed
Identify 1897 Half Dollar Value When Recognizing Collectible Branch Mint Varieties
High numbers minted in 1897 places the Philadelphia variety half dollar as abundant. Less likely to find are the branch mint issues of New Orleans and San Francisco half dollars.
Two factors are showing on the value chart, first, premiums for the branch mints. Secondly, even low-grade examples of these coins trade well above their base silver worth. Combined, this indicates a sparce saving rate of the branch mint varieties, now in short supply. Identifying a small mintmark is becoming important to recognizing a prized collectible.
Mintmarks were used to identify each of the branch mints issuing coinage. These are located and confirmed by using the images below.
1897-S Barber Half Dollar
"S" Mintmark on Reverse: San Francisco Mint Struck the Coin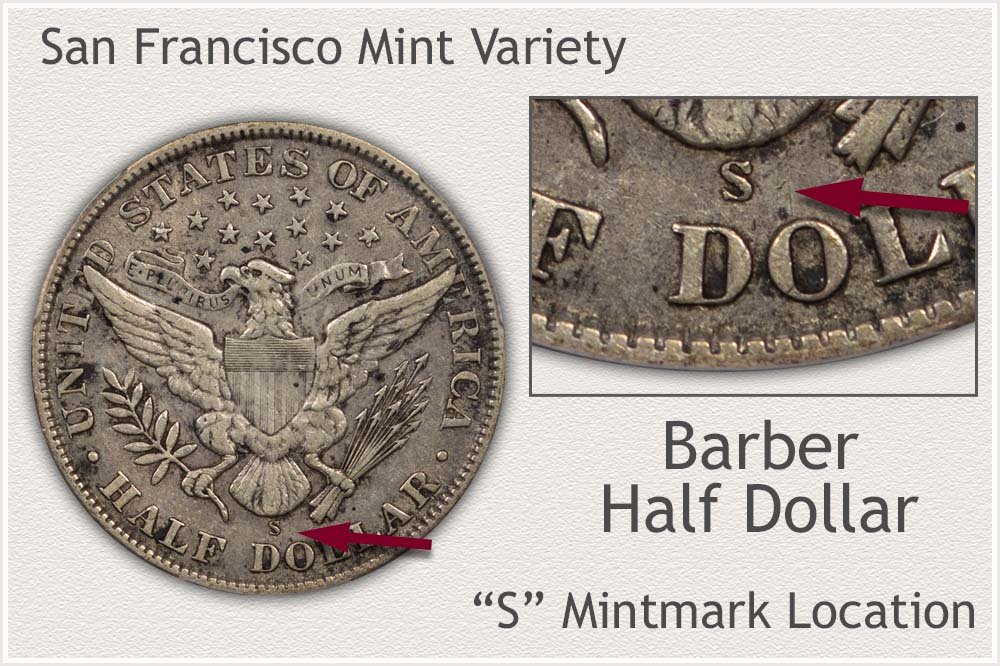 Only 933,900 half dollars were recorded as struck and released into circulation by the San Francisco mint in 1897, a significant drop from previous years. A coin that has now risen to the top of collectors' wish lists due to its low mintage of less than one million, making it the series' fifth lowest mintage year. These are rare to find in nice condition and are worth significantly more than their base silver value. To include in their sets of Barber half dollars, collectors seek a high-quality example.
To identify its production of half dollars, San Francisco used the letter "S" mintmark. An "S" appears on the reverse of the coin, below the eagle's tail feathers, indicating the San Francisco variety half.
1897-O Barber Half Dollar
"O" Mintmark on Reverse: New Orleans Mint Struck the Coin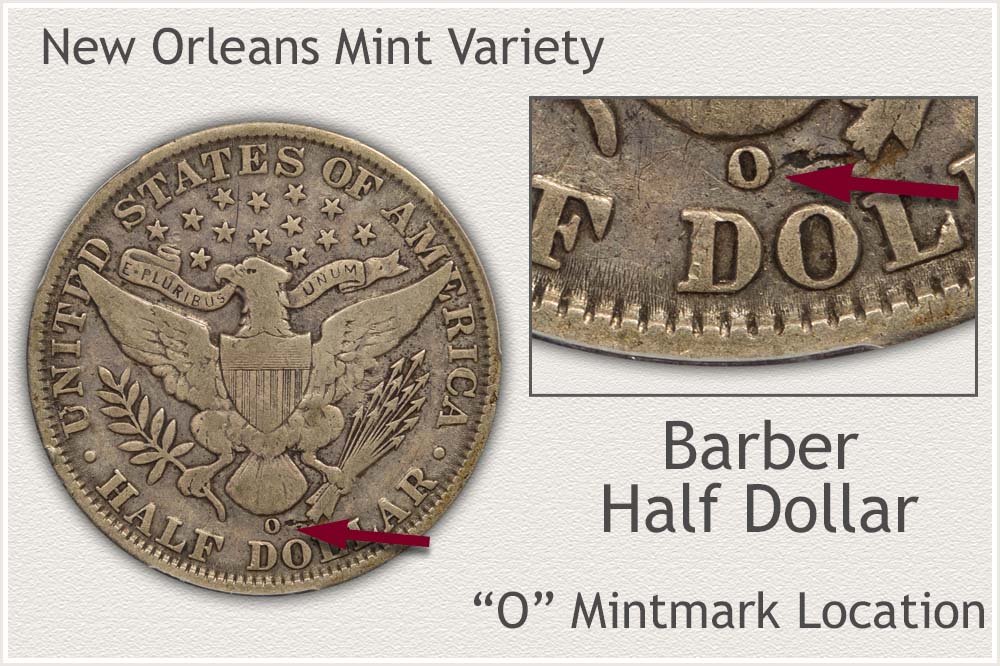 Midway through the 1890s decade, the New Orleans mint produced a very small amount of half dollars, well below the typical year. The number of 1897 half dollars struck by New Orleans became the third lowest mintage of any year in the Barber series. Only 632,000 half dollars were coined, ensuring collectors' attention. In all stages of preservation, these challenging to find coins are highly prized and have become a scarce addition to any collection. Step 2's grading the coin's condition section is a very important part of the value process.
The large "O" mintmark on the reverse of 1897 half dollars is used to positively identify the mint. New Orleans mintage is confirmed by a large "O" mark below the eagle, just above the lettering "HALF DOLLAR."
1897 Barber Half Dollar
No Mintmark on Reverse: Philadelphia Mint Struck the Coin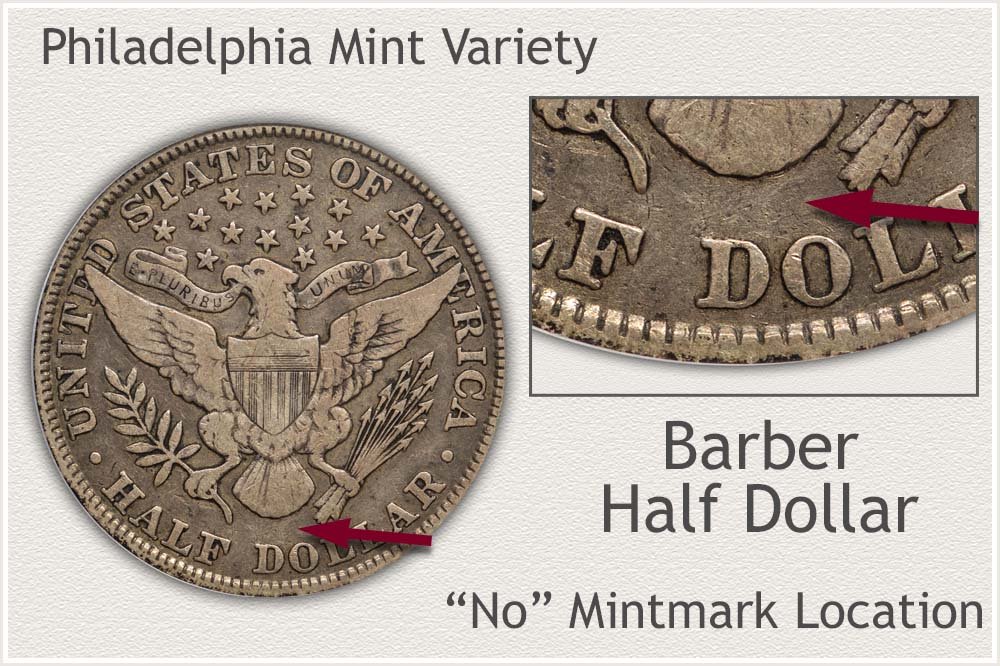 1897 Philadelphia half dollars are an issue favored by collectors of the Barber series. Correctly identifying the variety finds a highly sought collectible. Philadelphia struck just over 2.4 million and once released into circulation, many remained, becoming very worn. Both silver investors and collectors create a market for the date. Collectors seek these as a representation of the year, as both branch mint varieties are scarce. Available supplies of very worn examples are sought by those interested in their silver content.
Inspecting closely the reverse, identifies the Philadelphia mint variety. In the lower part of the coin, above the "D" of "Dollar" the space is empty. This confirms Philadelphia struck the half dollar.
Step 2: | Judge Condition to Determine Grade
Above Average Condition and Eye Appeal are Awarded Premiums
To determine value, a coin's eye appeal must be considered, as well as its condition as compared to images depicting differing stages of wear. A narrow grade range is established based on comparison to these images.
A matching of your coin against the images and descriptions of grades, helps find its place on the chart.
Mint State Grade
Mint State: It is small details separating a Mint State condition half from one with circulation wear. A lofty grade of Mint State is defined as no wear to the surface of the coin. Both high points and low areas of a coin's design are susceptible to smoothing and flattening of metal as they are used in commerce.
When first minted, all small details are raised and defined by contours and peaks. When a coin is in circulation, smoothing of the metal removes its initial texture, lowers, and flattens these easily worn points. Notice the fine lines of hair are visible above Liberty's forehead. This hair is located at the highest relief area of the design, any wear quickly smooths out the design, leaving a flat spot. Helping to confirm no wear to the surface, all lines of hair are visible and covered with a fine texture that shines under a light.
Additionally, leaves are also very high in relief, forming a wreath within Liberty's hair. A significant feature of the leaves is their raised edges on some and high contours on others. Edges and high points of the leaves on the example half remain well defined. If wear occurs, these areas become smooth, flattened, and a subtle gray in color.
Extremely Fine Grade
Extremely Fine: A half dollar in the Extremely Fine grade is defined by small areas of minor but visible wear. These coins have only a few spots of wear-flattened regions on them. A large portion of the surface has also been lightly smoothed, and the silver now has a soft gray hue.
To distinguish the grade, important design features, especially in high profile regions, are still present. Liberty's headband bears the word "Liberty" in deeply impressed letters above her forehead. It is required each letter is complete and bold. The ribbon's entire edges are also visible above and below the lettering, an important feature to the grade. The addition of a complete ribbon gives the coin a sharp appearance and supports its Extremely Fine grade.
Next, helping to identify a half dollar as high quality is the leaves of the laurel wreath are all distinct from one another. Within the leaves, there are pronounced high and low contours and no blending of leaf edges where they overlap. An overall well detailed appearance is the "look" of the high condition, quality grade half dollars.
Fine Grade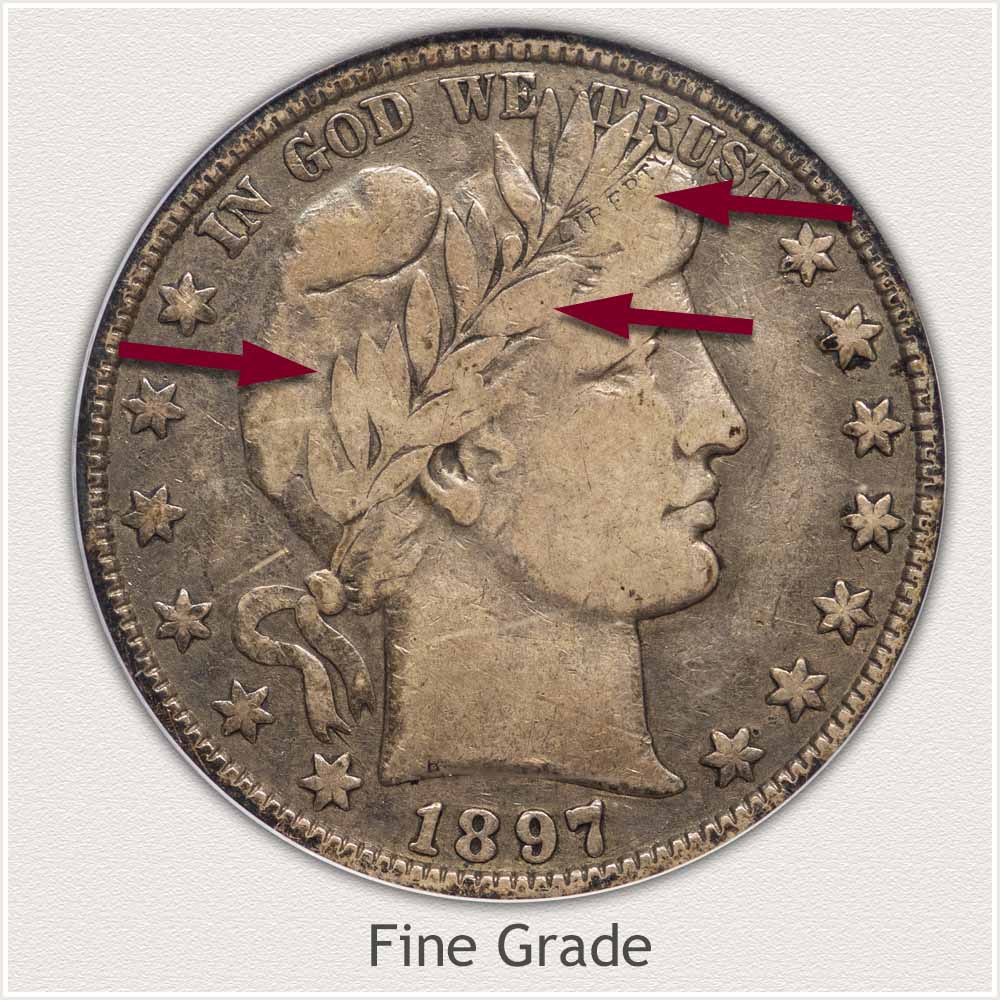 Fine Grade: Barber halves in Fine grade are frequently considered by new collectors of the series to add to their collections. A coin that is moderately worn but still displays many fine details is defining the grade and condition. A great deal of detail is still visible on coins in this condition. There is readable lettering within the headband and plenty of features remaining within the wreath.
To receive the Fine grade, all the upper leaves within the wreath are outlined. The only leaves to merge in the upper pointing row are the two closest to her ear and just above. However, the example falls short of a higher grade, though, because the lower leaves lack detail with extensive blending. A significant amount of the lower leaves' defining edges are missing and have merged with Liberty's hair.
The fact that the letters "LIBERTY" are easily discernible in her headband is noteworthy. All are strong with only a minor amount of fading along the lower half of the letters. Letters on this headband are deeply impressed at this highest point of relief on the design. Any absence of detail, and loss of letters indicates a significant amount of metal has been removed by wear.
Fine grade condition represents a pleasing appearance. With many details visible, only mild flattening on her cheeks and neck, a bold date, and a strong rim, this is a quality half dollar.
Good Grade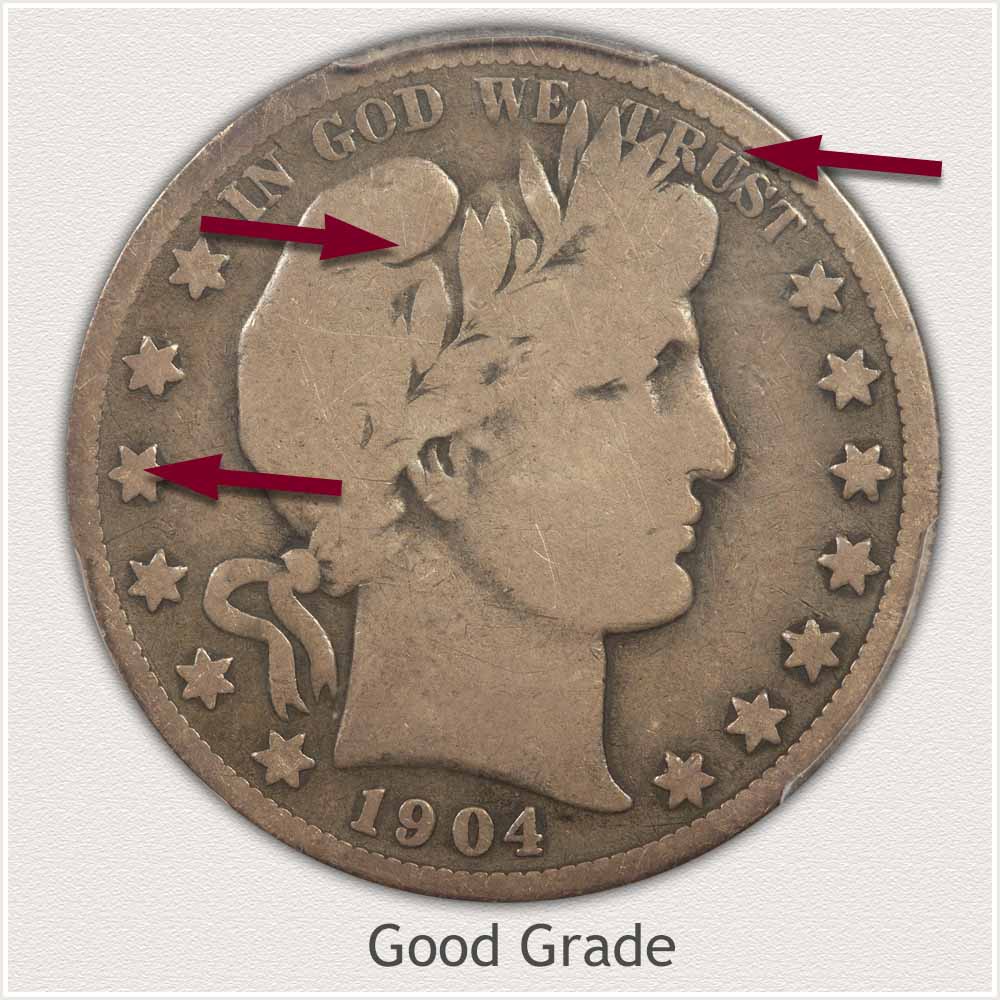 Good Grade: Liberty's portrait originally rounded and contoured is now flattened from wear. A "Good" grade is defined and recognized by the absence of most fine details. There are occasionally a few leaf edges visible in her portrait, but no indication of a headband is present.
A well-defined and complete rim is required in order to qualify these old halves as being in a condition that is acceptable for the Good grade. Along the rim, the motto's letters at the top of the design are complete. The outer edges of the star points are not merged with the rim. And finally, a bold date completes its pleasing appearance.
A soft gray tone to the silver, highlighted by a deeper color around the rim adds aesthetic value. A distinct absence of distracting marks or scratches is also a definite plus.
How to Video: Grading Barber Half Dollars
Expand the grading process to help confirm a narrow grade. Condition is often a large factor when placing a value on these Barber half dollars.
Video, Images and Descriptions | Grading Barber Half Dollars
Step 3: | Special Qualities | Basic Scarcity
1897 Half Dollars are a Scarce Key Date
Barber half dollars are a challenge to collectors. Firstly, many date and mint issues are basically scarce because of low mintage numbers. Secondly, because of the large denomination, a significant amount of money at the time, few were saved.
The combination of few original coins made plus few remaining, places them as difficult to find in nice condition. 1897 highlights the supply problem collectors face.
Philadelphia mint Barber halves are the available issue of the year. 2.4 million produced. The majority remaining however is limited to heavily worn examples. Finding a pleasing 1897 half dollar of the Philadelphia mint variety is a challenge today.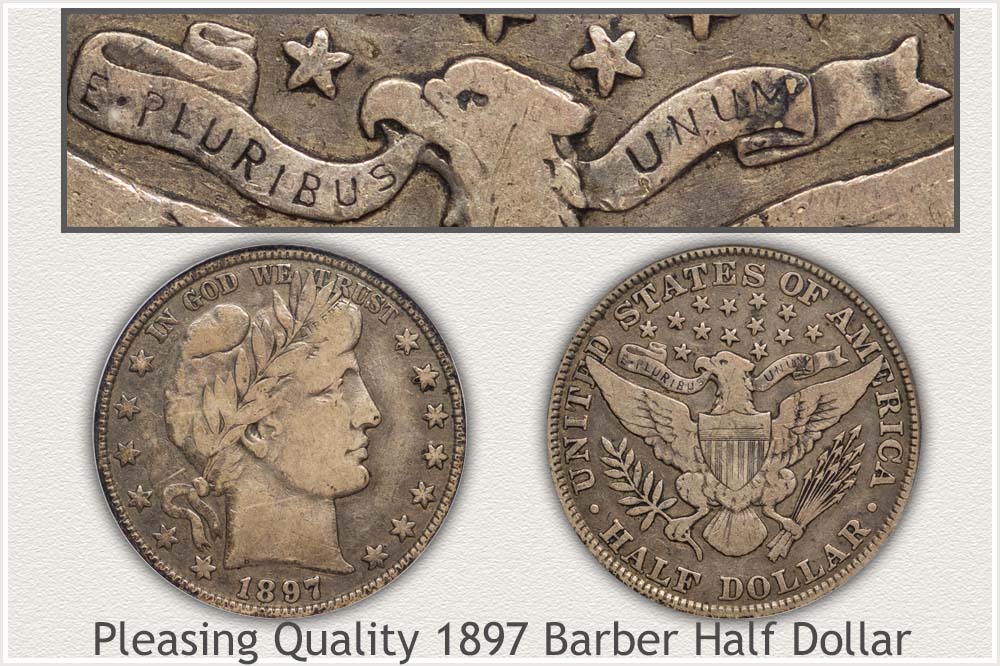 The above coin is solidly within collectible status. The condition is graded as Fine by a major grading service, PCGS (Professional Coin Grading Services), and displays richly toned surfaces. Ample detail is visible with mark free devices.
Availability becomes difficult with San Francesco 1897 half dollars, only 933.000 were struck. Collectors searching for lightly circulated or better examples have very limited numbers to choose from. Demand is supporting high values.
A key mint variety and a very scarce coin of the entire series is the New Orleans 1897 half dollar. Now a very old coin representing both the nineteenth century of coinage and an obsolete mint, these are highly valued. The 1897 New Orleans half dollar is elusive in all states of preservation. Recommended to handle only by the edges, gently.
1897 half dollars have the special qualities of scarcity, historical nineteenth century coinage, and strong values. Collectors support values in all stages of condition.
References
U.S. Mint. 1898 U.S. Mint Annual Report https://nnp.wustl.edu/library/book/319
U.S. Mint. Catalogue of Coins of the United States. https://nnp.wustl.edu/library/book/554591
Coin Values | CoinStudy Articles
Date by Date
In Depth Barber Half Dollar Values
1892 to 1915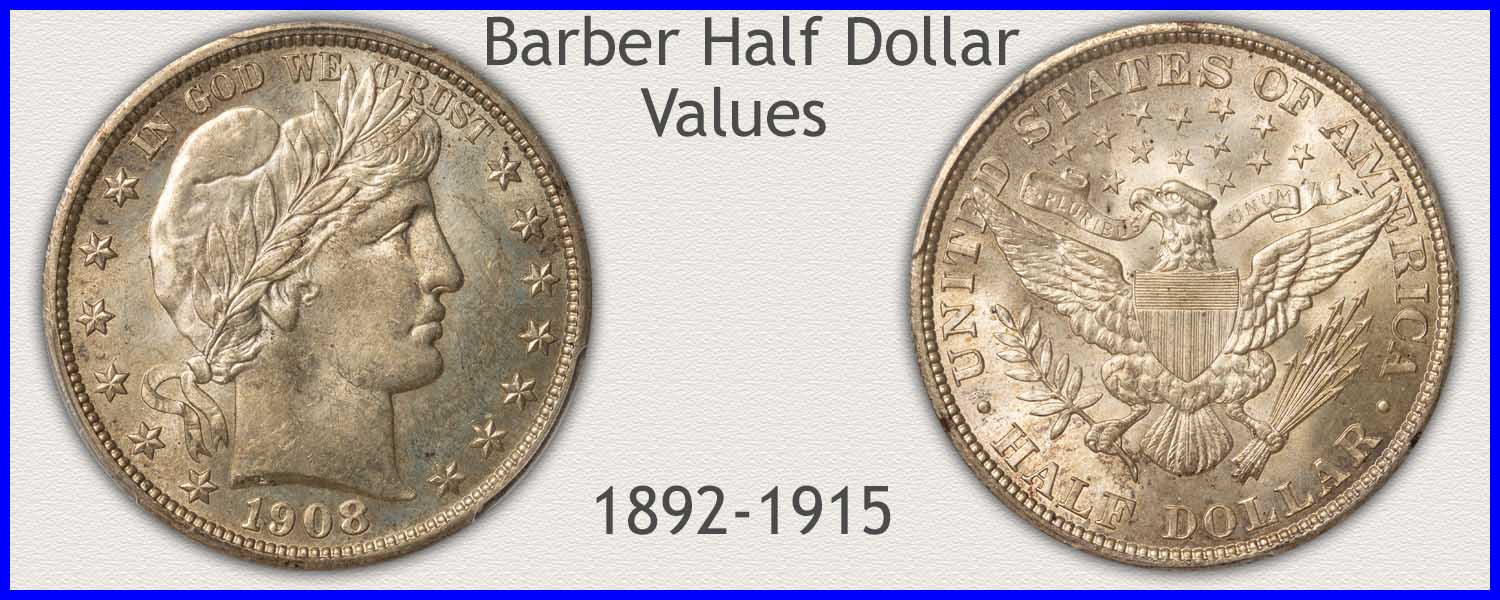 Barber Half Dollar Value | Importance of Condition
Early years of Barber half dollars, those minted 1892 to 1899 all have premium values in better than average condition. A full value chart points to these scarce coins with expanded condition examples to spot the premium coins.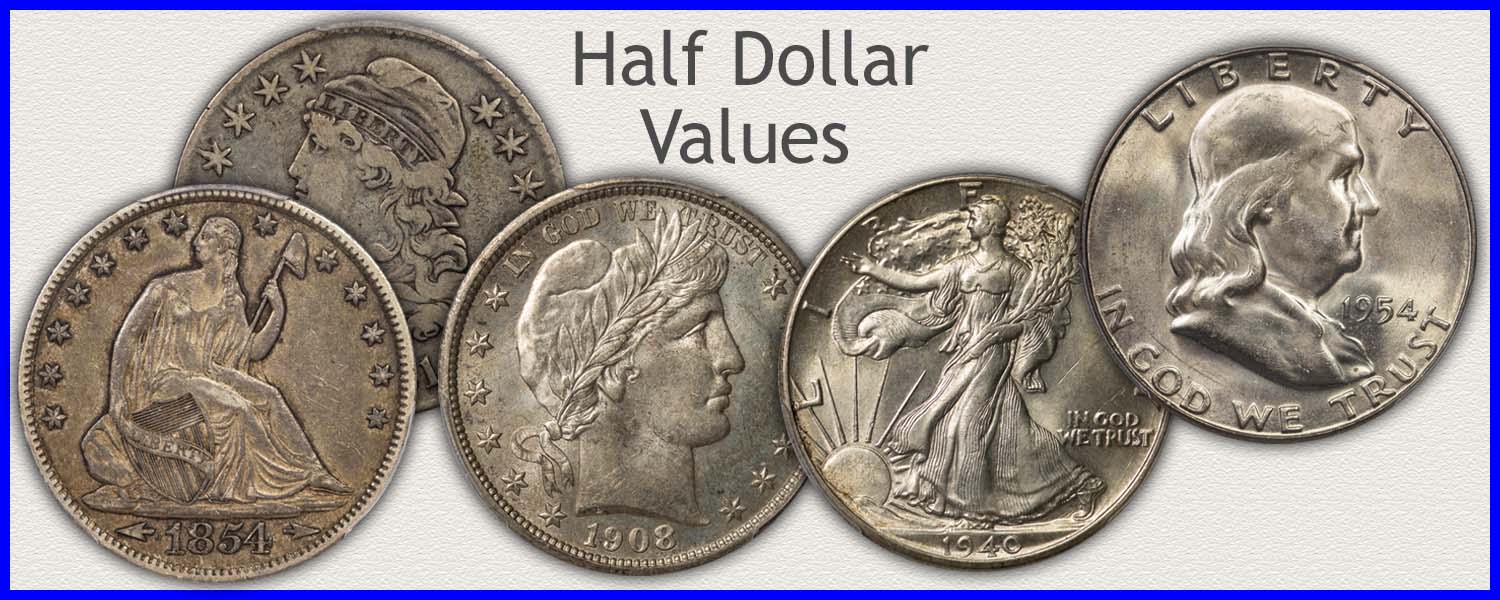 Half Dollar Value | Recognize Scarce Issues
Half dollars cover a large range in dates, mint variety, and special qualities, all needed to place a narrow range on value. Images identify the different design series linking to the key factors to how much an old half dollar is worth. Visit here to accurately identify your coin.
Old Coin Values | Step-by-Step
Follow the step-by-step process to identify the many different series of U.S. coins. Proceed through the recognition of the date and mint importance. Use images to narrow a condition range. Value charts list how much old coins are worth.
Print the Coin Values Worksheet
List and record an accurate description and value of Barber half dollars. The worksheet organizes your group of old coins and provides of record of your holdings.
Popular Coin Series | Barber Half Dollars
Coin collections are assembled of the many different coin design series. Totals of Registry Set collections gives an insight into popularity and potential demand. Collecting Barber half dollars is one theme many collectors enjoy.
Sell Silver Coins | The Vintage Silver Issues
Recognize the silver issues of U.S. coinage, many series are 90% silver. With silver moving up or down daily; using the calculator determines the current worth. Separate higher quality, collectible examples by comparing to images.
Coin Grading Services | Authenticate and Grade of Coins
Grading services review your coin and place a grade on its condition. A professional assessment of authenticity and condition. Market acceptance of the top two services, NGC and PCGS, help provide a narrow range when placing values on coins.
★Coin Values Discovery finds 1897 Barber Half Dollar Value and...
Coin values index. Dates, mints and condition are covered by following images to the different series, all valued individually. Follow the step-by-step method, comparing your coin to descriptions and images helping identify the important qualities to a narrow value range.