Coin Values Moving with Precious Metals: Up-Dated 9/25/2023: Gold $1921 | Silver $23.44
1907 Half Dollar Value
A nice starting minimum to 1907 half dollar value is $13.28 , which represents a heavily worn coin.
When assembling sets of coins, collectors strive to collect an example of each mint issue. This year four mints struck the halves, an uncommon occurrence for the series. A special year for collectors to pursue nice examples.
Included in determining values, Barber halves are worth a premium when judged in above average condition. To identify the quality of these coins, images in the grading section proceed through a process of comparing and recognizing stages of wear.
Steps Leading to Value:
Step 1: Date and Mintmark Variety - It is important to note that the value chart shows four mints struck 1907 half dollars. Identify the variety combination to find the correct listing.
Step 2: Grading Condition - Collectible coins are judged by their state of preservation. Each is assigned a grade to narrow its place on the value chart.
Step 3: Special Qualities - A quality Barber half is appealing to collectors. Each coin is examined to identify and separate high demand examples. Determine if the coin's appeal is to silver investors or collectible quality.
1907 Half Dollar Value
Condition of Coin
Date
Good
Fine
Extremely
Fine
Mint
State
Barber Half Dollar Values Updated
5/25/2023
1907
$13.28
$42
$172
$368
1907 D
$13.28
$42
$176
$362
1907 O
$13.28
$63
$172
$381
1907 S
$13.96
$102
$289
Rare
The above Coin Value Chart is a listing of Wholesale values. Computed by applying a mark-up factor specific to Barber half dollars to an average of retail prices and auction results.
Step 1: | Date and Mint Variety Confirmed
Expanded Production and Four Mints to Identify
1907 half dollars were produced at four mints in ample quantities to supply commerce. Collectors today seek an example from each mint as part of a set of Barber half dollars. On U.S. coinage, branch mints were required to identify their production with a mintmark.
Notable for the year is the low number of half dollars struck by the San Francisco mint. Also of importance, 1907 is a year all four U.S. mints struck Barber half dollars, a rare occurrence. Identify the exact mint variety.
1907-S Barber Half Dollar
"S" Mintmark on Reverse: San Francisco Mint Struck the Coin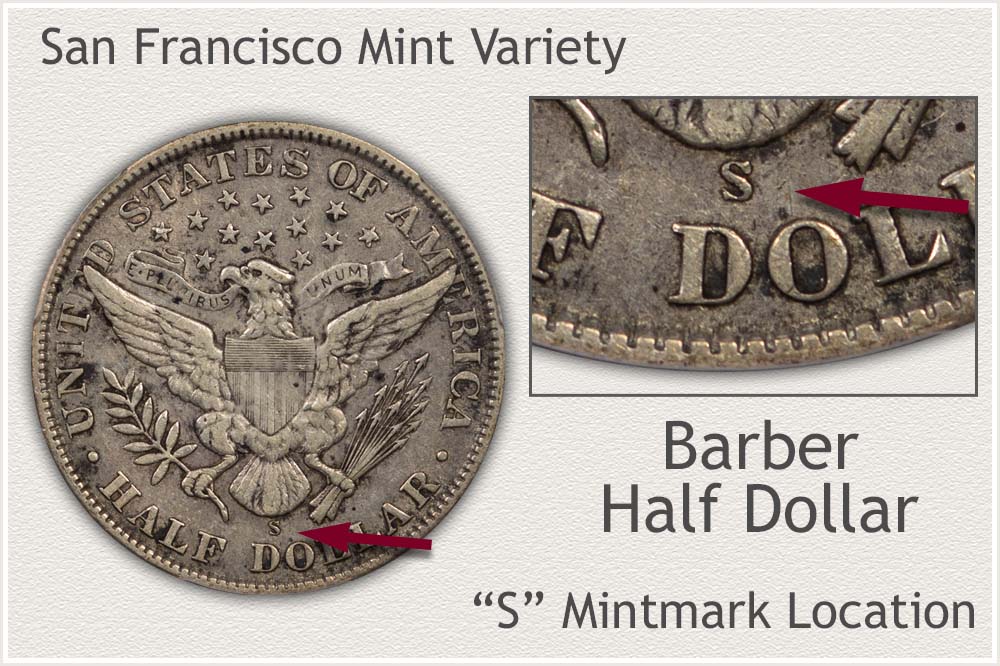 An accurate description of a coin includes both the date and mint variety. 1907 half dollars are significant as a moderate amount was produced, however, they were sparsely saved. The western mint in San Francisco issued 1,250,000 into circulation. Because of its numbers minted, and low amounts remaining, these are a highly valued coin. Those few saved from circulation are in low condition, difficult to find are well preserved, detailed examples. Nearly all are considered collectible in nice condition with small details remaining. Now an important coin to find.
Confirm the San Francisco issue by the "S" mintmark on the reverse. Below the eagle and above "HALF DOLLAR," the "S" mintmark is visible. An in-demand collectible.
1907-O Barber Half Dollar
"O" Mintmark on Reverse: New Orleans Mint Struck the Coin
1907 saw the New Orleans mint as the largest contributor of half dollars among four mints issuing coins that year. Coining what became their second highest production year of the series striking 3,946,000 halves. These are available in low condition, true premium examples are those with details remaining within Liberty's hair, wreath, and headband. A special year with four mint issues, and the popularity of the New Orleans variety. These today are an excellent entry coin for a new hobbyist.
New Orleans was a branch mint serving the south and all its coinage features an "O" mintmark. Identify the mint by finding the large "O" mark on the reverse in the lower area of the coin, above the "D" of DOLLAR.
1907-D Barber Half Dollar
"D" Mintmark on Reverse: Denver Mint Struck the Coin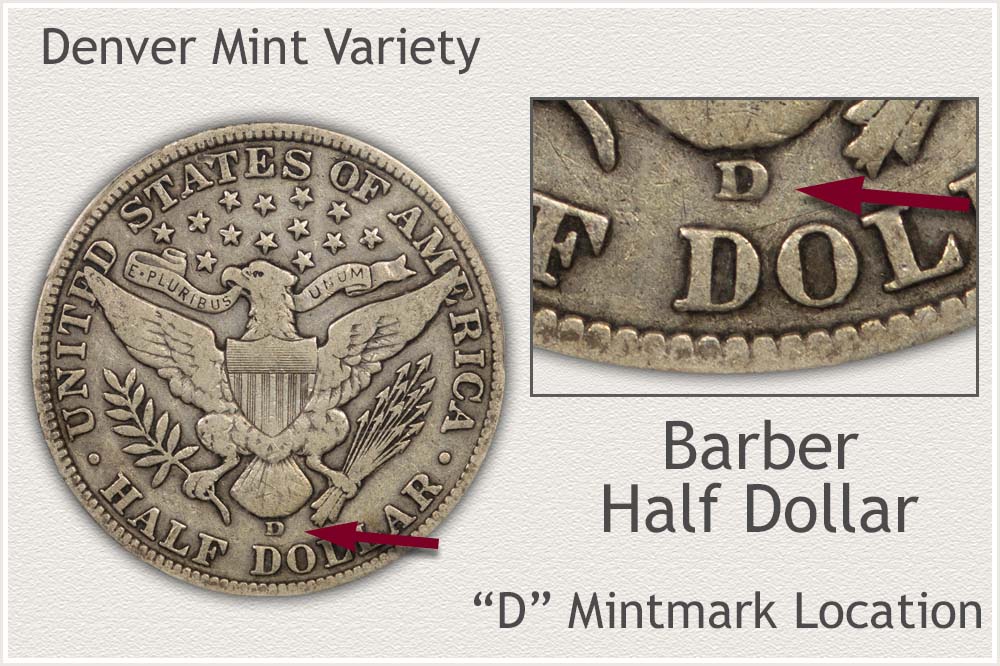 Year two of producing half dollars, the Denver mint struck 3.8 million 1907 Barber halves. A significant number remain available to collectors today, most however are heavily worn.
1907 halves are considered one of the available dates, affordable, and a popular issue with new and beginner collectors. Confirm the Denver variety by the large "D" mintmark found on the reverse. In the area between the tail feathers of the eagle and lettering of Half Dollar, the "D" mark is the Denver issue.
1907 Barber Half Dollar
No Mintmark on Reverse: Philadelphia Mint Struck the Coin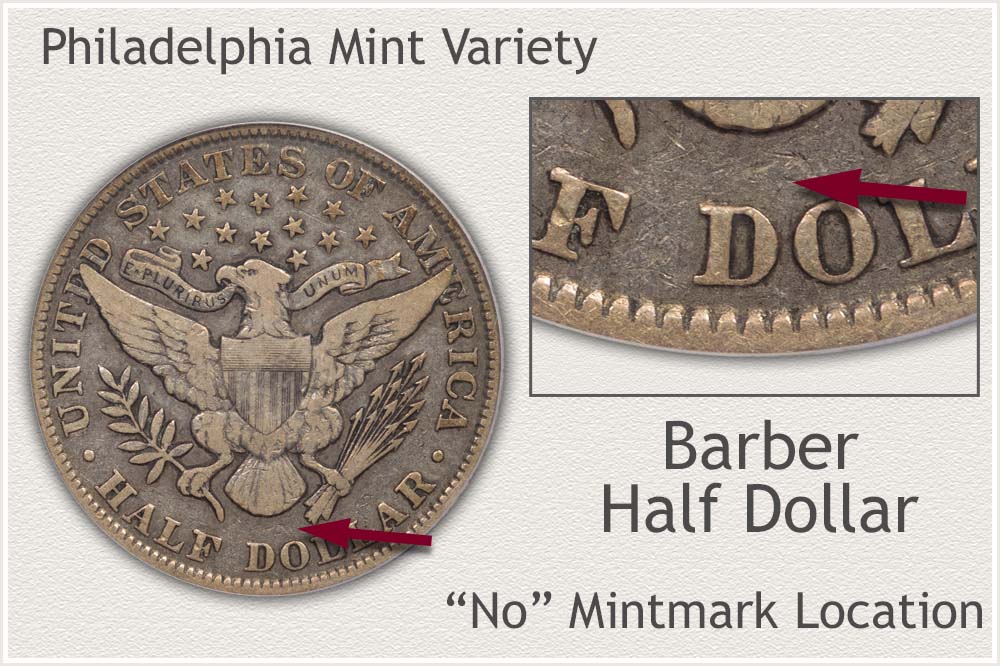 Midway through the Barber series the main mint in Philadelphia produced a series average number of half dollars. 1907 production topped just over 2.5 million pieces. What contributes to value is both their heavy silver content, 90% silver by weight, and premiums rising when condition of the coin is above average in preservation. Adding to appeal is the affordability of worn example to beginning hobbyist.
Confirming the Philadelphia variety is the absence of a mintmark on the reverse. Philadelphia is the main U.S. mint, and at the time did not use mintmarks to identify its coinage. Inspecting the reverse, look just below the eagle. If the space is empty, Philadelphia struck the coin.
Step 2: | Judge Condition to Identify Grade
Collectible Condition Identified to 1907 Half Dollar Value
Next important step is "grading" the condition of these coins. Grades are a definition used by the collecting community to describe the current state of preservation and condition. From heavily worn to no wear at all, each stage in progression is recognized by the extent of wear on key features of the design.
Once a narrow range of condition is graded, referencing the chart finds a more accurate value. Use a single light source and, holding the coin by the edge, slowly tilt the coin and note any subtle details described in the grading examples imaged below.
Mint State Grade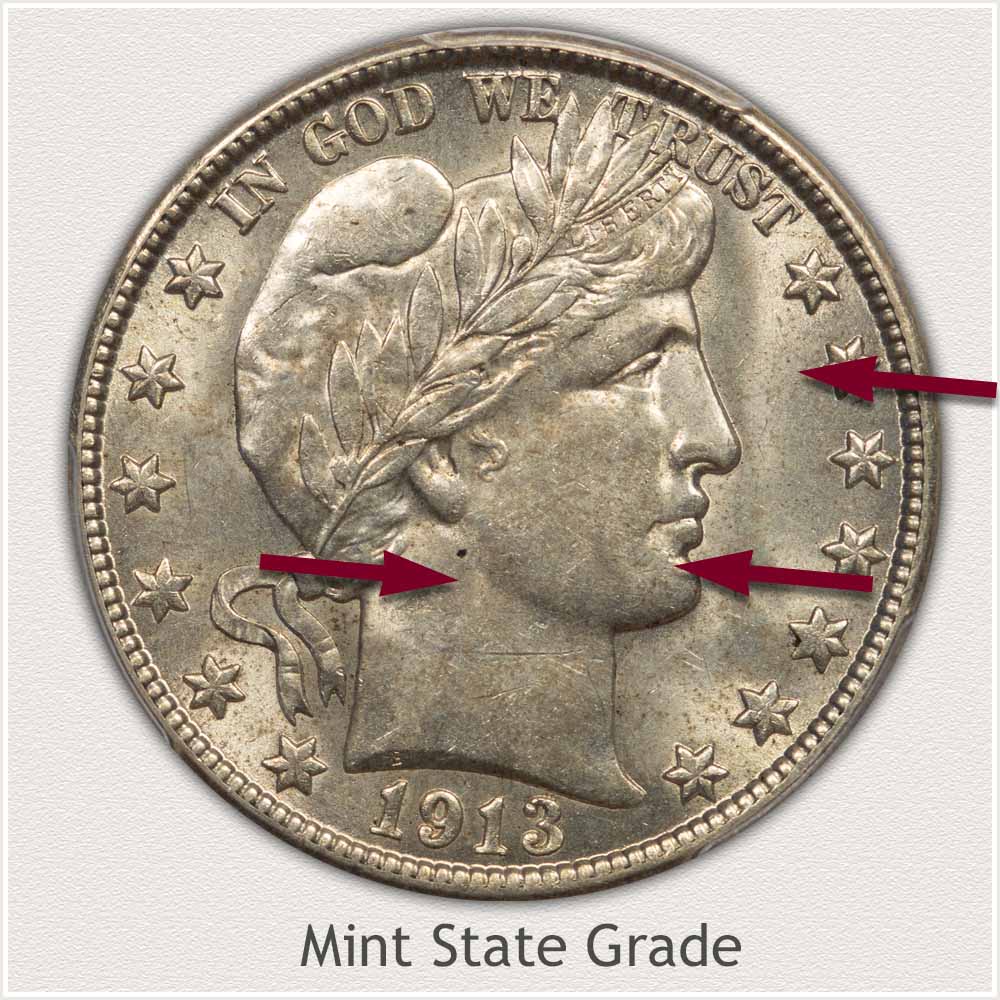 Mint State: Magnification is helpful in detecting the elusive Mint State condition. Using a 3x to 5x power glass allows you to see the fine texture lines of luster, important to the grade. Luster is the result of striking the coin during minting. It forms the shine typical of a newly minted coin and is an elusive condition of these old Barber half dollars.
Intact luster and no wear to the surface define a Mint State grade half. High areas are first to receive wear once in circulation. Focus on Liberty's cheek line and jaw separation. Both high points and low recesses are part of a contoured surface. Matching metal texture, covered in luster on her cheek and lower contour of jaw, is helping place the example coin in this high-quality condition.
Next, examine the coin's field in front of Liberty's face. Here the openness of the field also receives initial wear and becomes dull and smooth in texture. No smooth texture and dulling on both the cheek and field confirm the mint state grade. Tilting the coin slowly under a single light, and a complete shine covers all surfaces.
Extremely Fine Grade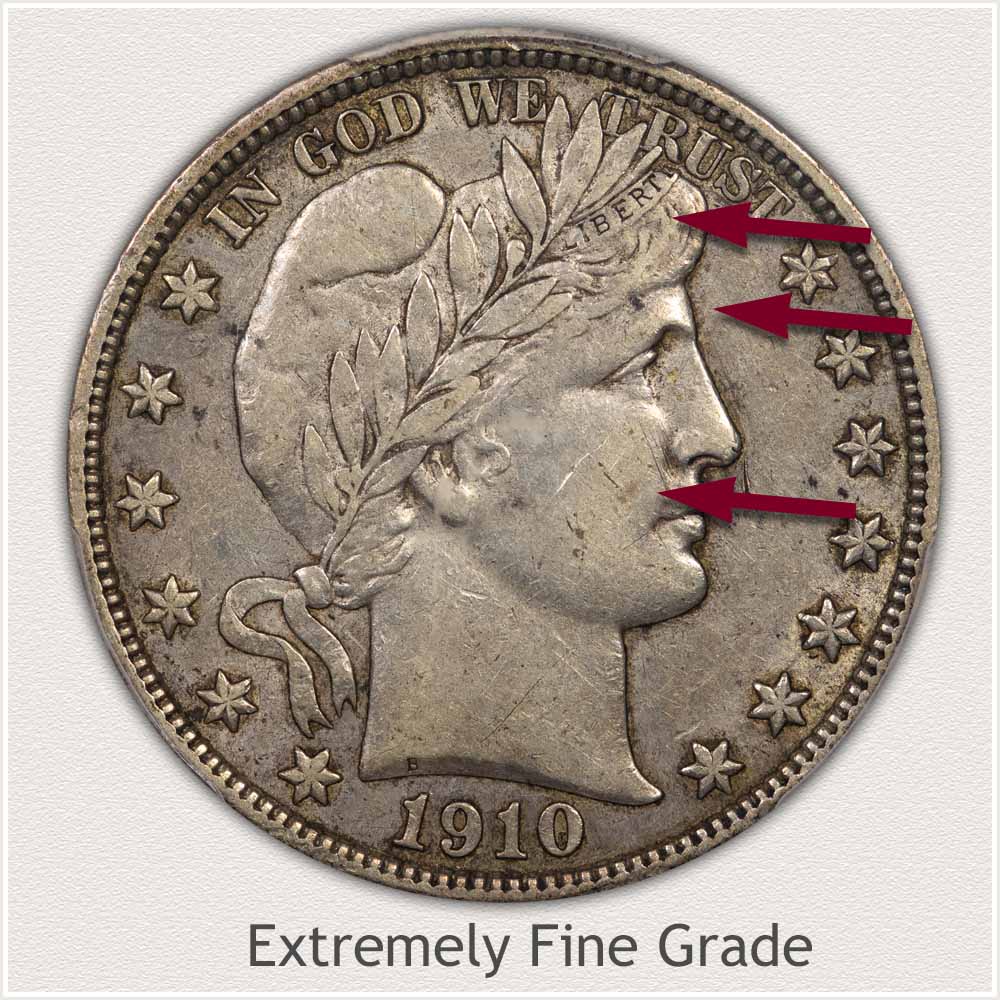 Extremely Fine: There is an active collector market for Barber halves in Extremely Fine condition. However, a few important factors are needed to qualify at this high level of preservation. Firstly, defining the grade is a coin displaying all minor detail with only light wear smoothing the highest relief details.
An important consideration to collectors is complete and full lettering of "LIBERTY" within the headband holding Liberty's hair. This area, very high in contour, wears quickly smoothing the ribbon containing the lettering. A well detailed, Extremely Fine grade example shows clearly all lettering and both top and bottom edges to the ribbon. These crisp details are giving a defined appearance to the coin.
Liberty's portrait is also highly contoured with low reliefs along her jaw. Her eyebrow is a very high point and to qualify for the grade the brow is only smoothed and flattened slightly. Areas of Liberty's cheek, and neck remain well rounded in contour with just a slight flattened appearance under her eye. One of the requirements to the grade is no widespread connecting of flattened areas. A finely detailed design and features remain on these high-quality coins.
Fine Grade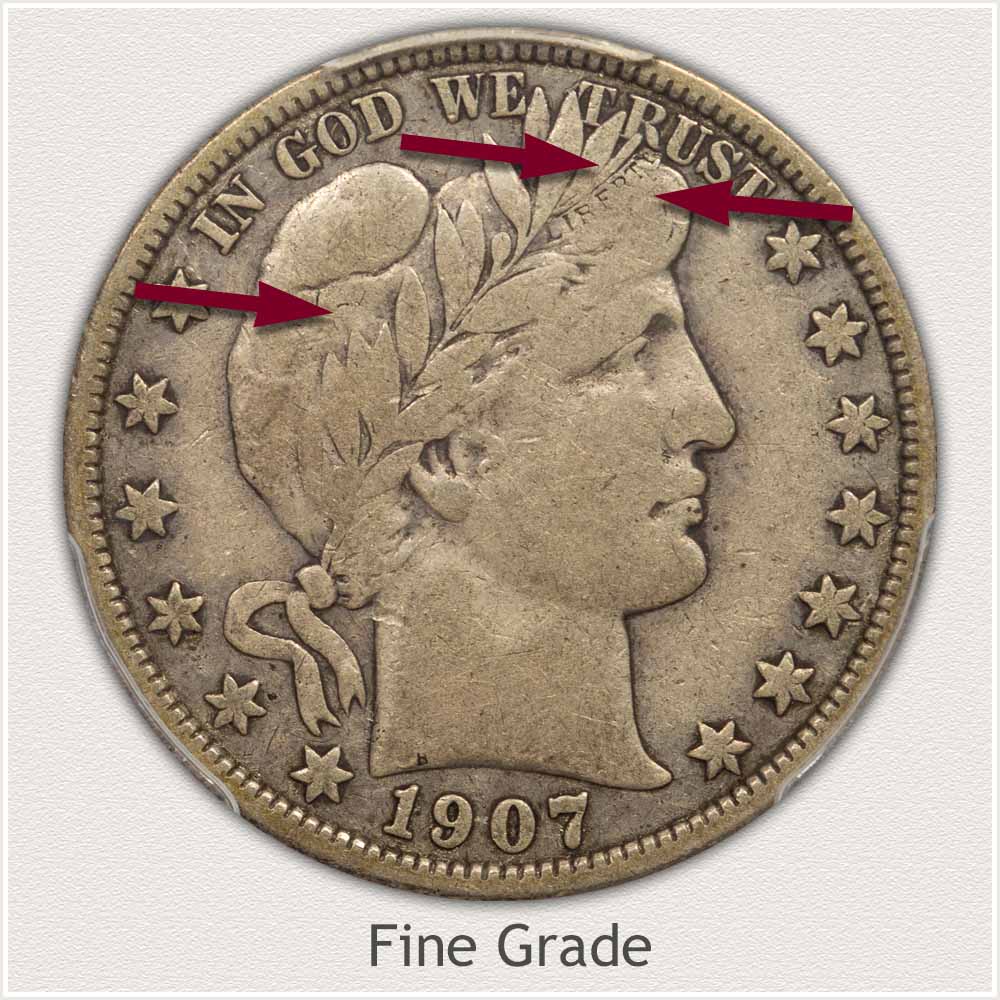 Fine Grade: A Barber half dollar in Fine condition still has some of its original sharpness of small details, there a few areas of noticeable flatness, however retains a certain crispness overall.
On these collectible quality coins, there is a balance between the detail that is present and the detail that is missing. As an illustration, the entire word "LIBERTY" is visible above the forehead. However, visible wear is also noticeable. Lettering is often fading and a once defined lower edge to the ribbon is now missing, having blended with her forehead.
Inspecting the leaves of the laurel wreath finds many fine details, a requirement to judge a Fine condition half. Within Liberty's hair, a well-detailed upper row of leaves is outlined in sharp detail. Fine quality condition is indicated by the presence of some leaves and the absence of others in the design.
In addition to having a clearly worn appearance, the coin also displays a quality look to it. There is a soft gray color to the silver with deeper tones along the edges of the rim, which highlights the remaining design and provides a pleasing appearance.
Good Grade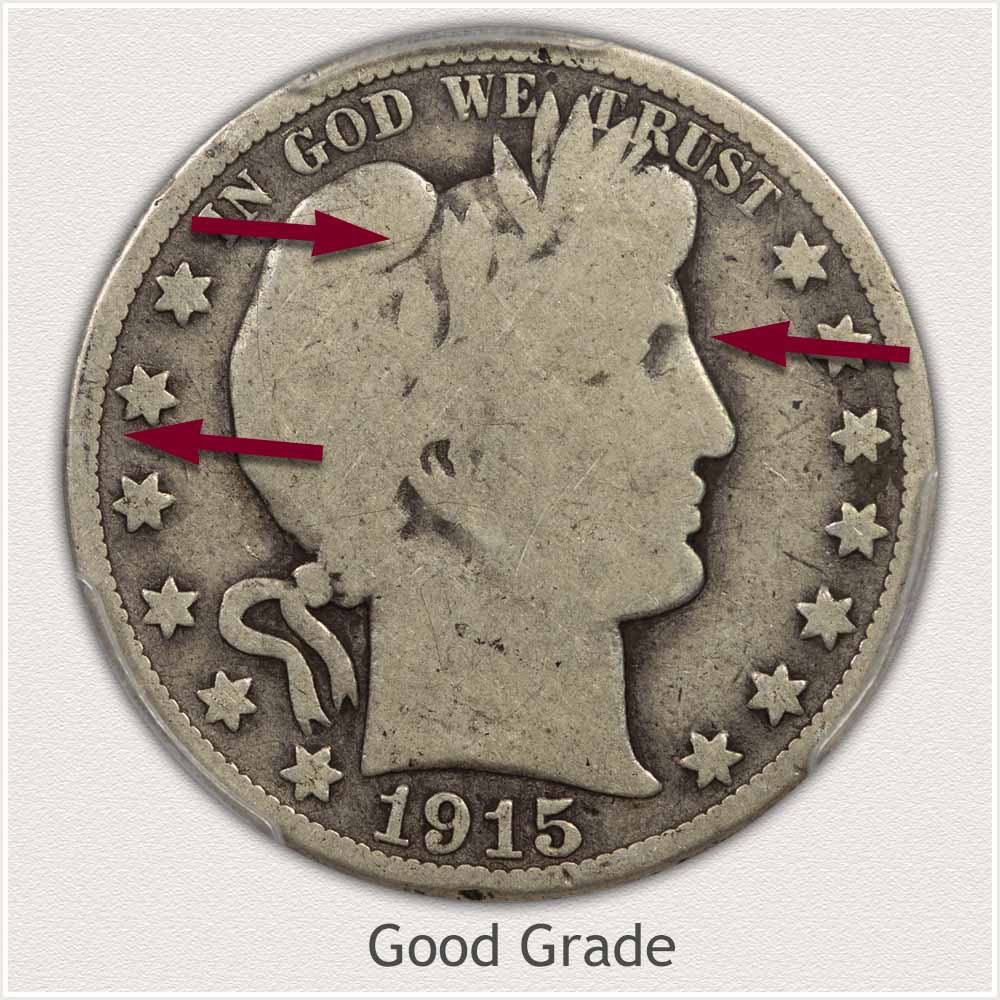 Good Grade: Defining the "Good" grade is heavy wear reducing the portrait to an outline without merging with the field. It is important coins in this condition maintain a level of crisp detail of major design features.
Liberty's wreath within her hair often shows traces of leaves, notably toward the top. Her ear and eye remain recognizable, although a line defining the jaw is very weak or completely missing.
Important is a full rim without any areas merging with lettering of the motto or the stars. A collectible coin has an overall impression of sharpness due to each remaining feature is well raised from the field.
How to Video: Grading Barber Half Dollars
Accurate value depends on judging condition of these Barber half dollars. Using the video, a focus on important areas to judge are examined. An expanded grading process narrows condition range.
Video, Images and Descriptions | Grading Barber Half Dollars
Step 3: | Special Qualities of Condition to Identify Value
An Important Quality Condition of Barber Half Dollars
Barber half dollars are heavy with silver, each worth $13.28 as a minimum. Silver is currently 5/25/2023 in the $23.44 price range. As silver moves up and down daily, bullion quality Barber halves follow this changing price.
In the collector market, higher minimum values, for these vintage series of half dollars is easily recognized by the date and mint variety as a start. Many dates and mints in any state of preservation are scarce. However, all dates and mints are worth a collector premium in Fine Grade and above.
1907 Barber halves represent one of many years these coins were minted in large numbers and are available in quantities today. Unfortunately, most of the remaining coins are heavily worn. A clear separation into the collectible category are small details visible as part of the design.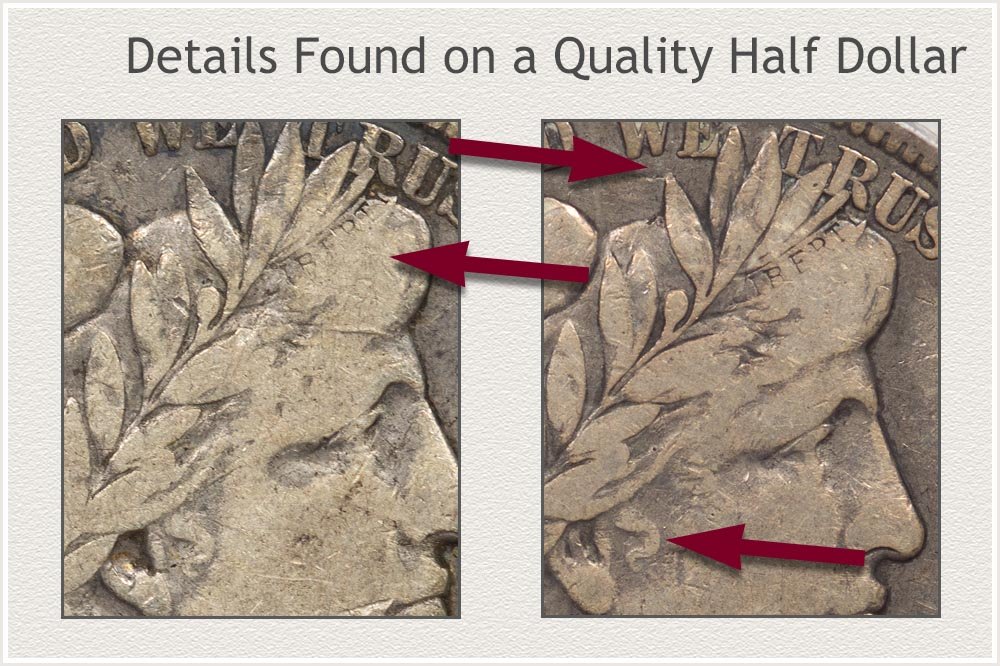 A definitive identity of collector quality is a close look at the upper part of Liberty's portrait. Remaining detail placing coins in higher collector condition is all letters of "Liberty" visible within the headband.
Each example in the image shows a readable "Liberty" across the headband. Additionally, helping to confirm the condition is the ample detail of the leaves near the top of Liberty's head. Note all edges of the upper leaves are well defined and separate of each other.
Finally, one small, subtle detail bringing aesthetic appeal is the amount of design visible around her ear. A wave of hair in front and behind the ear is visible, and leaves over the ear are clearly defined. All adding to a nice presentation and quality.
Eye appeal combined with above average condition, the Fine Grade, is an important special quality of all Barber half dollars. Nice coins are in demand and worth well above minimum silver value. Check not only date and mint varieties but also include a close examination of condition to identify a narrow value range.
References
U.S. Mint. 1908 U.S. Mint Annual Report https://nnp.wustl.edu/library/book/514124
U.S. Mint. Catalogue of Coins of the United States. https://nnp.wustl.edu/library/book/554591
Coin Values | CoinStudy Articles
Date by Date
In Depth Barber Half Dollar Values
1892 to 1915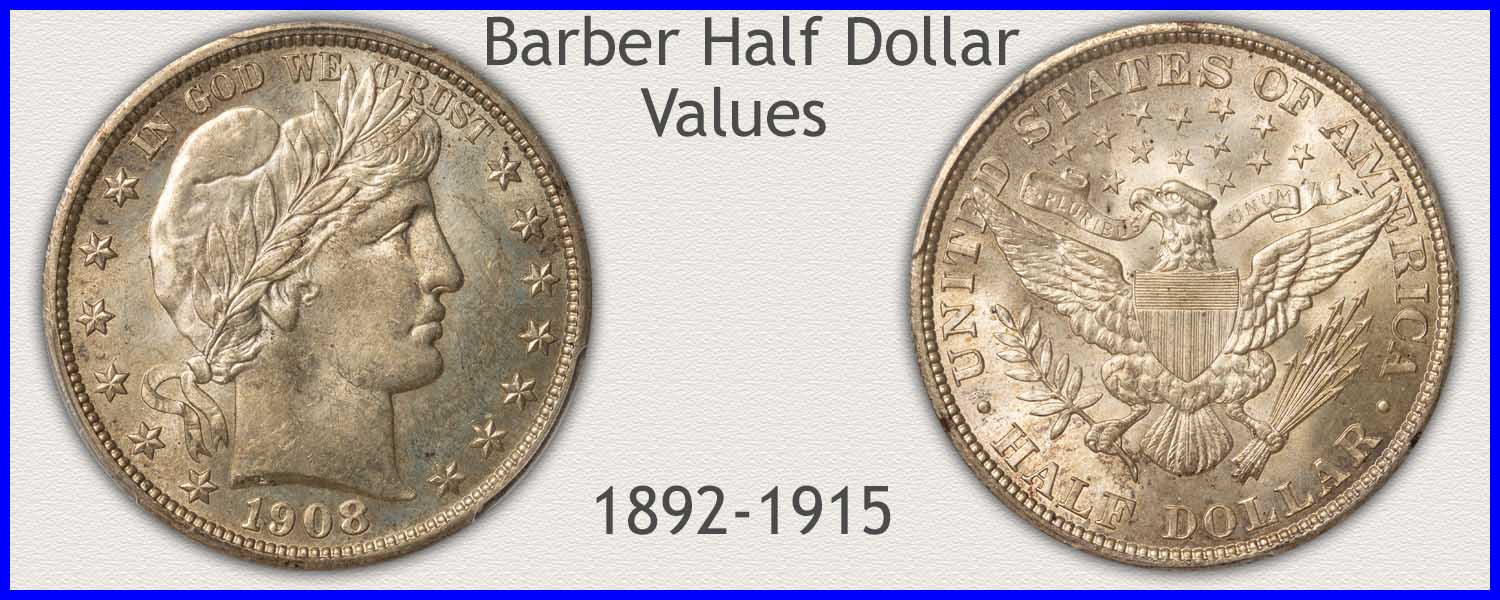 Barber Half Dollar Value | Scarce Low Mintages
Many dates of the Barber half dollar series are scarce because of low mintages, these coins standout on the full value chart with high premiums. Identify the important factors to narrow how much an old half dollar is worth.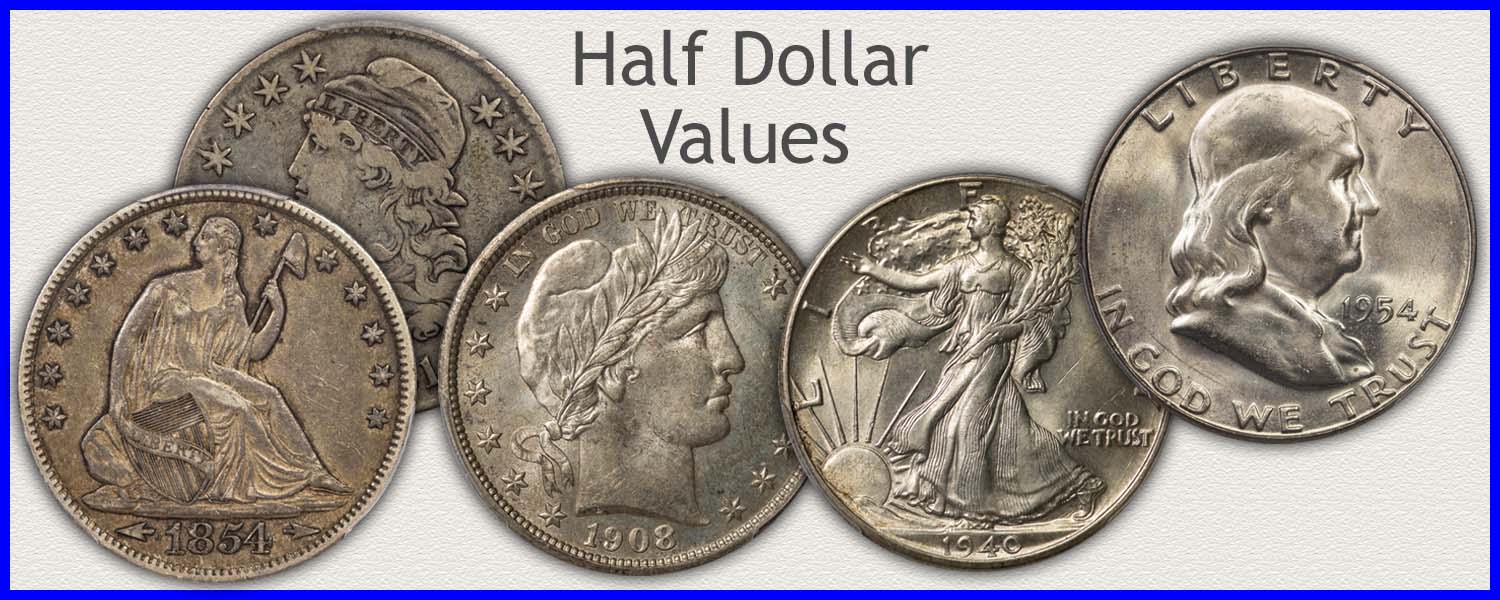 Half Dollar Value | Recognize Scarce Issues
Half dollars cover a large range in dates, mint variety, and special qualities, all needed to place a narrow range on value. Images identify the different design series linking to the key factors to how much an old half dollar is worth. Visit here to accurately identify your coin.
Minimum values of older U.S. coins are often well above face value. Compare to images of all series of coins and value charts listing starting values. Linking to expanded descriptions of dates and mint varieties, with images and descriptions of grading condition.
Silver Coin Values | Minimum Values of U.S. Silver Coins
All Barber half dollars are 90% silver. A heavy coin with a strong base silver value. U.S. coinage prior to 1965 contained silver. Images and descriptions identify these issues and the calculator show current silver worth. All vintage silver coins are premium coins worth over face value.
Sell Silver Coins | Identify Vintage Silver Issues
First recognize the different silver alloy coins minted by the U.S. Vintage series of dimes, quarters, half and silver dollars, those containing silver, are now worth well above face values. Using the calculator updates current worth. Referencing listing of dealers finds potential buyers.
★Coin Values Discovery finds 1907 Barber Half Dollar Value and...
U.S. coin value charts plus a step-by-step method, finds a narrow range to how much old coins are worth. Begin here with in-depth coverage of the important features to identify on each coin. Dates plus mint varieties are identified, judging condition with images and video; also identifying special qualities finds the potential in a box of old coins.