Coin Values Moving with Precious Metals: Up-Dated 9/25/2023: Gold $1921 | Silver $23.44
1906 Half Dollar Value
A broad range of current 1906 half dollar value is narrowed using a step-by-step approach. Accurate worth of these Barber halves is dependent on the specific date and mintmark combination, as shown in the chart.
In order to identify coins with extra premiums, the quality of the coin is also judged. With the value of the silver in the coin as a starting point. Typically the heavily worn examples are in the minimum silver value category.
A step-by-step process finds the halves approaching collectible quality. Begin by determining the precise date and mint, then compare to a series of grading images to recognize higher condition.
Steps Leading to Value:
Step 1: Date and Mintmark Variety - These old halves are defined by their date and mint combination. 1906 halves were struck at four distinct mints. A special year.
Step 2: Grading Condition - Those Barber halves in excellent condition are the most desirable among collectors. Condition of these coins is graded in order to classify it into one of the categories listed on the chart.
Step 3: Special Qualities - 1906 saw the addition of a fourth minting facility. A new U.S. mint, adding to the production of Barber halves and now a collectible addition to the series.
1906 Half Dollar Value
Condition of Coin
Date
Good
Fine
Extremely
Fine
Mint
State
Barber Half Dollar Values Updated
5/25/2023
1906
$13.28
$42
$163
$396
1906 D
$13.28
$55
$172
$352
1906 O
$13.28
$51
$172
Rare
1906 S
$13.28
$71
$163
$721
Values listed on the chart are Wholesale. Use these values as a starting range. A dealer's needs and precise condition of the half dollar all narrow this range.
Step 1: | Date and Mintmark Correctly Identified
Identify the Historical Denver Mintmark
1906 half dollars were produced at four different mints in sufficient quantities to meet the demands of commerce. In order to assemble a complete set of Barber half dollars, collectors add an example of the coin from each mint. U.S. coinage requires mintmarks to identify branch mints' production. Historically important is the first year of Denver mint coinage of half dollars.
It is noteworthy that the San Francisco mint only produced a relatively small quantity of half dollars this year. Importantly, all four U.S. mints struck Barber half dollars in 1906, a rare occurrence. Determine the correct mint variety.
1906-S Barber Half Dollar
"S" Mintmark on Reverse: San Francisco Mint Struck the Coin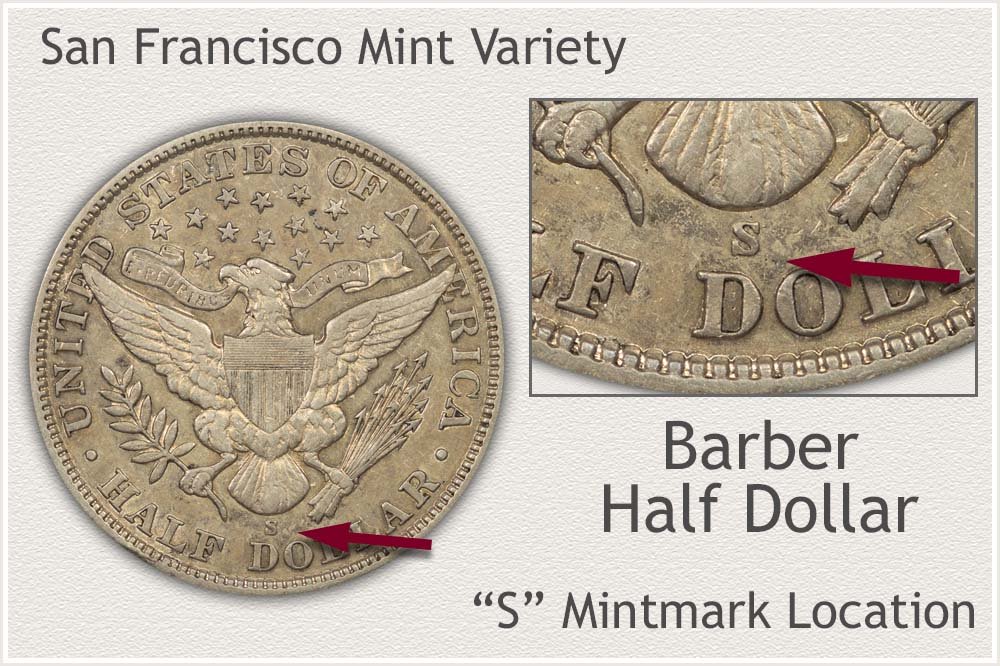 1906 half dollars of the San Francisco variety share a historical year with three other mints. The opening of a new mint in Denver started a run of increased production of half dollars, with four mints now in operation. San Francisco contributed just over 1.7 million coins to a yearly total topping 10 million half dollars.
A heavily worn example, a coin remaining in circulation for years, is valued based on its heavy silver content. As with all halves of the Barber series, any with visible fine details enters collectible status and awarded a nice premium.
A large "S" mintmark was used by San Francisco to identify its production. On the reverse, look just above the "DO" of "DOLLAR" to find mintmarks.
1906-O Barber Half Dollar
"O" Mintmark on Reverse: New Orleans Mint Struck the Coin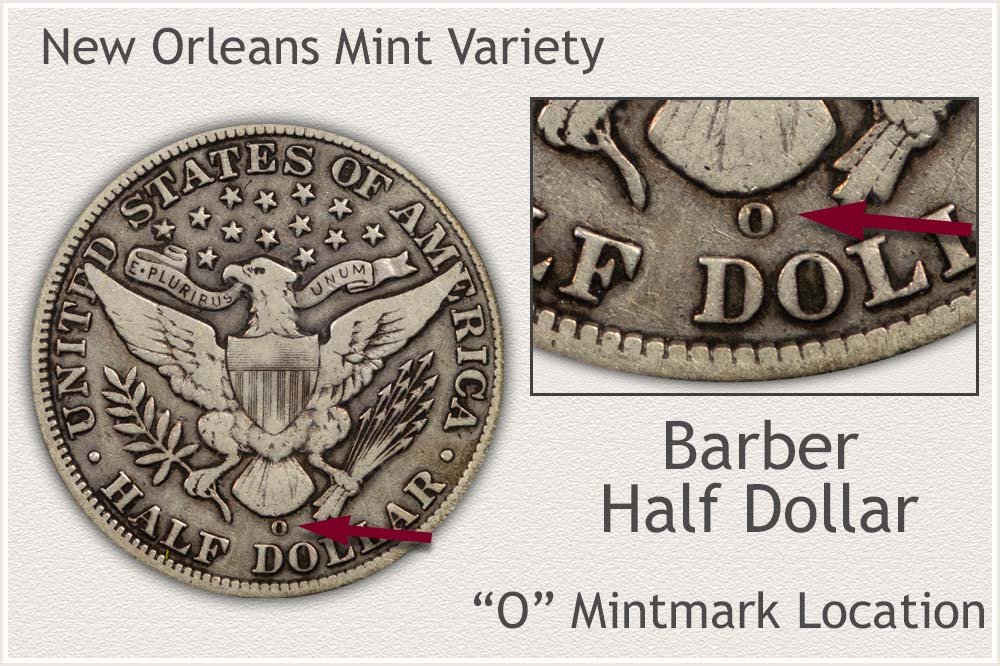 Barber half dollars issued in 1906 are receiving nice premiums as a result of steady demand for the popular New Orleans variety. It is interesting to note 1906 was a high mintage year, with 2,446,000 coins struck, much higher than the average of 1.1 million. Barber series issues, however, enjoy a strong market, providing strong value.
In addition to silver content, collectible quality condition is also considered when determining a coin's value. Step 2 gives an insight into grading condition.
To begin with, confirm the New Orleans mint variety. Each branch mint placed a mintmark on its coinage to identify its production. A mintmark "O" appears just under the eagle on the reverse. These are nice, affordable coins from a long-retired mint, heavy with 90% silver content, adding to their strong base worth.
1906-D Barber Half Dollar
"D" Mintmark on Reverse: Denver Mint Struck the Coin
In 1906, the Denver Mint began contributing to the minting of Barber half dollars. Throughout the year, ample quantities of this historically important mint variety were struck, totaling 4,028,000. Currently, there is a plentiful supply of these halves in the market. Most, however, are now in poor condition due to extensive use. Verifying the year and mint of issue, as well as the quality of your coin, are essential.
Since Denver is a branch mint, all coins struck at the facility show a distinctive mintmark. Under the tail feathers of the eagle, Denver's coinage is marked with the "D" mintmark. The large "D" mark confirms the half dollar was struck in Denver.
1906 Barber Half Dollar
No Mintmark on Reverse: Philadelphia Mint Struck the Coin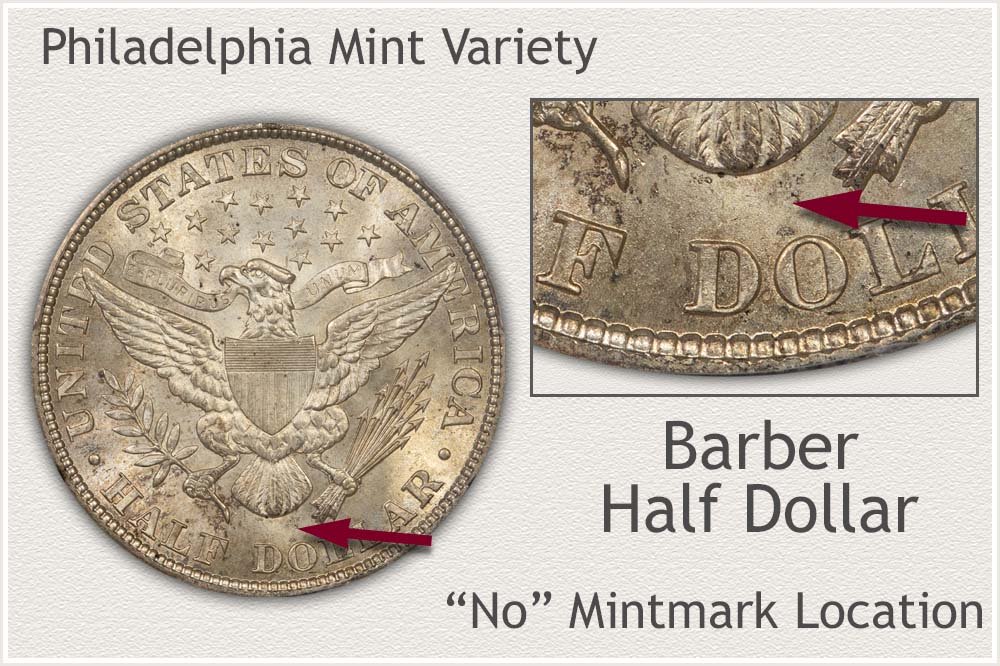 A Philadelphia variety 1906 half dollar enjoys the status of an affordable, collectible representative of the Barber series. Just over 2.6 million were produced, a series average amount. However, a smaller number when compared to a few of the earlier years, producing 4 to 5 million. Pleasing examples with fine line details visible are in demand and considered premium collectibles.
Philadelphia coinage is recognized by the absence of a mintmark on the reverse. A close examination shows the space below the Eagle's tail feathers is empty. At the time, no mintmark was used by the Philadelphia mint.
Step 2: | Grading Condition of Barber Half Dollars
1906 Half Dollar Value Found in Recognizing Small Details
General condition of old half dollars is determined by carefully examining each coin. Determining a coin's "grade" based on its level of preservation is a necessary part of coin collecting. These grades affect whether their value rises or falls.
Each coin's market value and collectibility are established by this inspection of its quality. The different grades are judged based on a close match to the images.
Mint State Grade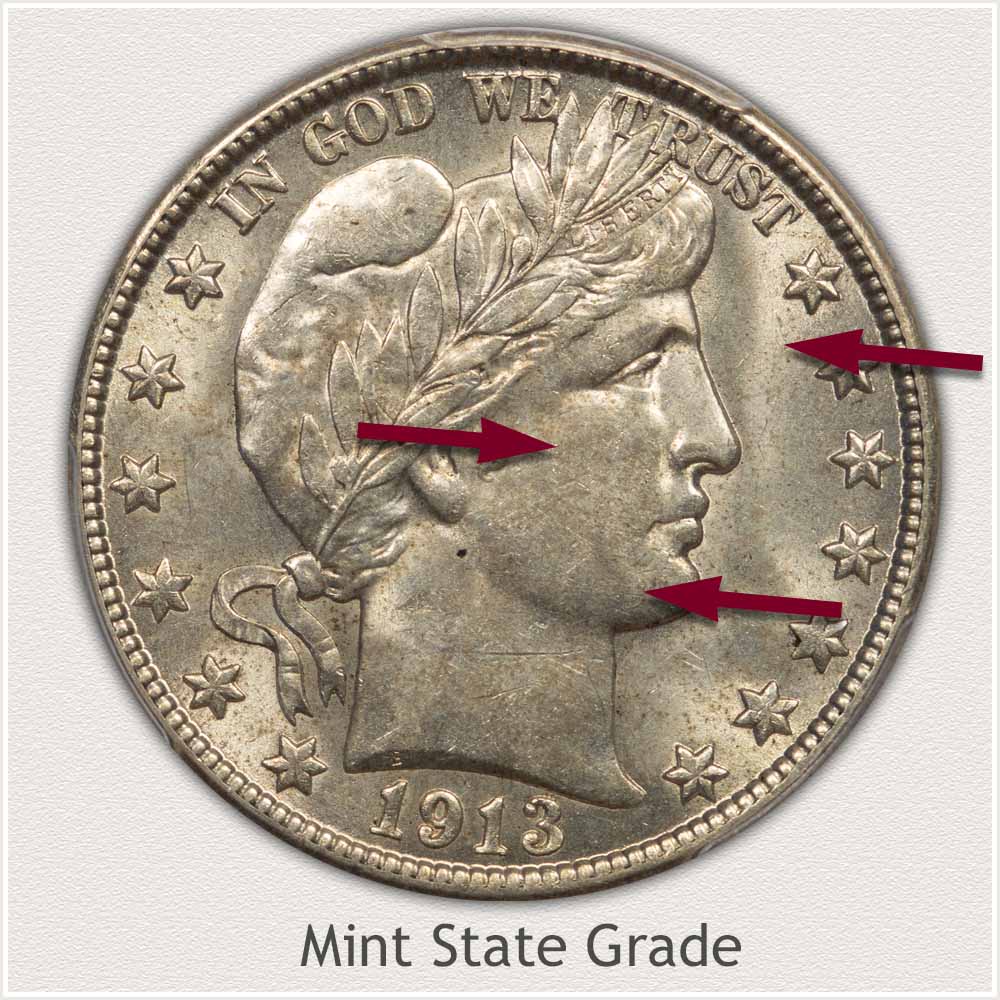 Mint State: In order to judge the elusive Mint State condition, magnification is useful. Important for the identification of the grade are the fine texture lines of luster, seen with a magnifying glass of 3x to 5x power. The striking process used to produce coins gives them their distinctive sheen. It is difficult to find these vintage Barber half dollars in their original mint state, retaining the typical shine of a freshly minted coin.
Defining the Mint State grade are halves displaying a complete, intact luster and no signs of wear. Once a coin is in circulation, high spots are the first to show signs of wear. Inspect Liberty's jawline and cheek under her eye. Liberty's portrait is highly contoured, having both high and low points. Lustrous metal covering her cheek and lower jaw contour helps place the coin in this high-quality condition.
Additionally, examine the coin's field in front of Liberty's portrait. The openness of the field also wears over time, becoming dull and smooth. On both the cheek and field, there is no smooth texture and no dulling to the metal, helping confirm Mint State grade. When the coin is tilted slowly under a single light, the entire surface is completely lustrous.
Extremely Fine Grade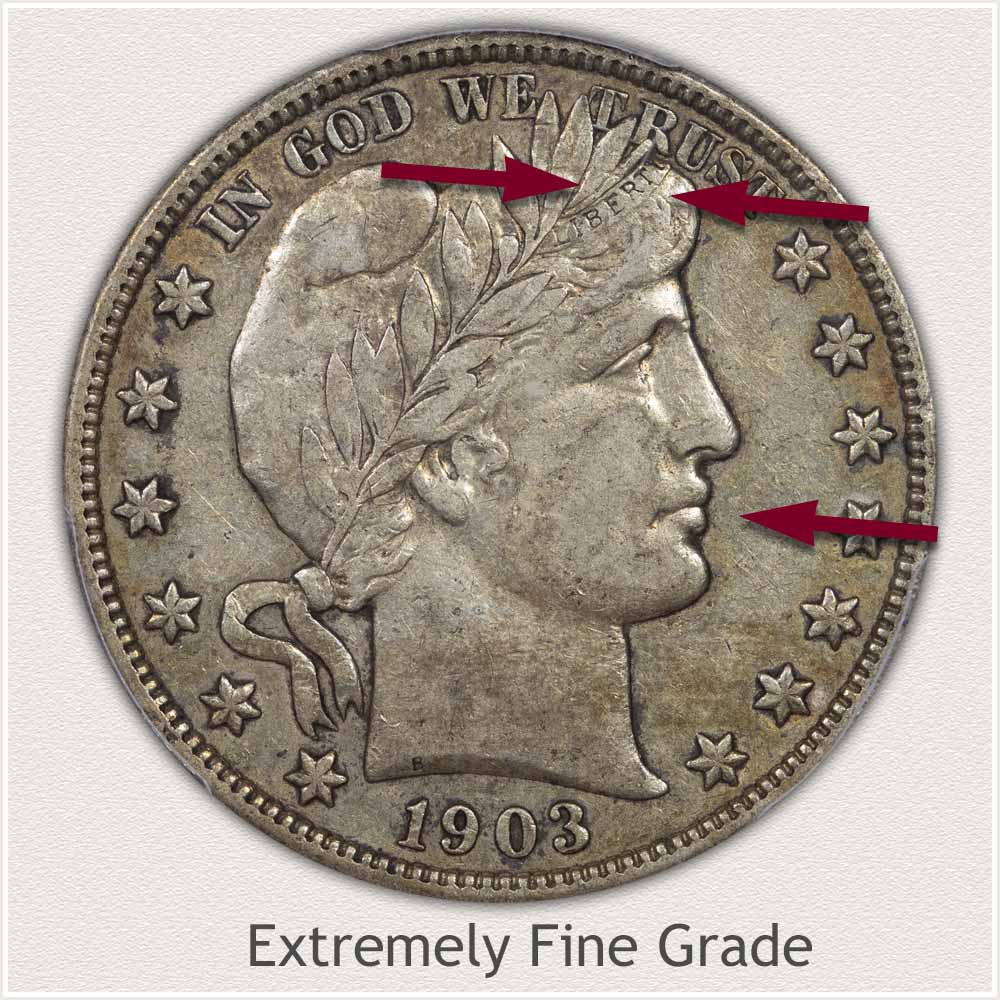 Extremely Fine: Judging condition and finding a Barber half dollar with many fine details visible helps identify a collectible quality coin. Light wear over the entire surface, just smoothing the very high points, helps define the Extremely Fine condition and grade.
Most of the original luster is now replaced with a soft silver-gray color. An important key element is all letters within the headband clearly read "LIBERTY." Additionally, the top and bottom edges of the headband are defined, indicating only light wear and the Extremely Fine grade.
An overall view of the coin shows a "fullness" and rounded cheek to Liberty's portrait. Her face displays only light smoothing, and high and low relief areas remain. A sharply detailed coin throughout.
Fine Grade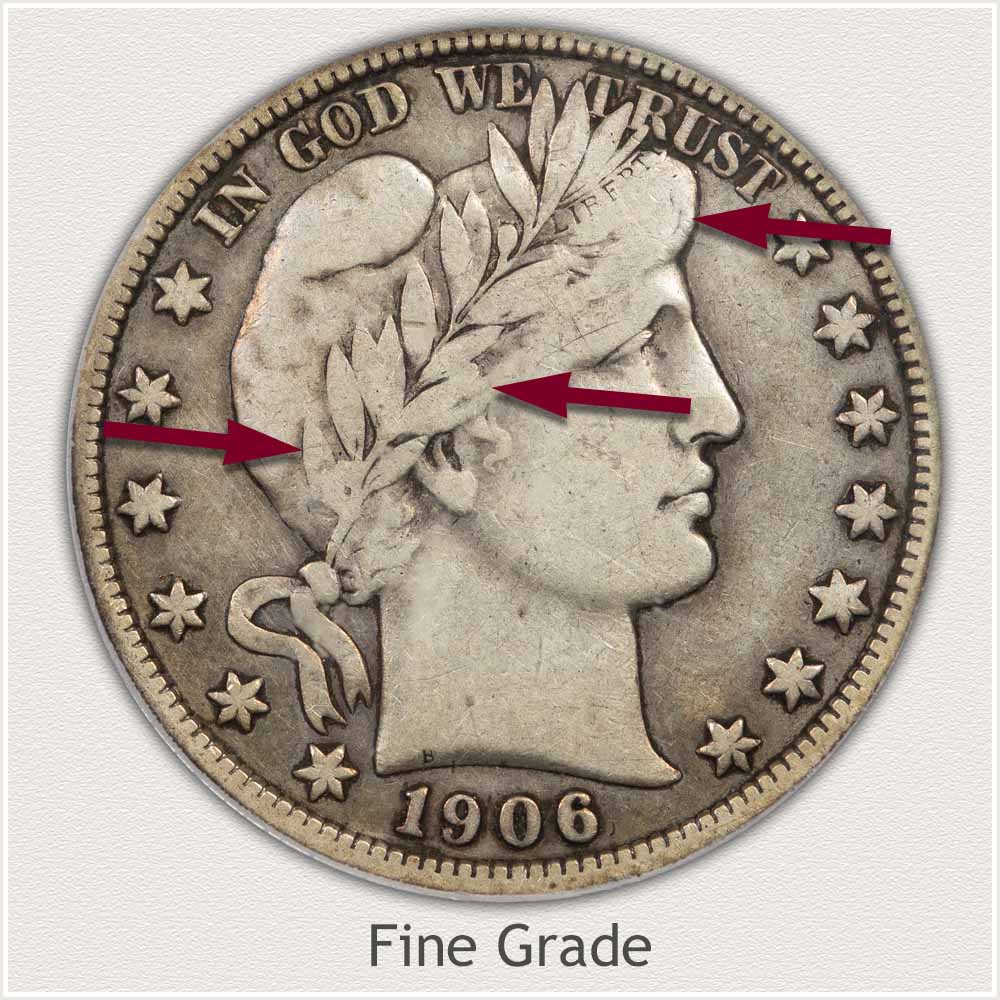 Fine Grade: There is a distinct wear pattern on Barber half dollars that is used to classify the various stages of wear. The Fine quality condition is defined by key design elements still visible after moderate wear.
First areas to experience wear are Liberty's forehead and the wreath of laurel leaves that extends below her ear. The forehead is notable for the merging of hair with Liberty's headband. Her band's lower edge is also worn smooth. Nonetheless, all "LIBERTY" lettering is visible, a necessary detail for achieving the Fine grade.
A positive for the grade is leaves of the wreath within her hair are more defined in the upper row. All leaf edges are distinct, except for a slight merging toward the high area above her forehead. Many of the edges along the lower row of leaves have now merged with the high areas of hair.
A coin in Fine quality grade has uniformly smooth surfaces and remains with clear edges on most small details. With Liberty's portrait showing boldness and the metal now a soft gray color, the condition displays ample eye appeal.
Good Grade
Good Grade: The height of Liberty's portrait has been reduced to a flat surface due to circulation wear. A lack of fine details is what distinguishes the "Good" grade. There is no sign of a headband visible, and only a few leaf edges occasionally show within her portrait.
For these old halves to quality for a Good grade, the rim is clear and complete. Additionally, the motto's letters are complete. As well as, none of the star points are touching the rim. Finally, a bold date adds to its visual appeal.
Aesthetic value is increased by a combination of a soft gray color to the metal with a darker shade along the rim. Having no noticeable dings or scratches is a nice plus.
How to Video: Grading Barber Half Dollars
Increase accuracy judging condition and recognizing higher quality. Subtle points are examined in detail.
Video, Images and Descriptions | Grading Barber Half Dollars
Step 3: | Special Qualities of Denver Mint Half Dollars
Special Collectible Denver Mint 1906 Half Dollar
Collectors of Barber half dollars have four mint varieties as part of sets starting in 1906. A new branch began coinage operations in Denver, Colorado. Philadelphia the main mint, along with branch mints in New Orleans and San Francisco, all striking half dollars, provide for an historic year.
Four Mint Issues of 1906 Barber Half Dollars
The Denver mint started operations in February of 1906 with three of the latest modern coining presses. Producing just over 4 million half dollars. Combined total of all mints went on to record 1906 half dollar production as the third largest in the Barber series at 10.8 million.
Coinage by a new mint facility is noted by collectors. A historically important event draws attention and demand. Branch mint issues of half dollars are needed to complete date and mint sets. Additionally, in only a few years throughout U.S. coinage history did the number of mint varieties during a year surpass two to three mints involved. Four mint varieties in a year is itself a significant event. In the Barber half dollar series, four mint issue years include only 1906, 1907, and 1908.
A new mint issue, beginning of a new branch mint, and today's demand for these historic half dollars is a special quality with strong premiums for nice, eye appealing 1906 Denver half dollars.
References
U.S. Mint. 1907 U.S. Mint Annual Report https://nnp.wustl.edu/library/book/514123
U.S. Mint. 1906 U.S. Mint Annual Report https://nnp.wustl.edu/library/book/514122
Coin Values | CoinStudy Articles
Date by Date
In Depth Barber Half Dollar Values
1892 to 1915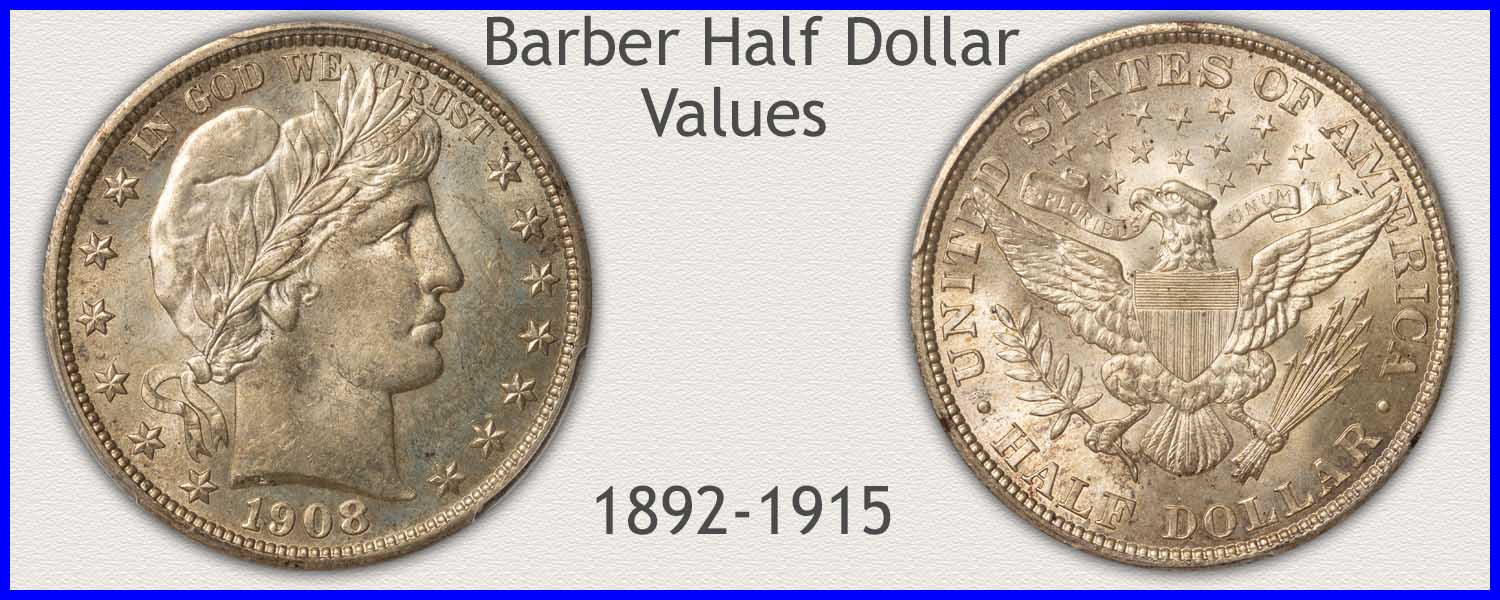 Barber Half Dollar Value | Scarce Date and Mint Varieties
A 1906 Barber half dollar is part of a long running design series. The many date and mint varieties are covered in detail and listed on the value chart. Confirm date and mint combination, judge condition to narrow how much these old half dollars are worth.
Old Coin Values | Step-by-Step
Follow the step-by-step process to identify the many different series of U.S. coins. Proceed through the recognition of the date and mint importance. Use images to narrow a condition range. Value charts list how much old coins are worth.
Print the Coin Values Worksheet
List and record an accurate description and value of Barber half dollars. The worksheet organizes your group of old coins and provides of record a your holdings.
Safe Coin Storage | Recommendations
Many old coins need and benefit when placing them in holders to protect them from further damage. Coin supplies are specific to the coin hobby and provide safe storge, allowing safe handling, and avoiding contact with other coins. A review of a few storage options for both single coins and groups of coins.
Sell Silver Coins | Premium Vintage Silver Issues
Silver U.S. coins are part of a very active market. Dimes, quarters, half, and silver dollars are imaged and described to recognize both the silver issues and the higher value collectible coins. Calculate the current worth and reference listings of dealers to help in selling silver coins.
★Coin Values Discovery finds 1906 Barber Half Dollar Value and...
All U.S. coin values. A starting point to correctly identify your old coin. Recognize the important features to value with a step-by-step process. Continue with a full evaluation of specific dates, mints, and condition.