Coin Values Moving with Precious Metals: Up-Dated 11/27/2023: Gold $2010 | Silver $24.66
1909 Half Dollar Value
1909 half dollar value covers a wide range. Currently, they are worth a minimum of $13.97 apiece.
However, it is necessary to verify the exact mint variety before placing a final value on the coin. One mint issue is particularly sought by collectors; the New Orleans half is elusive in all levels of preservation. Firstly, mint variety is identified upon close examination, followed by judging condition to narrow a range on the value chart.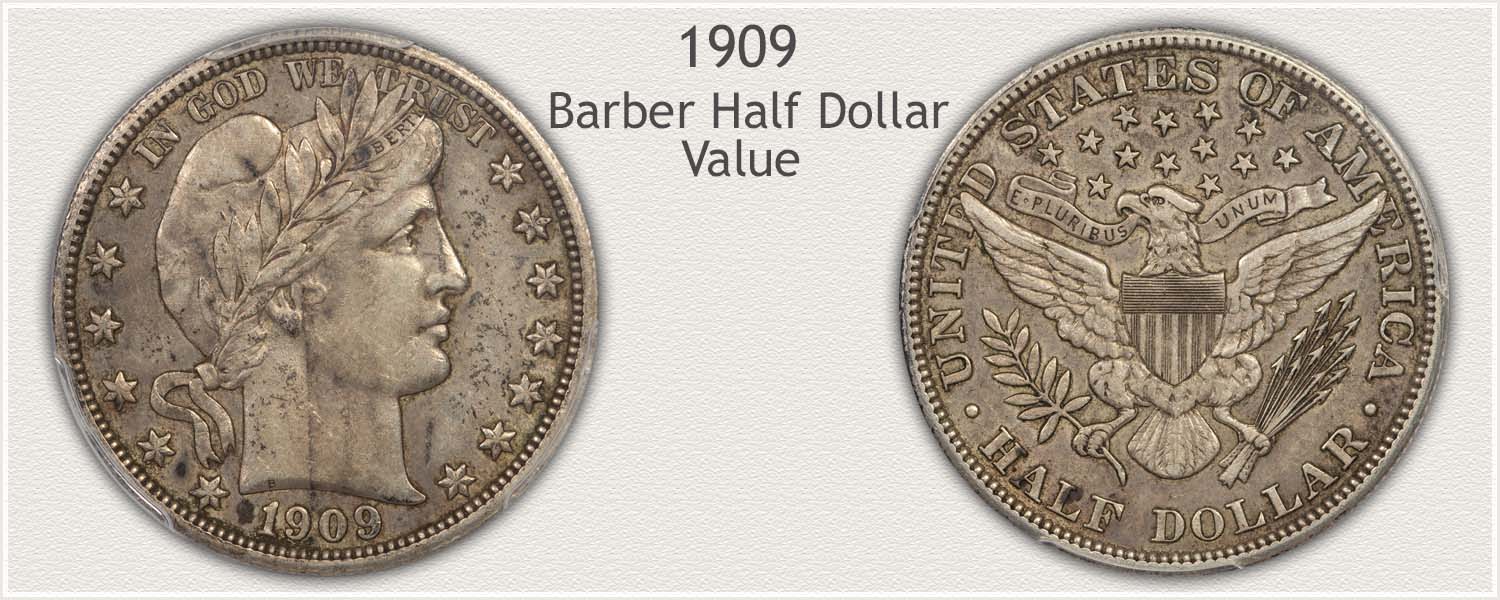 Steps Leading to Value:
Step 1: Date and Mintmark Variety - Note the value chart lists the different mints producing 1909 half dollars. Identify the correct issue to narrow the value range.
Step 2: Grading Condition - With descriptions of condition, judge how well preserved your Barber half is. Nice eye appealing examples are a desirable coin to collectors, worth a premium.
Step 3: Special Qualities - Of interest to collectors is the coinage of the now obsolete New Orleans mint. All are considered special, review the many reasons adding to their appeal.
1909 Half Dollar Value
Condition of Coin
Date
Good
Fine
Extremely
Fine
Mint
State
Barber Half Dollar Values Updated
11/27/2023
1909
$13.97
$42
$163
$376
1909 O
$15.41
$67
$356
$663
1909 S
$13.97
$44
$250
$623
Values listed are the Wholesale worth of Barber half dollars. Use as a guide and starting point. Add the steps below to narrow their range.
Step 1: | Date and Mintmark Issues to Confirm
A Final Year Mint Variety is Popular and in Demand
An important mint in U.S. history saw its last year of Barber half dollar production in 1909. New Orleans mint ended with a low mintage of halves for the year.
Half dollar coinage was produced in three different mints across the nation in various quantities. Due to the lower number of halves produced by the branch mints, these various issues are showing a premium.
Collectors are interested in the release of the final coin of a now obsolete mint facility. To complete their collection, they acquire an example from each mint issue for the year. Ensure an accurate reading of the value chart, carefully examine these half dollars to identify mintmarks.
1909-S Barber Half Dollar
"S" Mintmark on Reverse: San Francisco Mint Struck the Coin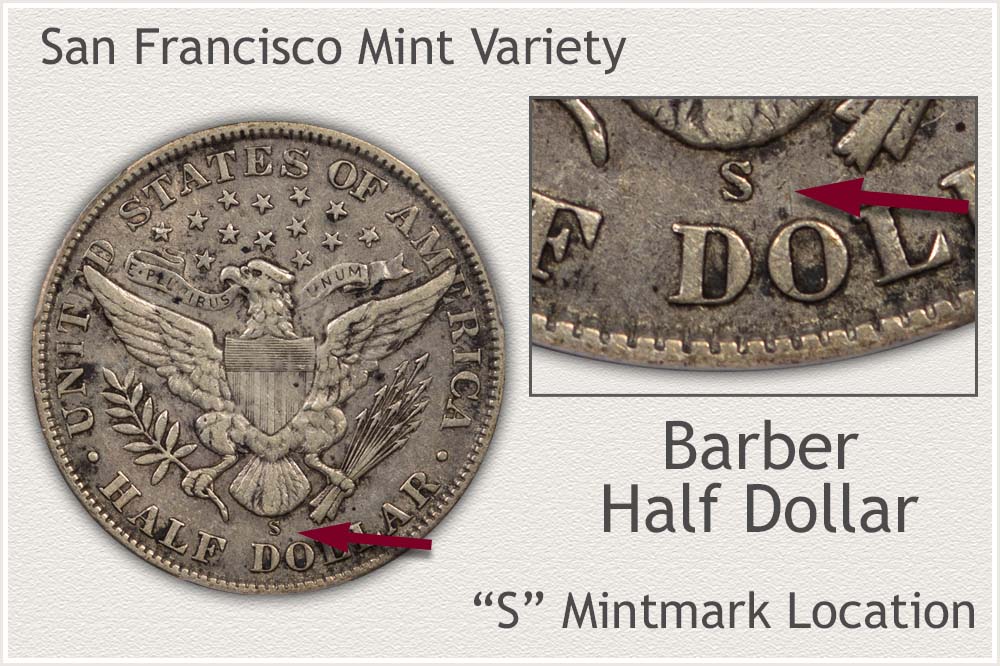 Each 1909 San Francisco mint half dollar is worth a premium because of its high silver content. Collectors looking for nice, well-detailed examples frequently choose coins from the western branch mint. Only slightly more than 1.7 million were minted, and often challenging to locate a high-quality example of this variety today.
San Francisco half dollars are identified by their "S" mintmark. Looking in the lower area of the coin and below the Eagle's tail feathers is the distinct "S" mintmark.
1909-O Barber Half Dollar
"O" Mintmark on Reverse: New Orleans Mint Struck the Coin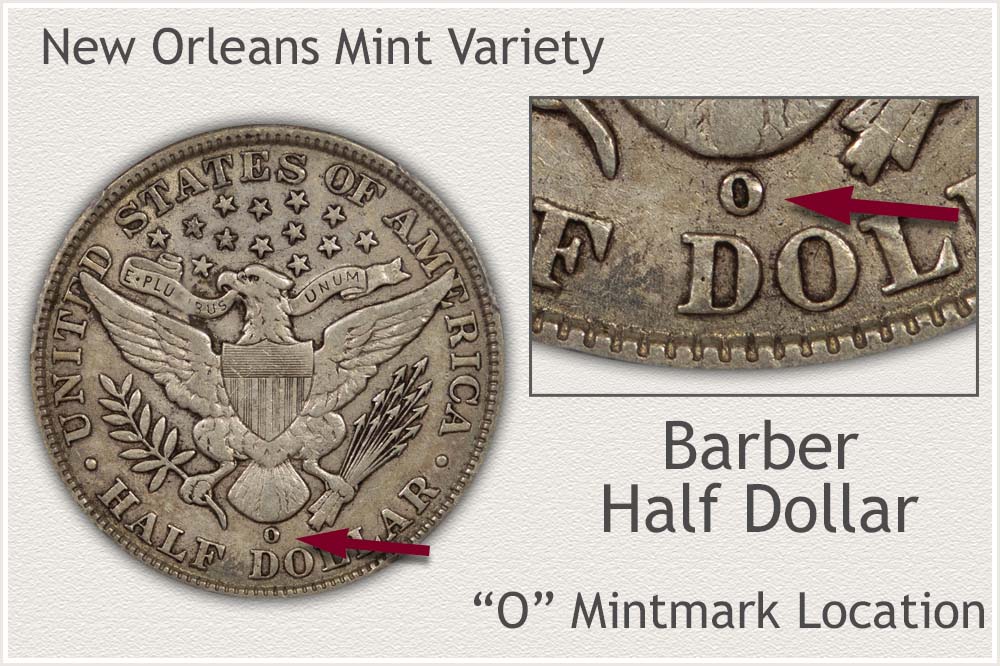 The chart displays a premium 1909 half-dollar value due to the popularity of the New Orleans variety coinage and its low mintage within the Barber series. A total of just 925,400 halves were produced. Interest of collectors is drawn to any United States coin with a mintage of less than one million. Verifying 1909 half dollars from New Orleans is important.
Also of historical importance is the New Orleans mint struck its last half dollars in 1909. Becoming a retired mint and the end of an era that began in 1838. 1909 half dollars from New Orleans are an important issue to verify.
Coinage of the New Orleans mint is identified by an "O" mintmark on the reverse. The large "O" is the New Orleans mintmark; inspect below the eagle's tail feathers.
1909 Barber Half Dollar
No Mintmark on Reverse: Philadelphia Mint Struck the Coin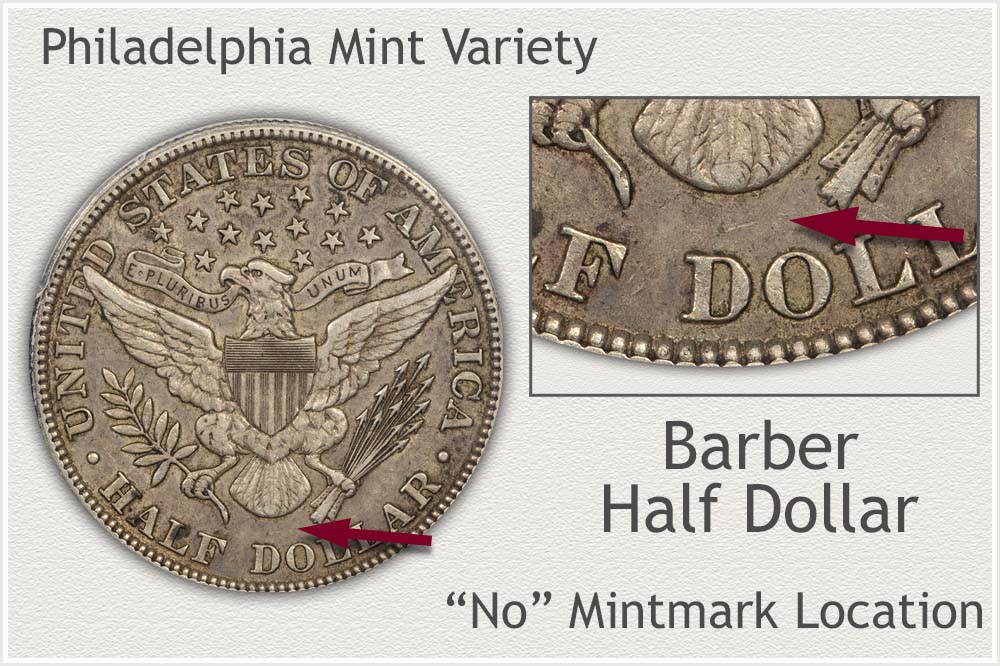 Philadelphia issue 1909 half dollars are one of the available dates within the series. In one of its typical production years, 2.3 million coins were produced. In very worn condition, the silver they contain determines the value range in which these are traded. Half dollars of the Barber series were minted when coinage contained 90% silver.
Recognizing above-average condition has the potential to increase the value of any 1909 half. First, confirm the date and mint combination. The coin is then carefully compared to images of standard grades to help judge condition.
The absence of a mintmark on the coin's reverse identifies Philadelphia Barber half dollars. In the area on the reverse directly below the eagle and just above the words "HALF DOLLAR" is blank. Philadelphia, as the primary mint of the United States, did not place a mark in this position.
Step 2: | Grading Surface Condition to Determine Quality
How to Recognize High Quality and Accurate 1909 Half Dollar Value
Different stages of wear on coins are defined by using a grading scale. Your half dollar is compared according to these standards of preservation. Images and descriptions are used to identify a narrow grade range.
In addition to examining important areas of the design, a close-up of each grade's details is shown, enabling you to determine which coin is higher quality.
Mint State Grade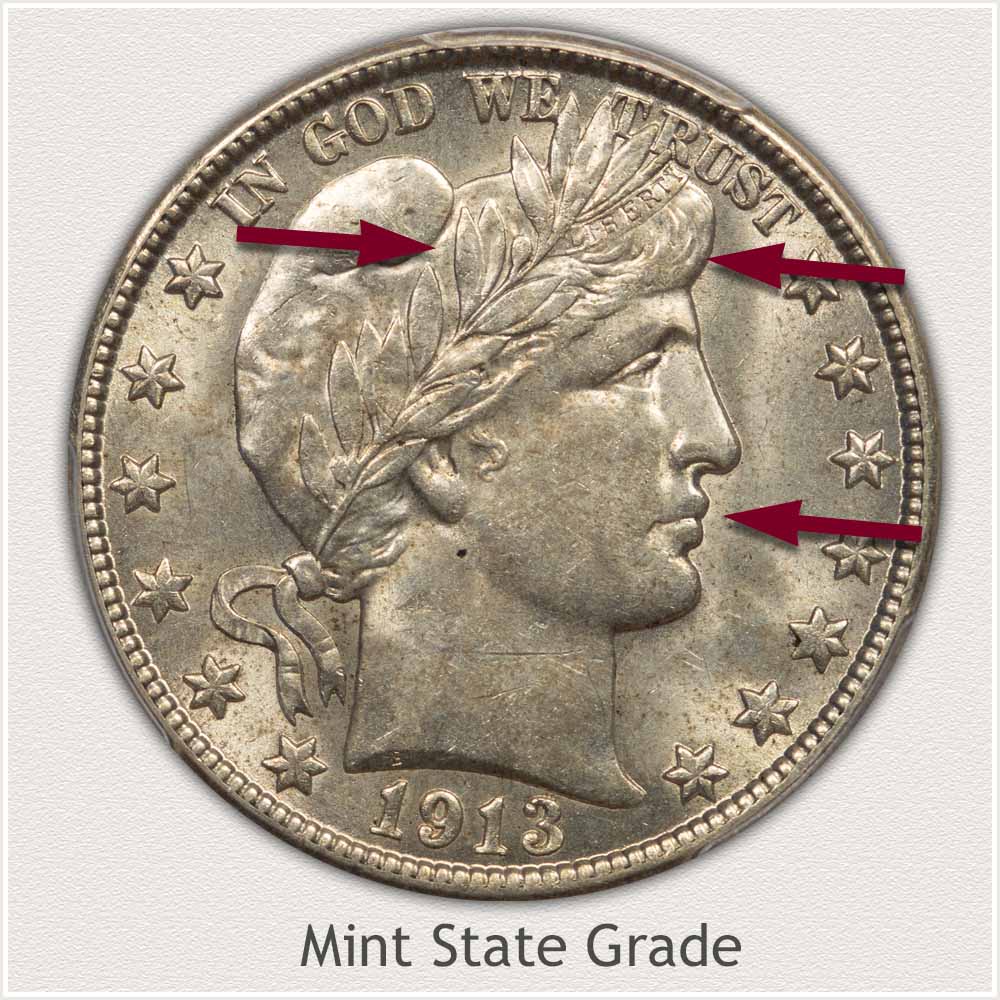 Mint State: Judging small details distinguish a half dollar in Mint State condition from one with circulation wear. No wear to the coin's surface defines the high grade of Mint State. A coin's design becomes smooth and flattened as it is used in commerce, both in the high points and low areas of the design.
All minor details are raised when a coin is first minted, with peaks and contours defining the features. Wear is a distinct a process, first removing the metal's initial texture, then lowering, and flattening all high points. Notability, on Liberty's forehead, fine hair lines are seen. Since this hair is situated in the area of the design with the highest relief, it is the first area to judge for any flattening, indicating wear. All visible hairlines are covered in a fine texture that shines under a light, confirming the surface has not been worn.
In addition, the leaves that form the wreath in Liberty's hair are also in very high relief. The leaves' raised edges on some and high contours on others are distinguishing characteristics. Edges and high points of the leaves on the example half are well defined. When these areas wear, they become smooth and flattened, losing their brilliance, and becoming a gray color to the metal.
Extremely Fine Grade
Extremely Fine: Recognizing a Barber half has retained all of its very fine details helps in accurately determining the value of a collectible coin. Extremely Fine is the grade that describes and is assigned to a coin with only minor wear in small areas.
Overall appearance of a half dollar with light circulation wear is a muted silver-gray, with the majority of the coin's luster and brilliance having been lost. There is now a smoothing of the metal on the surface. A close inspection of Liberty's headband reveals all letters of "LIBERTY" are clearly visible and bold. A strong edge of the ribbon is still visible just above and below the lettering. Also, a distinct line separates this band and edges from the leaves and hair.
Liberty's full portrait is well contoured with defined high and low relief areas, adding to its collector appeal. Only a slight amount of smoothing is visible on her cheek and neck; her eyebrow is the only area that has flattened. These high condition coins are strong candidates for the Extremely Fine grade when they have a "crisp" appearance.
Fine Grade
Fine Grade: On the example half dollar, circulation wear is now noticeable and widespread. This coin is classified as Fine grade condition because of the leveling of once rounded features of Liberty's face. It is the small details missing and the merging of larger features that define the grade.
Visible letters "LIBERTY" found in her headband are an important detail required to meet the Fine grade. The band is heavily worn, the lower edge is mostly missing and blended with her hair, and the upper edge is beginning to fade. There are no missing letters in the band, but the letters "ER" show weakness at the bottom. Strongly visible letters are preferred by coin collectors, as they indicate a high-quality, Fine grade coin.
Additionally, leaves form a Laurel wreath that holds Liberty's cap and covers her hair. Inspecting the lower row, many leaves are merged and missing edge details. Full edges are better preserved on the leaves of the upper row. Although mostly flattened, the leaves retain a nicely detailed appearance due to their distinct outlines. A lack of distracting marks, along with the coin's strong rim and bold date and stars, all indicate this is a Fine grade Barber half dollar.
Good Grade
Good Grade: Features remaining on a "Good" grade half dollar help give these coins a certain appeal despite their heavy wear. Liberty's portrait is smooth, with only a few key design elements clearly visible, which defines the Good grade.
There is a slight amount of wreath detail visible. Partial leaves visible along the bottom of her cap elevates the grade of the coin above severely worn examples.
In the Good grade, collectors choose coins having a complete rim without any blending into stars or lettering. Remaining details of her eye and ear are important to the condition even though her hairline above her forehead is smooth. An overall sharp appearance is enhanced by the soft toning of the metal.
How to Video: Grading Barber Half Dollars
Within each stage of condition a few important areas are key to confirming grade. Additional descriptions highlighted with images help recognize true state of preservation.
Video, Images and Descriptions | Grading Barber Half Dollars
Step 3: | Special Qualities New Orleans Mint Varieties and Value
Historical New Orleans Mint is Retired
Creating a large interest in the New Orleans mint was its discontinuation of coinage operations in 1909. A special collectible category is created; New Orleans issues are an obsolete variety.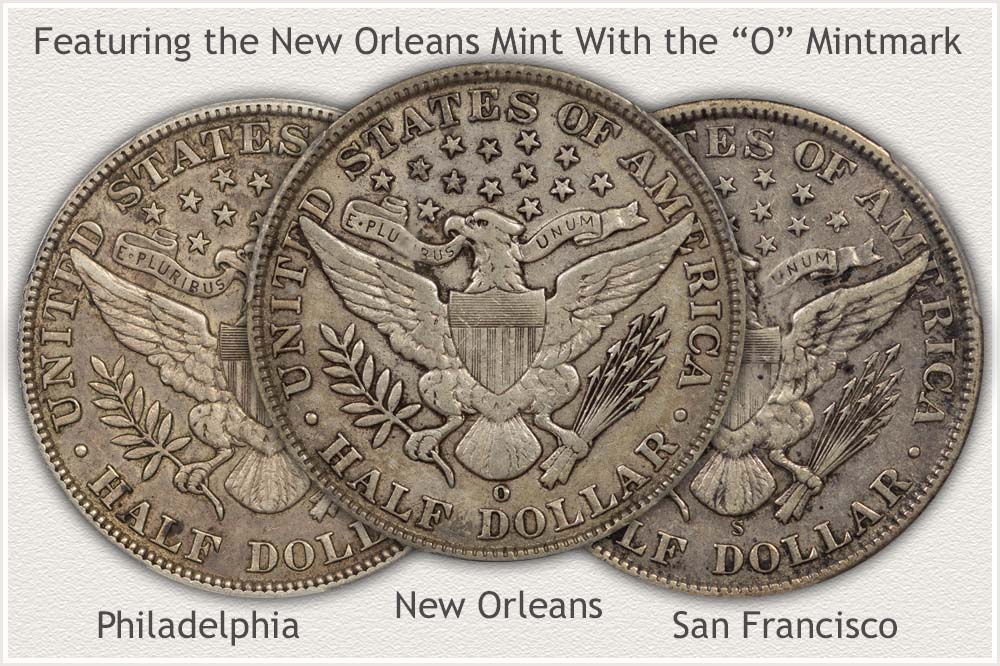 New Orleans is noted as an important branch mint, with its production of half dollars dating back to 1838. An expansion of the U.S. westward needed the central hub of New Orleans to supply an adequate number of half dollars.
As one of the mints introducing the Barber half dollar series in 1892, it continued production until 1909, an important run of years for the series. Within these 18 years of production, average mintages were 1 to 2 million half dollars. Standout years are 1892, the first and also the lowest mintage year - 390,000. The last year of New Orleans half dollars - 1909, recorded 925,000, ranking sixth in the yearly numbers.
Collectors typically place a demand on each date and mint variety of all years of a series. With the obsolete status of the New Orleans mint, special collections of just this variety are a popular theme.
Now add "high state of preservation," and New Orleans half dollars become a very special coin.
Continued demand as a collectible is strong. Historical interest, low numbers produced, and the challenge of finding quality examples is a continuing draw to collectors.
References
U.S. Mint. 1909 U.S. Mint Annual Report https://nnp.wustl.edu/library/book/322
U.S. Mint. 1910 U.S. Mint Annual Report https://nnp.wustl.edu/library/book/512058
U.S. Mint. 1911 U.S. Mint Annual Report https://nnp.wustl.edu/library/book/323
Coin Values | CoinStudy Articles
Date by Date
In Depth Barber Half Dollar Values
1892 to 1915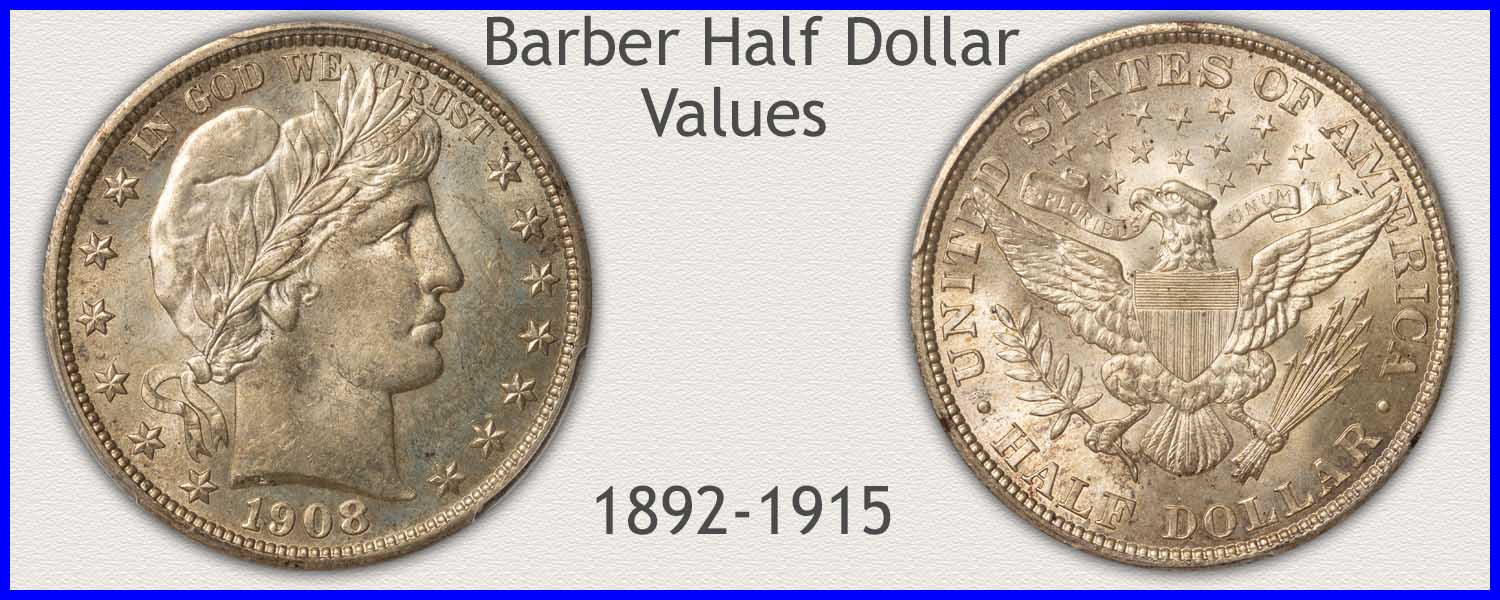 Barber Half Dollar Value | Scarce Date and Mint Varieties
A 1909 Barber half dollar is part of a long running design series. The many date and mint varieties are covered in detail and listed on the value chart. Confirm date and mint combination, judge condition to narrow how much these old half dollars are worth.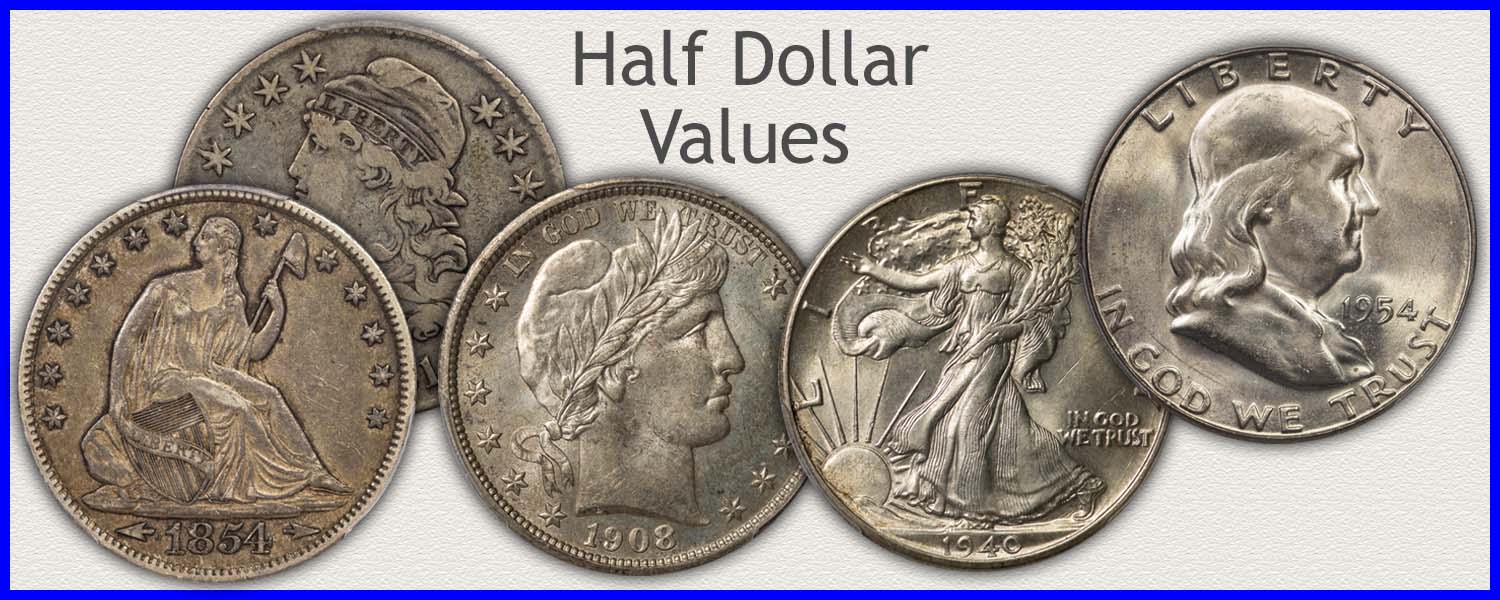 Half Dollar Value | Identify the Different Series
Barber half dollars are one of many series of the 50-cent denomination. Half dollars first minted in 1794 cover many designs, scarce to rare dates, and valuable mint varieties. Images of each design helps recognize the different series with links to value charts and the steps used to accurately judge the coin.
Old Coin Values | Recognize Key Steps
Introduced in detail is a method following key steps to fully determine the value of old coins. The coinage of the U.S. began in 1793 and continues with many different design series and denominations. Using the same process as collectors, determine an accurate identity and description of both Barber half dollars and series of coins from cents to U.S. gold coinage.
Silver Coin Values | Minimum Values of U.S. Silver Coins
All U.S. dimes, quarters, half and silver dollars minted before 1965 are heavy with silver. Each denomination and silver series is imaged and described to quickly recognize the premium coins. Using the calculator determine how much vintage silver coins are worth currently. Silver prices change daily.
Safe Coin Storage | Half Dollar Recommendations
Barber half dollars need safe storage to protect their value. Large coins when kept together tend to nick, abrade, and continue to lower condition of both themselves and other coins. Review the holders and storage products available to the coin collecting hobby specific to safely housing these old coins.
Selling Coins | A Defined Process
Preparation and following an order of steps helps in selling coins. First is an understanding of potential value. Each series of coins is assessed and organized by values. Finding dealers specializing in similar coins finds a good match. Images are used to recognize the different coins and listing of dealers point to potential buyers.
★Coin Values Discovery finds 1909 Barber Half Dollar Value and...
Coin values index. Dates, mints and condition are covered by following images of the different series, all valued individually. Follow the step-by-step method, comparing your coin to descriptions and images helping identify the important qualities to a narrow value range.