1932 Quarter Value
The 1932 quarter value is $3.16 each, the minimum for a heavily worn coin.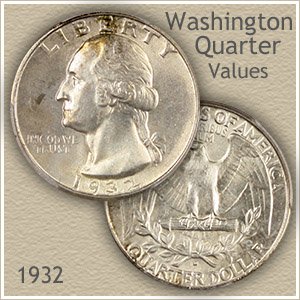 There is a chance it is even higher. Let's check for mintmarks and condition.
Three different minting facilities, Philadelphia, Denver and San Francisco, produced Washington quarters in 1932. The two most valuable and the "keys" to the series are the Denver and San Francisco coins, each worth over $40.
These two mintmarked issues are avidly sought by collectors and large premiums are paid by dealers. The "D" or "S" mintmark is found on the reverse.
Now add to this, a better condition coin, and your 1932 quarter is worth considerably more.
1932 Quarter Value
Condition of Coin
Date
Good
Fine
Extremely
Fine
Uncirculated
1932 Quarter Value Updated
8/12/2019
1932
$3.16
$3.16
$4.09
$23
1932 D
$41
$53
$119
$576
1932 S
$43
$62
$75
$253
The terms used in the coin values chart refering to the condition of your quarter are described in detail below.
A date listing of "1932-S" is a quarter minted in 1932 at the San Francisco mint. In 1932 the mintmarks on Washington quarters are found on the reverse just below the wreath.
1932 Quarter Value by Grade
Follow along with the images as a Washington quarter begins to wear from freshly minted to a very worn example. By judging the condition of your coin, a "Grade" is determined. The greater the detail remaining, the greater your 1932 quarter value.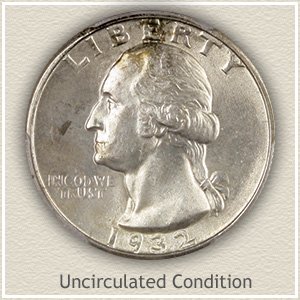 Uncirculated: A quarter in this grade has never circulated through commerce. Showing no signs of wear, it still has the look of brand new. The most desirable condition to collectors and the highest values.
Extremely Fine: Washington quarters first begin to wear on the cheek, hair and curls. The detail of the hair begins to merge and a slight diminish to the roundness of the cheeks. Still a very sharp looking coin.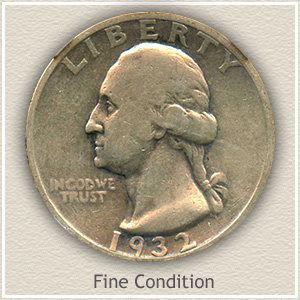 Fine: Most of the fine detail in the hair is lost, the area around the ear is smooth, but the major design elements are still bold. True the coin has a worn appearance, but not tired. Overall a pleasing coin.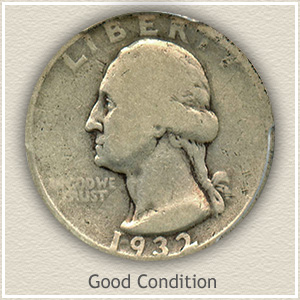 Good: All the major details show but very flattened by wear. The tops of the letters have begun to merge into the rim.
Coin Values | CoinStudy Articles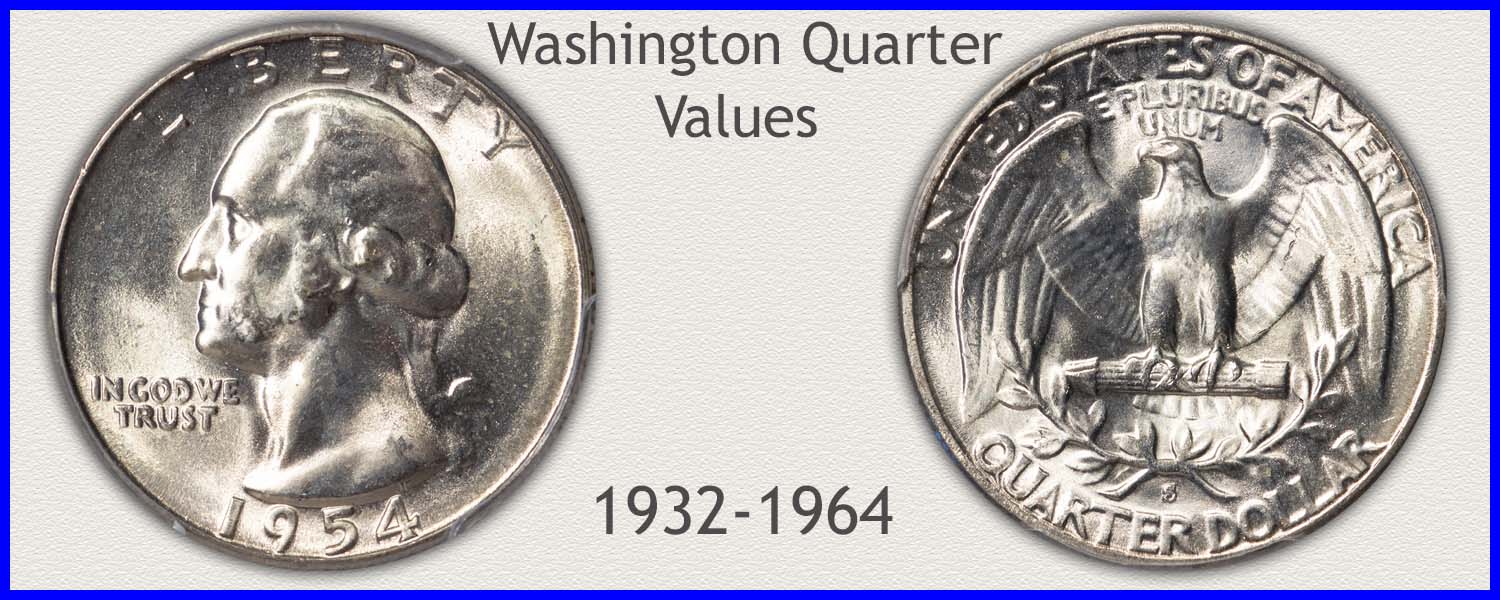 Washington Quarters Value
Check your coins with the values chart. Most of the silver Washington quarters value is tied closely to the price of silver. However, a few rare dates and mintmarks are very valuable.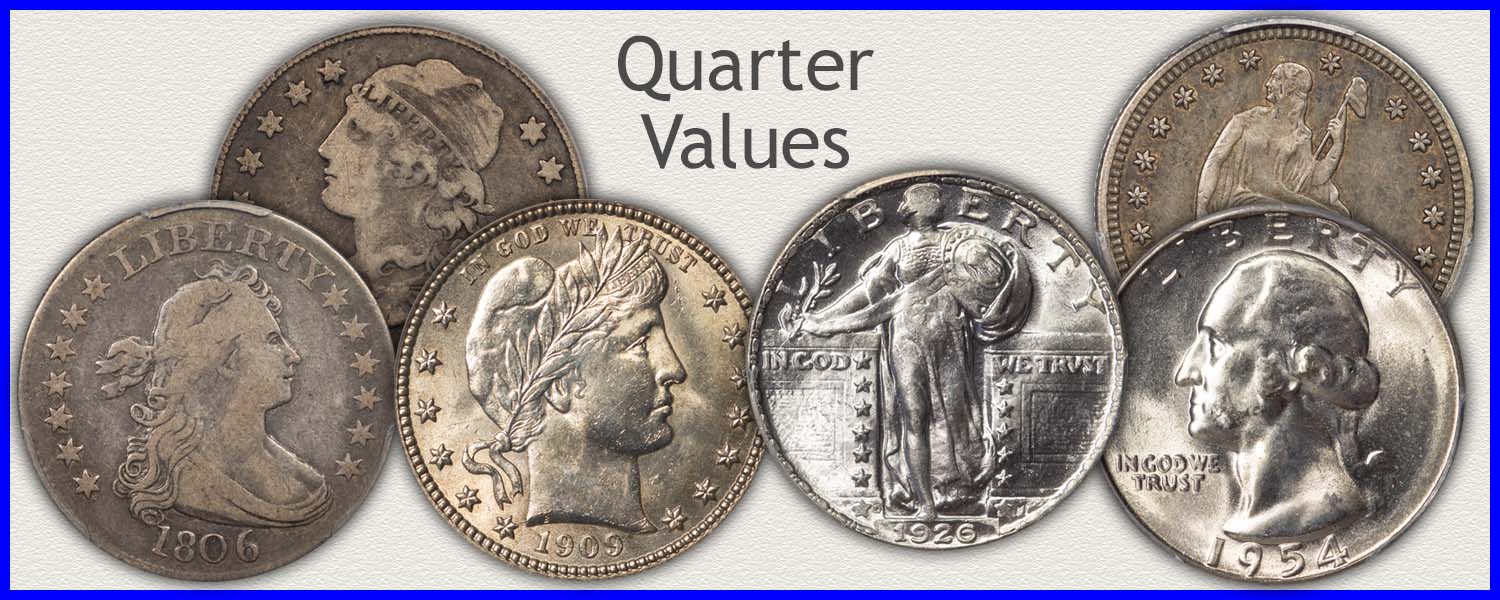 More Quarter Values
Including more relating to your 1932 quarter value. Easily find how much your old coins are worth.
From Bust Quarters to Seated Liberty, Barber, Standing Liberty and Washington quarters. All series include Grading Images to judge the condition of your coins and coin value charts.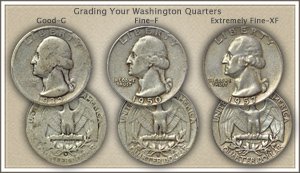 In-Depth Study
Grading Washington Quarters
How to Video | Close-Up Images | Descriptions
Do you have other coin denominations?
Coin Values Discovery... finds the 1932 quarter value and...
All old US coin values. It is an excellent index with images and text links to all coin series, from Cents to Gold. Value charts, grading images and descriptions uncover how much your box of old coins is worth.
Auction Appearance Value
Recently rare quarter values moved way up the scale. At a Heritage Auction in Long Beach California, a stunning 1932-S sold for $20,700. One of only a few left in virtually perfect preservation since leaving the mint.
A serious amount of money was paid for this rare Washington quarter in such rare condition.
A clearer understanding of how much your 1932 quarter is worth is fairly easy. The web is useful to search dealer price listings and their descriptions.