Coin Values Moving with Precious Metals: Up-Dated 5/29/2023: Gold $1945 | Silver $23.25
1960 Quarter Value
Your 1960 quarter value starts a $3.91 each. This minimum represents the high silver content in the coin.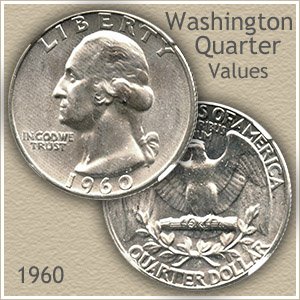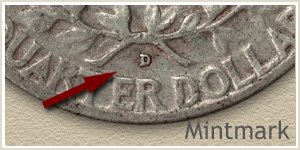 If you discover your coin is in "Uncirculated" condition it is now worth a premium.
Two mints produced Washington quarters in 1960, Denver and Philadelphia, both valued approximately the same.
Condition is key to value differences and desirability of Washington quarters.
You can get an idea of where your coin is on the value chart by comparing its condition to the "Grading" images below.
The adjacent image is a very nice uncirculated quarter, any collector would gladly add to their collection, also it is the type of coin a dealer would pay extra for. It is always possible your 1960 quarter is worth more.
The coin value chart breaks the prices down by date, mintmark and state of preservation.
1960 Quarter Value
Condition of Coin
Date
Good
Fine
Extremely
Fine
Uncirculated
1960 Quarter Value Updated
5/29/2023
1960
$3.91
$3.91
$3.91
$4.99
1960 D
$3.91
$3.91
$3.91
$4.99
The "1960-D" is a quarter minted by the Denver mint in 1960 and values are given in four different "Grades." How to grade your coins is covered below.
1960 Quarter Value Rising With Condition
From brand new condition to very worn condition, is reflected in the examples. Line your quarters in a row, judge their state of preservation and assign each a "Grade."
As you proceed handle each coin carefully, keeping in mind, 1960 quarter value is highest for "Uncirculated" coins.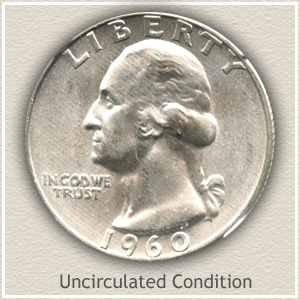 Uncirculated: Best described as never been touched, appearing as if fresh from the mint. The color of the coin is either bright silver white or naturally toned. Technically the requirement is the total absence of wear. Look for the first evidence of abrasion from circulation showing as a break of the delicate luster on the cheeks.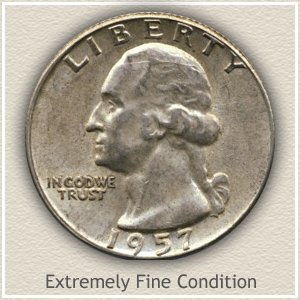 Extremely Fine: This quarter exhibits slight evidence of circulation, but was put away before to much wear accrued. Examine the hair and you notice the details are gone. Also the roundness of Washington's neck and cheeks has smoothed out somewhat.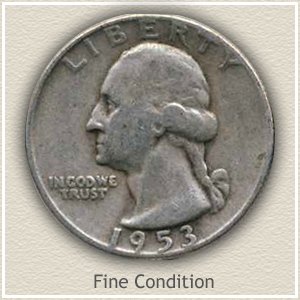 Fine: Wear has begun to take its toll on this quarter. Flattened areas of wear cover Washington's hair and curls. Although the hair line along the forehead is visible.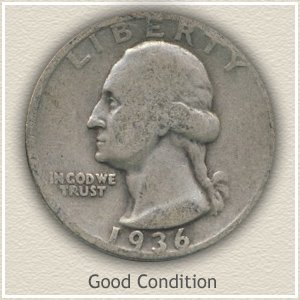 Good: The Washington portrait is smooth from circulation, but all essential details remain. The obverse rim of a 1960 quarter is normally still well defined, but usually in this condition the rim has merged into the lettering on the reverse.
Coin Values | CoinStudy Articles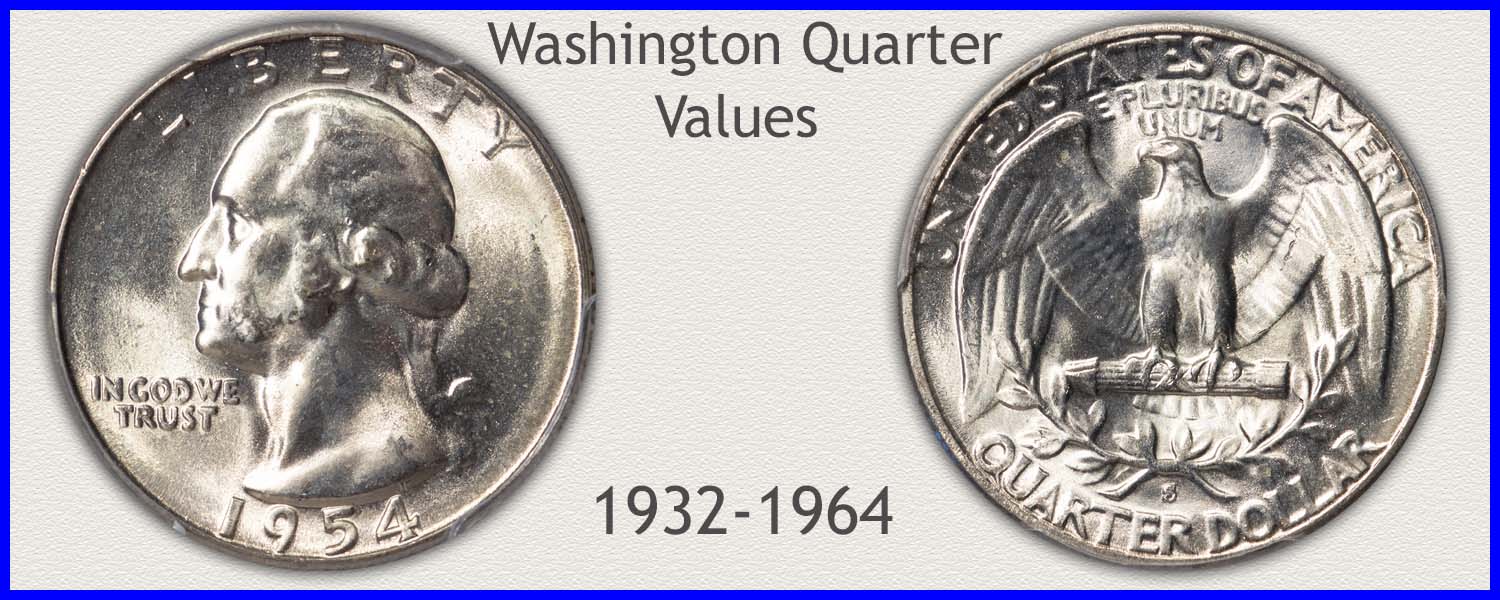 Your 1960 quarter value is tied closely to the price of silver. However, in the silver Washington quarter series a few rare dates and mintmarks stand out, if found in high condition. Compare your coins to the grading images and separate then by condition. Follow your coin's value on the silver charts, and check for rare dates and mint marks.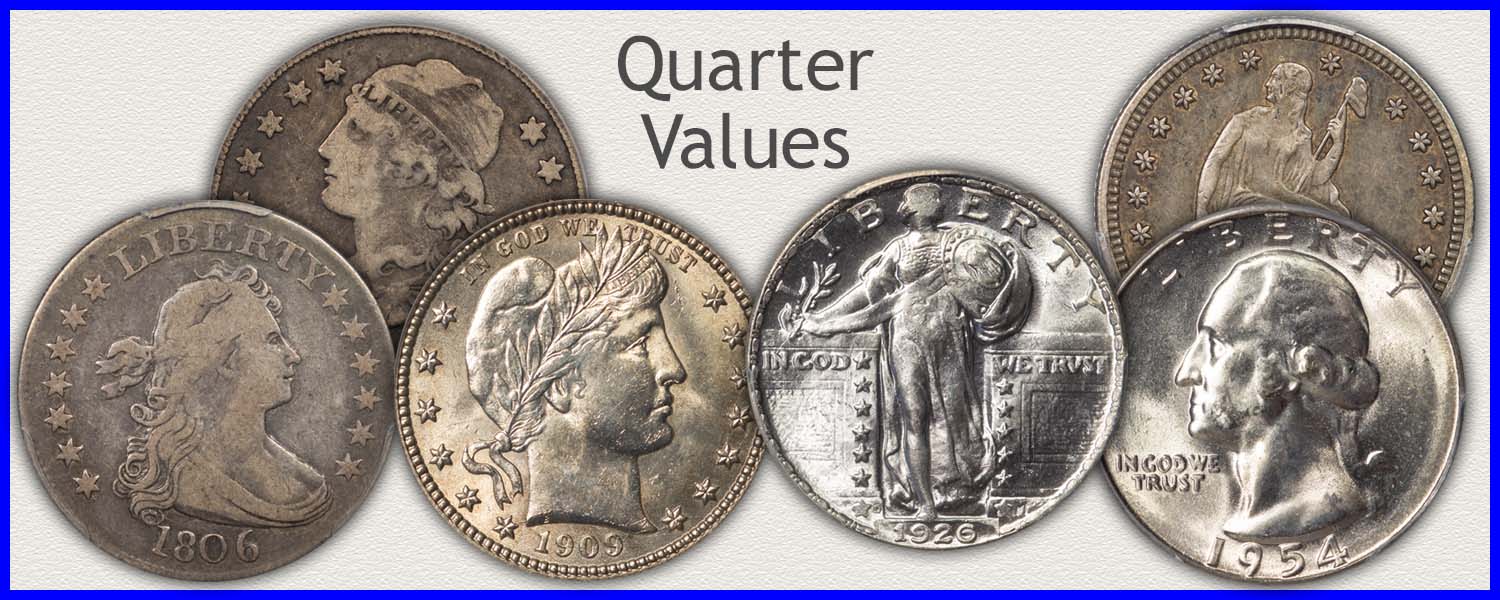 Including more relating to your 1960 quarter value. Easily find how much your old coins are worth.
From Bust Quarters to Seated Liberty, Barber, Standing Liberty and Washington quarters. All series include Grading Images to judge the condition of your coins and coin value charts.
Follow the steps to sell silver coins. Determine value first; then how to find a dealer. Images and descriptions help recognize the dates and series US coins contained silver.
Do you have other coin denominations?
★Coin Values Discovery... finds 1960 quarter value and...
All old US coin values. It is an excellent index with images and text links to all coin series, from Cents to Gold. Value charts, grading images and descriptions uncover how much your box of old coins is worth.
High 1960 Quarter Value for Quality
Although over 29 million minted, the 1960 quarter remains elusive in the highest gem quality. One such high quality coin realized $322 at a Heritage Auction Galleries sale.
What set this coin so far removed from the rest was the stunning mottled gold toning over immaculate mark free surfaces. A 1960 quarter worth spirited bidding to over $300 indicates just how rare the top quality coins have become.
Examine your coins closely, compare to auction and dealer listings, the 1960 quarter value is reaching new heights.