Coin Values Moving with Precious Metals: Up-Dated 11/27/2023: Gold $2010 | Silver $24.66
1962 Quarter Value
Your 1962 quarter value starts a $4.14 each. This minimum value represents the high silver content in the coin.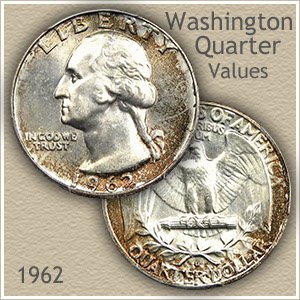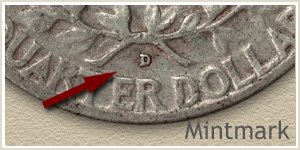 If you discover your coin is in "Uncirculated" condition it is now worth a premium.
Two mints produced Washington quarters in 1962, Denver and Philadelphia, both valued approximately the same.
Condition is key to value differences and desirability of Washington quarters. You can get an idea of where your coin is on the value chart by comparing its condition to the "Grading" images below.
The adjacent image is a very nice uncirculated quarter, any collector would gladly add to their collection, also it is the type of coin a dealer would pay extra for. It is always possible your 1962 quarter is worth more.
The 1962-D listing on the coin value chart indicates a coin minted in Denver.
1962 Quarter Value
Condition of Coin
Date
Good
Fine
Extremely
Fine
Uncirculated
1962 Quarter Value Updated
11/27/2023
1962
$4.14
$4.14
$4.14
$5.29
1962 D
$4.14
$4.14
$4.14
$5.29
The main mint in Philadelphia did not put mintmarks on quarters at the time. Locate the "D" on the reverse of the 1962 Washington quarter, below the eagle. Additionally, the pricing data covers different conditions, how to identify them are covered in detail next.
1962 Quarter Value by Grade
Follow along with the images as a Washington quarter begins to wear from freshly minted "Uncirculated" condition, to a very worn example in "Good" condition. By judging the different stages of wear, a "Grade" is determined. The greater the detail remaining, the greater your 1962 quarter value.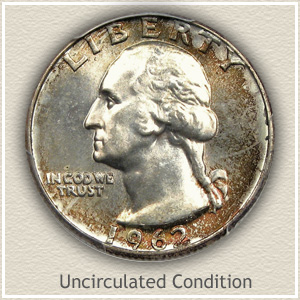 Uncirculated: A quarter in this grade has never circulated through commerce and survives today untouched. Showing no signs of wear, it still has the look of brand new. The most desirable condition to collectors and the highest values.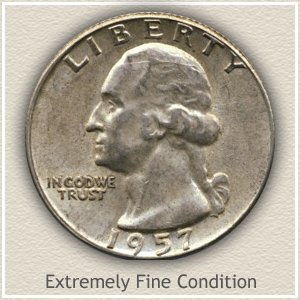 Extremely Fine: This quarter exhibits slight evidence of circulation, but was put away before to much wear accrued. Examine the hair and you notice the details are gone. Also the roundness of Washington's neck and cheeks has smoothed out somewhat.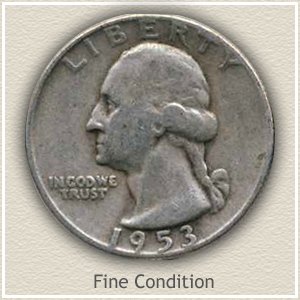 Fine: Wear has begun to take its toll on this quarter. Flattened areas of wear cover Washington's hair and curls. Although the hair line along the forehead is visible.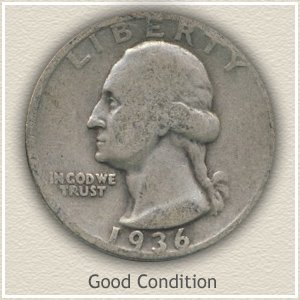 Good: The rim envelops the lettering to a degree but stops about a third of the way. The portrait is distinct and most of the prominent details remain. A 1962 quarter typical of this condition trades at its underlying silver bullion value.
Coin Values | CoinStudy Articles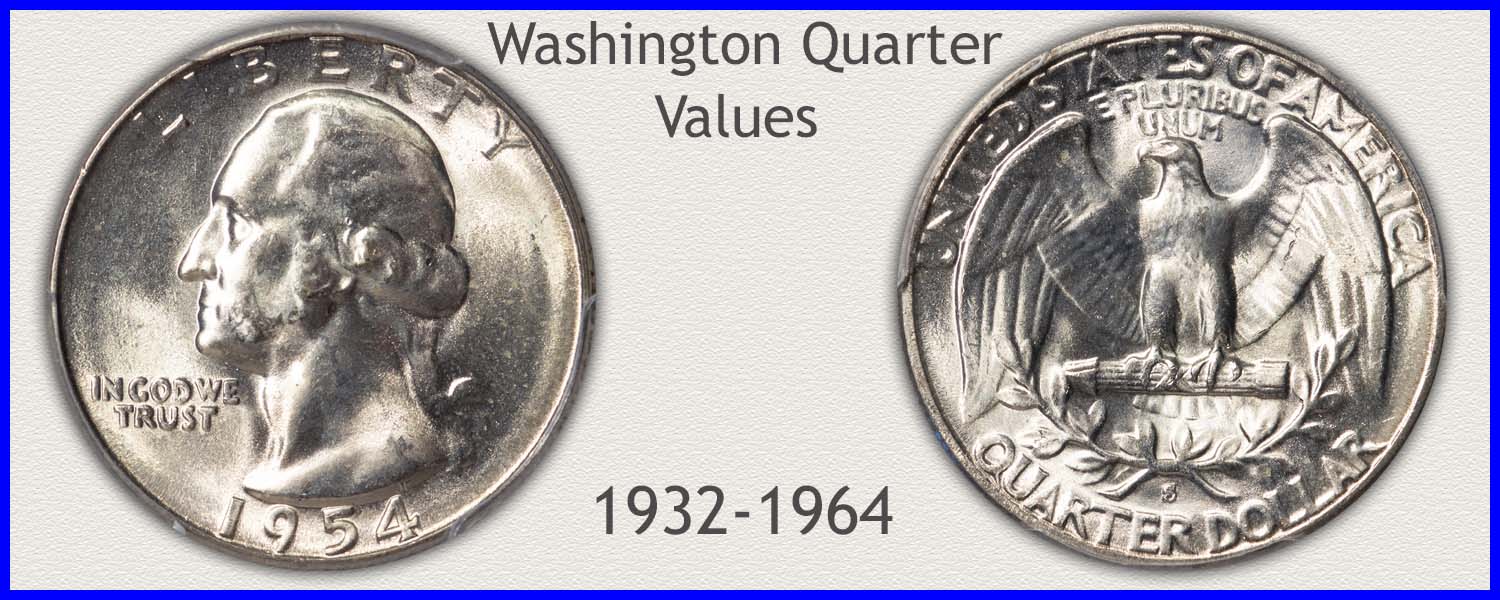 Check your coins with the values chart. Most of the silver Washington quarters value is tied closely to the price of silver. However, a few rare dates and mintmarks are very valuable.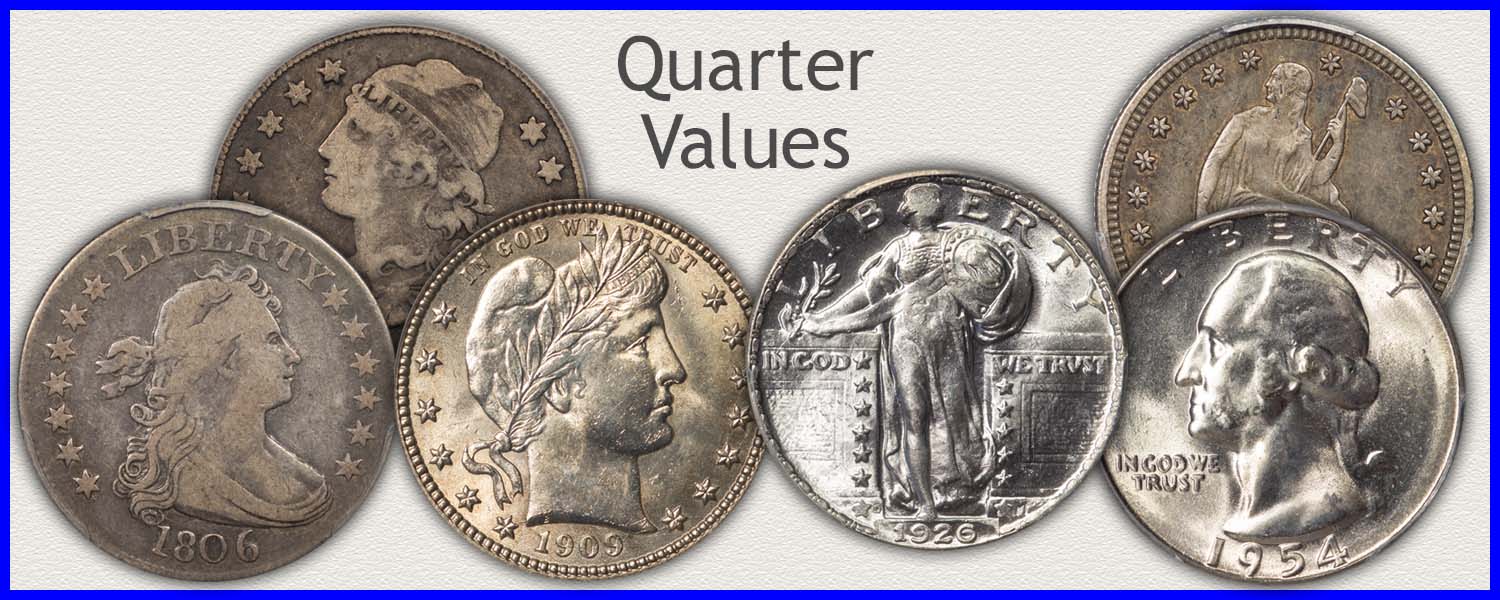 Including more relating to your 1962 quarter value. Easily find how much your old coins are worth.
From Bust Quarters to Seated Liberty, Barber, Standing Liberty and Washington quarters. All series include Grading Images to judge the condition of your coins and coin value charts.
Follow the steps to sell silver coins. Determine value first; then how to find a dealer. Images and descriptions help recognize the dates and series US coins contained silver.
Do you have other coin denominations?
★Coin Values Discovery... finds 1962 quarter value and...
All old US coin values. It is an excellent index with images and text links to all coin series, from Cents to Gold. Essential grading images alongside coin value charts discover how much your box of old coins are worth.
Intense Auction Value
A blazing silver-white 1962-D quarter sold at a Bowers and Merena Auctions reaching $230.
Interest was high for quality Washington quarters and became intense for this coin raising the bar on 1962 quarter values. Seldom on these old quarters is found such deep white surfaces offset by pale silver tinting highlighting the design elements.
Your 1962 quarter is worth additional study. It is becoming clear, exceptional levels of preservation is rare and warrants high values.