1955 Quarter Value
Your 1955 quarter value starts a $3.16 each. This minimum represents the high silver content in the coin.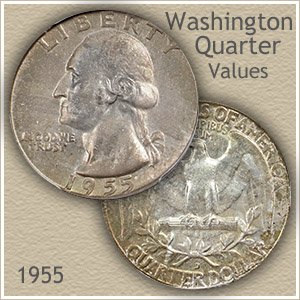 Other elements do contribute to raising the value higher, particularly the condition of your coin and finding the "D" mintmark.
Beginning with the mintmark. Two mints produced Washington quarters in 1955, Philadelphia and Denver. Those minted in Denver are worth a premium today because of low mintage totals.
The next challenge is determining the condition of your old quarter. Commonly found heavily worn, see if your coin is in a higher more collectible condition, and compare it to the "Grading" images below.
A popular series with collectors and elusive in the higher grades, your 1955 quarter is worth a close examination.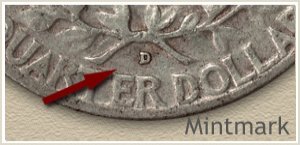 The 1955-D listing on the coin value chart indicates a coin minted in Denver.
1955 Quarter Value
Condition of Coin
Date
Good
Fine
Extremely
Fine
Uncirculated
1955 Quarter Value Updated
8/12/2019
1955
$3.16
$3.16
$3.16
$3.42
1955 D
$3.16
$3.16
$3.16
$3.42
The main mint in Philadelphia did not put mintmarks on quarters at the time. Locate the "D" on the reverse of the 1955 Washington quarter, below the eagle. Additionally, the pricing data covers different conditions, how to identify them are covered in detail next.
Grading Finds 1955 Quarter Value
From brand new condition to very worn condition, is reflected in the examples. Line your quarters in a row, judge their state of preservation and assign each a "Grade."
As you proceed handle each coin carefully, keeping in mind, 1955 quarter value is highest for "Uncirculated" coins.
Uncirculated: The top grade in both quality and value, requires close examination to confirm. Inspect the highest points of design and the fine details for evidence of wear. It is most noticeable as a dulling of the surface and breaks in the mint luster.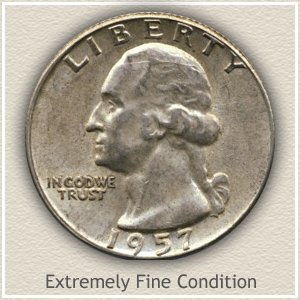 Extremely Fine: Still sharply defined with abundant detail remaining. Examine the high points of the hair, curls above the ear, including the cheek and neck line for minimum wear. The coin should standout from the rest as clearly detailed.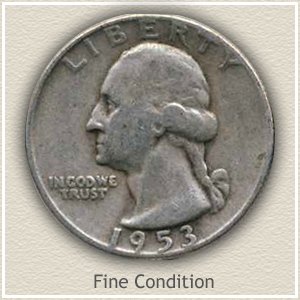 Fine: Most of the fine detail in the hair is lost, the area around the ear is smooth, but the major design elements are still bold. True the coin has a worn appearance, but not tired. Overall a pleasing coin.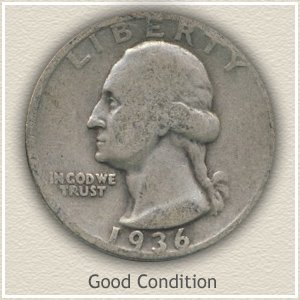 Good: The rim and the tops of the lettering are now connected to a degree. The portrait is distinct in outline form. This 1955 quarter is typical of the condition that trades at the silver bullion value.
Coin Values | CoinStudy Articles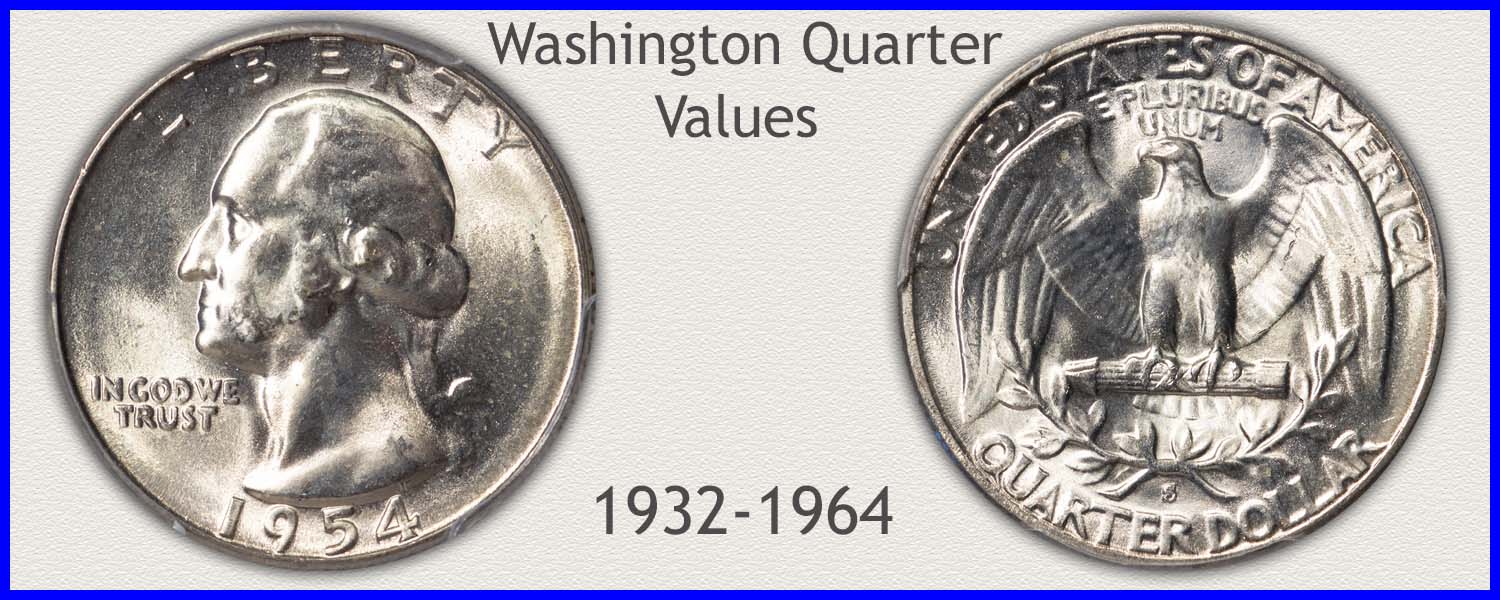 Washington Quarters Value
Their value is tied closely to the price of silver. However, a few rare dates and mint marks stand out, if found in high condition. Compare your coins to the grading images and separate then by condition. Follow your coin's value on the silver charts, and check for rare dates and mint marks.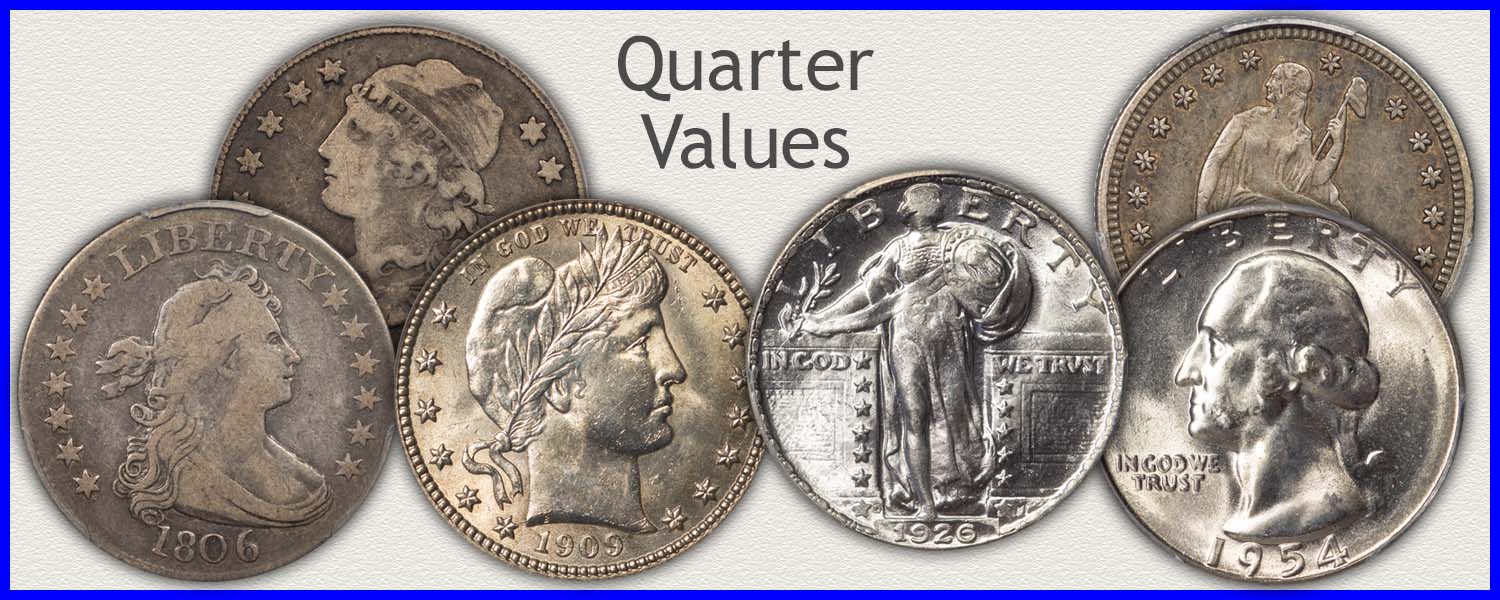 More Quarter Values
Including more relating to your 1955 quarter value. Easily find how much your old coins are worth.
From Bust Quarters to Seated Liberty, Barber, Standing Liberty and Washington quarters. All series include Grading Images to judge the condition of your coins and coin value charts.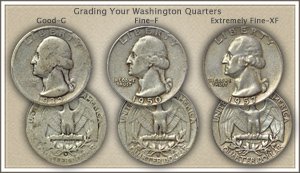 In-Depth Study
Grading Washington Quarters
How to Video | Close-Up Images | Descriptions
Do you have other coin denominations?
Coin Values Discovery... finds the 1955 quarter value and...
All old US coin values. It is an excellent index with images and text links to all coin series, from Cents to Gold. Essential grading images alongside coin value charts discover how much your box of old coins are worth.
High Auction Value for Gem Quality
Heritage Auction Galleries sold a sparkling 1955 Washington quarter for $402.50.
The highest bidder received a true rare gem. Gleaming silver white surfaces on both obverse and reverse radiate quality. No abrasions or noticeable marks define the status.
Collectors and dealers avidly search for coins of this grade benefiting the 1955 quarter value. Careful examination of your old coins can lead to finding your 1955 quarter is worth more than expected.