1946 Quarter Value
Your 1946 quarter value starts a $3.38 each. This minimum price is because of the large silver content in old quarters.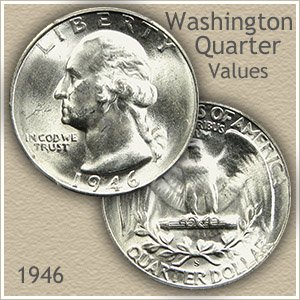 There is a chance it is even higher. Let's check for mintmarks and most importantly the condition of your quarter. First the mintmarks.
Three different minting facilities, Philadelphia, Denver and San Francisco, produced Washington quarters in 1946. The two most valuable in the higher grades are the Denver and San Francisco coins. The "D" or "S" mintmark, indicating the specific mint, is found on the reverse.
Secondly, the state of preservation of your coin. Is it tired and worn looking or crisp and sharp, standing out from the rest? The Washington quarter pictured is an "uncirculated" example, very desirable as a collectible.
Identifying mintmarks and especially condition accurately, combines to reveal how much your 1946 quarter is worth today.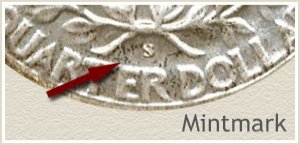 The coin value chart defines prices by the date, the presence of a mintmark and the condition of your coin.
1946 Quarter Value
Condition of Coin
Date
Good
Fine
Extremely
Fine
Uncirculated
1946 Quarter Value Updated
9/9/2019
1946
$3.38
$3.38
$3.38
$3.66
1946 D
$3.38
$3.38
$3.38
$4.09
1946 S
$3.38
$3.38
$3.38
$3.80
The "1946-D" quarter was produced at the Denver mint in 1946, the "S" or "D" mintmark is located on the reverse, below the wreath. The section on "Grading" determines the condition value on the chart.
Grading Finds 1946 Quarter Value
The condition images are lined up to show the different stages of wear on a Washington quarter. The descriptions define the "Grade" and highlight the subtle details to consider.
Hopefully this reveals a higher grade and your 1946 quarter value is well above the
Uncirculated: The 1946 quarter value is highest here. Untouched since being minted and no wear on its surfaces, a quarter in this condition is avidly sought by collectors and dealers. Admittedly few survive this nice.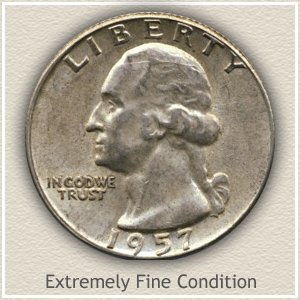 Extremely Fine: Still sharply defined with abundant detail remaining, the high points of the hair, curls above the ear, the cheek and neck line show slight wear. The coin should standout as one decidedly better from most.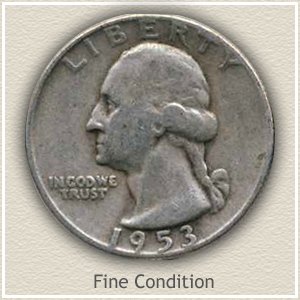 Fine: Wear has begun to take its toll on this quarter. Flattened areas of wear cover Washington's hair and curls. Although the hair line along the forehead is visible.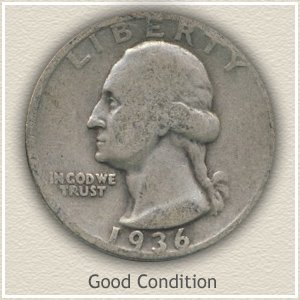 Good: All the major details show but very flattened by wear. The tops of the letters have begun to merge into the rim. 1946 Washington quarters in this condition are worth the silver value.
Coin Values | CoinStudy Articles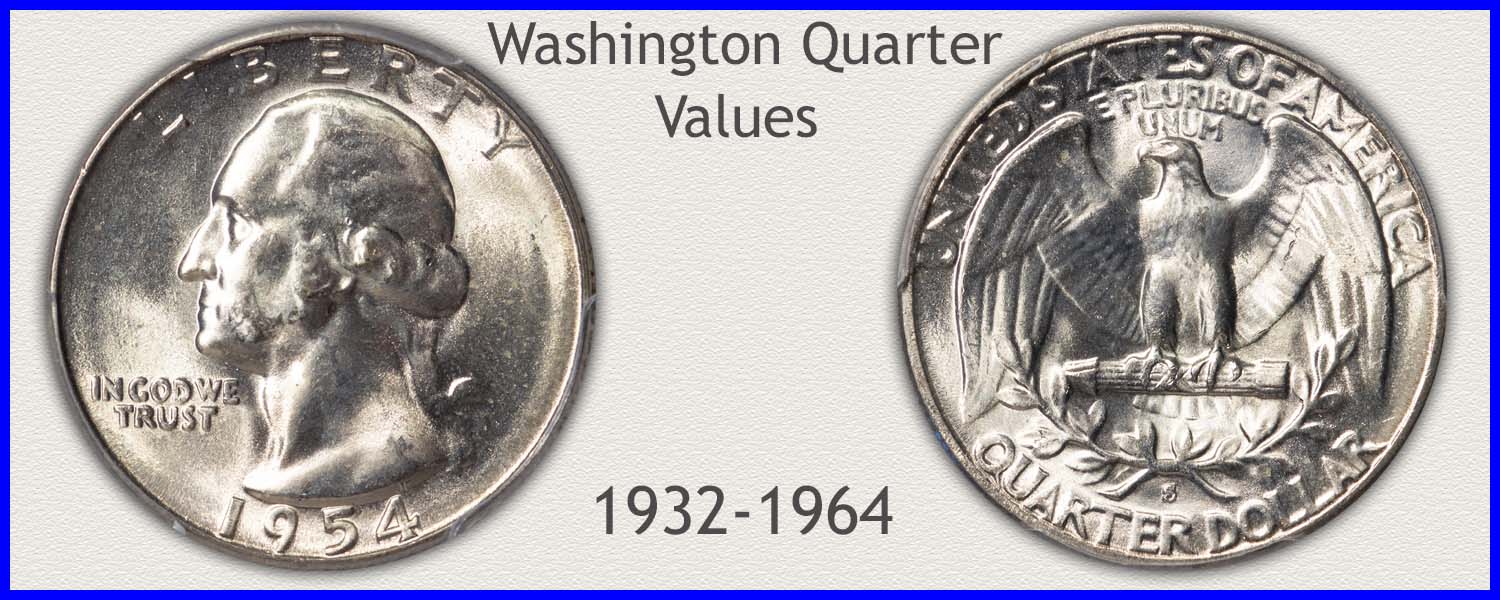 Washington Quarters Value
Their value is tied closely to the price of silver. However, a few rare dates and mint marks stand out, if found in high condition. Compare your coins to the grading images and separate then by condition. Follow your coin's value on the silver charts, and check for rare dates and mint marks.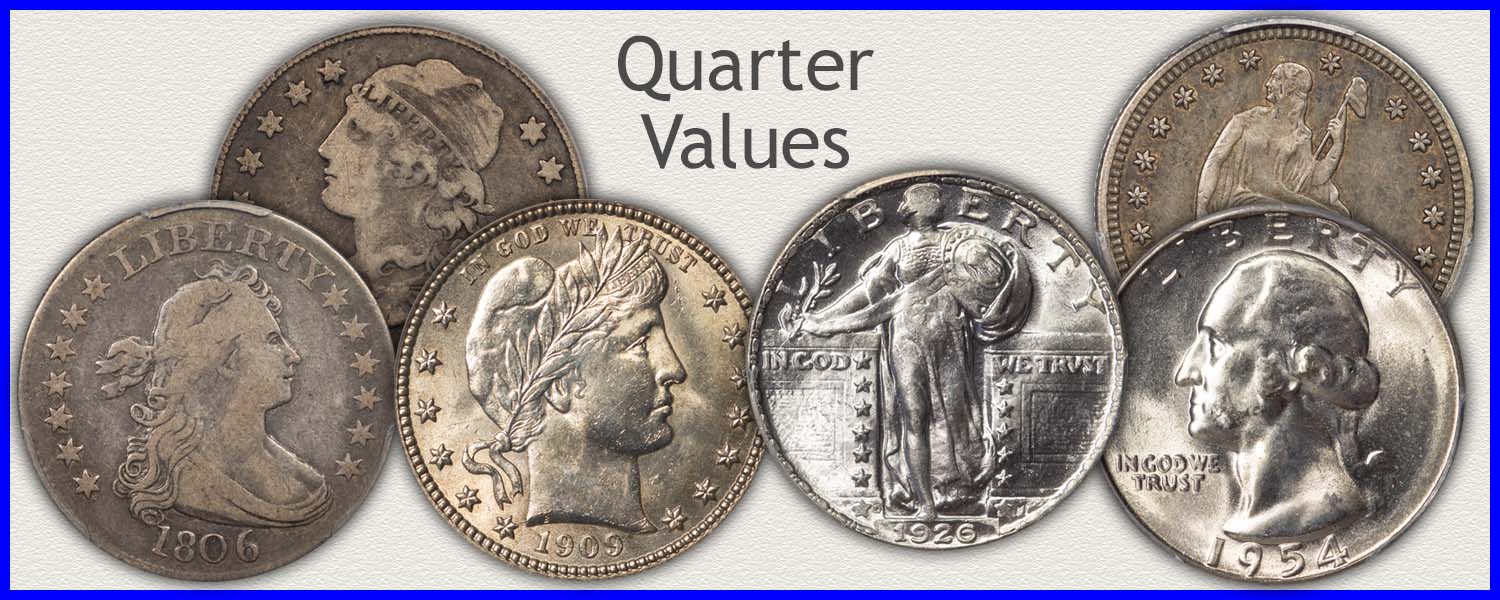 More Quarter Values
Including more details effecting your 1946 quarter value. Easily find how much your old coins are worth.
From Bust Quarters to Seated Liberty, Barber, Standing Liberty and Washington quarters. All series include Grading Images to judge the condition of your coins and coin value charts.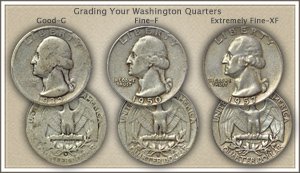 In-Depth Study
Grading Washington Quarters
How to Video | Close-Up Images | Descriptions
Do you have other coin denominations?
Coin Values Discovery... finds the 1946 quarter value and...
All old US coin values. It is an excellent index with images and text links to all coin series, from Cents to Gold. Essential grading images alongside coin value charts discover how much your box of old coins are worth.
Auction Result for Rare 1946 Quarter
What does it take for a Washington quarter with a mintage of over 4 million pieces to qualify for an auction price of over $200? Handle your high end coins gently, new levels are being set for the 1946 quarter value.
Bowers and Merena Auctions sold a 1946-S Washington quarter for $207.
And the reason for the high value, was the stunning eye appeal and preservation. Vibrant frosty luster gleaming from the silvery blue-white obverse and a touch of golden iridescence on the reverse. It is very rare a coin with such a look is combined the with the almost total absence of contact marks and abrasions.
When a coin of this quality is auctioned, both buyer and seller are happy. The seller receives a high price and the buyer adds the perfect coin to their collection.
Study your old coins. Selling your coins can be an exciting event. Auction listings, dealer sites and inventories are all well described. Compare your coins and see how much your 1946 quarter is worth.