Coin Values Moving with Precious Metals: Up-Dated 11/27/2023: Gold $2010 | Silver $24.66
1951 Quarter Value
Your 1951 quarter value starts at $4.14 . Most older Washington quarters are in this range.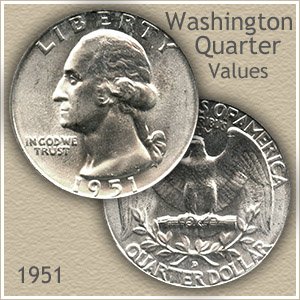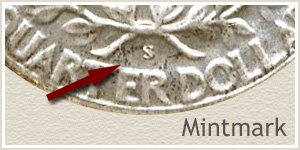 The higher valued coins, and sometimes much higher, are in the "Uncirculated" grades of condition. They are the types of coins collectors and dealers actively pursue.
Also affecting value are the different mintmarks on 1951 quarters. Three different minting facilities, Philadelphia, Denver "D" mintmark, and San Francisco "S" mintmark, produced Washington quarters in 1951.
The most valuable in the Uncirculated grades are the San Francisco coins. The "S" mintmark, indicating the specific mint, is found on the reverse.
A popular series with collectors and elusive in the higher grades, judge condition accurately and locate the different mintmarks and often the 1951 quarter is worth more.
The coin value chart defines prices by the date, the presence of a mintmark and the condition of your coin.
1951 Quarter Value
Condition of Coin
Date
Good
Fine
Extremely
Fine
Uncirculated
1951 Quarter Value Updated
11/27/2023
1951
$4.14
$4.14
$4.14
$5.29
1951 D
$4.14
$4.14
$4.14
$5.50
1951 S
$4.14
$4.14
$4.14
$5.71
The "1951-D" quarter was produced at the Denver mint in 1951, the "S" or "D" mintmark is located on the reverse, below the wreath. The different condition groups and how to "Grade" your coin is described below.
1951 Quarter Value is Conditional
From brand new condition to very worn condition, is reflected in the examples below. Line your quarters in a row, judge their state of preservation and assign each a "Grade."
As you proceed handle each coin carefully, keeping in mind, 1951 quarter value is highest for "Uncirculated" coins.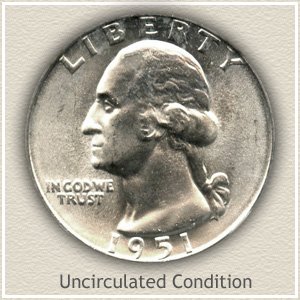 Uncirculated: Best described as never been touched, appearing as if fresh from the mint. The color of the coin is either bright silver white or naturally toned. Technically the requirement is the total absence of wear. Look for the first evidence of abrasion from circulation showing as a break of the delicate luster on the cheeks.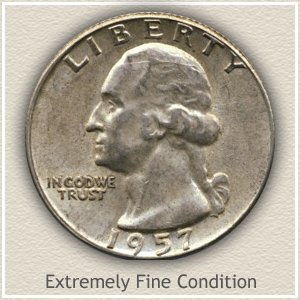 Extremely Fine: This quarter exhibits slight evidence of circulation, but was put away before to much wear accrued. Examine the hair and you notice the details are gone. Also the roundness of Washington's neck and cheeks has smoothed out somewhat.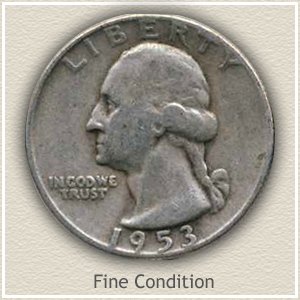 Fine: On this coin the small and finer details have worn away and the area surrounding the ear has flattened from circulation. Many transfers from hand to hand have left their mark. However, eye appeal is still rather nice.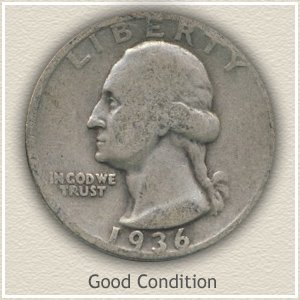 Good: All the major details show but very flattened by wear. The tops of the letters have begun to merge into the rim. In this grade, 1951 quarter value is their silver content.
Coin Values | CoinStudy Articles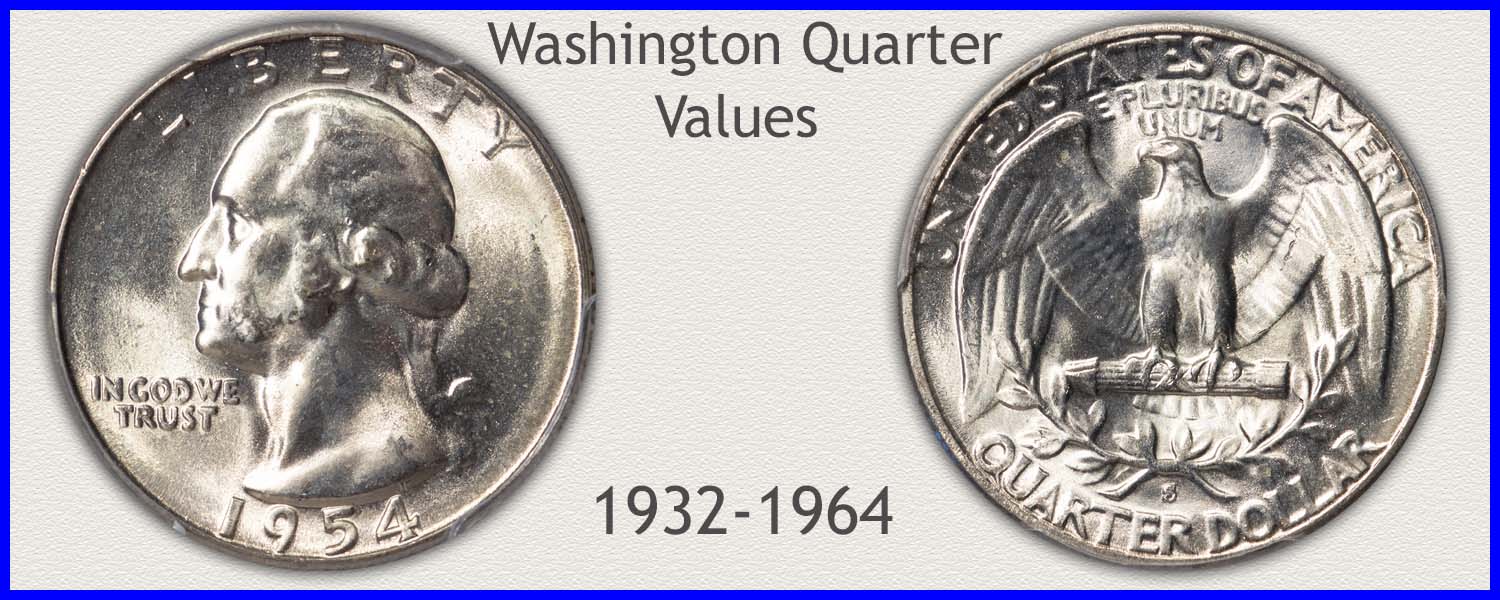 Check your coins with the values chart. Most of the silver Washington quarters value is tied closely to the price of silver. However, a few rare dates and mintmarks are very valuable. Discover how much your quarters are worth.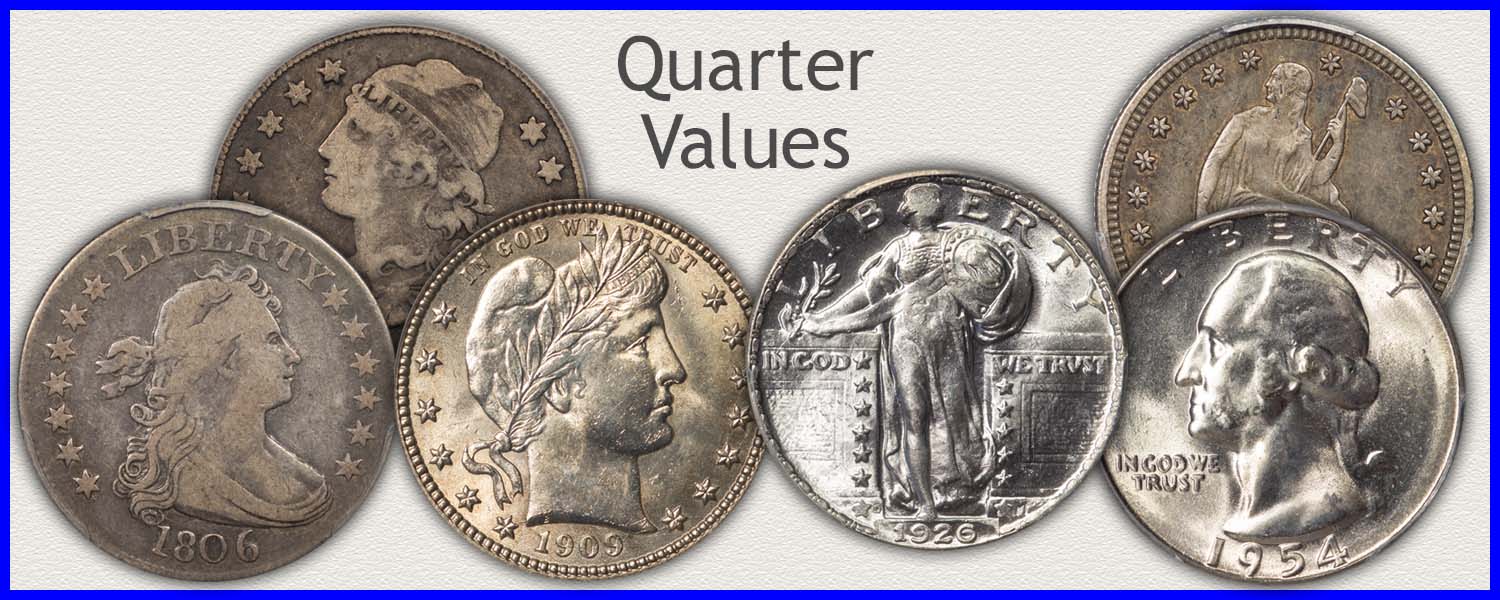 Including more relating to your 1951 quarter value. Easily find how much your old coins are worth.
From Bust Quarters to Seated Liberty, Barber, Standing Liberty and Washington quarters. All series include Grading Images to judge the condition of your coins and coin value charts.
Do you have other coin denominations?
★Coin Values Discovery... finds 1951 quarter value and...
All old US coin values. It is an excellent index with images and text links to all coin series, from Cents to Gold. Value charts, grading images and descriptions uncover how much your box of old coins is worth.
The Challenge of Selling Your Coins
Selling your coins to an enthusiastic buyer is fun. Mintmarks or outstanding condition add to the 1951 quarter value. Compare your coins to dealer listings and auction results, see how much your old coins are worth.
Selling your coins is always a challenge. However you have taken big steps towards understanding what is involved to accurately determine value and getting your best deal.
Look through your box of old coins, discover any treasure hiding inside. Research them, not only on this site, but others. Now you can decide if and when to sell your coins.