Coin Values Moving with Precious Metals: Up-Dated 11/27/2023: Gold $2010 | Silver $24.66
1947 Quarter Value
The 1947 quarter value is $4.14 each, it's the starting value for a coin in "Good" condition.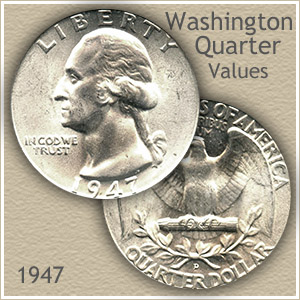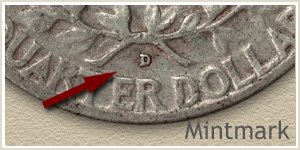 Other elements do contribute to raising the value higher, particularly the condition of your coin and finding the "D" or "S" mintmark.
Beginning with the mintmark. Three mints produced Washington quarters in 1947, Philadelphia, Denver and San Francisco. Those minted in Denver and San Francisco are worth a small premium today because of low mintage totals.
The next challenge is determining the condition of your old quarter. Commonly found heavily worn, see if your coin is in the higher more collectible "Uncirculated" condition, and compare it to the "Grading" images below.
A popular series with collectors and elusive in the higher grades, your 1947 quarter is worth a close examination.
"1947-D" on the coin value chart is a Washington quarter minted in 1947 at the Denver Mint.
1947 Quarter Value
Condition of Coin
Date
Good
Fine
Extremely
Fine
Uncirculated
1947 Quarter Value Updated
11/27/2023
1947
$4.14
$4.14
$4.14
$6.56
1947 D
$4.14
$4.14
$4.14
$5.92
1947 S
$4.14
$4.14
$4.14
$5.50
The adjacent image is of the reverse, indicating the mintmark location. If the San Francisco mint produced the coin an "S' is found in this location. Judging condition and "Grade" is covered next.
1947 Quarter Value by Grade
Follow along with the images as a Washington quarter begins to wear from freshly minted to a very worn example. By judging the condition of your coin, a "Grade" is determined. The greater the detail remaining, the greater your 1947 quarter value.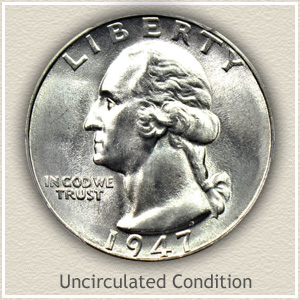 Uncirculated: A quarter in this grade has never circulated through commerce. Showing no signs of wear, it still has the look of brand new. The most desirable condition to collectors and the highest values.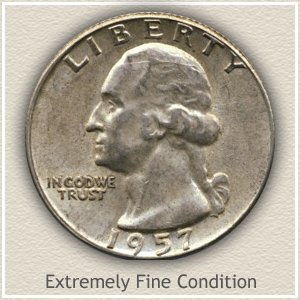 Extremely Fine: The lightest of wear and abrasion begins to show in the hair and curls over Washington's ear. Minute details have disappeared and mint luster is absent from the neck and cheek. This quarter is worn, but very lightly.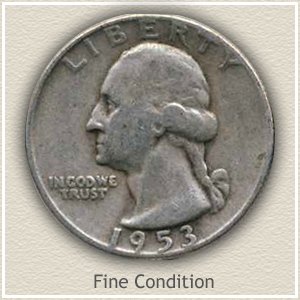 Fine: Wear has begun to take its toll on this quarter. Flattened areas of wear cover Washington's hair and curls. Although the hair line along the forehead is visible.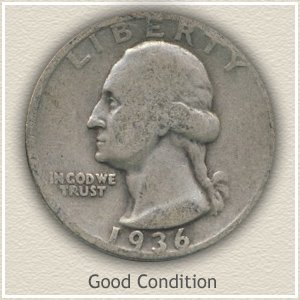 Good: The Washington portrait is smooth from circulation, but all essential details remain. The rim of a 1947 quarter is normally still well defined, but has just started to merge into the lettering.
Coin Values | CoinStudy Articles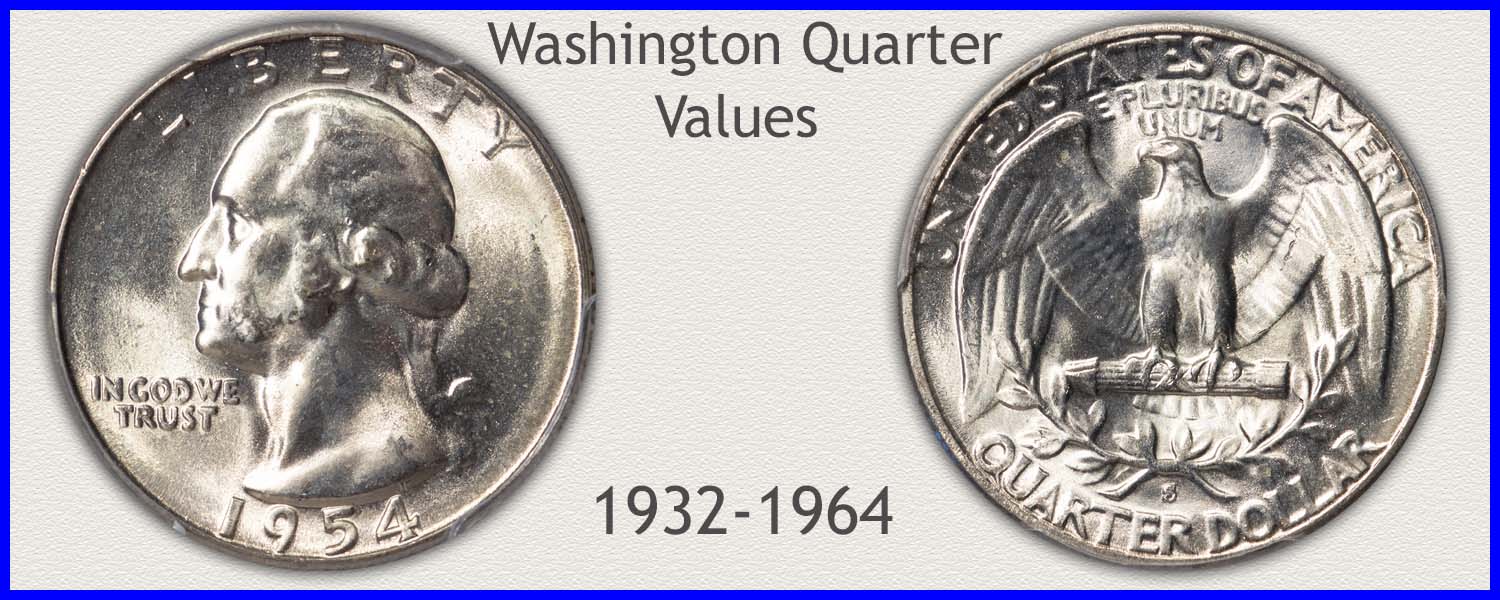 Their value is tied closely to the price of silver. However, a few rare dates and mint marks stand out, if found in high condition. Compare your coins to the grading images and separate then by condition. Follow your coin's value on the silver charts, and check for rare dates and mint marks.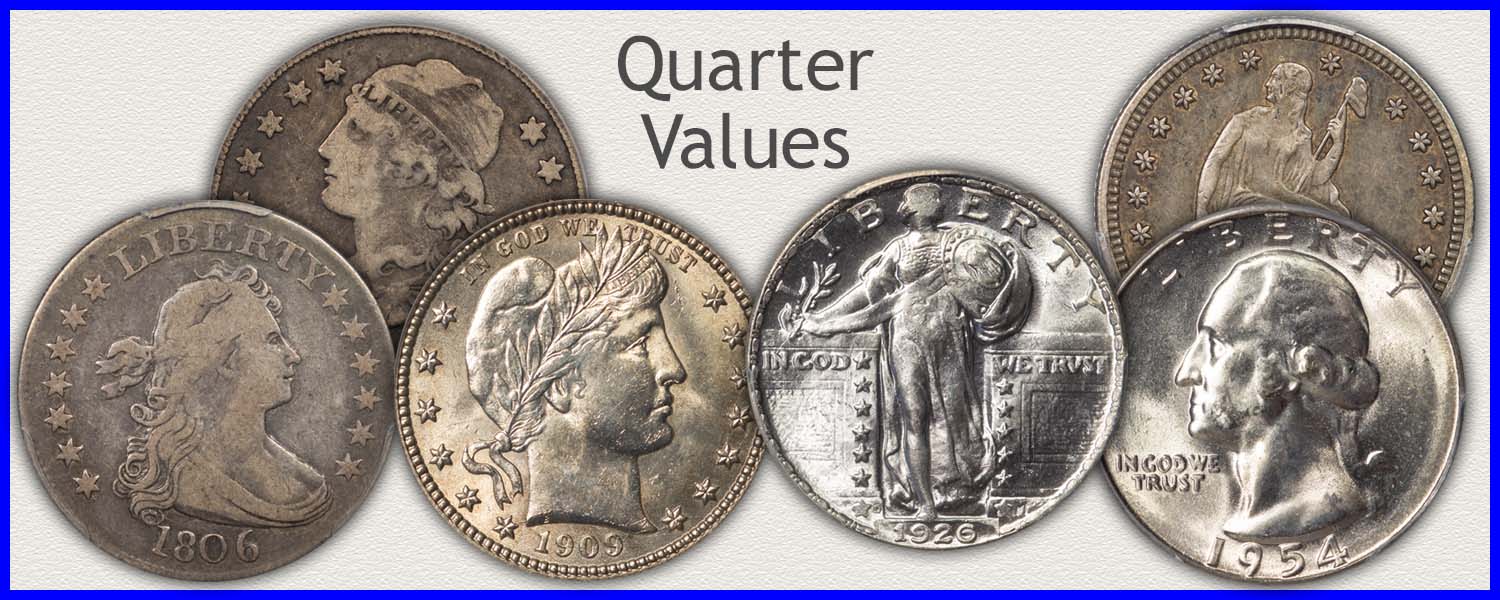 Including more relating to your 1947 quarter value. Easily find how much your old coins are worth.
From Bust Quarters to Seated Liberty, Barber, Standing Liberty and Washington quarters. All series include Grading Images to judge the condition of your coins and coin value charts.
Do you have other coin denominations?
★Coin Values Discovery... finds 1947 quarter value and...
All old US coin values. It is an excellent index with images and text links to all coin series, from Cents to Gold. Value charts, grading images and descriptions uncover how much your box of old coins is worth.
1947 Quarter Value High Because of Competition
Competition to own a superb 1947-D Washington quarter drove the price to $138. It was during a DLRC Auction a determined bidder added the quarter to their collection.
What set this particular Washington quarter apart form the rest is its dazzling condition. To the unaided eye, no abrasions or contacts marks are visible, that alone is remarkable. Now add the look of the silver white center surrounded by the yellow-amber toning along the rims for an overall stunning appearance.
Selling your coins to an enthusiastic buyer is fun. Mintmarks or outstanding condition add to the 1947 quarter value. Compare your coins to dealer listings and auction results, see how much your old coins are worth.