Coin Values Moving with Precious Metals: Up-Dated 5/29/2023: Gold $1945 | Silver $23.25
1959 Quarter Value
Your 1959 quarter value starts a $3.91 each. This minimum represents the high silver content in the coin.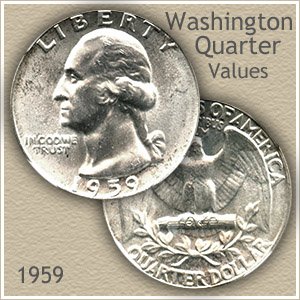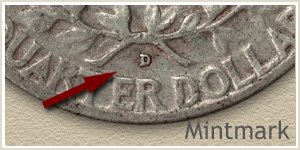 Most circulated Washington quarters in the 1950's trade at or near this price because of silver value.
The next challenge is determining the condition of your old quarter. Commonly found heavily worn, see if your coin is in a higher more collectible "uncirculated" condition, and compare it to the "Grading" images below.
If you discover your coin is in the "Uncirculated" condition it now is worth a premium.
The adjacent image is a very nice uncirculated quarter, any collector would gladly add to their collection, also it is the type of coin a dealer would pay extra for. It is always possible your 1959 quarter is worth more.
The coin value chart defines prices by the date, the presence of a mintmark and the condition of your coin.
1959 Quarter Value
Condition of Coin
Date
Good
Fine
Extremely
Fine
Uncirculated
1959 Quarter Value Updated
5/29/2023
1959
$3.91
$3.91
$3.91
$4.99
1959 D
$3.91
$3.91
$3.91
$4.99
The "1959-D" quarter was produced at the Denver mint in 1959, the "D" mintmark is located on the reverse, below the wreath. The different condition groups and how to "Grade" your coin is described below.
1959 Quarter Value is Conditional
The highest priced Washington quarters are always the "Uncirculated" examples, the first image. Descending to the lowest value "Good" condition quarters. Most collectors eventually replace these "Good" coins with a finer example.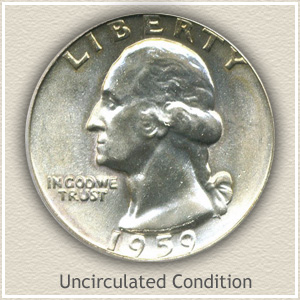 Uncirculated: A 1959 quarter in the "Uncirculated" grade exhibits absolutely no wear on its surfaces. The coin appears as if freshly minted. Although natural toning acquired over the years can be very desirable. This combination of factors results in the most desirable and valuable coins.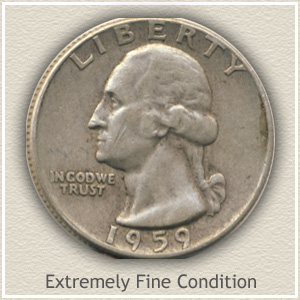 Extremely Fine: Washington quarters first begin to wear on the cheek, hair and curls. The detail of the hair begins to merge and a slight diminish to the roundness of the cheeks. Still a very sharp looking coin.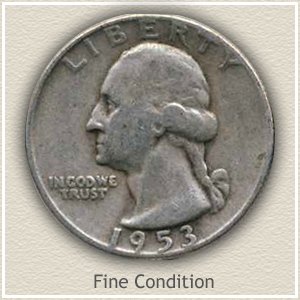 Fine: On this coin the small and finer details have worn away and the area surrounding the ear has flattened from circulation. Many transfers from hand to hand have left their mark. However, eye appeal is still rather nice.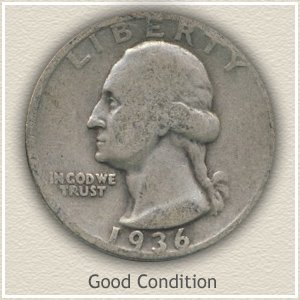 Good: All the major details show but very flattened by wear. The tops of the letters have begun to merge into the rim. In this grade, 1959 quarter value is their silver content.
Coin Values | CoinStudy Articles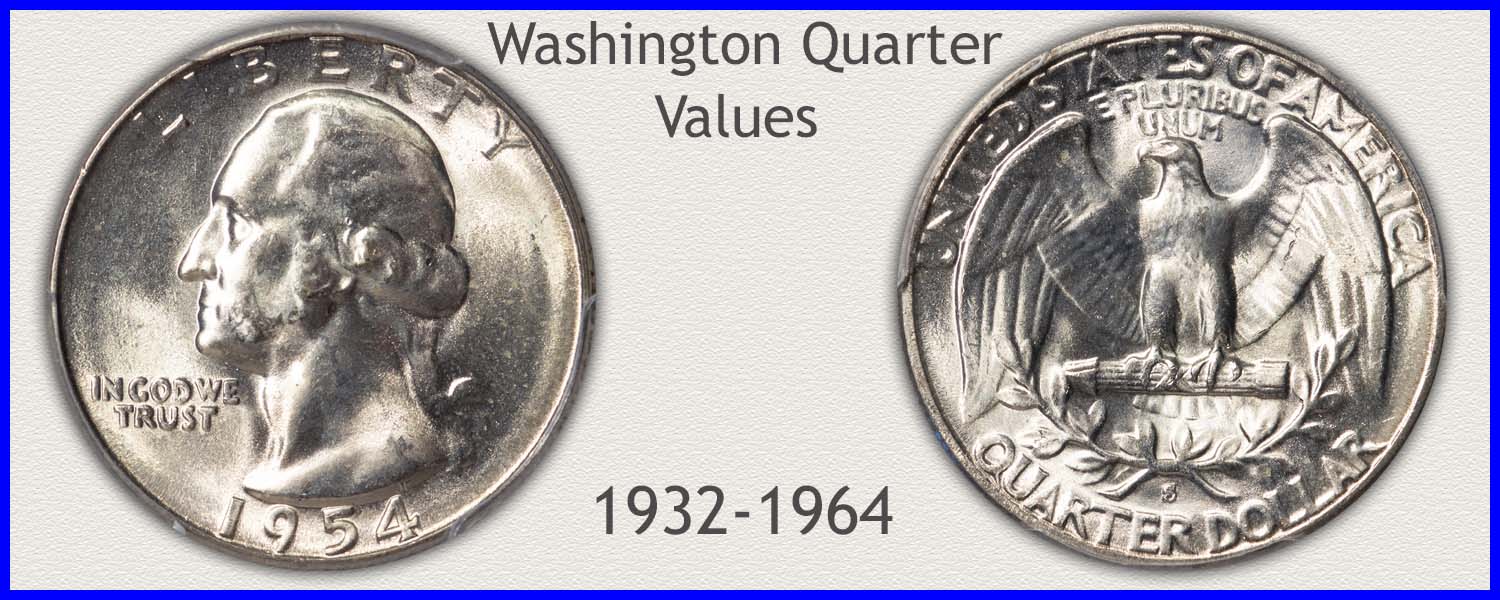 1959 quarter value is tied closely to the price of silver. However, a few rare dates and mint marks stand out, if found in high condition. Compare your coins to the grading images and separate then by condition. Follow your coin's value on the silver charts, and check for rare dates and mint marks.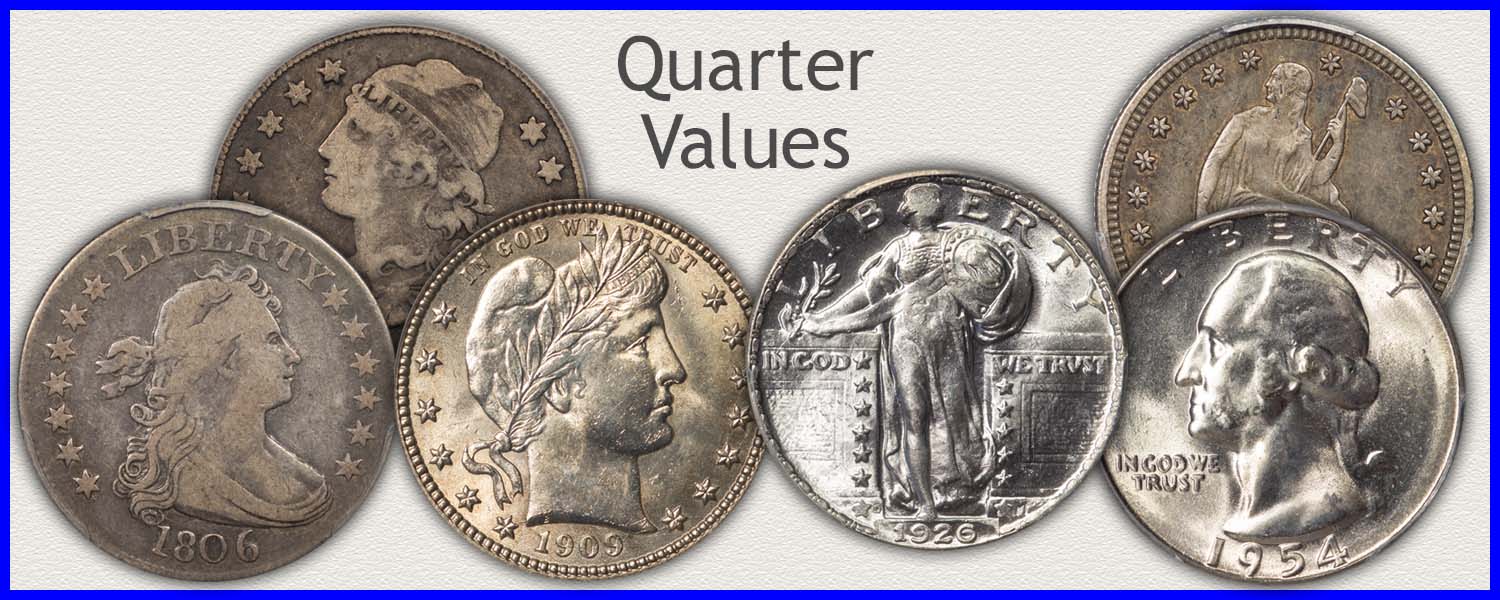 Including more relating to your 1959 quarter value. Easily find how much your old coins are worth.
From Bust Quarters to Seated Liberty, Barber, Standing Liberty and Washington quarters. All series include Grading Images to judge the condition of your coins and coin value charts.
Do you have other coin denominations?
★Coin Values Discovery... finds 1959 quarter value and...
All old US coin values. It is an excellent index with images and text links to all coin series, from Cents to Gold. Essential grading images alongside coin value charts discover how much your box of old coins are worth.
Quality Delivers High Auction Value
Teletrade Internet Auction presents a gem condition 1959 Washington quarter and nets $360 for a pleased seller. And delivers a true rare coin to the happy buyer.
Quality of preservation sets this coin apart. Golden toning encircling the rim frames the silver-white center. Rendering remarkable eye appeal uninterrupted by any noticeable bruises to the surfaces of the coin.
A new 1959 quarter value standard is set. Many Washington quarters have been put away in collections over the years. If yours is "Uncirculated" the 1959 quarter is worth a second look.