Coin Values Moving with Precious Metals: Up-Dated 11/27/2023: Gold $2010 | Silver $24.66
1939 Quarter Value
The 1939 quarter value is $4.14 each, it's the starting value for a coin in "Good" condition.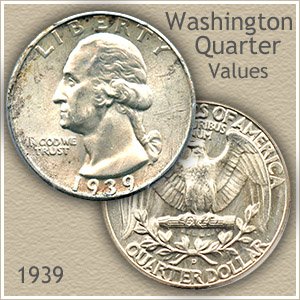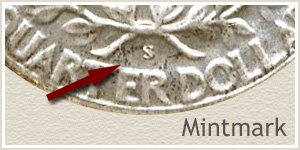 Other elements do contribute to raising the value higher, particularly the condition of your coin and finding the "S" mintmark.
Beginning with the mintmark. Three mints produced Washington quarters in 1939, Philadelphia, Denver and the San Francisco Mint. Quarters minted in San Francisco are worth a premium today because of low mintage totals.
The next challenge is determining the condition of your old quarter. Commonly found heavily worn, see if your coin is in a higher more collectible condition, and compare it to the "Grading" images below.
A popular series with collectors and elusive in the higher grades, your 1939 quarter is worth a close examination.
The terms used in the coin values chart, relating to the condition of your quarter, are described in detail below.
1939 Quarter Value
Condition of Coin
Date
Good
Fine
Extremely
Fine
Uncirculated
1939 Quarter Value Updated
11/27/2023
1939
$4.14
$4.14
$4.65
$8.41
1939 D
$4.14
$4.14
$6.98
$33
1939 S
$4.14
$4.14
$21
$69
A date listing of "1939-S" is a quarter minted in 1939 at the mint in San Francisco. In 1939 the mint marks on Washington quarters are found on the reverse just below the wreath.
1939 Quarter Value by Grade
Follow along with the images as a Washington quarter begins to wear from freshly minted "Uncirculated" condition, to a very worn example in "Good" condition. By judging the condition of your coin, a "Grade" is determined. The greater the detail remaining, the greater your 1939 quarter value.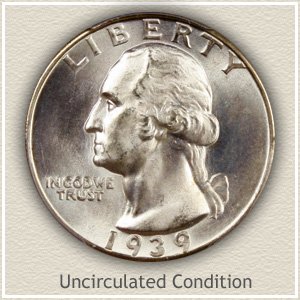 Uncirculated: A 1939 quarter in the "Uncirculated" grade exhibits absolutely no wear on its surfaces. The coin appears as if freshly minted. Although natural toning acquired over the years can be very desirable. This combination of factors results in the most desirable and valuable coins.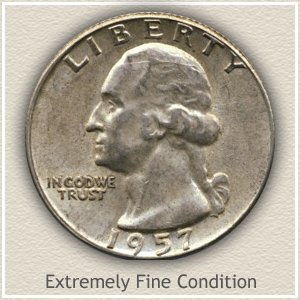 Extremely Fine: Washington quarters first begin to wear on the cheek, hair and curls. The detail of the hair begins to merge and a slight diminish to the roundness of the cheeks. Still a very sharp looking coin.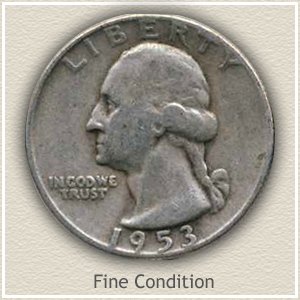 Fine: Wear has begun to take its toll on this quarter. Flattened areas of wear cover Washington's hair and curls. Although the hair line along the forehead is visible.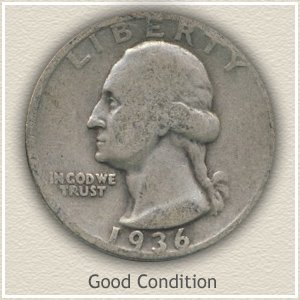 Good: The rim begins to conceal the lettering to a degree but stops about a third of the way. The portrait is distinct and most of the prominent details remain. A 1939 quarter typical of this condition trades at its underlying silver bullion value.
Coin Values | CoinStudy Articles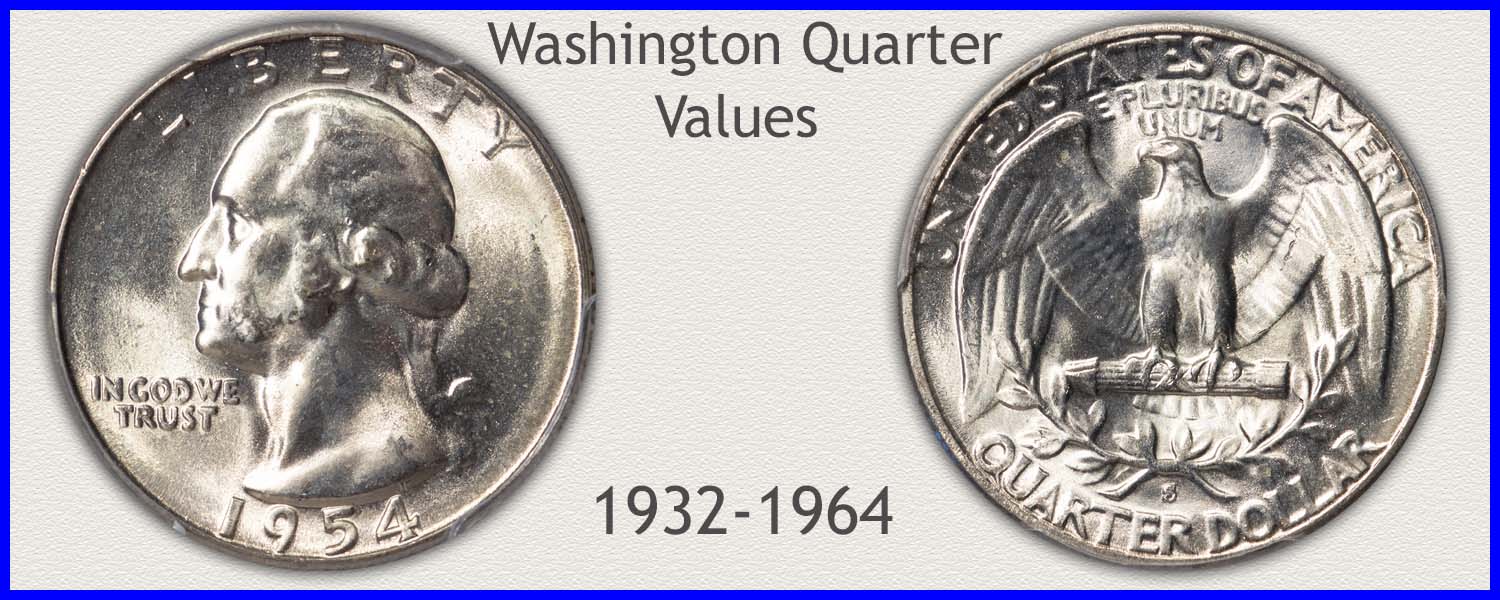 Check your coins with the values chart. Most of the silver Washington quarters value is tied closely to the price of silver. However, a few rare dates and mintmarks are very valuable.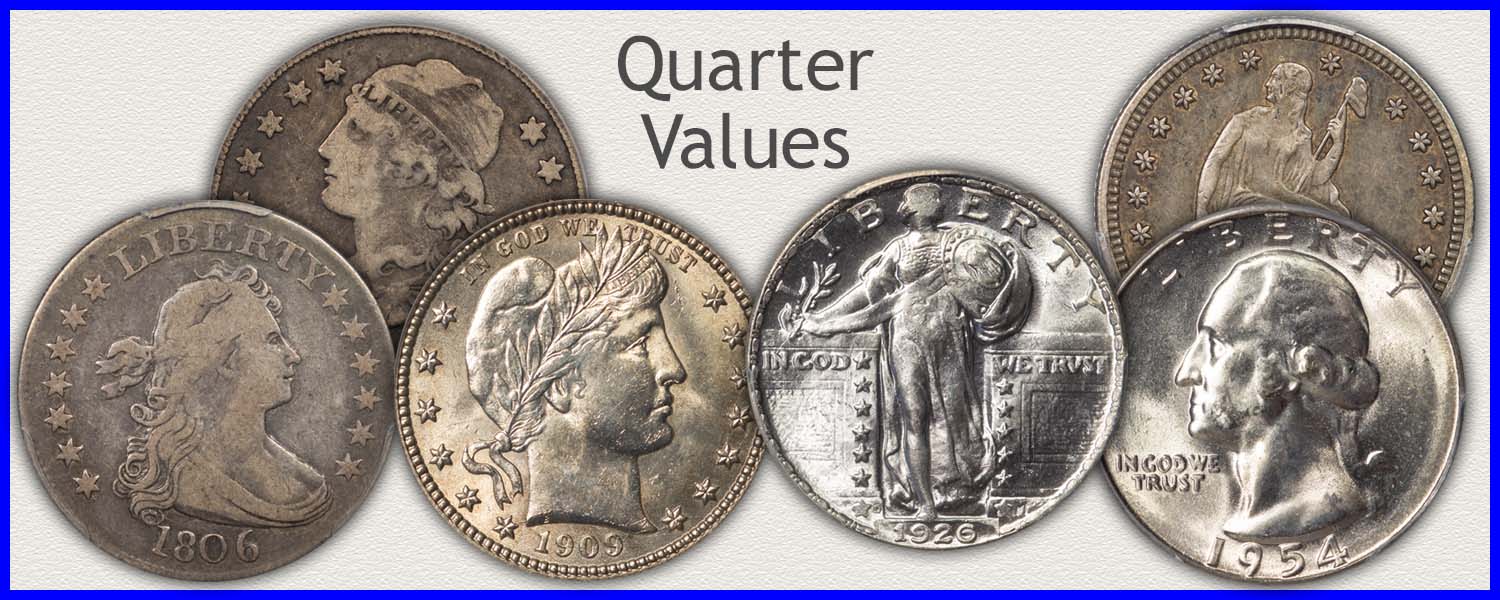 Including more relating to your 1939 quarter value. Easily find how much your old coins are worth.
From Bust Quarters to Seated Liberty, Barber, Standing Liberty and Washington quarters. All series include Grading Images to judge the condition of your coins and coin value charts.
Do you have other coin denominations?
★Coin Values Discovery... finds 1939 quarter value and...
All old US coin values. It is an excellent index with images and text links to all coin series, from Cents to Gold. Value charts, grading images and descriptions uncover how much your box of old coins is worth.
High Auction Results for 1939 Quarter
Handle your old quarters carefully...
In June 2008 as part of a Heritage Auction Galleries sale, a superb gem 1939-S quarter sold for $1,152.30.
Eye catching, with blazing silver white luster, the coin gave the appearance as if minted yesterday. It's the condition of this 1939-S Washington Quarter that drew the thousand dollars worth of attention.
An elusive coin, demonstrating few survive this nice, and setting a high standard for 1939 quarter value. It is evident many serious collectors are attempting to assemble superior collections of Washington Quarters.
Investigate the many dealer listings and rare coin auctions. Compare your coins to the prices and descriptions. You quickly discover how much your 1936 quarter is worth.