Coin Values Moving with Precious Metals: Up-Dated 11/27/2023: Gold $2010 | Silver $24.66
1943 Quarter Value
$4.14 is the minimum 1943 quarter value. It is the underlining silver price moving your coin to this level.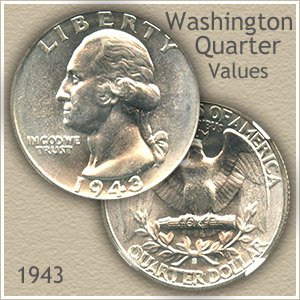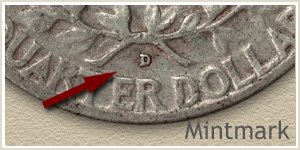 If yours is the "D" or "S" mintmark issue, and "Uncirculated", it is now worth in the $30 to $32 range. Of the three mints coining Washington quarters in 1943, the Denver Mint "D" is the most valuable.
Next in line, the San Francisco mint "S" produced coins that are a little less rare and valuable than the Denver coins. Lastly, the Philadelphia mint, no mintmark, issued quarters in large quantities, close to 100 million pieces. These are the most available and generally trade at their silver bullion value… unless in "Uncirculated" condition.
Condition is very important to collectors and dealers when price is considered. The impressive Washington quarter pictured is an example rising to the top of the value scale. Never circulated, and no wear, a very desirable coin.
Identifying mintmarks and especially condition accurately, combines to reveal how much your 1943 quarter is worth today.
The coin value chart breaks the prices down by date, mintmark and state of preservation.
1943 Quarter Value
Condition of Coin
Date
Good
Fine
Extremely
Fine
Uncirculated
1943 Quarter Value Updated
11/27/2023
1943
$4.14
$4.14
$4.40
$5.50
1943 D
$4.14
$4.14
$5.36
$30
1943 S
$4.14
$4.14
$5.36
$32
The "1943-D" is a quarter minted by the Denver mint in 1943 and values are given in four different "Grades." How to grade your coins is covered below.
1943 Quarter Value by Grade
From brand new condition to very worn condition, is reflected in the examples. Line your quarters in a row, judge their state of preservation and assign each a "Grade."
As you proceed handle each coin carefully, keeping in mind, 1943 quarter value is highest for "Uncirculated" coins.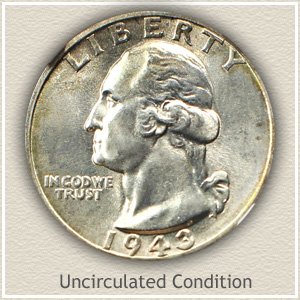 Uncirculated: Best described as never been touched, appearing as if fresh from the mint. The color of the coin is either bright silver white or naturally toned. Technically the requirement is the total absence of wear. Look for the first evidence of abrasion from circulation showing as a break of the delicate luster on the cheeks.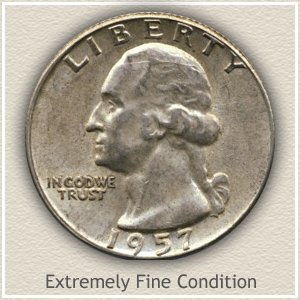 Extremely Fine: Slight wear confined only to the highest points of the design. The areas of focus to determine grade, are the hair details towards the top of Washington's head, the curls above the ear, and the cheeks near the eye. Easily described as a crisp and collectible coin.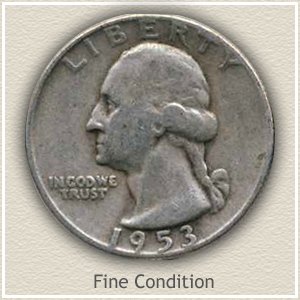 Fine: Wear has begun to take its toll on this quarter. Flattened areas of wear cover Washington's hair and curls. Although the hair line along the forehead is visible.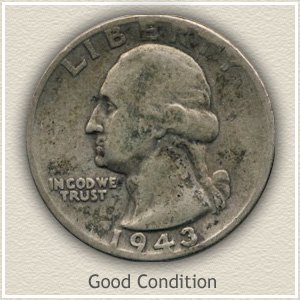 Good: All the major details show but very flattened by wear. The tops of the letters have begun to merge into the rim. In this grade, 1943 quarter value is their silver content.
Coin Values | CoinStudy Articles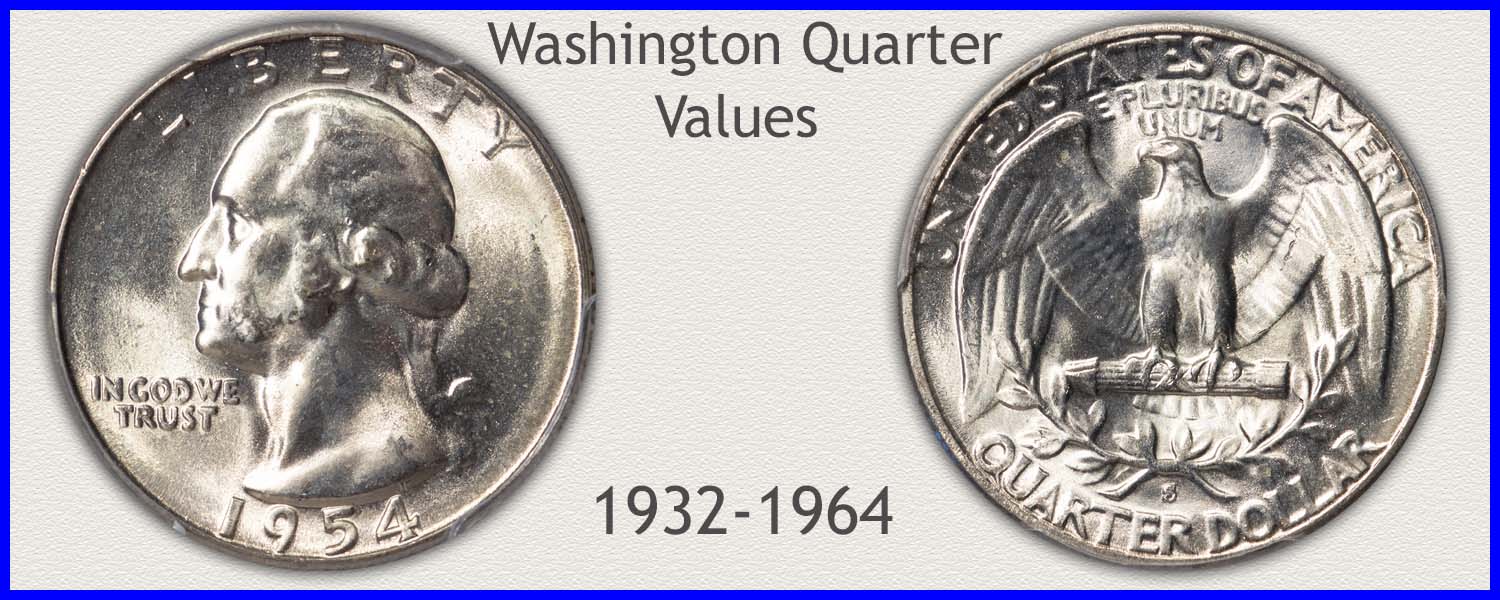 Check your coins with the values chart. Most of the silver Washington quarters value is tied closely to the price of silver. However, a few rare dates and mintmarks are very valuable.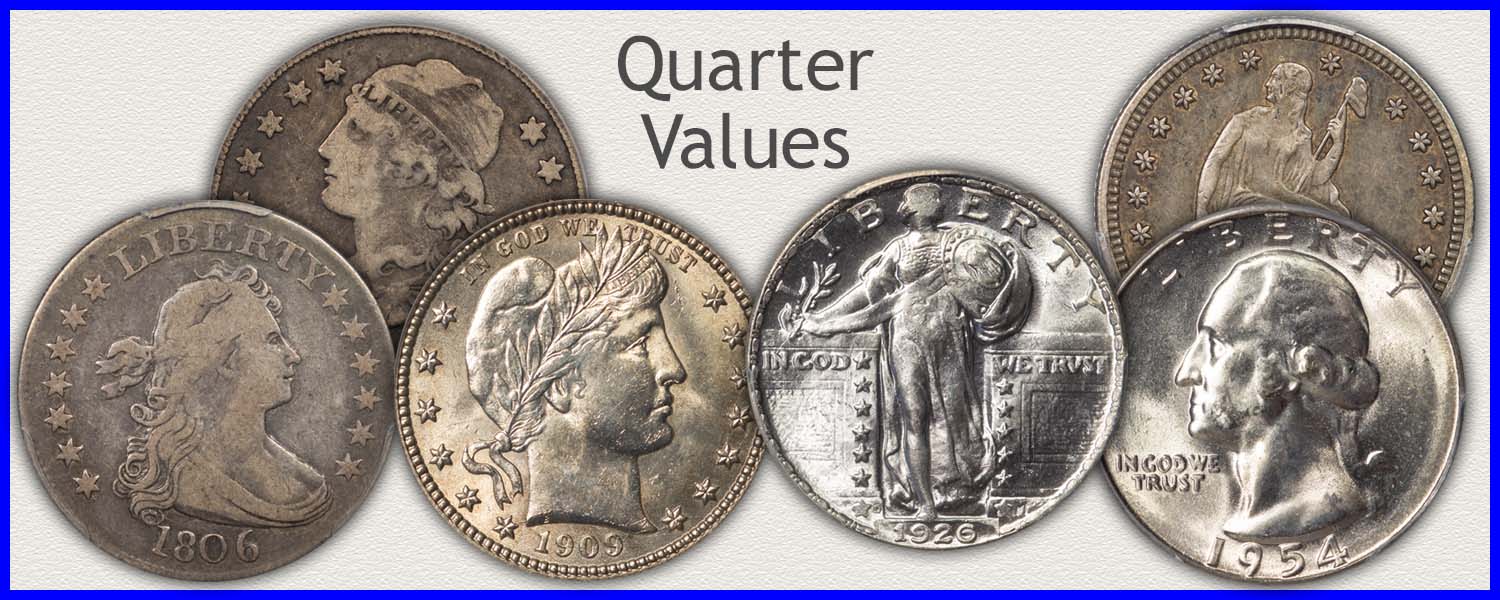 Including more relating to your 1943 quarter value. Easily find how much your old coins are worth.
From Bust Quarters to Seated Liberty, Barber, Standing Liberty and Washington quarters. All series include Grading Images to judge the condition of your coins and coin value charts.
Do you have other coin denominations?
★Coin Values Discovery... finds 1943 quarter value and...
All old US coin values. It is an excellent index with images and text links to all coin series, from Cents to Gold. Essential grading images alongside coin value charts discover how much your box of old coins are worth.
High Rare Coin Condition High Rare Coin Auction Result
What sets this quarter apart, causing such close attention, is its condition. So outstanding in fact, it crossed the auction block at $977.50.
DLRC Auctions sold this 1943-D Washington Quarter as part of a very successful internet auction. In their description they gave it a 5* star rating, the highest, for exceptional eye appeal.
Imagine a quarter, gleaming silver white, and not a scuff or abrasion visible to the unaided eye. It has been preserved mark free and retains its original color since the day it was minted.
Expert handling has left us a numismatic treasure. Fine enough to attract a lofty price of close to one thousand dollars.
Auction records and results, and dealer inventory descriptions are very informative. You can gain an appreciation of the many features affecting value and understand how much you 1943 quarter is worth.