Coin Values Moving with Precious Metals: Up-Dated 9/25/2023: Gold $1921 | Silver $23.44
1953 Quarter Value
Your 1953 quarter value starts a $3.94 each. This minimum price is because of the large silver content in old quarters.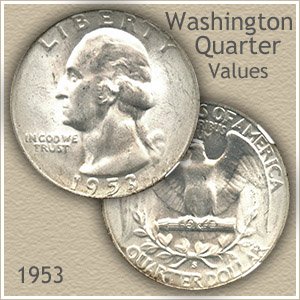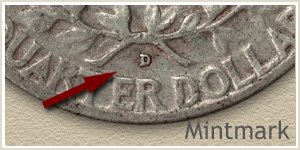 There is a chance it is even higher. Let's check for mint marks and most importantly the condition of your quarter. First the mint marks.
Three different minting facilities, Philadelphia, Denver and San Francisco, produced Washington quarters in 1953. The most valuable in the higher "Uncirculated" grade is the Philadelphia minted coins. The "D" or "S" mintmark, indicating the other mints, is found on the reverse.
Secondly, the state of preservation of your coin. Is it tired and worn looking or crisp and sharp, standing out from the rest?
Condition is key to price and desirability of Washington quarters. You can get an idea of where your coin is on the value chart by comparing its condition to the "Grading" images below.
Is your 1953 quarter value higher? The adjacent image is a very nice uncirculated quarter, any collector would gladly add to their collection, also it is the type of coin a dealer would pay extra for. It is always possible your 1953 quarter is worth more.
The terms used in the coin values chart about the condition of your Washington quarter is described in detail below.
1953 Quarter Value
Condition of Coin
Date
Good
Fine
Extremely
Fine
Uncirculated
1953 Quarter Value Updated
5/25/2023
1953
$3.94
$3.94
$3.94
$5.03
1953 D
$3.94
$3.94
$3.94
$5.23
1953 S
$3.94
$3.94
$3.94
$5.23
A date listing of "1953-D" is a quarter minted in 1953 at the mint in Denver. In 1953 the mint marks on Washington quarters are found on the reverse just below the wreath.
Grading Finds 1953 Quarter Value
The condition images are lined up to show the different stages of wear on a Washington quarter. The descriptions define the "Grade" and highlight the subtle details to consider.
Hopefully this reveals a higher grade and your 1953 quarter value is well above the minimum.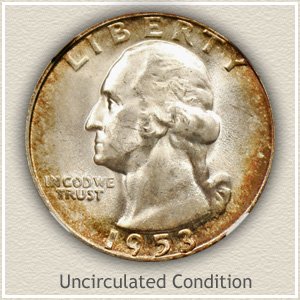 Uncirculated: Best described as never been touched, appearing as if fresh from the mint. The color of the coin is either bright silver white or naturally toned. Technically the requirement is the total absence of wear. Look for the first evidence of abrasion from circulation showing as a break of the delicate luster on the cheeks.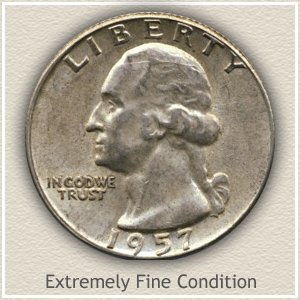 Extremely Fine: This quarter exhibits slight evidence of circulation, but was put away before to much wear accrued. Examine the hair and you notice the details are gone. Also the roundness of Washington's neck and cheeks has smoothed out somewhat. If yours is the "D" or "S" issue, the 1953 quarter value still has a collector premium.
Fine: Wear has begun to take its toll on this quarter. Flattened areas of wear cover Washington's hair and curls. Although the hair line along the forehead is visible.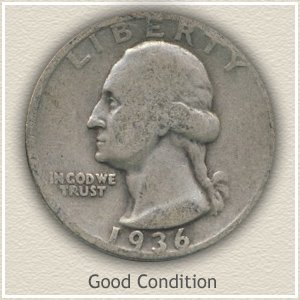 Good: The Washington portrait is smooth from circulation, but all essential details remain. The rim of a 1953 quarter is normally still well defined, except where it has begun to merge into the lettering and date.
Coin Values | CoinStudy Articles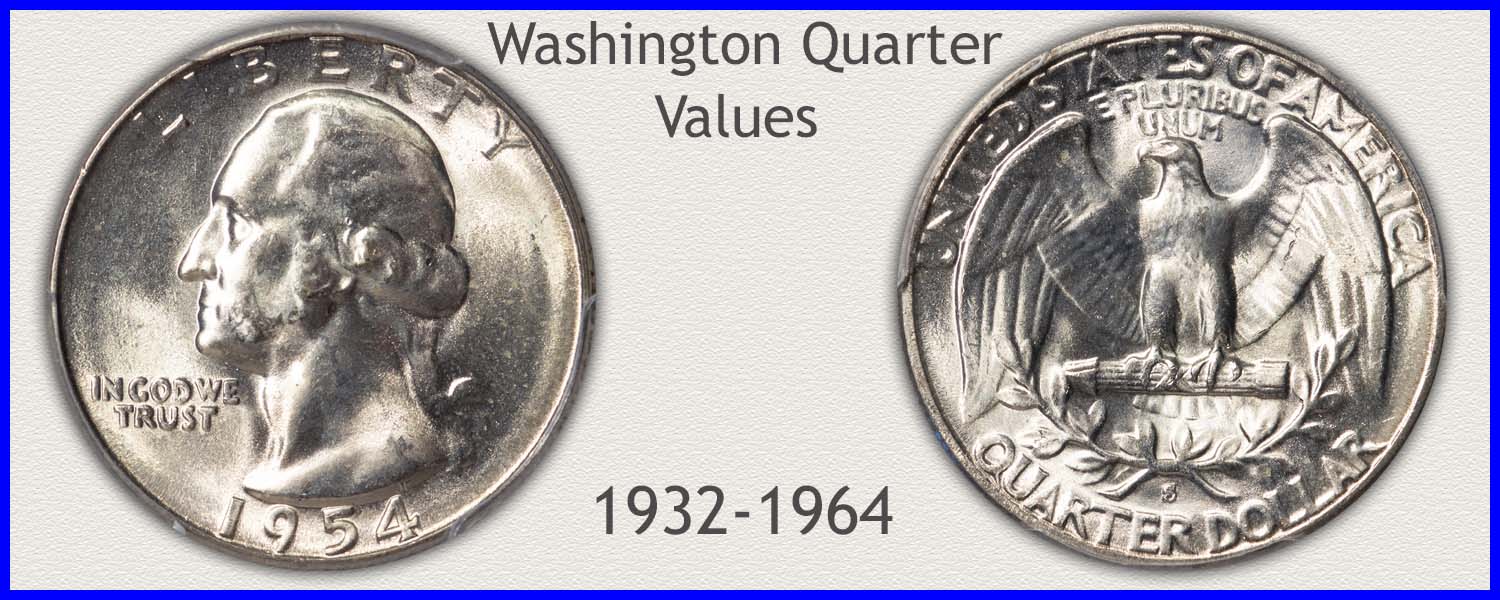 Their value is tied closely to the price of silver. However, a few rare dates and mint marks stand out, if found in high condition. Compare your coins to the grading images and separate then by condition. Follow your coin's value on the silver charts, and check for rare dates and mint marks.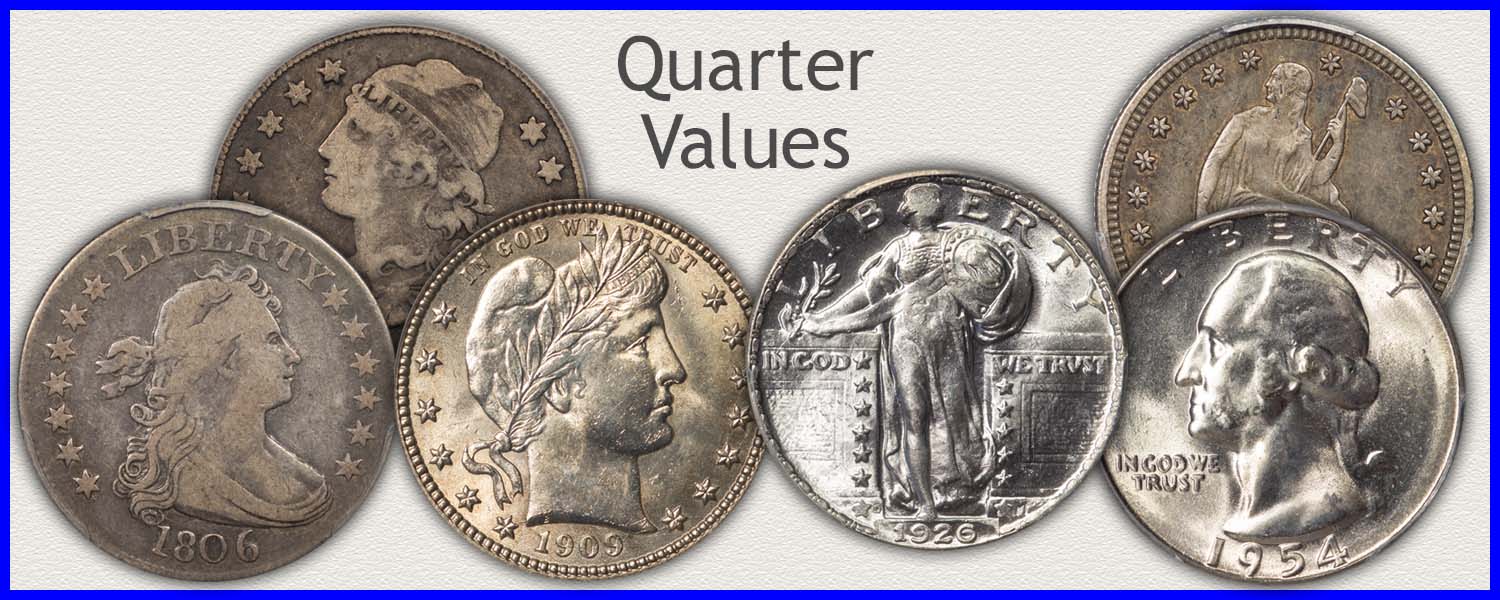 Including more relating to your 1953 quarter value. Easily find how much your old coins are worth.
From Bust Quarters to Seated Liberty, Barber, Standing Liberty and Washington quarters. All series include Grading Images to judge the condition of your coins and coin value charts.
Do you have other coin denominations?
★Coin Values Discovery... finds 1953 quarter value and...
All old US coin values. It is an excellent index with images and text links to all coin series, from Cents to Gold. Essential grading images alongside coin value charts uncover how much your box of old coins are worth.
1953 Quarter Auction Value - Final Bid $690
Amazing condition and quality resulted in an amazing price. The coin, a 1953 Washington quarter selling at a Bowers and Merena Auction. Pushing this 1953 quarter value to $690.
A remarkable coin in appearance. Sharply struck with bright mint luster layered over by silver-rose patina. Very rare in this state of preservation.
If you suspect your coin is "Uncirculated," auction results show a 1953 quarter is worth careful handling.