Coin Values Moving with Precious Metals: Up-Dated 9/18/2023: Gold $1928 | Silver $23.14
1919 Half Dollar Value
Starting 1919 half dollar value is $11.49 each, all are valued as collectibles. A scare date to find in any condition they have broken away from their minimum silver value.
In nice condition, with only slight wear to their design, these early Walking Liberty half dollars are popular and sought as additions to rare coin collections. With the 1919 proving elusive, and even harder to find in nice condition, values can reach hundreds of dollars. Below is a section on grading old silver half dollars giving descriptions and images to judge condition and value.
Value of a 1919 half dollar is often surprising for exceptionally nice coins. The "uncirculated" one pictured is rare in this condition and priced above $1,800. Small differences in wear, luster and marks are involved in determining value.
One more consideration is the mint that struck your coin. Three mints produced halves and each is valued separately. The value chart lists how much a 1919 half dollar is worth depending on the mint and condition.
Listings on the chart separate the value of your old half dollar by the different mints that struck coins.
1919-D is a coin minted in Denver, "S" indicates one minted at the San Francisco mint. Mintmarks placed on the coins were used to identify each mint and are either a small "D" or "S." The Philadelphia mint did not use a mintmark on Walking Liberty half dollars. Examine the reverse in the space close to the rim before "Half Dollar."
1919 Half Dollar Value
Condition of Coin
Date
Good
Fine
Extremely
Fine
Uncirculated
1919 Walking Liberty Half Dollar Value Updated
9/18/2023
1919
$25
$85
$431
$1,872
1919 D
$25
$185
$963
Rare
1919 S
$11.49
$84
$629
Rare
1919 Half Dollar Value of $920
Lightly circulated and worth $920. Selling at a David Lawrence Rare Coin auction was the slightly worn 1919 Walking Liberty half dollar pictured. Demonstrating not all coins close to the thousand dollar range are necessarily in perfect gem condition.
Pleasing surfaces, just light wear, and few a faint contact marks raised this 1919 half dollar value above $900. Early Walking Liberty silver half dollars dating before 1930 are not rare in medium to heavy wear conditions and are valued under $100. However collectors preferring choice nicer condition coins for their collections are now seeking very scarce coins and must bid higher.
The 1919 half is an excellent coin to illustrate, how small improvements in condition lead to large changes in value.

1919 Half Dollar Value is Determined by Grade
Rare silver half dollars are not always so because of the date or mintmark. Condition plays a very big role. Collectors and dealers are striving to find the best for their collections or inventories. Each old coin is examined and a "grade" of its condition is determined. Grade your Walking Liberty half dollar against the images finding the closet grade match, giving you an accurate 1919 half dollar value.
Uncirculated: A coin without wear is considered as "uncirculated" condition. Viewing you coin under a light, slowly rotate it, the shine and luster is continuous from edge to edge. Circulation renders the tops of the designs dull by removing the delicate luster. Look for this running down the center of Liberty. If you can confirm your 1919 half dollar is uncirculated it is at the high end of value.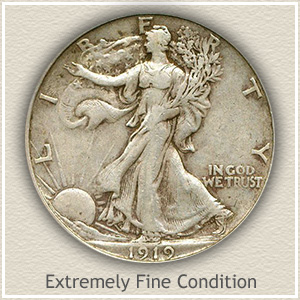 Extremely Fine: An old Walking Liberty half dollar in "extremely fine" condition has lost only a small amount of design detail due to wear. The luster of a new coin is gone but the overall look is still well defined and pleasing. Light flattening is visible on Liberty's head, the uppermost folds of her gown and just above the date. Separation of the branches she holds is still complete.
Fine: Wear has taken its toll and merged parts of the smaller elements of a coin in "fine" condition. In the center where Liberty's left arm is holding the branches, the majority of the separation has disappeared, leaving an indistinct flattened area. Loss of metal has reduced the sun's rays, some are just barely visible or absent.
Good: Once a highly detailed Liberty with a flowing gown is now just a distinctly flat outline. It is no longer clear Liberty is holding many branches. Her head, torso and leg are all one smooth and flat area. Most collectors replace coins in this condition with finer examples, leaving these at the low end of 1919 half dollar value.
Coin Values | CoinStudy Articles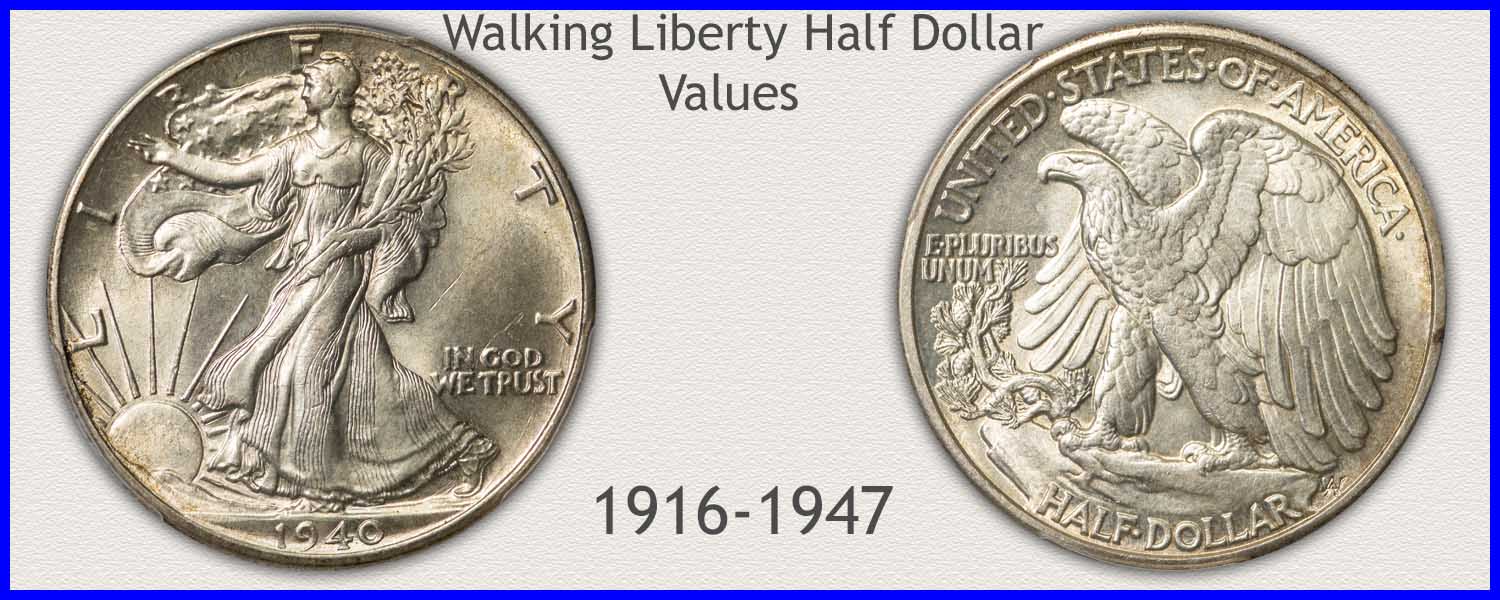 Walking Liberty Half Dollar Value Chart
No surprise here, the large size and stately design insures Walking Liberty half dollars are one of the favorites with collectors. Value chart listing all dates and mintmarks, including more on 1919 half dollar value. Compare your coins to images in the section "how to grade Walking Liberty Halves" and accurately discover how much your old half dollars are worth.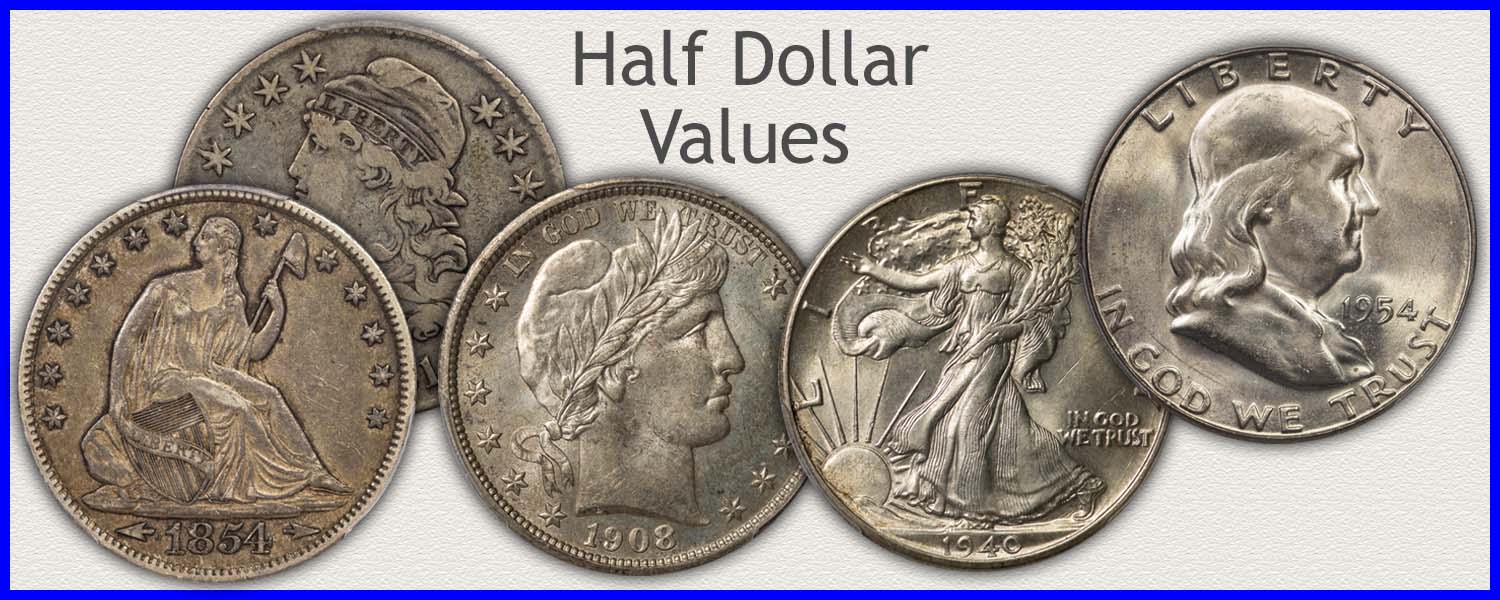 Half Dollar Value Covering all Series
Many rare and valuable coins are found throughout the entire history of silver half dollars. Spanning 1794 through the 1960's discover how much these rare silver coins are worth. The Franklin series of half dollars, Barber, Seated Liberty and the early Bust half dollars are listed by date with values.
★Return to Coin Values Discovery... find 1919 half dollar value and... It is an excellent index with images and text links to all coin series, from Cents to Gold. Value charts, grading images and descriptions uncovers the common to rare coin values found in your box of old coins.
Preparing to Sell Silver Coins
Silver Walking Liberty half dollars are in demand by dealers. These old coins are very liquid in the coin collecting market. There are always buyers interested in purchasing your coins. Receive the highest price by separating the collectable from the bullion priced pieces. For more info see the Sell Silver Coins article.