Coin Values Moving with Precious Metals: Up-Dated 9/25/2023: Gold $1921 | Silver $23.44
1946 Half Dollar Value
At $8.46 each your 1946 half dollar value is the minimum a heavily worn coin is worth.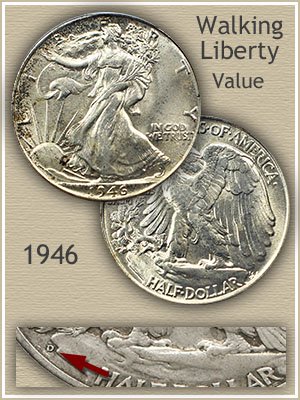 Most of these old Walking Liberty half dollars have circulated through commerce and received wear, often heavy wear. A half dollar in such condition is valued by the silver it contains not as a collectible.
The value of a 1946 half dollar is closely tied to its condition. Those collectors assembling sets of these old silver half dollars have many 1940's era coins to choose from. And a large amount are in the preferred "Uncirculated" condition. The demand for high quality examples and their availability has left the majority of worn 1946 halves priced at silver coin values.
However, one variation of the 1946 half dollar, the Denver mint issue is often worth a premium if found in "extremely fine" condition. This is a coin with very light wear to the high points of the design. Compare your coins to the images below, they show coins in different stages of wear. Also see the section about mintmarks and determine your coin's mint. If it has the "D" mintmark and slight wear, check the grading images and description under "Extremely Fine" to identify if you own a premium coin.
1946 half dollars were produced in Philadelphia, Denver and San Francisco.
The different mints are identified by mintmarks, "D" for the Denver mint and "S" used by the San Francisco mint. Denver mint coins have proven the elusive ones to find, and a nice treasure if yours is the "D" mintmark. Those without a mintmark where struck at Philadelphia. Examine the reverse along the rim at the eight o'clock position, if the mark is present it's small and occupying the space just under the branch.
1946 Half Dollar Value
Condition of Coin
Date
Good
Fine
Extremely
Fine
Uncirculated
1946 Walking Liberty Half Dollar Value Updated
5/25/2023
1946
$8.46
$10.47
$12.69
$31
1946 D
$8.46
$10.47
$14.31
$35
1946 S
$8.46
$10.47
$12.69
$42
Gem Quality 1946 Half Dollar Value
Of the millions of 1946 half dollars minted only a small percentage survive in "Uncirculated" condition. These are coins showing no signs of wear. The amount of "premium quality" uncirculated halves is a much smaller group within those uncirculated coins.
The rarest 1946 half dollars were minted at the Denver mint are in uncirculated condition, well struck and with minimal scuffs to their surface. David Lawrence rare coin auction presented one of the finest of these elite coins and competitive bidding took the price to $1265.
Any collector would welcome this coin into their collection. The superior state of preservation, quality and eye appeal give it remarkable value. Their willingness to pay top price indicates the demand, popularity and lack of supply when true gem quality is sold.

1946 Half Dollar Value is Conditional
Accurately value your 1946 half dollar by comparing to the grading images and finding the closest match. Values depend on determining your coin's condition, collectors judge old silver half dollars carefully before deciding how much they are worth. Condition separates common from rare silver coins, not always is it the date or mintmark.
Uncirculated: If your coin was put away long ago before any wear from circulation took place it is in "uncirculated" condition and at the top of 1946 half dollar value. Typically toning has begun to cover parts of the coin, but the original luster is unbroken by wear. Examine Liberty's outstretched arm and rear leg, if the luster is missing because of wear, indicating the coin is circulated, these areas appear dull.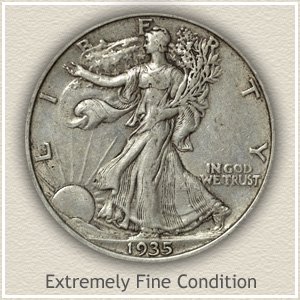 Extremely Fine: An old Walking Liberty half dollar in "extremely fine" condition has lost only a small amount of design detail due to wear. The luster of a new coin is gone but the overall look is still well defined and pleasing. Light flattening is visible on Liberty's head, the uppermost folds of her gown and just above the date. Separation of the branches she holds is still complete.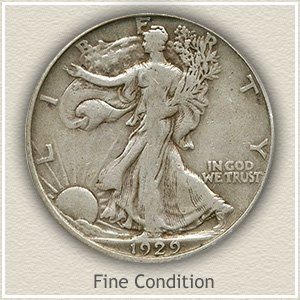 Fine: Loss of gown and hand detail down the center of Liberty is a half dollar in "fine" condition. From Liberty's head to her foot is now smooth and distinctly flat in appearance. Her arm and hand has merged with the branch and her waist. The disk of the sun is flat, the rays visible but fading quickly towards the points.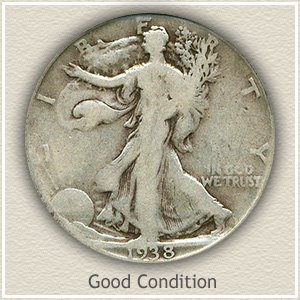 Good: Heavy wear covers the entire surface of your coin in "good" condition. Liberty's left arm has merged with the branches and her waist, the hand no longer visible. Rays extending from the sun have faded, the center ones missing half their length. Turning your attention to the rim it is often just touching the letters. In this condition 1946 half dollar value is its silver value.
Coin Values | CoinStudy Articles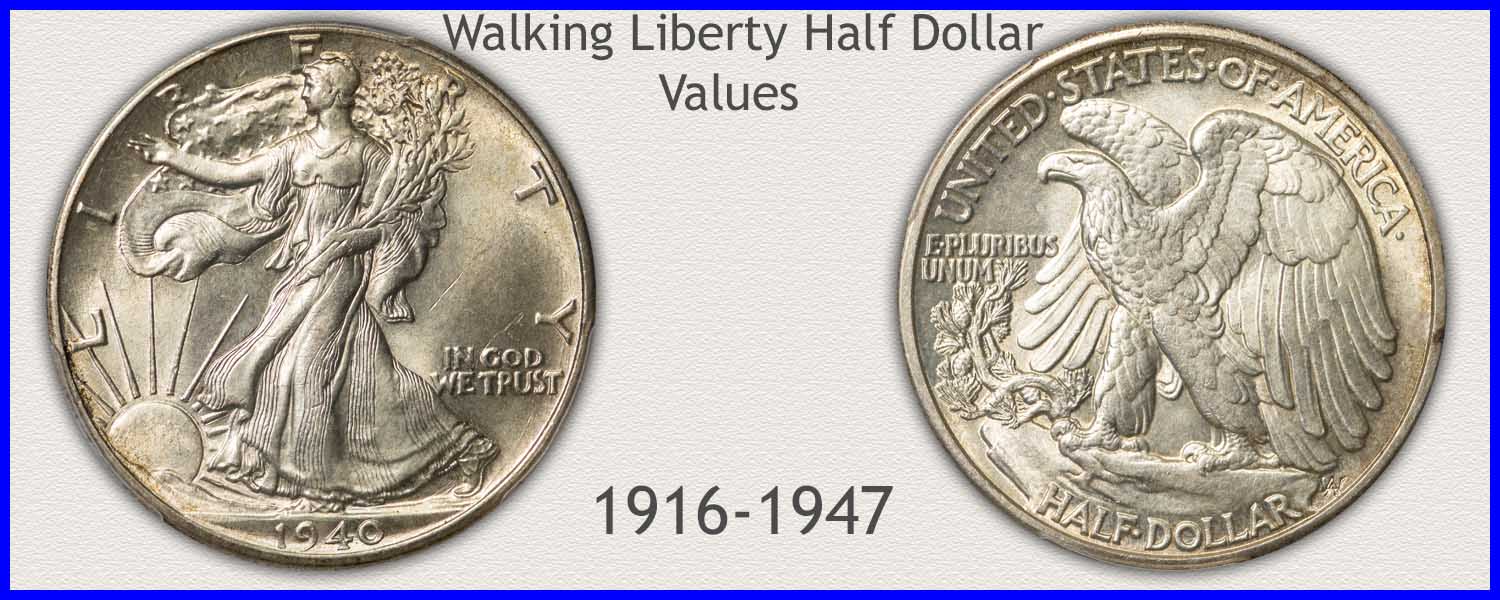 Walking Liberty Half Dollar Value Chart
Silver half dollars are collected in a wide range of conditions, from the high priced gems to pleasing circulated examples. The Walking Liberty half dollar series is avidly sought by collectors and rare coin dealers. Judge your coins with grading images and determine condition. Value charts list all date and mintmark combinations leading to an accurate value of your old rare coins. Becoming scarce, the early date Walking Liberty half dollars are beginning to break away from today's minimum silver coin value.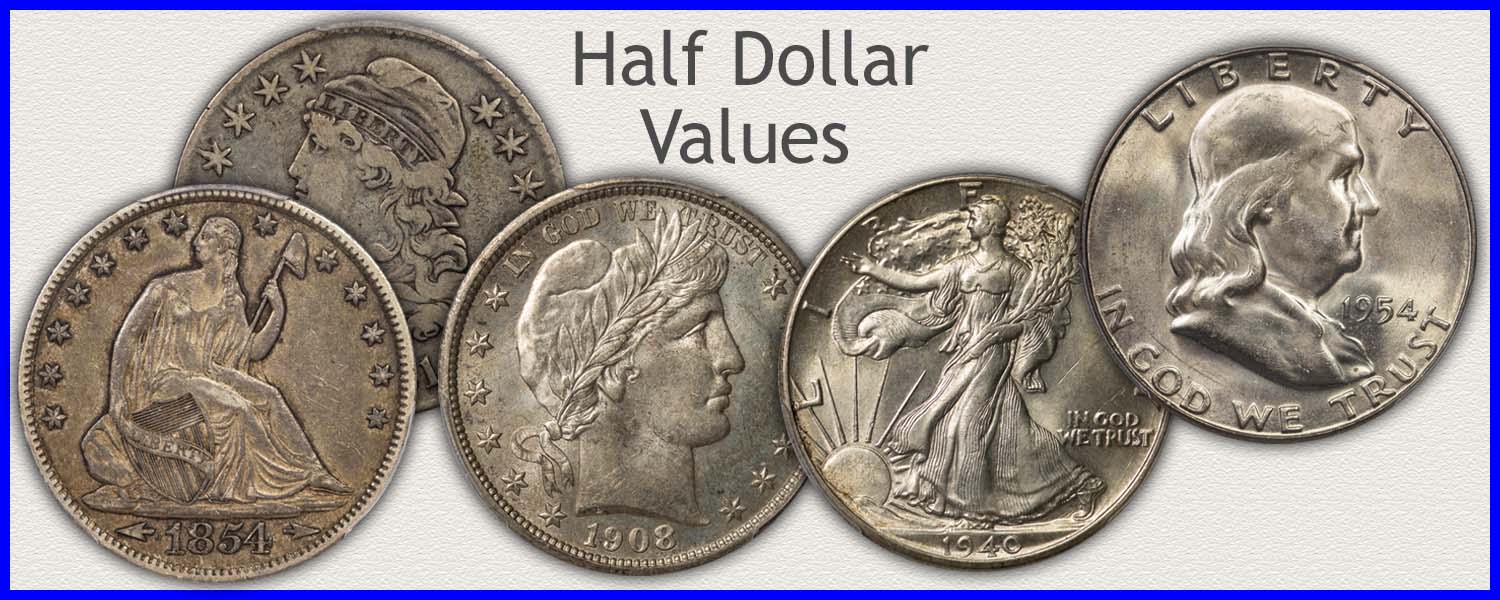 Half Dollar Value Covering all Series
Many rare and valuable coins are found throughout the entire history of silver half dollars. Spanning 1794 through the 1960's discover not only your 1946 half dollar value but how much the rest of these rare silver coins are worth. Value charts list all by date and mintmark. The Franklin series of half dollars, Barber halves, Seated Liberty and the rare early Bust half dollars.
★Return to Coin Values Discovery... find 1946 half dollar value and... It is an excellent index with images and text links to all coin series, from Cents to Gold. Value charts, grading images and descriptions uncovers the common to rare coin values found in your box of old coins.
Minimum Silver Value | A Good Place to Start
Many of your old US silver coin values are tied closely to the price of silver. Pre 1965 silver dimes, quarters, half dollars and silver dollars are all heavy with 90% silver and worth many times their face value. With today's high value of silver; $23.44 per ounce as of 5/25/2023 your old half dollars are becoming surprisingly valuable. Today's Minimum Silver Coin Values