Coin Values Moving with Precious Metals: Up-Dated 11/27/2023: Gold $2010 | Silver $24.66
1927 Half Dollar Value
The minimum 1927 half dollar value is $9.73 and it rises and falls some what with the price of silver. Note: This price is for a well worn silver half dollar.
Nicer condition coins, ones with just light wear often sell in the $350 range. And the value rises even higher for the exceptional examples that never circulated and are free of wear. Pictured is an "uncirculated" 1927 half dollar worth over $1,100. Its bright original surfaces and lack of bumps and bruises is rarely found on these old half dollars.
Collectors value 1927 half dollars by judging the condition of the coin and give it a "grade." Following guidelines, the amount of wear, nicks to the surfaces, and originality is determined. The grading process helps define an accurate value. Images of half dollars in various degrees of wear along with descriptions are further down the page.
Your old Walking Liberty half dollar, as it is know by collectors, is considered one the best of all US coinage designs. Its stately beauty plus large size attracts many collectors, often beginning their sets with circulated, lightly worn coins. Examine closely the ones you have as small differences in wear often changes how much your 1927 half dollar is worth.
All 1927 half dollar value in the above chart is separated depending on condition.
Since these halves were minted only a one mint, San Francisco, the mintmark is not a factor in value. Philadelphia and Denver the other operating mints at the time did not strike half dollars this year. An "S" mintmark is located on the reverse, the photo gives a close-up view.
1927 Half Dollar Value
Condition of Coin
Date
Good
Fine
Extremely
Fine
Uncirculated
1927 Walking Liberty Half Dollar Value Updated
11/27/2023
1927 S
$9.73
$15.05
$340
$1,260
Vividly Toned 1927 Half Dollar Value
Color, bright vivid color atop silver-white fields only added to the appeal of this choice 1927-S half dollar. Intense violet merging into shades of blue toning defines originality. High value is placed on coins when time has naturally colored their silver surfaces.
Care has been taken with this coin to protect its delicate luster from scuffs and scrapes. In pristine condition, few of these old silver halves remain today. Those assembling top quality collections of Walking Liberty halves routinely pay strong prices for such pieces.
Pictured is an example selling at a David Lawrence Rare Coin auction for $1840. Multiple bids raising the value to rare coin status. Many Walking Liberty half dollars enjoy strong demand from both collectors and dealers when displaying strong eye appeal afforded by vivid toning.
Condition Determines 1927 Half Dollar Value
Condition often separates the common from rare silver coins, it is not always a rare date or mintmark. Collectors and dealers are striving to find the best for their collections or inventories. Each old coin is examined and a "grade" of its condition is determined. Grade your Walking Liberty half dollar against the images finding the closet grade match, giving you an accurate 1927 half dollar value.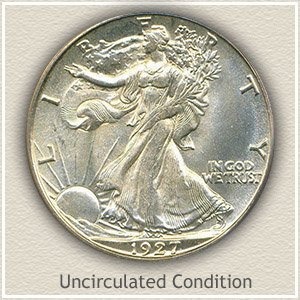 Uncirculated: An uncirculated coin must not have any wear. Its appearance retains the original mint luster, the shine of a new coin. When tilted from side to side an unbroken silver-white shimmer extends from rim to rim. Any wear from circulation shows as a "softening" and dulling of what should be very sharp features. Uncirculated condition separates the common from rare silver coins.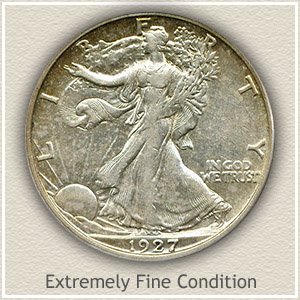 Extremely Fine: Evidence of some wear but remaining bold is a coin in "extremely fine" condition. Showing the greatest amount of design loss is the area through the center of Liberty. Folds in her gown have worn smooth over the area of her leg. Once rounded features, the branches, sun rays and Liberty's face now are flattened slightly from circulation.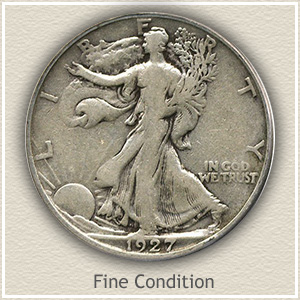 Fine: Notable to "fine" condition is the continuous flatness extending from Liberty's head to her foot. And on the reverse is a wide smooth area from the eagle's head along the chest to the leg. On both sides once rounded designs have worn away, there is noticeable flatness to branches and leaves, the sun and its rays, and along the folds in Liberty's gown.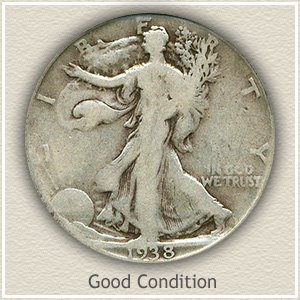 Good: Heavy wear and overall flatness to the coin define the "good" condition. Rims have begun to connect to the tops of the lettering and starting to obscure the date. Areas of "In God We Trust" are becoming faint. The center of Liberty is flat with no details. In this condition the typical 1927 half dollar value is based on silver content.
Coin Values | CoinStudy Articles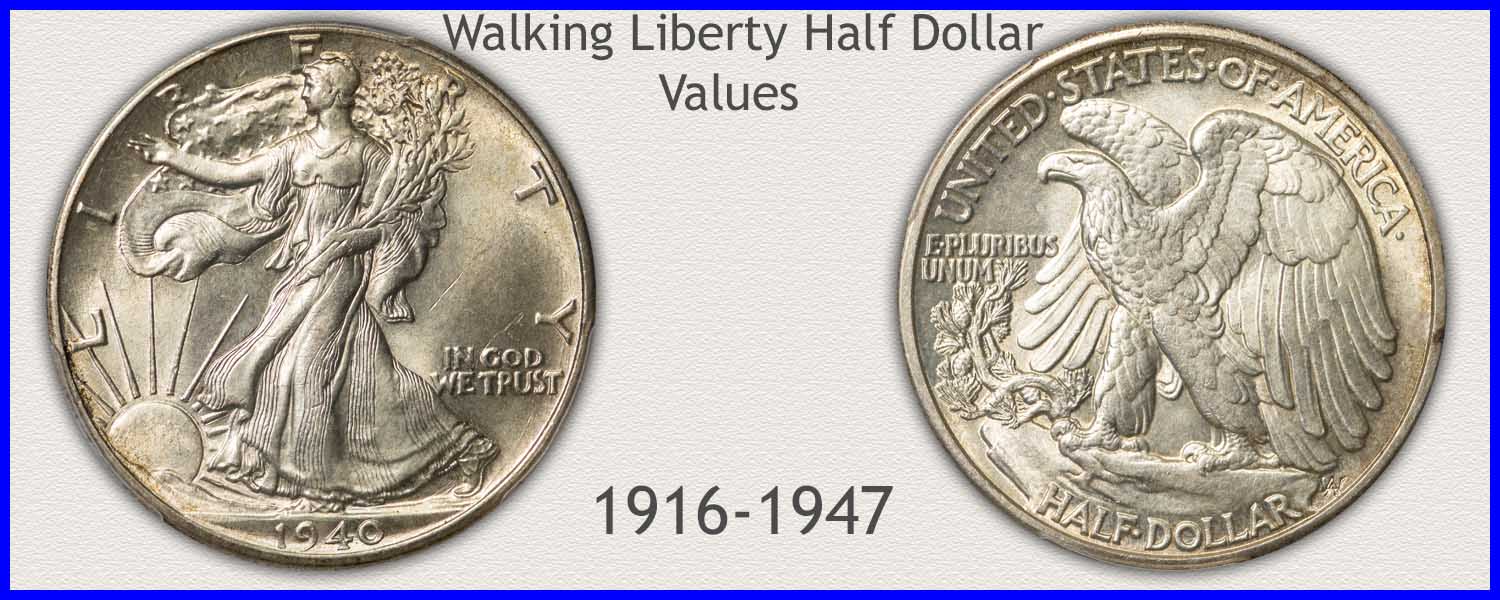 Walking Liberty Half Dollar Value Chart
Listing all dates and mintmark combinations of this very popular series. Many of these old half dollars are worth premiums above their silver coin values. After you check date and mintmarks, next compare your coins to the grading images and determine their condition. A small difference in preservation does have an effect on value.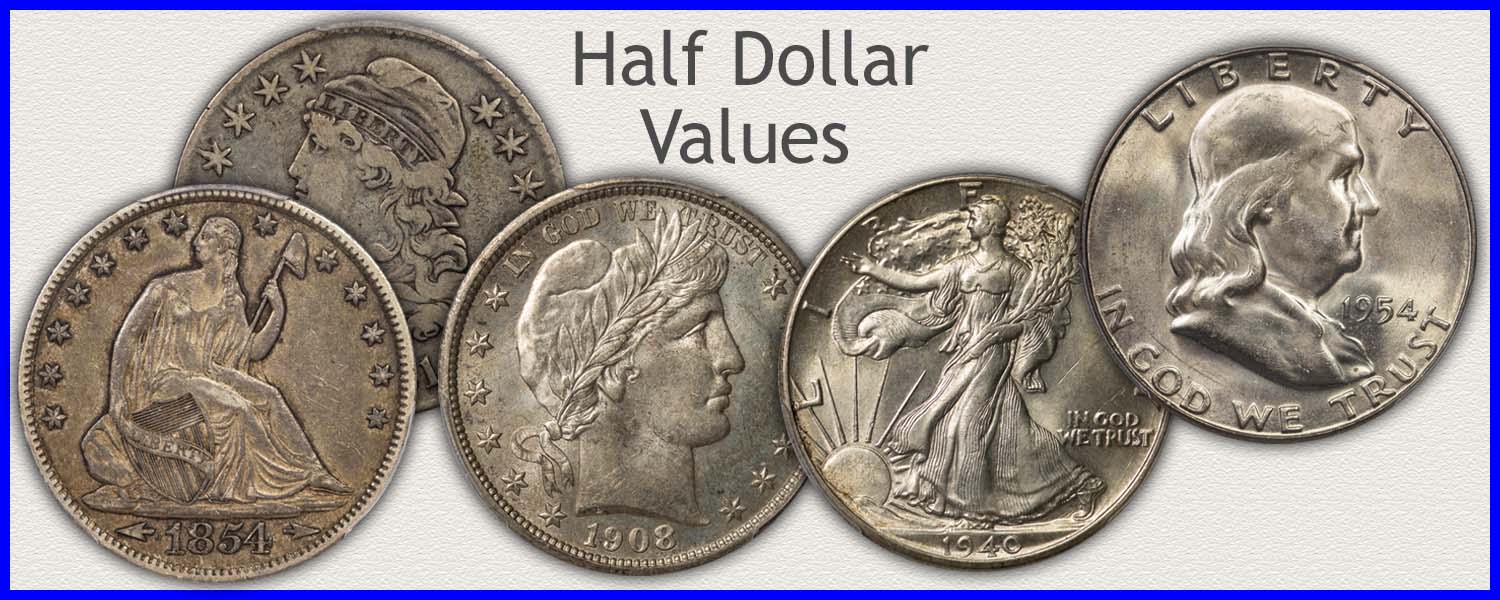 Half Dollar Value Covering all Series
Many rare and valuable coins are found throughout the entire history of silver half dollars. Spanning 1794 through the 1960's discover not only your 1927 half dollar value but how much the rest of these rare silver coins are worth. Value charts list all by date and mintmark. The Franklin series of half dollars, Barber halves, Seated Liberty and the rare early Bust half dollars.
★Return to Coin Values Discovery... find 1927 half dollar value and... It is an excellent reference list with images and text links to all US coin series, from Cents to Gold. Value charts are combined with grading images and descriptions to uncover the wide range of common to rare coin values found in your box of old coins.
Preparing to Sell Silver Coins
Silver Walking Liberty half dollars are in demand by dealers. These old coins are very liquid in the coin collecting market. There are always buyers interested in purchasing your coins. Receive the highest price by separating the collectable from the bullion priced pieces. For more info see the Sell Silver Coins article.