Coin Values Moving with Precious Metals: Up-Dated 11/27/2023: Gold $2010 | Silver $24.66
1894 Dime Value
Accurately determine 1894 Barber dime value by proceeding through a few steps. Identifying a few important factors helps narrow the range of how much these vintage coins are worth. Dates and the different mint varieties are assembled into collections by serious collectors. Steps are used to recognize these mint issues to insure a complete judgement.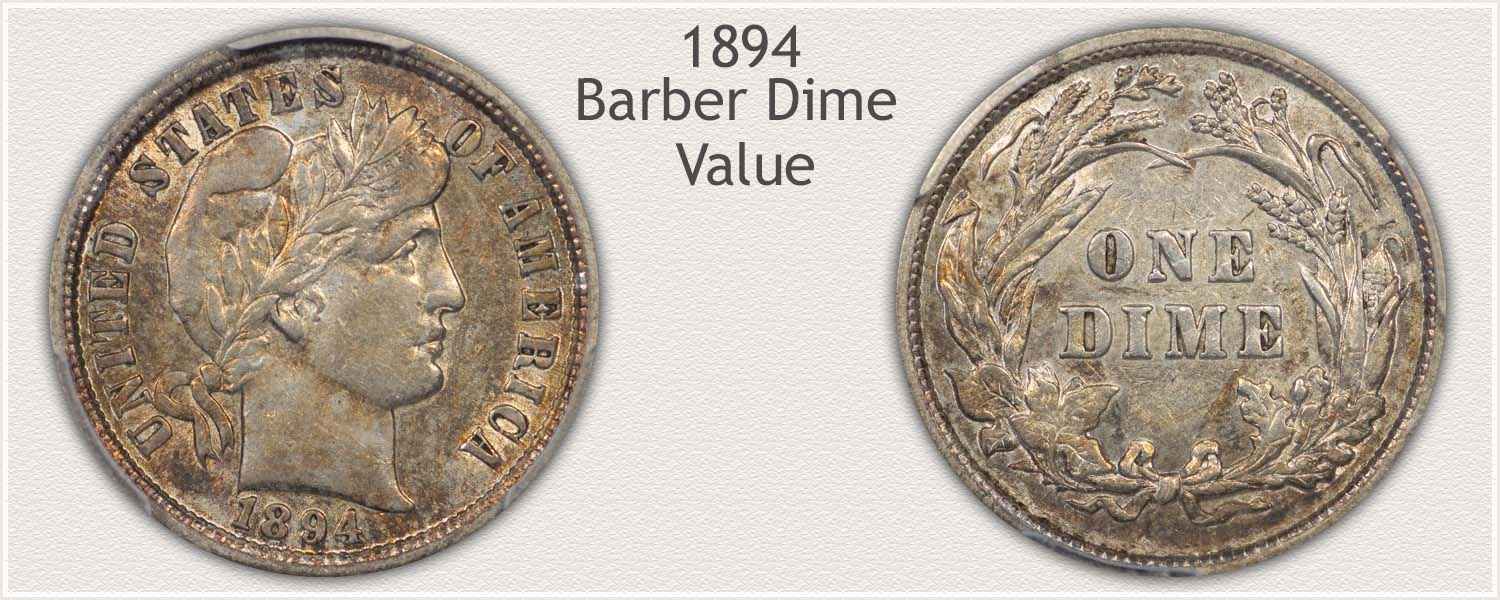 Steps Leading to Value:
Step 1: Date and Mintmark Variety - The mint that produced these dimes affects its worth. Each mint issue and date combination are evaluated and valued independently.
Step 2: Grading Condition - A Barber dime dated 1894 is a scarce issue. It is in demand by both dealers and collectors. A coin in high grade has a high premium value.
Step 3: Special Qualities - Collectors consider all early era dimes a special coin. Historical production year, elusive mint issues, and availability, add to their demand.
1894 Dime Value
Condition of Coin
Date
Good
Fine
Extremely
Fine
Mint
State
Barber Dime Values Updated
11/27/2023
1894
$18
$105
$160
$200
1894 O
$43
$130
$336
$1,372
Above is a starting point when determining a wholesale value of your Barber dimes. Follow the steps below and recognize subtle grading points to narrow the range on the chart.
Step 1: | Date and Mintmark to Identify and Record
Important Mint Issue of 1894 Dimes
1894 is a highly valued year within the Barber dime series. Only two mints produced dimes to release into circulation. The branch mint issue is prized in all states of preservation.
Mintmarks placed on branch mint coinage are used to identify the different mints. The following images point to the mintmark and location found on the coin.
1894-O Barber Dime
"O" Mintmark on Reverse: New Orleans Mint Struck the Coin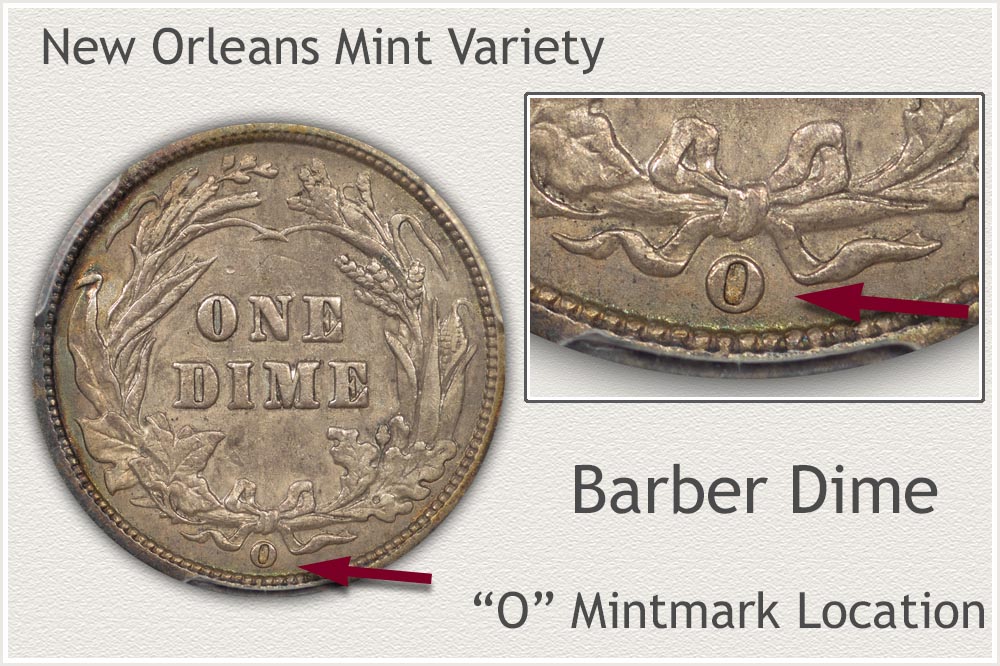 Popularity of the New Orleans variety coinage plus the fourth lowest mintage of the Barber series shows as a large premium 1894 dime value on the chart. Less than one million coins struck (720,000) in total. 1894 dime varieties are important to verify.
An "O" mintmark on the reverse identifies the New Orleans mint production. Look below the wreath, the large "O" close to the rim is the New Orleans mintmark.
1894 Barber Dime
No Mintmark on Reverse: Philadelphia Mint Struck the Coin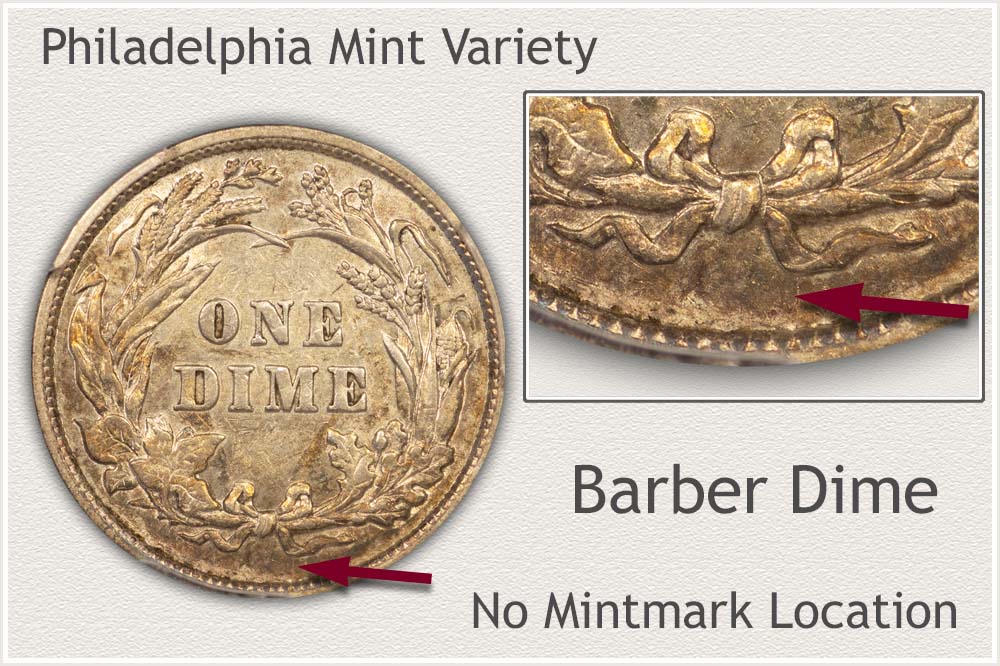 A premium coin in all stages of preservation, Philadelphia issue 1894 dimes are important to identify accurately. With the second lowest production of the series and only 1,339,000 released into commerce by the mint, all are considered collectible and worth well over base silver price.
No mintmark on the reverse is the deciding factor to identify Philadelphia variety Barber dimes. On the reverse, a bow is tying the ends of the wreath. Below the bow, just above the rim, if the area is empty, this identifies the Philadelphia dime.
Step 2: | Grading Narrows 1894 Dime Value on Chart
Identify the Scarce Condition Dimes
Barber dime value is influenced by eye appeal. A well-preserved coin in higher condition is sought by both collectors and dealers. Condition of these coins is assessed as part of the grading process by compared to images representing stages of wear, helping determine a grade.
Large value differences from one grade to the next requires a detailed inspection. Find a close match between your coin and the following images and descriptions of grades.
Mint State Grade
Mint State: Demand for Barber dimes in the same condition as when they left the mint is high. Surfaces of the coins are noted as having no wear. Because of the large rise in value over worn coins, a thorough examination is done to identify the condition. These coins meet the Mint State grade definition.
Mint state coins with no wear display similar metal textures when compared to Libert's cheek and chin. The first signs of wear on both are dulling of the brilliance and flattening of the metal. Mint luster is a finely textured surface adding shine and also easily worn. If the cheek and chin is worn, there's a different look than in lower relief areas.
Help confirm intact luster by tilting the coin under a single light, the shine needs to flow evenly across all surface areas. Also, look for luster on the top edges of the laurel leaves over Liberty's head to qualify for mint condition grade.
Extremely Fine Grade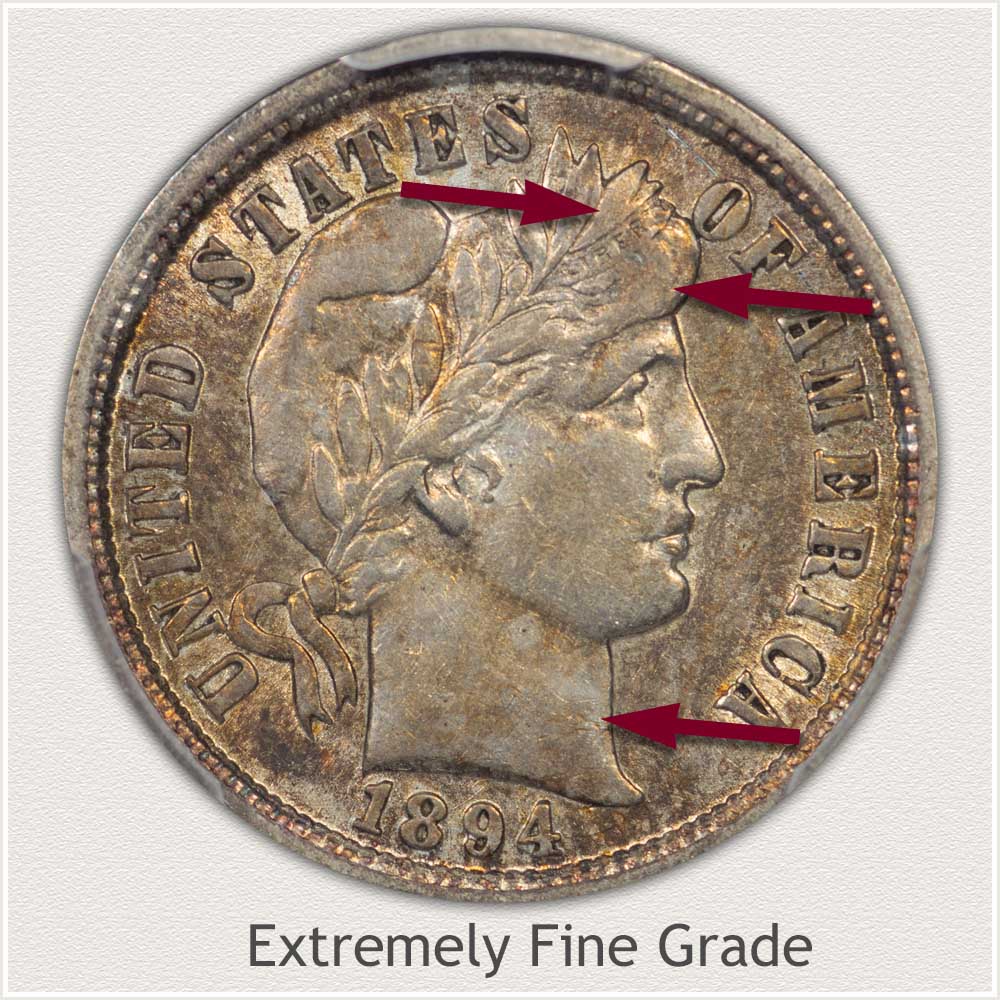 Extremely Fine: Only a small amount of wear is visible on Barber dimes in Extremely Fine condition. To meet the definition of the grade, the wear is limited to high points of the design. Overall, these coins appear crisp and sharp. Close examination confirms that all fine details are evident. Condition of the headband and amount of light wear are both important to determine whether a dime is a collectible grade.
A major characteristic is well-defined and full letters of "LIBERTY" within the headband. The ribbon containing the letters also remains complete, including the top and bottom edge.
Additionally, fine strands of hair remaining over the forehead help indicate that only light wear has occurred. There is slight flattening of the hair, but the remaining strands indicate only light wear, and above average quality.
The open areas are then checked for quality. Despite the wear, the cheek and neck of Liberty retain their contoured high and low reliefs. On the upper contours, there are small areas of smoothness beginning to emerge. A nice-looking coin with an overall tone of a soft silver-gray. High points of the design are relatively well rounded. Also examine the cap, it is fully detailed with strong contours. This example dime falls within the valuable and collectible range of Extremely Fine grade.
Fine Grade
Fine Grade: Several fine details remain visible on a Barber dime in Fine condition. There are evident details of leaves, a cap, and ribbon in Liberty's hair that help define the grade.
Overall look of the coin gives the impression of crisp detail throughout. The upward-pointing leaves of the Laurel branch remain well formed. Leaves' edges are distinct and blend only where they overlap. Lower row of leaves is less distinct, forming a flattened area from Liberty's ear to her brow.
All letters of "Liberty" can be seen on the ribbon of the headband. Although minor wear has caused the ribbon to lose its upper and lower margins, and the letters "ER" have a little bit of fading. It is critical the lettering on the headband is legible and bold.
The lower part of Liberty's cheek is a flattened area with a slight contour remaining under her eye. However, her cap is in better condition, with only a minor line of wear along the upper edge, with raised contours near the Laurel branch.
Despite some minor fading, the Barber dime remains an appealing collectible due to its bold design.
Good Grade
Good Grade: It is the amount and strength of details that set the Good grade apart from lower quality. Once the rim blends with the letters and Liberty's portrait fades into the fields, only a small number of dates remain in collectible condition.
Due to extensive wear, the entire design of Liberty has been reduced to a flat surface. It is a lack of central detail that define the condition of these coins, now classified as a Good Grade. Liberty's strong and clear outline ensures the coin remains well within the grade. Despite the fact that the coin has been worn, there is still a definite contour of Liberty visible above the field.
The completeness of the letters along the rim is another factor when judging condition. A distinct legend completely separated from the rim is necessary to qualify as a collectible. Additionally, the date is quite bold and clear, as it is protected by the neck and rim. Heavy wear without a "faded" appearance, as well as a raised rim, add to the visual appeal.
How to Video: Grading Barber Dimes
Grading is discussed in greater depth, taking into account the minor differences between different conditions and number of details visible. Images show the finer points of a design, which are critical in narrowing the range of a grade level.
Video, Images and Descriptions | Grading Barber Dimes
Step 3: | Special Qualities of Historical Mintages
Collector Attention and 1894 Dime Premiums
With the 1894 dime, special attention is a reason to expect premium values of all. Many historical factors are part of the background of this specific year of Barber dimes. Values on the chart show, in any condition, they are a high demand coin.
Only two mints produced dimes in 1894, and the year became the lowest production year of the Barber dime series.
Philadelphia contributed just 1.3 million dimes and New Orleans an additional 720,000 in 1894. Collectors take notice of the total mintage of the year as remarkably low; just over 2 million. Initial production scarcity is built into the date. At the time, few were saved, most served their purpose of circulating through commerce.
1894 dimes are now representing a scarce Nineteenth Century coin and a challenge to find in pleasing condition. Strong values are awarded to high quality, collectible examples.
New Orleans issues of 1984 are especially popular. Any coin with a mintage under one million is recognized as important. Although not an extreme rarity, the New Orleans variety is termed a "Semi-Key" issue of the series.
Many special qualities are found in this year's Barber dime. With the added attention of history, low mintages, basic scarcity, and popularity of New Orleans coinage, they are a well-known coin to collectors. All 1894 Barber dimes are considered premium value in all states of preservation. Inspect these closely for mint variety and condition.
References
U.S. Mint. 1895 U.S. Mint Annual Report https://nnp.wustl.edu/library/book/514117
Coin Values | CoinStudy Articles
Date by Date
In Depth Barber Dime Values
1892 to 1916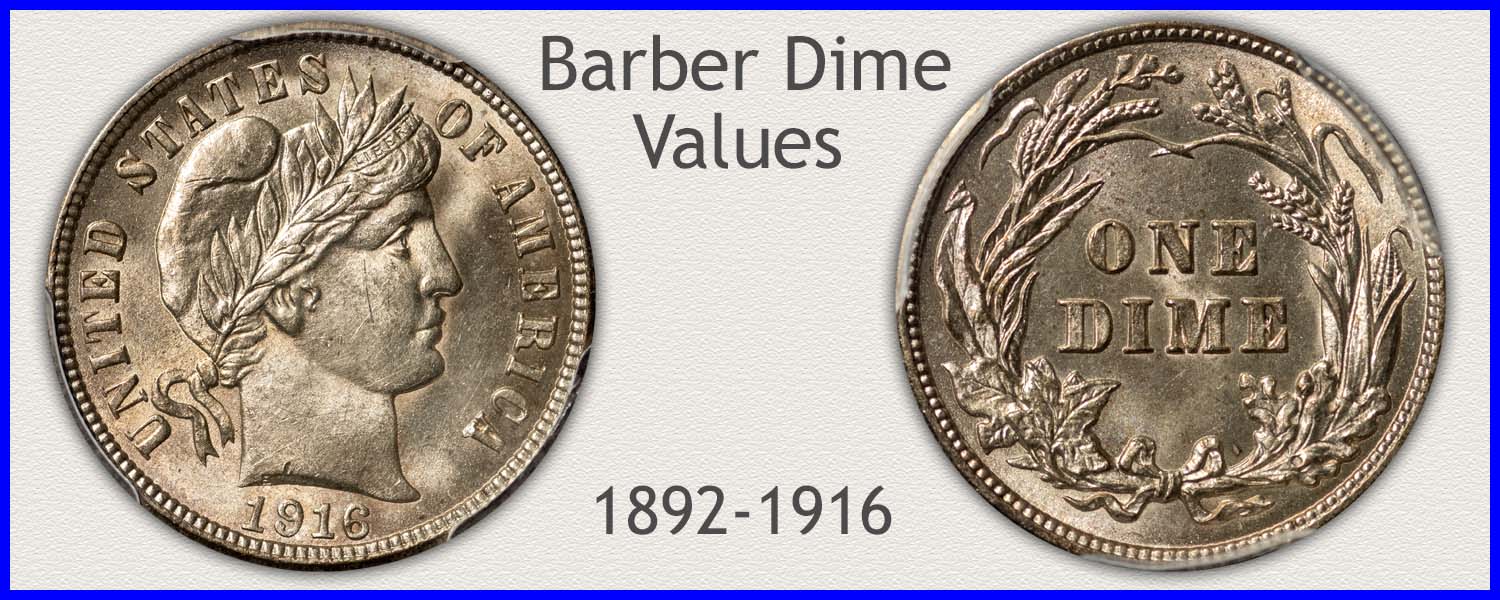 Valuable Barber Dimes | Many Valued Above Silver
All Barber Dimes are worth at least $3.13 . Please don't settle for this minimum value, double check your coins. Over half the dates and mint marks are worth substantially more. Condition is a major factor to collectible status and demand.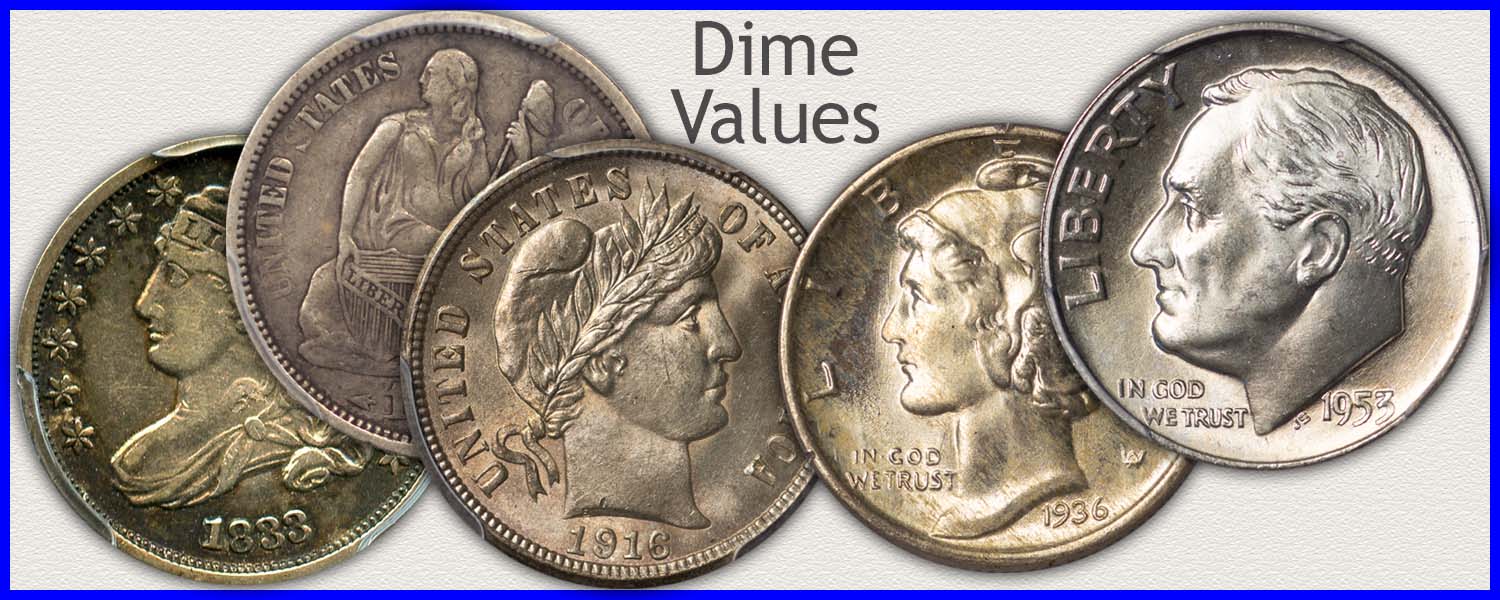 All Dime Series are featured here. First minted in 1796 there are many rare and collectible varieties to discover.
From the early Bust to the Seated Liberty of 1837-1891. Next the Barber Dime followed by the widely collected Mercury Head dime. Ending with the modern Roosevelt Dimes. Match your coins to the grading images and values charts.
Coin Value Guide | How to Value a Coin Collection
Coin collections either small or large are valued using a method following specific steps. These coins are separated by denomination, series, date and mints. Use the images to identify coins, series and varieties. Details on the steps to take are outlined. Visiting each series page completes the process.
Safe Coin Storage | Recommendations
When housed and stored properly Barber dimes maintain their preservation and importantly value. Silver, copper, and nickel coinage requires a few basic considerations to keep any damage and deterioration from taking place.
Selling Coins | A Defined Process
Collectors often sell coins as part of building and improving their collections. Following a process, they first establish values, judge the strength of the market, and seek then dealers specializing in coins similar to those being sold. Review the best practices to selling coins.
★Coin Values Discovery finds 1894 Dime Value and...
Identify your old coins and begin a step by step process to coin values. Images of the different series lead to specific coins. Follow the method used by collectors to place current values on coins.