Coin Values Moving with Precious Metals: Up-Dated 11/27/2023: Gold $2010 | Silver $24.66
1900 Dime Value
An interesting year with different mint varieties having an impact on 1900 dime value.
A start to a new century and three mints striking Barber dimes. These different issues have values ranging from those based on silver content to those difficult to locate and worth a premium.
Images are used throughout the evaluation process to verify mintmarks, indicating specific mint issues. A wide range of values on the chart is narrowed.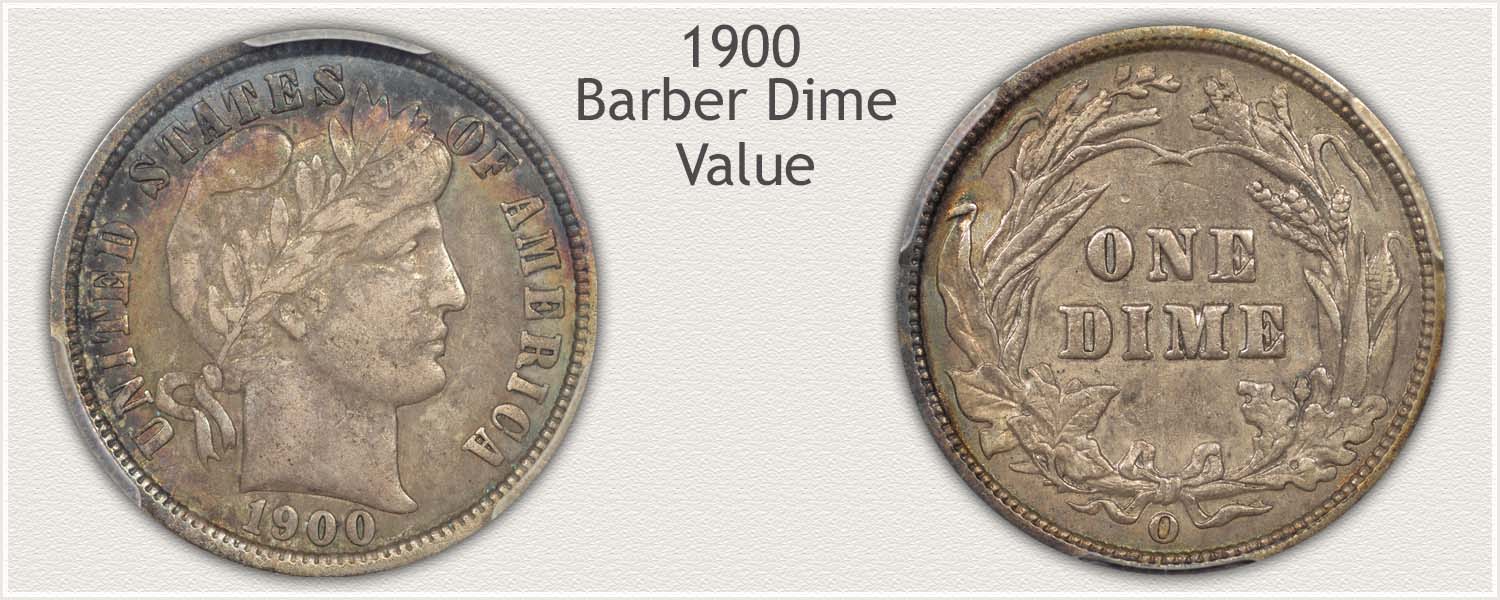 Steps Leading to Value:
Step 1: Date and Mintmark Variety - Determine which date and mintmark combinations of 1900 dimes are highly desired by collectors.
Step 2: Grading Condition - Value of a coin depends on how well-preserved it is and how much original detail is left.
Step 3: Special Qualities - 1900 New Orleans dimes are a somewhat unique issue. Affordable, yet scarce in circulated grades, and a premium, key rarity in Mint State grades.
1900 Dime Value
Condition of Coin
Date
Good
Fine
Extremely
Fine
Mint
State
Barber Dime Values Updated
11/27/2023
1900
$3.13
$5.91
$25
$73
1900 O
$13
$91
$148
Rare
1900 S
$4.47
$11
$32
$239
Values listed are the Wholesale worth of Barber Dimes. Use as a guide and starting point. Computed from dealer listings, auction records, and completed sales with mark-up factors figured in.
Step 1: | Date and Important Mintmarks Identified
Scarce Branch Mint 1900 Dimes
By determining the exact mint that struck a 1900 dime, value of these vintage coins is narrowed. Branch mint issues are notable as the higher valued of the three mints in production at the time.
To identify their coinage, branch mints added a small mintmark placed within the field of the coin. An accurate recording of both date and mintmark is made to find its listing on value charts. Inspect your coin in reference to the images below.
1900-S Barber Dime
"S" Mintmark on Reverse: San Francisco Mint Struck the Coin
Dimes were produced in greater quantities by the San Francisco mint in 1900, with more than 5.1 million struck, a significant increase over prior years. These are worth much more than their face value in silver and are difficult to come by in Extremely Fine condition. Collectors seek well-detailed 1900-S Barber dimes to include in sets, putting upward pressure on values.
The mintmark "S" was used to identify San Francisco's coinage of dimes. Inspect the reverse, below the bow; if a "S" is identified, it is the San Francisco variety. A nice find.
1900-O Barber Dime
"O" Mintmark on Reverse: New Orleans Mint Struck the Coin
A total of three mints contributed to the first dimes of the twentieth century in 1900. New Orleans coinage is a popular issue. Striking a typical amount for the series of just over 2 million dimes. A premium is shown on the value chart due to the status of a new century and the interest of collectors in the New Orleans mint.
New Orleans was a branch mint that served the South, and its coinage is identified by the "O" mintmark. Find the "O" on the reverse at the lower rim, right below the ribbon tying the wreath, to confirm the New Orleans variety.
1900 Barber Dime
No Mintmark on Reverse: Philadelphia Mint Struck the Coin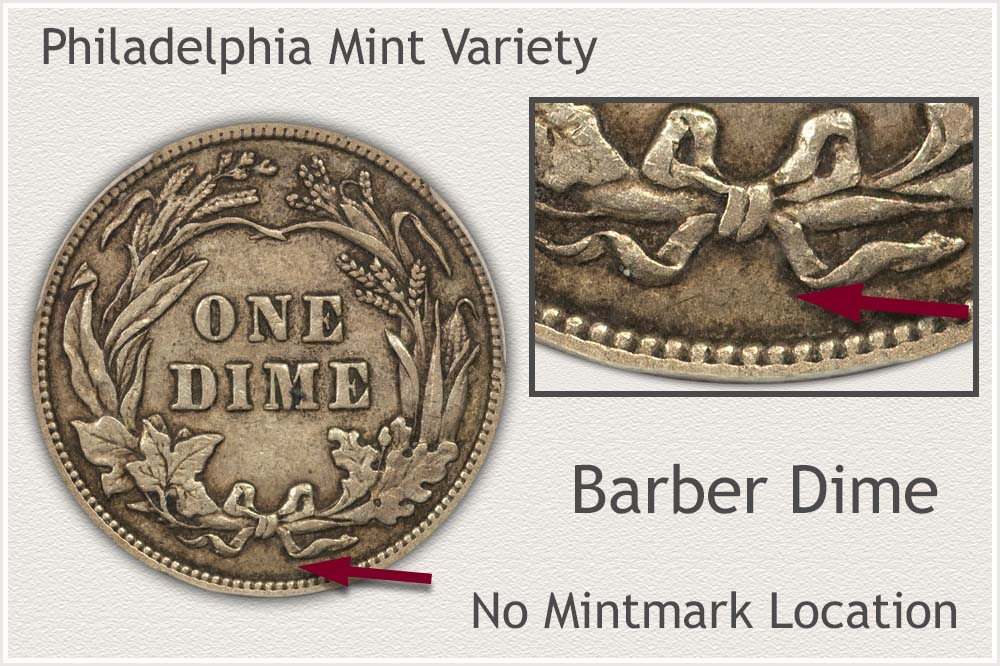 Philadelphia issue 1900 dimes are a premium coin when found in above average condition. These require correct identity of mint variety and state of preservation. A strong production year with over 17.6 million produced, nice condition examples are becoming collectibles and worth above base silver value.
A Barber dime, Philadelphia variety, is distinguished by the lack of a mintmark on the reverse. Note, the wreath ends are tied with a bow. If the area below the bow, just above the rim, is empty, it denotes the Philadelphia dime.
Step 2: | Grading Condition to Find 1900 Dime Value
Collectible Quality and Premiums Tie to Condition
All old coins are given a narrow value range based on their condition. Condition of the surface and any damaged is inspected and judged as part of the "grading" process. Using standards of different levels of wear, a comparison of your coin helps determine a grade.
In the following images, specific areas to focus on are highlighted where features typically wear away in recognizable patterns as metal is removed. It's the New Orleans 1900 dime and finding specific details remaining that point to a highly sought coin.
Mint State Grade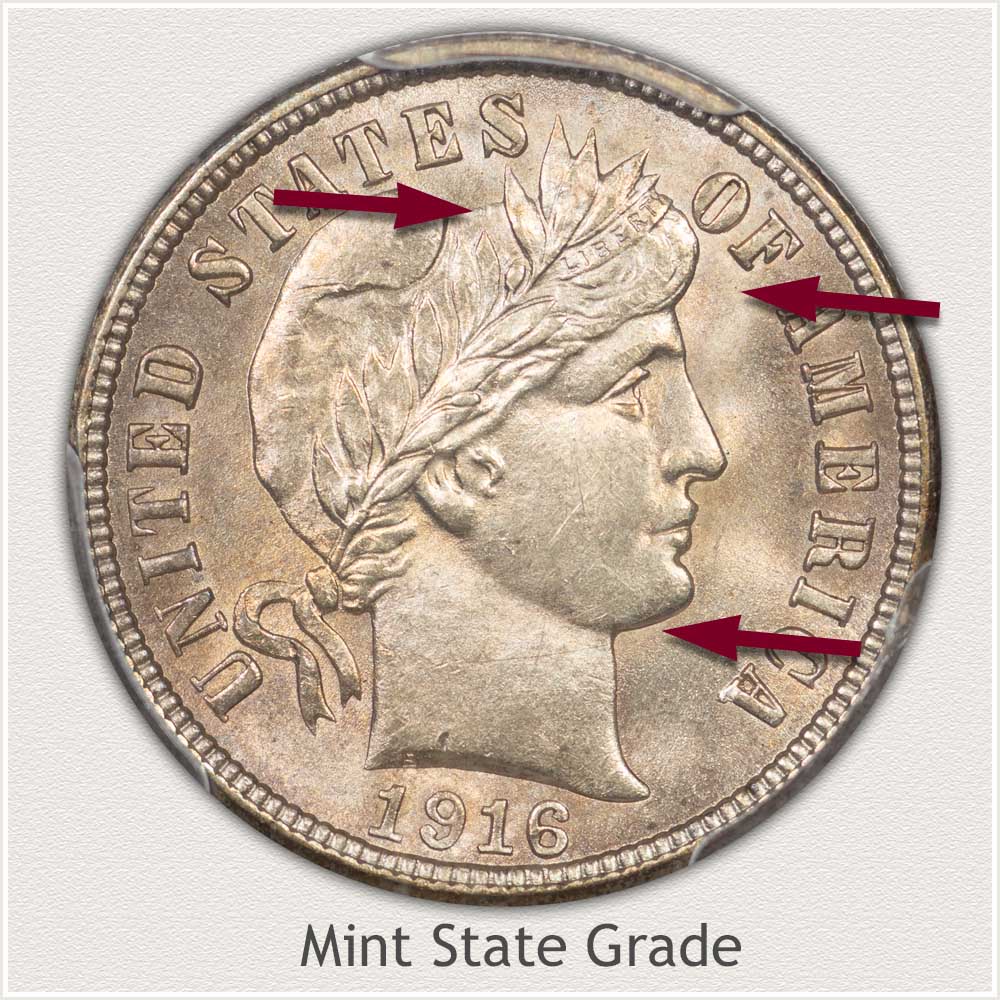 Mint State: When judging quality and grading these vintage Barber dimes, starting with a Mint State example shows the coin in its original, as minted condition. Liberty's portrait is, by definition, unworn. The Mint State grade is defined by the absence of wear to the coin's surface.
Grading condition begins with an inspection of the design's highest points and open areas. Inspect for any signs of wear and removal of luster and metal. Luster is a fine texture that gives the coin its brilliance. This delicate shine is easily worn. Look first at Liberty's jaw line across the middle of the dime, from ear to chin. Luster quickly wears at her chin, leaving the metal smooth and dull, a noticeable color change from the surrounding lower relief metal.
Secondly, confirming that the dime is in mint condition, the shine and original texture of the laurel leaves above the headband near the "L" in Liberty are intact. These two leaves have a very high relief and will quickly flatten out if worn.
When the coin is turned under a single light source, a shine covers the entire surface. Barber dimes in mint state condition retain all original details and luster.
Extremely Fine Grade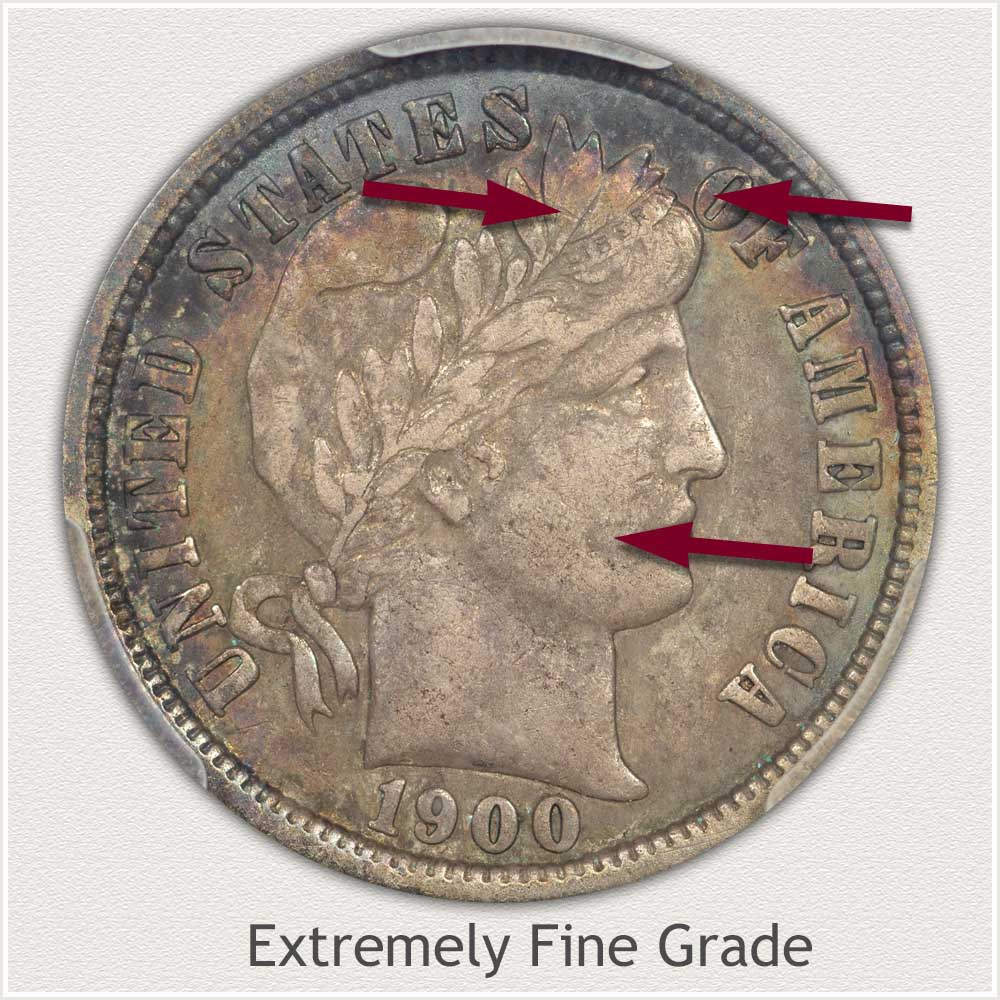 Extremely Fine: There is only a very slight amount of wear on Barber dimes to qualify as Exceptionally Fine condition. Wear is limited to high points of the design as part of the grade definition. In general, the coins have a sharp appearance. An inspection up close reveals clearly defined detail. The amount of light wear, the condition of the headband, and strong lines in the leaves are all important factors when confirming a collectible grade dime.
An Extremely Fine example requires all letters of "Liberty" clearly defined and full on the headband. As one of the most prominent parts of the design, the ribbon of the headband must show a top and bottom edge.
Remaining fine hair strands on the forehead provide further evidence of light wear. Despite a slight flattening of the hair, there is very little wear, indicating a highly-graded dime.
Next, the quality of the open areas is inspected. Liberty's cheeks and neck maintain their contoured high and low reliefs even with slight wear. Overall, the metal is a light grey in tone with just small areas of smoothing. High points are rounded nicely. Ensure that the cap is also detailed with strong contours. This dime is in the collectible and valuable range of Extremely Fine grade.
Fine Grade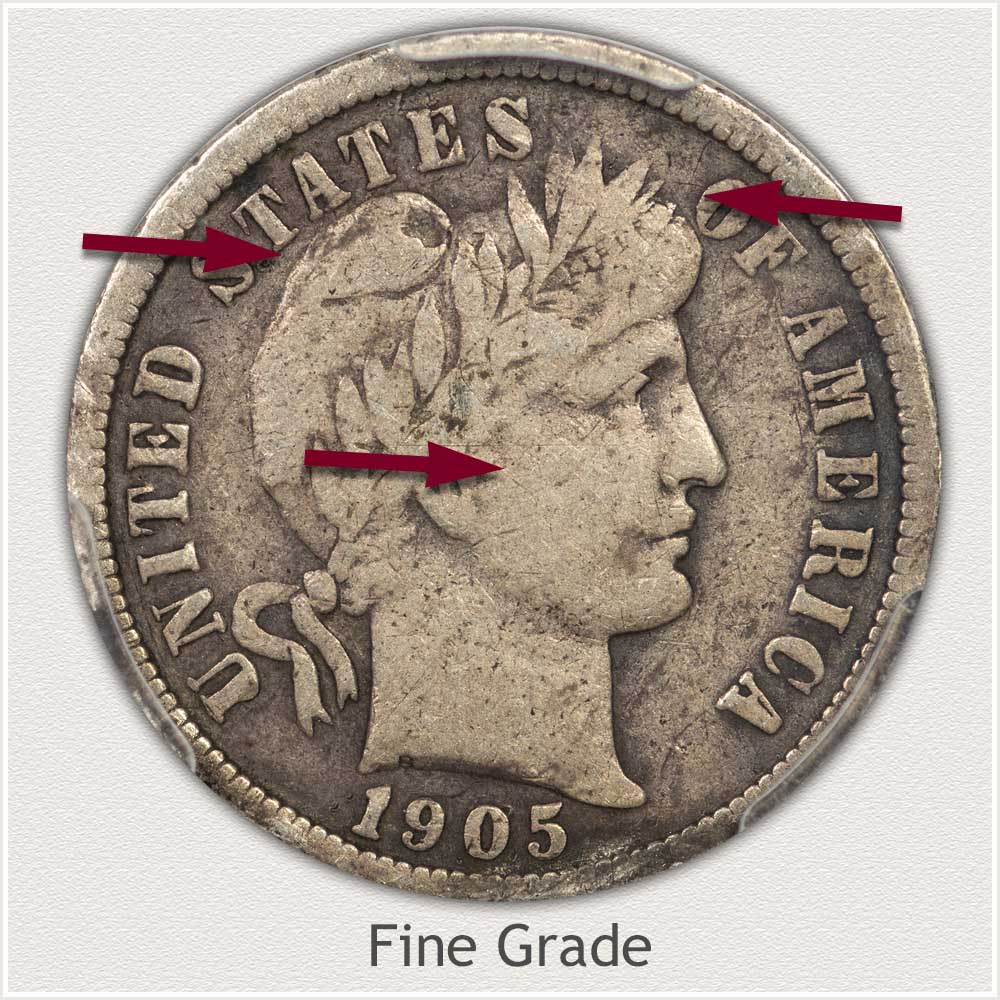 Fine Grade: On a Fine condition Barber dime, many details are still clearly visible. Grade is judged and confirmed by how much wear there is, but the leaves, cap, and ribbon in Liberty's hair are clearly seen.
Overall appearance of the coin offers the impression of sharp detail. This is the first thing to consider. All of the leaves on the Laurel branch pointing up are well delineated. Their edges are distinct, merging only where they overlap. There is a flattened area between Liberty's ear and her forehead formed by the lower row of leaves.
Taking a close look at the headband ribbon, clearly seen are all letters of the word "Liberty". In this case, Fine condition, the ribbon has lost its upper and lower margins, and the letters "ER" frequently fade slightly. Readable lettering on the headband is essential.
The cheek of Liberty is a flattened area with a slight amount of contour beneath her eye. Her cap is also nicely defined, with only a little line of wear along the upper edge and rounded curves around the Laurel branch.
These moderately worn major design aspects are still prominent, making it a desirable collectible in the Barber dime series.
Good Grade
Good Grade: What identifies the Good grade from lesser quality is the strength and bold appearance of the remaining features. When the rim begins to merge with the letters and the portrait fades into the fields, only a small number of dates and mints remain in collectable condition.
In this condition, heavy wear has flattened Liberty's once detailed portrait into a flat surface. Absence of central detail determines the quality of these coins, which are classified as Good Grade. Liberty's strong and full outline keeps the sample dime well within the grade. Despite the wear, there remains a visual height of Liberty over the field of the coin.
Another factor is the completeness of the legend along the rim. Full letters totally separated from the rim gives the coin the eye appeal required to identify Good condition. The date is also very clear and strong due to the protection provided by the neck and rim. Without a "faded" appearance, as well as a full rim, adds to the visual appeal.
How to Video: Grading Barber Dimes
Important additional areas to judge, and also specific elements that determine a grade's accuracy. It is often the small details that are of greatest significance when evaluating vintage Barber dimes.
Video, Images and Descriptions | Grading Barber Dimes
Step 3: | Special Qualities | Rarely Encountered Dime
New Orleans Circulated 1900 Dimes are Semi-Keys
Barber dimes have a wide range of availability, from scarce to extremely rare dates and mints within the series. A somewhat unique issue is the 1900 New Orleans dime. Listings on the chart show a premium in all circulated grades. However, in Mint State condition, with no wear on the coin, it is rare and seldom encountered.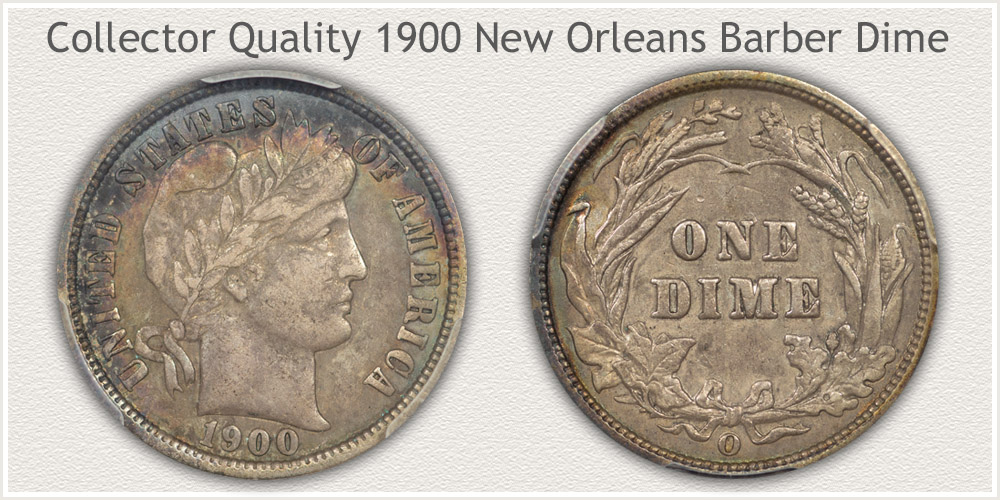 1900-O New Orleans dimes, in comparison to other scarce dates of the series, are affordable in circulated condition. This becomes remarkable when realized few in the high-quality Mint State grade trade in any given year. Mint State quality is listed as Rare on the chart. Sales within auctions is infrequent and "current" sale results are often years old. Value of this Key mint state condition rarity is often set when an infrequent trade occurs.
With such scarcity in top condition, values of nice, eye appealing circulated examples of 1900 New Orleans dimes is strong. It is a semi-key issue in circulated grades and a key rarity in Mint State grades.
Collectors assembling full sets of all date and mint combinations are up against a large price to obtain a high-end piece when considering the 1900-O variety. Circulated examples are on the market in small numbers, with few in the upper ranges of light wear.
The coin in the image is surprisingly near the top in overall condition of 1900-O dimes. Ample detail is seen on Liberty's portrait. Most examples known are well worn.
Consider all 1900-O dimes as special, inspect closely to judge condition accurately. Eye pleasing coins are in strong demand.
References
U.S. Mint. 1901 U.S. Mint Annual Report. https://nnp.wustl.edu/library/book/514120
Coin Values | CoinStudy Articles
Date by Date
In Depth Barber Dime Values
1892 to 1916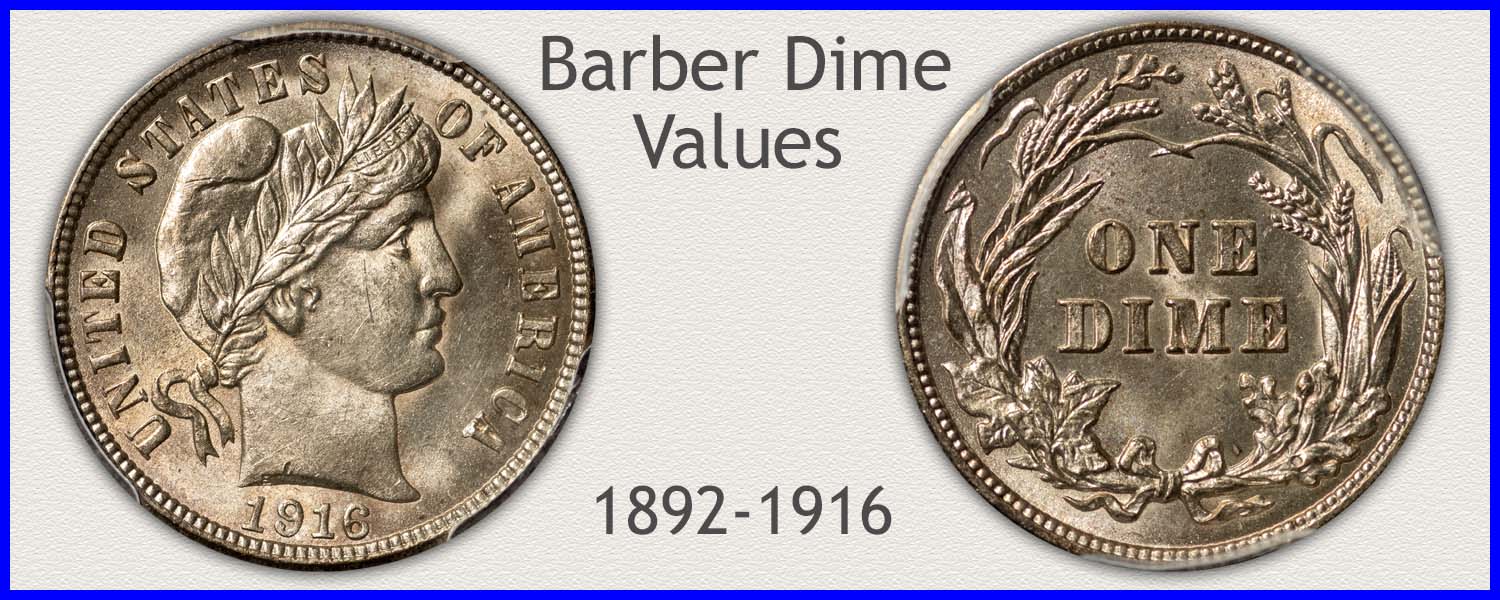 Barber Dime Value | Dates and Mints Listed
Discover the different dates and valuable mintmarks. Use the step by step method to an accurate identity and value of these old Barber dimes. Grade condition and note mintmarks to complete your assessment.
Compare to images and identify the many different coin series. Matching your coin to detailed coverage of each denomination and series of U.S. coinage.
Print the Coin Values Worksheet
Printable worksheet to list and inventory coins and record Barber dime values. Separate the premium individual coins and group bullion related together. Record your complete collection.
Popular Coin Series | Barber Dimes
Popularity of a coin series is important to basic demand and reflected in values. Barber dimes are collected by a wide range of collectors in many levels of condition and values. A study of Registry Set collections gives insight to level of demand.
The U.S. mint began striking the dime denomination in 1796. Over the decades many issues have become scarce to rare. View the progress of dimes and their designs to recognize the rare types.
★Coin Values Discovery finds 1900 Dime Value and...
A re
view of the value process with image links to series and current coin value. Determining how much a collection of coins is worth follows a few steps helped by images and detailed descriptions.