Coin Values Moving with Precious Metals: Up-Dated 9/25/2023: Gold $1921 | Silver $23.44
1909 Dime Value
A step-by-step method is used to narrow the large range of current 1909 dime value.
Note on the chart, how much these Barber dimes are worth depends on the exact date and mintmark combination. Also, the condition of the coin is important to judge in order to find the coins with added premiums.
With silver content value as a base and nice beginning, the process identifies the dimes entering collectible status. Begin with an exact date and mint, followed by comparing to the series of grading images helping determine condition.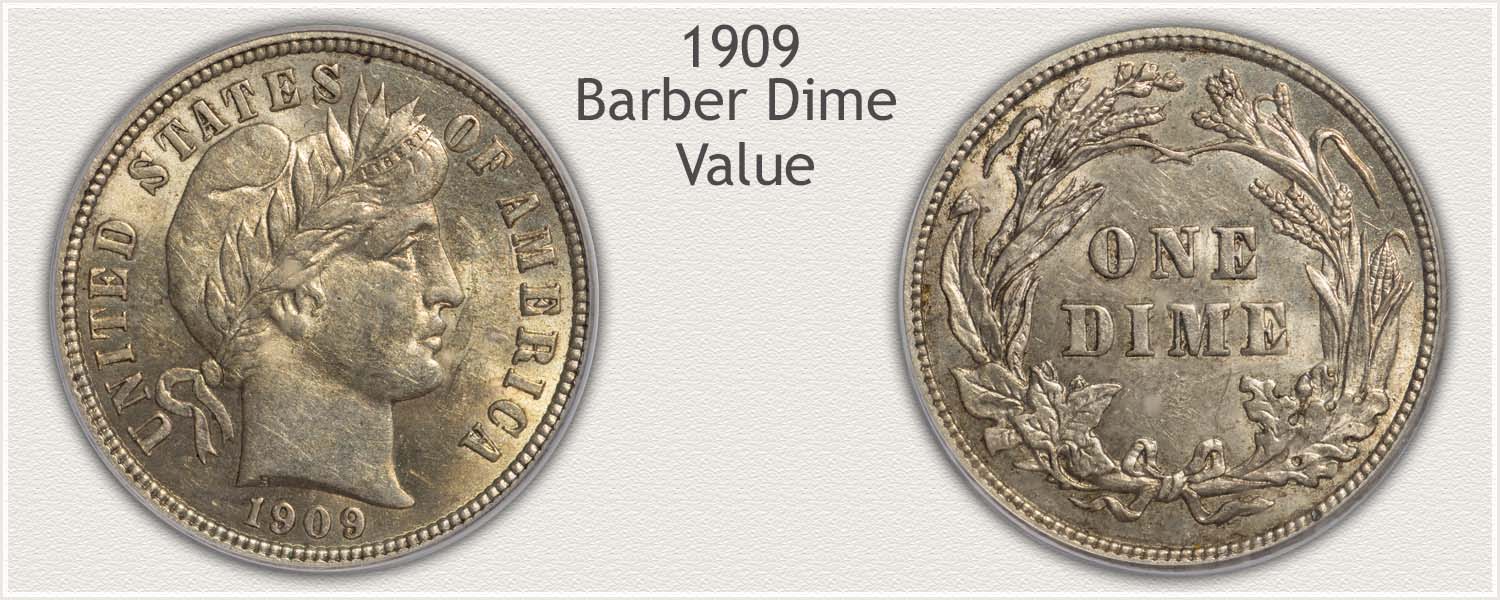 Steps Leading to Value:
Step 1: Date and Mintmark Variety - A full description and comprehensive assessment of these Barber dimes requires mintmarks are identified and noted.
Step 2: Grading Condition - These Barber dimes exist today in a variety of conditions. Grading uses images to illustrate different conditions order to find its place on a value chart.
Step 3: Special Qualities - New Orleans coinage was actively used and few remain today displaying only light to no wear. As a collectible, these coins present a number of challenges to collectors.
1909 Dime Value
Condition of Coin
Date
Good
Fine
Extremely
Fine
Mint
State
Barber Dime Values Updated
5/25/2023
1909
$2.98
$3.47
$21
$103
1909 D
$5.62
$53
$80
$312
1909 O
$4.25
$14
$68
$239
1909 S
$7.05
$75
$108
$418
Values listed on chart are Wholesale. Use these values as a starting range. Dealer's needs, precise condition of the coin, all narrow this range.
Step 1: | Four Date and Mintmark Combinations
1909 Dimes a Collectible Premium Year
1909 Barber dimes are a very collectible year. It became the last year four mints were involved striking dimes. The different mint productions are identified by small mintmarks placed within the design of the coin.
All of the mint varieties are valued similar in heavily worn condition. It is the higher-grade examples from the different mints where values begin to cover a wide range. Mintmarks and locations are imaged and described to find their placement on the value chart.
1909-S Barber Dime
"S" Mintmark on Reverse: San Francisco Mint Struck the Coin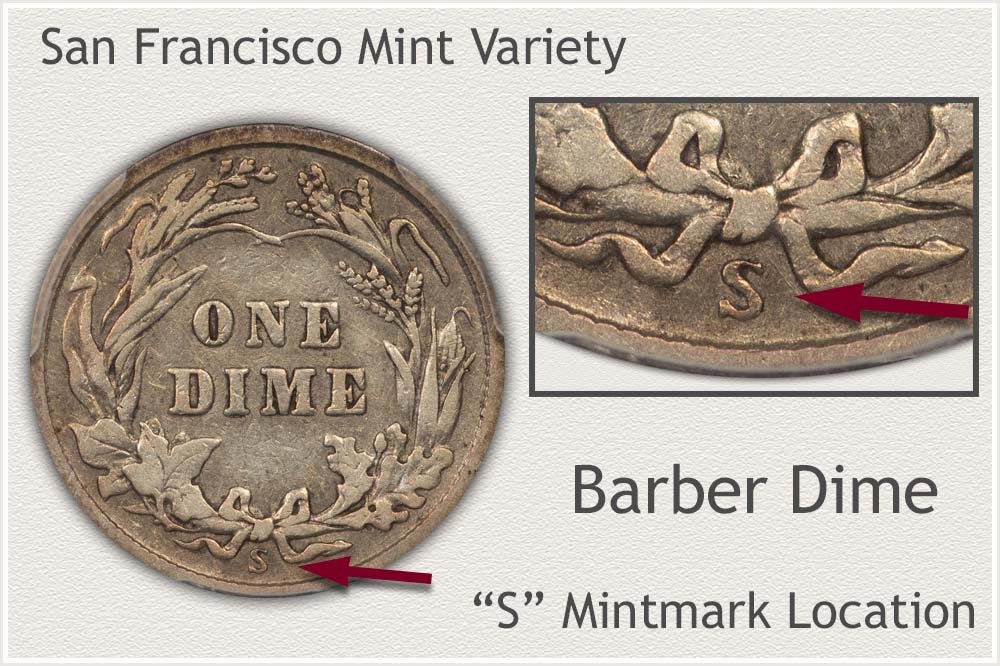 1909 dimes from the San Francisco mint are becoming increasingly sought-after collectibles today. Collectors have put a high value on pieces in above average preservation due to high demand. Confirming the date and mint variety is needed in order to locate the coin on the value chart.
On the reverse of all Barber series San Francisco dimes is a "S" mintmark. Note on the reverse, just above the rim, towards the bottom of the coin, identify the "S" mintmark of the San Francisco variety.
1909-O Barber Dime
"O" Mintmark on Reverse: New Orleans Mint Struck the Coin
1909 became the final year of coin production by the New Orleans mint. Although it struck a series average of 2.2 million dimes, popularity of the now obsolete mint keeps values strong. Collectors place a premium on these at all preservation levels. To determine the current market worth of early Barber coins, a thorough inspection is required.
Of note, branch mints identify their coinage using mintmarks. An "O" mintmark on the reverse distinguishes New Orleans mint issues. Look at the bottom center, beneath the bow; the "O" indicates the variety is from New Orleans.
1909-D Barber Dime
"D" Mintmark on Reverse: Denver Mint Struck the Coin
1909 records the lowest production year of the Denver mint during the Barber dime series. A low of 954,000 pieces also places it well below the other three mints producing dimes in 1909. Viewing the value chart shows only a few were saved in nice condition. The large increase in value for a coin in Find grade over the lower Good grade indicates most 1909 Denver dimes circulated and not saved as a collectible.
Denver mint issues are identified by a "D" mintmark found on the reverse. Below the wreath and just above the rim, find the "D" mark to confirm the scarce Denver variety 1909 dime.
1909 Barber Dime
No Mintmark on Reverse: Philadelphia Mint Struck the Coin
A Philadelphia issue 1909 dime became a below average mintage variety of the Barber series. This year's mintage of dimes was down significantly when compared to other year's production, just 10.2 million struck. A pleasing example with finer details is highly sought after and considered a premium collectible.
Unlike those struck at branch mints, Philadelphia, the main mint's coinage lacks a mintmark on its reverse. When inspected closely, the space between the ribbon ends is empty. The Philadelphia mint at the time did not use a mintmark on Barber dimes.
Step 2: | Grades Define Condition and Narrows 1909 Dime Value
Finding Premium Above Average Quality
Overall eye appeal of a Barber dime is an important factor in determining value. The condition of a coin ranges from Mint State (no wear) to heavily worn pieces. A coin's condition is given a "grade" to narrow its place on value charts. To determine a grade, each coin is judged against standards of the different grades.
Match your coin closely to the following images and descriptions of grades. Small details add to the appeal of these dimes.
Mint State Grade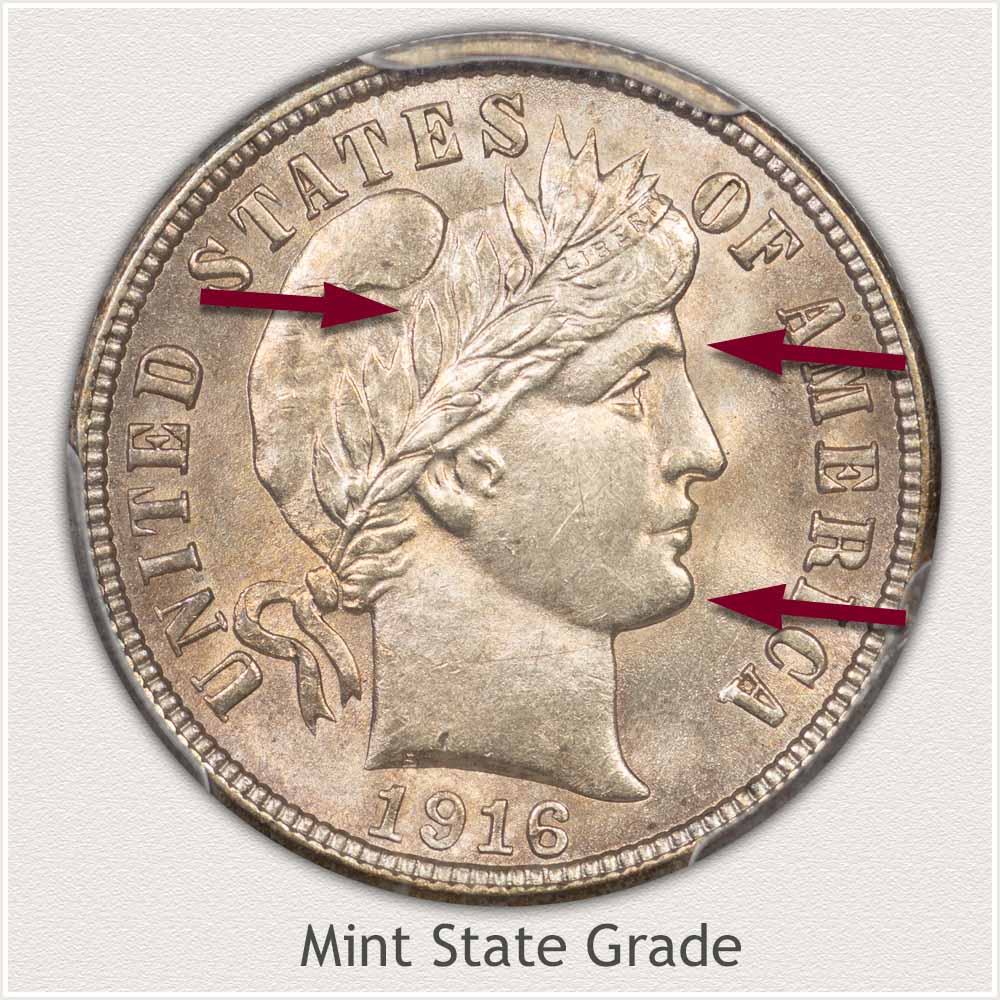 Mint State: A Barber dime classified as mint state is one that has no wear visible on the surface. No wear defines the grade. They are in "like new" condition. A few locations on the surface are examined to ensure all original luster is retained and wear is absent. Luster is fragile and the first element of the coin to exhibit indications of wear as it circulated.
Collector quality coins require a detailed inspection to ensure they are in Mint State condition. High areas of the design are of interest, such as Liberty's brow, cap, and Laurel leaves, all retain undisturbed luster to qualify for the grade. Compare Liberty's eyebrow to her chin line in terms of shine and texture. Both have a complete covering of luster/shine in undisturbed condition, with no dulling or smoothness. If either area is worn, silver shows as a soft gray hue. Examine the chin line and the high points of the brow for any loss of the luster's brightness.
Liberty's hair features a wreath made from laurel leaves. These leaves are finely detailed with high edges and are subject to quickly wearing and dulling. The example shows all leaves with no flattening around the leaf edges.
Helping to identify coins without any wear, the cap remains lustrous without dull or smooth areas. Overall impression is one of a pleasant, undisturbed appearance, and fully detailed.
Extremely Fine Grade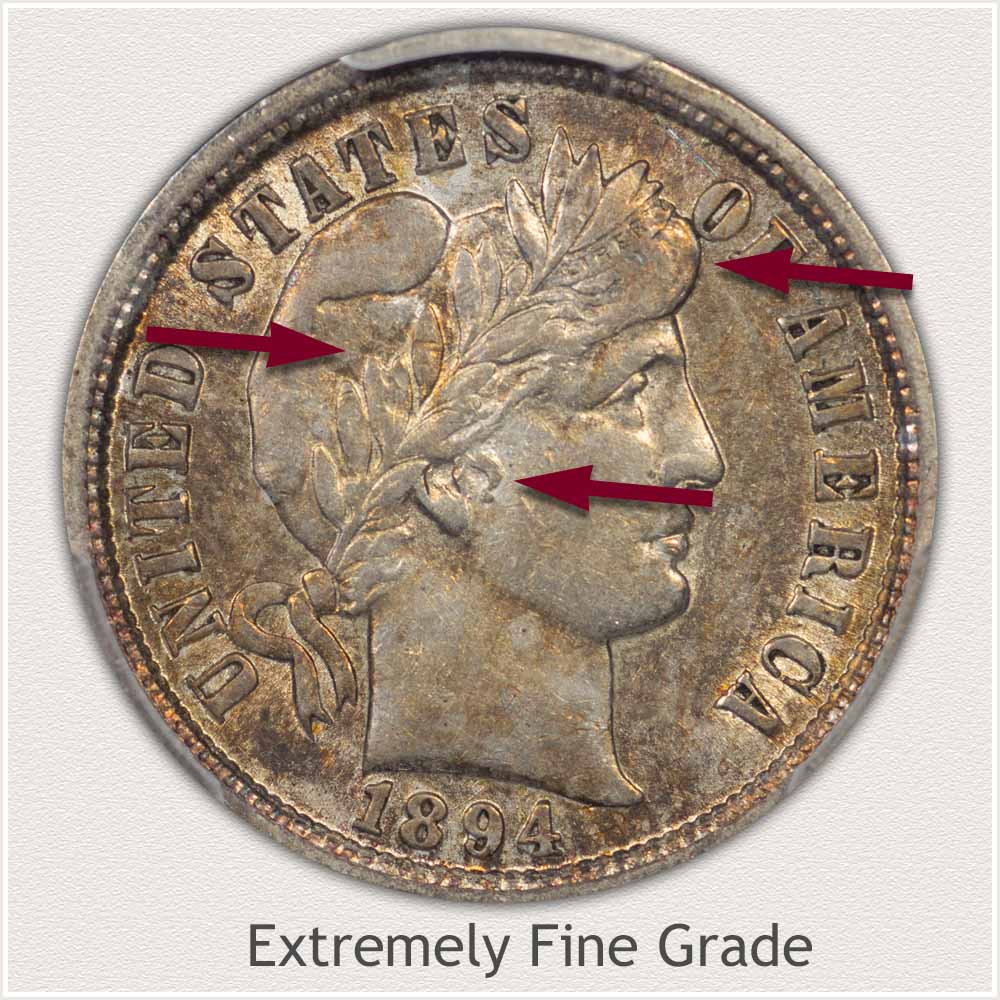 Extremely Fine: Many subtle and delicate design features remain visible helping this example dime to qualify for the top collector grade of Extremely Fine. Wear restricted to only the highest points of the coin identifies the grade.
Looking at Liberty's portrait, her hair has distinct and identifiable small hair details above her brow. Also, the Laurel leaves, forehead, and temple areas are clearly separated from her hair. Some smoothing is noted in her hair all over, but the most noticeable area is at the front of her head.
The next step is to inspect the laurel leaves. Light wear is seen on many leaves in the lower row within the hair. On Barber dimes of Extremely Fine grade, all of the lower row's leaf edges are defined.
A subtle detail on Liberty is the curl of hair visible in front of her ear. With this detail showing, the coin is a candidate for collector quality. It represents some of the small details a well-preserved coin displays with a crisp look.
Fine Grade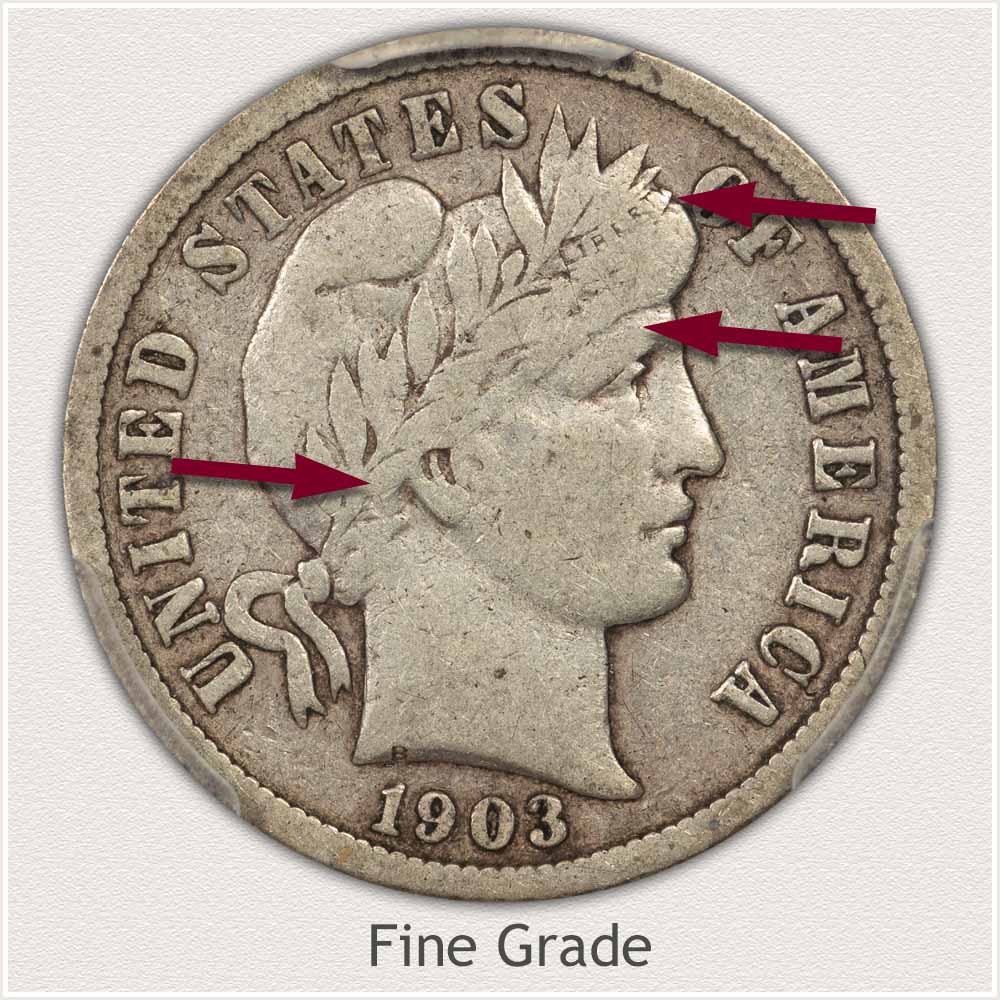 Fine Grade: Helping indicate at least the Fine grade is a pleasing amount of detail remaining. Fine grade is an important condition, drawing attention of collectors. Many issues of the Barber dime series are well within higher collector value range if confirmed as Fine grade.
An important element of high condition is the remaining hair line along Liberty's forehead, extending to her ear. Although faint in areas, tilting the coin under a light helps see this line detail. If the separation is complete and continuous, the coin is of nice quality.
Note the remaining details of Liberty's ear. Although merged with the hair above, the indication of Fine grade is the ear completely outlined and clear of her chin. A small detail, a complete lower ear, if visible, shows wear is only moderate.
Good Grade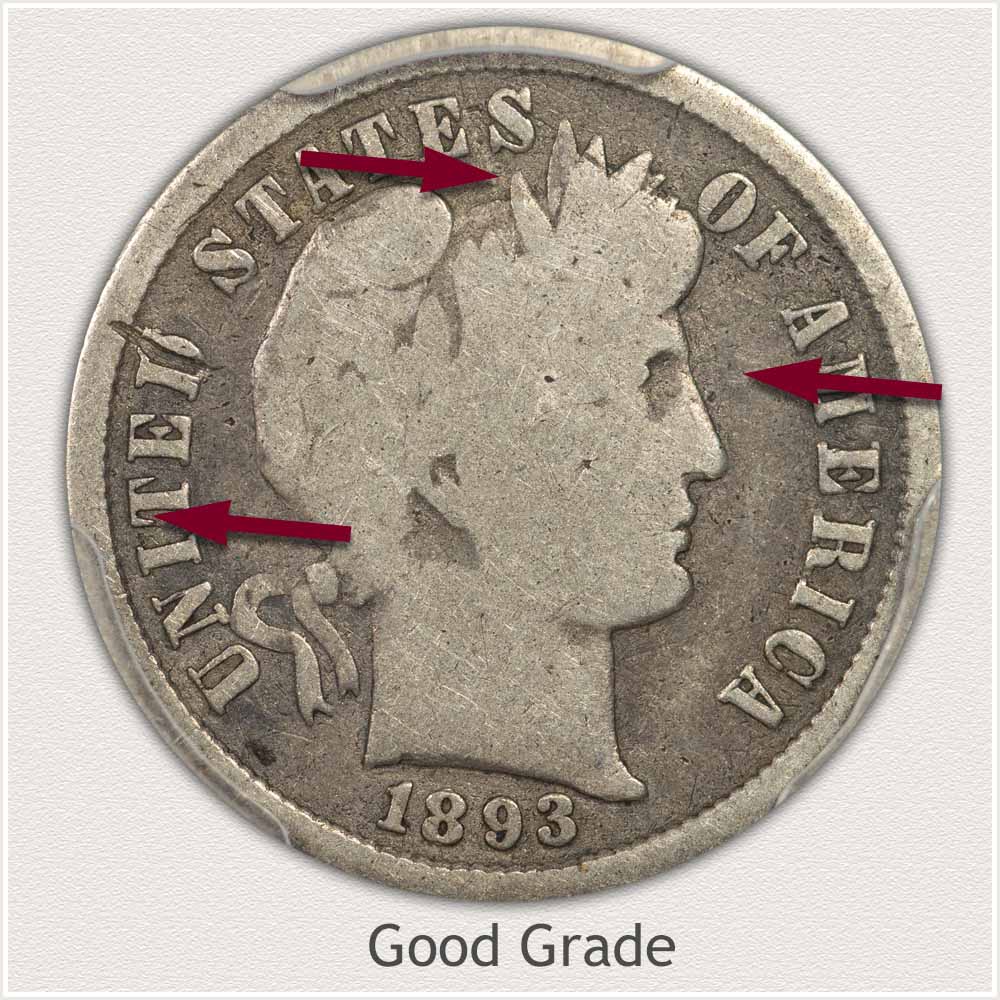 Good Grade: First thing you notice about a Good grade Barber dime is the lack of detail in the coin's center. It is heavily worn and lacks major details.
Features of Liberty's portrait must remain well outlined and her eye area is clearly visible. Despite the fact that Liberty is worn quite smooth, a few leaf details in the wreath are occasionally visible. Her portrait outline remains bold from the coin's field, which is a crucial element to recognize for a good grade.
Notice a complete rim and distinct separation of the rim from the letters giving the condition a special attractiveness. All letters of the legend along the rim are also completely readable. In the image, the Barber dime shows a bold date, which is considered a key to the Good grade.
How to Video: Grading Barber Dimes
Identifying additional areas to judge plus specific elements needed for each grade improves accuracy. Often small details are of large importance when examining these vintage Barber dimes.
Video, Images and Descriptions | Grading Barber Dimes
Step 3: | Special Qualities Enhancing Value
Ending an Era of New Orleans Mint Coinage
The New Orleans mint participated in the beginnings of the Barber dime design series. One of three mints, along-side Philadelphia and San Francisco, in 1892 introduced a major change in U.S. coinage.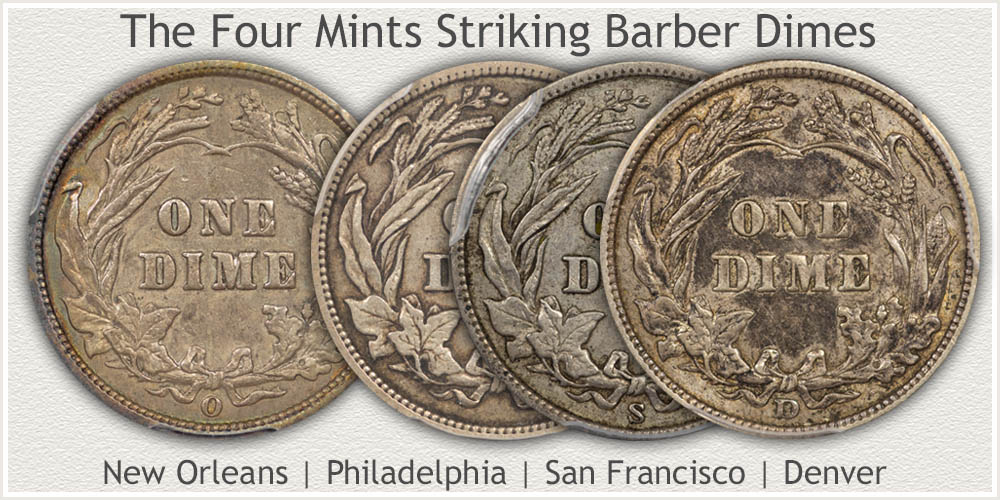 As an important facility, the New Orleans mint contributed a significant number of dimes over the years (just over 48 million), providing needed coinage for commerce. Barber dimes saw the last year of New Orleans mint production with the 1909 issue. News of closing the mint to coinage was noted by collectors at the time. As an historical event, it drew attention to the New Orleans variety.
Spanning the decades of the 1890's to 1909, a total of 17 years of Barber dimes are represented by the New Orleans mint variety. As a collectible, these coins present a number of challenges to collectors. Rarity of the issues cover the range from available with modest premiums to very rare with very high values.
An additional challenge to collectors is the low supply of nice quality, eye appealing examples. New Orleans coinage was actively used and few remain today displaying only light to no wear.
Historical significance plus demand on a limited supply forms a strong base to value of New Orleans Barber dimes.
References
U.S. Mint. 1909 U.S. Mint Annual Report https://nnp.wustl.edu/library/book/322
U.S. Mint. 1910 U.S. Mint Annual Report https://nnp.wustl.edu/library/book/512058
U.S. Mint. 1911 U.S. Mint Annual Report https://nnp.wustl.edu/library/book/323
Coin Values | CoinStudy Articles
Date by Date
In Depth Barber Dime Values
1892 to 1916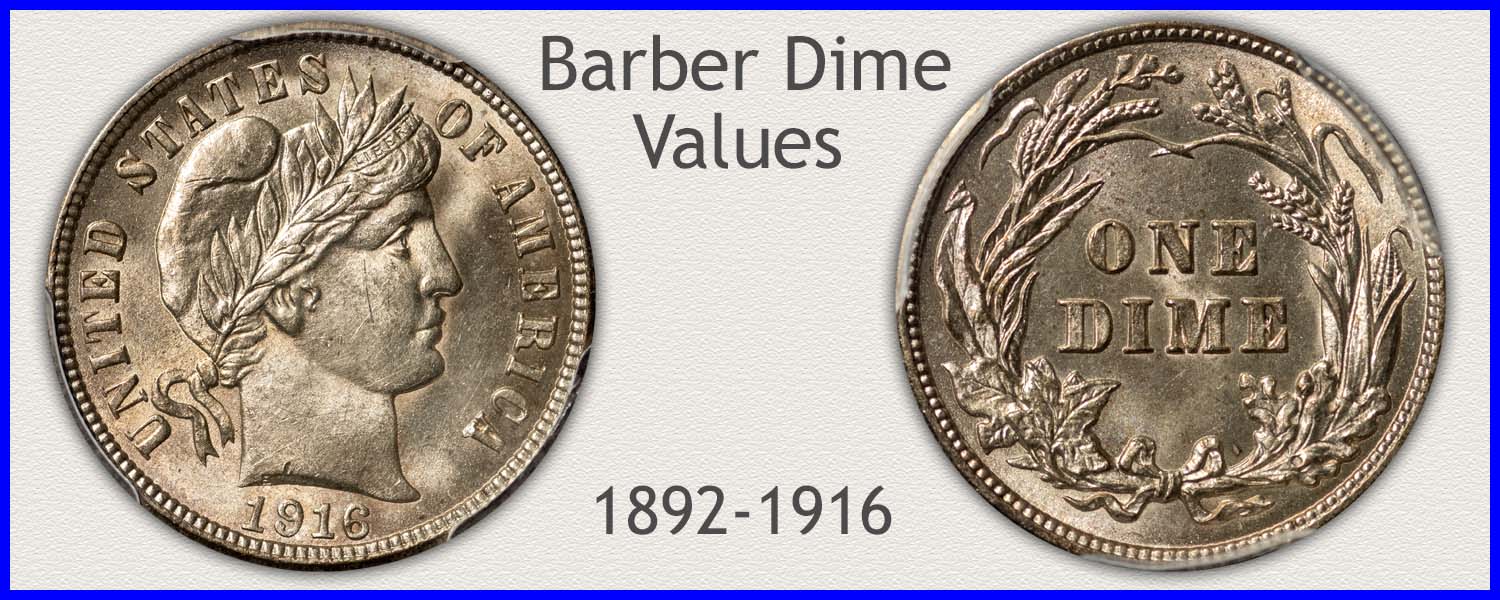 Barber Dime Value | Identify Their Potential Worth
Barber dimes have now become an older series with many date and mint combinations worth well above base silver value. Each is $2.98 because of their 90% silver alloy. Many have low mintage numbers, are scarce and collected in all conditions with strong premiums.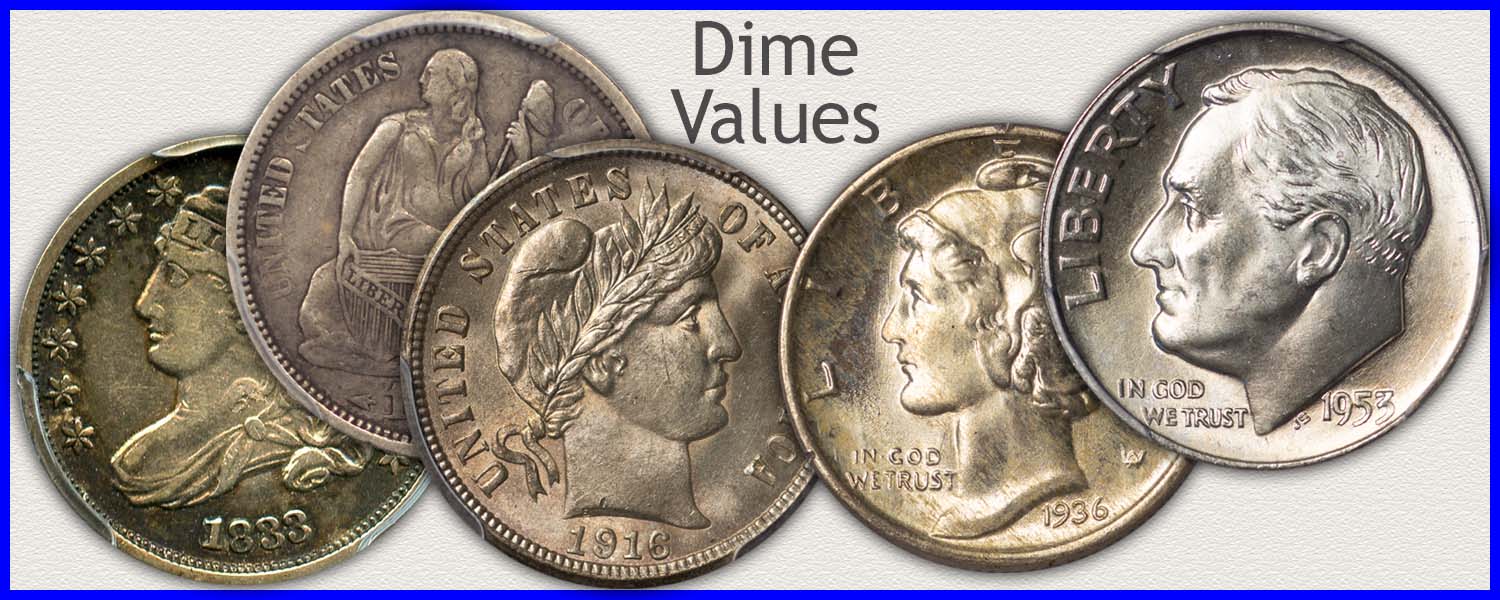 Dime Values | Identify the Different Series
As part of the value process, use the images to identify the dime series. Each is linked to in depth coverage of dates and mints to recognize. The different series are covered with specific grading images to judge condition, one of the important steps to an accurate value.
Print the Coin Values Worksheet
Streamline the value process, record your collection as you evaluate each coin. Record premium Barber Dimes separate from bulk bullion priced pieces. Continue with the rest of the collection.
Safe Coin Storage | Recommendations
Contact with other coins and humidity are two causes of damage to coins. A few supplies are available to collectors to protect and preserve the quality of coins. Silver coins, Barber dimes benefit long term with proper housing and storage.
Sell Silver Coins | Identify Market and Coin
There is a large market for older silver alloy U.S. coinage. These silver dimes, quarters, half and silver dollars are worth many times face value. Using the calculator determine today's price of each. Review the listing of dealers to find buyers of silver coins.
Coin Grading Services | Market Acceptance of Condition
A review of the top two grading services in the coin collecting field. Coins are professionally authenticated, and a judgement of grade is made. High premium coins gain market acceptance of condition and a narrow range of value.
★Coin Values Discovery finds 1909 Dime Value and...
A review of the value process with image links to series and current coin value. Determining how much a collection of coins is worth follows a few steps helped by images and detailed descriptions.