Coin Values Moving with Precious Metals: Up-Dated 11/27/2023: Gold $2010 | Silver $24.66
1910 Dime Value
Establishing a narrow 1910 dime value is done through a step-by-step method. The various listings on the chart represent key factors to recognize when deciding how much these vintage Barber dimes are worth.
Varieties of mintmarks, indicating the mint that struck the coin, are important to collectors. Each is known for different levels of scarcity, as reflected in the range of values.
A series of images are used to identify mintmarks. Next, making a judgement of condition and further classifying value, is completed in the grading section found below.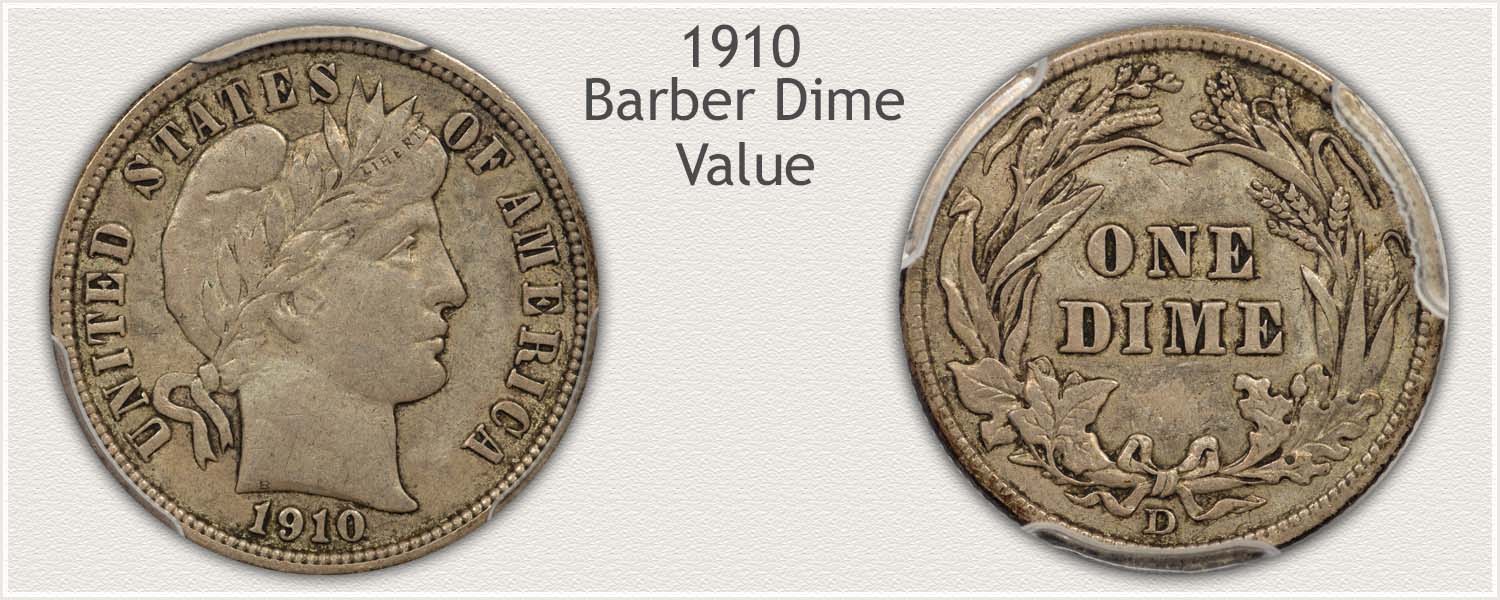 Steps Leading to Value:
Step 1: Date and Mintmark Variety - A full description and comprehensive evaluation of these vintage Barber dimes requires first locating and making a note of the coins' mintmarks.
Step 2: Grading Condition - A premium collectible coin is recognized by how well it is preserved and how much detail it still retains.
Step 3: Special Qualities - A rise in value is frequently attributed to seemingly insignificant factors. To complete the process of determining value, additional factors are considered.
1910 Dime Value
Condition of Coin
Date
Good
Fine
Extremely
Fine
Mint
State
Barber Dime Values Updated
11/27/2023
1910
$3.13
$4.47
$27
$111
1910 D
$3.13
$8.68
$46
$240
1910 S
$4.47
$44
$78
$581
Listed on the chart is a range of Wholesale values. Identifying mintmarks is an important factor to confirm. See Step 1: just below.
Step 1: | Date and Mintmark Finds Collectible Dime
1910 Premium Dime Variety
It's becoming important to identify the different date and mint issues of 1910 dimes. High mintages of two mints striking these coins are contrasted by the relatively low mintage of one mint. Note the range in value of these varieties listed on the chart.
Mintmarks used by branch mints confirm the premium variety. Each mintmark is imaged with its position on the coin.
1910-S Barber Dime
"S" Mintmark on Reverse: San Francisco Mint Struck the Coin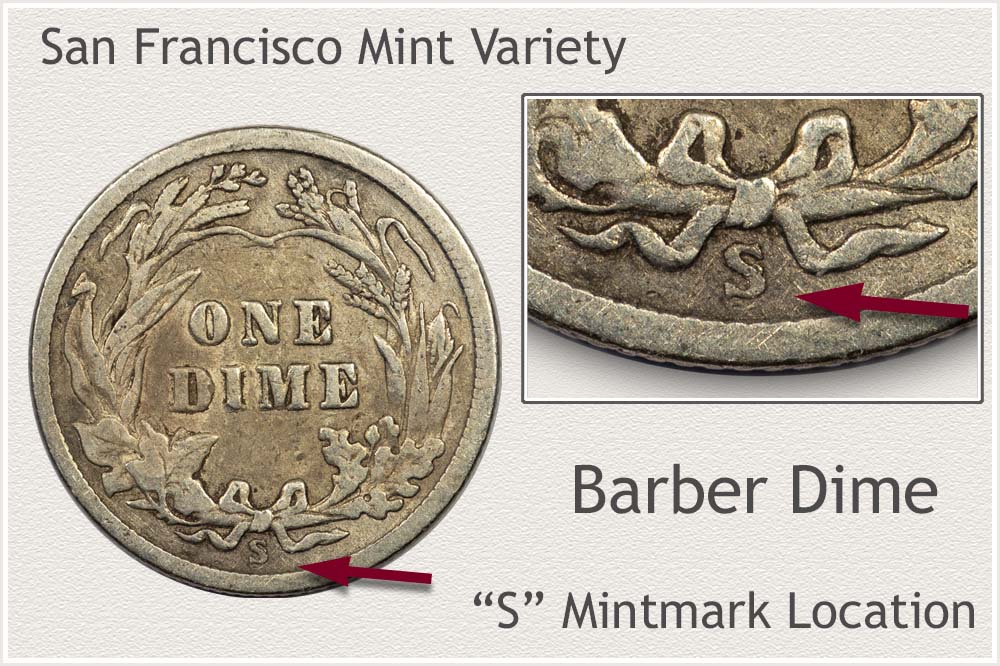 San Francisco mint dimes struck in 1910 are gaining a premium when found in detailed condition. Barber coinage from the western branch mint is a collector's favorite. For their dime sets, finding well-detailed pieces is a challenge. There were a little over 1.2 million made, a below average number, and there is strong demand for those remaining in collectible condition.
San Francisco dimes are identified by an "S" mintmark located on the reverse. Note the prominent "S" mintmark located at the lower rim right below the bow.
1910-D Barber Dime
"D" Mintmark on Reverse: Denver Mint Struck the Coin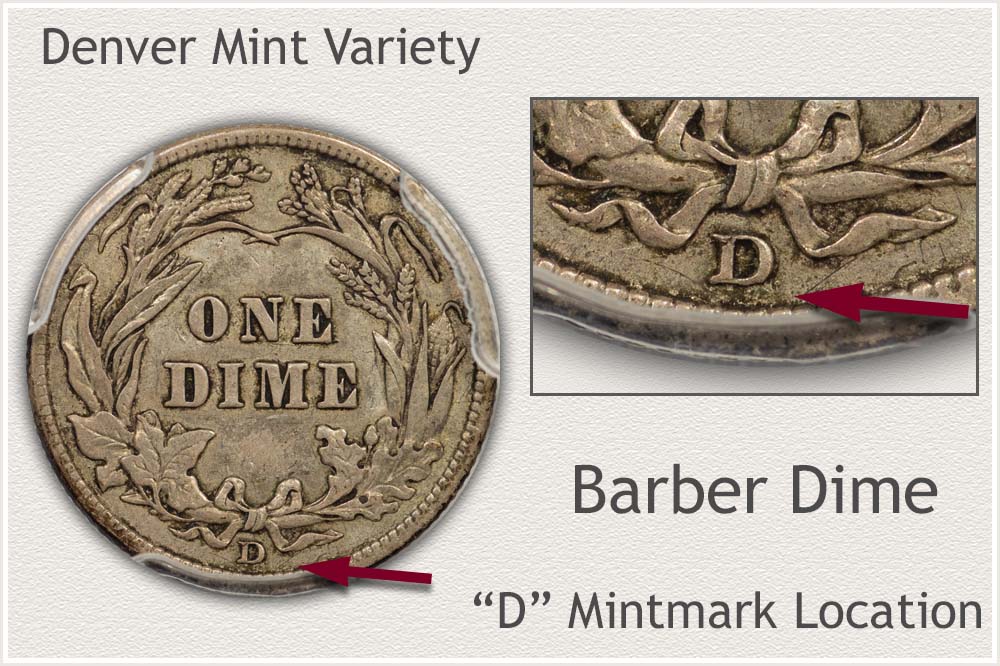 Many Denver mint variety 1910 dimes are available today. Heavily worn examples are traded based on their silver content. Collectible premiums begin with those found in above average condition, with most of the original design details visible. The majority of the 3.4 million struck by the Denver mint remained in circulation, leaving the few nice quality examples highly sought by collectors.
A Denver variety dime is identified by the "D" mintmark found on the reverse. Just below the bow tying the wreath, the "D" mark indicates a Denver mint dime.
1910 Barber Dime
No Mintmark on Reverse: Philadelphia Mint Struck the Coin
1910 Philadelphia dimes are available in heavily worn condition, however becoming collectible in nicer grades. Accurately identifying the variety in above average condition discovers a very desirable coin. With 11.5 million struck, a typical production year, these are affordable to new and just starting collectors.
This valuable issue is identified by closely inspecting the reverse. A Philadelphia issue is confirmed by looking along the lower rim, slightly below the bow, and between the ribbon ends. If the area is empty, the coin is from the Philadelphia mint.
Step 2: | Grading Finds 1910 Dime Value on Chart
Judge to Identify Collector Quality
Condition and quality of 1910 dimes must be evaluated closely. Many are heavily worn and in low condition, outside collectible range. Identifying key design elements points to a quality example.
The grading process is a comparison of the surface condition of your dime to images of various grades, finding a close match.
Mint State Grade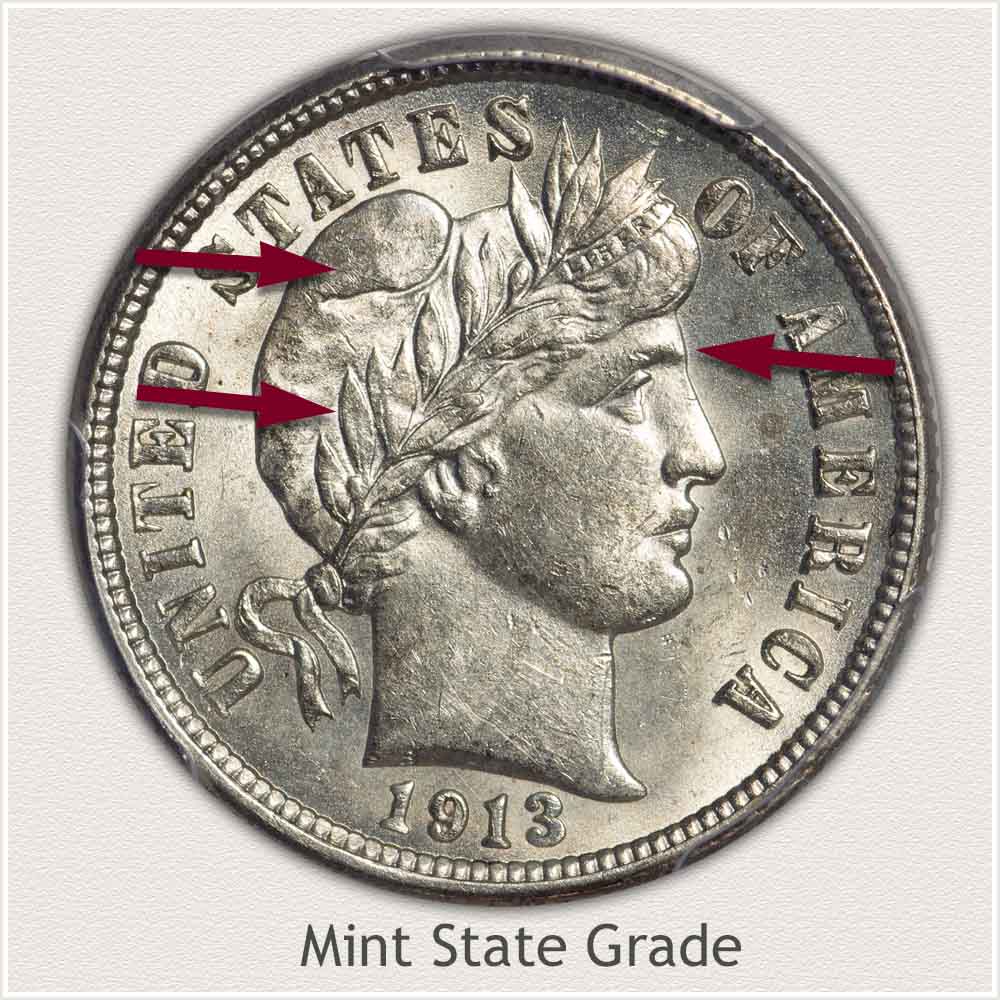 Mint State: The term "mint state" refers to a Barber dime with no visible wear. Such coins are in "like new" condition. A few parts of the surface are examined to ensure that all of the original luster remains. Due to its delicate nature, luster is the first part of the coin to show signs of wear as it circulates.
To judge Mint State condition and high collector quality requires a detailed inspection. The design's high points are important; Liberty's brow, her cap, and the Laurel leaves all must show intact brilliance to qualify for the grade.
Inspect the eye brow in comparison to Liberty's chin line, they have a similar sheen and texture. Each has a full covering of luster and shine with no dulling or smoothness. Wear appears as a delicate grey tone to the silver and smoothing of the metal. The chin line and the tops of the brow displays an original shine.
Next, Liberty's hair is decorated with a wreath made of laurel leaves. The leaves are delicate in design and have high edges, becoming vulnerable to wear and dulling. All of the leaves in the example have no flattening along the leaf edges.
Liberty's cap also helps identify a coin without any wear. No dulling and smoothing of the metal is seen. Overall, it offers the appearance of a truly mint state coin.
Extremely Fine Grade
Extremely Fine: Several small and delicate design elements remaining visible are necessary for the collector grade of Extremely Fine. Only light wear concentrated on high areas defines the grade.
Liberty's hair above her forehead is distinctive with fine lines and easily recognizable. In addition to the Laurel leaves, her forehead and temple areas are well separated from the hair. Some smoothing is visible throughout her hair, with the most noticeable smoothing occurring at the front of her head.
The leaves of the laurel wreath are next examined. Several of the leaves of the lower row show evidence of light wear. On Extremely Fine grade Barber dimes, edges of the lower row of leaves remain clearly defined.
There is a small curl of hair visible in front of Liberty's ear, a subtle detail. This detail showing indicates that the coin is in high-quality condition. A crisp appearance of the coin is pleasing and every detail is well preserved.
Fine Grade
Fine Grade: Imaged is a Barber dime that is moderately worn, has visible wear in addition to blending of a few design elements. These coins are classified as Fine Grade because a few key features are visible. A coin in demand by beginning and new collectors interested in a nice coin and still affordable. Their level of detail is quite pleasing.
When judging condition, a critical feature is that all letters of "Liberty" are visible within the headband, although "ER" is frequently faint. When considering a coin for the grade, the visible inscription is a key factor. Also note the subtle line defining the hair just above the brow.
Additionally, the top row of laurel leaves is finely defined, adding to the overall design's detail. The leaves' upward-pointing edges are completely separate from the Liberty cap. Overall, the coin shows ample detail; within the laurel leaves, as well as the contours of Liberty's neck, chin, and cap are distinct.
Good Grade
Good Grade: In the central area of a Good grade Barber dime, there is little detail. These coins are described as highly worn and missing major elements.
An important feature, Liberty's portrait is well-outlined, with her eye area evident. Often a few leaf edges of the wreath are seen even though Liberty is worn quite smoothly. Her portrait remains bold from the coin's field, which is a crucial element to judge a good grade.
A full rim and clean separation of the rim from the legend adds to the condition's charm. Furthermore, all letters are fully readable along the rim. Barber dimes matching the illustration have a bold date and is a Good condition coin.
How to Video: Grading Barber Dimes
Grading is refined to include more subtle points found in a variety of conditions. Images highlight design features necessary for determining an accurate grade range.
Video, Images and Descriptions | Grading Barber Dimes
Step 3: | Special Qualities | Damage Free
Mark Free surfaces Raise Collectible Status of Barber Dimes
Barber dimes are collected by a range of collectors. From elite collections featuring mint state examples in high grade to collections of circulated pieces in pleasing worn condition. From advanced to beginning collectors, inspect all coins for collectible quality.
Setting one coin apart from others is often slight damage to the surface. Both sides of the Barber dime are judged for any distractions. Devices and fields are viewed, including the rim.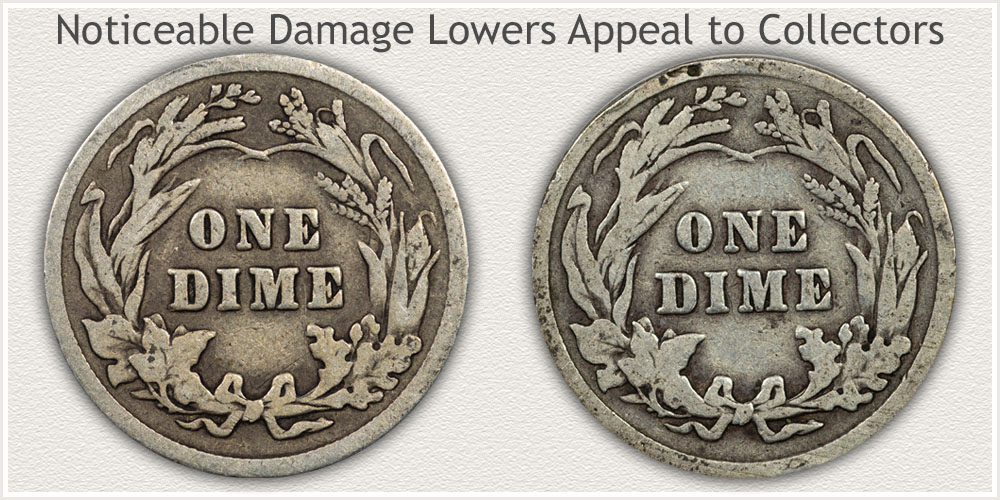 Early era Philadelphia issues are considered scarce and, in worn condition enjoy premiums as a collectible above their base silver worth.
With increased demand and value, any distractions lowering eye appeal greatly impact their appeal to collectors. Noted on the above coins, there is even wear and a pleasing natural toning giving the coins potential. However, easily seen on one is a deep mark on the rim at the top-left of center.
Large nicks/marks, scratches, and marring are recognized as damage to a coin. Visible damage has reduced the value of the coin, lowering it from collectible status to its base silver value. Many collectors avoid placing - coins with distractions - into collections. An otherwise suitable candidate to represent an early era Barber dime is now worth silver content.
Premium collectible coins require eye appeal and mark-free surfaces to attract collector interest and large premiums.
References
U.S. Mint. 1911 U.S. Mint Annual Report https://nnp.wustl.edu/library/book/323
Coin Values | CoinStudy Articles
Date by Date
In Depth Barber Dime Values
1892 to 1916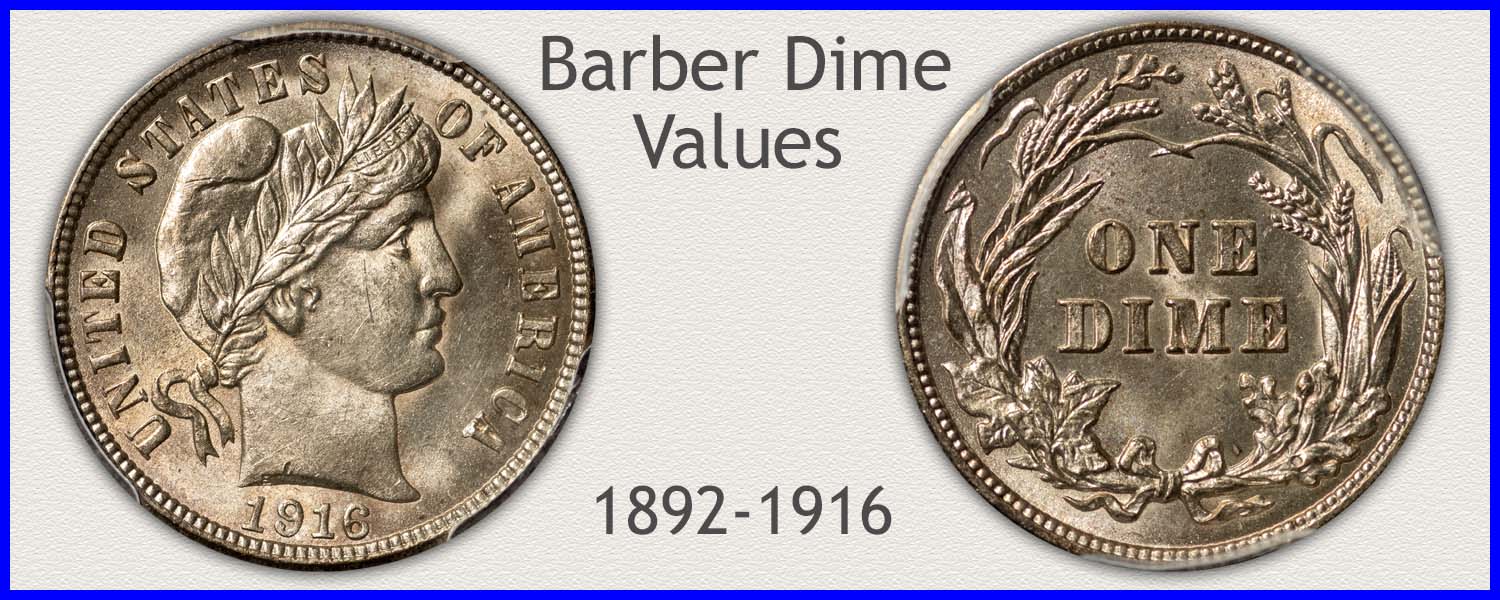 Valuable Barber Dimes | Many Valued Above Silver
All Barber Dimes are worth at least $3.13 . Please don't settle for this minimum value, double check your coins. Over half the dates and mint marks are worth substantially more. Condition is a major factor to collectible status and demand.
US Coin Values | Mobile Reference Guide
Barber Dimes are one of many series of U.S. coinage. Identify your old coins matching to images alongside charts of typical values of the series. Follow the step-by-step approach to place accurate values on U.S. coins.
Silver Coin Values | Minimum Values of U.S. Silver Coins
Many U.S. coins have a solid worth based on silver value. Heavily worn, common Barber dimes follow silver value up and down. Identify the silver alloy issues and using the calculator determine current minimum value. Vintage silver coins are worth well over face value.
Sell Silver Coins | Identify the Silver Issues
Worth well over face value, vintage U.S. silver coinage is first identified. Recognize your silver coin issues, and using the calculator determine minimum silver value. Listing of dealers to contact finds either a local or online buyers.
★Coin Values Discovery finds 1910 Dime Value and...
Barber dimes are one of many series with premium coin values. Identify your coin and variety, follow a step-by-step method used by collectors and discover how much old coins are worth.