Coin Values Moving with Precious Metals: Up-Dated 9/25/2023: Gold $1921 | Silver $23.44
1903 Dime Value
Above average condition examples are awarded strongly higher 1903 dime value. Collector quality pieces are in scarce supply. Note the difference from one condition/grade to the next higher as reflected on the chart.
A defined process is used to recognize key factors, determining where on the chart your coin places. After confirming date and mint combination, compare to grading images to judge condition.
Steps Leading to Value:
Step 1: Date and Mintmark Variety - An accurate description includes the coin's date and mint issue. There were three separate mints that contributed to the production of 1903 dimes.
Step 2: Grading Condition - Many of today's examples of these dimes are in poor condition. Visible design elements, easily identifiable, indicates the coin is of higher quality than typical.
Step 3: Special Qualities - Barber dimes are a popular U.S. coin series. They appeal to collectors of all levels. Both the new collector and the advanced specialist judge each coin based on its unique characteristics.
1903 Dime Value
Condition of Coin
Date
Good
Fine
Extremely
Fine
Mint
State
Barber Dime Values Updated
5/25/2023
1903
$2.98
$4.25
$21
$110
1903 O
$3.47
$13
$57
$239
1903 S
$70
$269
$327
$888
Values listed are a starting point to wholesale Barber dimes. Dealer demands plus a close eye to condition are important to recognize. Use the steps to narrow the value range.
Step 1: | Date and Mintmark Finds Scarce Variety
Key 1903 Dime to Identify
It is important to correctly note the date and mint producing 1903 dimes. Very high mintages of two mints striking these coins is contrasted by one mint recording very low numbers.
Mintmarks are key to an accurate identity of the premium mint variety. Each mint is imaged with its mark and location to find the correct value listing.
1903-S Barber Dime
"S" Mintmark on Reverse: San Francisco Mint Struck the Coin
A coin's precise description includes the date and mint variety. In terms of popularity and value within the series, a 1903 dime is high on both lists. It was issued by San Francisco in very low numbers, only 613,300 struck. As a result, these coins are elusive and valuable.
Verify the San Francisco issue by looking for the "S" mintmark on the reverse. The "S" mintmark is seen adjacent to the rim beneath the wreath. This coin has become a sought-after collectible.
1903-O Barber Dime
"O" Mintmark on Reverse: New Orleans Mint Struck the Coin
On the chart, popularity of the New Orleans variety coinage contributes to the high value of a 1903 dime in above average condition. Recording the highest mintage of the series, 8.1 million struck, collector demand for the now obsolete mint's dimes is strong and supports its worth. It is important to identify the mint varieties of 1903 dimes.
There is an "O" mintmark on the reverse of coins struck by the New Orleans mint. The large "O" near the rim, below the wreath, represents the mintmark of New Orleans..
1903 Barber Dime
No Mintmark on Reverse: Philadelphia Mint Struck the Coin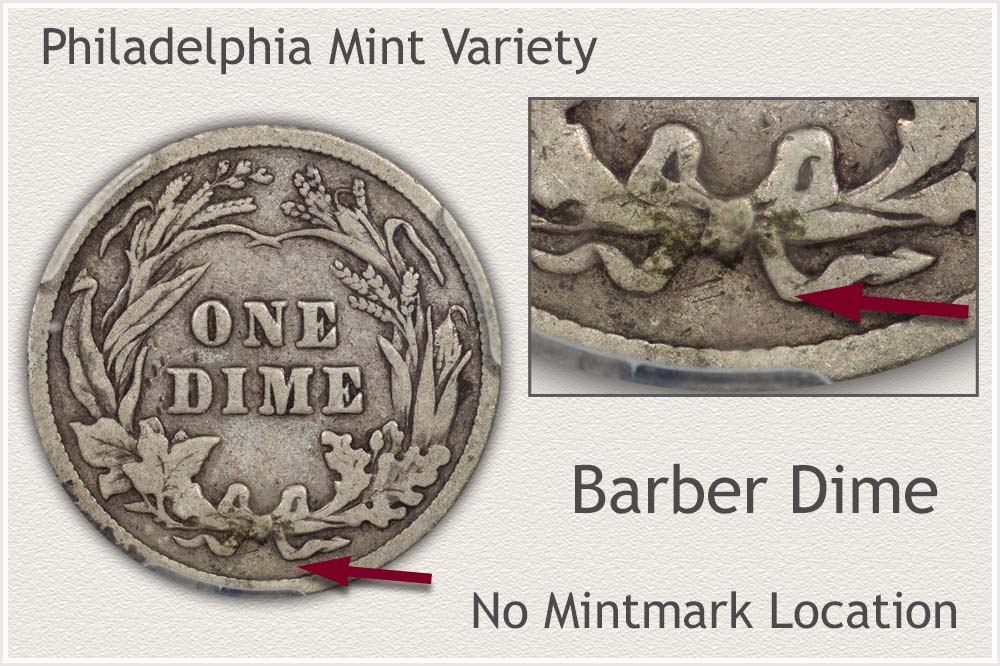 The Philadelphia mint produced a large number of 1903 dimes during the middle era of the series. Because of abundance, coins in heavily worn condition have a value based on their silver content, as shown on the chart. New and beginning collectors enjoy these because they're an affordable example of a long obsolete series. It is necessary to recognize both date and mint in order to place an accurate value.
No mintmark on the reverse, is indicating a Philadelphia issue. The Philadelphia Mint, the country's main mint, did not use mintmarks to distinguish its production when striking Barber coinage. Looking at the reverse, inspect along the rim beneath the wreath. When the area below the wreath is empty, the coin was struck in Philadelphia.
Step 2: | Grading to Narrow 1903 Dime Value on Chart
Condition Points to Collectible Barber Dimes
Barber dime values are further narrowed by overall condition of the coin. Different "grades" of condition are represented on the value chart. Grading condition is a process of identifying the different stages of wear to the surface highlighted by the following images.
Compare your coin to the descriptions and images of grades to ensure a close match. The 1903 San Francisco issue has great collector potential when found in above average condition.
Mint State Grade
Mint State: Barber dimes in mint state is a highly prized collectible condition. The condition is described as having no visible wear on the surface. A few areas on the coin's surface are inspected to ensure full mint state condition is judged before the grade and value are determined.
Liberty's jaw line is an open, raised area that is usually the first to exhibit signs of wear. When examined closely, the line separating the lower chin and jaw is lustrous and has the same texture as the surrounding metal. Silver shows wear in the form of a dulling of its shine and a change from a white hue to a soft grayish color. The lower recessed area between the jaw line and the neck is a good comparison point, both showing a uniform metal appearance.
Now examine Liberty's forehead and eyebrow. The eyebrow is covered with luster and a fine texture, with no traces of smooth metal or dullness.
Additionally, Liberty's cap along the upper edge is in the same condition as her cheek and neck areas, confirming the mint state grade. An appealing sheen appears on the coin in all areas when held up to a light.
Extremely Fine Grade
Extremely Fine: Only the very highest points of the design are the areas a Barber dime shows minor signs of wear in Extremely Fine condition. Overall, there is slight wear and minor merging of elements, defining the grade. A few important details, including the leaves, hair, and portrait are examined and compared to the image.
When looking closely at the Laurel wreath in Liberty hair, and notably the lower leaves, it is important a majority of the leaf edges are visible. Very minor merging is acceptable along the edges of a few leaves.
Looking at the hair above the front of her forehead, wear is visible, but each strand of hair still has some definition. The front of the hair, towards the top is only slightly flattened in exceedingly fine condition.
Note how the cheek area retains a distinct contour of high and low areas when viewed in total. Some smoothness is limited to the middle area of the cheek, and there is little to no metal flatness. Extremely fine grade is a crisp, well-detailed dime with a "premium" appearance.
Fine Grade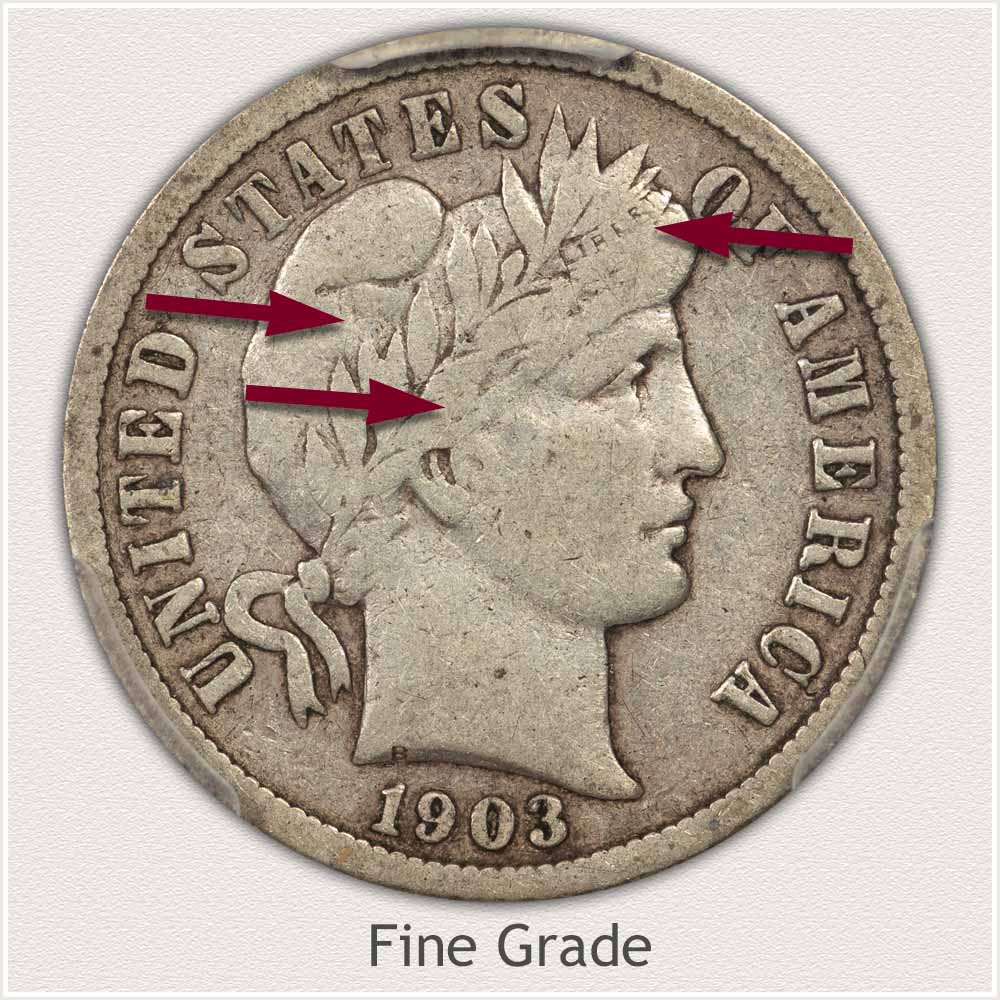 Fine Grade: A Barber dime with leaf detail and head ribbon detail visible is a candidate for the Fine grade. With only a moderate amount of wear, these are pleasing coins, and many are valued as a premium collectible. Moderate wear and fine details visible define the grade.
Important to collectors is all letters of "Liberty" are visible in the ribbon at the top of the head. Often, the "ER" is faint but must remain recognizable. Bold letters are a strong example for the Fine grade.
A second important feature is the crisp detail of the upper Laurel leaves. All remain fully outlined and bold from the surrounding design. Lower leaves are just beginning to merge with the hair and parts are blended and missing.
Fine grade Barber dimes retain a nice overall, well detailed appearance.
Good Grade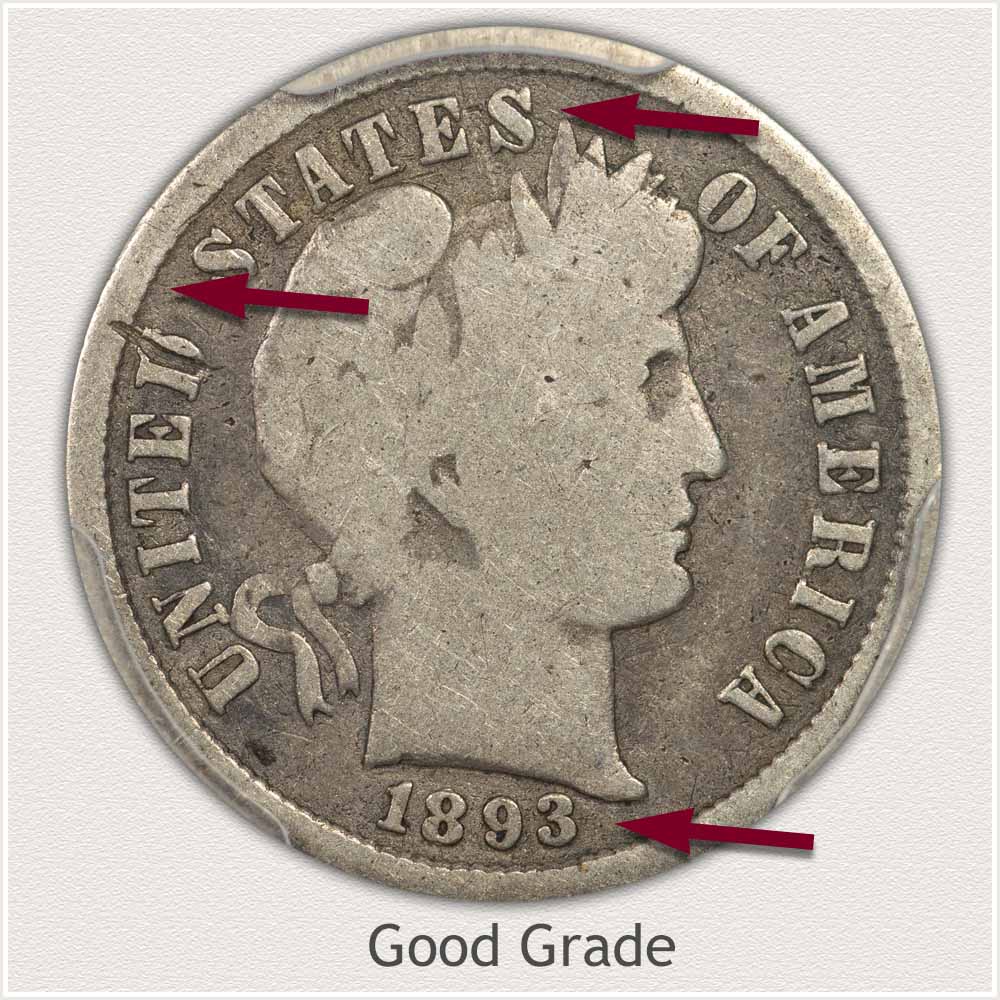 Good Grade: When most of the details are gone from a Barber dime, it is in the "Good" condition range. A dime with heavy wear defines a Good grade coin.
Wear has reduced the design, resulting in the loss of all central detailed elements, as shown by Liberty's portrait now only an outline. However, the outline remains very bold, distinct, and strong from the field of the coin.
Adding character, the date and letters of the legend are all well-defined and readable. It's also worth noting the full and raised rim, an appealing detail still visible. These coins are not worn to the point of lacking complete lettering or date.
How to Video: Grading Barber Dimes
Accurate value depends on judging condition of these Barber dimes. Using the video, a focus on important areas to judge are examined. An expanded grading process narrows condition range.
Video, Images and Descriptions | Grading Barber Dimes
Step 3: | Special Qualities are Handled Carefully
Inspecting a Barber Dime and Maintaining its Preservation
A box of old coins has a potential of finding all levels of value. With Barber dimes ranging in value from those based on silver price to a collectible dime worth a premium. Care is taken to inspect each in a safe manner.
When examining your collection, an excellent first habit to follow is washing your hands and drying completely before beginning. Dry, clean hands avoid transferring anything onto coins.
Handle each coin individually, by the edges is very important. Limiting contact with the surface maintains its current state.
Seated at a table with a single light source provides suitable lighting to see the fine details and dropping the coin to the floor is less likely.
With the first coin held by the edges, hold it slightly away from your face. Breathing onto the surface is a humid condition. Additionally, as time passes, resist touching your face to keep hands clean.
When placing a coin back on the table set in an open space, now is a good time to keep each coin separate of the other.
A magnifying glass is often required to recognize and help judge small details, 5x power is a good choice. Alternately, an image from a cell phone and then using the zoom function provides magnification.
These old Barber dimes are not fragile. However, qualities of toning and natural aging are delicate. Less disturbed surfaces are a special quality worth maintaining.
References
U.S. Mint. 1904 U.S. Mint Annual Report https://nnp.wustl.edu/library/book/512059
Coin Values | CoinStudy Articles
Date by Date
In Depth Barber Dime Values
1892 to 1916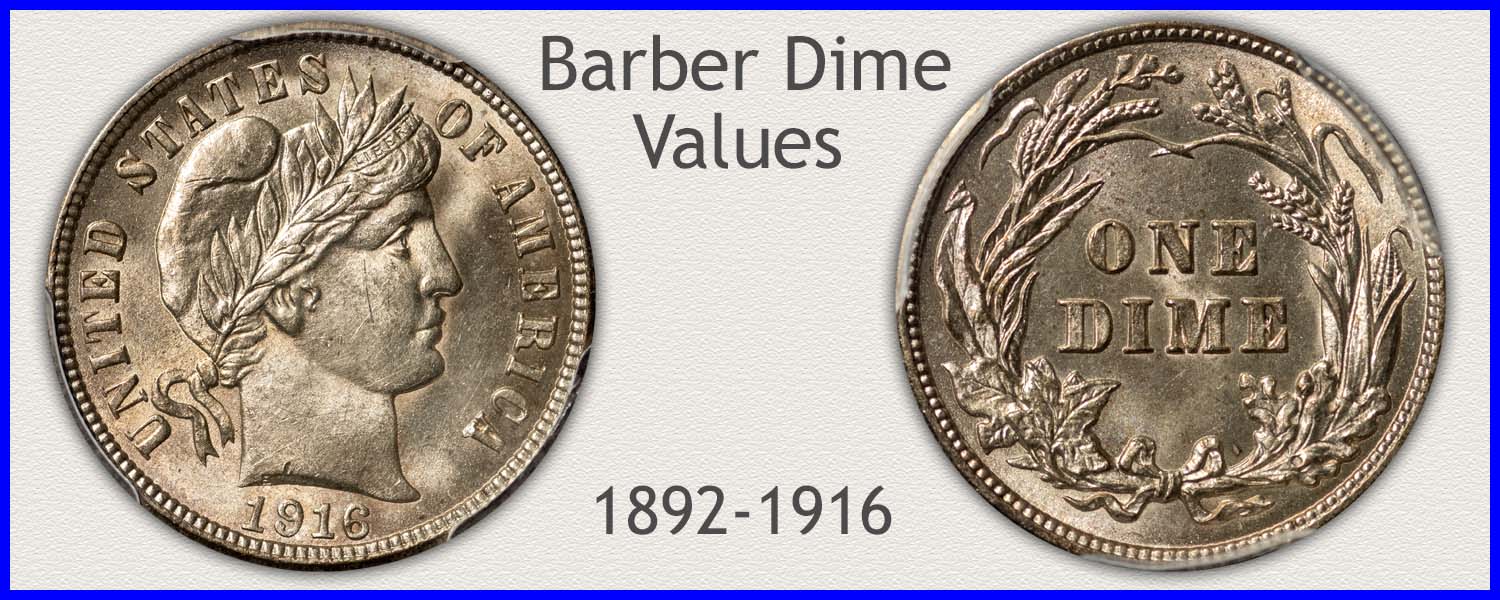 Barber Dime Value | Dates and Mints Listed
Discover the different dates and valuable mintmarks. Use the step by step method to an accurate identity and value of these old Barber dimes. Grade condition and note mintmarks to complete your assessment.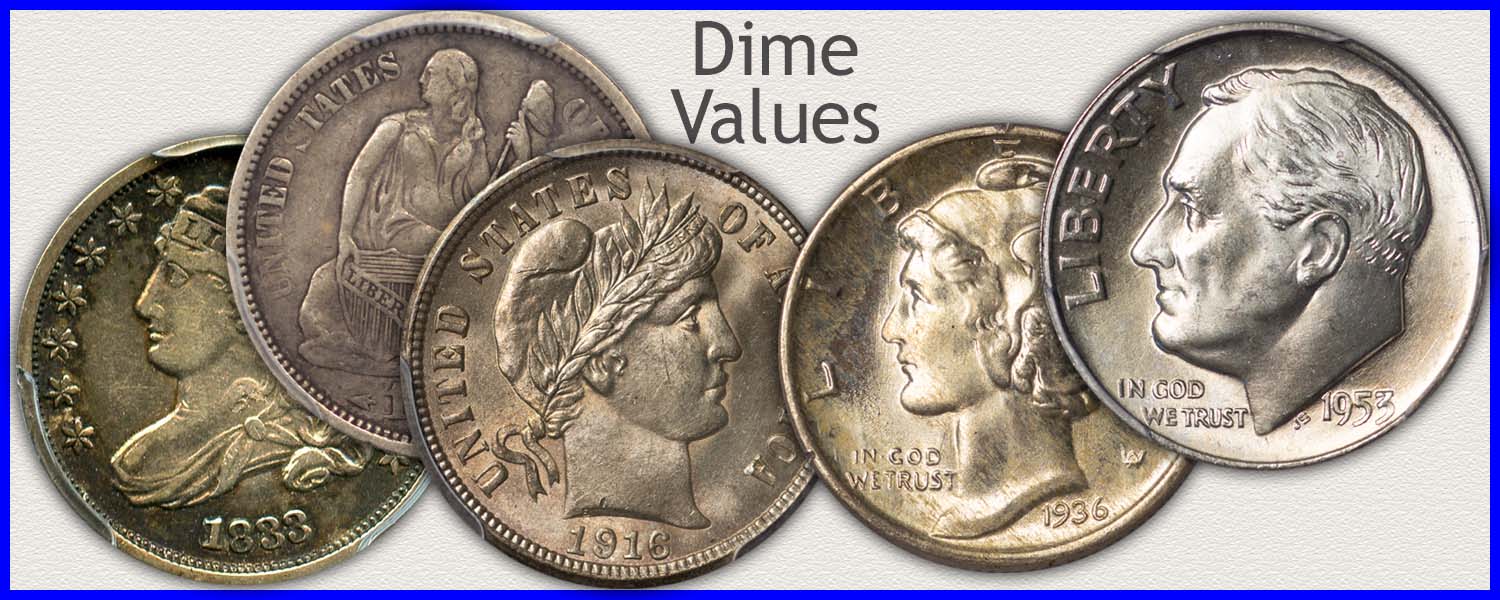 Barber dimes are one of many dime series minted over the years. Begin the value process with identifying the different designs and following to specific value charts. Each series is valued using a step by step method to accurately judge date, mint, and condition. All are important elements of value charts.
Old Coin Values Using a Step by Step Method
Key elements to value are followed to a complete understanding of each coin. Significant dates are highlighted. Scarce mints are noted; and important to value, is judging condition. Steps and images are used to accurately value each series of coins.
Safe Coin Storage | Recommendations
When housed and stored properly Barber dimes maintain their preservation and importantly value. Silver, copper, and nickel coinage requires a few basic considerations to keep any damage and deterioration from taking place.
The U.S. mint began striking the dime denomination in 1796. Over the decades many issues have become scarce to rare. View the progress of dimes and their designs to recognize the rare types.
Sell Silver Coins | Important are Values and Finding Dealers
Once you have established a value range of your coins, next is finding dealers marking a market in similar types. Follow the process to values and reference the listing of dealers.
★Coin Values Discovery finds 1903 Dime Value and...
Identify your old coins and begin a step by step process to coin values. Images of the different series lead to specific coins. Follow the method used by collectors to place current values on coins.