Coin Values Moving with Precious Metals: Up-Dated 11/27/2023: Gold $2010 | Silver $24.66
1899 Dime Value
Condition of the coin in this vintage series has a large impact on 1899 dime value.
One of the key steps covered is a good understanding of your coin's condition. Various levels of wear determine a "grade". An important demand is the result of collectors seeking examples in above average condition as part of building sets. Review the value chart and begin the steps to narrow how much your old Barber dime is worth.
Steps Leading to Value:
Step 1: Date and Mintmark Variety - Noting mintmarks is a necessary step in the description and evaluation of these Barber dimes.
Step 2: Grading Condition - When comparing these Barber Dimes to the grading images, recognizing a similar match, helps locate its value on the chart.
Step 3: Special Qualities - 1899 marks the end of an era and is now part of a long-ago century of U.S. coinage.
1899 Dime Value
Condition of Coin
Date
Good
Fine
Extremely
Fine
Mint
State
Barber Dime Values Updated
11/27/2023
1899
$3.13
$5.91
$30
$102
1899 O
$8.68
$48
$129
$460
1899 S
$7.42
$29
$47
$281
Values listed are a starting point to wholesale Barber dimes. Dealer demands plus a close eye to condition are important to recognize. Use the steps to narrow the value range.
Step 1: | Date and Mintmark Variety Identified
Identify the Scarce New Orleans 1899 Dime
1899 dimes were produced at three mints in widely different amounts. Collecting each date plus the different mintmark issues is a popular theme of building a set of Barber dimes.
Mintmarks identify branch mints striking coins. Small letters were used and are noted on the value chart. Each is collected and valued separately. Images below point to the location of the marks on the coin.
In particular, the low numbers struck and popularity of New Orleans dimes are today a scarce and premium value coin. Important to recognize the exact mint of these dimes.
1899-S Barber Dime
"S" Mintmark on Reverse: San Francisco Mint Struck the Coin
In 1899, the San Francisco mint expanded output of dimes slightly, producing approximately 1.8 million coins that were minted and circulated. These today are worth above their basic silver value, and they're scarce to find in Fine or better condition. Demand comes from collectors looking for a well-detailed example to include in Barber dime sets.
A "S" mintmark was used by San Francisco to identify its coinage of dimes. To determine if it's the San Francisco issue, identify the "S" mark on the reverse, just below the bow.
1899-O Barber Dime
"O" Mintmark on Reverse: New Orleans Mint Struck the Coin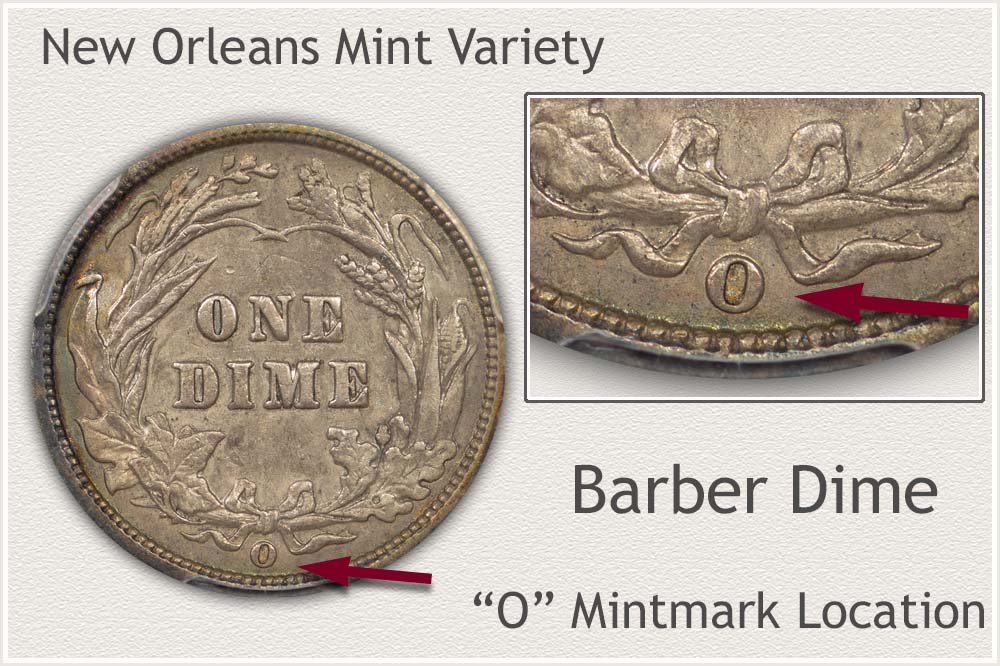 Among the three mints contributing to the Barber dime series in 1899 was the New Orleans mint. 2.6 million of these dimes struck and many circulated examples remain inexpensive. All conditions show a premium on the value chart because of their nineteenth century status and collector interest in the New Orleans mint.
New Orleans was a branch mint that served the southern region, and all of its coinage has the mintmark "O." Identify the mint by looking for the letter "O" on the reverse, which is located along the lower rim, right below the bow that is used to tie the wreath.
1899 Barber Dime
No Mintmark on Reverse: Philadelphia Mint Struck the Coin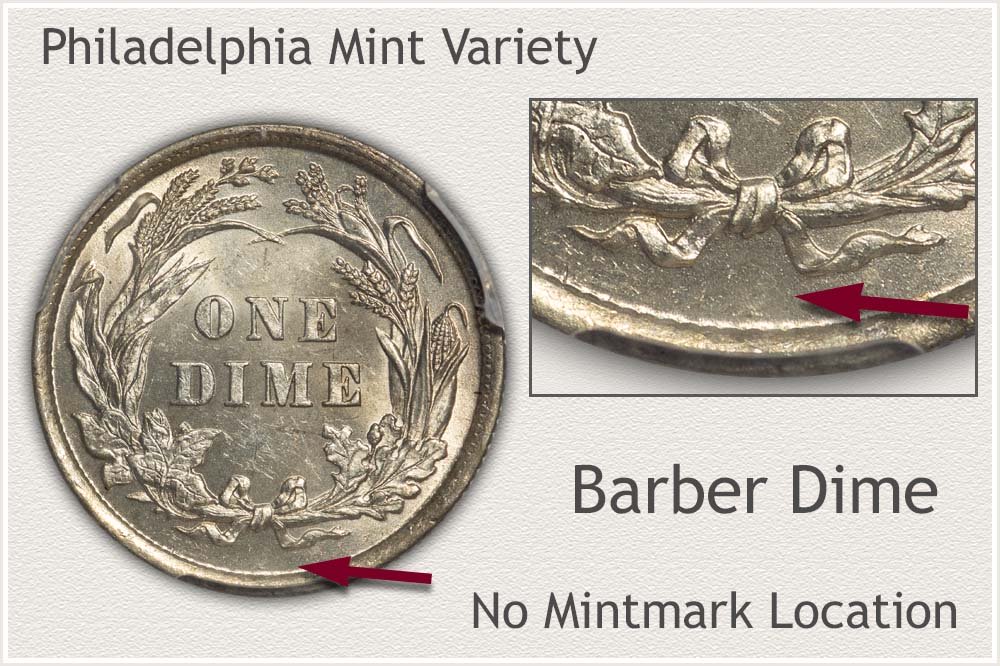 Philadelphia issue 1899 dimes are an important mint variety to identify in high stages of preservation. Although minted in ample quantities, few remain in upper conditions.
The absence of a mintmark on the reverse identifies Philadelphia variety Barber dimes. Looking on the reverse of the coin, a bow is used to secure the ends of the wreath together. In the area just above the rim, and below the bow, if it is empty, this indicates the dime is from Philadelphia.
Step 2: | Grade Surface Condition to Find Accurate 1899 Dime Value
Condition Determines Bullion Quality or Collector Quality
An inspection of 1899 dimes is part of the grading process to judge both condition and identify a collector quality example. Many remaining Barber dimes are in poor condition. Finding key elements visible in the design indicates an above average example.
In grading, the surface condition is compared with images of the different grades to find a match and narrow its value on the chart.
Mint State Grade
Mint State: A coin in Mint State condition is a highlight of any Barber dime collection. These coins are defined as having no surface wear and displaying entire design details. Additionally, they have full luster, giving them the shine of a mint state grade dime.
Luster is a delicate, fine grain to the metal's surface that forms during the striking process as metal moves into the recesses of the die. It is quickly worn away once a coin enter circulation. Inspect Liberty's cheek to ensure luster covers the entire area. Verify the neck, another exposed region, and the cheek; both have an unbroken brilliance and a comparable shine. When silver wears, it turns dull, loses its luster, and generally turns a light grey in the highest areas.
The brilliance of mint condition dimes also covers the high relief smaller areas. Closely examine Liberty's eyebrow, which is a prominent feature on the coin. No dulling or smoothing of the metal is evident in the raised area of the brow.
Tilting a mint state coin under a light causes the shine to spread and flow across its surface. A high-quality coin with a high collector worth.
Extremely Fine Grade
Extremely Fine: A Barber dime in Extremely Fine condition has light wear only on the highest points. A few small details helping qualify the grade are important to remain.
Many collectors seek lightly circulated dimes with only a hint of wear. These are an ideal starting point when collecting the Barber series. A high-quality dime must have strong details that are plainly visible, although worn, but remaining distinct. In Liberty's hair, there is a ribbon with the letters of "Liberty". It is important both the top and bottom edges of this ribbon are visible and complete in order to reach extremely fine condition. Strong, distinct ribbon edges suggest light wear.
The overall appearance of the silver has now changed to a soft grey color tone. A majority, if not all, of the original shine has worn away. Indicating only light use, a small curl of hair is visible in front of the ear. This small design feature is worn rapidly, and when visible, adds to the coin's excellent collectible quality.
Overall, the design of the coin retains a crisp and detailed appearance. An appealing coin with minor wear visible on high points. The coin's fields are lightly worn, no eye catching marks, and have a slightly smooth texture.
Fine Grade
Fine Grade: A Barber dime in Fine grade has moderate wear, leaving many minor and major details visible. These coins appear "worn" at first glance, yet when inspected closely, the majority of the portrait and small design features survive.
The leaves of the Laurel wreath show plenty of detail, and portions of Liberty's hair is clearly visible on this coin in Fine condition. All leaves of the wreath pointing upward are defined and completely outlined. Although the lower leaves are blending with the hair, a few details remain helping identify the leaves and hair.
All letters of the word "Liberty" are visible in the ribbon, part of her headband, which is a major feature to qualify for the grade. Often, however, the letters "ER" are faded and incomplete. A dime with bold, crisp letters is a high-quality grade dime.
Now looking at Liberty's ear, which has become flattened with noticeable wear. There is just enough detail left to distinguish the ear from the cheek. A moderately worn example with a defined ear, merging only at the top with the hair, is nicely detailed for the collectible grade.
Good Grade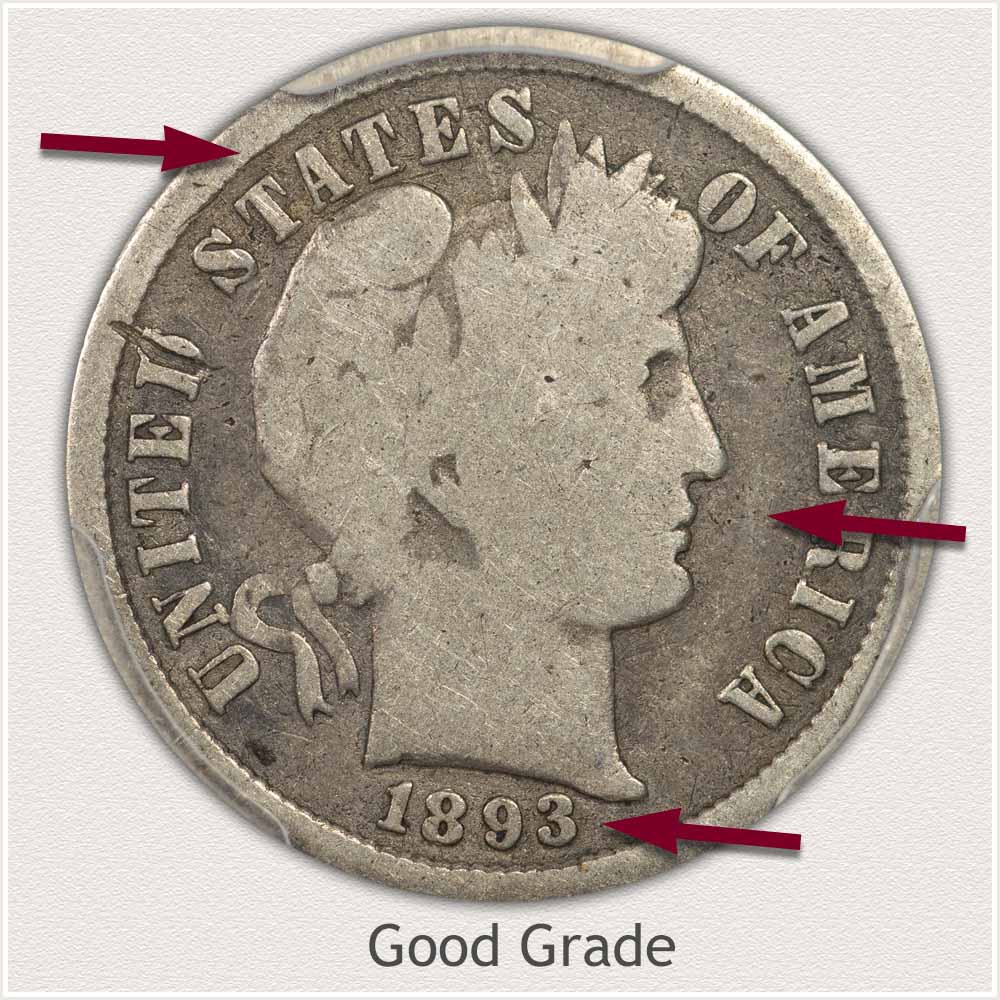 Good Grade: Most of the design details are missing on heavily circulated Barber dimes, these are classified as Good condition. Aside from the outline of the design, there are few central features visible.
A high relief of Liberty is a standout feature of the Barber design. In this condition most of the finer details are missing and have worn smooth, however a clear outline of the portrait is remaining. This is added plus to the grade because the portrait is well raised from the field.
The presence of a prominent date also adds to the desirability, additionally, all of the letters along the rim are complete. There is no merging with the rim of design features, confirming its grade. A good-grade Barber dime is worn fairly smooth, but there is no wide-spread fading of the portrait and inscriptions into the field. While the overall impression is worn, it is not "worn out."
How to Video: Grading Barber Dimes
Expand the grading process to help confirm a narrow grade. Condition is often a large factor when placing a value on these Barber dimes.
Video, Images and Descriptions | Grading Barber Dimes
Step 3: | Special Qualities | Last Year of the Century Attraction
1899 an Affordable to Premium Collectible Dime
Value wise, an 1899 Barber dime is an affordable year. However, the year is in special demand because of its nineteenth century mintage allure. 1899 marks the end of an era and is now part of a long-ago century of U.S. coinage.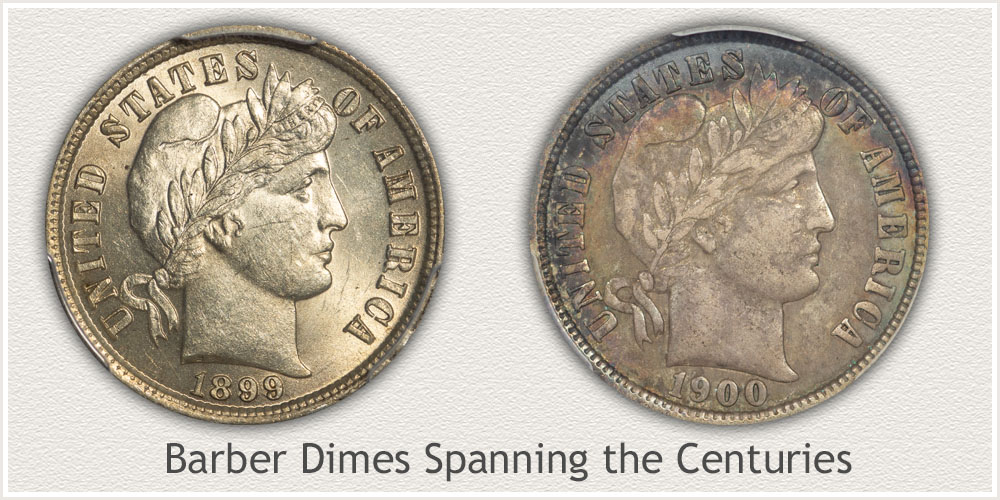 Just the thought of a dime dated in the 1800's is an added appeal. If given a same price choice, a pleasing coin dated beginning with "18" seems like an exciting opportunity.
The Philadelphia mint produced an abundance of the 1899 dimes, over 19.5 million. With ample detail remaining, a circulated example in Fine grade is well within the affordable range to a new collector.
San Francisco issue 1899 dimes are in adequate supply. Searching and finding an eye appealing nineteenth century dime is a challenge, however, with a reasonable entry price.
New Orleans mint also contributed to the yearly dime production in 1899. With the popular "O" mintmark, an example in nice condition is a premium coin.
A New Orleans 1899 dime with ample design detail becomes a remarkable example of a popular and semi-scarce variety. A coin requiring a close inspection, judging quality and condition.
Now a very old dime, any nineteenth century coinage is in solid demand. 1899 represents a special quality of affordable varieties and scarce issues within the year.
References
U.S. Mint. 1900 U.S. Mint Annual Report. https://nnp.wustl.edu/library/book/320
Coin Values | CoinStudy Articles
Date by Date
In Depth Barber Dime Values
1892 to 1916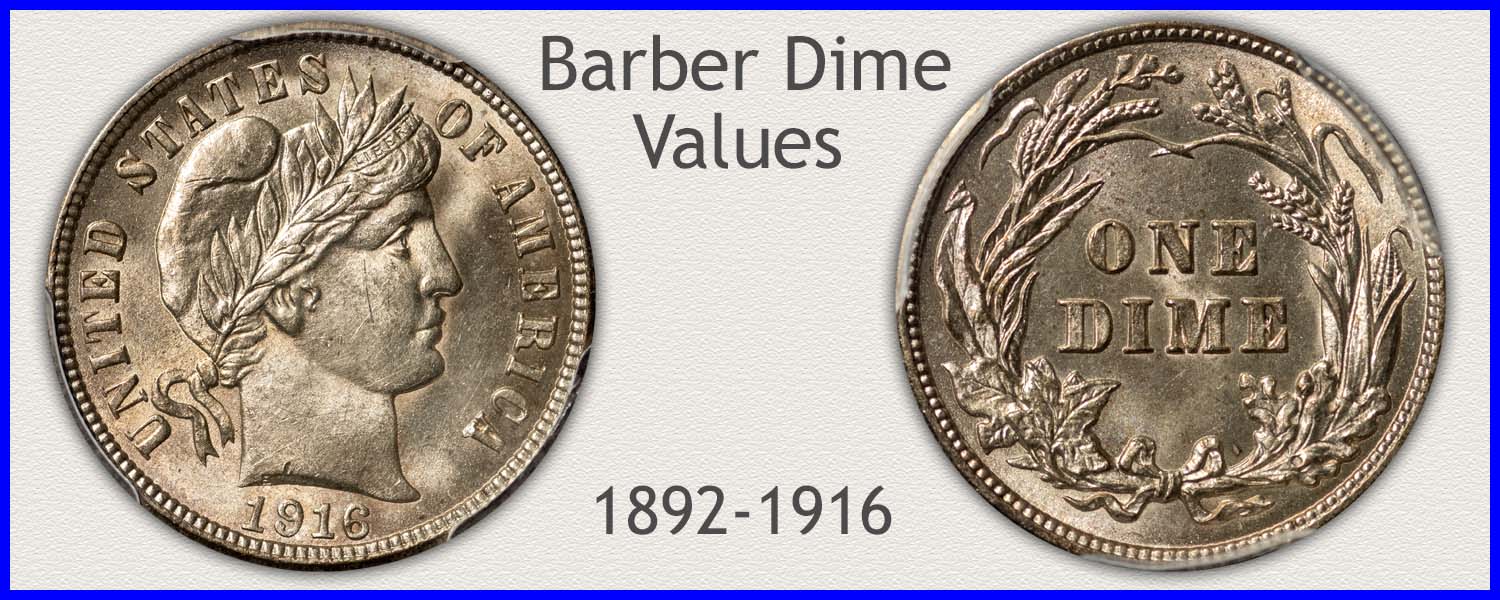 Valuable Barber Dimes | Many Valued Above Silver
All Barber Dimes are worth at least $3.13 . Please don't settle for this minimum value, double check your coins. Over half the dates and mint marks are worth substantially more. Condition is a major factor to collectible status and demand.
Old Coin Values Using a Step by Step Method
Match your coins to the denomination and series images. Follow the links to value charts covering specific date and mints. A step by step method identifies the coin with grading images to determine condition. Determine a narrow value range on the chart.
Print the Coin Values Worksheet
Streamline the value process, record your collection as you evaluate each coin. Record premium Barber Dimes separate from bulk bullion priced pieces. Continue with the rest of the collection.
Safe Coin Storage | Recommendations
When housed and stored properly Barber dimes maintain their preservation and importantly value. Silver, copper, and nickel coinage requires a few basic considerations to keep any damage and deterioration from taking place.
Sell Silver Coins | Important are Values and Finding Dealers
There are a few considerations when deciding on selling coins. Are they popular with strong demand? Common coins of lower value or are the coins scarce? Understanding the types of coins and markets helps define your expectations. Listing of dealers to contact and viewing their specialties finds a good match to your coins.
★Coin Values Discovery finds 1899 Dime Value and...
Identify your old coins and begin a step by step process to coin values. Images of the different series lead to specific coins. Follow the method used by collectors to place current values on coins.