Coin Values Moving with Precious Metals: Up-Dated 11/27/2023: Gold $2010 | Silver $24.66
1902 Dime Value
Starting 1902 Barber dime value is $3.13 representing a heavily worn example.
Collectors strive to obtain high condition examples of coins when assembling sets. Nice examples of 1902 dimes are worth a premium. Steps to determine condition are followed to verify these quality coins.
Steps Leading to Value:
Step 1: Date and Mintmark Variety - The various mints of each year are included in full sets of Barber dimes. Each issue's values are listed; examine for mintmarks to determine the coin's place on the chart.
Step 2: Grading Condition - The degree of wear and overall look determine the coin's condition and grade. Value of a coin is determined by its grade.
Step 3: Special Qualities - In many cases, value increases as a result of subtle factors. To complete the evaluation process, further elements are examined.
1902 Dime Value
Condition of Coin
Date
Good
Fine
Extremely
Fine
Mint
State
Barber Dime Values Updated
11/27/2023
1902
$3.13
$5.91
$21
$85
1902 O
$3.65
$12
$53
$286
1902 S
$7.42
$48
$85
$358
Listed on the chart is a range of Wholesale values. Identifying mintmarks is an important factor to confirm. See Step 1: just below.
Step 1: | Date and Mintmark Issue Confirmed
San Francisco Variety 1902 dime to Recognize
Collectors today seek an example 1902 from each mint when building a set of Barber dimes. Three different mints supplied coinage creating mint varieties, with branch mints placing mintmarks on their production.
These mintmarks plus date are the separate listings on the value chart. Important to identify the San Francisco issue trading above base silver worth.
1902-S Barber Dime
"S" Mintmark on Reverse: San Francisco Mint Struck the Coin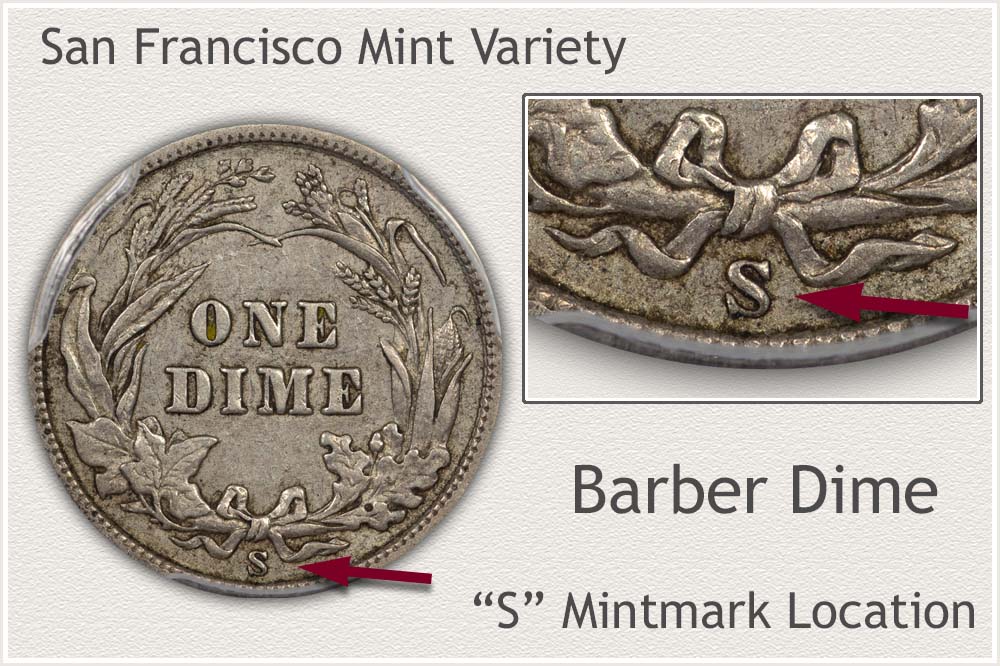 Recovering from the prior year, coin production at the San Francisco Mint grew in 1902, with more than 2 million dimes being produced and released into circulation. These are worth significantly more than their face value because of silver content. Condition plays a large role in how much they are worth. Barber dime collectors are looking for a well-detailed example to enhance their collections.
San Francisco's production of dimes was identified by a "S" mintmark. Inspect the reverse, below the bow tying the wreath, finding an "S" mark indicates the San Francisco issue.
1902-O Barber Dime
"O" Mintmark on Reverse: New Orleans Mint Struck the Coin
The popularity of New Orleans issue coinage, results in a substantial premium 1902 dime value with coins grading Fine or better, as seen on the chart. In total, 4.5 million of these were produced, a strong production year for the mint. A verification of the exact mint issue is needed.
An "O" mintmark appears on the reverse of the coin to indicate that it was produced in New Orleans. Look below the wreath. The large "O" close to the rim is the mintmark for the New Orleans Mint.
1902 Barber Dime
No Mintmark on Reverse: Philadelphia Mint Struck the Coin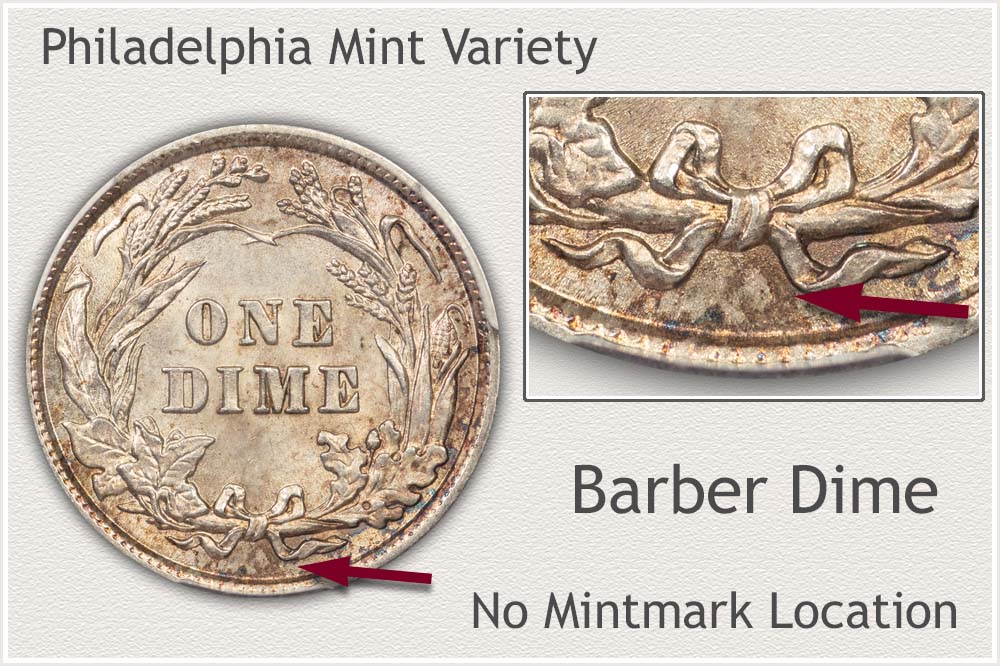 High production numbers of dimes from the Philadelphia mint define the beginnings of the twentieth century. All are considered collectibles when recognized as Fine grade and above, and valued more than their base silver content. Philadelphia's mintage total of 21.3 million dimes in 1902 results in many available today. Carefully preserved examples are in high demand.
To identify the coin, Philadelphia issues are distinguished by the absence of a mintmark on the reverse. An empty space on the lower rim, just below the bow, is the Philadelphia variety.
Step 2: | Grading and Above Average 1902 Dime Value
Condition is Important to Collector Quality
Collectors further refine values of Barber dimes when judging condition of the coin. Condition and wear levels are inspected closely and a grade established. Standards of different levels of wear are compared to help determine a narrow grade and range of value.
With time, features of the design on these old dimes wear away in recognizable patterns. The following images illustrate specific areas and amount of wear to focus on. A key point to recognize is lettering in the headband. Finer details are collector quality 1902 dimes.
Mint State Grade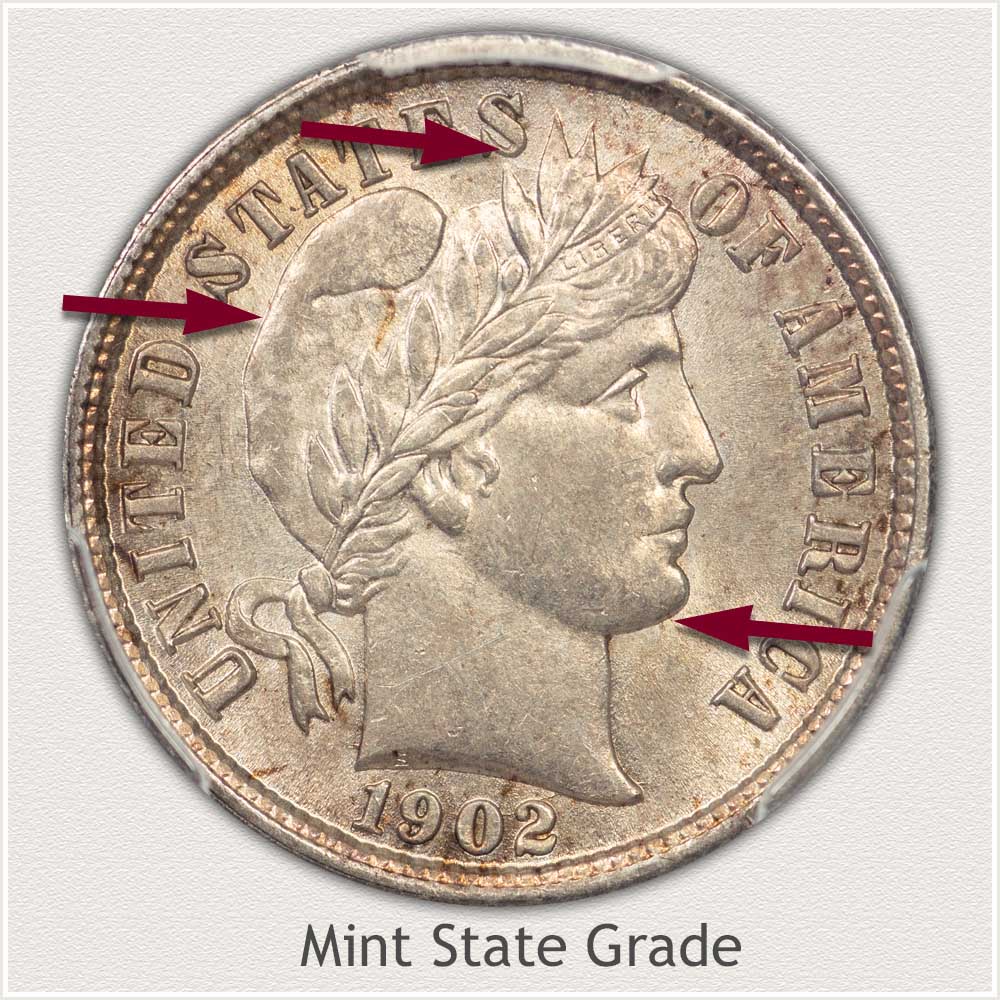 Mint State: A Mint State dime is an example of these coins showing all original detail as when first struck. Knowing the full design helps when judging coins in lesser condition. Centrally located, Liberty's portrait is, by definition, without wear. Mint State grade is defined by no surface wear.
Begin grading by inspecting the design's highest points and open spaces. Examine for fading and smoothing of original brilliance. A coin's brilliance is a thin, delicate texture, the shine of a new coin. Inspect Liberty's jawline running from her ear to chin across the dime. This luster rapidly fades, leaving a smooth, dull surface different from the surrounding lower relief metal.
Second, the laurel leaves immediately above the headband near the "L" in Liberty must retain their sheen and texture, confirming the example dime is unworn. These two leaves have a high relief and wear quickly.
Mint state Barber dimes show all original details and shine. When the coin is rotated under a single light source, its luster rotates with the light.
Extremely Fine Grade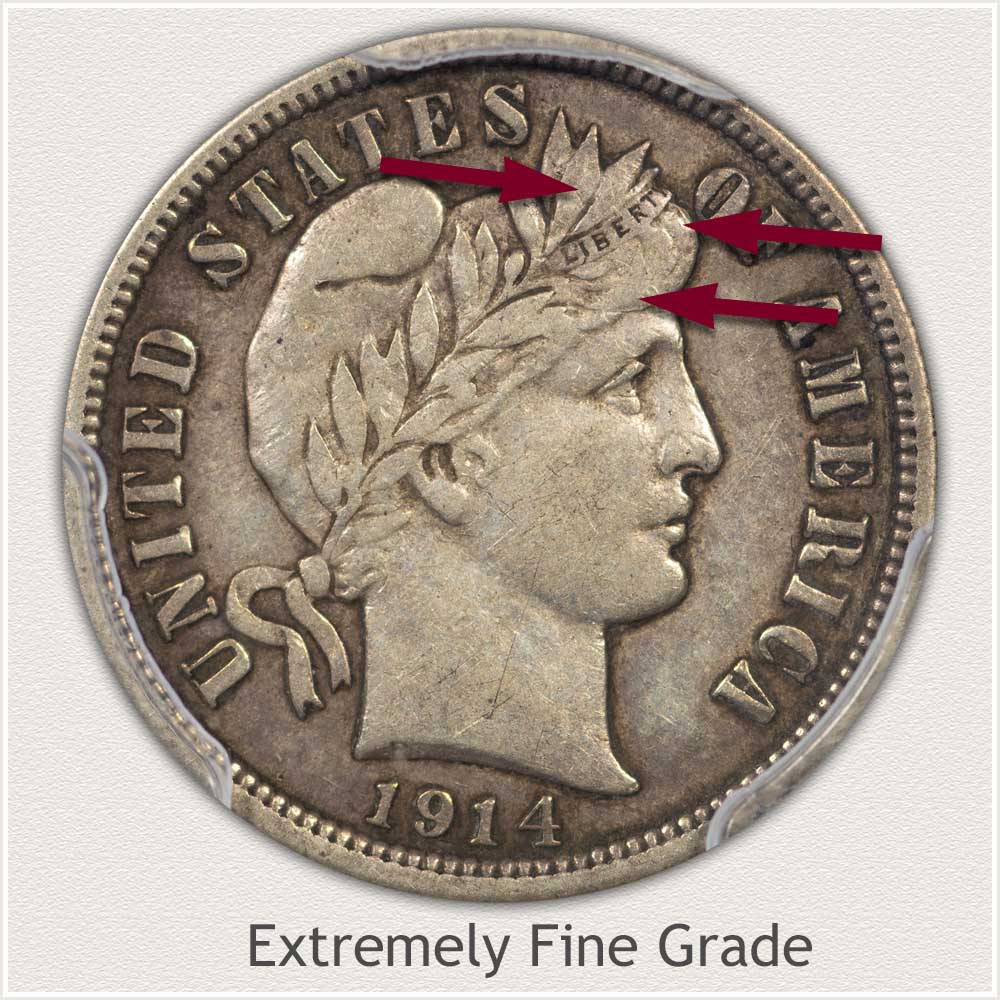 Extremely Fine: A Barber dime in Extremely Fine condition exhibits only a small amount of wear. The grade is defined by the extent of wear at the high points of the design. Overall, these coins display a very sharp appearance. Close-up examination confirms fine details of the coin remain visible. In addition to visible small lines in the leaves, the condition of the headband is also important to confirm a collectible grade dime.
Among the requirements of the Extremely Fine grade is well defined and full lettering of "LIBERTY" on the headband. The ribbon, one of the high points of the design remains with both top and bottom edges visible.
Just above Liberty's forehead a few fine strands of hair remaining helps to indicate only light wear. The hair has been flattened slightly; the remaining strands of hair demonstrate just light wear, indicating a high-quality dime.
The next step is to check the open areas. With minimal wear the cheek and neck retain their contours and high and low areas. Slight smoothing has begun to appear on the tops of the contours. Overall, the coin is a soft gray silver color. The tops of most of the high points are nicely rounded. Examining the cap as well, finds it fully detailed and with strong contours. 1902 dimes in nice condition are valuable and collectible.
Fine Grade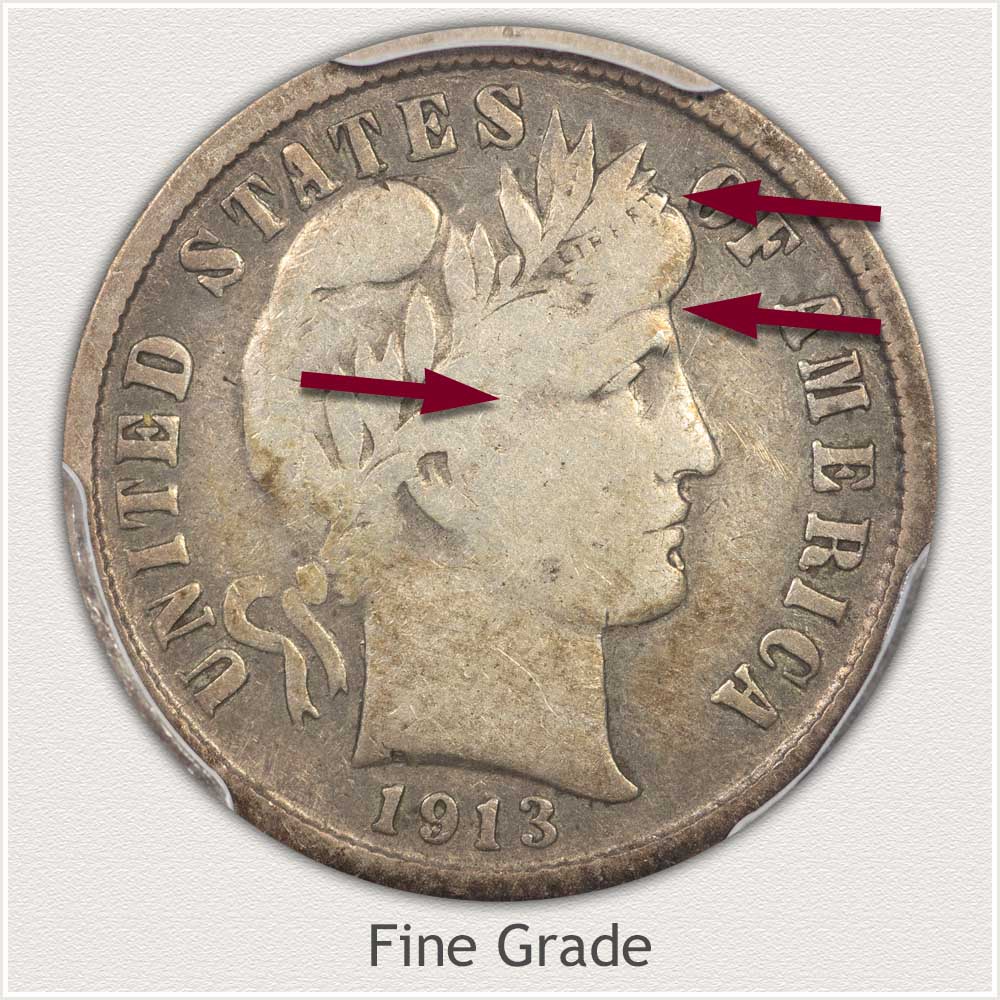 Fine Grade: On this example Barber dime, moderate wear is evident. Abundant major detail helps identify the Fine grade. Details on Liberty's portrait help confirm her condition, such as the leaves in the wreath, the lettering on her headband, and remaining contour of her face.
The readable "Liberty" present in the headband of a moderately worn Fine grade dime is an important element. When grading the Barber dime series, all letters showing are key to the grade.
There are large areas of Liberty's face that are flattened. Even so, there are still contours on her cheek near the eye, a roundness to her neck, and evidence of contours on the forehead, all of which raise the condition to Fine.
The thin but apparent line of her hair that remains just above the eye is a small feature improving overall eye appeal. This is an attractive and pleasing dime appealing to many coin collectors.
Good Grade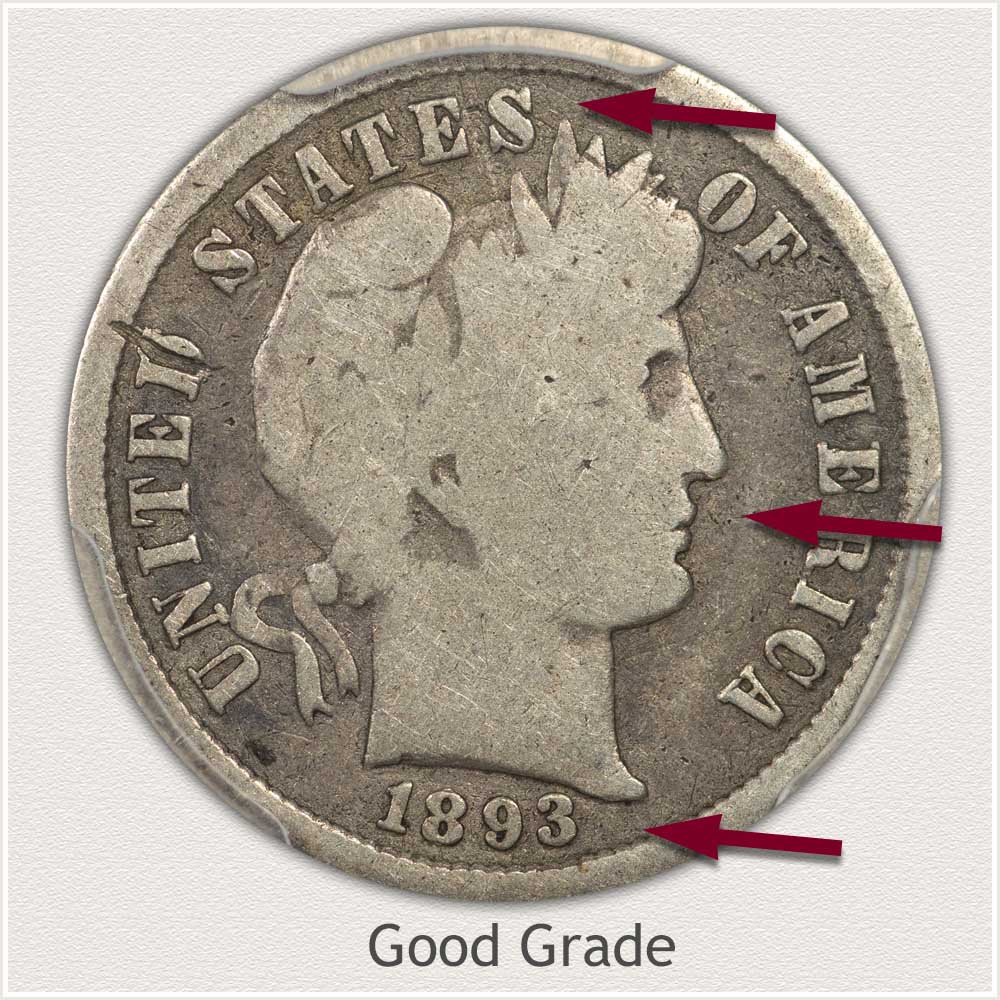 Good Grade: A distinguishing characteristic of a Good grade is that the remaining details are strong and well presented. Few dates are collected once the rim fades with the letters and the portrait begins to merge into the fields.
It is noted the entire design of Liberty is flattened as a result of heavy wear. Due to the absence of central detail, these coins are classified and placed in the Good grade range. A strong outline of Liberty keeps the example dime firmly within the grade. Despite the fact that it is worn, Liberty still remains bold of the coin's field.
Additionally, the legend along the rim is complete. The coin's visual appeal is enhanced by a clear legend that is fully separated from the rim. The date is also very strong and clear, protected by the neck and rim. A presence of heavy wear without a "faded" appearance, as well as a complete rim, enhances the coin.
How to Video: Grading Barber Dimes
A few crucial areas within each level of condition are important to each grade. Additional descriptions with images aid in determining the true level of preservation.
Video, Images and Descriptions | Grading Barber Dimes
Step 3: | Special Qualities and Base Silver Worth
How Much Silver in a Barber Dime?
A strong base to value of Barber dimes is their silver content. All Barber dimes minted 1892 to 1916 are a 90% silver 10% copper alloy.
The total amount of pure silver in each dime is 0.0723 ounce.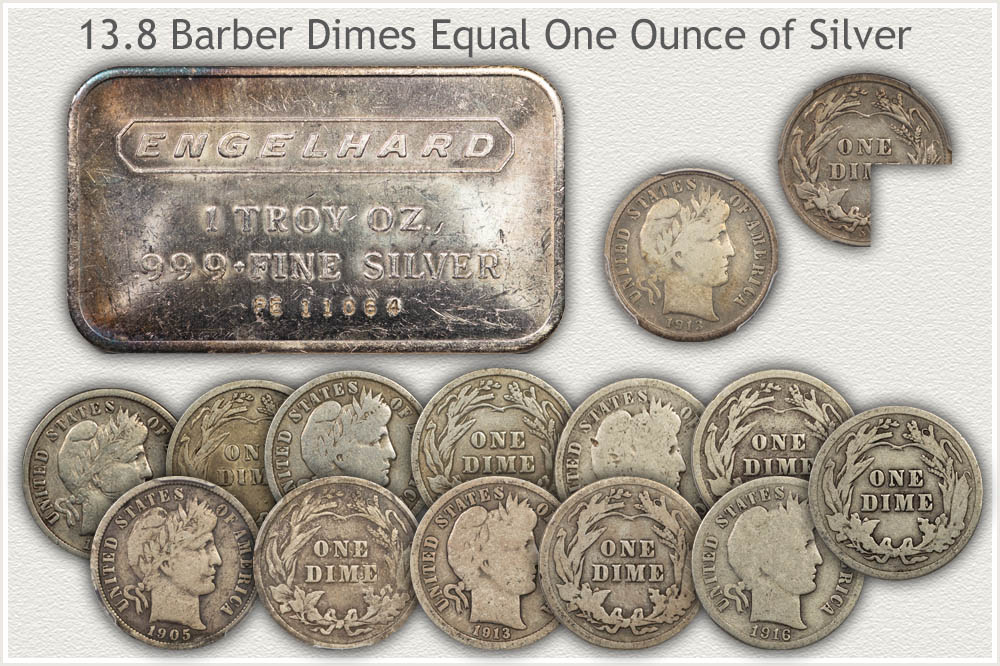 With silver slightly lower than one tenth of an ounce per dime it requires 13.8 dimes to amount to one ounce of silver.
Silver in 1902 and Silver Today
The New York exchange reported average price of silver in 1902 at $.053 per ounce. Highest was in January at $0.56 and drifting lower to $0.48 in December of the year.
Today 11/27/2023 silver trades in the $24.66 per ounce range.
Along with the silver base value of these old dimes is added the special qualities of collectability, advanced age, and a vintage series resulting in a premium over silver when determining how much they are worth.
A 1902 Barber dime is one issue of many available date and mint combinations of the series. Its value is tied to silver prices in the lower condition ranges and trade actively in the bullion market. Adding in its special qualities, each often reach $3.13 as a minimum.
References
U.S. Mint. 1903 U.S. Mint Annual Report https://nnp.wustl.edu/library/book/514125
U.S. Mint. 1916 U.S. Mint Annual Report https://nnp.wustl.edu/library/book/514129
Coin Values | CoinStudy Articles
Date by Date
In Depth Barber Dime Values
1892 to 1916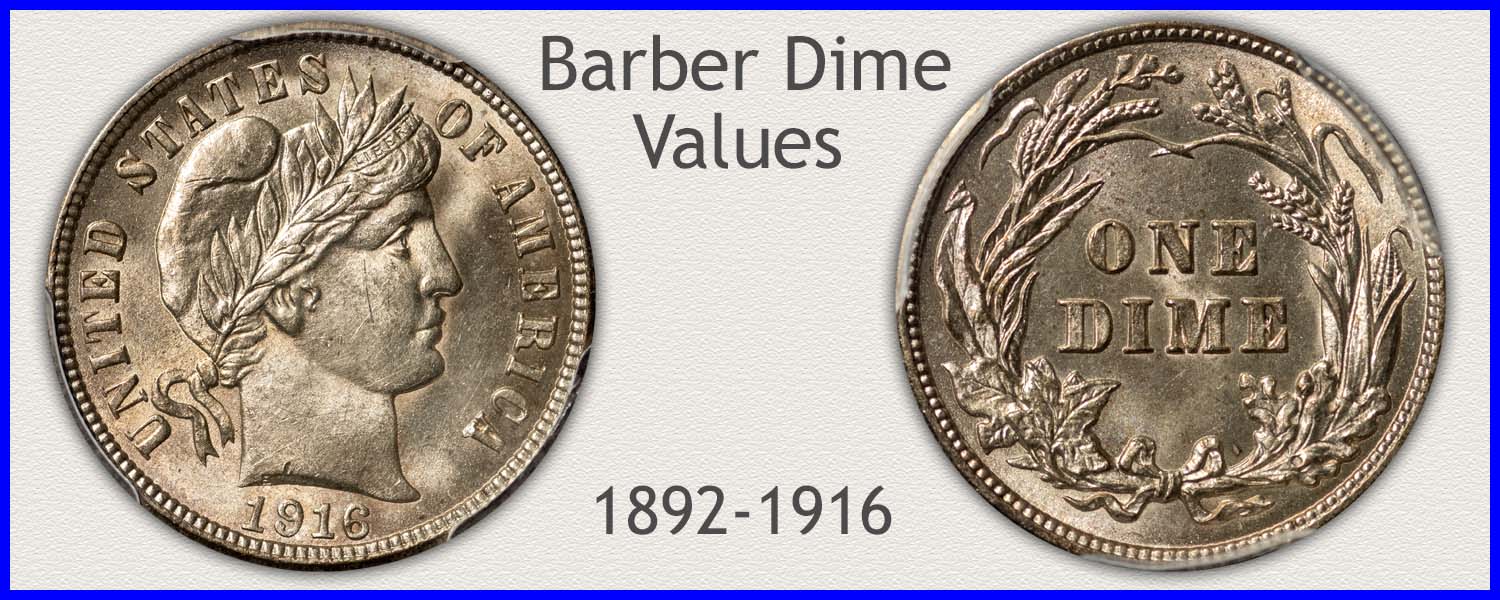 Barber Dime Value | Identify Their Potential Worth
Barber dimes have now become an older series with many date and mint combinations worth well above base silver value. Each is $3.13 because of their 90% silver alloy. Many have low mintage numbers, are scarce and collected in all conditions with strong premiums.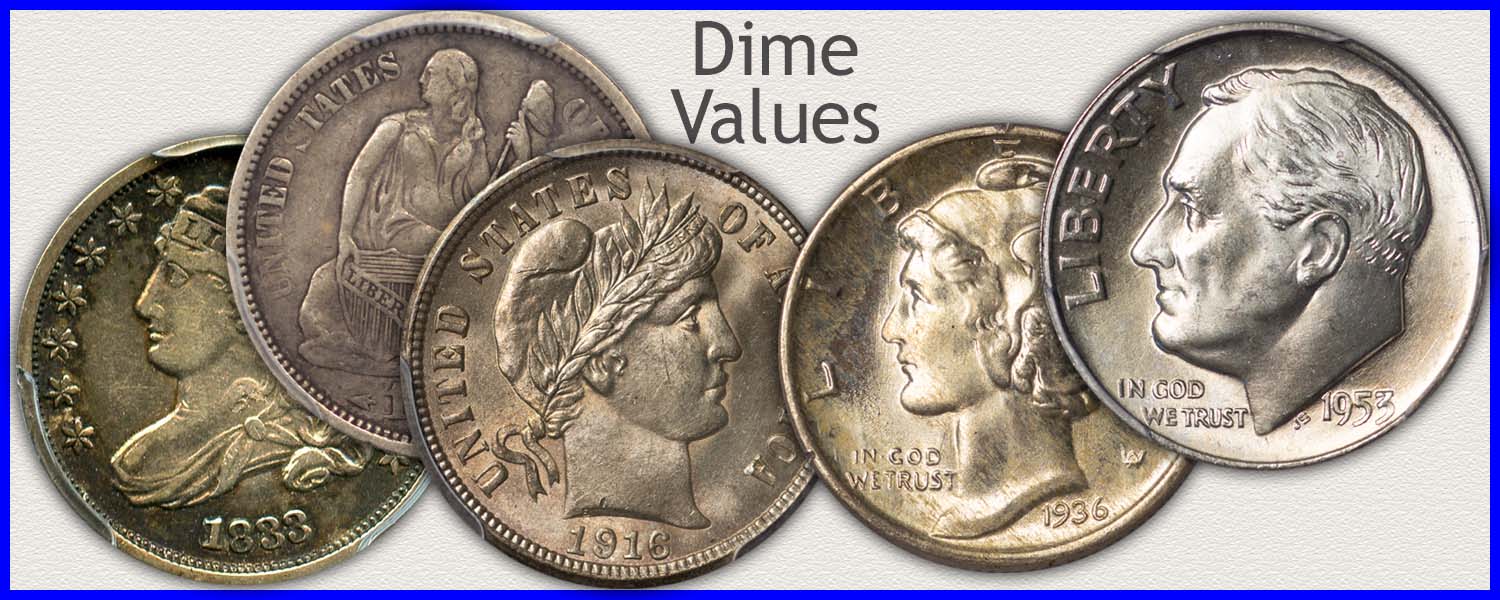 Dime Values | Identify the Different Series
As part of the value process, use the images to identify the dime series. Each is linked to in depth coverage of dates and mints to recognize. The different series are covered with specific grading images to judge condition, one of the important steps to an accurate value.
Compare to images and identify the many different coin series. Matching your coin to detailed coverage of each denomination and series of U.S. coinage.
Silver Coin Values | Minimum Values of U.S. Silver Coins
Many U.S. coins have a solid worth based on silver value. Heavily worn, common Barber dimes follow silver value up and down. Identify the silver alloy issues and using the calculator determine current minimum value. Vintage silver coins are worth well over face value.
Sell Silver Coins | Identify Market and Coin
There is a large market for older silver alloy U.S. coinage. These silver dimes, quarters, half and silver dollars are worth many times face value. Using the calculator determine today's price of each. Review the listing of dealers to find buyers of silver coins.
★Coin Values Discovery finds 1902 Dime Value and...
Barber dimes are one of many series of with premium coin values. Identify your coin and variety, follow a step by step method used by collectors and discover how much old coins are worth.