Coin Values Moving with Precious Metals: Up-Dated 9/25/2023: Gold $1921 | Silver $23.44
1896 Dime Value
It is collectors assembling sets of the Barber series supporting 1896 dime value.
Complete collections include examples of each year plus the different mints. All mint issues are identifiable by mintmarks or lack of a mintmark. The use of images pointing to the location and highlighting the mark confirms the variety. Date and mint combinations are listed and valued separately on the chart.
Next is determine the condition of the coin in Step 3 to narrow how much it is worth.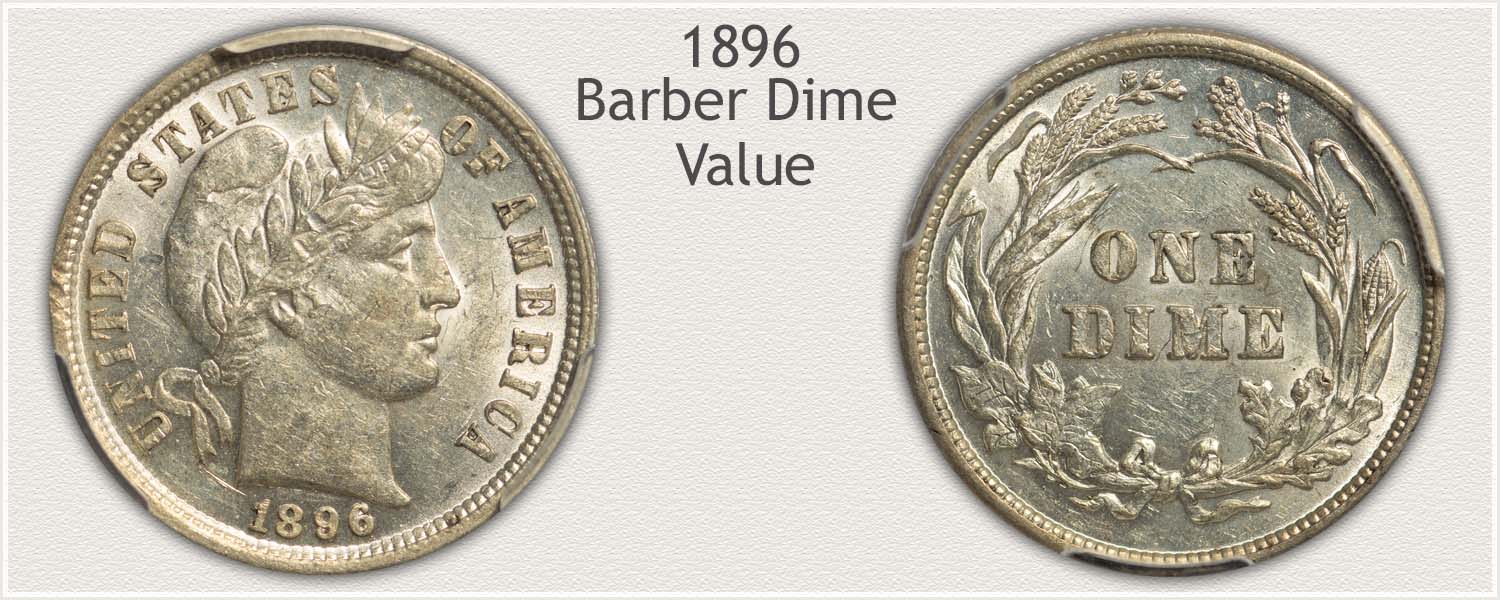 Steps Leading to Value:
Step 1: Date and Mintmark Variety - For an 1896 dime, there's a big difference in value depending on the mint variety. Each coin's mint issue and date combination is evaluated and collected separately.
Step 2: Grading Condition - The condition of preservation is used to evaluate collectible coins. Grades are assigned according to each coin's condition in order to determine its value.
Step 3: Special Qualities - New Orleans mint struck limited quantities of dimes during the early era of the series. Subtle qualities plus scarcity attract the attention of collectors.
1896 Dime Value
Condition of Coin
Date
Good
Fine
Extremely
Fine
Mint
State
Barber Dime Values Updated
5/25/2023
1896
$8.25
$48
$83
$193
1896 O
$102
$196
$339
Rare
1896 S
$104
$243
$389
$870
Listed is a range a collector would sell Barber dimes to a dealer. Use as a guide.
Step 1: | Important Date and Mintmark Recognized
Scarce 1896 Dimes
1896 is an uncommon dime to find. Overall, very few were struck by three different mints. Philadelphia, the main mint plus two branch mints, New Orleans and San Francisco posted a low yearly total of just 3.1 million dimes, third lowest in the Barber series.
The two branch mints placed mintmarks on their coinage allowing for identification of their production. Each mint issue is valued and listed separately on the chart.
Images below detail the mintmark and location on the coin, important because of the scarcity of each different variety.
1896-S Barber Dime
"S" Mintmark on Reverse: San Francisco Mint Struck the Coin
San Francisco dimes of 1896 hold the status of the third lowest mintage from the mint for the series. With just 575,056 of the variety originally minted. These are recognized by collectors as an infrequent coin to find in nice condition, and all are valued at a premium.
To identify the San Francisco dime, inspect the reverse of the coin. A bow is tying the lower ends of the wreath. Located just above the rim, the "S" is the mintmark, confirming San Francisco struck the coin.
1896-O Barber Dime
"O" Mintmark on Reverse: New Orleans Mint Struck the Coin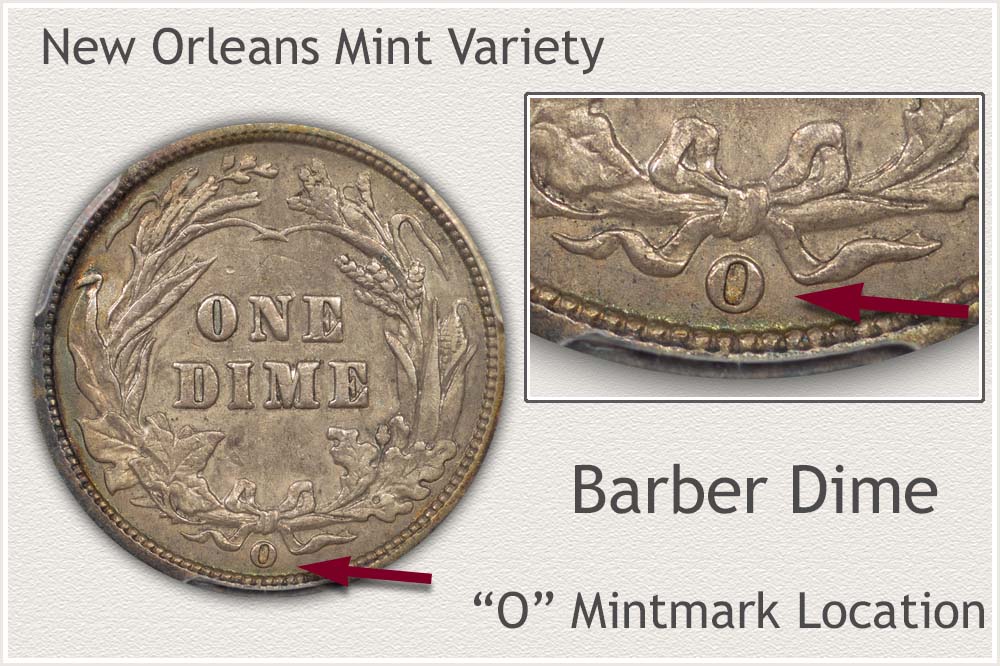 An 1896 New Orleans mint dime is an elusive coin. Only 610,000 were minted, and today are highly prized by collectors. All New Orleans coinage is popular with collectors and often collected as a specialized set. Along with mint variety, condition is an important factor to value.
New Orleans mint variety is confirmed by the "O" mintmark found on the reverse. As a branch mint, these marks were used to identify their coinage. At the bottom center of the wreath below the bow, the "O" mark identifies the New Orleans mint.
1896 Barber Dime
No Mintmark on Reverse: Philadelphia Mint Struck the Coin
The middle of the 1890's decade is noted by low production numbers of dimes by the Philadelphia mint. These are all considered collectibles and valued above their base silver worth. A mintage total of just 2 million dimes for 1896 is the third lowest recorded by Philadelphia during the series. Well preserved examples are in demand.
Philadelphia issues are recognized by no mintmark on the reverse. An empty space along the lower rim, just below the bow, verifies the Philadelphia variety.
Step 2: | Grade Comparing to Images to Find 1896 Dime Value
Premium Quality is Recognized
Barber dime collectors place premium values on high condition examples. These qualities are recognized during the "grading" process. Grading compares each coin to images depicting different stages of wear, and a grade range is determined.
Match your coin with the images and descriptions finding its grade. Premiums rise quickly if ample detail shows in Liberty's hair.
Mint State Grade
Mint State: Starting with a Mint State example, and one that shows the coin with all of the original details as minted, is a good approach to begin judging condition of these vintage Barber dimes. The portrait of Liberty and the lower fields are judged closely. No wear defines the Mint State grade.
Inspect the open areas and high relief details, both of which are susceptible to metal loss due to wear. Liberty's jaw line runs from her ear to chin across the middle of the coin. Luster remains across the area indicating no wear. Luster, the fine texture imparted during striking the coin is first to dull and smooth in circulation.
Second, the laurel leaves slightly above the headband, near the "L" in Liberty still have their original sheen and texture, indicating the dime is in mint condition. These two leaves remain fully contoured with no dulling of the metal.
All original details and luster remain on Barber dimes in mint state condition. When the coin is turned under a single light source, shine appears to flow across the surface.
Extremely Fine Grade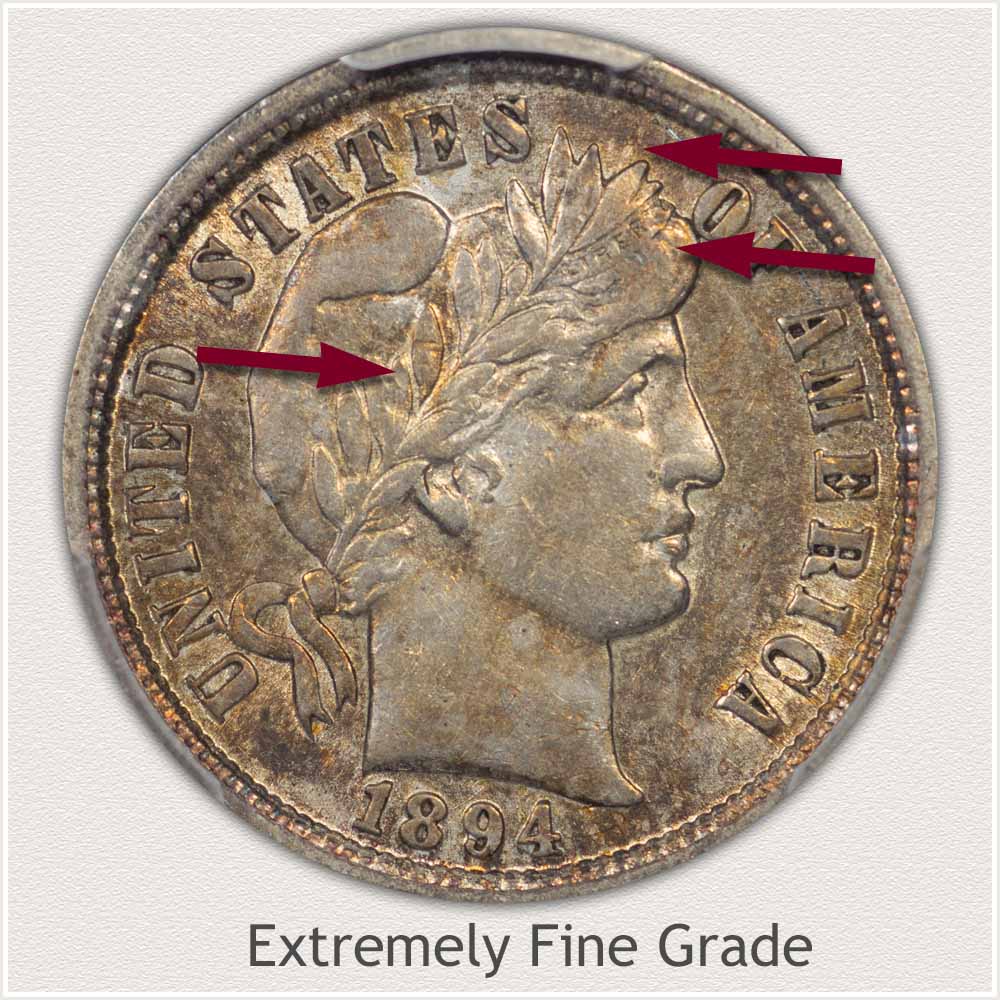 Extremely Fine: A premium Barber dime, sought by collectors is one in Extremely Fine condition. Important to the definition of the grade is that it has only light wear and smoothing involving only the highest areas of the design.
Looking closely at the example, a trace of wear is visible across the Laurel wreath of Liberty's portrait. Upper row of leaves is well-defined, although the edges have flattened due to wear. Lower row of leaves is worn slightly heavier than the upper row. Note that the edges of the lower leaves remain distinct, helping give detail to the wreath.
Her headband with lettering of "Liberty" on it, is a very prominent area of relief. Confirm all of the letters are legible, and both the top and bottom edges of the ribbon are clearly distinct. When identified, the combination of these elements of the design helps point to a dime in Extremely Fine grade.
Fine Grade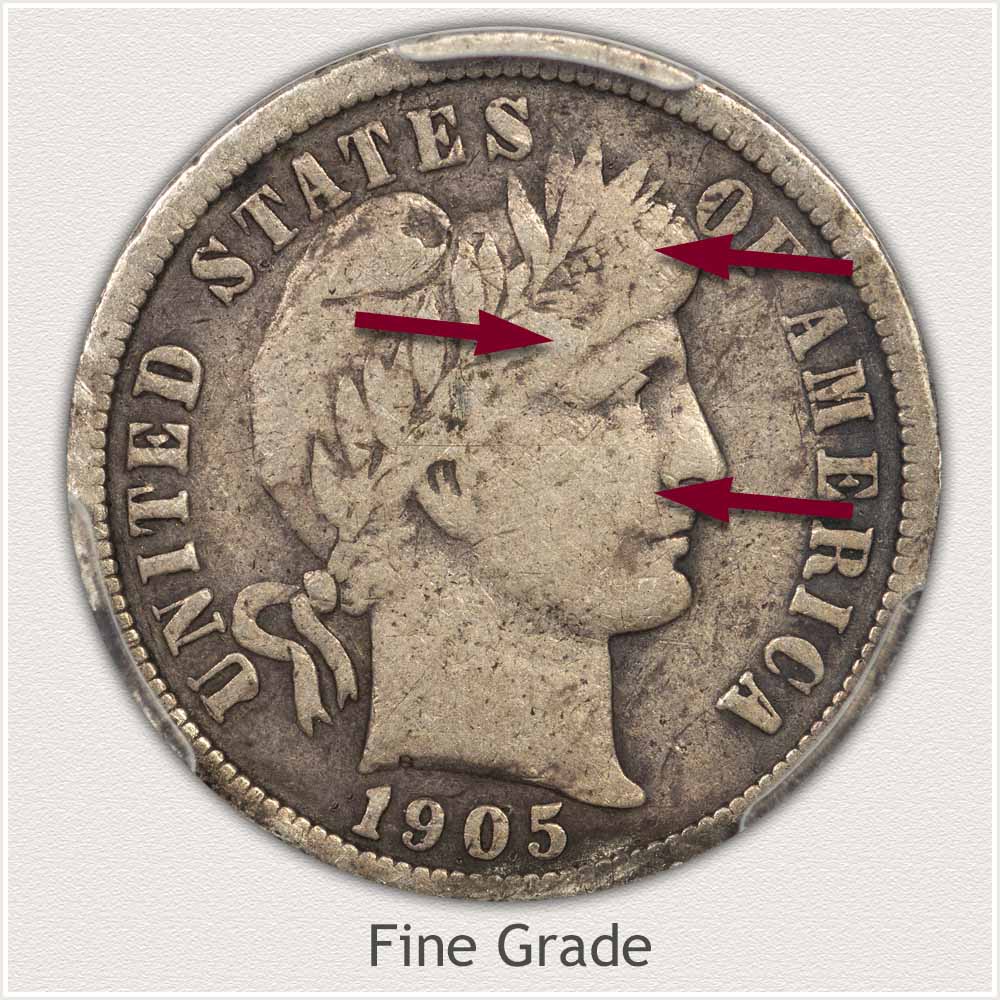 Fine Grade: Moderate wear is visible on the example Barber dime. Helping identify the Fine grade is ample major detail visible. Leaves in the wreath, lettering in the headband, and slight remaining contour on Liberty's face, help confirm the condition.
A feature of a moderately worn, Fine grade dime is a readable "Liberty" found in the headband. When grading condition of the Barber dime series, all letters visible is key to the grade.
Liberty's face is worn with large flattened areas. However, contours on her cheek remain, a roundness to her neck, and evidence of contours on her forehead all raise the condition to Fine grade.
A subtle point of interest is the slight but visible line of her hair remaining just above the eye. Overall, a nice and pleasing dime with collectible appeal.
Good Grade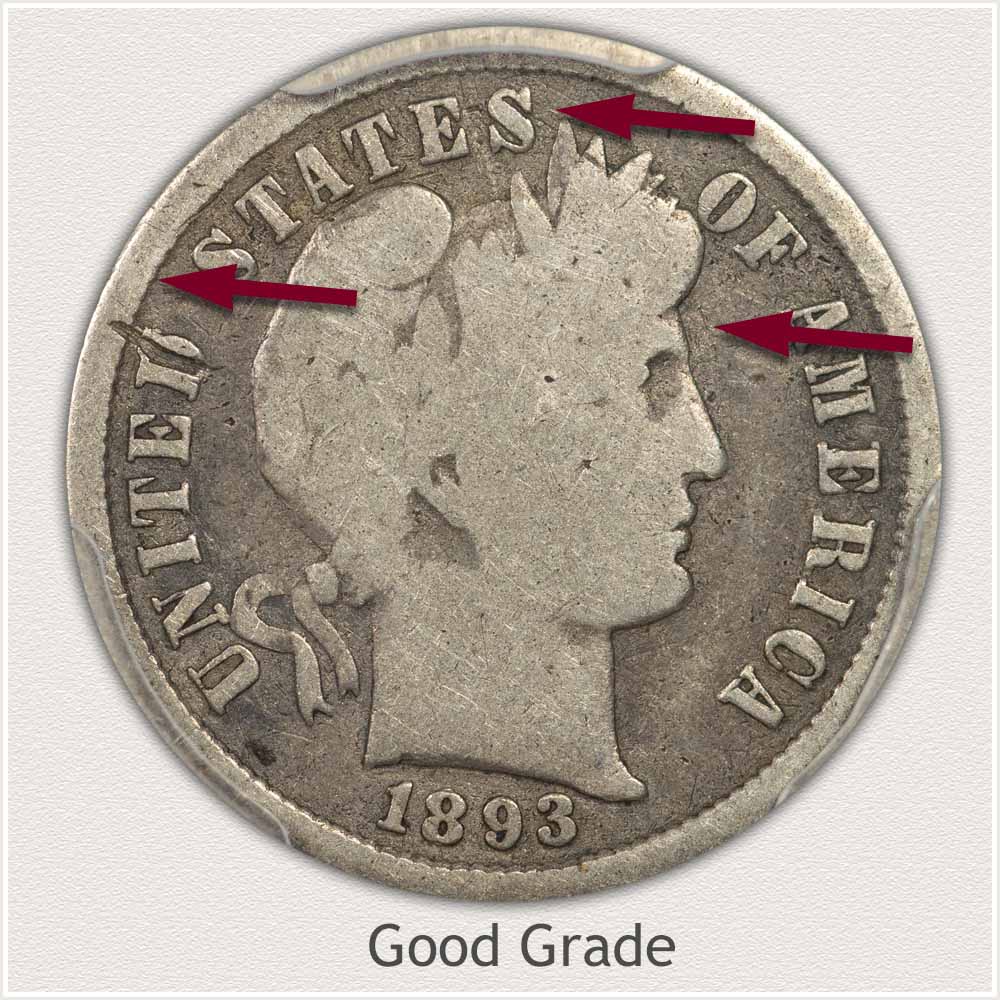 Good Grade: A dime that displays the majority of its design worn smooth is considered in Good condition. Outlines complete and visible major elements define the grade.
When viewed in its entirety, the remaining design is worn flat, but all of the design's edges are distinct. The portrait of Liberty is a full outline, raised boldly above the coin's field. With the majority of Liberty's center design missing, the eye area does remain strongly visible.
All lettering along the rim is nicely defined, and the date is full with no fading. If the letters and the rim are completely separate, this is a strong, good grade Barber dime. Collectors find faded letters less appealing.
The example's bold rim is one positive feature. It is clearly raised and separate. Despite lacking finer details, the coin has an appealing bold appearance.
How to Video: Grading Barber Dimes
Each stage of condition has a few key characteristics that are important when determining a grade. Additionally, images showing the state of preservation are useful to confirm the grade.
Video, Images and Descriptions | Grading Barber Dimes
Step 3: | Special Qualities Add Levels of Demand
New Orleans Mint Variety and Market Acceptance
In the coin collecting hobby, subtle influences help strengthen values of particular coins. Within the Barber dime series, collectors have a passion for the New Orleans mint issues. Historical significance of the now obsolete mint, combined with scarcity, is providing for a steady demand. A particular quality these coins enjoy is marketability. Nice, eye appealing examples in all grades quickly find their place in collections.
1896 New Orleans Barber dimes are part of the early era of the series. New Orleans minted dimes in limited quantities during this span, and only 610,000 in 1896.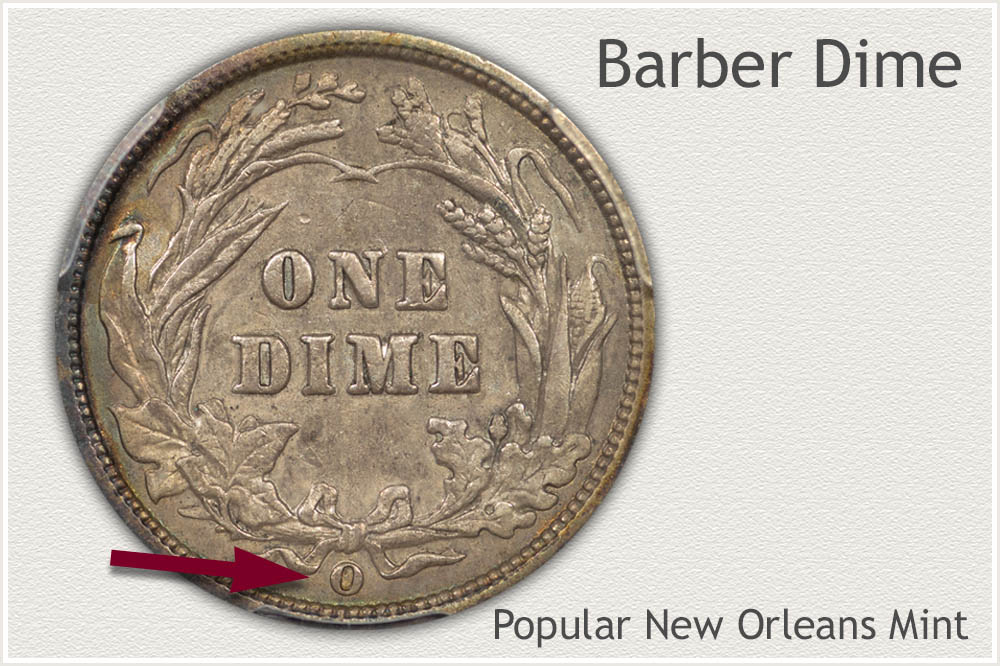 Collectors assembling sets of dimes, and knowing the scarcity of the early New Orleans issues, pay added premiums when finding pleasing coins. Demand is strong for a limited number of coins; values reflect this demand.
Inspect closely all New Orleans variety dimes. They are special in the eyes of collectors and always attract attention. With solid popularity, these coins trade easily in the coin market.
References
U.S. Mint. 1897 U.S. Mint Annual Report https://nnp.wustl.edu/library/book/318
Coin Values | CoinStudy Articles
Date by Date
In Depth Barber Dime Values
1892 to 1916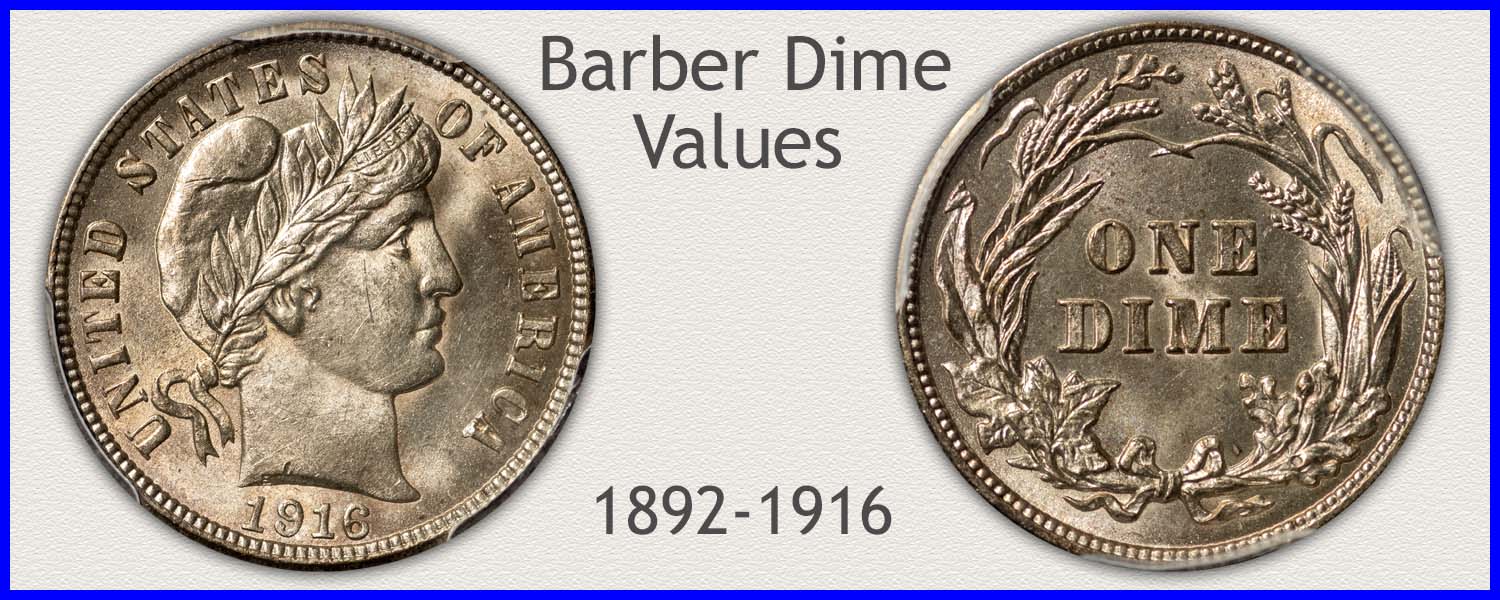 Valuable Barber Dimes | Many Valued Above Silver
All Barber Dimes are worth at least $2.98 . Please don't settle for this minimum value, double check your coins. Over half the dates and mint marks are worth substantially more. Condition is a major factor to collectible status and demand.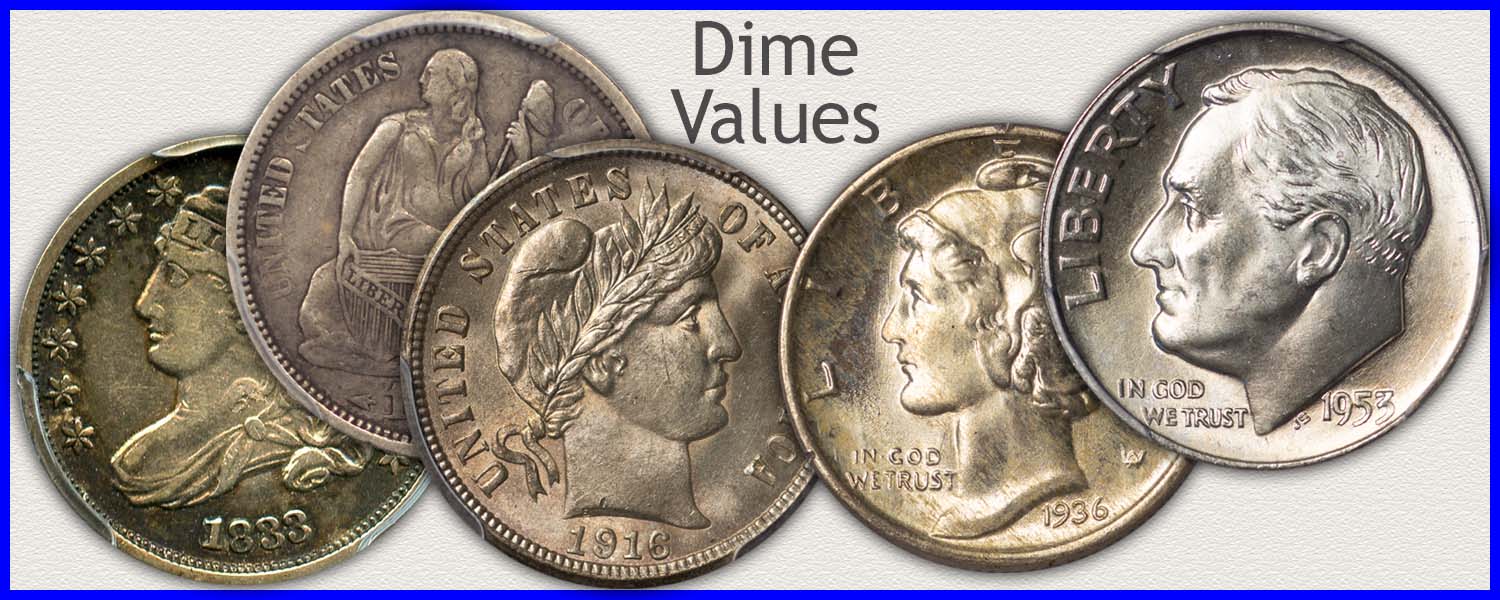 Barber dimes are one of many dime series minted over the years. Begin the value process with identifying the different designs and following to specific value charts. Each series is valued using a step by step method to accurately judge date, mint, and condition. All are important elements of value charts.
Coin Value Guide | How to Value a Coin Collection
Combine images, a step by step process and value charts to determine the value of a coin collection. Barber dimes are part of a large series of dimes and each other denomination, cent to gold coins are covered.
Print the Coin Values Worksheet
Printable worksheet to list and inventory coins and record Barber dime values. Separate the premium individual coins and group bullion related together. Record your complete collection.
Sell Silver Coins | Identify Market and Coin
There is a large market for older silver alloy U.S. coinage. These silver dimes, quarters, half and silver dollars are worth many times face value. Using the calculator determine today's price of each. Review the listing of dealers to find buyers of silver coins.
★Coin Values Discovery finds 1896 Dime Value and...
Barber dimes are a series with many premium coin values. Identify your coin and variety, follow a step-by-step method used by collectors and discover how much old coins are worth.