Coin Values Moving with Precious Metals: Up-Dated 9/25/2023: Gold $1921 | Silver $23.44
1911 Dime Value
Now an old, obsolete series, all Barber dimes were minted containing a 90% silver alloy. A nice premium is found in 1911 dime value.
With an added collectible percentage, minimum worth is $2.98 each. Precious metal investors and collectors seeking higher quality, support demand.
Factors to identify the coin's exact listing on the chart include; date and mint combination and judging condition. Using images as a guide, proceed through the steps below.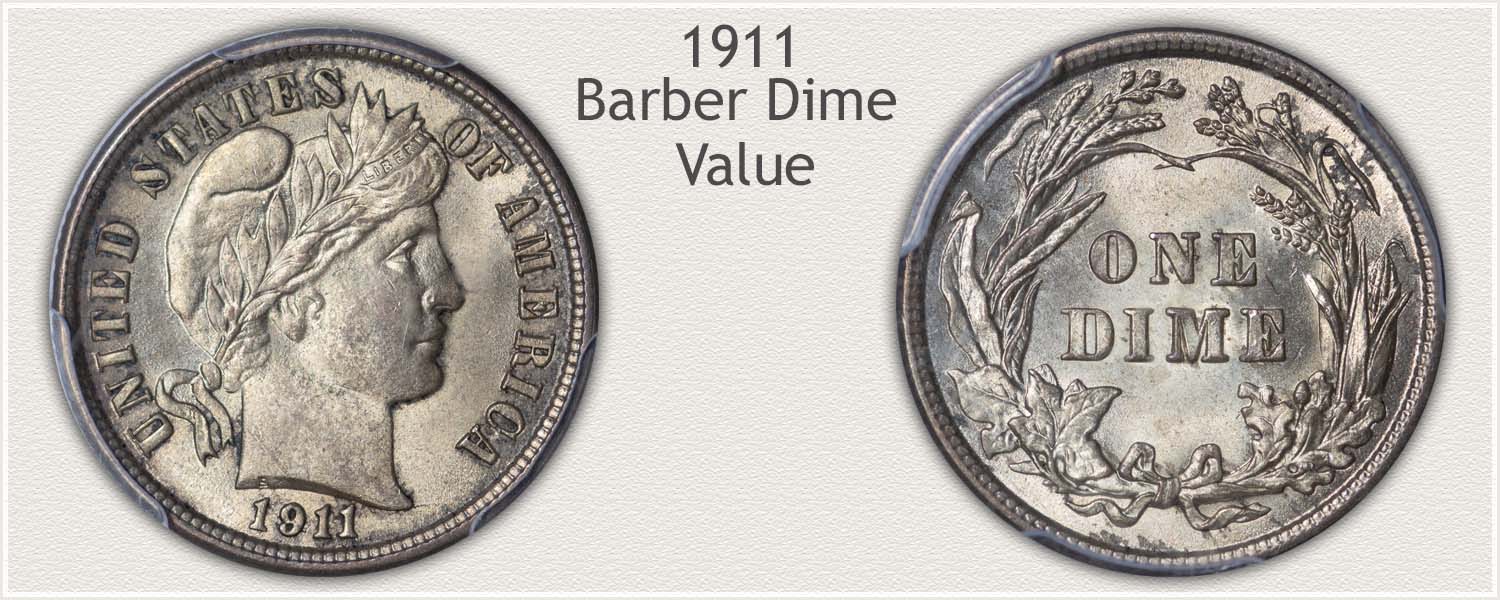 Steps Leading to Value:
Step 1: Date and Mintmark Variety - The mint that struck a 1911 dime has an impact on its value. Coins are collected and evaluated, depending on the date and mint issue.
Step 2: Grading Condition - The amount of wear and general appearance of a coin determines its condition and grade. Grading is necessary to verify premium worth.
Step 3: Special Qualities - Barber Dime collectors are drawn to quality examples. In order to identify and separate high demand coins, subtle points are examined.
1911 Dime Value
Condition of Coin
Date
Good
Fine
Extremely
Fine
Mint
State
Barber Dime Values Updated
5/25/2023
1911
$2.98
$3.47
$21
$108
1911 D
$2.98
$3.47
$21
$108
1911 S
$2.98
$8.25
$46
$196
Above chart lists wholesale 1911 Barber Dime values. Computed from dealer's price lists and auction records with various mark-up factors figured in.
Step 1: | Date and Mints | Images Help Confirm Mint
San Francisco 1911 Dimes to Recognize
Barber dimes were minted at three mints in sufficient quantities to meet the demands of commerce in 1911. An available year of the series, each mint issue is sought by collectors as part of a complete set. As a plus, beginning collectors find nicely detailed pieces affordable.
Mintmarks are used by branch mints to identify their production. Date plus mintmark are the varieties listed on the value chart.
In this year's mintage, the San Francisco dime is the popular low mintage issue. Inspect closely to identify the exact listing on chart.
1911-S Barber Dime
"S" Mintmark on Reverse: San Francisco Mint Struck the Coin
In 1911, the San Francisco mint expanded production of dimes, striking and releasing just over 3.5 million. However, it is not common to find these in high, well-preserved condition. All are worth well above face value because of silver content. Collectors support strong demand and look for highly-detailed pieces to include in sets of Barber dimes.
The "S" mintmark was used to distinguish San Francisco's dimes. On the reverse, below the bow, an "S" mintmark confirms the San Francisco variety.
1911-D Barber Dime
"D" Mintmark on Reverse: Denver Mint Struck the Coin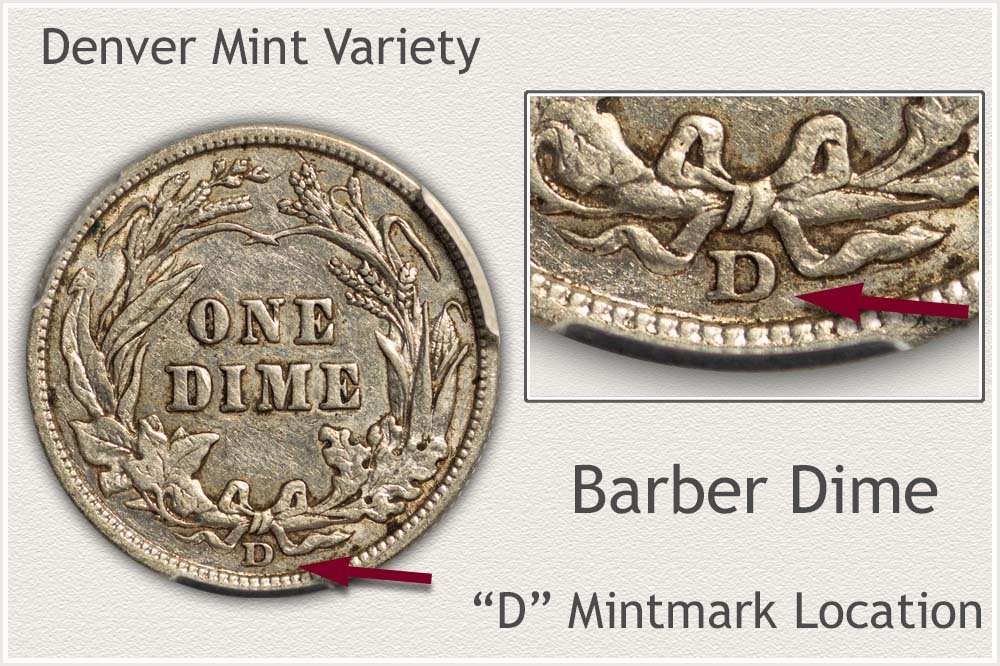 1911 was a large production year for the Denver mint. Placing 11,209,000 dimes into circulation. As a variety, the 1911 date remains available and abundant to collectors today. Important as part of a complete date and mint variety collection, the focus is on examples in nice, high-quality condition. Coins exhibiting many of the fine details of the design are in premium value demand. Step 2 and recognizing the coin's state of preservation is needed to place an accurate value.
All Denver Mint 1911 dimes carry a "D" mintmark. Look on the reverse, just above the lower rim, and between the ribbon ends of the bow. The large "D" mark is a Denver mint variety dime.
1911 Barber Dime
No Mintmark on Reverse: Philadelphia Mint Struck the Coin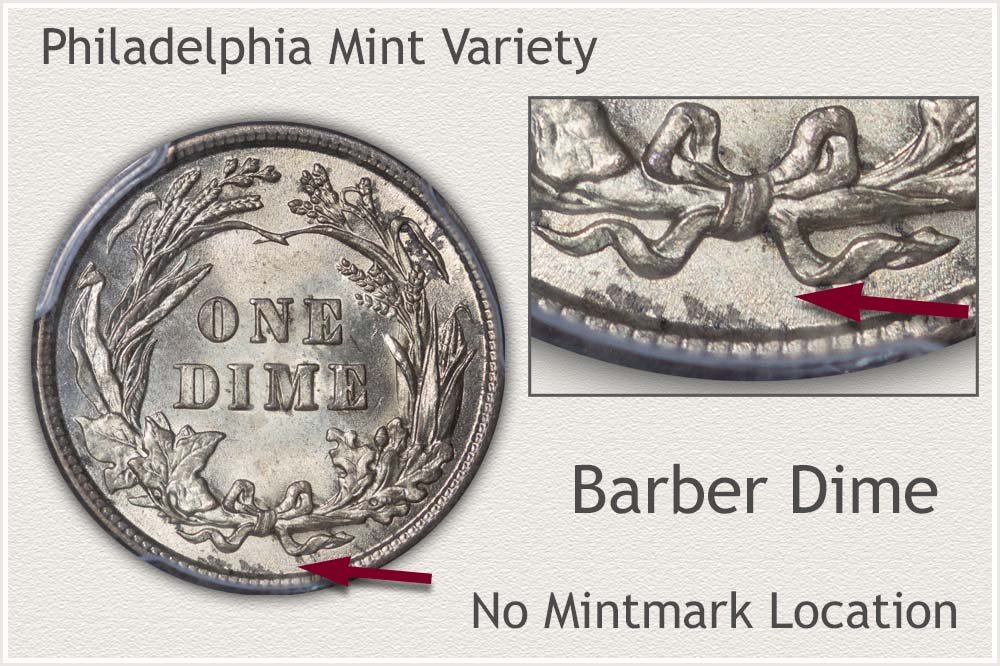 This latter era of the Barber series is noted by an increase in the number of dimes produced by the Philadelphia mint. They are considered collectible quality when judged as Extremely Fine condition and above. Nicer coins are valued above their silver content worth.
Philadelphia's 1911 mintage total of 18.8 million dimes provides for many available today. Well-preserved examples are the coins in high demand.
On the reverse side, Philadelphia issues do not bear a mintmark. An empty space along the lower rim, just below the bow, confirms the Philadelphia variety.
Step 2: | Identify Grade and 1911 Dime Value on Chart
High Condition and Collectible Premium Dimes
Value of Barber dimes is based on their state of preservation, becoming a key factor. Condition and amount of wear to the surface is examined, judged and a grade is assigned. Standards of different levels of wear are compared to narrow the range of grades.
As metal is worn and removed from old coins, design features both large a small wear in recognizable patterns. The following images highlight areas important to establish a grade.
Mint State Grade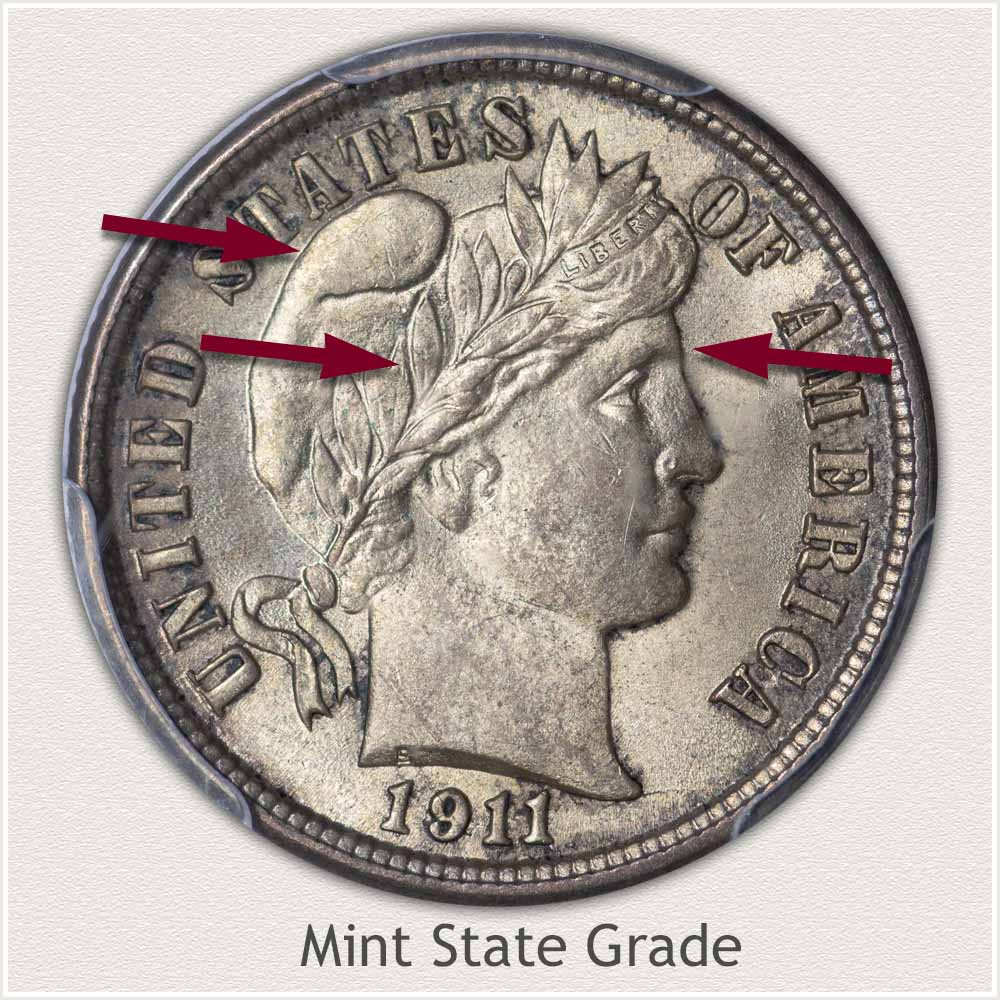 Mint State: Mint State grade Barber dimes are defined as no wear to the surface. These are coins in "like new" condition. A couple of areas on the surface are inspected to recognize all original luster remains. Luster is delicate and is first to show signs of wear as the coin circulated and became worn.
High collector quality requires a close inspection to confirm Mint State condition. High areas of the design are of interest, Liberty's eyebrow, her cap, and the Laurel leaves all remain with luster to qualify for the grade.
Compare the eyebrow with the shine and texture of Liberty's chin line. In mint state condition, both have a full covering of luster/shine, no dulling or smoothness. Wear presents as a soft grey tone to the silver. Inspect the chin line and high points of the brow for any loss of the original luster's brilliance.
Laurel leaves are part of the wreath within Liberty's hair. Finely detailed with high edges, the leaves are susceptible to any wear and dulling. The example shows all leaves with no flattening along the leaf edges.
Helping identify a coin without any wear, the cap is without any dulling or smoothing. A nice, undisturbed look is the overall appearance.
Extremely Fine Grade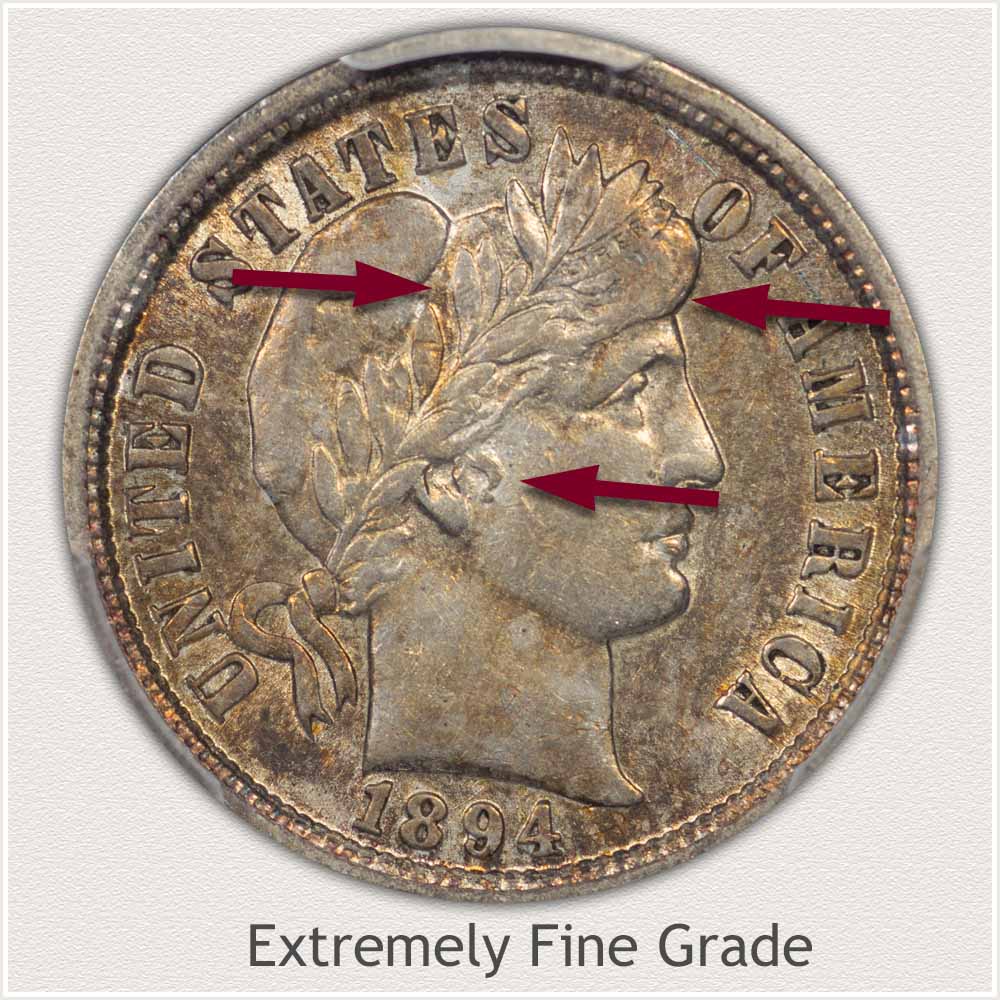 Extremely Fine: To qualify for the popular collector grade of Extremely Fine many small and delicate design elements are visible. Light wear restricted to just high areas helps define the grade.
Liberty's hair above her forehead is distinct and recognizable. Her hair has a clear separation from both the Laurel leaves, forehead, and temple areas. Some smoothing is seen overall within the hair, noticeable towards the front of her head.
Laurel leaves are next inspected. Many leaves show evidence of light wear along the lower row over the hair. All edges of the lower row of leaves are defined on Extremely Fine grade Barber dimes.
A subtle detail is the small curl of hair visible in front of Liberty's ear. With this detail visible, the coin is within the high-quality range of condition. The crisp look of the coin is pleasing and represents all the small details well.
Fine Grade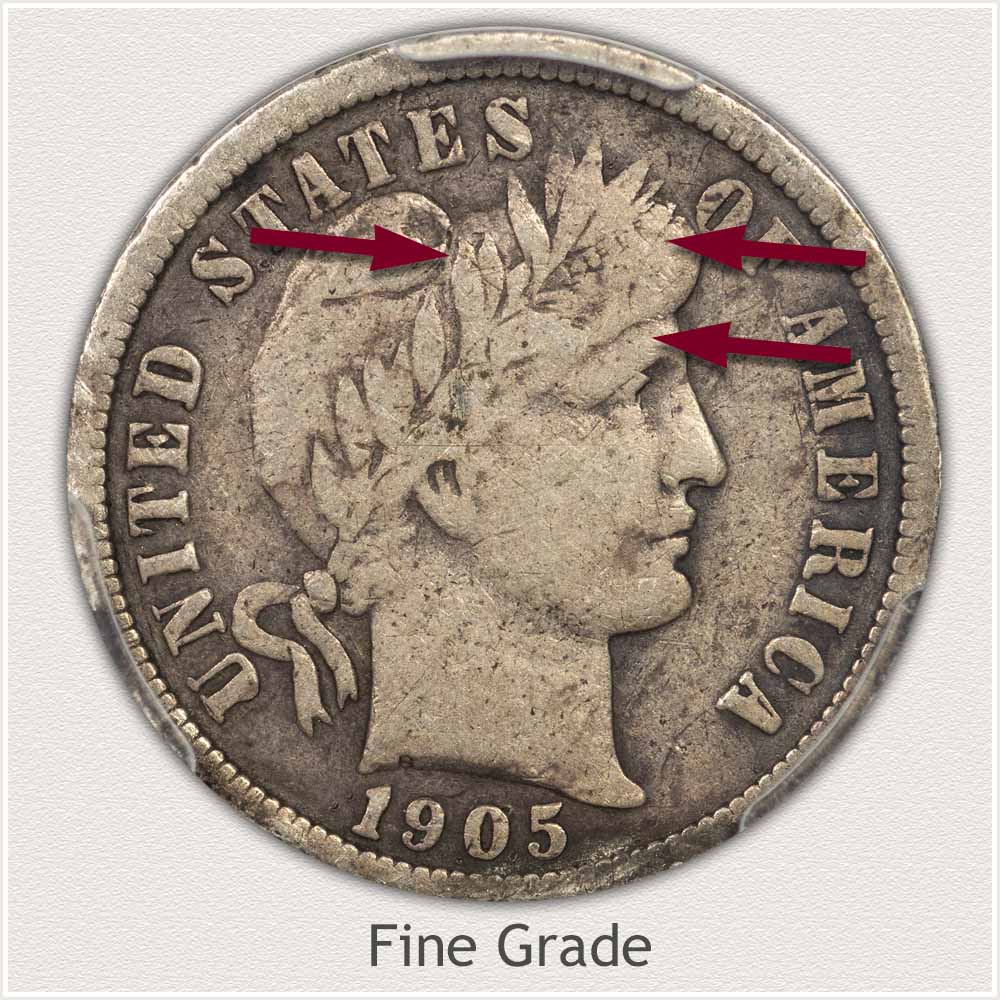 Fine Grade: A moderately worn Barber dime is viewed as having obvious wear and some blending of design features. These coins rise in classification as Fine Grade because a few key details are visible on their surface. Barber dime collectors are looking for coins that have some wear but are still in nice condition. These coins have appealing detail.
One of the most important qualities is within the headband. All letters of "Liberty" are visible, although "ER" is often faint. When grading Barber dimes, visible lettering is an important factor to consider. Also note the faint line separating the hair from the forehead just above her eye.
The top row of laurel leaves is also highly defined, adding detail to the entire design. There is a clear separation between the edges of all leaves and Liberty's cap.
Looking at the coin as a whole, there remains ample visible detail, including good definition in the laurel leaves and contour separation of Liberty's chin, neck, and cap.
Good Grade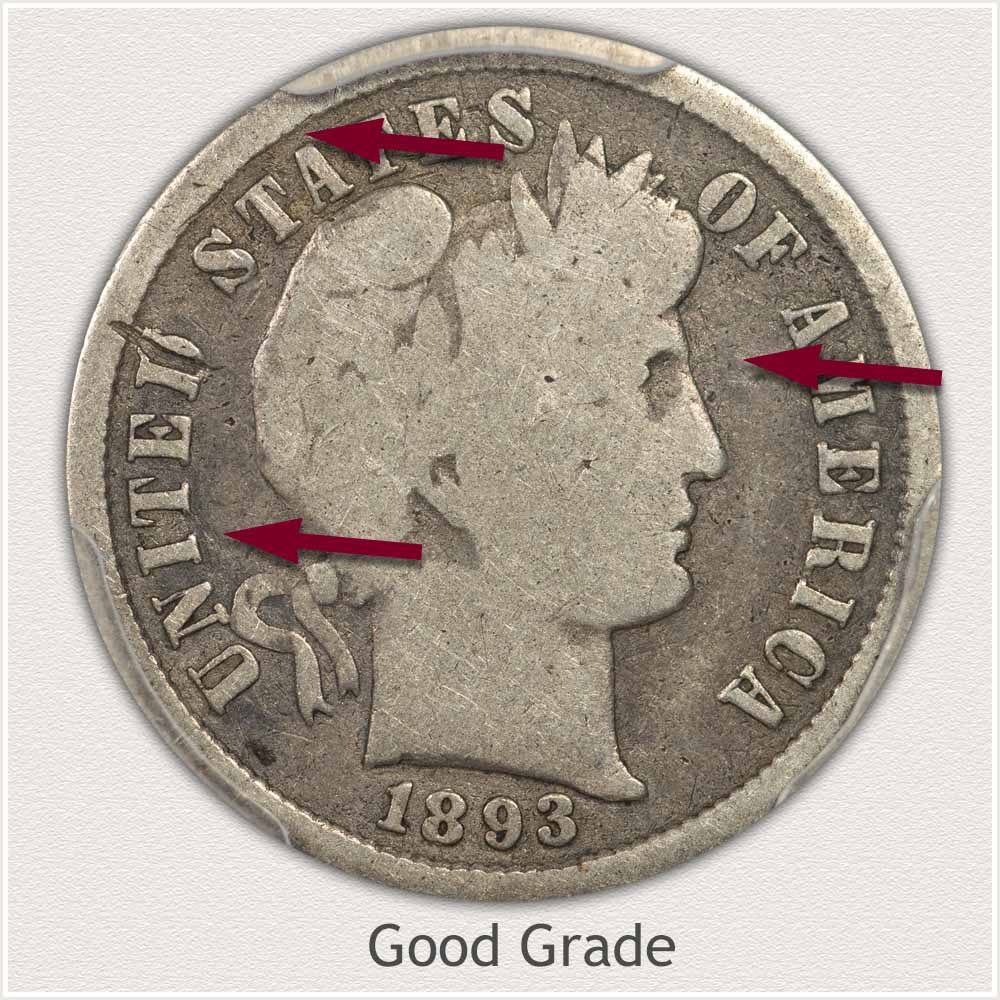 Good Grade: A Good grade Barber dime's first impression is one of a lack of detail in the coin's portrait area. Heavy wear and missing details define these coins.
Liberty's portrait is clearly defined, with her eye area apparent. Despite the fact that Liberty is worn quite smoothly, there are a few indications of leaves in the wreath occasionally visible. For a good grade, it is essential the portrait remains bold from the coin's field.
The full rim of this coin, as well as the clear separation of the lettering from the rim, give it a certain appeal. Furthermore, all letters along the rim are legible. With its bold date intact, a Barber dime matching the image is a Good grade coin.
How to Video: Grading Barber Dimes
Grading is judged in depth to visualize the small points present in various conditions. Design features are highlighted in images to help narrow the grade range.
Video, Images and Descriptions | Grading Barber Dimes
Step 3: | Special Qualities | Maintain Quality
Barber Dimes and Preservation of Quality
As important to discovering values of these old Barber dimes is an effort to maintain their current state of preservation and value.
All Barber dimes are a silver alloy, prone to oxidation. Silver plus the 10% copper in the alloy over time turns a deep grey. Corrosion to the surface also occurs in the presence of high humidly. All of this is controlled by proper storage.
Within the coin collecting hobby are many products to house and store these vintage dimes. The main focus is protection from further handling and separating each coin to avoid contact. Coin albums provide protection and designed to display specific collections, a series of Barber dimes as example.
Many other methods are used to house and organize individual coins or groups of coins.
Starting with single coins, an excellent choice is the brand Saflip. These "coin flips" (collector term) are a nonreactive material to U.S. coinage. Very suitable to silver coinage. An old Barber dime is housed in a Saflip. It is now protected from contact and easily inspected without the need to touch the surfaces.
Protecting a group of coins is solved by storing coins in a "coin tube". Quantities of bullion quality Barber dimes are counted and placed in the tube. Protected and secure over a long period of time.
Two basic products to safely store and protect old coins. Surface condition of higher value coins is maintained in single holders and the need to organize a number of bullion value coins is provided by tubes. The imaged products, Saflip and coin tubes were sourced from WizardCoinSupply.com.
Special qualities of coins are important to collectors. Vibrant old toning, and mark free surfaces indicate above average collectibles.
References
U.S. Mint. 1912 U.S. Mint Annual Report https://nnp.wustl.edu/library/book/324
Coin Values | CoinStudy Articles
Date by Date
In Depth Barber Dime Values
1892 to 1916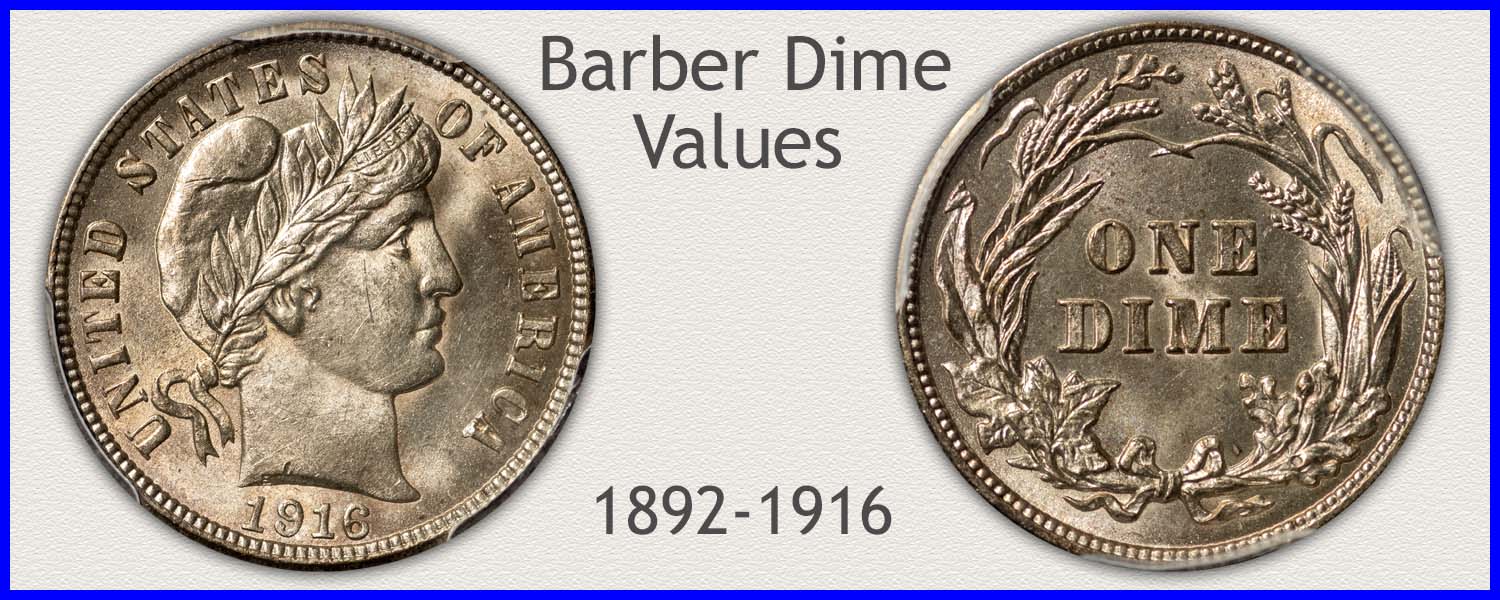 Barber Dime Value | Dates and Mints Listed
Discover the different dates and valuable mintmarks. Use the step by step method to an accurate identity and value of these old Barber dimes. Grade condition and note mintmarks to complete your assessment.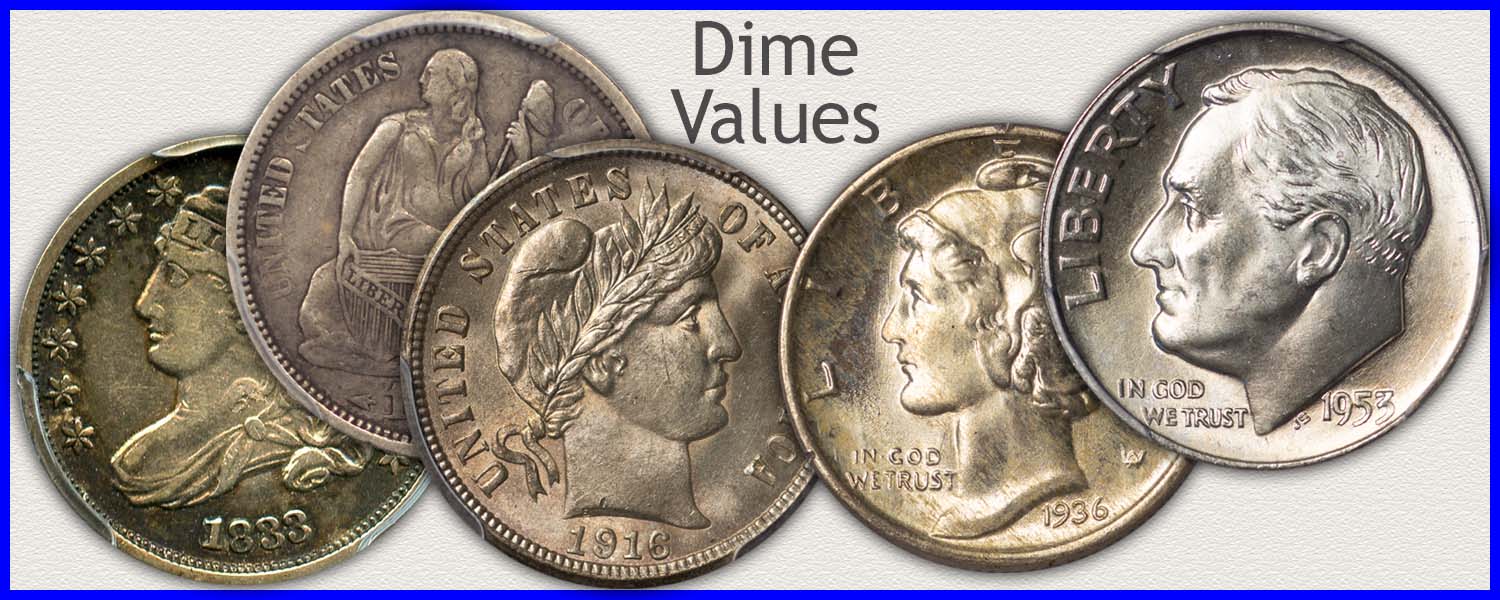 Barber dimes are one of many dime series minted over the years. Begin the value process with identifying the different designs and follow to specific value charts. Each series is valued using a step by step method to accurately judge date, mint, and condition. All are important elements of value charts.
Coin Value Guide | How to Value a Coin Collection
Identify all series of U.S. coins. Proceed through specific steps to recognize the different date and mint combinations narrowing value range. Images are then used to grade condition and find the value on charts.
Popular Coin Series | Barber Dimes
Popularity of a coin series is important to basic demand and reflected in values. Barber dimes are collected by a wide range of collectors in many levels of condition and values. A study of Registry Set collections gives insight to level of demand.
Sell Silver Coins | Important are Values and Finding Dealers
There are a few considerations when deciding on selling coins. Are they popular with strong demand? Common coins of lower value or are the coins scarce? Understanding the types of coins and markets helps define your expectations. Listing of dealers to contact and viewing their specialties finds a good match to your coins.
Coin Grading Services | Professional Review of Condition
Coins with values above $100 begin to enter the scarce range. These coins are typically date and mints of low mintage examples. Further, many coins enter the scarce range in higher, better preserved condition. Small and subtle points to grading condition often spots a high value coin. Grading services provide market acceptance of defined grades.
★Coin Values Discovery finds 1911 Dime Value and...
Identify your old coins and begin a step by step process to coin values. Images of the different series lead to specific coins. Follow the method used by collectors to place current values on coins.