Coin Values Moving with Precious Metals: Up-Dated 11/27/2023: Gold $2010 | Silver $24.66
1901 Dime Value
Premium 1901 dime value is awarded to coins displaying above average detail remaining within the design.
Although silver content of these 90% silver dimes is a strong base to how much they are worth. It is the coins in nicely preserved condition that are becoming special. Barber dimes are now a very old coin, part of an obsolete series. They are collected and valued based on Date and Mint combination, and avidly sought in high-end condition. Follow the steps outlined to determine its place on the chart.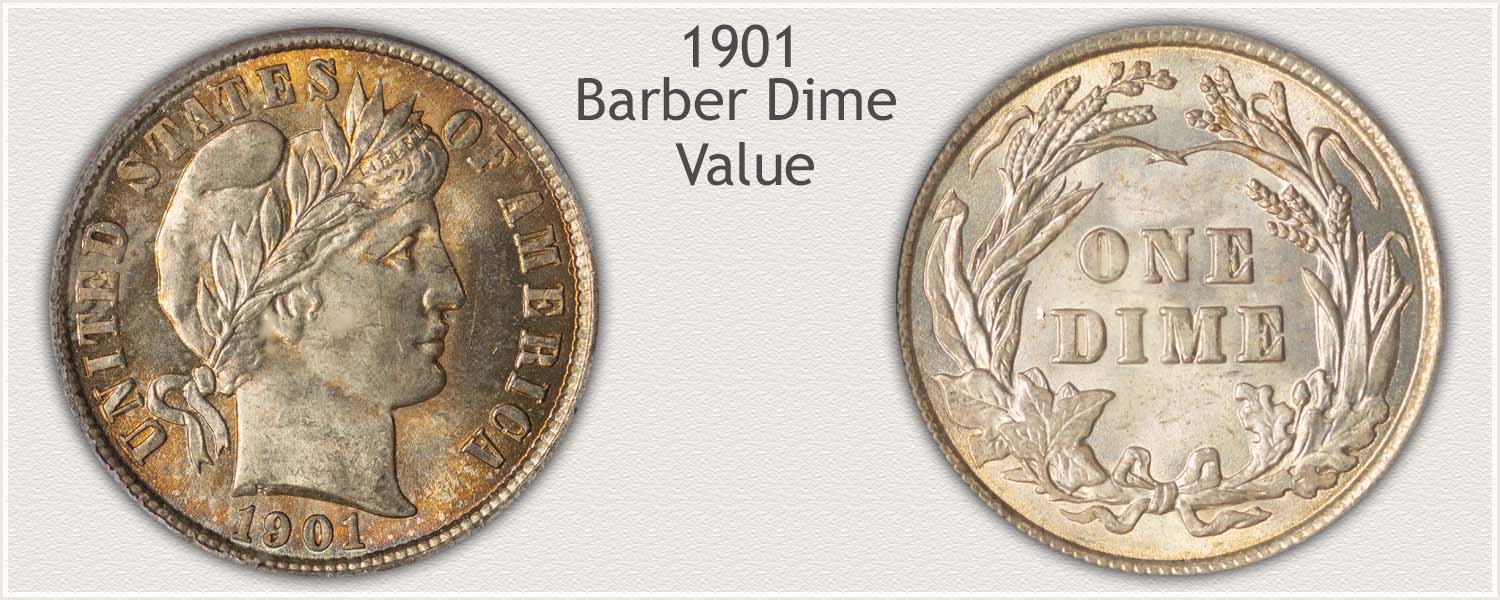 Steps Leading to Value:
Step 1: Date and Mintmark Variety - Collectors seek the different date and mintmark combinations of these Barber dimes. An examination is required to establish the exact mint issue.
Step 2: Grading Condition - In the coin hobby, dealers and collectors understand the condition of a coin based on its grade. In Step 2, images illustrate the various grade levels.
Step 3: Special Qualities - There is a high demand for above-average Barber dimes. Coins from low to high values are appreciated for their visual appeal.
1901 Dime Value
Condition of Coin
Date
Good
Fine
Extremely
Fine
Mint
State
Barber Dime Values Updated
11/27/2023
1901
$3.13
$5.91
$22
$83
1901 O
$3.65
$13
$52
$313
1901 S
$58
$207
$341
Rare
Listed are a range of wholesale values for conservatively graded Barber dimes. Use the steps to grading to help narrow the ranges found on the chart.
Step 1: | Date and Important Mintmark to Identify
Scarce Variety Among 1901 Dimes
During the Barber series branch mints identified their production with mintmarks. With three mints producing dimes in 1901; three issues are recognized. When building sets, collectors obtain all issues as part of a collection, placing demand on each variety.
Mintmarks are the identifier (small letters) placed on the coins by the Branch mints. Date along with mintmark combinations are valued and listed on the chart above.
This year highlights the low number of dimes struck at the San Francisco mint and resulting high initial worth. Identify the exact mint variety to narrow its premium range.
1901-S Barber Dime
"S" Mintmark on Reverse: San Francisco Mint Struck the Coin
The date and mint variety are important features of a coin's description. 1901 dimes are notable as the fourth lowest mintage year of the series. San Francisco produced just 593,022 dimes for circulation in the western U.S. These are a highly prized coin due to the limited number of coins created.
A San Francisco issue is identified by the "S" mintmark on the reverse. Toward the bottom of the wreath, the "S" mintmark is readily seen. This dime is always in high demand among collectors, enjoying a strong value.
1901-O Barber Dime
"O" Mintmark on Reverse: New Orleans Mint Struck the Coin
A large premium 1901 dime value is seen on the chart beginning with the Fine grade condition. Though the original production of the New Orleans variety is substantial - over 5.6 million coined, popularity of the mint variety is strong. It is essential to verify the 1901 dime varieties.
A mintmark of "O" identifies the New Orleans mint production. The large "O" near the rim, just below the wreath, represents the New Orleans mintmark.
1901 Barber Dime
No Mintmark on Reverse: Philadelphia Mint Struck the Coin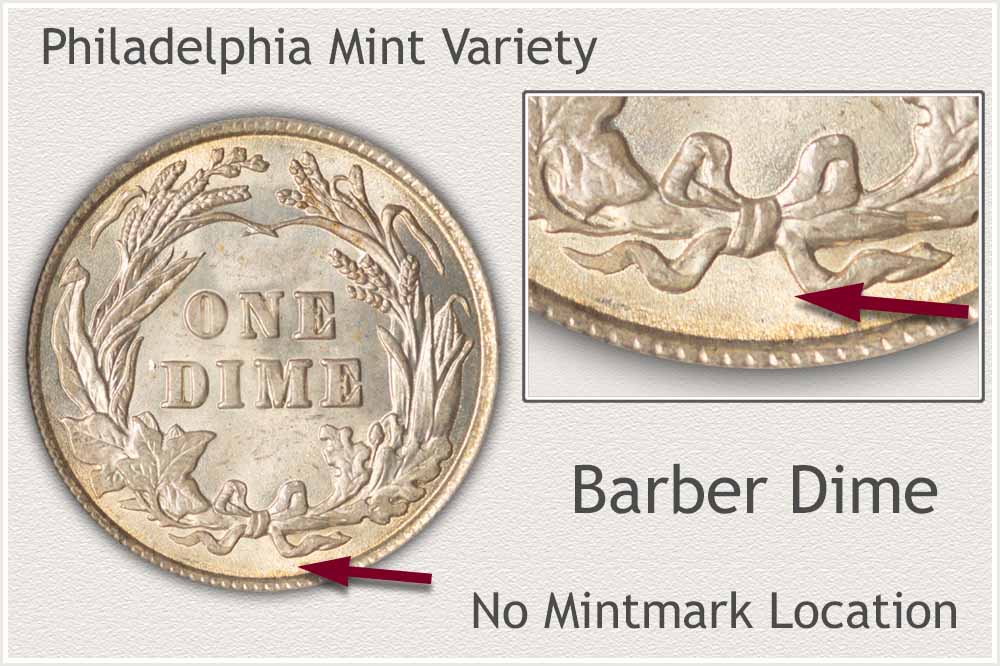 It is important to recognize the mint variety of 1901 dimes and then judge its condition. The Philadelphia mint released over 18.8 million of these into circulation. Although a high number within the Barber series, most received substantial wear. Judging those with small details visible finds a dime worth above base silver value.
The lack of a mintmark on the reverse is what distinguishes the Philadelphia variety Barber dimes. Inspecting the reverse, a bow ties the wreath's ends together. When the region below the bow and just above the rim is empty, this confirms the Philadelphia dime.
Step 2: | Grading Recognizes Premium 1901 Dime Value
Condition Separates Common from Scarce
A close look at 1901 dimes is key to recognizing both the condition and identifying a high-quality example. Most examples of these dimes are in poor condition today. Finding key features in the design often indicates an above-average coin.
In grading, a coin's surface condition is compared to the images of the different grades to find a match.
Mint State Grade
Mint State: In terms of collectible condition, mint state Barber dimes are preferred by collectors. Mint state refers to the coin not having any signs of wear on the surface. To determine this high grade and value of a coin, a few specific points on the surface are judged to ensure a complete mint state condition.
The first to show wear is Liberty's jaw line, which is a raised contour area. Looking closely at the image, the line separating the lower chin and jaw has the same texture and shine as the surrounding metal. Silver as it wears displays a dulling of the shine and a change in metal color to a soft grey. Between the jaw and the neck is used for comparison to see if a uniform texture to the metal remains.
Now turn to Liberty's forehead and brow. The brow is covered with luster and a delicate texture, with no traces of smooth metal or dullness.
As a sign of the coin's mint quality, Liberty's cap along the edges is in the same condition as her cheeks and neck, all finely textured with luster. When the coin is tilted in front of a light, a nice shine flows along the cap, forehead, and cheeks.
Extremely Fine Grade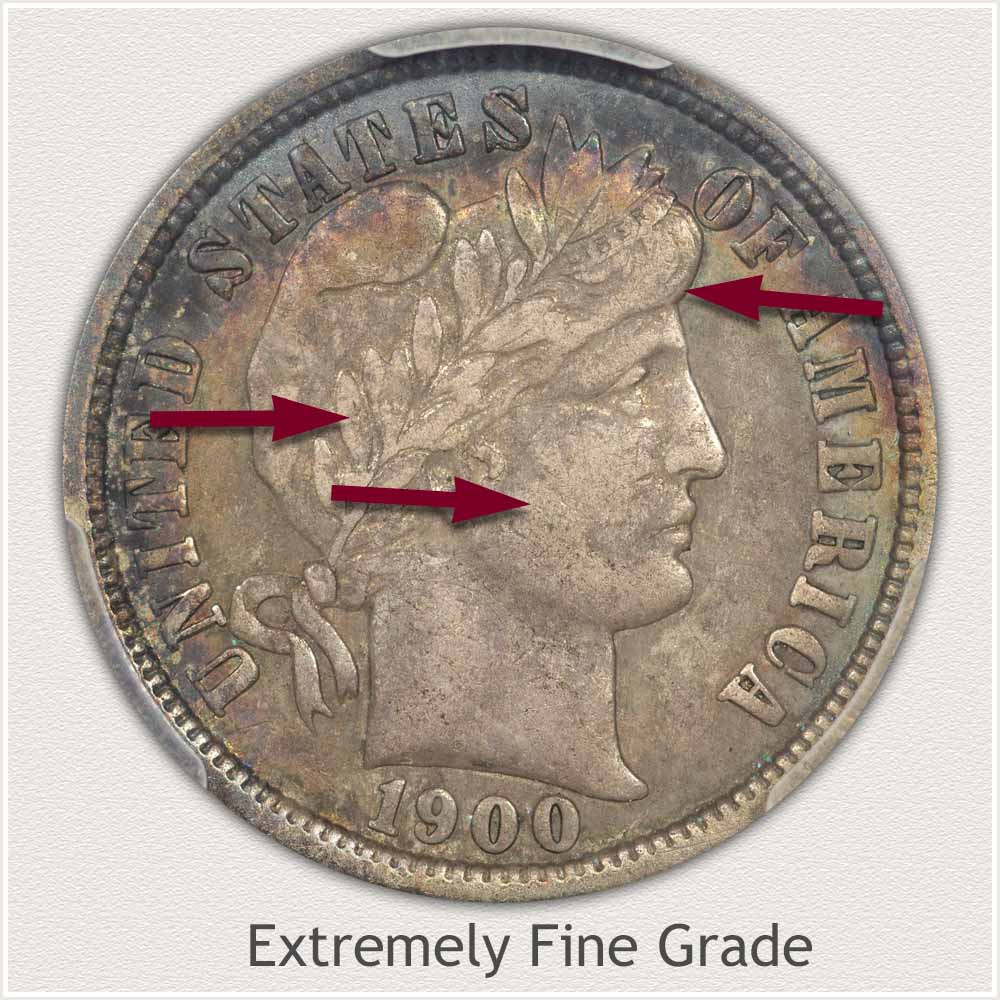 Extremely Fine: In Extremely Fine condition, only the highest points of the Barber dime's design show signs of wear. The grade is defined by slight merging of finer elements and light, general wear. A few key features are examined and judged, including leaves, hair, and the portrait.
In Liberty's hair, an inspection of the Laurel wreath, particularly the lower leaves, shows the majority of edges to the leaves are bold. Minor blending is acceptable along some leaf edges.
Next, the hair just above the forehead; wear is obvious, although the larger strands of hair retain some definition. In extremely fine condition, the hair is slightly flattened in the front.
Note how the cheek of Liberty retains a distinct contour of high and low areas when viewed overall. The cheek does have some smoothness within the middle area, with little to no metal flatness. Extremely fine condition is a crisp, well detailed dime with an appealing "quality" appearance.
Fine Grade
Fine Grade: In order to qualify for the Fine grade, a Barber dime has detailed leaves in Liberty's hair and the ribbon remains visible. These are attractive coins with just moderate wear, and many are prized as excellent collectibles. The grade is defined by the amount of wear and the presence of delicate features.
To collectors, it is critical that all letters of the word "Liberty" are visible in the ribbon towards the top of her head. When looking closely at the lettering, sometimes, the letters "ER" are only partial visible but should remain recognizable. Bold letters indicate a solid for the grade example.
Full outlines of the upper Laurel leaves is another important characteristic. All are well outlined and distinct from the surrounding design. Lower leaves are faded and some missing, merging with the hair.
Fine grade Barber dimes preserve a pleasing overall look with many small details.
Good Grade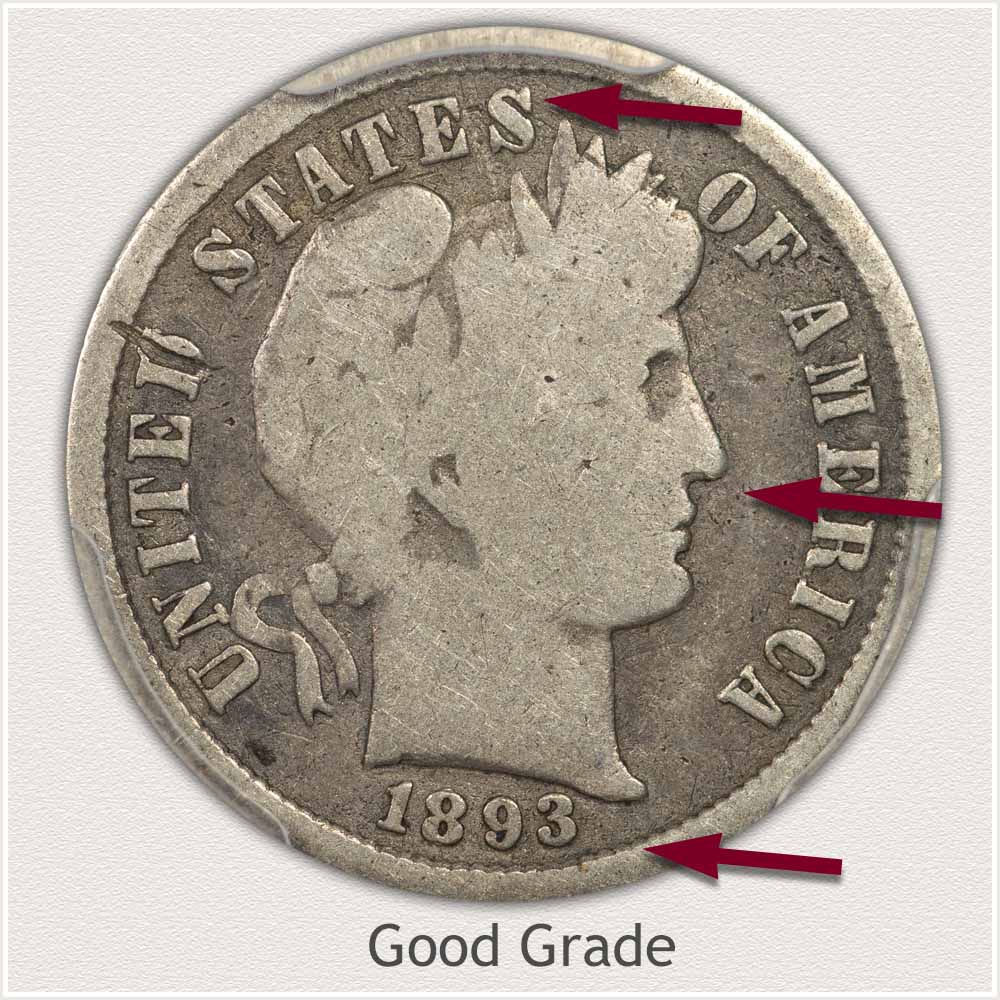 Good Grade: A dime with most of the design worn smooth is considered as Good condition. Complete outlines visible of major elements defines the grade.
With an overall view, first to notice is the remaining design is worn flat, however all edges to the design are complete. Liberty's portrait is a full outline, well raised from the field of the coin. Majority of the central design of Liberty is flat, with the eye area still defined.
A bold date remains, and all lettering along the rim is well defined. Full separation of letters and strong rim is a Good condition Barber dime. Letters fading into the rim lowers appeal to collectors.
One positive of the example is the bold rim. It remains well raised and defined. Despite the absence of finer details, the coin retains a bold impression.
How to Video: Grading Barber Dimes
The value of these Barber dimes is based on how well their condition is judged. With the help of the video, attention is paid to important areas on the coin. This allows the condition range to narrow.
Video, Images and Descriptions | Grading Barber Dimes
Step 3: | Special Qualities | Professional Quality Assessment
Professional Grading to Narrow Dime Value
There are occasions when assessing coin values an expert opinion is needed. Expert dealers help determine authenticity of scarce issues and add clarification of condition.
One of the main factors to value is accurate judgement of condition. Within the coin collecting field are services providing grading of coins. Experts examine your coin, determine a grade, and house the coin in a protective holder.
Identifying date and mint variety often leads to a dime with a large range in value depending on condition/grade. 1901 illustrates the importance of both date/mint combination and accurate judgement of condition. High quality examples are premium coins. Additionally, the 1901-S San Francisco variety is a scarce coin in all grades and becomes rare and valuable in high condition.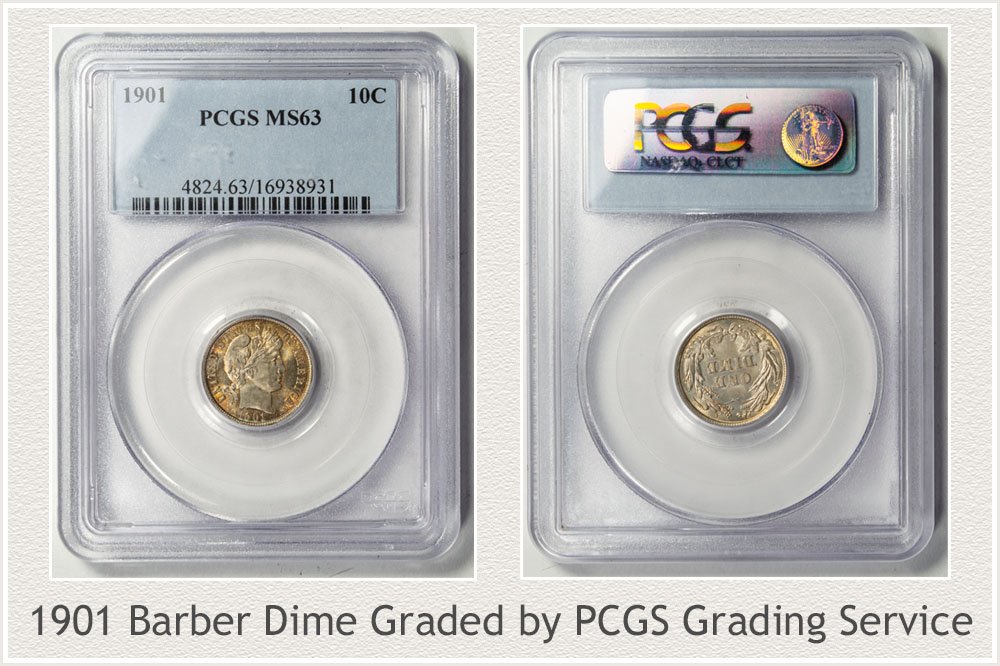 Submitting higher value coins to a grading service assures a market accepted judgement of grade and authenticity of the coin. Referring to the 1901-S dime; because of its rarity, authenticity is the first judgement needed.
PCGS (Professional Coin Grading Services) is considered a leader in the grading service field. Finding your 1901 Barber dime is approaching $100 in value because of grade and mint variety, submitting it to a grading service is an option. Confirmation of grade identifies its narrow value range and market acceptance of condition.
There are costs involved with grading a coin, in the order of $22 as a minimum. Incurring a grading fee on coins with potential of $100 in value is an economical approach.
Listing of PCGS services are on theirPCGS Submission Introduction Page.
An additional resource is having the assistance of Authorized PCGS Dealers to contact. A conversation with a dealer answers many questions and advice to proper selection of coins that warrant grading by PCGS.
A special quality coin is confirmed by grading services.
References
U.S. Mint. 1902 U.S. Mint Annual Report. https://nnp.wustl.edu/library/book/321
Coin Values | CoinStudy Articles
Date by Date
In Depth Barber Dime Values
1892 to 1916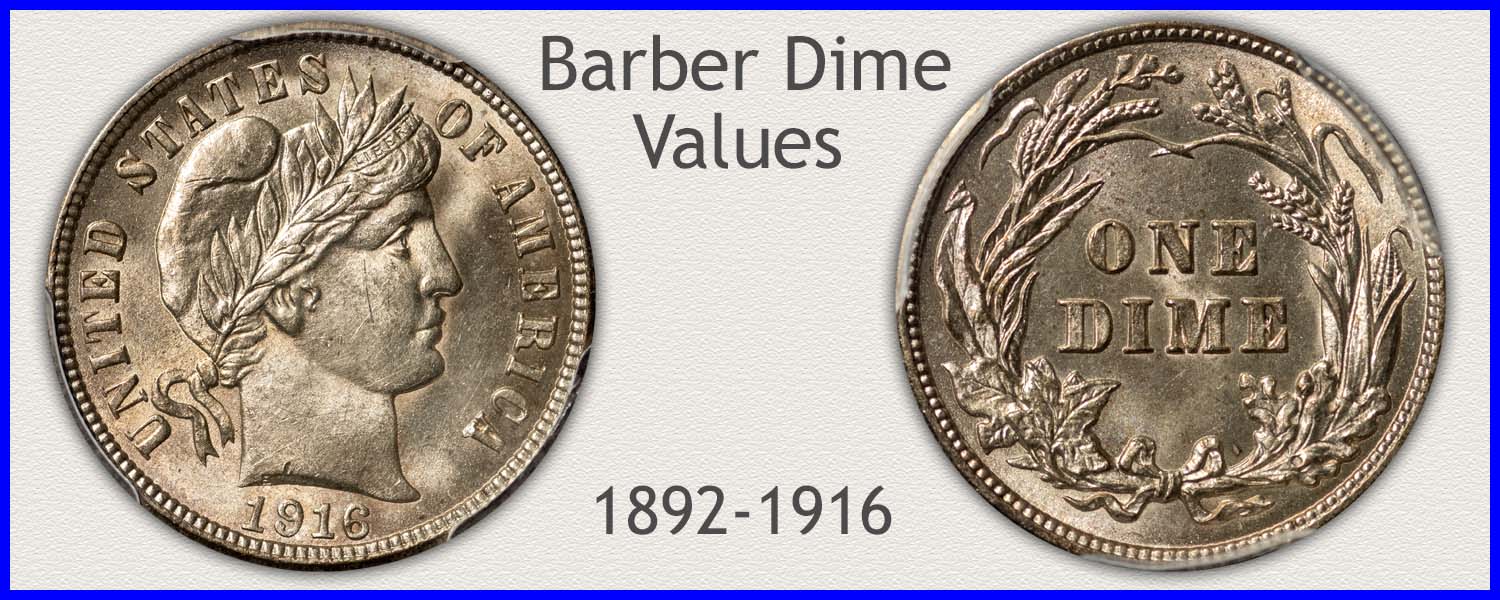 Valuable Barber Dimes | Many Valued Above Silver
All Barber Dimes are worth at least $3.13 . Please don't settle for this minimum value, double check your coins. Over half the dates and mint marks in the series are worth substantially more. Condition is a major factor to collectible status and demand.
Compare to images and identify the many different coin series. Matching your coin to detailed coverage of each denomination and series of U.S. coinage.
Silver Coin Values | Minimum Values of U.S. Silver Coins
Following the up and down movements in silver price many, U.S. coins are accurately valued daily. Using the calculator, determine values of silver dimes, quarters, halves, and silver dollars.
Popular Coin Series | Barber Dimes
Barber dimes reside in the midrange of popularity. Compare to other coin series to develop an understanding of the collector base to dime values.
Coin Grading Services | Professional Review of Condition
Date, mint, and condition are the three key elements to coin values. Seek a professional judgment of grade to realize the true potential of your higher value coins.
★Coin Values Discovery finds 1901 Dime Value and...
Barber dimes are one of many series of with premium coin values. Identify your coin and variety, follow a step by step method used by collectors and discover how much old coins are worth.