Coin Values Moving with Precious Metals: Up-Dated 9/18/2023: Gold $1928 | Silver $23.14
1897 Dime Value
Currently, 1897 dime value is a minimum of $2.94 each.
Total numbers produced for the year were moderate, just shy of 13 million minted. Additionally, this amount was spread across three mints creating scarce varieties. Branch mints are important to identify. With the Philadelphia variety the likely coin encountered, how much an 1897 dime is worth requires close inspection following key steps.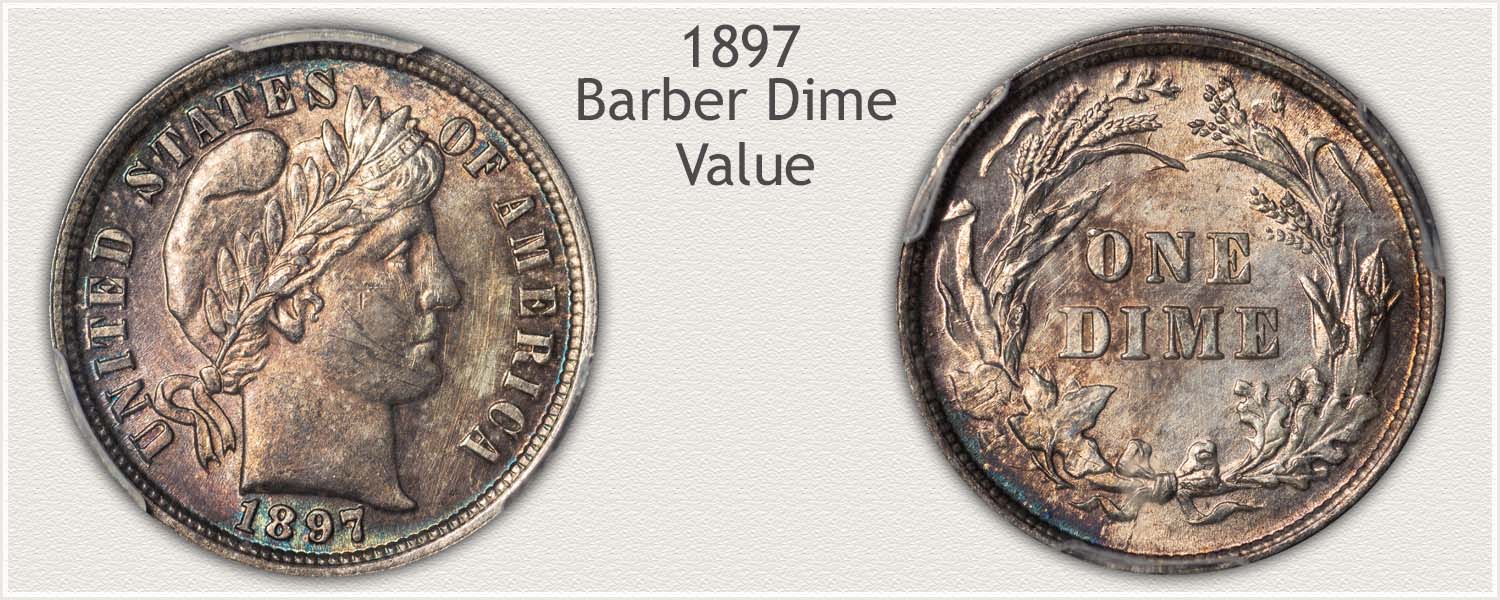 Steps Leading to Value:
Step 1: Date and Mintmark Variety - Collections of Barber dimes become complete when including the different mint varieties for each year. Values for each issue are listed; identify mintmarks to recognize the mint striking your coin.
Step 2: Grading Condition - Value range on the chart is narrowed when your Barber Dime is matched with one of the grading images.
Step 3: Special Qualities - These Barber dimes are next examined for overall quality. Collectors prefer coins that don't have any distracting marks or nicks on the surface, becoming part of a special collection.
1897 Dime Value
Condition of Coin
Date
Good
Fine
Extremely
Fine
Mint
State
Barber Dime Values Updated
9/18/2023
1897
$2.94
$6.96
$31
$110
1897 O
$53
$192
$324
$686
1897 S
$15
$65
$153
$307
Use the chart to determine a range of wholesale values, what a dealer pays for these old Barber dimes.
Step 1: | Date and Mintmark Finds Scarce Variety
All Varieties of 1897 Dimes Recognized
Three mints produced 1897 dimes to supply circulating coins at the time. These are considered as three separate issues and all are collected as part of a complete set of the Barber dime series.
Required of branch mints was placing a mintmark on their coinage. The different mint issues are listed on the chart, important to identify date plus mint as part of the value process.
Of note; the New Orleans mint struck an extremely low number of dimes in 1897 creating a scarce dime today. Placing an accurate value is determining the exact mint variety.
1897-S Barber Dime
"S" Mintmark on Reverse: San Francisco Mint Struck the Coin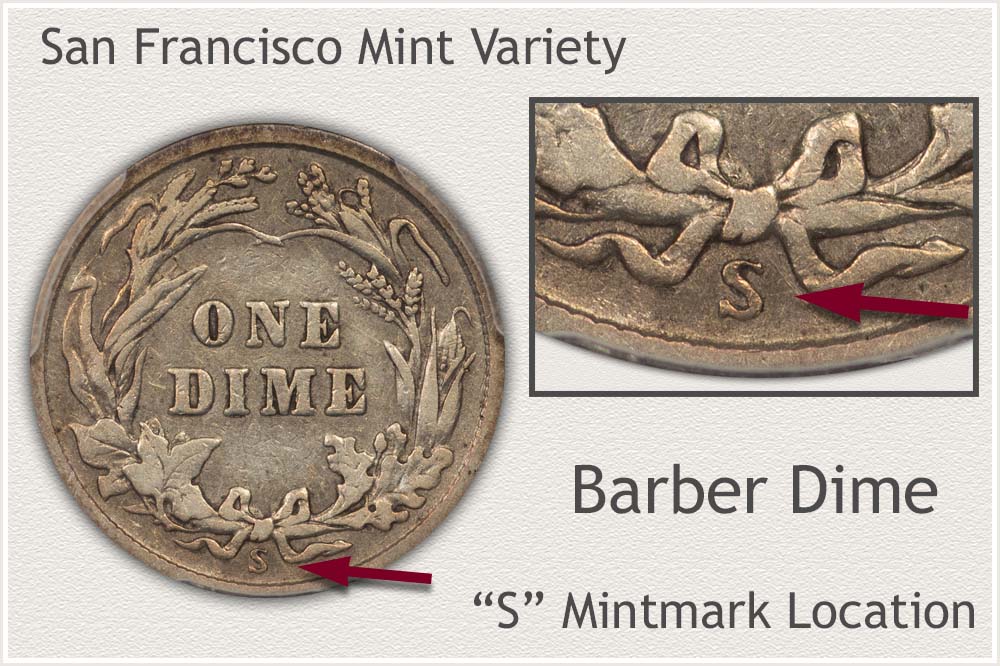 A premium is awarded to all 1897 dimes struck by the San Francisco mint. Coinage from the western branch mint is a popular variety with collectors. Well-detailed examples are a challenge to find for their Barber dime sets. Just over 1.3 million were produced, with few remaining in collectible quality, there is strong demand.
An "S" mintmark found on the reverse identifies San Francisco dimes. At the lower rim, just under the bow, a distinct "S" is the mintmark placed by the mint.
1897-O Barber Dime
"O" Mintmark on Reverse: New Orleans Mint Struck the Coin
Early era Barber dimes are all showing premium values above base silver content. Importantly, New Orleans mint issues are elusive and noted for their low mintage numbers at the time. Just 666.000 dimes were produced by the New Orleans mint in 1897, becoming the third lowest yearly total for the mint. A valuable coin, a close look at the date and variety is needed.
All New Orleans Barber dimes are recognized by the large "O" mintmark found on the reverse. At the lower center, just above the rim, an "O" mintmark is seen, confirming the New Orleans variety.
1897 Barber Dime
No Mintmark on Reverse: Philadelphia Mint Struck the Coin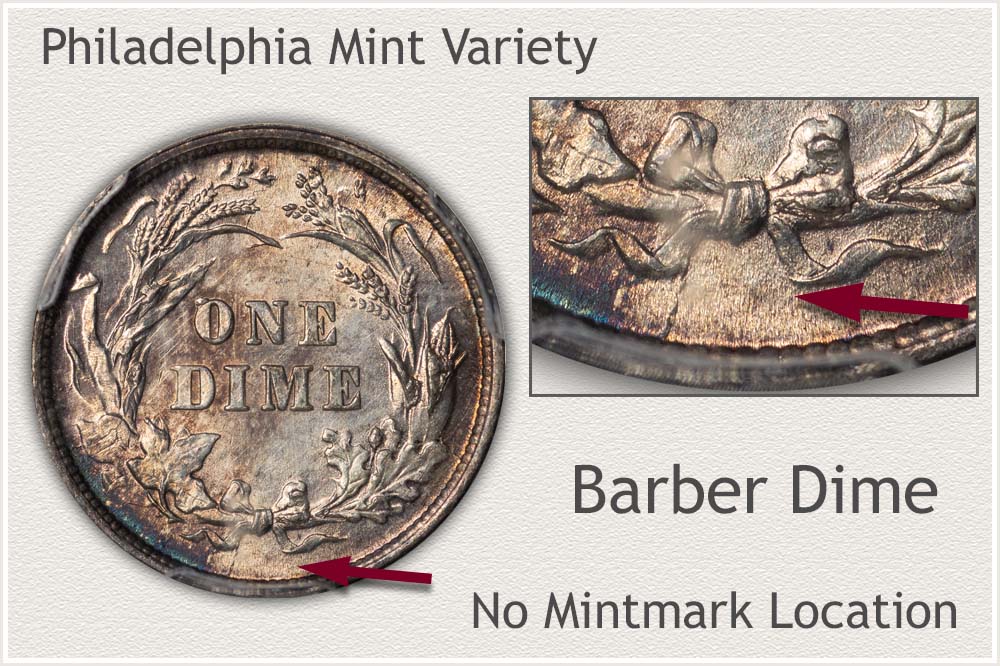 By 1897, the Philadelphia mint began producing over 10 million dimes per year. Ample quantities of these supply the demands of collectors today. Typical, worn examples are valued close to their underlining silver worth. Grading condition in Step 2 becomes important to spot the higher quality coin.
Philadelphia did not use mintmarks during the Barber series. Looking at the reverse, between the ribbon ends of the bow, if the space is blank, Philadelphia struck the dime.
Step 2: | Grading to Find 1893 Dime Value
Key Parts of Design to Recognize
In order to determine the quality of an 1897 dime, a close examine is needed. Many examples of these dimes are in poor condition today. Looking for key remaining design elements helps identify an above average coin.
Grading consists of inspecting the surface condition and comparing it to images of different grades.
Mint State Grade
Mint State: Starting with a Mint State specimen, which exhibits the coin with all of the original details as minted, helps when judging the condition of these older Barber dimes. The portrait of Liberty remains covered with luster as well as the rest of the surface areas. The Mint State grade is defined by the absence of wear.
Inspection of the highest points of design and open areas, both of which are prone to metal removal, is used to detect the lack of wear. Liberty's jaw line, which runs from ear to chin, is in the center of the dime, and prone to wear. A dulling of the metal and smoothing would indicate wear in this location. The shine of a coin is produced by the original luster, which is a fine, delicate texture imparted as a coin is struck. When a coin is in circulation, the luster quickly wears away and becomes dull.
Second, the laurel leaves directly above the headband close to the "L" in Liberty retain their brilliance and original texture, indicating the dime is in mint condition. These two leaves are raised and contoured, flatten quickly when becoming worn.
Barber dimes in mint state retain all of their original features and brilliance. When the coin is turned under a single light source, a shine appears to flow across the surface.
Extremely Fine Grade
Extremely Fine: A premium Barber dime is one graded as Extremely Fine. Wear just smoothing the highest areas of the design is key to defining the grade.
The Laurel wreath within Liberty's hair on the example shows small signs of wear, including some fading. Although worn, upper row of leaves is well-defined, with only the edges showing wear. However, lower row of leaves appears worn more heavily. Notably, the lower leaves' edges must remain recognizable.
The headband with the lettering "Liberty" on it at the top of her head is an area of high relief. In high-end condition, each letter is clear, and the ribbon's top and bottom edges are clearly defined. When combined, these visible parts of the design are important to identifying the Extremely Fine grade.
Fine Grade
Fine Grade: Coins considered as approaching the Fine grade of Barber dimes are those that have both leaf and head ribbon detail. These appealing coins have just a moderate degree of wear. Many dates and mints are recognized as premium collectibles. The grade is identified and defined by moderate wear and certain fine detail remaining.
As a first requirement, it is important the ribbon on the top of the head clearly displays all of the letters of the word "Liberty." Frequently, the "ER" letters are partial and faint but must still be identifiable. If the "ER" is strong it is a plus to the condition and Fine grade.
Identifying the detail of the upper Laurel leaves is another essential factor to condition. All upward pointing leaves are completely outlined and separated from the surrounding design. Notice the lower leaves are indistinct and blend with the hair, and sections are missing.
Barber dimes within the Fine grade condition retain a nice overall appearance with a great deal of detail.
Good Grade
Good Grade: Typically, if the majority of the design is worn smooth, these vintage dimes are considered as "Good" condition. The grade is determined by the presence of complete outlines of major features, with heavy wear the noticeable feature.
Taking a look at the entire design, all edges are complete to the outline, no fading or blurring. The portrait of Liberty is a full outline, well defined from the coin's field. The eye area is still distinct, while the majority of Liberty's center design is flat.
All inscriptions along the rim are clearly outlined, with a bold date remaining. Lettering is clearly separated from the rim on this good condition Barber dime. Collectors' interest is lessened when letters begin to fade into the rim.
This example also has a bold rim, which is an eye appealing positive. A well-defined and raised rim helps give a bold impression despite lacking finer details. Additionally, no large marks are visible, overall, a solid Good grade condition.
How to Video: Grading Barber Dimes
The worth of these Barber dimes is further determined by judging their condition. Video focuses on essential areas to judge. A more precise grading process narrows the range of possible conditions.
Video, Images and Descriptions | Grading Barber Dimes
Step 3: | Special Qualities | Valuable Collections of Barber Dimes
Collector Demand and the 1897 Dime
Barber dime values are supported by a variety of factors. Firstly, the silver worth of 1897 dimes, all are a 90% silver alloy. Any of these dimes, even if heavy worn, has a strong base to value in the silver "bullion" range.
Secondly, demand by the collecting hobby places values on coins that are candidates to enter into collections. Coin collections take many forms following themes that define a complete group of coins. Values are the result of a coin's appeal to collectors building specific sets of Barber dimes.
One of the major collections of Barber dimes is the complete date and mint variety set. The set includes each date and mint issue of the series. A total of 74 coins completes the set. Involved are entry level collectors seeking nice circulated examples, note the premiums in the Fine grade. Also popular are the high condition coins advanced collectors place in high value sets.
A second set contributing to demand is the "Year" set theme. The Barber dimes series covers a 25-year span with this set needing one of each. With this set any mint variety for the year is acceptable.
Becoming popular are specialty sets also contributing strong demand. New Orleans mint Barber dimes follows the theme of collecting all 17 issues of the mint as a complete set. A challenging set to finding nice coins especially in Fine and higher grades with a range of available, to scarce, to rare coins involved.
1897 dimes cover all of the popular ways of collecting these dimes. Values of the Philadelphia issue are supported by base silver value and collector interest in high condition pieces. New Orleans 1897 dimes are a collector coin in all degrees of wear, with many collections in need of examples. San Francisco dimes are notable as a scarce coin of 1897, limited quantities form a strong base worth well above silver content.
These old dimes of the Barber series are all silver, an immediate plus, additionally demand is strong by collectors and the many theme collections they assemble.
References
U.S. Mint. 1898 U.S. Mint Annual Report https://nnp.wustl.edu/library/book/319
Coin Values | CoinStudy Articles
Date by Date
In Depth Barber Dime Values
1892 to 1916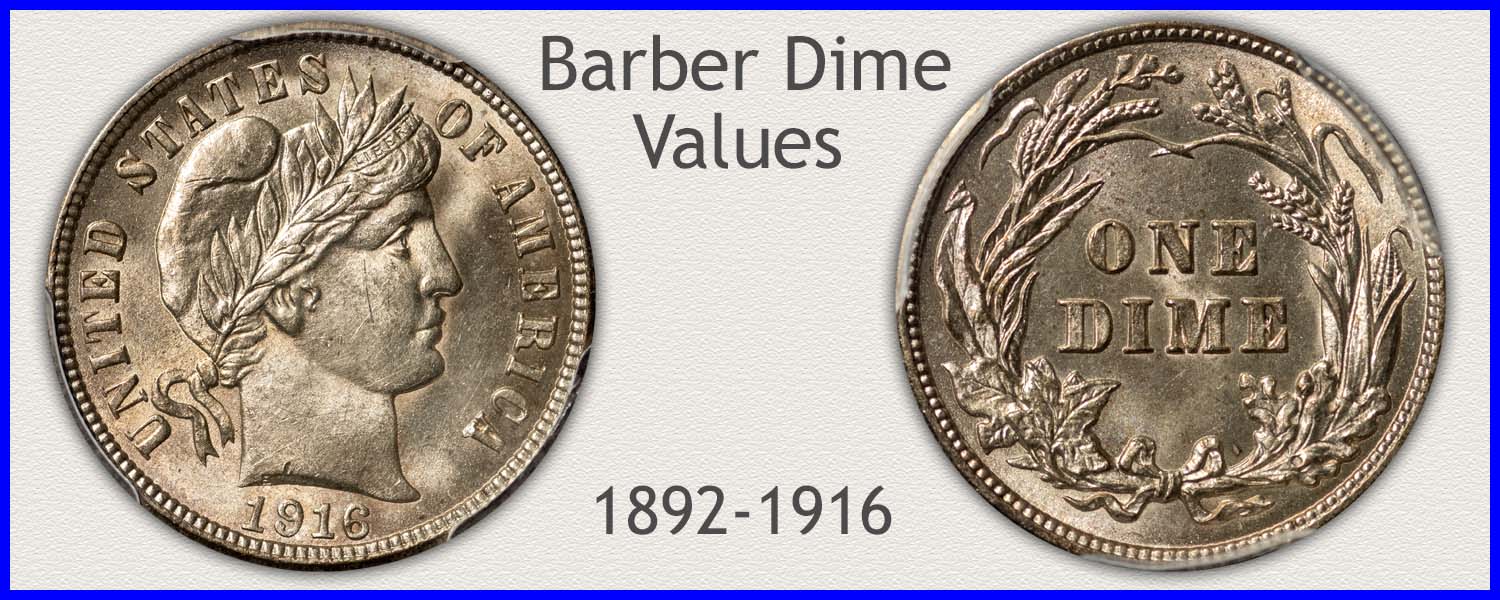 Barber Dime Value | Dates and Mints Listed
Discover the different dates and valuable mintmarks. Use the step by step method to an accurate identity and value of these old Barber dimes. Grade condition and note mintmarks to complete your assessment.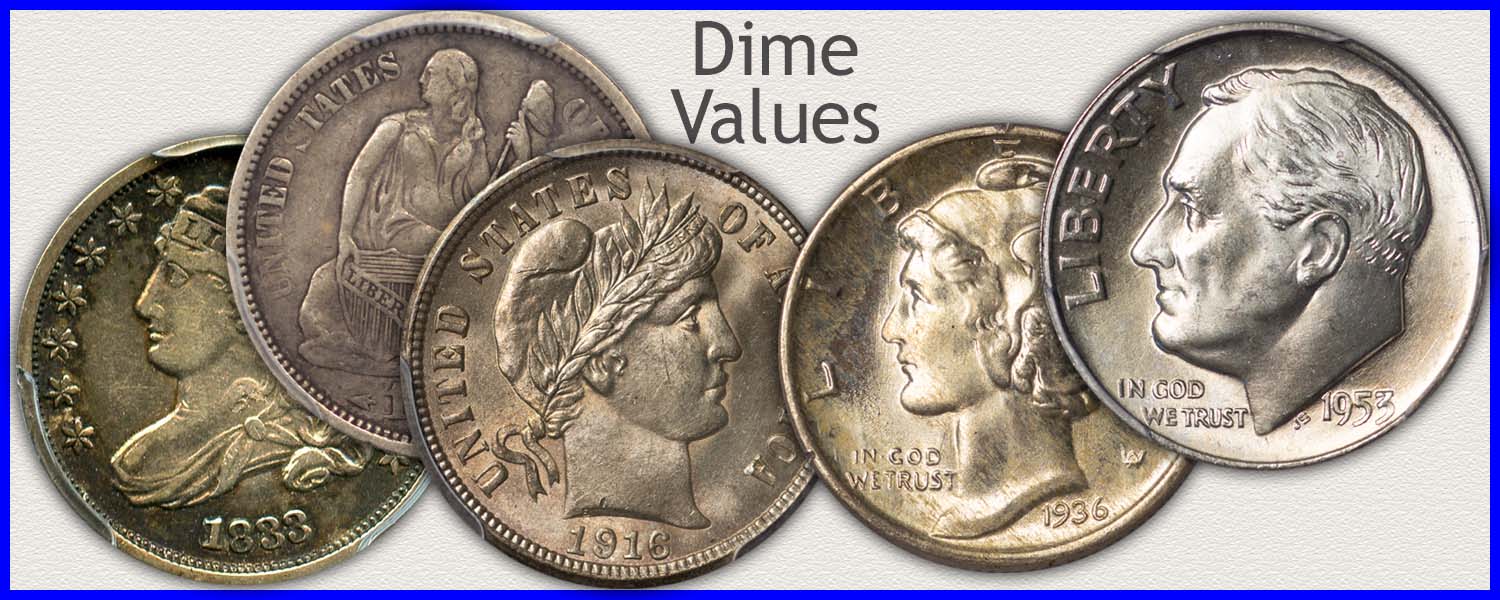 All Dime Series are featured here. First minted in 1796 there are many rare and collectible varieties to discover.
From the early Bust to the Seated Liberty of 1837-1891. Next the Barber Dime followed by the widely collected Mercury Head dime. Ending with the modern Roosevelt Dimes. Match your coins to the grading images and values charts.
Picture Index of U.S Coin Series | Old Coin Value Charts
Value charts of the different U.S. coin series. Images identify denomination and series. Each follows a value process to determine how much they are worth.
Safe Coin Storage | Recommendations
Contact of other coins and humidity are two causes of damage to coins. A few supplies are available to collectors to protect and preserve the quality of coins. Silver coins, Barber dimes benefit long term with proper housing and storage.
Popular Coin Series | Barber Dimes
Popularity of a coin series is important to basic demand and reflected in values. Barber dimes are collected by a wide range of collectors in many levels of condition and values. A study of Registry Set collections gives insight to their level of demand.
Selling Coins | A Defined Process
Collectors often sell coins as part of building and improving their collections. Following a process, they first establish values, judge the strength of the market, and then seek dealers specializing in coins similar to those being sold. Review the best practices to selling coins.
★Coin Values Discovery finds 1897 Dime Value and...
Identify your old coins and begin a step by step process to coin values. Images of the different series lead to specific coins. Follow the method used by collectors to place current values on coins.