Coin Values Moving with Precious Metals: Up-Dated 9/25/2023: Gold $1921 | Silver $23.44
1906 Dime Value
Condition of your coin is a major factor to 1906 dime value.
Two large and separate markets place value on these old Barber dimes. Silver value is the solid base. Next, nice condition examples are the coins collectors seek. These higher quality pieces are important to recognize to an accurate worth.
Using the steps below covers the key factors, date and mint combination, plus judging condition. Finding the correct listing on the chart separates the base silver coin from the premium collectible.
Steps Leading to Value:
Step 1: Date and Mintmark Variety - An accurate description includes the coin's date and mint issue. There were four separate mints that contributed to the production of 1906 dimes.
Step 2: Grading Condition - The condition of many examples of these dimes is very poor today. There are certain features when found within the design that indicate a collectible quality coin.
Step 3: Special Qualities - 1906 saw the addition of a fourth minting facility. A new U.S. mint, adding to the production of Barber dimes and now a collectible addition to the series.
1906 Dime Value
Condition of Coin
Date
Good
Fine
Extremely
Fine
Mint
State
Barber Dime Values Updated
5/25/2023
1906
$2.98
$3.47
$20
$83
1906 D
$3.47
$5.62
$33
$151
1906 O
$4.25
$42
$99
$145
1906 S
$3.47
$11
$42
$158
Listings on the chart are Wholesale, computed from averages of dealer listings, auction results, and completed sales with mark-up factors figured in. Use as a guide to establish a range.
Step 1: | Date and Mintmarks Identified and Located
1906 Dime and Premium Mint Issue
Each listing on value charts notes the specific date and mint combination of 1906 dimes. These varieties are the different mints striking coins during the year.
Mintmarks identify the three branch U.S. mints and show as small letters within the design. Images and descriptions help locate the small marks. Of special interest to collectors is Denver and New Orleans coinage.
1906-S Barber Dime
"S" Mintmark on Reverse: San Francisco Mint Struck the Coin
Among the Barber series, the 1906 San Francisco dime was minted in what turned out as an average number in a given year. Collectors regard these coins as available in heavily circulated condition. With 3.1 million struck, those in Fine condition and above are the examples sought, and awarded premiums.
A San Francisco dime is identified by inspecting its reverse. At the bottom of the coin, the lower ends of a wreath are tied with a bow. The mintmark "S", if found immediately below the bow, confirms the piece was produced in San Francisco.
1906-O Barber Dime
"O" Mintmark on Reverse: New Orleans Mint Struck the Coin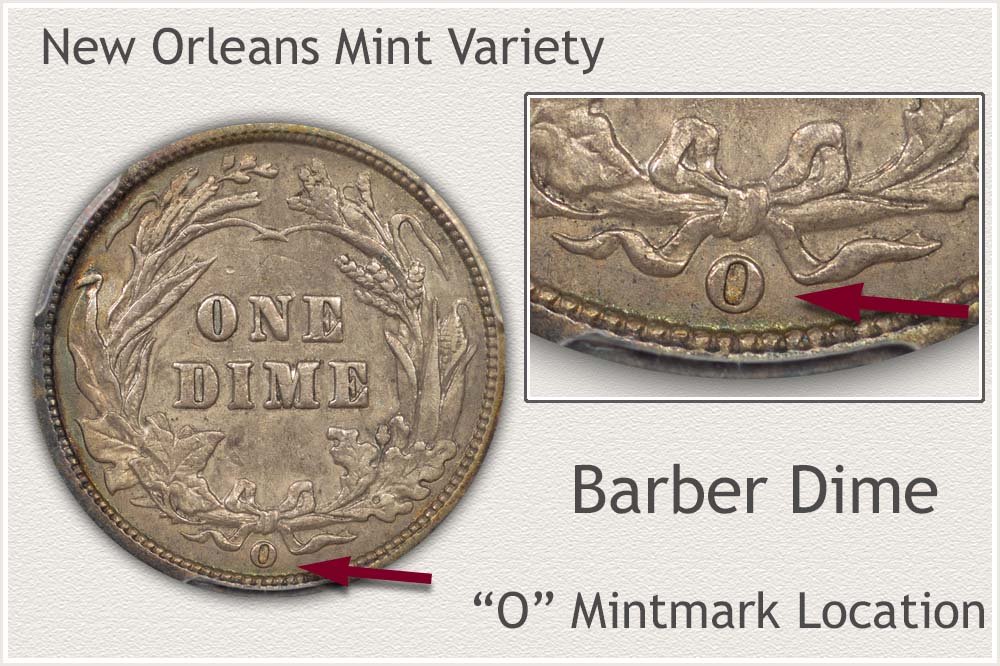 The number of dimes minted at the New Orleans mint decreased in 1906, the middle years of the Barber series. A total of 2.6 million coins of the New Orleans variety dime were made, making it a nice find. In all stages of preservation, collectors place a premium on these. Today, this older Barber coinage requires close examination to determine its value. Both mint variety and condition are important.
Branch mints use mintmarks to identify their coins. On the reverse of New Orleans mint issues, there is an "O" mintmark. Look at the bottom center, under the bow; the "O" verifies the New Orleans variety.
1906-D Barber Dime
"D" Mintmark on Reverse: Denver Mint Struck the Coin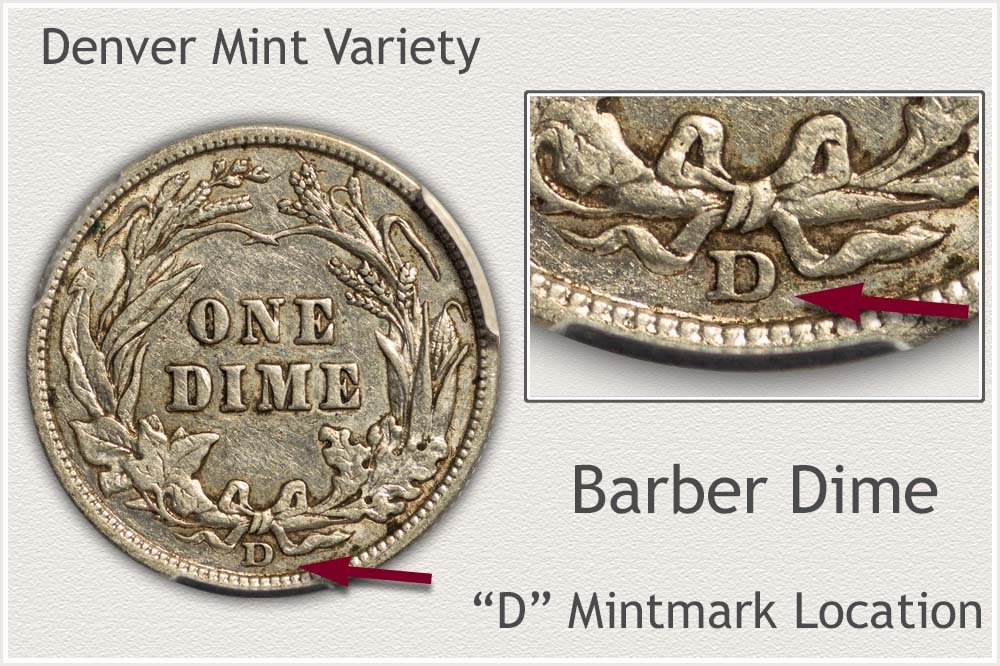 1906 saw the first contributions of the Denver Mint to U.S. dime production. A historically important mint variety of the year, ample quantities were struck, a total of 4,060,000. These are available today in plentiful supplies. However, most are now in heavily worn condition. Condition of your coin and confirming both the date and mint issue is needed.
Denver is a branch mint and required to place a mintmark on all coinage. Using a "D" mintmark, it is located on the reverse under the wreath. The large "D" mark confirms Denver struck the dime.
1906 Barber Dime
No Mintmark on Reverse: Philadelphia Mint Struck the Coin
1906 dimes were struck in large quantities by the Philadelphia mint during the middle of the Barber series. As seen on the chart, the value of coins heavily to moderately worn are linked to the amount of silver they contain. Due to their affordability and availability these are a popular issue with many new collectors. Placing an accurate value requires proper identification of both the date and mint.
The absence of a mintmark on the reverse confirms the Philadelphia issue. Philadelphia, the main U.S. Mint, did not use mintmarks at the time to identify its Barber dime coinage. When inspecting the reverse, look along the rim immediately below the wreath. If the area is empty, the coin was struck by the Philadelphia mint.
Step 2: | Condition is Key to 1906 Dime Value
Judge Details to Identify Collector Quality
A close examination of 1906 dimes is needed to judge its state of preservation. Grading condition is a process helping identify higher quality. With many examples remaining in poor condition if a few key elements to the design remain visible they indicate a better condition coin.
During grading, the surface condition is inspected and compared with images of the different grades to find a close match.
Mint State Grade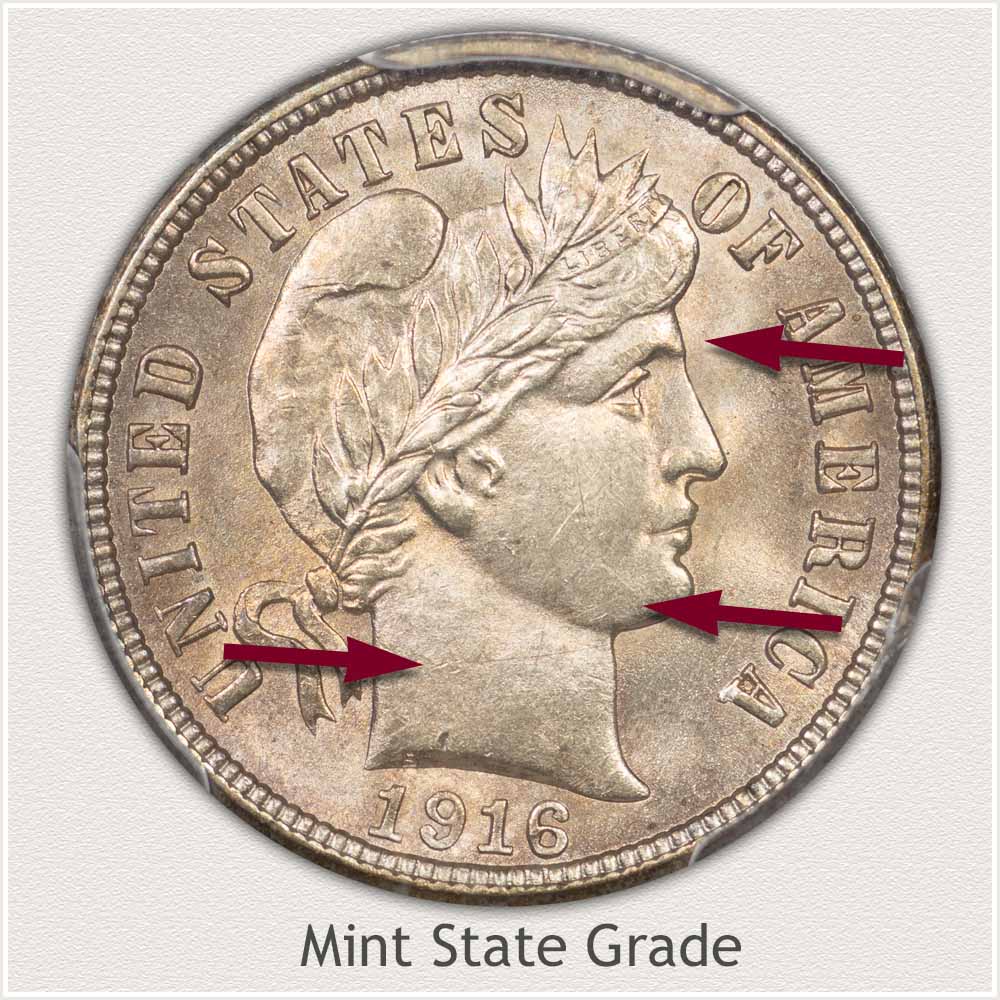 Mint State: Mint state coins are the premier collectible condition of Barber dimes. The condition is defined as no-wear to the surface. To reach the mint state grade and value, a few areas on the surface of the coin are inspected to assure full mint state condition is evident.
Liberty's jaw line is an open area, the first to show wear. Looking closely at the example, the line separating the lower chin and jaw is lustrous and the same texture as surrounding metal. Wear to the silver shows as a dulling of the shine and a color change of the metal to a soft grey. The lower recessed area between the jaw line and neck is an excellent comparison point, showing consistent metal appearance.
Focus now on the forehead and eyebrow of Liberty. Luster and a fine texture cover the eyebrow with no signs of smooth metal and dullness.
Helping confirm the mint state grade, Liberty's cap along the upper edge is in the same condition as her cheek and neck area. A nice shine rotates along the cap, forehead, and cheek when the coin is tilted under a light.
Extremely Fine Grade
Extremely Fine: Wear is only detected on the very highest points of the design when a Barber dime is in Extremely Fine condition. Slight wear overall with minor merging of elements help define the grade. A few important details; leaves, hair, and portrait are inspected.
A close-up of the Laurel wreath and specifically the lower leaves show the majority of the edges to the leaves visible. Along a few leaf edges, very slight merging is acceptable.
Focus on the hair above the front of the forehead, wear is visible, however a small amount of definition to the strands of hair is seen. In extremely fine condition the front of the hair is just slightly flattened.
With a wide view, note the cheek area remains with a bold contour of high and low areas. The cheek shows some smoothness confined to just the central portion, with little to no flatness of the metal. Extremely fine grade is a crisp, well detailed dime with a "quality" appearance.
Fine Grade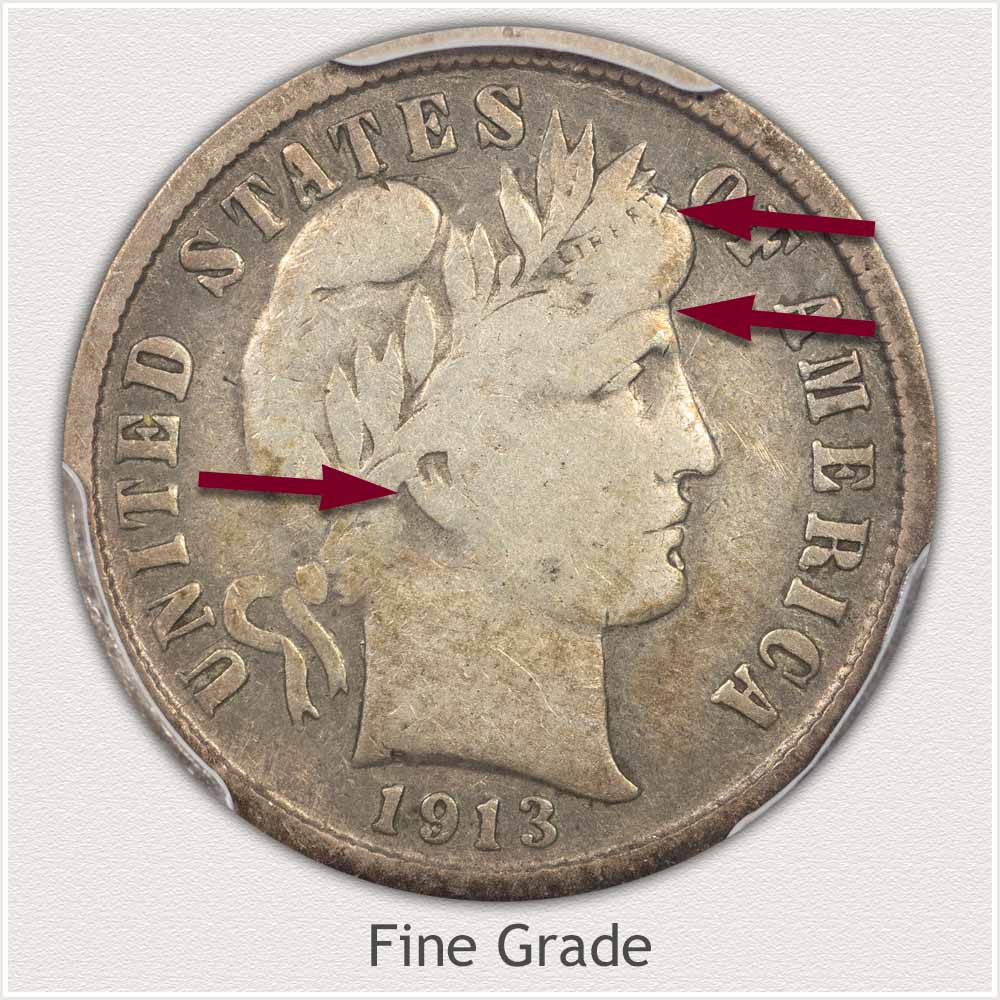 Fine Grade: There is a pleasing amount of detail remaining on the example dime, indicating at the very least a coin in Fine condition. An important condition, drawing collectors' attention. Barber dime issues are typically within the higher collector value range if they are graded Fine.
The remaining hair line that extends from Liberty's forehead to her ear is an important sign of quality. Although faint in certain parts, tilting the coin in front of a light allows for better visibility of this line feature. Coins with complete and continuous separation of hair and forehead are considered well preserved.
Note there are still some details in Liberty's ear that helps identify the grade. Although merged and faded with the hair above, the ear is completely outlined and clear of her chin, indicating a Fine grade. A subtle feature, such as the entire lower ear visible, indicates that wear is only moderate. A nice collectible condition dime.
Good Grade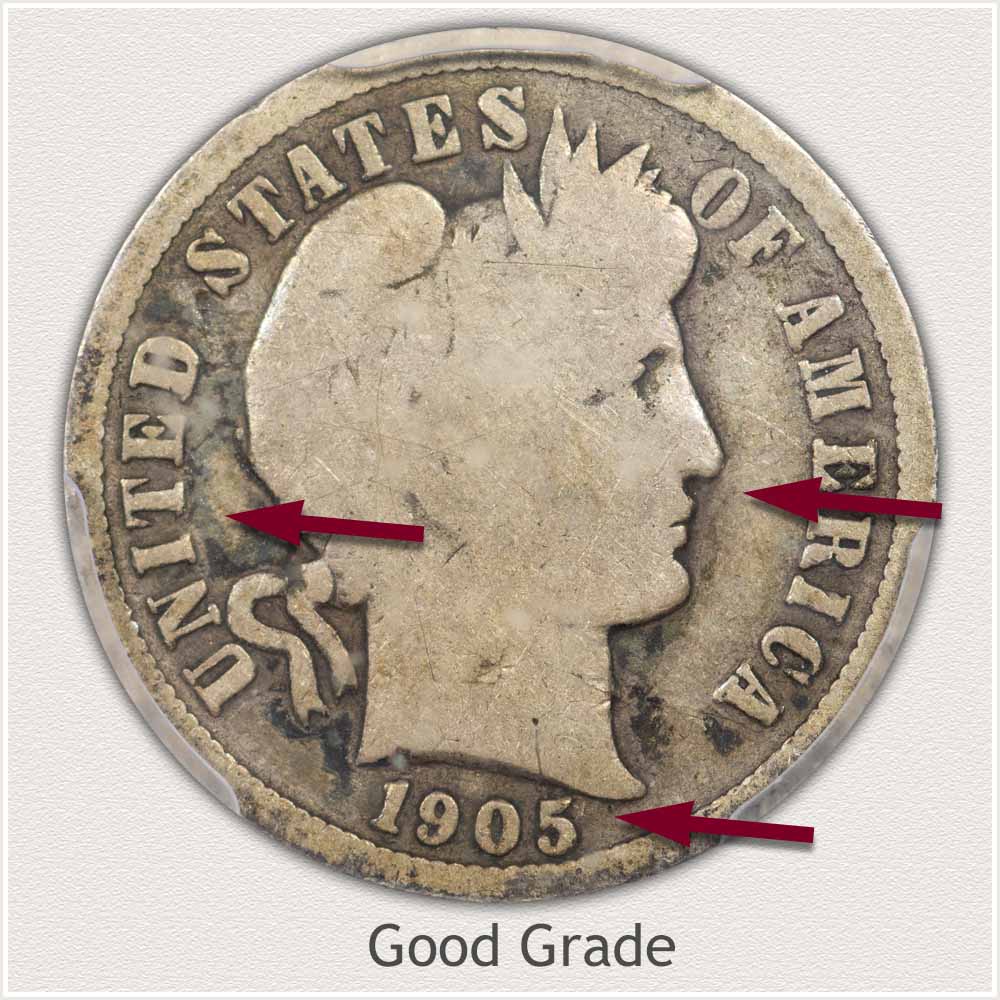 Good Grade: When most details on a Barber dime are missing, it is in the Good condition range. Visible, significant wear defines a Good grade dime.
With Liberty's portrait portrayed by an outline, it confirms that significant wear has reduced the design, resulting in the loss of all central elements. The outline of Liberty remains clear however and prominent, not merging with the field.
Next, letters of the legend and date are all clearly defined and readable. Also notable is the entire and clear rim, which is an important feature remaining complete. These dimes are not worn to the point where lettering or rims are faded, missing, or merging.
How to Video: Grading Barber Dimes
Identifying additional areas to judge and the particular features required for each grade increases accuracy. When inspecting these old Barber dimes, even the smallest characteristics can have a significant impact.
Video, Images and Descriptions | Grading Barber Dimes
Step 3: | Introduction of New Mint Adding to Special Qualities
Historical 1906 Dimes are Popular with Collectors
Whenever a new variety of existing coinage is introduced, it becomes an interest to the public and historical event.
Barber dimes from the beginning to the series were minted at three mints. Philadelphia in the eastern U.S. The branch mints, New Orleans supplying the central and San Francisco mint on the west coast.
Adding a fourth minting facility in Denver Colorado, increased interest in the Barber dime series. The Midwest needed a source of refining and assaying of precious metals in the area. By 1906, a need for coinage was met by adding coinage operations to the Denver Mint in Colorado.
With new production machinery and facilities, the first year of minting dimes at Denver was over 4 million pieces. A number greater than the other branch mints.
First year of issue is always of historical interest. Today's collectors need this important coin for both date and mint collections and theme collections of Barber dimes by mint variety. Specialty collections often feature "first of" as important parts to a set.
These 1906-D (Denver) dimes are an available issue. The affordable price in worn condition with ample detail is a popular coin with beginning collectors. High end grade coins enjoy strong demand by advanced collectors. Additionally, all Barber dimes are a silver alloy. Their silver worth is a solid minimum base.
Look for fine details within the portrait of Liberty. Waves of hair showing and defined leaves is a potential special quality 1906 dime.
References
U.S. Mint. 1906 U.S. Mint Annual Report https://nnp.wustl.edu/library/book/514122
U.S. Mint. 1907 U.S. Mint Annual Report https://nnp.wustl.edu/library/book/514123
Coin Values | CoinStudy Articles
Date by Date
In Depth Barber Dime Values
1892 to 1916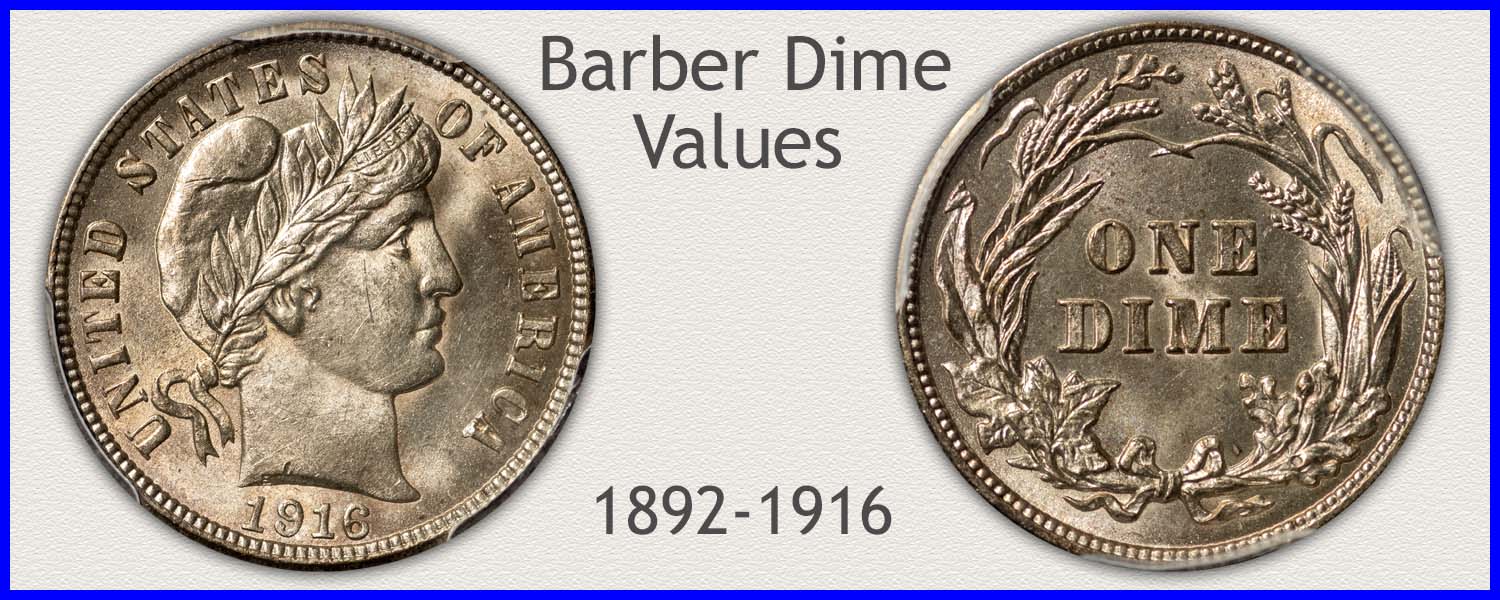 Valuable Barber Dimes | Many Valued Above Silver
All Barber Dimes are worth at least $2.98 . Please don't settle for this minimum value, double check your coins. Over half the dates and mint marks are worth substantially more. Condition is also major factor to collectible status and demand.
Coin Value Guide | How to Value a Coin Collection
Coin collections either small or large are valued using a method following specific steps. These coins are separated by denomination, series, date and mints. Use the images to identify coins, series and varieties. Details on the steps to take are outlined. Visiting each series page completes the process.
Silver Coin Values | Minimum Values of U.S. Silver Coins
Using images and descriptions recognize the vintage silver alloy U.S. coinage. These coins follow the price of silver moving up and down daily. The calculator determines current values and shows old silver coins are worth well over face value.
Sell Silver Coins | Vintage Silver Issues
Using the calculator determines current value of silver alloy U.S. coinage. Dimes, quarters, and silver halves and dollars are worth many times face value. Identity the issues and reference the dealer listings to find buyers of silver coinage.
★Coin Values Discovery finds 1906 Dime Value and...
Barber dimes are one of many series with premium coin values. Identify your coin and variety, follow a step by step method used by collectors and discover how much old coins are worth.