Coin Values Moving with Precious Metals: Up-Dated 9/25/2023: Gold $1921 | Silver $23.44
1904 Dime Value
A step-by-step process is used to identify mintmarks and narrow collectible 1904 dime value.
Two mints produced dimes in 1904, each ranging in availability. First step is recognizing the different mintmarks as illustrated by images. Follow with comparing your coin to images depicting the different stages of wear. Condition is a major factor to how much these dimes are worth. Following the process below identifies and collects the important information needed to an accurate judgement.
Steps Leading to Value:
Step 1: Date and Mintmark Variety - These Barber dimes are collected noting the date and exact mint that struck them. To establish the mint variety, an inspection is required.
Step 2: Grading Condition - Among coin dealers and collectors, the condition of a coin is defined by using a grade. The images in Step 2 illustrate the different grades listed on the chart.
Step 3: Special Qualities - There are many qualities for Barber dimes helping place them above average, regardless of their condition. Aesthetic aspects are recognized in both inexpensive and expensive coins.
1904 Dime Value
Condition of Coin
Date
Good
Fine
Extremely
Fine
Mint
State
Barber Dime Values Updated
5/25/2023
1904
$2.98
$5.62
$21
$112
1904 S
$33
$98
$305
$728
Values listed are the Wholesale worth of Barber Dimes. Use as a guide and starting point. Computed from dealer listings, auction records, and completed sales with mark-up factors figured in.
Step 1: | Date and Mintmark Important to Identify
Recognize Scarce 1904 Dime
Date, plus the mint that produced 1904 dimes determines its true value. Two mints struck these dimes with ample supplies of Philadelphia issues available. It is the San Francisco variety in short supply.
San Francisco, the branch mint serving the west coast, identified its production with a mintmark within the field of the design. To determine the correct value listing, each mint is imaged with its mark and location.
1904-S Barber Dime
"S" Mintmark on Reverse: San Francisco Mint Struck the Coin
Dimes struck at the San Francisco mint in 1904 are becoming increasingly valuable. Collectors place a high demand on examples in all stages of preservation. It is necessary to confirm and record both the date and the mint variety in order to determine its location on the value chart.
An "S" mintmark on the reverse quickly identifies the Barber series San Francisco dimes. The "S" mintmark is located on the reverse, at the bottom of the coin, just above the rim, indicating the San Francisco variety.
1904 Barber Dime
No Mintmark on Reverse: Philadelphia Mint Struck the Coin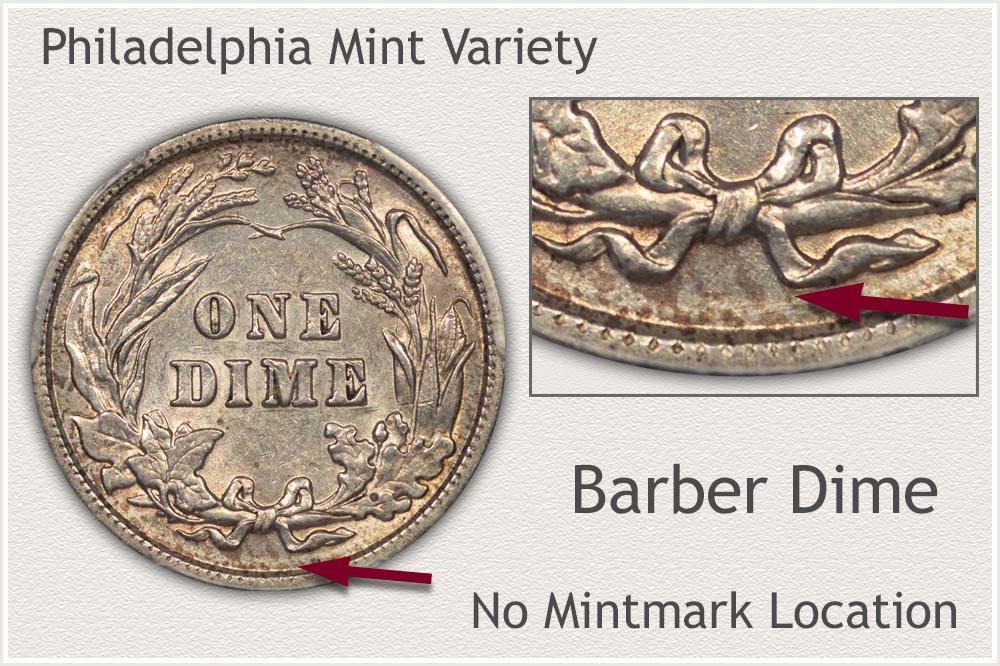 1904 Philadelphia dimes are a very collectible issue within the Barber series. Identifying the variety correctly and judging high condition finds a sought-after collectible. Philadelphia minted ample quantities of dimes in 1904, just over 14.6 million. With most found heavily worn today, premium value examples are in Extremely Fine grade and higher.
Close examination of the reverse reveals the valuable issue. Philadelphia struck the dime if the space between the ribbon ends and along the lower rim is vacant.
Step 2: | Condition Determines Grade and 1904 Dime Value
Quality Plus Mint Issue Adds Collector Premiums
Collectible Barber dimes are valued based on their condition. Both condition and values represent a large range as seen on the chart. Grading defines the condition by inspecting the amount of wear on the coin and comparing to standards of the different grades.
In the following images, specific areas to focus on are highlighted as you examine the coin. Key elements are noted to confirm a grade. These factors are significant to San Francisco 1904 dimes.
Mint State Grade
Mint State: Among Barber dimes, mint state coins are the most sought-after collecting grade. Their condition is defined by no signs of wear to the surface. Several parts of the coin's surface are judged to identify full mint state condition before awarding a high grade and value.
The raised contour of Liberty's jaw line is the first to show wear. In the example, the line separating the lower chin from the jaw is lustrous and has the same texture as surrounding metal. Wear to the silver appears as a dulling of the brilliance and a change in the metal's color to a soft grey. Between the jaw line and the neck, the lower recessed area is a good place to look for a consistent metal look, all remaining lustrous.
Inspect Liberty's brow and forehead next. The eyebrow is covered with luster and a fine texture, with no traces of smooth metal or dullness. Eyebrow and forehead match in appearance.
Liberty's cap along the upper edge is in the same condition as her cheeks and neck, important to the mint state condition. When the coin is tilted at different angles under a light, a shine rotates along the cap, forehead, and cheek.
Extremely Fine Grade
Extremely Fine: When a Barber dime is in Extremely Fine condition, wear is only visible on the design's highest points. In general, slight wear overall along with minor merging of the design elements determine the grade of the dime. Leaves, hair, and the portrait of Liberty along with a few other details are carefully examined.
When viewed up close, the lower leaves of the wreath show a majority of their edges. Very slight merging is acceptable on a few leaf edges.
Next, inspect the hair above the front of the brow; wear is obvious, but the major strands of hair have some definition. There is just a slight flattening of the hair at the front, over the brow in extremely fine condition.
Note how the cheek area retains a distinct contour of high and low sections when viewed overall. A smoothness of the metal is limited to the middle area of the cheek, with little to no flatness. This is a crisp, well detailed dime with a "quality" appearance.
Fine Grade
Fine Grade: Viewing the example, the level of detail found on the coin suggests the Fine grade at least. Becoming an important condition within the Barber dime series, high quality draws the attention of collectors. If recognized as Fine grade, these are within the upper collector value category.
The surviving hair line along Liberty's forehead, which extends to her ear, is a significant feature of high condition. While the line on the coin is faint in some areas, when tilted under a light, it helps see the separation of her hair and forehead. The coin is of high quality if the separation is complete and continuous.
Additionally, inspect Liberty's ear to see further grading details. Even though the ear is partially merged with the hair above, the fine grade is indicated by the ear completely outlined and clear of her chin. If apparent, this minor detail, such as the entire lower ear complete, confirms only moderate wear. Overall, a nicely detailed collectible quality coin.
Good Grade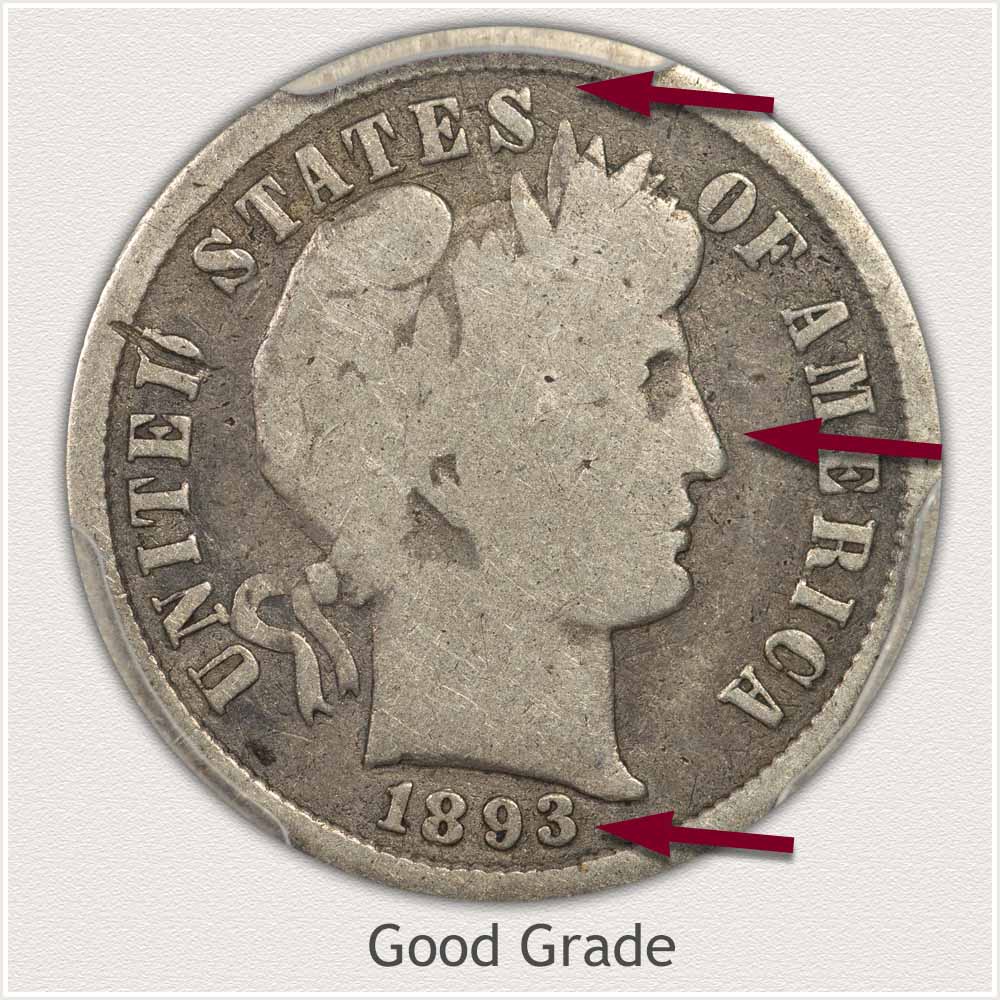 Good Grade: A Barber dime worn to the point that most of the details are missing falls into the Good condition category. A dime in good condition is classified by obvious, severe wear.
The fact that Liberty's portrait is portrayed by an outline confirms that excessive wear has reduced the design, resulting in the loss of all central elements. Her outline does rise from the field, no blending with the field, and still clear and bold.
Also inspecting the date and lettering of the legend, all are clear and readable. Additionally, note the entire and elevated rim, an appealing characteristic that remains. These coins remain detailed enough that portions of the legend or rim have not faded or merged.
How to Video: Grading Barber Dimes
Within each stage of condition a few important areas are key to confirming grade. Additional descriptions highlighted with images help recognize the true state of preservation.
Video, Images and Descriptions | Grading Barber Dimes
Step 3: | Special Qualities Found by Grading Barber Dimes
Grading Basics to Recognize Quality Barber Dimes
Grading defines the condition of a Barber dime and is used to narrow a value range. The inspection of coins becomes easier and more efficient when using a method.
First, always grade condition by comparing to examples of known grades. Resist judging a group of Barber dimes by comparing them to each other. There is always a coin or two standing out as nicer, often of the same grade.
Clear differences are seen in the example dimes. Each coin above is graded by a leading service, PCGS, and were chosen as strong representations of their grade. Comparing and matching your coin to one of the grades quickly finds a similar condition. Following this approach improves your accuracy of judgement.
A clear and close view of your coin in hand is also needed. Set up an area on a table to include a single light source and a magnifying glass. Just a small amount of magnification improves the view of small details noted on Barber dimes.
Additionally, tilt the coin slowly to change the light angle, changing views often brings out details.
Clean, dry hands and holding the dime by the edges are an important part of maintaining the existing quality of the coin. Inspecting over a table eliminates the coin dropping to the floor.
If there is no need to remove a coin from any existing holder, it is fine to leave it as is. Grading at this point, is in the stage of identifying coins, in need of further review.
These few steps and methods, when used, help to increase your accuracy in placing a value on Barber dimes.
References
U.S. Mint. 1905 U.S. Mint Annual Report https://nnp.wustl.edu/library/book/514121
Coin Values | CoinStudy Articles
Date by Date
In Depth Barber Dime Values
1892 to 1916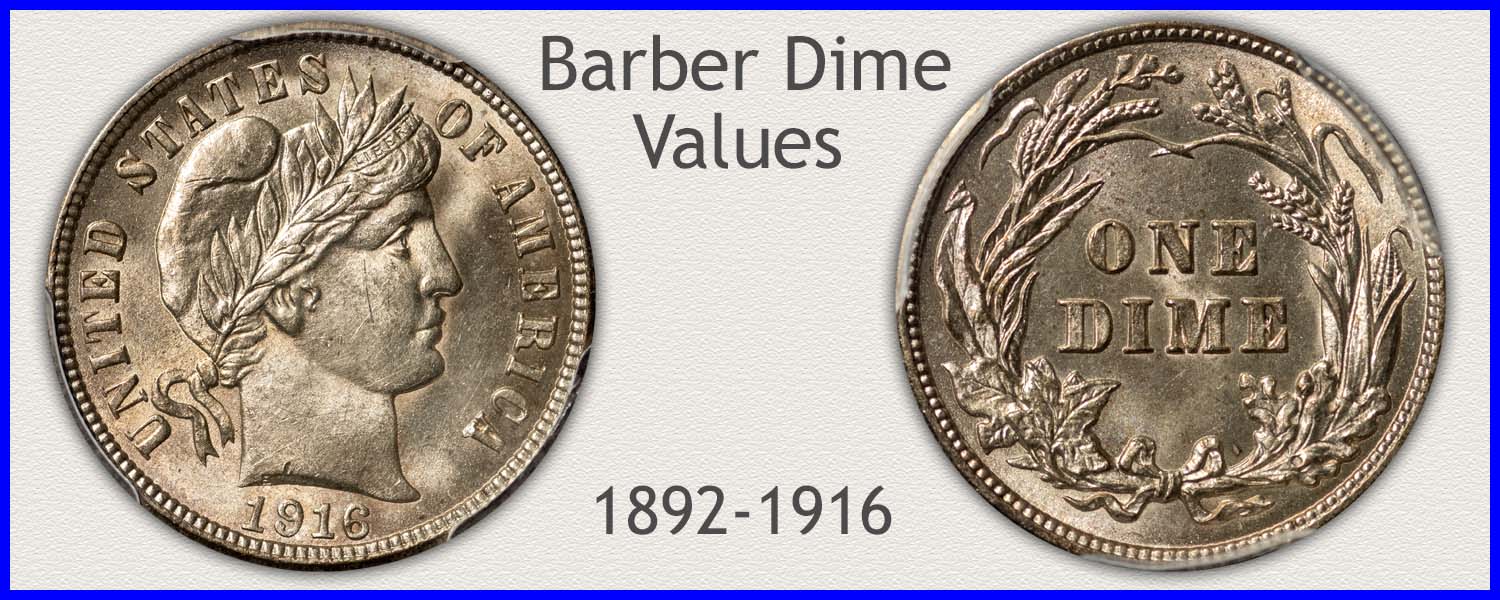 Barber Dime Value | Identify Their Potential Worth
Barber dimes have now become an older series with many date and mint combinations worth well above base silver value. Each is $2.98 because of their 90% silver alloy. Many have low mintage numbers, are scarce, and collected in all conditions with strong premiums.
Quickly sort through your old coins and identify the series. Each domination of U.S. coins is represented by images of the specific series and dates. Follow links to value charts and the process to determine how much they are worth.
Print the Coin Values Worksheet
Record your collection of old coins in one place. The value sheet organizes the listing of coins, keeping a summary of values. Complete the Barber dime series and continue with the rest of your holdings.
Popular Coin Series | Barber Dimes
Barber dimes are becoming a very old series of dimes, last issued in 1916. Values have climbed and the coin market is showing interest. Set Registry numbers point to solid demand from collectors in the midrange of popularity within dime series. Of note: scarce coins are often affordable in series not followed by large numbers of collectors.
Rare Dimes | Early Silver Issues
Spotting a rare dime is often just recognizing the early silver alloy types. A strong base to value, silver as part of coinage was discontinued in 1964. These older dimes are becoming scarce and worth well above ten cents. Early dimes prior to 1900 are all scarce and collectible. Rare dimes of U.S. coinage are featured.
Sell Silver Coins | Identify the Silver Issues
Worth well over face value, vintage U.S. silver coinage is first identified. Recognize your silver coin issues, and using the calculator determine minimum silver value. Listing of dealers to contact finds either a local or online buyers.
★Coin Values Discovery finds 1904 Dime Value and...
A review of the value process with image links to series and current coin value. Determining how much a collection of coins is worth follows a few steps helped by images and detailed descriptions.