Coin Values Moving with Precious Metals: Up-Dated 11/27/2023: Gold $2010 | Silver $24.66
1916 Barber Dime Value
Part of a very old series, 1916 Barber Dime value depends on both mint variety and condition. Starting worth is $3.13 each with good potential to rise higher.
An important consideration to the later years of the series is condition of the coin. Many remain today, most however are heavily worn. Premium value examples are just lightly worn or nicer, showing the majority of original detail. Judging condition is one of the key steps used to verify how much these dimes are worth.
Steps Leading to Value:
Step 1: Date and Mintmark Variety - Collectible Barber dimes are in demand according to date and mint variety. The exact mint issue is verified and confirmed.
Step 2: Grading Condition - Condition of a coin is defined by a grade among dealers and collectors. The different grades are represented by the images in Step 2.
Step 3: Special Qualities - Limited numbers minted, when compared to the rest of the series, helps identify scarce issues of the Barber Dime series.
1916 Dime Value
Condition of Coin
Date
Good
Fine
Extremely
Fine
Mint
State
Barber Dime Values Updated
11/27/2023
1916
$3.13
$3.65
$20
$76
1916 S
$3.13
$4.47
$21
$71
Listed is a range a collector would sell Barber dimes to a dealer. Use as a guide.
Step 1: | Accurate Date and Mint Identified
1916 Dimes Collected by Date and Mint
Value of these vintage dimes is narrowed down by identifying the exact mint that struck the coin. Large numbers of collectors assemble sets by date and mint including all mint issues of each year. Although the two varieties of 1916 dimes are close in value, for accuracy, date and mint combination is identified.
Mintmarks were used to identify the different mint production. Branch mints issued coinage with a small mintmark located within the field of the design. These marks identify the variety of 1916 dime and are listed separately on value charts.
1916-S Barber Dime
"S" Mintmark on Reverse: San Francisco Mint Struck the Coin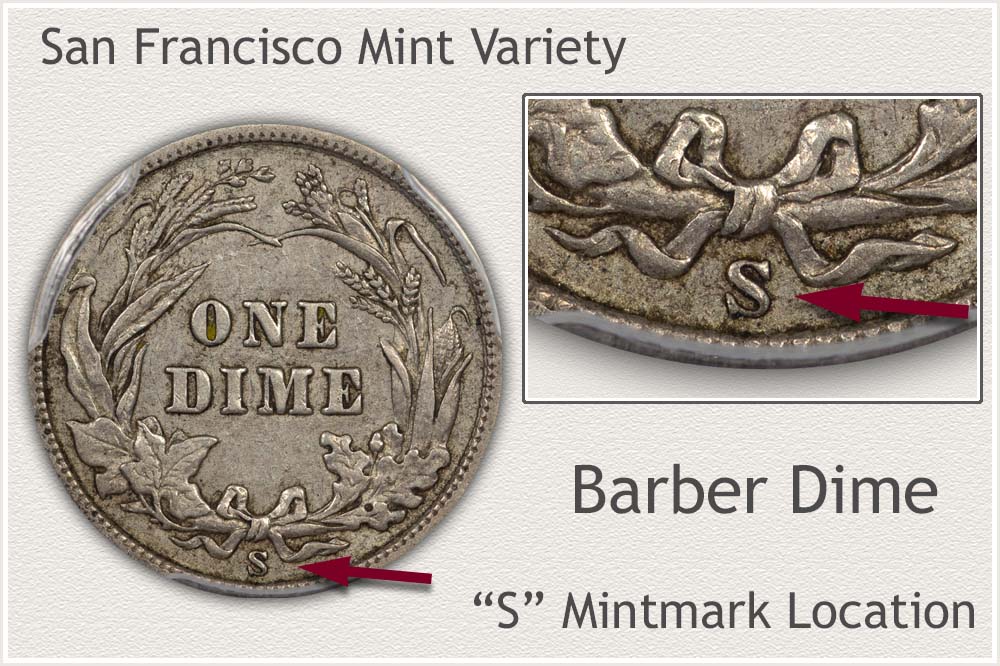 The San Francisco dime variety was produced in sufficient quantity in 1916 to meet the demand in commerce. A total number of coins produced was over 5.8 million. Heavy wear examples are plentiful today, and their value is impacted by the up and down changes in silver price.
Value is determined first by confirming the mint variety and then the condition. San Francisco issued all Barber dimes with an "S" mintmark to distinguish its coinage. On the reverse, just below the wreath, the "S" indicates the coin is the San Francisco mint variety.
1916 Barber Dime
No Mintmark on Reverse: Philadelphia Mint Struck the Coin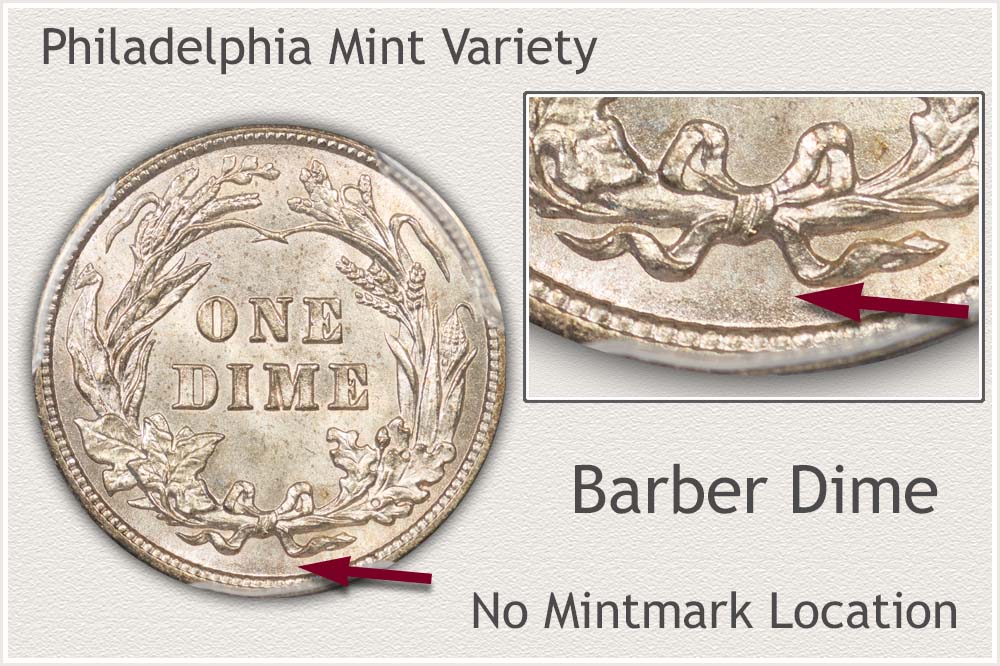 Over 18.4 million dimes were struck by the Philadelphia mint 1916, the final year of the Barber series. Available in quantities, collectors have many of these to choose from today. Typical, circulated examples are worth near to their underlying silver value. This is where Step 2, grading condition, becomes needed to spotting the higher quality coin.
Throughout the Barber series, Philadelphia did not place mintmarks on coinage. A blank space between the ribbon ends of the bow indicates Philadelphia struck the dime.
Step 2: | Grading Condition Narrows 1916 Dime Value
Close Evaluation to Separate High Quality
When examining 1916 dimes, a close inspection of the design is necessary to identify a high-quality example. Many examples remaining today are in less than collector quality condition. Finding certain elements visible in the design indicates an above-average example.
Using the grading process, surface condition is compared to images of different grades to determine a match.
Mint State Grade
Mint State: When evaluating the condition of these vintage Barber dimes, begin with a Mint State sample, which has all of the coin's original details as produced. The portrait of Liberty and the coin's fields are in original condition. The Mint State grade is defined by the absence of wear.
Recognizing the absence of wear requires evaluating the design's highest points and open areas, both prone to metal removal. Liberty's jaw line runs across the middle of the dime, from ear to chin. This area if worn results in a dulling of the metal and a smoothing of the surface. Original luster imparted during minting coins is a subtle, delicate texture that results in the shine. When a coin is in circulation, the luster quickly wears away and becomes dull.
Secondly, confirming that the example dime is in mint condition, the shine and original texture of the laurel leaves above the headband near the "L" in Liberty are intact. These two leaves have a very high relief and quickly flatten if worn.
Barber dimes in mint state condition retain all original details and luster. When the coin is tilted under a single light source, a shine rotates across the surface.
Extremely Fine Grade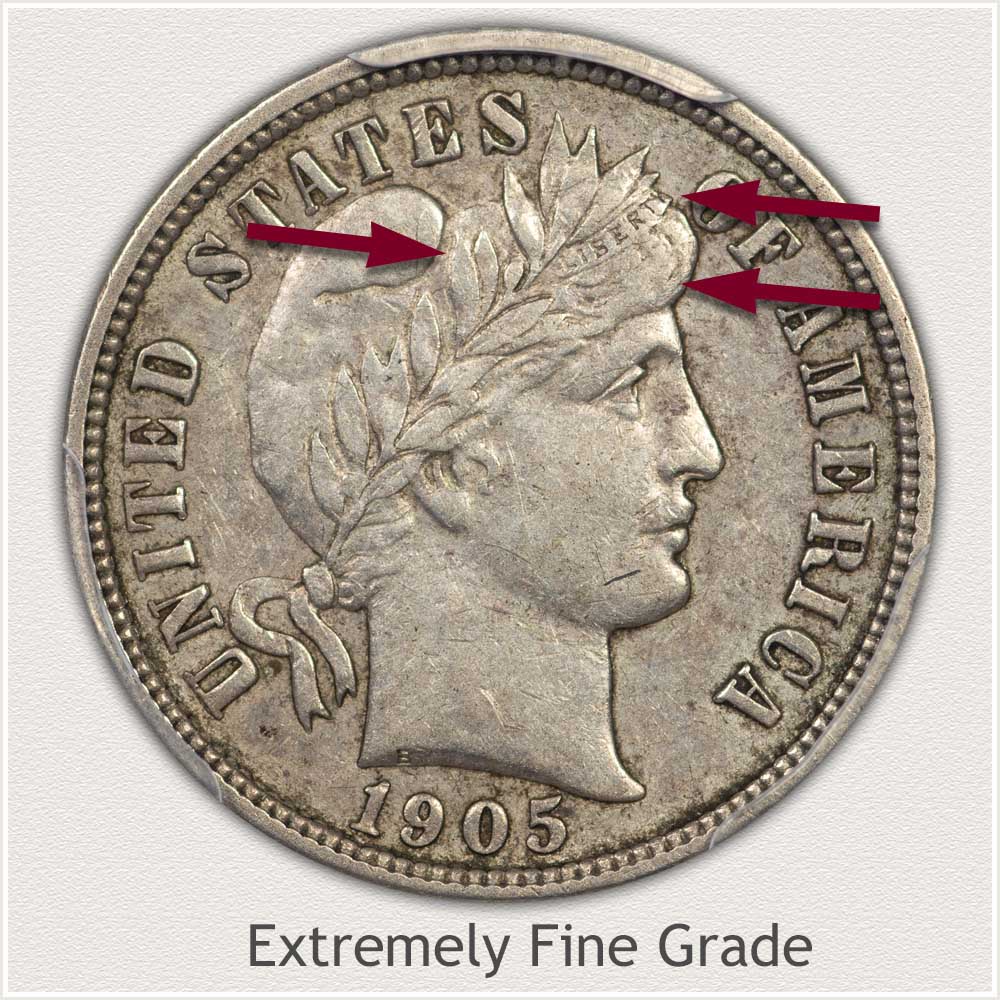 Extremely Fine: A Barber dime in Extremely Fine condition is considered a collectible, premium coin. This high-quality grade is defined by light wear only smoothing the design's highest areas.
Within the Laurel wreath of Liberty's portrait, small signs of wear are visible, just smoothing small areas of the example coin. Only the edges of the upper row of leaves have flattening due to wear. True to the grade, on the lower row of leaves, wear is heavier than on the upper row. It is important to note that the lower leaf edges are still discernible.
Additionally, the headband with the lettering "Liberty" at the top of her head is a very high relief area. All letters remain legible and full, and the ribbon's top and bottom edges are distinct. Together, these parts of the design are used to recognize the Extremely Fine grade.
Fine Grade
Fine Grade: On the example Barber dime, moderate wear is noticeable. Ample major detail is visible, which aids in the identification of the Fine grade. Condition is confirmed by the leaves in the wreath, the text in the headband, and the faint contour on Liberty's face.
The legible "Liberty" in the headband is a characteristic of a mildly worn Fine grade dime. When judging the condition of the Barber dime series, the presence of all letters visible is critical to the grade.
Moving to the next point, Liberty's face is characterized by large flattened areas. Her condition and grade, however, is classified as Fine because she still has a small contour to her cheek under the eye, her neck is rounded, and there are contours on her forehead.
A thin, yet distinct, line of her hair that is still visible right above her eye is a detail found on dimes in this condition. Overall, an attractive and collectible dime.
Good Grade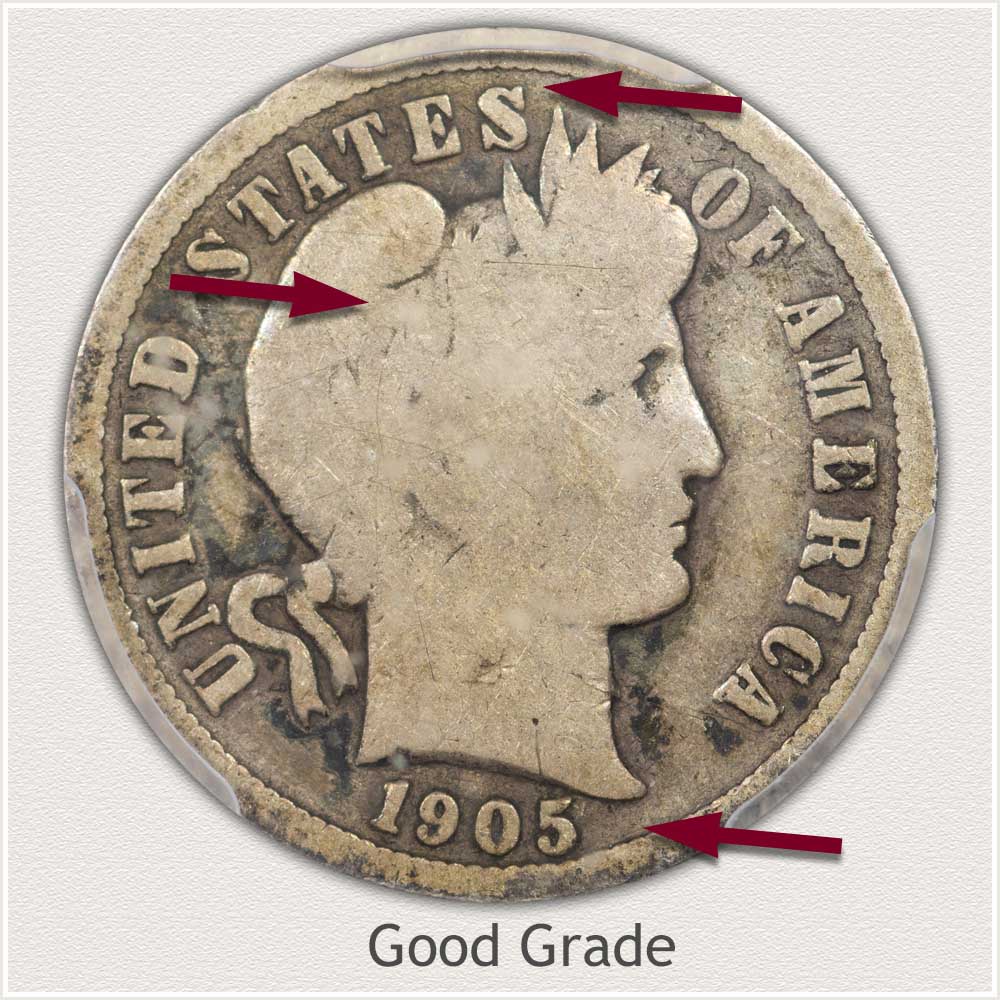 Good Grade: Displaying noticeable, heavy wear is the visual look of a Barber dime in Good condition. The coin has been worn until all fine details are gone, as well as most major details are smooth. However, the appearance of these coins as a whole is worn but not worn out. This completeness helps support the value of collecting these coins.
It is the flat, outlined portrait of Liberty that is contributing to placing the piece in the Good grade category. Only a few deep relief portions of the face and hair remain. A plus is Liberty's portrait is completely outlined and fully separated from the field.
Non faded text along the rim and an extremely bold date are important factors in keeping the piece within the grade. Additionally, a full rim contributes to the overall attractiveness of the design. A nice example of the grade, showing even wear with pleasant details intact.
How to Video: Grading Barber Dimes
To judge a narrow grade range, follow the grading procedure. When determining the worth of these Barber dimes, condition is a major consideration.
Video, Images and Descriptions | Grading Barber Dimes
Step 3: | Special Qualities Enhancing Value
A Review Highlights the Scarce Barber Dimes Collectors Seek
Using total production numbers of specific date and mint combinations, a few qualities begin to show significance. Scarce dates are identified as having limited numbers minted in comparison to other dates. Important years are noted when a mint variety is either minted in limited quantities or meaningfully high quantities. Collectors place solid demand on difficult coins to obtain.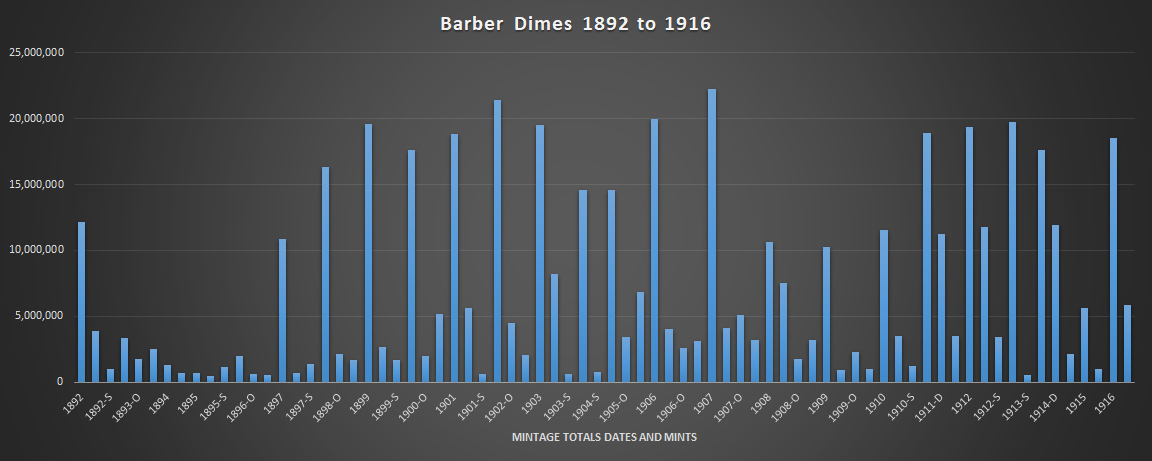 By careful study of the above chart, certain dates and their mint variety are quickly recognized. Low levels of mintage numbers are extreme against the very high production number of many Barber dimes.
When placing a value on dimes, supply is a major force. Initial low supplies contribute to availability today. As example, a 1915 Philadelphia issue is a low mintage year in relation to other dates of the series, a limiting factor to today's supply. These lower range mintages are a solid and strong value at current premiums.
Another example of mintage influence: the1913-S San Francisco issue records the second lowest mintage of the mint for the entire series. A number noted by collectors and helping draw attention and demand.
Adding to interest and demand are the total number of dimes struck by each of the mints. Certain mint varieties begin to take on significance as a scarce overall variety within the series.
Very large numbers of dimes produced by the Philadelphia mint gives the variety an "available" status. Specific years need identifying to spot the scarce dates.
The New Orleans mint is the interesting representation on the chart. Closing in 1909 to coinage production and becoming an obsolete minting facility. New Orleans helped with initial coinage of the series in 1892 and struck Barber dimes for 17 of the total 25 years of the series. These New Orleans dimes have a special interest to collectors. Their special qualities include, low coinage numbers over the years, no longer an operating mint, and vintage design series.
Strong values are represented by many of the dates and mints involved in the Barber dime series. Any low mintage dime from a branch mint known for limited production is a dime with basic special qualities. Many qualify and are found in the Barber Dime series.
References
U.S. Mint. 1917 U.S. Mint Annual Report. https://nnp.wustl.edu/library/book/514130
U.S. Mint. 1948 U.S. Mint Annual Report. https://nnp.wustl.edu/library/book/339
Coin Values | CoinStudy Articles
Date by Date
In Depth Barber Dime Values
1892 to 1916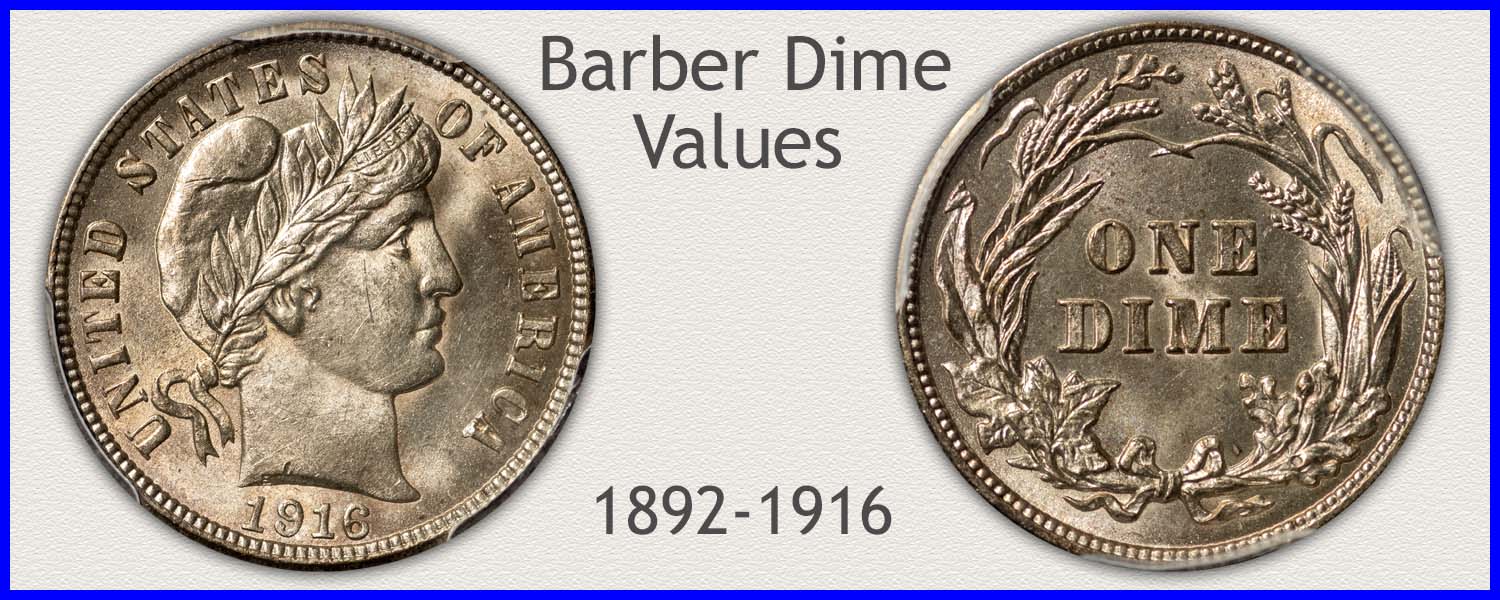 Valuable Barber Dimes | Many Valued Above Silver
All Barber Dimes are worth at least $3.13 . Please don't settle for this minimum value, double check your coins. Over half the dates and mint marks are worth substantially more. Condition is a major factor to collectible status and demand.
Old Coin Values Using a Step by Step Method
Key elements to value are followed to a complete understanding of each coin. Significant dates are highlighted. Scarce mints are noted; and important to value is judging condition. Steps and images are used to accurately value each series of coins.
Print the Coin Values Worksheet
Printable worksheet to list and inventory coins and record Barber dime values. Separate the premium individual coins and group bullion related together. Record your complete collection.
Safe Coin Storage | Recommendations
Stored properly Barber dimes maintain both quality of surfaces and value. A few supplies specific to coins protects and aids in handling and avoiding damage.
Sell Silver Coins | Vintage Silver Issues
Using the calculator determines current value of silver alloy U.S. coinage. Dimes, quarters, and silver halves and dollars are worth many times face value. Identity the issues and reference the dealer listings to find buyers of silver coinage.
★Coin Values Discovery finds 1916 Dime Value and...
Identify your old coins and begin a step by step process to coin values. Images of the different series lead to specific coins. Follow the method used by collectors to place current values on coins.