Coin Values Moving with Precious Metals: Up-Dated 9/25/2023: Gold $1921 | Silver $23.44
1907 Dime Value
Proceeding through a few steps identifies the accurate listing on the chart of 1907 dime value.
Two separate markets are involved in these coins. From silver investors interested in base silver content, to advanced collectors seeking scarce collectible quality.
To start, four different mints struck dimes in 1907 creating mint varieties to recognize. Also, each coin is evaluated and valued by its condition. The range of availability is reflected in the range of values listed. Using a step-by-step method, finds how much these Barber dimes are worth.
Steps Leading to Value:
Step 1: Date and Mintmark Variety - Mintmarks on a 1907 dime indicate which mint struck the coin. These marks help separate the common from scarce issues.
Step 2: Grading Condition - Sought-after Barber dimes are ones that have been well-preserved. These are graded, defining its condition and placing in one of the categories listed on the chart.
Step 3: Special Qualities - Barber dimes are often regarded as premium coins by collectors when they display certain qualities.
1907 Dime Value
Condition of Coin
Date
Good
Fine
Extremely
Fine
Mint
State
Barber Dime Values Updated
5/25/2023
1907
$2.98
$3.47
$21
$114
1907 D
$2.98
$8.25
$47
$184
1907 O
$3.47
$26
$54
$196
1907 S
$3.47
$17
$57
$222
Values listed on the chart are Wholesale indications. A database is maintained of auction results and dealer retail listings from which various mark-up factors are applied.
Step 1: | Date and Mintmark - Four Different Varieties
Mintmarks on 1907 Dimes are Recognized
In ample quantities, 1907 dimes were produced at four mints to supply coinage for the country. Each of the four coins are collected today to complete a set of Barber dimes.
Three branch mints identified their production with a mintmark. These different mintmarks plus the year are what determines its proper listing on the value chart.
It is notable New Orleans and San Francisco mint varieties are highly collectible in better than heavily worn condition.
1907-S Barber Dime
"S" Mintmark on Reverse: San Francisco Mint Struck the Coin
1907 dimes from San Francisco were produced in adequate quantities, 3.1 million struck, representing an average yearly amount for the Barber series. Collectors attribute this variety as abundant to locate in heavily worn condition. Premium examples are higher grades as seen on the value chart.
Inspect the reverse to identify the San Francisco dime. The wreath's lower ends are tied together with a bow. A small "S" is found between the lower rim and bow. This indicates a coin struck at the San Francisco mint.
1907-O Barber Dime
"O" Mintmark on Reverse: New Orleans Mint Struck the Coin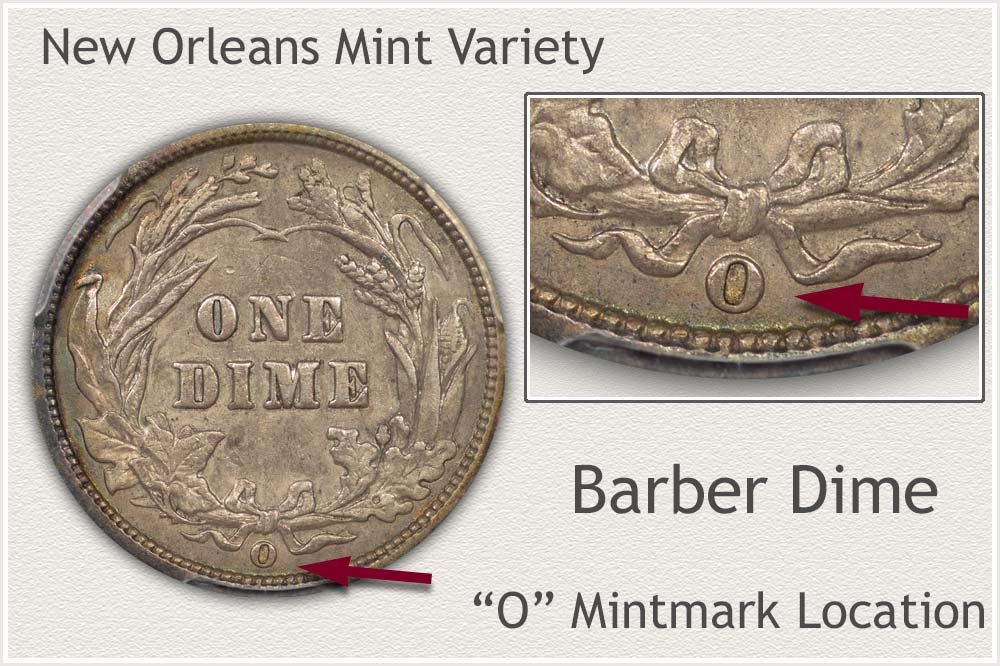 A dime from the New Orleans mint struck in 1907 is difficult to find in above average condition, as seen on the value chart. In all, an ample 5 million were made, and are popular today. Because most found today are well-worn, condition plays a large role in value. Adding to demand, collectors often assemble specialized sets of just the New Orleans issues.
On the reverse, there is an "O" mintmark that confirms that this is a piece from the New Orleans mint. These marks were used to identify the coins of branch mints. The "O" mintmark is located below the bow, at the bottom center of the wreath.
1907-D Barber Dime
"D" Mintmark on Reverse: Denver Mint Struck the Coin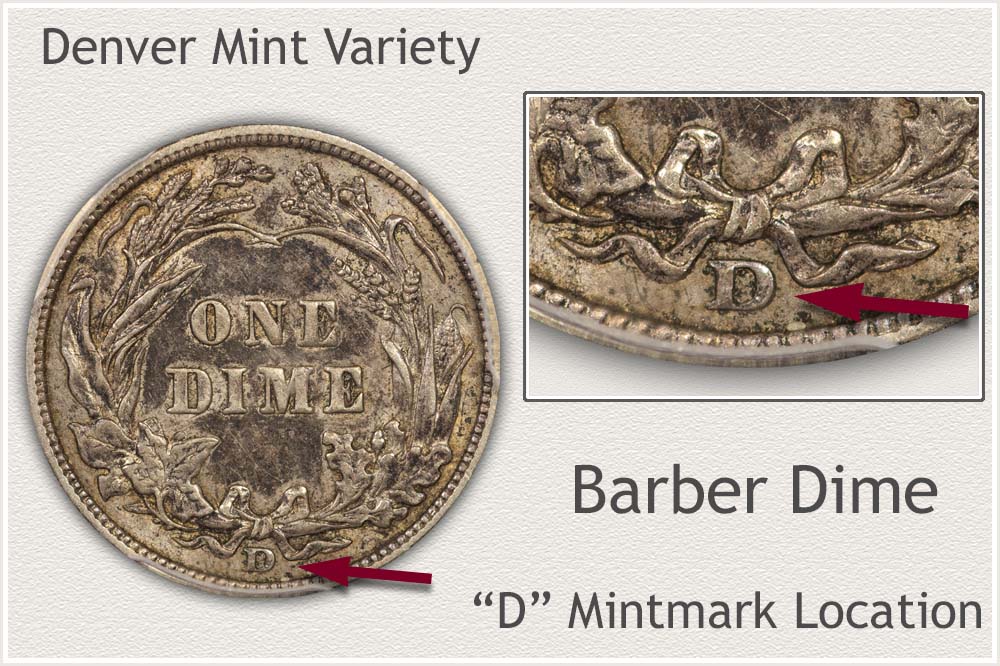 Overall production of dimes was increased in 1907, with the Denver mint contributing just over 4 million to the yearly total of 29 million dimes. As a variety, Denver issue 1907 dimes remain abundant today and available to collectors. Condition is the key to value, most remaining are well worn and trade close to base silver value. Judging condition is detailed in Step 2 and used to find an accurate value range.
Confirming the Denver issue is the "D" mintmark found on the reverse. Looking at the lower edge of the coin, just above the rim, the large "D" mark identifies a Denver struck dime.
1907 Barber Dime
No Mintmark on Reverse: Philadelphia Mint Struck the Coin
The Philadelphia mint produced over 22.2 million dimes in 1907. This became the largest yearly production of the mint during the Barber series. Many of these are available to meet the current demand of collectors. Typical, worn pieces are worth close to the value of the underlying silver. In Step 2, grading condition becomes necessary for spotting higher quality coins.
When identifying the variety, there was no mintmark used by Philadelphia during the Barber series. Looking at the reverse, between the ribbon ends of the bow, if there is a blank space, this is a dime struck in Philadelphia.
Step 2: | Grading Judges Condition to Narrow 1907 Dime Value
Collectible Grades and Premiums Recognized
As collectors judge Barber dimes according to condition, they examine the amount of wear to the surface to establish a grade. Standards of different levels of wear, representing grades, are used to compare and define a grade range.
The features of Liberty wear in typical patterns. Reference the images below highlighting areas to examine. Remaining details are judged to grade condition and spot the above average premium dimes.
Mint State Grade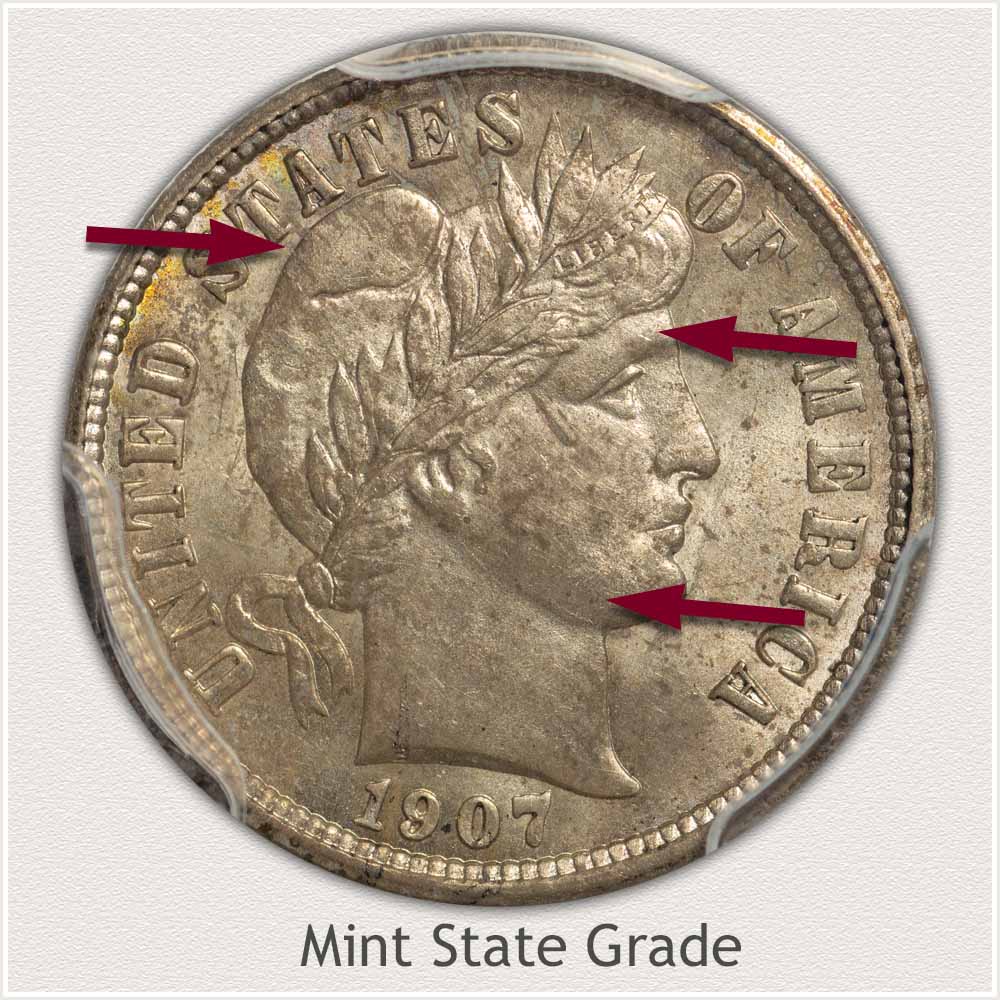 Mint State: There is no wear on the surface of Mint State Barber dimes. This is the definition of the uncirculated grade. These coins enjoy a "like new" appearance. A few parts of the surface are examined to ensure no wear is seen and all of the original luster is still present. When coins circulate and become worn, luster is first to show signs of wear.
High collector quality and values requires a thorough inspection to guarantee Mint State condition. Liberty's eyebrow, her cap, and the Laurel leaves are inspected to judge all retain unworn surfaces to qualify for the grade. Look at Liberty's chin line and compare the luster and texture with her eye brow. Both have a complete covering of luster/shine in pristine condition, with no dulling or smoothness. If wear is present it appears in the form of a delicate grey tone to the silver and smoothing. Examine the chin line and brow's high points for any signs of fading luster.
Additionally, within Liberty's hair are laurel leaves. The leaves, which are finely detailed and have high edges, are prone to wear and dulling. Confirm there is no flattening along the leaf edges. In order to accurately identify the condition of the dime, the cap is free of any dulling or smoothing. Overall, the appearance is one of undisturbed luster, and a rare grade.
Extremely Fine Grade
Extremely Fine: Many small and delicate design features are recognizable in order to reach the Extremely Fine collector grade. The grade is defined by light wear restricted to high places.
Liberty's hair over her brow is distinct and identifiable. The Laurel leaves, forehead, and temple sections are distinct from the rest of her hair. Some smoothing is visible throughout her hair, most confined to the top, front of her head.
In addition to Liberty's hair, leaves of the laurel wreath are examined. Upper row of leaves is sharp; however many leaves show traces of minor wear along the lower row within the hair. On Extremely Fine grade Barber dimes, the edges of the bottom row of leaves are defined and complete.
One subtle detail is seen in front of Liberty's ear: a small curl of hair. With this detail evident, the coin remains high-quality condition. These coins have a crisp appearance with all small details visible.
Fine Grade
Fine Grade: When viewing the example, a pleasing quantity of detail remains, indicating at least the Fine grade. A quality grade and important condition that attracts collectors' attention. If confirmed as Fine grade, several Barber dime issues have higher collector value.
An important part of recognizing high condition is the hair line showing along Liberty's forehead, complete to her ear. Although the line detail is faint in certain places, rotating the coin under a light helps highlight the detail. This coin is high quality if the separation is complete and continuous.
Next inspect Liberty's ear for remaining details. Although faded into the hair above, the Fine grade is indicated by the ear being completely outlined and clear of her chin. A small feature, such as the entire lower ear, if visible, indicates only moderate wear. Overall, a nicely detailed Barber dime.
Good Grade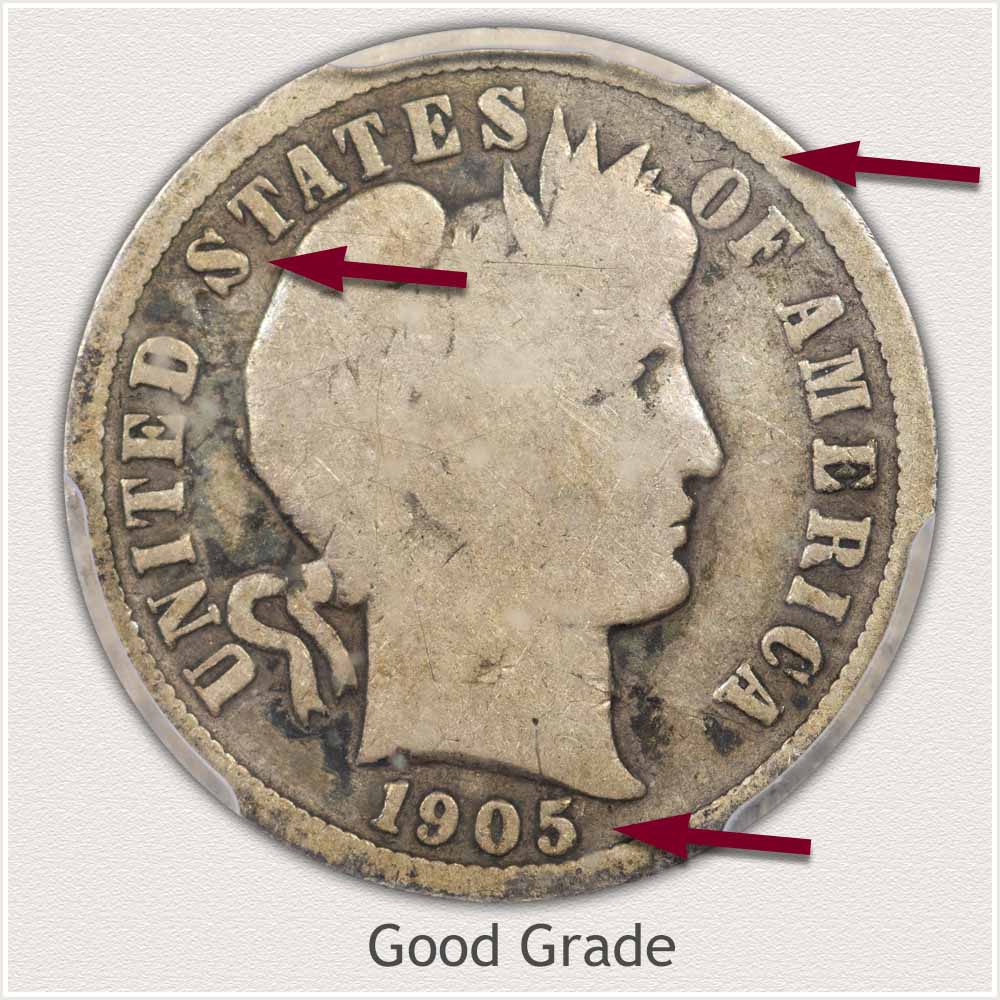 Good Grade: A Barber dime worn to the point most details are missing is within the Good condition range. Heavy wear defines a Good grade dime.
With Liberty's portrait represented by an outline, it is confirming heavy wear has reduced the design, losing all central details. Her outline does remain strong and bold of the field.
Date and lettering of the legend are all well-defined and readable. Note also, the complete and raised rim, a nice feature remaining. These coins are not worn to the point of missing parts of the lettering or rim.
How to Video: Grading Barber Dimes
In order to improve accuracy, more areas are identified to judge as well as specific elements. In the examination of vintage Barber dime coinage, small details are often of great importance.
Video, Images and Descriptions | Grading Barber Dimes
Step 3: | Special Qualities Conveniently Recorded
Important Value Factors Need Recording
Specific information about your Barber dimes needs recording in a handy place. Up-dating values and current information assures completeness of the value judgement.
Print the Coin Values Worksheet to start with Barber Dimes.
As a beginning, enter the date on the worksheet marking a start to current minimum value coins moving with silver price. Dimes minted 1900 to 1916 in heavily circulated condition are worth a range, changing often.
On the worksheet the Date/Mint column holds an important element to value. All dimes are identified by date and mintmark as key to accuracy.
In the Denomination/Series column: Barber 10C denotes the dimes. When gathering additional notes add these to the description area.
The Grade column becomes the subjective part of an evaluation. Enter what you consider a conservative/fair opinion of condition.
Listings in the Value column become the basis to helping realize the extent of your holdings. Coins of high value needing additional study and coins of a more common nature are fully recognizable.
You have assured the recording of the key elements to value and provided a place to add notes and experiences. How much your holdings are worth is quickly determined.
Dimes minted during the later years of the series are separated into two main value classes. Single coin entries for premium issues. Secondly, coins of similar quality moving with silver price are grouped together in an entry. Print extra sheets to continue with the rest of the collection.
References
U.S. Mint. 1908 U.S. Mint Annual Report https://nnp.wustl.edu/library/book/514124
Coin Values | CoinStudy Articles
Date by Date
In Depth Barber Dime Values
1892 to 1916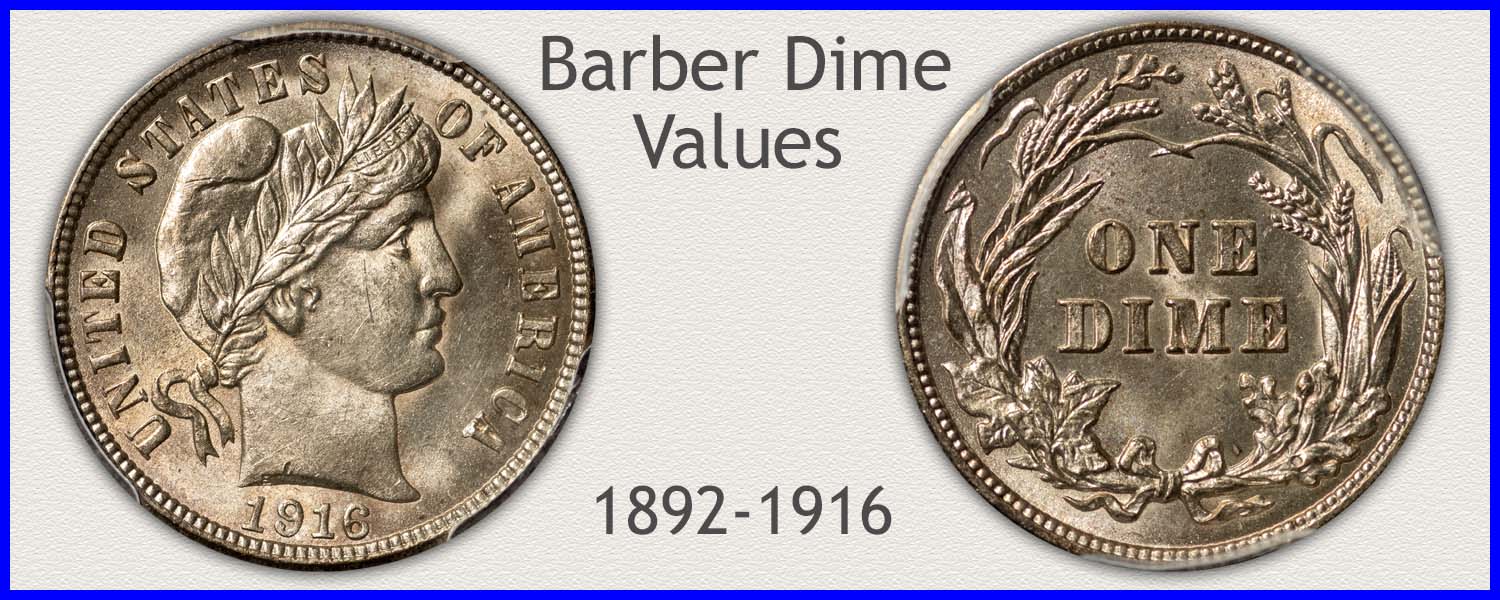 Barber Dime Value | Dates and Mints Listed
Discover the different dates and valuable mintmarks. Use the step by step method to an accurate identity and value of these old Barber dimes. Grade condition and note mintmarks to complete your assessment.
US Coin Values | Mobile Reference Guide
Images identify denomination and series of U.S. coins. Value charts list the typical minimum values of coins within each series. A step by step method is detailed on how to identify important elements - dates - mintmarks - condition. A quick mobile guide.
Print the Coin Values Worksheet
Printable worksheet to list and inventory coins and record Barber dime values. Separate the premium individual coins and group bullion related together. Record your complete collection.
Sell Silver Coins | Important are Values and Finding Dealers
There are a few considerations when deciding on selling coins. Are they popular with strong demand? Common coins of lower value or are the coins scarce? Understanding the types of coins and markets helps define your expectations. Listing of dealers to contact and viewing their specialties finds a good match to your coins.
★Coin Values Discovery finds 1907 Dime Value and...
Identify your old coins and begin a step by step process to coin values. Images of the different series lead to specific coins. Follow the method used by collectors to place current values on coins.