Coin Values Moving with Precious Metals: Up-Dated 9/25/2023: Gold $1921 | Silver $23.44
1938 Jefferson Nickel Value
1938 Jefferson nickel value is strong because of its "first of series" status. A new Jefferson design was introduced in 1938 replacing the Buffalo nickel.
Collectors consider the first coin of a series an important part of a collection. Using a step by step method discovers how much these early nickels are worth.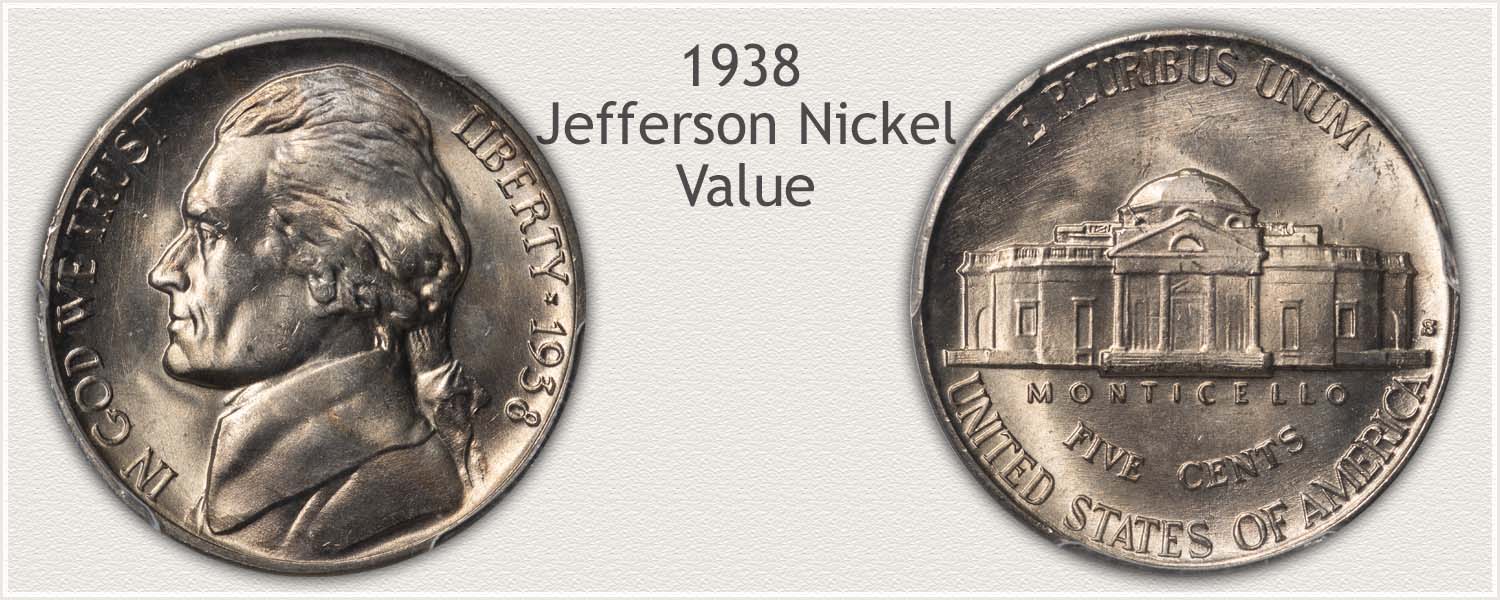 Steps Leading to Value:
Step 1: Date and Mintmark Variety - Identify each date and its mintmark variety. Importance of the San Francisco mint nickel is highlighted on the value chart.
Step 2: Grading Condition - Judge condition of your coin helping determine its grade and position on value chart.
Step 3: Special Qualities - 1938 is one of the key years in the Jefferson series. Examine and understand these coins.
1938 Jefferson Nickel Value
Condition of Coin
Date
Good
Fine
Extremely
Fine
Mint
State
1938 Jefferson Nickel Value Up-Dated
2023
1938
$0.05
$0.05
$0.25
$5.25
1938 D
$0.46
$0.88
$1.08
$3.88
1938 S
$0.89
$1.11
$1.58
$3.88
Value of the 1938 nickel is often increased by something as small as a mintmark. Other times it is the condition of the coin setting it apart. Follow the steps to confirm the collectability and demand.
One Note About Step 3. Judging condition is an important part to value; take your time viewing the coin. Details and subtle points begin to appear as you become familiar with key areas of the design.
Step 1: | Date and Mintmark Variety Identified
Three Varieties of 1938 Jefferson Nickel to Recognize
1938 began the Jefferson series of nickels. The new design was minted along-side the ending of the Buffalo nickel series in 1938. With both series in production at the same time, total numbers struck were low for each series. Just under 30 million 1938 Jefferson nickels, total from all mints were produced, second lowest of the vintage years 1938 through 1964.
Collectors are taking an interest in the Jefferson series and collect by date and mintmark for each year. 1938 saw three mints striking these nickels. Philadelphia, Denver, and San Francisco with the San Francisco variety leading in value.
Identifying mintmarks and condition of your coin narrows value range.
1938-S Jefferson Nickel
"S" Mintmark on Reverse: San Francisco Mint Struck the Coin
Of the three varieties of 1938 Jefferson Nickels, the San Francisco mint issue is the leader in value. Producing a small 4.1 million coins for circulation, ranking as third lowest of the series. Today a San Francisco 1938 nickel is sought in all conditions, even in very worn condition they enjoy a small premium
Identify the San Francisco issue by locating the "S" mintmark. On the reverse to the right of Monticello the San Francisco mint placed an "S" to identify its coinage. These marks are small, a magnifying glass is helpful.
1938-D Jefferson Nickel
"D" Mintmark on Reverse: Denver Mint Struck the Coin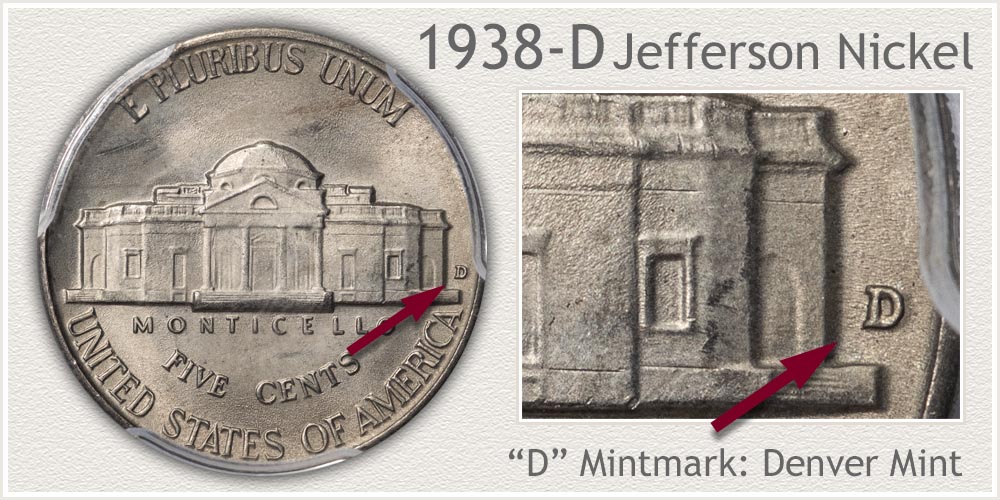 The Denver mint had an interesting year in 1938. Striking the ending of the Buffalo nickel series, the only mint to do so. It also produced a total of 5,376,000 of the new Jefferson series. Splitting production resulted in low numbers for each series. 1938-D Jefferson nickels are the fourth lowest mintage of the series. A collectible coin in all grades.
Denver used a "D" mintmark to indicate it production. On the reverse to the right of Monticello a small "D" letter confirms the Denver mint coin. The value chart indicates it demand by collectors.
1938 Jefferson Nickel
No Mintmark on Reverse: Philadelphia Mint Struck the Coin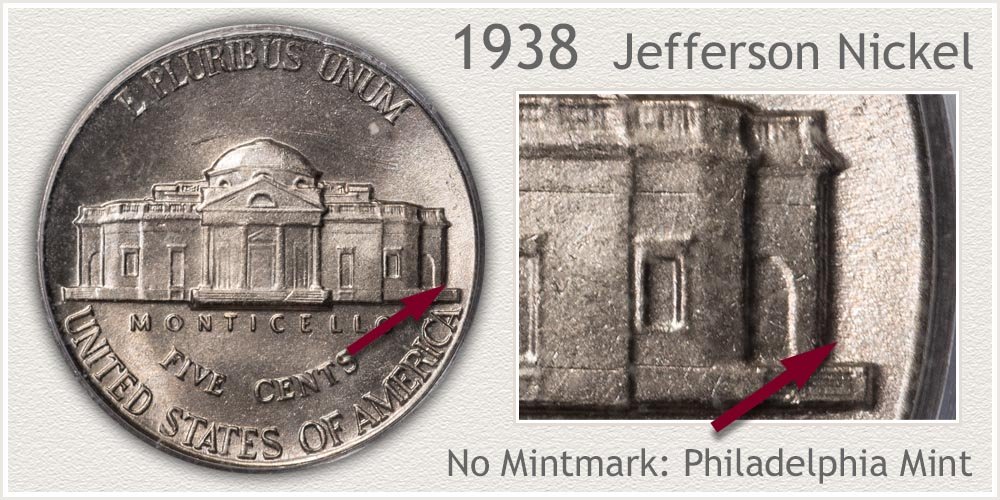 Philadelphia mint struck the majority of 1938 Jefferson nickels. 19.5 million of the design produced with many serving in commerce for decades. In circulated condition, showing noticeable wear, these are considered abundant in numbers. Nice, lightly worn or better examples are approaching collectible status and a premium.
Philadelphia did not use a mintmark at the time. On the reverse, to the right of Monticello, no mintmark indicates Philadelphia struck the coin.
Step 2: | Judge Condition to Identify Grade
1938 Jefferson Nickel Value is Conditional
Grading your coin, by judging its condition, begins to pinpoint its place on the value chart. The process of grading a coin is inspecting key areas on the design, noting the amount of wear, and remaining detail. Jefferson nickels with the bold portrait of Jefferson on the obverse relies on high points of the face to determine levels of wear and grade.
Begin with a close look of the 1938 nickel in Mint State grade. All original detail and contours remain; a representation of an example without wear.
Mint State Grade: Nickels in Mint State grade are coins without any wear to the surface. Luster shines and covers both the high areas and lower fields of the coin.
Inspect Jefferson's forehead just above the eye. There remains a contour and the high spot is still lustrous. Below the eye is the raised area of Jefferson's cheek. Wear - if present - smooths the cheek quickly and removes the sparkle of luster.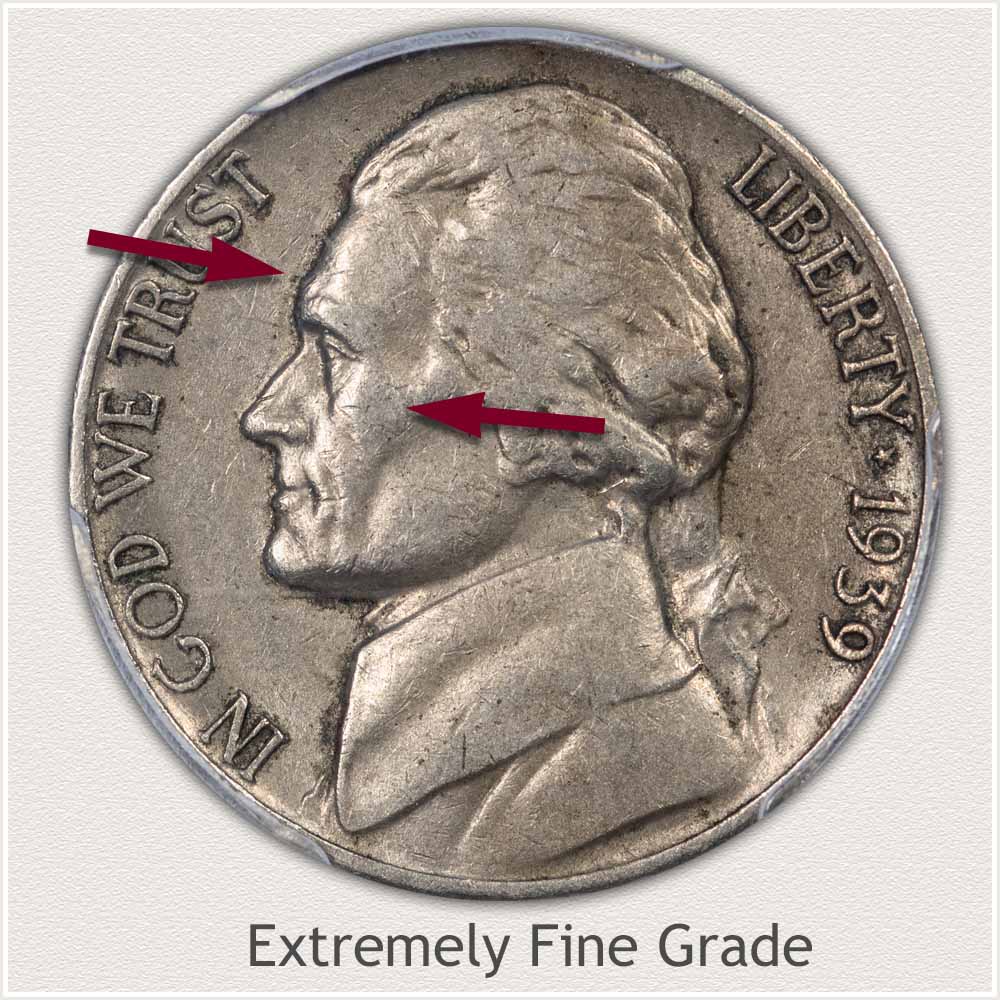 Extremely Fine Grade: A small amount of visible wear on high areas is a Jefferson nickel in Extremely Fine grade.
Jefferson's portrait is now a soft grey tone, lacking any shine of a new coin. Wear has removed most, if not all luster. All details remain, including small lines in the hair.
Over the eye, the small contour of the brow remains, although it is showing a small flatness and smooth texture. Jefferson's cheek below the eye is also slightly flattened and smooth. Notice the eyebrow and cheek contours are still separated.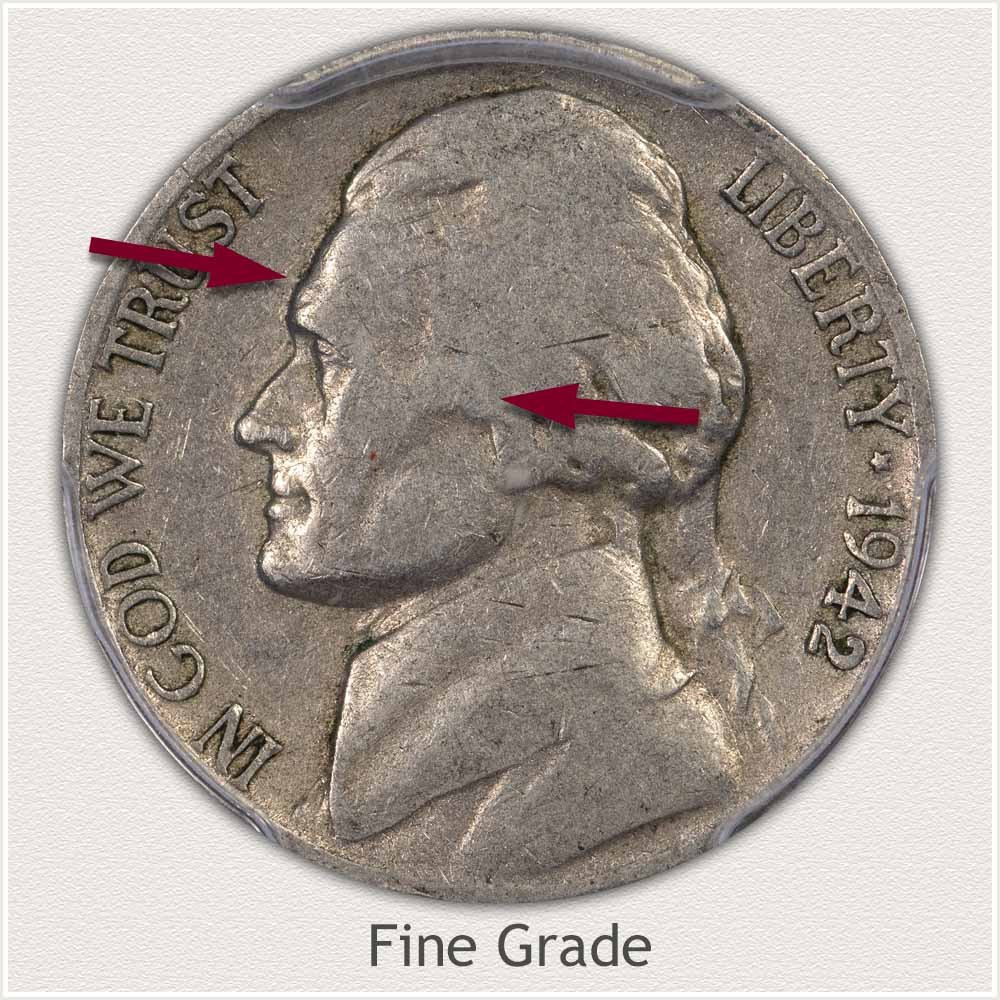 Fine Grade: An appearance of moderate wear to the surface is the first impression of a Jefferson nickel in Fine grade.
Wide areas of flat and smooth metal are covering many parts of Jefferson's portrait. Notice the hair remains separate of the forehead, cheek, and lower jaw. Over the eye is now smooth and lacking any contour of a brow. Jefferson's cheek below the eye is a large flat spot fully connected with the eyebrow above.
Despite the amount of wear of the Fine grade, bold features remain. Lettering is complete and a strong date remains.
Good Grade: Flat areas cover the hair and coat of Jefferson. His face is now smooth and lacking contours, combined these are indicating the Good grade.
Looking closely at the area just above the eye, no definition of a brow remains. The metal has worn level with Jefferson's forehead. His cheek, just below the eye, is now a large flat area connecting with the forehead and hair.
Lettering is often merging with the rim, a good indication the Good grade is determined.
How to Video: Grading Jefferson Nickels
1938 Jefferson nickels have collector value in many circulated grades. Add the video as you view your coins, plus additional images, and descriptions to help in grading. Small details are highlighted separating grades and potential premiums.
Video, Images and Descriptions | Grading Jefferson Nickels
Step 3: | Special Qualities Enhancing Value
1938 the New Jefferson Nickel
A 1938 Jefferson nickel holds the "First of Series" status of the new design. This alone places it in a special category with collectors and a permanent level of popularity.
In their 1939 fiscal report an image of the new Jefferson nickel was depicted by the U.S. Mint, referred to as the "Thomas Jefferson Coin".
A few of the 1938 special qualities include:
Mintages are on the low side
Features a building as part of the design
Struck with "Fresh" dies
Mintage numbers for a first-year issue are in the moderate range. Total combined; Philadelphia, Denver, and the San Francisco mints produced just under 29 million 1938 nickels. This proved second lowest for the series. Low supply is part of the 1938 nickel potential value.
A second quality stands out. Jefferson nickels feature Monticello, Jefferson's home on the reverse. It may seem commonplace to have a building on coinage today.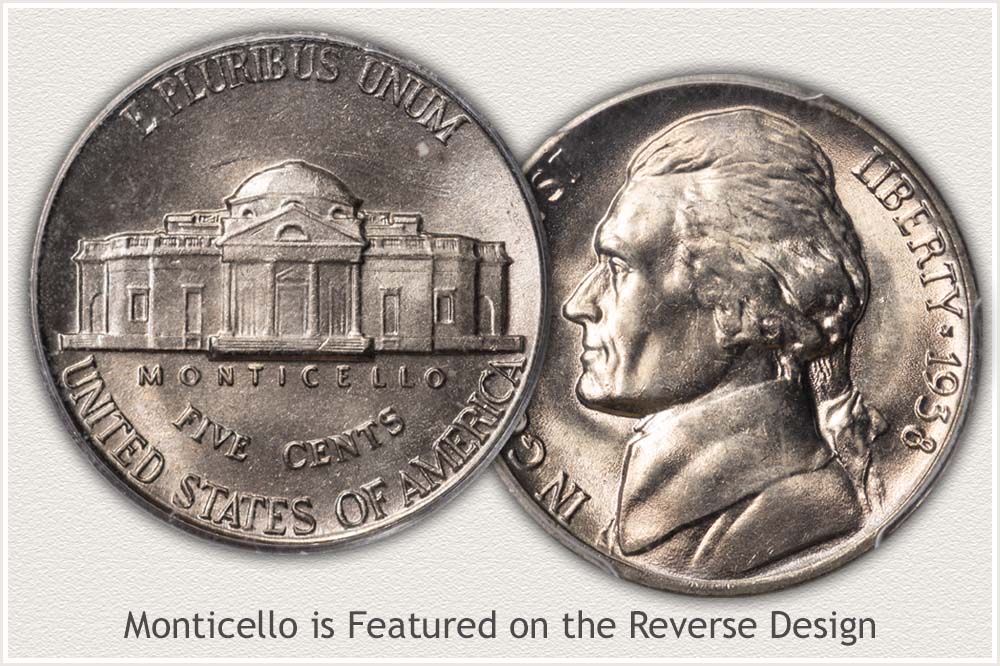 However, in 1938 the only other time a building was part of a coin's design was a small rendition of the U.S. Capital on the St. Gaudens $20 gold piece. Few were familiar with the designs of $20 gold coins; they were typically held in banks as reserves. Monticello on the nickel was "new". Traditional symbolism of Liberty and the Union, featuring an Eagle, were prominent designs up until then.
The majority of 1938 nickels are well struck and complete with all details showing. Producing coins is harsh on both the machinery and the actual dies striking the coin. Coining dies wear and need continual maintenance and replacement. As a coin series ages through the decades; the master hubs produce large numbers of working dies - those used to strike coins. Overtime subtle changes in the working dies are derived from the master hubs, seen as a softening of the crisp design elements. Periodically the master hubs are revived and subtle elements are restored. In 1938 the newness of all dies is evident in the quality of the nickels produced. 1938 nickels are a good comparison to later years helping recognize the small changes in strike quality.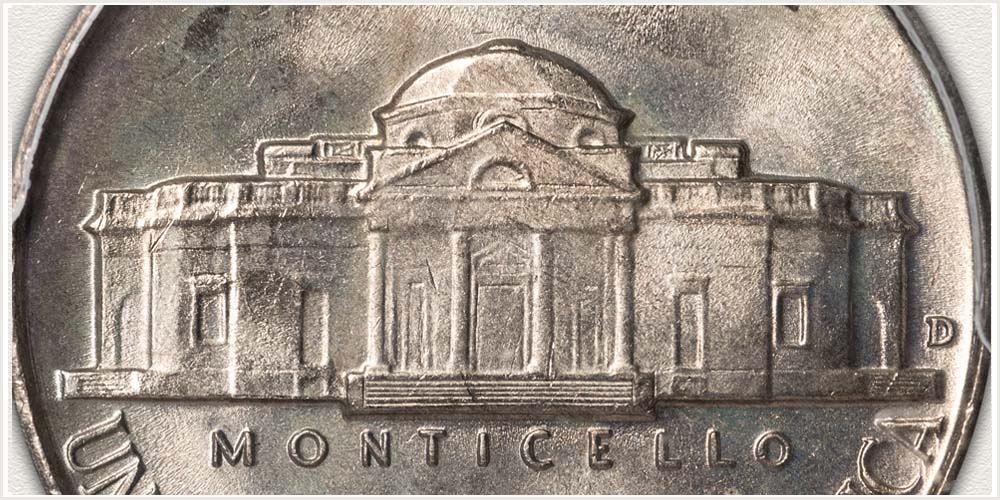 1938 nickel value is continually strong. In circulated condition the date is affordable and in demand by new and young collectors. Advanced nickel collectors seek the high-end graded, mint state, examples.
References
U.S. Mint. 1939 U.S. Mint Annual Report. https://nnp.wustl.edu/library/book/514143
Coin Values | CoinStudy Articles
Date by Date
In Depth Jefferson Nickel Values
1938 to 1964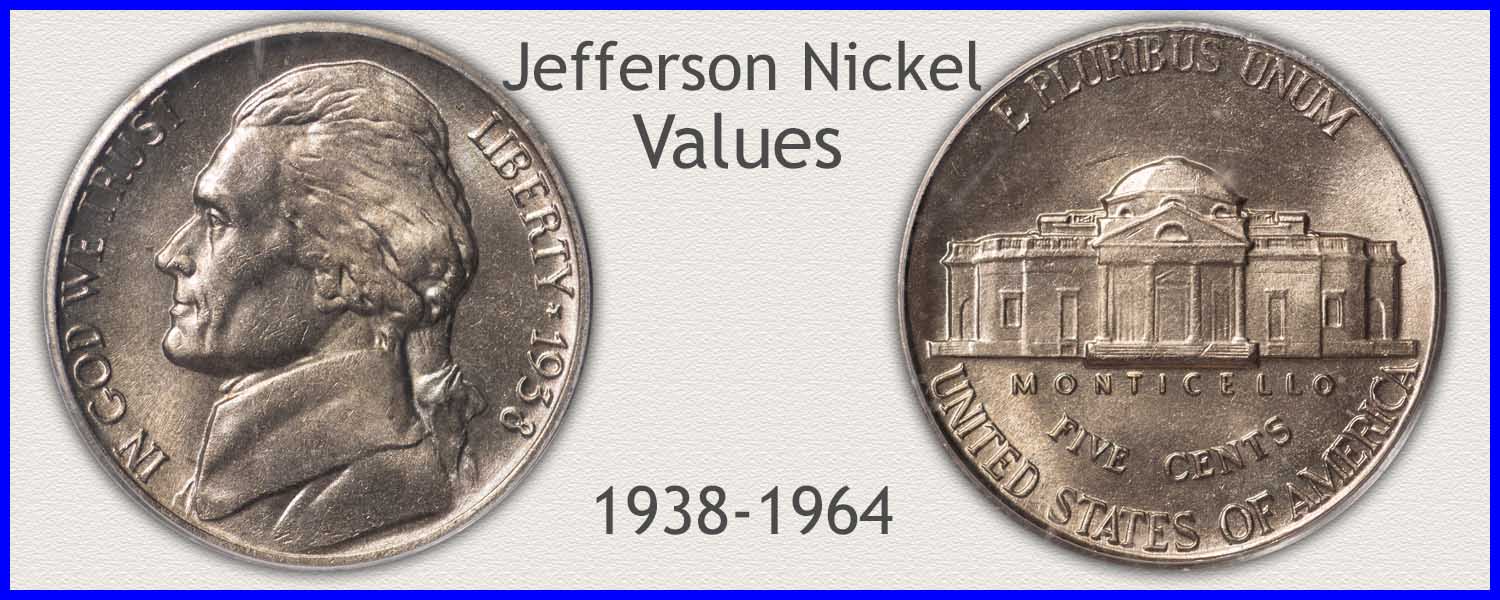 Jefferson Nickel Values | Gaining Popularity
Value chart spans the Jefferson nickel years 1938 through 1964. From Mint State grade coins collected by advances collectors, to worn examples, an affordable collection popular with young collectors. Identify date, mint and condition; a wide range of value is found and identified using a step by step method.
Print the Coin Values Worksheet
List your Jefferson nickels and record their values. Separate and organize, and keep a summary of all coins.
Coin Value Guide | How to Value a Coin Collection
A step by step method combined with the coin value online guide identifies how to value a coin collection. Discover how much your box of old coins is worth.
Safe Coin Storage | Recommendations
Recommendations on basic supplies that greatly improve coin storage. Providing for safe handling, preserving of value, and organizing your box of old coins.
★ Coin Values Discovery finds 1938 Jefferson Nickel Value and...
All old U.S. coin values. Image and descriptive index leading to value charts. Step by step method to date and variety identification. And grading condition by comparing to images, video and descriptions. Special qualities are also judged. Discover how much your box of old coins is worth.