Coin Values Moving with Precious Metals: Up-Dated 11/27/2023: Gold $2010 | Silver $24.66
1949 Nickel Value
Premium 1949 nickel value is found in two specific varieties for the year. Date and mint combinations are important to collectors and combined with condition, 1949 nickels need a close inspection.
A step-by-step method first identifies variety. Next, using images in step 2, you judge condition and identify the nickels in demand by collectors. The value chart highlights the premium coins.
Steps Leading to Value:
Step 1: Date and Mintmark Variety - Minted at three locations, identify the scarce variety.
Step 2: Grading Condition - Judging condition places your coin on the value chart. Compare to image standards for the grade.
Step 3: Special Qualities - Examine each coin closely. Collectors recognize small subtle qualities to help find a premium nickel.
1949 Jefferson Nickel Value
Condition of Coin
Date
Good
Fine
Extremely
Fine
Mint
State
1949 Jefferson Nickel Value Up-Dated
2023
1949
$0.05
$0.05
$0.10
$4.75
1949 D
$0.05
$0.05
$0.05
$3.25
1949 S
$0.05
$0.05
$0.10
$3.17
Availability of branch mint varieties of 1949 nickels is beginning to show on the chart with premiums. Abundant supplies are noticeability short of high condition examples.
Because vintage Jefferson nickels are affordable to beginning and new collectors these coins are popular in lightly circulated condition. With small premiums over face value, lightly circulated nickels are a great beginning. 1949 varieties in eye pleasing condition are somewhat of a challenge for collectors to find.
Step 2; the section on grading condition highlights the qualities to recognize a collectible nickel.
Step 1: | Date and Mintmark Variety Identified
Infrequent Varieties of 1949 Jefferson Nickel to Recognize
Of the three varieties of Jefferson nickels struck in 1949, two are beginning to show a premium in lightly circulated condition.
Mints producing U.S. coins are Philadelphia, Denver, and the San Francisco mint. Each of the two branch mints placed mintmarks on coins to indicated their production. San Francisco supplied the fewest for the year, a coin worth recognizing.
1949-S Jefferson Nickel
"S" Mintmark on Reverse: San Francisco Mint Struck the Coin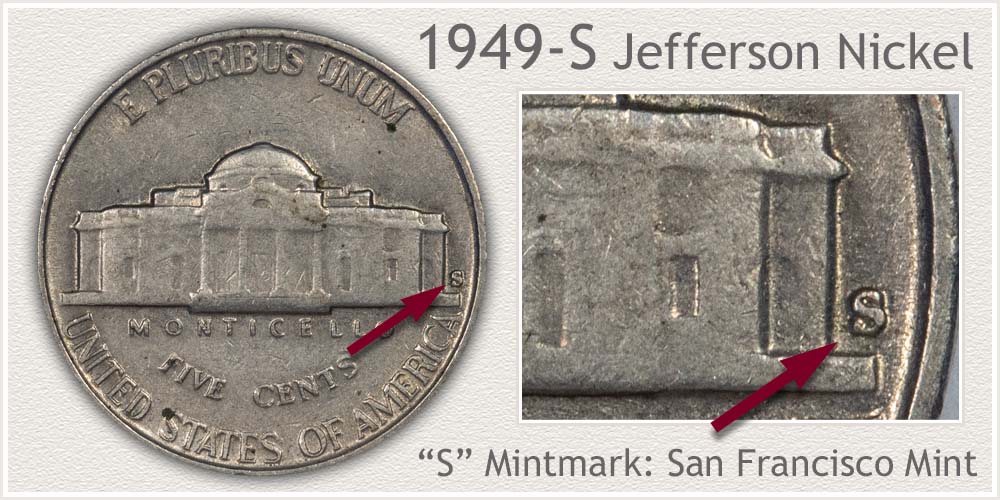 The need for minor coinage in the west required the San Francisco mint to strike only 9,716,000 nickels in 1949. As time passed this amount became the eighth lowest of the Jefferson series. A noted and significant point to collectors is low mintages, often indicating a premium coin.
To identify the San Francisco production, a small "S" mintmark is located on the reverse when looking to the right of Monticello.
1949-D Jefferson Nickel
"D" Mintmark on Reverse: Denver Mint Struck the Coin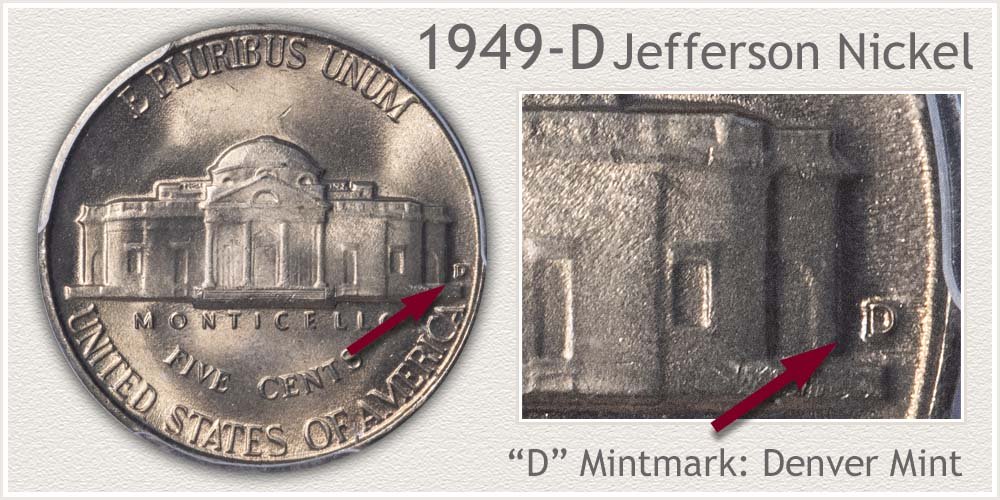 Denver mint contributed to nickel mintages with over 36 million struck in 1949. An adequate amount, with ample supplies of circulated - worn coins available today. Very high condition coins are less frequently found and sought by collectors.
Denver coins are confirmed by the "D" mintmark. On the reverse to the right of Monticello a small "D" indicates the Denver produced coin.
1949 Jefferson Nickel
No Mintmark on Reverse: Philadelphia Mint Struck the Coin
Philadelphia mint struck a third variety nickel in 1949. Collections are based on completing both a date run and including all mints for the years. In lightly circulated condition a premium has developed for the Philadelphia issue. Over 60 million were minted, however over time, the variety is now a challenge to find in pleasing condition.
The main mint, Philadelphia, did not place a mintmark on its coinage at the time. On the revere between the rim and the right of Monticello the small space is empty. No mintmark confirms the Philadelphia mint struck the coin.
Step 2: | Compare to Images and Judge Condition
Recognize Condition and 1949 Jefferson Nickel Value
Grading is the process to determine the amount of wear and condition of a coin's surface. A freshly minted coin displays the bright metal with luster highlighting design elements. Once these nickels enter circulation wear begins to reduce the shine and remove metal.
Levels of preservation (wear) are listed as "grades" on value charts. Compare to the images of coins representing the different grades. Finding a close match narrows the condition range.
Mint State Grade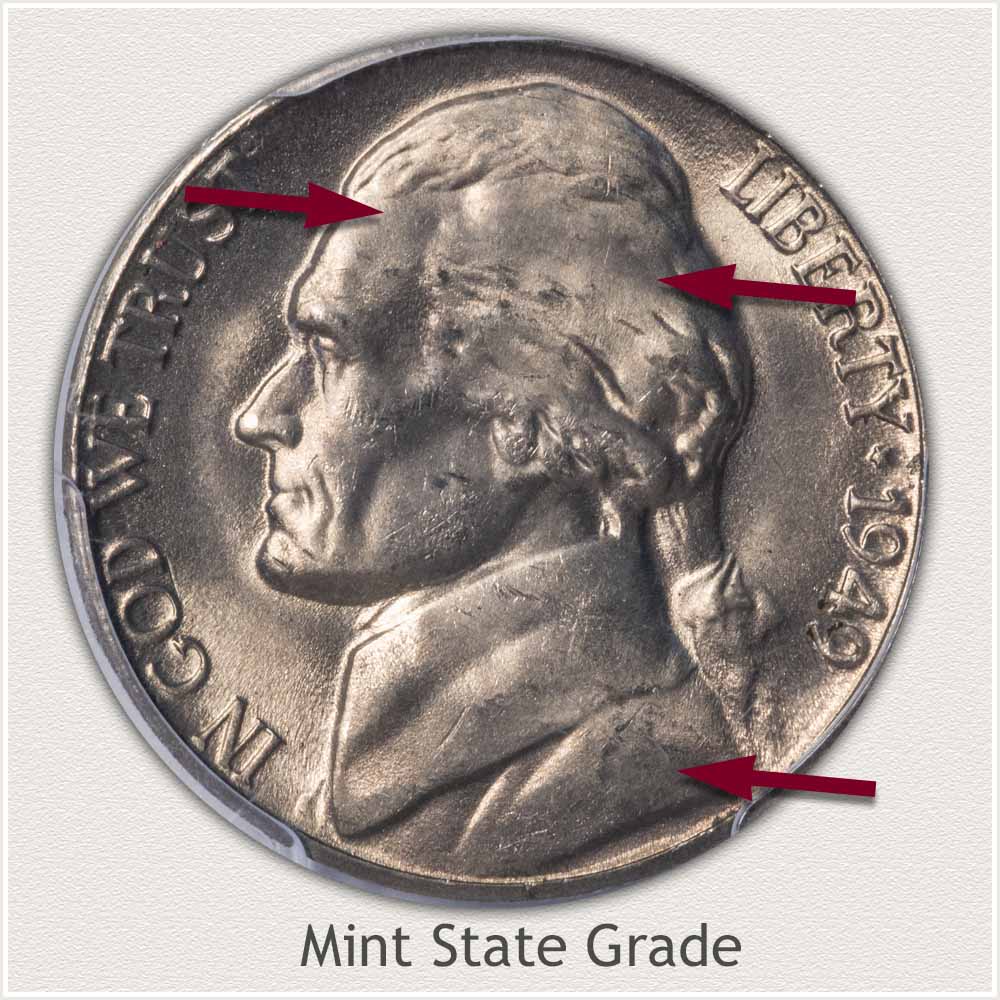 Mint State: Without any signs of wear to the surface, a coin is considered Mint State condition. Jefferson nickels are typically collected in mint state grades and is the condition with premium values. Removal of mint luster - the shine - is one of the first considerations in determining this high level of preservation.
Jefferson's portrait is high in relief across many areas. Focus on his forehead and where the hairline begins. Circulation wear quickly removes the fine texture of luster in these areas. Bright luster remains on the mint state example. A consistent color and texture extend across the hair helping confirm no wear has reduced the surface quality.
An overall view of the coin shows no dulling of the surface across Jefferson's face, collar, and coat.
Extremely Fine Grade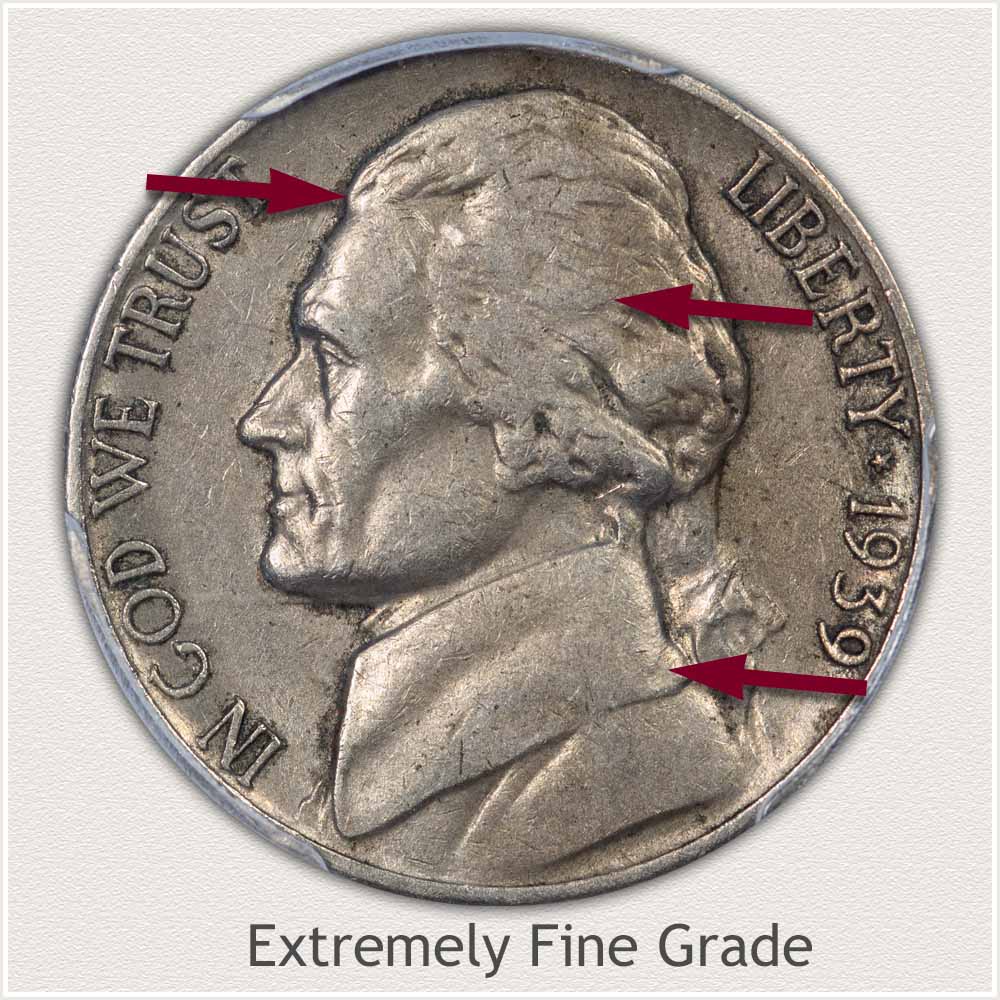 Extremely Fine: The example image represents a Jefferson nickel with minor evidence of wear. Concentrated on just the highest points of metal, wear is light and does not cause fine details to disappear and merge. Light wear places the condition in the Extremely Fine grade.
A close look at the forehead where the hair line begins shows a full separation and raised contours of hair. Light wear is flattening the ridges within the hair, and a small area of smoothness is beginning to show on the forehead. Many lines are visible within the hair further back on Jefferson's head lending fullness to the design.
Wear is visible overall; however, all major design elements remain. Jefferson's face with deeply contoured and collar and coat are distinct.
Average Circulated Condition Examples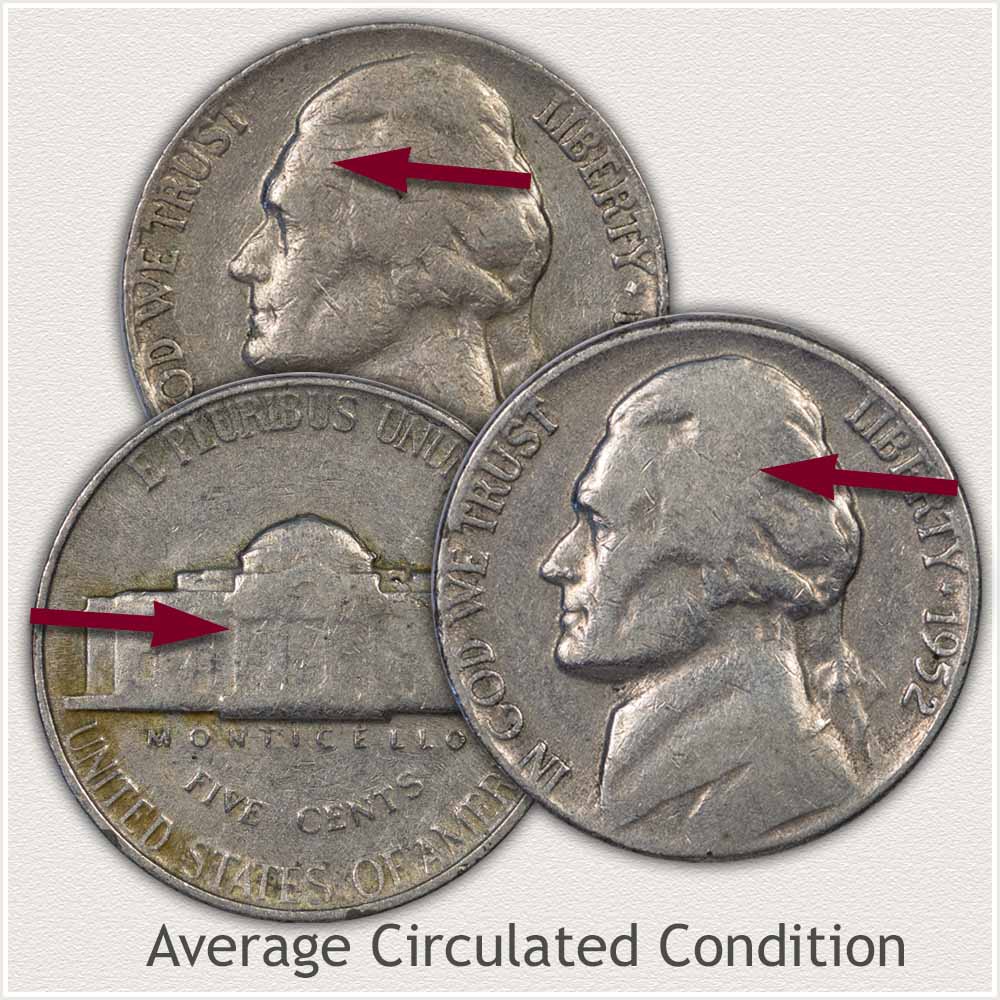 Average Circulated Condition: The majority of nickels from the vintage era display moderate amounts to heavy wear. These nickels lacking crisp detail and showing large flat spots are abundant and less desirable to collectors.
One feature to inspect is Jefferson's forehead. The example coins show a faded hairline beginning to merge with his forehead. Additionally, a large flat area has developed throughout the center of the hair. Once raised cheek and jaw designs are now distinctly flattened.
Loss of fine detail is evident on the reverse. Only suggestions of columns remain on the front of Monticello. Visibly worn details is reducing the grade below Extremely Fine grade.
How to Video: Grading Jefferson Nickels
Video, Images and Descriptions | Grading Jefferson Nickels
Video and descriptions of Jefferson nickels examine addition points to grading condition in greater detail.
Step 3: | Special Qualities Enhancing Value
Premiums and Opportunity in 1949 Nickels
Vintage 1949 nickels present an opportunity to identify a collectible nickel in circulated condition. Most nickels have little to no premium in circulated grades, ample supplies above the level of demand holds values in check. However, with the Philadelphia and San Francisco issues of 1949, demand in lightly circulated condition now shows a premium. A nicely detailed coin is a challenge to find and suitable for a quality beginning to a collection.
As you examine the reverse of the examples, notice the amount of detail across Monticello. Columns are well represented and the steps leading up are partly visible. Both coins are crisp in appearance, sharply defined lettering sits well above the field giving depth and eye appeal.
Wear is light on both of these coins, also lacking are any distracting marks to the surface. A few scattered marks are faint on the San Francisco issue, not overly noticeable. The Philadelphia coin is remarkably free of nicks, well struck with bold features, a very desirable circulated nickel.
Vintage nickels from the 1940's are approaching advanced age. Most of these coins are worn far into the lower circulated grades. Set aside the pleasing condition examples, premiums are developing. Young and beginning collectors find older Jefferson nickel an affordable challenge when assembling a high-quality circulated set.
References
U.S. Mint. 1950 U.S. Mint Annual Report https://nnp.wustl.edu/library/book/341
Coin Values | CoinStudy Articles
Date by Date
In Depth Jefferson Nickel Values
1938 to 1964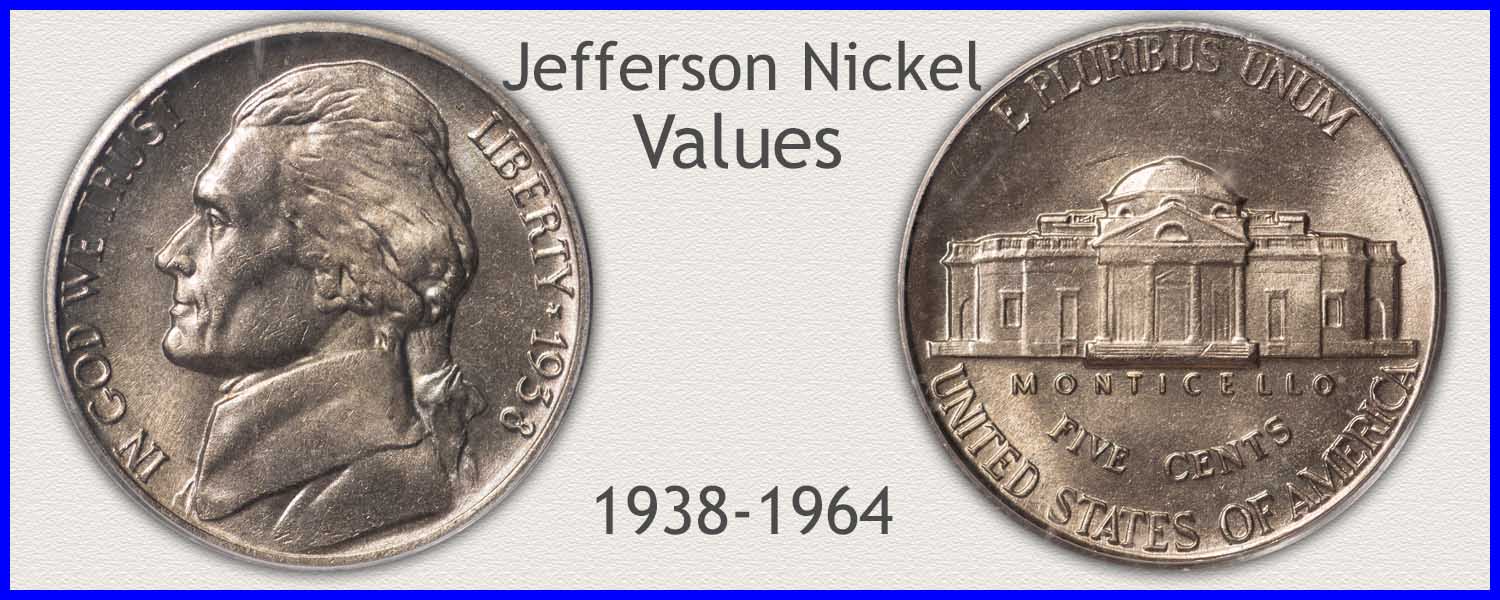 Jefferson Nickel Values | Discover Their Worth
Jefferson nickels first minted in 1938 and still minted today are growing in popularity. Collectors focus both on dates from the early eras and condition of the coins when adding to collections. Identify the scarce issues; plus, using grading images, determine collector quality nickels.
On occasion rare nickels do turn up... old better date buffalo nickels, valuable silver war nickels, even a few vintage Jefferson nickels and others. Search your box of old coins and discover any collectible nickels.
Print the Coin Values Worksheet
List your Jefferson nickels and record their values. Identify and organize your collection, and keep a summary of all coins.
Coin Value Guide | How to Value a Coin Collection
A coin collection is valued using a step-by-step method. Key factors are identified and the coin value guide leads to charts of how much your collection is worth.
★ Coin Values Discovery finds 1949 Jefferson Nickel Value and...
All old U.S. coin values. The home page is an excellent index with images, helping to identify your coins, including text links to all coin series, from Cents to Gold. Value charts, grading images and descriptions uncover how much your box of old coins is worth. Begin the step-by-step process to value any coin series.